Some of the links in this post are affiliate links. This means if you click on the link and purchase the item, I will receive an affiliate commission at no extra cost to you. All opinions remain my own.
The United States is a nation rich in breathtaking national parks, each of which is home to some truly unforgettable scenery – not to mention a wealth of plant, animal, and bird species that make ideal photography subjects if you can spot them. 
If you're planning to take a journey around the American West, soaking up its dramatic landscapes and reconnecting with the natural world, here is a round-up of the best national parks to add to your itinerary. 
Redwood National Park
If you're fascinated by the wonders of the natural world then you definitely won't want to miss a trip to Redwood National Park, named for the gargantuan trees that can soar over 300 feet into the sky. 
Wandering around the feet of these living giants (some of which are well over one thousand years of age) you can lose yourself in the tranquil beauty of the forest. Better yet, if you visit Fern Canyon, you can even pretend you are in the land of the dinosaurs, as this was where some scenes were shot for Jurassic Park: The Lost World. If you're visiting the park with dino-loving kids, you definitely won't want to miss out on that experience. 
Of course, besides enjoying restorative walks among the redwoods, you can also enjoy some more active pursuits in the area. For example, if you head to the town of Orick, you can try out a range of exhilarating adventure sports including horse riding, kayaking, and mountain biking. If you visit during the summer you might even be able to catch the annual rodeo, for plenty of thrills, spills, and dramatic displays of bravado on horseback. 
Death Valley National Park
If you are keen to push yourself out of your comfort zone while exploring America's western parks, then a trip to Death Valley is a must and is bound to become one of the most memorable experiences of your life. 
This national park is renowned around the world for being the hottest and driest of America's parks, with summertime temperatures soaring over 50 degrees Celsius. So otherworldly are the park's landscapes that it has regularly been used as a backdrop for films, including Stars Wars: A New Hope.
Here's a helpful travel tip to bear in mind: wherever you're visiting from, you may want to leave your car at your place of departure and hire a more robust vehicle for your Death Valley explorations. 
For instance, if you're flying from Denver, you can easily book Denver airport parking online with the help of Rightway Parking, and then rent a sturdy and durable SUV for your foray into one of America's most iconic parks. After all, the extreme conditions in Death Valley aren't just tough on humans, they can also be tough on machinery too. 
Once you reach the valley, there are a surprising number of things to see and do, including exploring the weird and wonderful 'Devil's Golf Course', hiking to Darwin Falls, and taking a tour of Scotty's Castle. 
Yellowstone National Park
There are many reasons to visit Yellowstone. You may have an interest in the park's history, for example; Yellowstone was first opened back in 1872, making it over 150 years old. You may have a yearning to visit its petrified forest, one of the largest in the world. Or perhaps you are among the growing numbers of visitors who want to catch a glimpse of its reintroduced wolf population, which has prompted something of a tourism boom, particularly during the winter months when they are easier to spot. 
In other words, Yellowstone is a park with something for everyone – and there is so much to see and do, you will probably have to make quite a few return trips to experience it all. 
For instance, you could take to the saddle and explore the park's awe-inspiring forested slopes via horseback, perhaps even staying at a dude ranch to get the full 'cowboy experience'. Alternatively, you can strap on your walking boots and head out on foot, following the park's 1,300 miles' worth of picturesque trails – perhaps with a llama in tow, if you fancy it – or you can take things easy and get a bird's eye view instead, courtesy of a zipline. 
There's no doubt about it, planning your itinerary will be tricky, especially when there are so many attractions to see. Among them, you can marvel at the awe-inspiring expanse of Yellowstone Lake, pay a visit to the renowned Old Faithful geyser, and keep your eyes peeled for grizzly bears and majestic moose. 
Arches National Park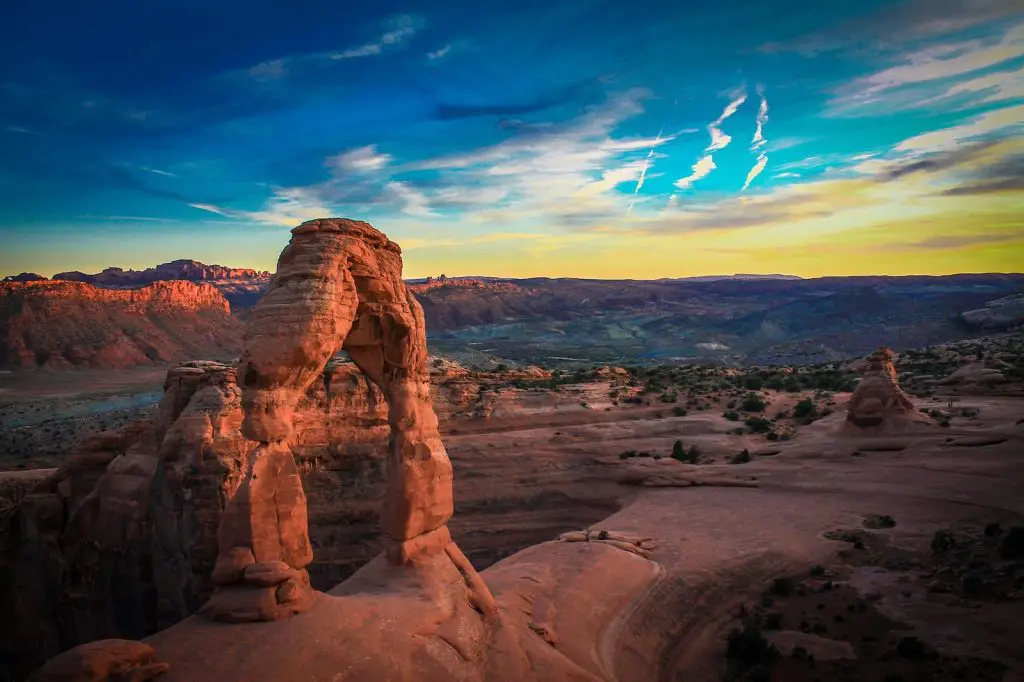 Widely considered to be one of the most picturesque and dramatic locations in America, Utah's Arches National Park takes its name from the hundreds of rock arches that can be found there. So iconic are these arches that you can follow a dedicated hiking trail to see some of the best – be sure to take plenty of photos, as they provide a unique sight you will want to remember for years to come. 
However, the arches aren't the only reason to visit this unique and haunting place, with its many remarkable sandstone towers, hoodoos, fins, and eerily balanced rocks. There are a variety of things to do here throughout the year, although you may prefer to come during the winter when the park is quietest. 
Some of the activities you can enjoy at Arches National Park include camping and hiking – though if you head off on foot, take care to follow safety procedures such as packing plenty of water and sun protection – as well as going stargazing at night. The dark skies here offer some of the best stargazing opportunities in the country, so even if you're not an astronomy buff you're sure to enjoy the twinkling views. 
Conclusion
With such iconic and awe-inspiring national parks to visit in the American West, you won't be short on opportunities for adventure, sightseeing, and reconnecting with nature. From the hills of Wyoming to the sequoia forests of California, there are so many unforgettable sights to experience. The only hard part will be deciding which park you'd like to visit first!