Some of the links in this post are affiliate links. This means if you click on the link and purchase the item, I will receive an affiliate commission at no extra cost to you. All opinions remain my own.
While running in hiking shoes for short distances is possible, they are not recommended for regular or extended running.
Hiking shoes are designed with specific features to handle the rough and uneven terrains encountered on trails. They offer stability, support, and protection from rocks, roots, and other obstacles.
In this blog post, we'll explore the pros and cons of running in hiking shoes, and discuss whether it's a safe or risky choice for running. We'll also look at alternative footwear options that might be better suited for running on trails.
Whether you're an avid hiker, trail runner, or both, you'll find valuable insights to help you make the right footwear decision for your outdoor adventures.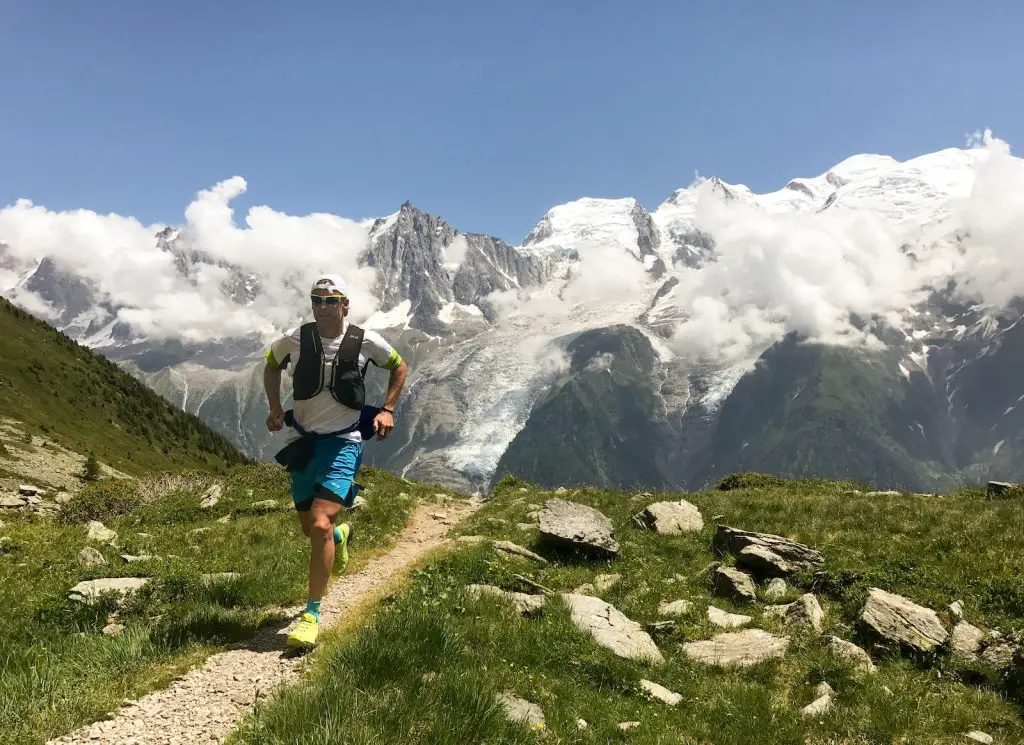 Can You Run in Hiking Shoes?
Is it okay to run in hiking boots? Yes, but with some caveats. Running in hiking shoes is possible for short distances but is not recommended for regular or extended running sessions.
The Downside of Running in Hiking Shoes
Hiking shoes are designed to provide support, traction, and durability on rough terrains. They are typically stiffer and heavier than running shoes. Running in such footwear can be uncomfortable and even cause strain or injury over time.
Additionally, hiking boots' thick soles and stiff uppers can limit foot motion and responsiveness, making it harder to run efficiently.
When It's Acceptable to Run in Hiking Shoes
There might be occasions where you need to run in your hiking shoes, such as when you encounter unexpected hazards or need to move quickly for a short distance.
In such cases, make sure your hiking boots fit well and are flexible enough to allow natural foot movement.
Considerations When Running in Hiking Shoes
Fit: Ensure that your hiking boots fit snugly but not too tight. Your toes should have enough space to wiggle, and your heels should not lift off the insole while running.
Flexibility: Look for hiking shoes that are somewhat flexible and allow natural foot movement. However, keep in mind that excessive flexibility may reduce the support that hiking shoes provide on uneven terrain.
Duration: Limit your running sessions in hiking boots to short distances. Prolonged running in heavy, stiff footwear can increase the risk of discomfort, fatigue, or injury.
Terrain: If you have to run in your hiking shoes, stick to trails or soft surfaces. Avoid hard surfaces like concrete or asphalt, as hiking boots are not designed to absorb the impact of such surfaces.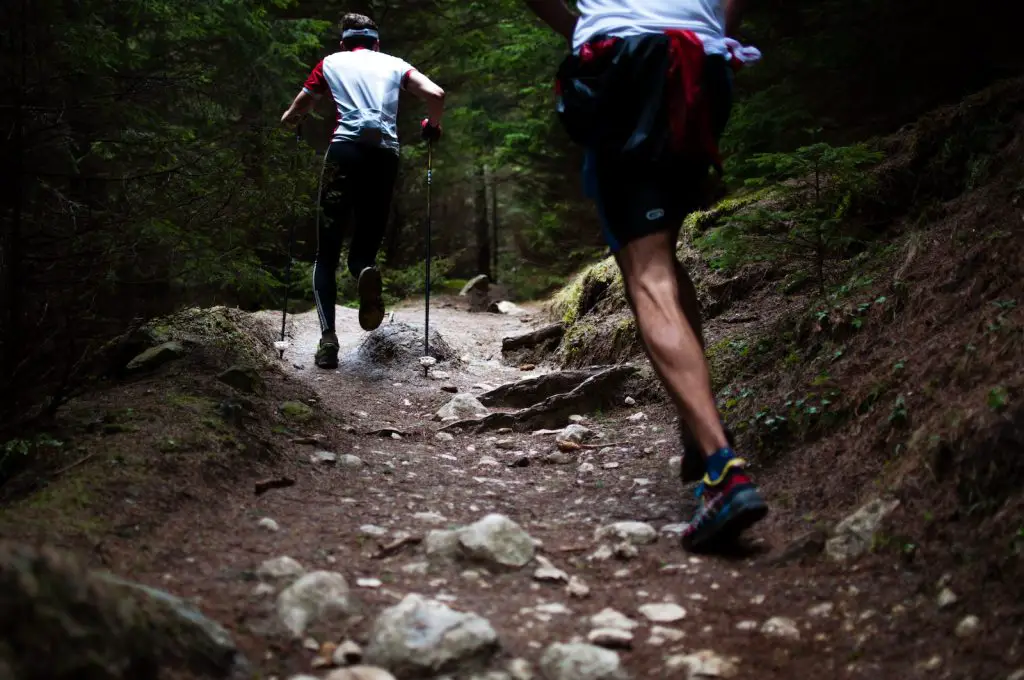 Which Shoes Can You Use for Hiking and Running?
Navigating the vast world of outdoor footwear can sometimes feel like a daunting task. Especially if you're someone who loves both hiking and running on trails, you might wonder if there's a single-shoe solution that can meet the demands of both activities. So, which shoes can you opt for that cater to both hiking and running?
The answer: Trail running shoes.
Why Choose Trail Running Shoes?
Trail running shoes are designed specifically for rough and uneven terrains, making them an excellent choice for both trail running and hiking.
Versatility: One of the primary advantages of trail running shoes is their versatility. They're lightweight, which makes them suitable for running, yet durable enough to handle the rigors of hiking.
Traction: These shoes typically feature aggressive outsole patterns, providing excellent grip on a variety of surfaces, from muddy paths to rocky trails.
Protection: Trail runners come equipped with reinforced toe caps and underfoot plates to shield your feet from sharp rocks and roots.
Comfort: Designed for extended use, trail running shoes offer cushioning and support, ensuring that your feet remain comfortable, whether you're covering long distances or tackling steep ascents.
Breathability: Many trail running shoes feature breathable uppers, ensuring that your feet stay cool and dry, even in warmer conditions.
Considerations When Choosing Trail Running Shoes
While trail running shoes can serve a dual purpose, it's essential to consider the primary activity you'll be engaging in most often.
Fit: Always prioritize a good fit. A shoe that fits well will reduce the chances of blisters and discomfort on long runs or hikes.
Terrain: If you're frequently hiking in very rocky and technical terrains, you might want a shoe with more underfoot protection than a standard trail runner.
Durability: For regular hiking, you may want to look for trail running shoes known for their durability, as hiking can be tougher on shoes than running.
For enthusiasts looking to combine their love for hiking and running without the burden of owning multiple pairs of shoes, trail running shoes are a fantastic solution. They bridge the gap between lightweight running shoes and heavy-duty hiking boots, offering a blend of protection, comfort, and traction suitable for a wide range of outdoor adventures. Whether you're conquering peaks or pacing through forest trails, trail running shoes ensure you're well-equipped for the journey ahead.
Trail Running Shoes That You Can Use For Hiking
When it comes to trail running, it is essential to have the right footwear that offers proper support, traction, and flexibility. While hiking shoes can be used for short bursts of running on trails, they are not ideal for extended runs. Trail running shoes are more versatile and can be used for hiking different terrains.
There are several trail running shoes that you can use both for hiking and trail running. Here are five options from well-known men's brands.
The Salomon Speedcross 5 is a popular choice among trail runners for its aggressive grip, lightweight design, and exceptional comfort. With a Contagrip® TA outsole, the shoe provides excellent traction on wet, muddy, and uneven terrains. The cushioning and stability features make it suitable for both beginners and experienced trail runners.
New Balance Hierro v6 is a versatile trail running shoe that combines durability and comfort. It features a Fresh Foam midsole, providing a soft and responsive ride. The Vibram® MegaGrip outsole offers superior traction, making it suitable for various trail conditions. The toe protect technology further enhances durability and protection against rocks and debris.
Known for its maximalist cushioning, the HOKA ONE ONE Speedgoat 4 provides excellent protection and comfort for long trail runs. The Vibram® MegaGrip outsole offers reliable traction on diverse terrains. The shoe's breathable upper and gusseted tongue keep your feet comfortable, even on the most demanding trails.
Brooks Cascadia 15 is a durable and stable trail running shoe that offers a well-balanced ride. The Pivot Post system provides stability on uneven terrain, while the BioMoGo DNA midsole offers adaptive cushioning. The TrailTack sticky rubber outsole ensures excellent grip, making it a suitable option for various trail conditions.
The Altra Lone Peak 7 is a favorite among trail runners who prefer a natural foot shape and zero-drop design. The shoe features a wide toe box, allowing your toes to splay naturally. The MaxTrac™ outsole with multi-directional lugs offers exceptional grip on varied terrains. The balanced cushioning and FootShape™ design provide a comfortable and natural running experience.
---
---