Some of the links in this post are affiliate links. This means if you click on the link and purchase the item, I will receive an affiliate commission at no extra cost to you. All opinions remain my own.
Selkirk, in the Scottish Borders, is a great option if you're seeking a peaceful vacation spot. Historic Selkirk overlooks the beautiful Ettrick and Yarrow Valleys from its perch on a hill. 
Selkirk's history extends back to the 12th century when it served as a royal burgh and a major textile hub. Today's Selkirk is a quaint community rich in history and tradition but open to new experiences and conveniences.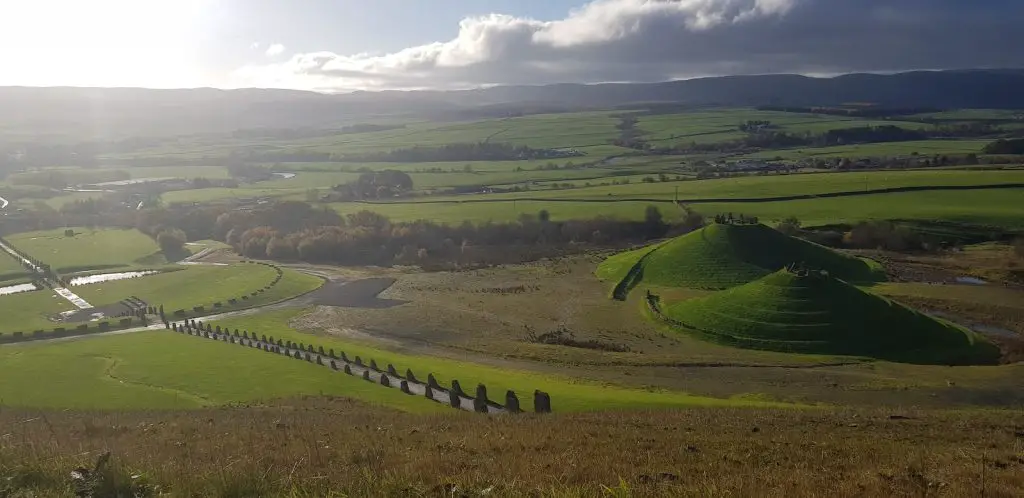 Why is Selkirk Famous?
Selkirk is famous for several reasons, some of which are:
William Wallace
After winning the Battle of Stirling Bridge, the legendary Scottish hero was proclaimed Overlord of Scotland in Selkirk's Forest Kirk in 1298. A statue of Wallace stands outside the town hall, and a stained-glass window in the church depicts his coronation.
Sir Walter Scott
The renowned novelist and poet served as Sheriff of Selkirk for 33 years, from 1799 to 1832. He wrote some of his most famous works in Selkirk, such as Waverley, Rob Roy, and Ivanhoe. 
During the 1822 visit of King George IV, he was also instrumental in preserving Scottish culture and heritage. His courthouse, where he heard cases and hosted literary events, is open to the public and located in the heart of town.
Selkirk Common Riding
This is one of the earliest and largest Border celebrations, dating back to the 1513 Battle of Flodden. 
Every June, hundreds of motorcyclists take a ceremonial ride around the town's perimeter to commemorate the 80 men who went to battle with King James IV. Still, only one returned carrying a blood-stained English flag. 
The event is vibrant, musical, and emotional, attracting thousands of spectators.
Selkirk Bannock
This wonderful fruit cake started in Selkirk and had since spread across Scotland and beyond. It is prepared in a circular pan using flour, butter, sugar, eggs, raisins, and candied peel. 
It is often eaten with butter or cheese and sometimes with whiskey. It is available at local bakeries and online.
What Areas to Explore in Selkirk?
Selkirk has plenty of areas to explore, both within and outside the town. Some of the best places to visit are:
Halliwell's House Museum – This is the oldest dwelling in Selkirk, dating from the 18th century. It was once the home of Robert Halliwell, a prosperous merchant and burgess. The museum displays exhibits on the history and culture of Selkirk, including its textile industry, famous people, and festivals. You can also see a collection of artifacts from the nearby Roman fort of Trimontium.
Bowhill House is a magnificent Georgian mansion set on extensive grounds about three miles west of Selkirk. It is the country home of the Duke and Duchess of Buccleuch, one of Scotland's most powerful families. You can tour the house and admire its fine art collection, featuring works by Canaletto, Reynolds, and Gainsborough. You can also enjoy the beautiful woodland walks and the adventure playground in the estate.
Ettrick Forest – This vast area of hills, moors, and forests covers much of the Scottish Borders. It was once a royal hunting ground and a stronghold of the Border reivers. It is now a popular destination for outdoor enthusiasts, who can hike, bike, fish, or horse ride on its scenic trails. You can also visit some historic sites in Ettrick Forest, such as Newark Castle, Dryhope Tower, and Tibbie Shiels Inn.
St Mary's Loch – This is the largest natural loch in southern Scotland, located about 10 miles south of Selkirk. It is a tranquil spot for fishing, boating, or picnicking, with stunning views of the surrounding hills. You can also explore some of the literary associations of St Mary's Loch, such as James Hogg's cottage at Altrive Lake or Sir Walter Scott's monument at Dryburgh.
Final Words
Selkirk, located in the Scottish Borders, is a magnificent jewel that a larger number of visitors should visit. 
It claims a rich history, a vibrant culture, stunning natural environments, and friendly and hospitable inhabitants. The community of Selkirk is the ideal destination for those in quest of a tranquil and fulfilling retreat.
What to read next?