Some of the links in this post are affiliate links. This means if you click on the link and purchase the item, I will receive an affiliate commission at no extra cost to you. All opinions remain my own.
If you want to be a successful blogger, prepare for a long-term work. There is no overnight success – to get ahead you have to create content and the accompanying graphics, promote it and grow in a few different directions. However, you can be strategic about what you are writing, to make the blogging journey to grow faster. Creating an evergreen blog content is one of the ways to ensure that with each blog post your blog will be gaining more readers in the future.
What is evergreen blog content
Evergreen content is something that will stay relevant with time. It is neither seasonal nor about the current events in the world. This kind of content stays relevant for a long period of time and drives traffic to your blog even years after it has been published.
A good example of evergreen content is "how-to" guides. "How to change a tire" probably won't go out of fashion for several years.
Why you need evergreen blog content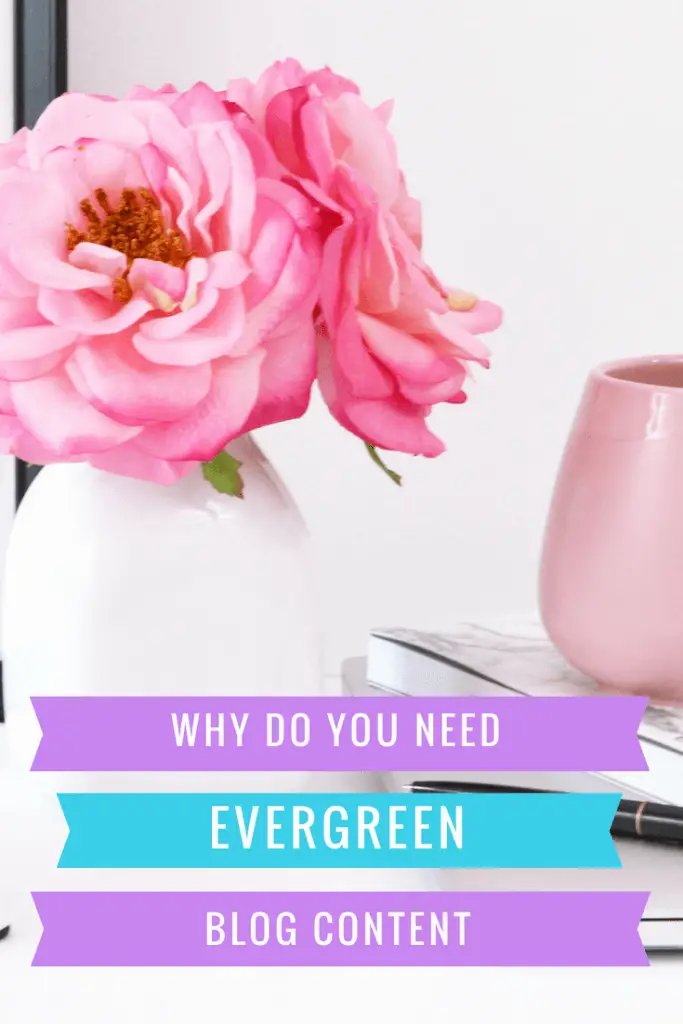 Better in SEO
As the evergreen blog posts are something that you want your readers to find in the future, you'll probably spend more time to write a longer article using better keywords. This, in turn, leads to your article being more valuable than others in the evaluation done by the search engines. A better prepared and researched article will be easier to find for your potential audience.
Grows your blog traffic
Ranking higher in the search results will bring more readers to your blog post. You can use this traffic to grow your blog even more.
Evergreen articles should be connected to your other blog posts. This way readers from the evergreen blog post will open other pages on your blog thus growing your page view count.
Better for social sharing
As the evergreen content will be relevant in the years to come, you don't have to be shy about sharing it on social media multiple times.
One tweet lives a couple of minutes before it is buried below other tweets. Facebook posts lately rarely get seen by your followers. You get the picture.
So having some content that you can share repeatedly is a good thing. Having an evergreen content that you can easily share tomorrow and a year from now is a good thing that gradually grows your blog.
How to create evergreen blog posts
Types of evergreen content
There are several generic types of blog posts that tend to be evergreen.
How to guides – these cover creating or making anything. Have your blog audience in mind and come up with an idea of what could help them. It can be anything, e.g. home organization, relationship, gardening or doing finances.
Product reviews – helpful guides about the characteristics of a product and pros/cons of using it. This type of content will be relevant as long as the product is available for sale.
Lists – these can be gift lists, resource list, travel destination lists, recipe lists or any other kind. People like the format of lists, as it allows to quickly scan the content for interesting ideas, and read only something that captures their interest.
Checklists – these are like step-by-step guides on how to do something correctly. Usually, checklists are accompanied by a visual graphics or in a printable format.
Writing a blog post in any of these formats doesn't automatically make them evergreen. However, these types of posts tend to be relevant for longer periods of time. Especially practical guides like "How to create a blog" will bring traffic to your blog for quite some time.
Tips for writing evergreen content
Choose an evergreen topic
Think about the area in which you are an expert and could help your blog readers. Is there any topic which you could explain or show how to do? It can be a list of resources that could be helpful to solve a problem, a practical how-to guide, or even a round-up of something like recipes, exercises, travel destinations. Choose something that is not seasonal and would be interesting to your readers in the years to come.
Do keyword research and optimize for SEO
The idea behind creating an evergreen blog content is that people will be finding it in the future, so you have to make sure to add some relevant keywords to it. Do the keyword search here and sprinkle the relevant keywords in some of the headers in your blog post.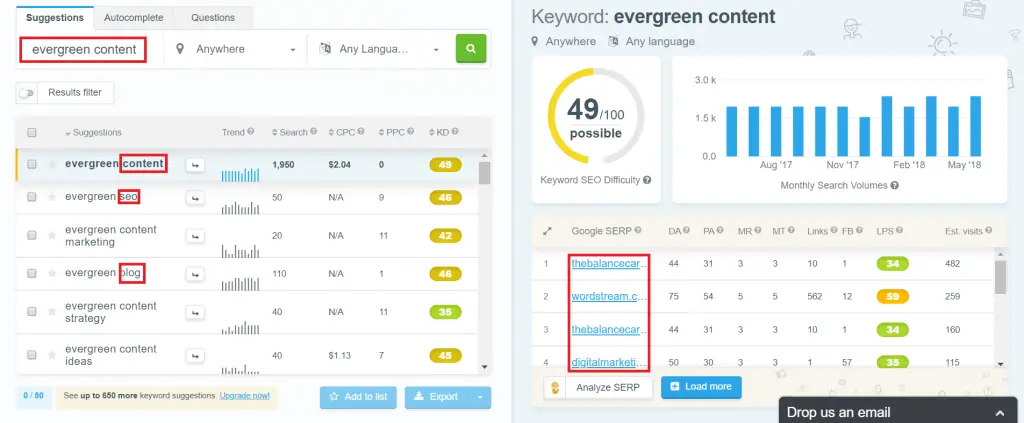 When you write the main keyword in the search, KWfinder lists the count of searches that people have done for this keyword.
On the left side, there is also a list of other relevant searches, where you can get inspiration for some additional words that you could use in the blog post.
On the right side, you can open up some of the links with relevant articles. These may help you to get inspiration, as well as some ideas as to what hasn't yet been written by others, but may be relevant to your readers.
In addition, you want to link other content from your own blog to the new post. This will lead the readers of the evergreen blog post to open more posts from your blog, which will result in more page views.
You want to link other relevant posts from the industry as well so that the search engines would know that your blog post is supported by relevant content written by others.
Write for beginners
Search engines and the audience prefer longer, in-depth articles that address and fully explain the relevant problem and the solution. So don't be laconic and don't write just for the experts. By writing for beginners your potential audience becomes broader.
See this post for more ideas on headlines that are usually used for writing an evergreen blog post.
How to boost long-lasting blog content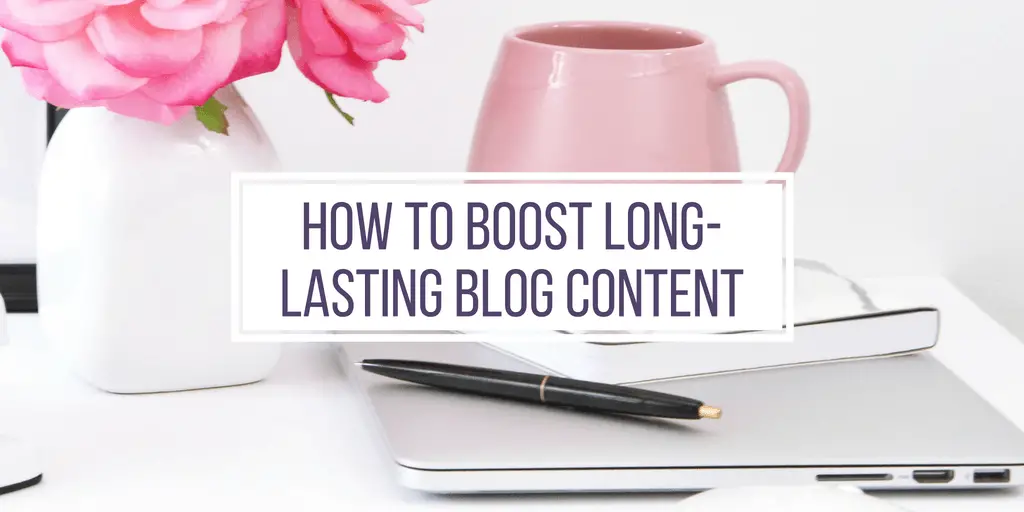 It is not enough to just write an evergreen blog post and forget about it. You will get much better results if you make some effort to promote and highlight the timeless articles:
Create multiple Pinterest graphics and add to your post. Not only Pinterest is an excellent source of traffic, it will show your pins in the smart feed in the following months without any additional work from your side.
Add the blog post to your sidebar. This way it will be noticeable to your readers, who open any other page on your blog.
Schedule the blog post on other social networks for several appearances in the future. I use "Revive Old Posts" WordPress plug-in to automatically re-post my evergreen blog posts to Twitter.
Periodically return to the evergreen blog posts and update them. It is one of the SEO tactics to tell search engines that the article is still relevant and that they can show it higher in the search results.
Your turn
What type of content do you generally write – evergreen or time-sensitive? Do you see an increase of readers for the blog posts that are evergreen? how often do you go back to the older blog posts and update them?