Some of the links in this post are affiliate links. This means if you click on the link and purchase the item, I will receive an affiliate commission at no extra cost to you. All opinions remain my own.
One of the most popular types of blog posts that can earn you money from affiliate marketing is a list of things from Amazon. So how can you create such a blog post where Amazon items are listed, have pictures, and are centered? I'll show you how to link to an Amazon product from your blog in the steps below.
Here is an example of the list posts that I'm talking about. In this post I listed cute backpacks for travel.
Step 1: Sign up for Amazon Associates
If you haven't already, sign up for Amazon Associates. This way you'll let Amazon know that you want to recommend their products to your audience and in return receive a small commission from Amazon if a purchase is made.
Signing up to be an affiliate to Amazon will give you access to Site Stripe – an easy way to get a link to any page on Amazon where the link is connected to your Associates's profile. This unique link is the way how Amazon knows that you were the one who led the customer to their store.
Don't forget that any kind of recommendations that you do on your blog with affiliate links and the potential for you to earn a commission has to be disclosed. Check out my post on how to disclose affiliate links automatically on your blog.
Step 2: Go to the Amazon product and take the code for its picture
A picture is worth a thousand words they say. If you don't have a nice image of the product that you are writing about on your blog, it's possible to add a picture of the Amazon listing.
To embed a picture from Amazon, go to the product that you want to be displayed. At the top of the page, you will see Site Stripe. There press Image -> select "Large" -> and get the generated code.
Step 3: Embed Amazon listing image on your WordPress blog
You have a code to put in your blog post from the previous step, but how do you actually insert it into WordPress?
It's simple. Add a new block in the editor and choose that it will be "Custom HTML". Then paste the code that you got from Amazon inside. You can then Preview the post in WordPress to see how does it look like and if the desired picture is there.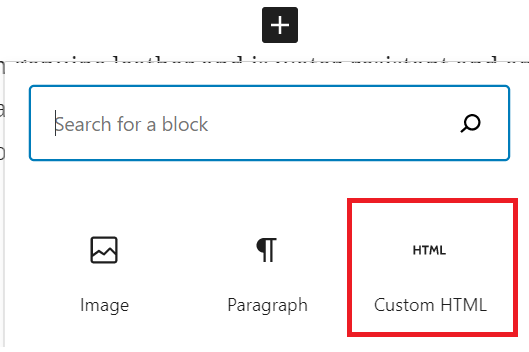 One thing you may notice is that Amazon picture is on the left side of your blog post. And it doesn't look nice.
Luckily, it's easy to fix this and to center the embedded product image from Amazon. You just need to add a little bit of code before and after the code that you got from Amazon. You can bookmark this blog post for later if you plan to use this code in multiple blog posts.
<div align="center">

Paste the Amazon product picture code here.

</div>
Below is an example of how this will look like in the HTML editor.
After you have added the code you can preview it straight in the editor (as marked in the picture below) or preview the whole blog post in WordPress. It should now contain an image from Amazon that is right in the center of your blog post.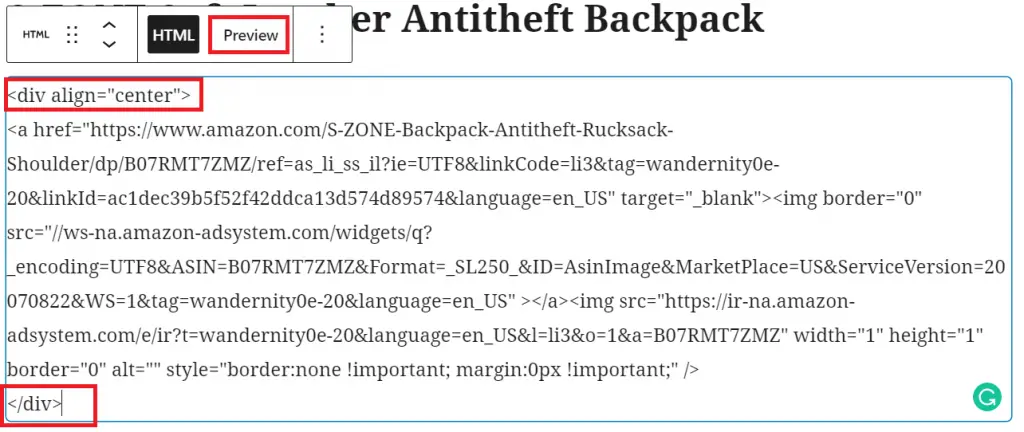 Step 4: Add the rest of the text to your blog post
After you have added a picture you most probably want to write something more about the product you are adding to your blog post.
Why do you recommend it? Does it have any unique qualities? Maybe you can explain how to use the product of what problems would it solve for your reader. This all helps to attract potential buyers and increase the chance of them to click through to Amazon and actually buy the thing.
It's smart to add some more links to the product inside the text. To get amazon affiliate links for the text, open Amazon and go to the product -> in Site Stripe click on "Text" -> copy the short link -> add the link to the product name in your blog post -> make the link as "nofollow" for the search engines.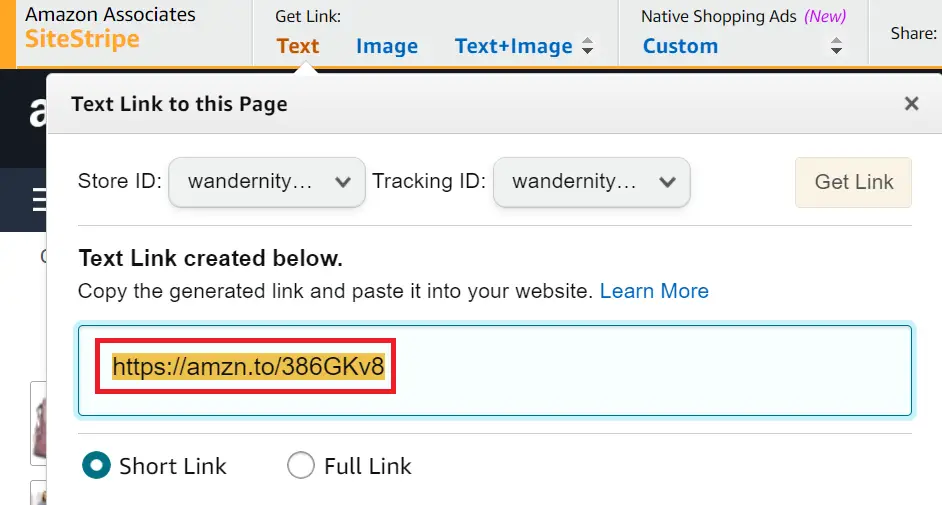 And this is how you can get product images and affiliate links from Amazon to your blog post.