Some of the links in this post are affiliate links. This means if you click on the link and purchase the item, I will receive an affiliate commission at no extra cost to you. All opinions remain my own.
Any and all items that are used to groom one's person are considered toiletries. These include products ranging from toothbrushes and toothpaste to make-up products, wet wipes, and shaving gels.
If you are a frequent flier, you will know that packing toiletries is a different struggle than packing the rest of your luggage. If these essential, tiny items are not packed properly, you run the risk of spillage and soiling the rest of your stuff. Airlines and the TSA also have rigid rules regarding the transport of these materials that you must follow. 
This article will discuss how to effectively pack toiletries for air travel to get them to your destination without any hassle.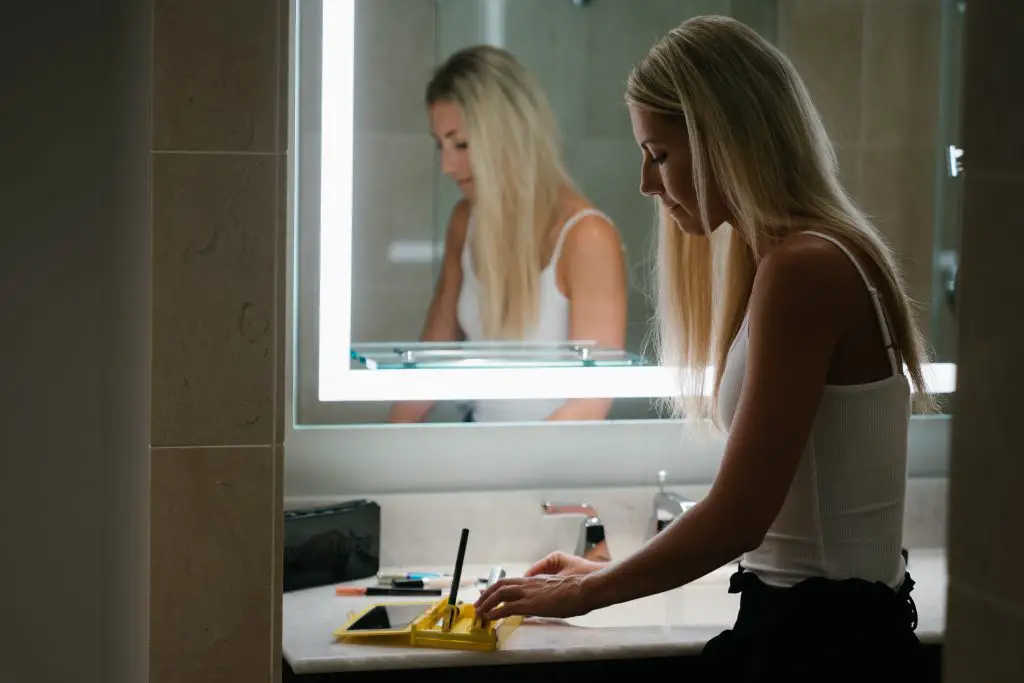 How to Pack Toiletries for Air Travel in Carry-On Bags
There are different rules and methods for packing toiletries in carry-on bags and checked luggage. Packing toiletries in carry-on bags is a more complicated process than the latter. If you do not pack them according to the TSA guidelines, you might risk getting your items confiscated.
Here is how you can effectively pack your toiletries in carry-on bags for easy access during security checks while also following the TSA guidelines.
Get a Quart Sized Bag
While most airlines allow full-sized containers in checked luggage, transporting toiletries in a carry-on bag has different rules. The Transportation Security Administration (TSA) allows travelers to bring a quart-sized bag of liquids, aerosols, gels, creams, and pastes in their carry-on bag.
You should also ensure that your carry-on toiletries are packed in containers that weigh 3.4 ounces or less.
While regular zip-loc bags can work, it is handy to have quart-sized bags, as they are the right size, stronger than regular plastic bags, and hold exactly one quart.
You should also note that TSA allows only one quart-sized bag in carry-on luggage per passenger. Moreover, check the airline's rules before packing to ensure that you pack effectively and abide by their regulations.
Prepare a Travel Checklist
Take some time to decide exactly what you will need on the trip and pack accordingly. Think about your daily routine and put all those essential items on the list. Then, consider any specific products you might need based on your destination. For instance, if you are going to the beach, pack high-SPF sunscreen, or if you will be spending time in the woods or outdoors, pack some insect-repellant spray or lotion.
A checklist will ensure that you neither over-pack nor forget anything vital. It will also help you remember if you need to buy something or have misplaced a container.
Carry Only the Essentials
While packaging the products, think about what you use for a certain activity. For instance, for showering, you must pack body wash\soap, shampoo, conditioner, wash clothes and towels. If you exfoliate your body once a week, then do it before leaving so that you will not have to carry the scrub for your week-long trip.
The same is true for skin care; you don't need to carry the products that you only use at long intervals, like chemical exfoliants and spot treatments. Instead, just use it before leaving and immediately after you arrive. That way, you will only carry what you absolutely need while on the trip. You can carry those items if you have some space after packing the essentials.
Use Reusable Containers
If you are a frequent flier, it is a good idea to invest in reusable travel-size containers. You can buy such containers for anything ranging from perfume to lotions and toothpaste.
Moreover, you can choose the size of the containers based on airline regulations and never worry about getting your products confiscated again. These containers are travel-friendly, leak-proof, and sustainable.
You can find all sorts of mini containers, ranging from perfume sprays to pump bottles and flip-top containers. Having a container for each product will also ensure that you pack everything and do not over-pack.
Buy Toiletry Bags
You should invest in a quality toiletry bag that has different compartments for different products and preferably has a water-resistant exterior. The bag should be big enough for the quart-sized bag and all your essential products. Since TSA allows non-liquid products like lip-sticks, bars of soap, wet wipes, etc. to be carried elsewhere in your carry-on bag, you can buy one toiletries bag for liquid products like shampoo, perfume, liquid deodorants, contact lens solution, etc., and another make-up bag for solid products.
Alternatively, you can buy a hanging toiletry bag with different compartments big enough for all your products, which you can hang in bathrooms that may not have enough counter space. However, ensure that the bag is water-resistant and the compartments are leak-proof so that the products don't mix in case of spillage and they are easier to clean.
Buy Solid Toiletries
Nowadays, you can easily find solid alternatives for toiletries that are generally found in the liquid state. In addition to bars of soap, you can replace your shampoo bottle with a shampoo bar. You may also find bars of conditioner and even deodorant.
Additionally, some companies offer toothpaste or mouthwash tablets that you can take on a flight without worrying about the 3.4 ounces restriction. You can also find non-liquid alternatives for other products like make-up wipes instead of liquid make-up remover, lip balms instead of liquid lip gloss, and solid lipstick instead of the liquid alternative.
These solid alternatives are great since you can carry them in large quantities, especially if you are going to be spending a long time in remote locations. In addition to being travel-friendly, these products are also environmentally friendly and made with natural products that can be great for your body.
Buy Your Toiletries at the Airport
Most big airports have stores where you can buy toiletries after passing through the security check. These stores sell everything from body wash to beauty products, and some might even have shampoo bars. You can find there both full and travel-sized bottles that you can carry in your carry-on without any restrictions.
However, since security will not allow you to take them on the return flight, make sure to either use them up or leave them for someone before returning from the trip.
You may also refill the travel-sized containers with these products upon returning to prevent waste.
Save Product Samples
Sometimes airlines or hotels might give you complementary products like lotion, face wash, or more, or you might get free samples at an event. Since such samples are usually travel-size, it is a smart idea to save them in a drawer and use them while traveling.
If you are frequently staying at the same hotel and they provide you with essential toiletries like soap, shampoo, conditioner, toothpaste, etc., then you don't need to pack those items while traveling. If you are staying at an Airbnb, you can always check if they provide any toiletries and pack accordingly.
How to Pack Toiletries for Air Travel in Checked Luggage
Packing toiletries in checked luggage is not as much of a hassle as packing them in carry-on bags. However, there are still a few things you should consider to prevent damaging your products or not following the guidelines:
Adhere to the TSA and Airline Guidelines
According to the TSA, the total aggregate quantity of liquids, including toiletries and medications, and aerosols per person should not exceed 70 ounces or 68 fluid ounces. Additionally, the size of the containers should not exceed a maximum of 18 ounces or 17 fluid ounces. Once you ensure that your toiletries do not exceed this limit, you can pack full-sized containers in your checked bag without any worry. However, since some airlines can have different guidelines, be sure to check them before zipping up the luggage.
Use a Ziploc or Plastic Bag
Pack each bottle in a different leak-proof plastic or Ziploc bag so that your clothes are not damaged in the event of spillage. You can also use masking tape to tape off the lids of liquid toiletries. It is also a good idea to double-pack the bottles if you suspect a potential leak.
Pack with Padding
A way to ensure that the bottles are not damaged is by packing them inside shoes or wrapping them in socks or other fluffy clothes.
Alternatively, you can also put the bottles in a rigid bag or travel cube so that they don't get squished during baggage handling. To avoid damage, you should never place the items in the outer pockets of the bag; instead, always ensure they are tightly sealed and packed inside the bag where there is maximum padding.
Roll, Don't Fold
If you are bringing items like washcloths, towels, or back straps, you should always roll them instead of folding them. Rolling helps pack the item neatly and tightly and ensures maximum utilization of the available space.
Additionally, you can roll your shampoo, perfume, or other bottles with towels and washcloths to provide extra padding. However, remember to wrap the bottles in plastic or Ziploc bags before packing them with towels.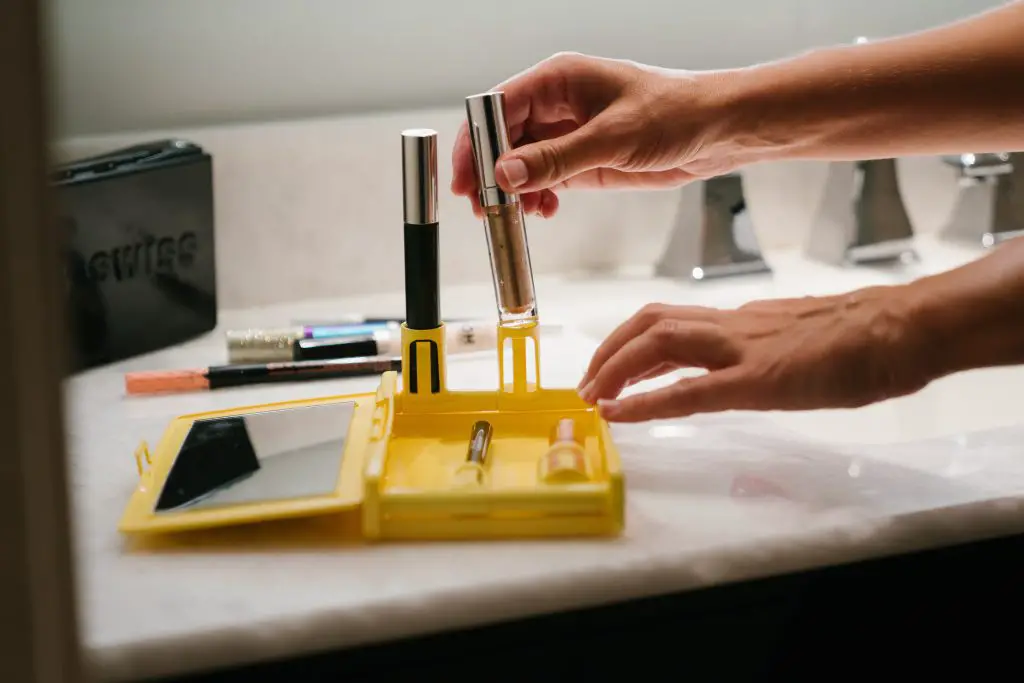 How to Save Space While Packing Toiletries for Air Travel
Maximizing one's luggage space is always a concern when packing for a trip. Packing effectively includes making the most of the limited space in your luggage and ensuring that you have everything you need for the duration of your trip. Here are a few tips and tricks you can use to save space while packing your toiletries.
Repurpose Pill Dispensers and Contact Lens Cases
Pill dispensers and contact lens cases can be excellent containers for small amounts of creams or gel-based products. They are also compact, easy to carry, and leakproof. You can also repurpose small containers to carry toiletries while traveling.
Buy Some Products at the Destination
Some items, like soap, hand sanitizer, moisturizers, or some make-up products, can be bought at the destination. You can buy these products at the destination and save space in your luggage during travel. Upon your return, you can either pack them in your carry-on or put the leftover product in travel-size containers to save space.
Share Space with Your Partner or Travel Companion
If you are traveling with your partner or a travel companion, you can share luggage spaces for packing toiletries. Moreover, if you use the same brand, you carry one container for both of you and share the products. Sharing space will also allow you to bring in more products.
Use Multi-Purpose Products
To save space in your luggage, pack multi-purpose products whenever applicable. Some of these products include shampoo and conditioner, moisturizer and sunscreen, blush and lipstick, etc. These products eliminate the need for packing two containers of everything.
Use Limited Hair Products
If you are going on vacation, you will not need hair gel and hairspray to style your hair every day. If there is limited space in your luggage, simply packing shampoo and conditioner should be enough. If absolutely necessary, you can always buy hair gel at your destination.
FAQs
What is the 3-1-1 rule?
The 3-1-1 rule is the TSA's liquid rule for traveling with liquids or aerosols. It states that you should always put liquids in containers of 3.4 ounces in one clear quart-sized toiletries bag and keep only one of these toiletries bags in your carry-on luggage. The TSA is very strict regarding this rule, so you should always keep it in mind while packing liquids for your trip.
Which make-up products are considered liquid?
The TSA considers the following products as liquid: mascara, Vaseline, sunscreen, deodorant, liquid foundation, shaving cream, body lotion, aerosols, gel eyeshadow, and any gel-based products. However, wet wipes, even though they are wet, are not considered liquid and do not have to be placed in a quart-sized bag. You can find more information on the TSA's official website.
Is there an exemption to the 3-1-1 rule?
Yes, TSA makes an exemption to the 3-1-1 rule if you are bringing prescription medications that are in the form of aerosols, gels, or liquids, as long as they are in reasonable quantities. You must also declare them at the security checkpoint and agree to any additional checks and screenings to be able to take them on the flight. Furthermore, if you are carrying prescription medication, it is a good idea to carry the written prescription and any other medical documentation that can make the security check smoother.
Do I pack my toiletries in a clear bag in my checked luggage?
No, you do not need to pack your toiletries in a clear bag if you are carrying them in your checked luggage. However, you have to ensure that the products are packed in Ziploc bags to prevent leakage and padded to prevent breakage. Furthermore, toiletries in your carry-on luggage should be in clear bags, and they should ideally be packed on top of everything else for accessibility during the security check.
Do I need to pack my solid and liquid toiletries in the same bag?
While it is entirely up to you to decide whether or not you want to separate your solid and liquid toiletries, you do need to take the liquids out of your bag at the security check. In this regard, it can be easier if you pack them separately from the solid products. However, if you have a toiletry bag big enough to hold all your products, use one (preferably the leak-proof) compartment for your liquids and place the solid products in the other compartment.
Conclusion
Packing toiletries for air travel can be a stressful process if you don't have adequate information or don't know simple tips and tricks. While the airlines and TSA have rigid rules regarding the transport of liquids, gel-based, and aerosols by air, the packing process is easy once you get the hang of it. You have to always remember to pack the liquids in containers with a capacity of a maximum of 3.4 ounces, put the containers in a quart-sized bag, and keep only one such bag in your carry-on luggage.
Similarly, the containers of liquids, gels, and aerosols packed in checked luggage should not exceed 17 ounces, and one person should only carry a total of 68 ounces of these products in their checked luggage.
To make packing toiletries for air travel easier, you can pack them in travel-sized containers, and repurpose contact-lens cases, pill dispensers, and other small containers. Moreover, you can replace liquid products with solids such as shampoo bars, conditioner bars, deodorant bars, toothpaste tablets, etc.
Similarly, if there are some items that you absolutely need but cannot fit in your bag, you can always buy them at the airport or at your destination. Effective and smart packing will allow you to enjoy your trip without having to miss your favorite brand of toiletries.
---
---