Some of the links in this post are affiliate links. This means if you click on the link and purchase the item, I will receive an affiliate commission at no extra cost to you. All opinions remain my own.
Ranging from beautiful beaches, dense rainforests, and majestic volcanic peaks, Costa Rica stands out as an idyllic haven for vacationers searching for a healthy mix of rest, relaxation, and adventure. 
Renowned worldwide for its immaculate vistas, Costa Rica is a no-brainer choice for your next destination vacation. When planning your visit, ensure your accommodations are as beautiful as the rest of the island to elevate your experience.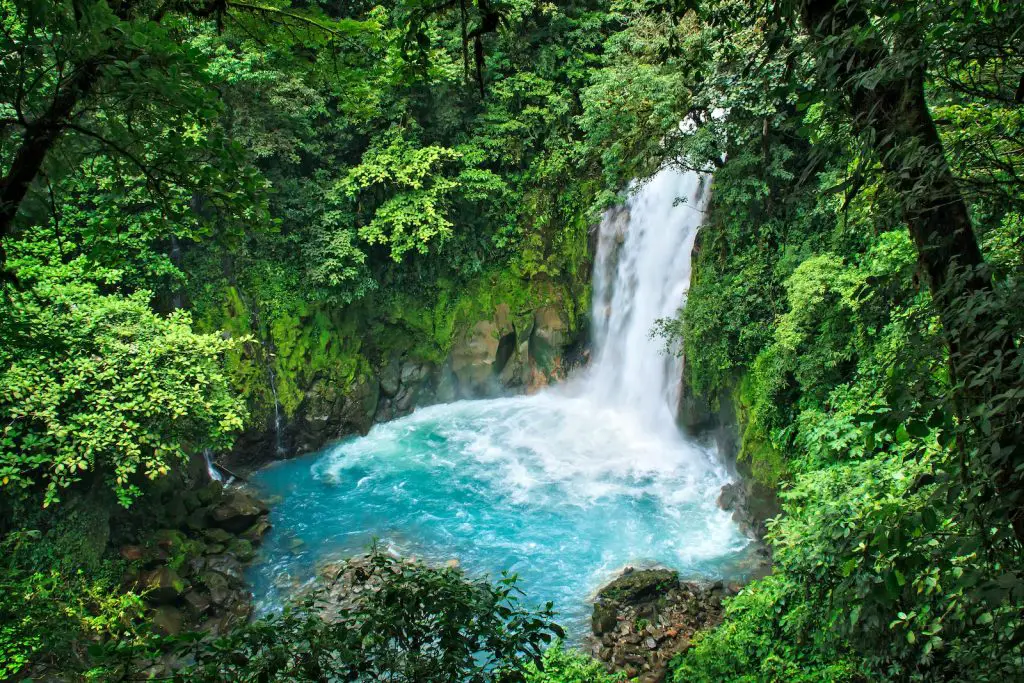 Choosing Accommodations – Benefits of a Luxury Rental in Costa Rica
When it comes to vacationing in Costa Rica, the primary benefit of a luxury rental lies in the elevated level of comfort and refinement compared to conventional accommodations for international travel. 
Swimming pools, Jacuzzis, indulgent spa services, and state-of-the-art gourmet kitchens ensure a private, exclusive feel throughout your trip. Many villas feature a private chef, making your vacation more luxurious. 
Additionally, guests can arrange private transportation and exclusive tours catering to their ideal experience by collaborating with concierge services and villa staff.
Why Costa Rica is the Ideal Location for Luxury Rentals
Costa Rica's exceptional reputation as a premier destination for luxury rentals can be attributed to several key factors. 
The country has made significant strides in incorporating tourism into its economic development strategy, creating top-notch facilities and services that cater specifically to discerning travelers who seek the epitome of luxury.
Furthermore, Costa Rica's breathtaking natural beauty and extraordinary biodiversity make it an exceedingly desirable destination for those seeking abundant travel experiences. Its unwavering dedication to environmental conservation is what truly sets Costa Rica apart from other regional destinations. By prioritizing sustainability, 
Costa Ricans create a unique experience where guests can enjoy first-class amenities against the backdrop of spectacular nature without compromising on their eco-friendly values.
The Rising Trend of Luxury Rentals in Costa Rica
Over time, there has been a consistent rise in the demand for luxurious accommodations in Costa Rica. 
This can be attributed to various reasons, including the country's increasing renown as a top-notch destination for luxury travel and its unique ability to provide extraordinary experiences that seamlessly blend opulence with the breathtaking natural beauty and cultural diversity of Costa Rica.
Furthermore, the surge in popularity of upscale rentals is also due to their personalized approach and customized offerings. With dedicated villa staff and concierge services, guests can create tailor-made itineraries that cater to their individual preferences.
Whether it's relishing in gourmet meals prepared by private chefs, indulging in spa treatments surrounded by tranquil nature, or embarking on exclusive adventure tours, luxury rentals in Costa Rica provide unparalleled exclusivity and customization.
Conclusion
For discerning travelers searching for a lavish getaway, Costa Rica presents an unparalleled combination of luxury and environmental consciousness. 
This exceptional island caters to the desires for both luxury and sustainability, boasting breathtaking natural landscapes alongside a steadfast commitment to conservation efforts.
With their impeccable amenities and services, Costa Rica offers high-end rentals that allow visitors to indulge in extravagance while demonstrating a deep respect for preserving the environment. 
The country's standing as a premier ecotourism spot, and its unwavering dedication to sustainable practices and environmental stewardship elevate it further as an immensely sought-after location for those seeking luxurious accommodations.