Some of the links in this post are affiliate links. This means if you click on the link and purchase the item, I will receive an affiliate commission at no extra cost to you. All opinions remain my own.
Scottsdale, Arizona, is known for its vibrant culture and stunning desert landscapes. This city offers a range of hidden gems that provide the perfect backdrop for romantic escapades. For couples planning a getaway, this guide will introduce you to the enchanting spots that ignite your passion.
Scottsdale: The perfect romantic escape
Scottsdale offers something special for every couple, from art districts to hot air balloon rides. Also, you will find a wide variety of luxury vacation rentals in Scottsdale that will make your trip as a couple an unforgettable experience.
In this blog, we will explore some of Scottsdale's most romantic spots that often go unnoticed. These hidden gems allow couples to connect with the city's unique charm.
So, grab your partner's hand and embark on an adventure to discover the romantic side of Scottsdale.
1. Old Town Scottsdale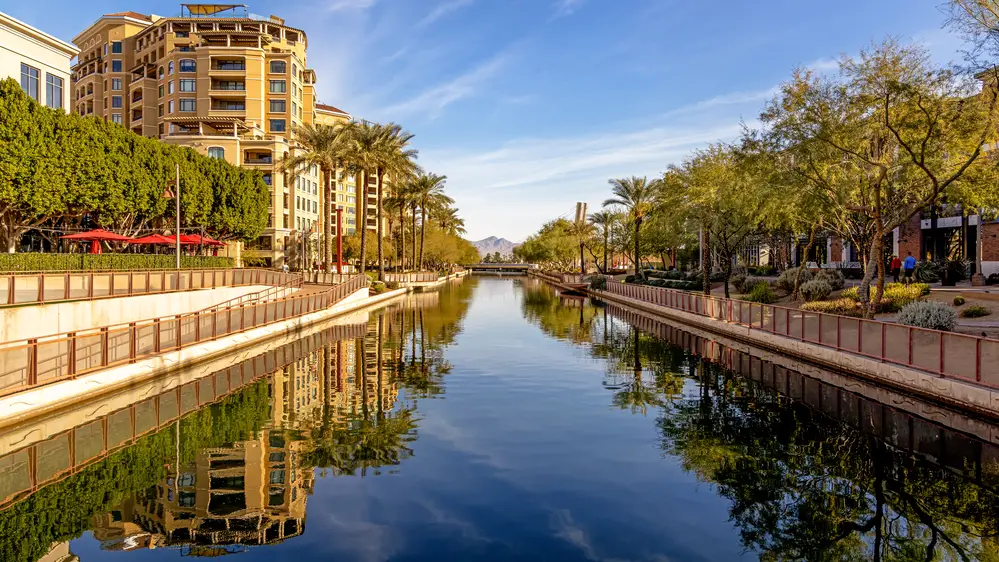 Strolling through the Art District
The heart of Scottsdale's art scene lies in Old Town. Take a leisurely walk hand in hand along the charming streets. From contemporary to Southwestern masterpieces, marvel at the diverse range of artwork on display. Stop by the Scottsdale Museum of Contemporary Art (SMoCA) to experience thought-provoking exhibits that will deepen your connection.
Enjoying a Romantic Dinner
After immersing yourselves in art, treat your taste buds to a romantic dinner in Old Town Scottsdale. The area boasts a plethora of cozy and intimate restaurants. It offers a variety of cuisines to satisfy every palate. Indulge in exquisite dishes crafted with locally sourced ingredients. Whether you prefer a candlelit dinner or a casual outdoor patio experience, Old Town has it all.
2. McDowell Sonoran Preserve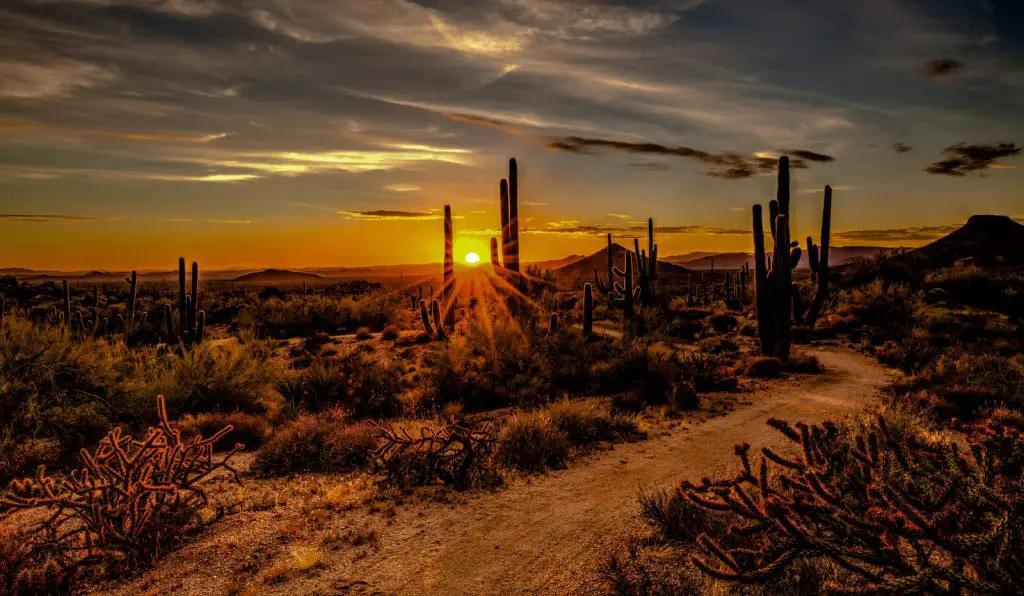 Hiking Trails for Couples
For nature-loving couples, McDowell Sonoran Preserve is a paradise waiting to be explored. The preserve offers an extensive network of trails to embark on a journey hand in hand. Put on your hiking boots and venture into the breathtaking desert landscape. Lose yourselves in the beauty of towering saguaro cacti and panoramic views of the Sonoran Desert.
Sunset Views from Gateway Trailhead
For a genuinely magical experience, head to the Gateway Trailhead in the McDowell Sonoran Preserve. You will witness a breathtaking sunset. As the golden hour casts its warm glow over the desert, find a cozy spot to sit. The moment's tranquility will create an unforgettable memory for you and your loved one.
3. Taliesin West
Exploring Frank Lloyd Wright's Legacy
Step into the world of architecture and design by visiting Taliesin West. This place is the winter home and architectural school of the renowned Frank Lloyd Wright. This UNESCO World Heritage site showcases Wright's innovative vision and organic architecture. Take a guided tour to discover the fascinating history of the property. The unique blend of nature and architecture will leave you inspired.
Taking a Guided Tour
To truly appreciate the magnificence of Taliesin West, join a guided tour given by knowledgeable docents. Explore the living quarters, the iconic drafting studio, and the beautiful desert gardens. Hear captivating stories about Wright's life and his groundbreaking architectural concepts. The tour deepens appreciation for the artistry behind this architectural masterpiece.
4. Desert Botanical Garden
Admiring the Desert Flora
Enter a world of vibrant colors and exotic plants at the Desert Botanical Garden. This 140-acre oasis showcases a diverse collection of desert flora. Discover the beauty of blooming cacti, intricate succulents, and rare desert flowers. Wander through the tranquil garden paths, hand in hand, as you marvel at the unique adaptations of desert plants. The garden's serene atmosphere will provide you with a peaceful retreat.
Experiencing the Chihuly Exhibit
A highlight of the Desert Botanical Garden is the stunning Chihuly exhibit. This place will add a touch of artistic enchantment to your romantic outing. Renowned glass artist Dale Chihuly's vibrant glass sculptures beautifully complement the desert landscape. As you meander through the garden, you'll encounter these awe-inspiring installations. Allow the captivating colors to ignite your imagination and create a shared sense of wonder.
5. Hot Air Balloon Ride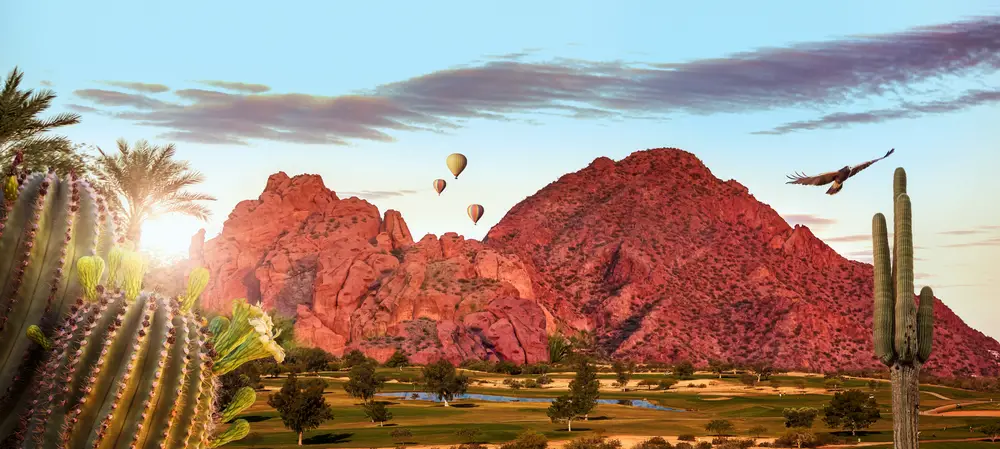 Soaring Above Scottsdale
For an unforgettable experience, embark on a hot air balloon ride over Scottsdale. Drift gently through the sky with your loved one. Enjoy the panoramic views of the city, desert landscapes, and majestic mountains. As you float serenely above, feel a sense of unmatched freedom. The awe-inspiring vistas and the shared adventure will deepen your bond.
Champagne Breakfast
After your thrilling hot air balloon ride, savor a champagne breakfast to celebrate your romantic journey. Many hot air balloon companies offer this delightful experience. You can toast your adventure and enjoy a delicious spread of breakfast delights. Raise your glasses and savor the flavors. Relish in the joy of being together in this unique and enchanting moment.
Conclusion
Scottsdale is a city filled with hidden gems that cater to couples seeking romantic experiences. Whether strolling through botanical gardens or indulging in fine dining experiences, Scottsdale's hidden gems provide the perfect backdrop for your romantic getaway.
So, take the time to explore these romantic spots. Let the enchanting beauty of Scottsdale ignite your passion and deepen your connection.