Some of the links in this post are affiliate links. This means if you click on the link and purchase the item, I will receive an affiliate commission at no extra cost to you. All opinions remain my own.
If you want to make money with your travel blog, Youtube channel, or any other content creation platform where affiliate marketing is possible, then you should definitely join Travelpayouts.
I joined them a few months ago and have received my first payment to PayPal, and in this post, I want to tell you why I'm happy about this partnership. This Travelpayouts review is based on my experience of using it for 5 months.
What is Travelpayouts?
Travelpayouts is one of the best travel affiliate programs out there. Currently, they have more than 100 different companies in the Travelpayouts affiliate network.
What this means for you is that you don't have to join each separate affiliate program for travel companies like Booking.com, GetYourGuide, Viator, and many others. Instead, you can join their affiliate programs through Travelpayouts in a unified way and see all of the statuses in one common dashboard.
And the best thing?
You can also get all of the affiliate commissions summed up together in one common payment in Travelpayouts.
If you're looking for a travel affiliate program that offers a lot of choices and great commission rates, then Travelpayouts is definitely worth checking out.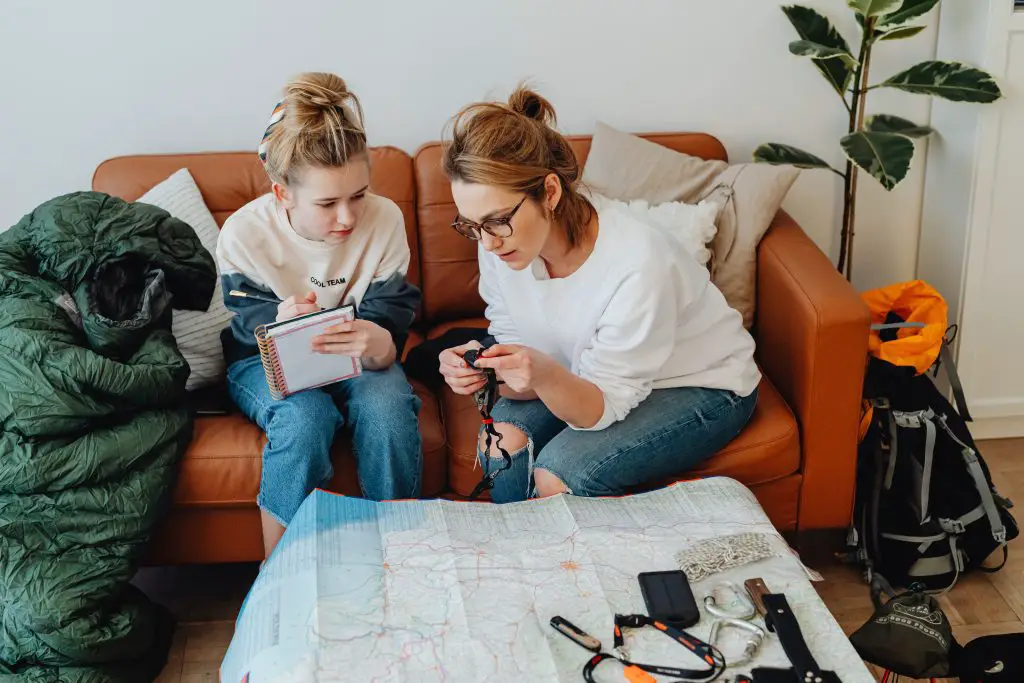 How does Travelpayouts work?
The overall approach of how you can make money with Travelpayouts is based on affiliate sales. You can read more about the basics of affiliate marketing here, but these are the main steps:
Someone reads your blog post or social media post where you talk about a hotel/flight ticket/tour/travel insurance/car rental.
They click on a link that you have generated in Travelpayouts.
They actually buy the recommended thing or something else from the site where you had linked to. They finish their stay in the hotel/flight / or anything else that they bought.
You get paid after their action is completed and when you reach the minimum payout threshold.
Here are some blog posts that have links to Travelpayouts partners and have the potential to earn affiliate income for me:
As long as you are writing about something specific like a place where to go, you can find really great services like tours and hotels that you may suggest to your readers.
There are many types of blog posts that can make money with affiliate marketing, so you can choose the ones that appeal to you most.
How can you sign up for Travelpayouts?
Signing up for Travelpayouts is free and super easy. You just have to provide an email address and come up with a password. However, to start the promotion of different products in the travel niche you'll have to apply for separate programs manually.
It's also really easy to do, but some of the programs don't accept affiliate marketers automatically. So to be accepted by all of the desired brands, you'll have to wait for a few days.
Some of the most popular programs which you can apply are:
Booking.com
GetYourGuide
Viator
Agoda
Kiwi.com
loveholidays
Rentalcars.com
Tripadvisor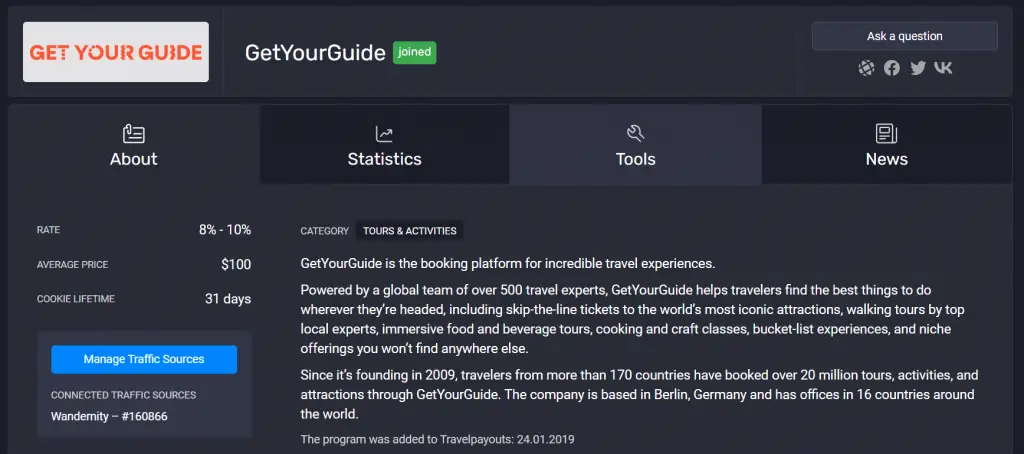 When you are applying for each program, you'll see the details of the program. They are different, so pay attention here. The details inform about where and how you are allowed to use the affiliate links, what the affiliate commission rate is, how long the cookie will be active, and some other details.
For example, Booking.com pays you 4% of the value of the booking. Cookie lifetime is one session.
GetYourGuide pays you 8%-10% per booking and the cookie lifetime is 31 days.
So there is a difference and this information may lead you to choose to promote some of the products more than others.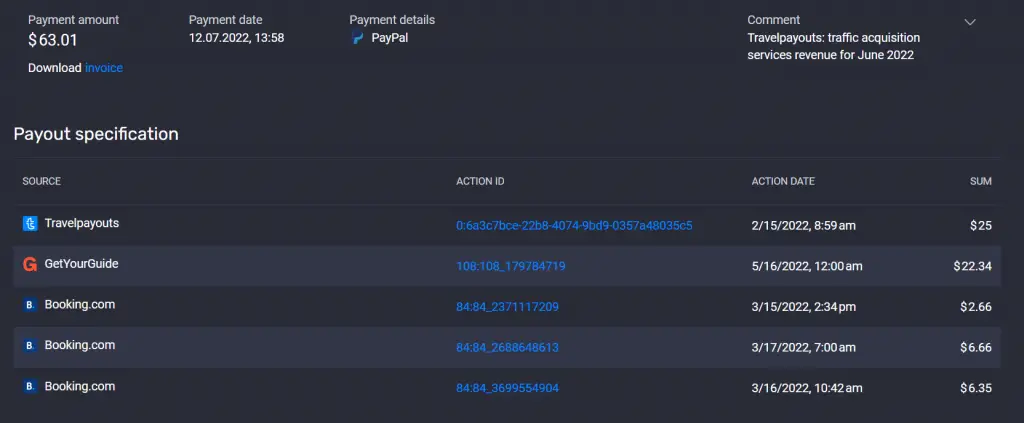 How I earned my first $63 with Travelpayouts
It took me a few months to reach the payment threshold, and then a bit of time until all the bookings were finished and the monthly payment time was due.
Almost half of the payment was the bonus of $25 that I got for signing up for Travelpayouts.
The sales were quite slow in the spring. This was influenced by the pandemic and by me quite slowly adding affiliate links to my blog posts. It takes a bit of time to switch the existing links to Travelpayouts, but you have to do it just once.
I have seen the sales go up in the summer months. So hopefully I'll soon be able to get the next payment.
As you can see, the best part of Travelpayouts is that they sum up all of the payments from different affiliate providers. It might be harder to reach the minimum payouts in each of them individually, but it's easier if they are all counted together.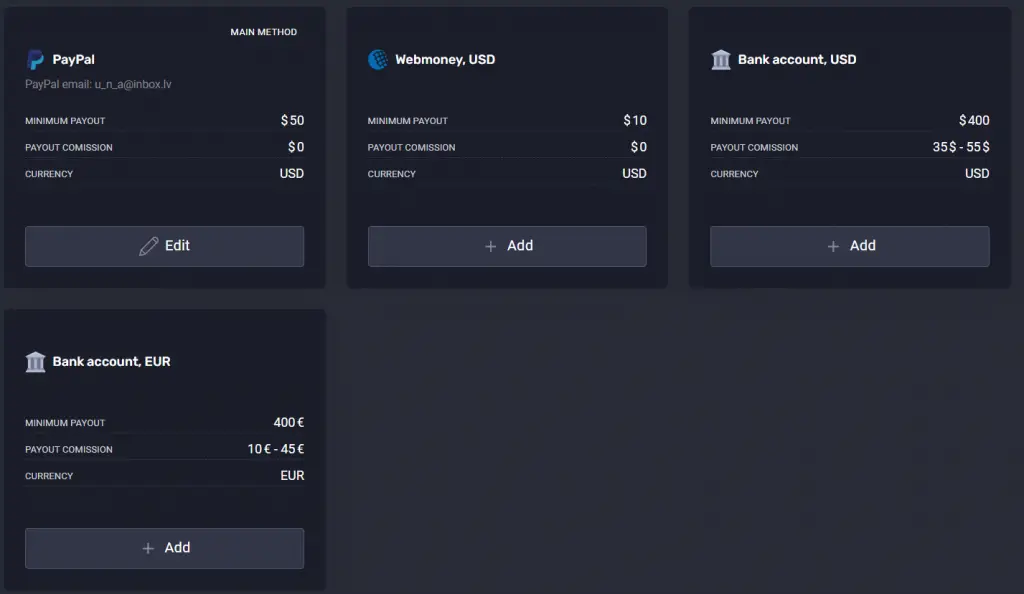 Travelpayouts payment options
You can get your money from Travelpayouts with these methods:
PayPal
Webmoney
Bank account
Each of the methods has different minimum amounts and payout commissions.
I prefer PayPal as the payment method from Travelpayouts, as it has a minimum payout of only $50 and has no fees.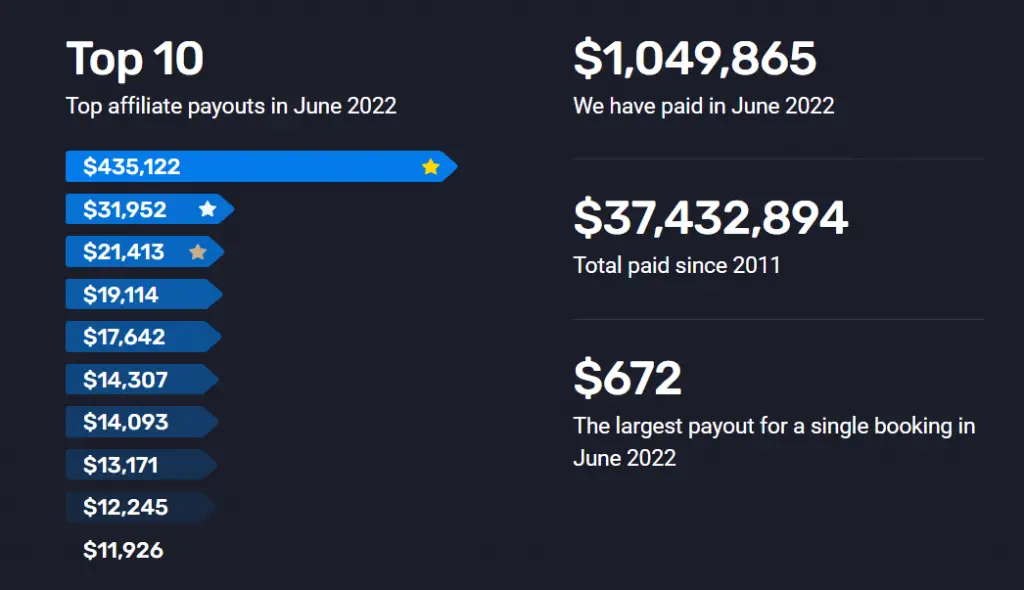 How much can you make with Travelpayouts?
Travelpayouts sign-up page motivates people to join the affiliate network by revealing the top earner income each month.
For example, in June 2022 the top 10 earners all exceeded 10k dollars in affiliate commissions.
However, if you are just starting out, your numbers obviously will be more modest. This is just a motivation for what is possible to be achieved by affiliate marketing. However, the more traffic and blog posts you have with recommendations that are actually helpful to your readers, the bigger the chance to earn more.
Is Travelpayouts legit?
Travelpayouts is a legitimate and reputable travel affiliate network that has garnered positive feedback from its users. Boasting a 4.4 rating on Trustpilot based on 116 reviews, it is evident that many individuals are satisfied with their experiences working alongside this platform. This high rating demonstrates the company's commitment to providing reliable and efficient services, making Travelpayouts a trustworthy option for those seeking to venture into the travel affiliate marketing space.
Travelpayouts affiliate program
Travelpayouts themselves have an affiliate program. You can promote Travelpayouts and if anyone signs up with your referral link and starts to earn money with them, you can get 7% of that money for the next two years.
This is a great opportunity to help other bloggers and influencers to make money in the travel niche and at the same time earn some money if they are successful.
If you want to become more successful in the affiliate marketing (and not only in Travelpayouts but in general), I suggest also getting this Affiliate Marketing Bundle with a lot of great resources for one reasonable price.
Is Travelpayouts a Russian company?
Travelpayouts is based in central Hong Kong. There are many people with Russian backgrounds working in the company, and they even have an office in Moscow, but the company doesn't pay taxes there and doesn't contribute to the Russian economy.
Travelpayouts support
Travelpayouts has an extensive help center for affiliates.
There is a list of commonly asked questions and answers to them so that you can browse and find an answer to your question on your own.
And there is an option to submit a request and get help from an actual human being.
When I joined Travelpayouts, I got a personalized invitation and guidance each step of the way. Not that it was much needed – as starting was quite straightforward. But it was nice that a person checked up on my progress and suggested the first places where I could try out the affiliate links.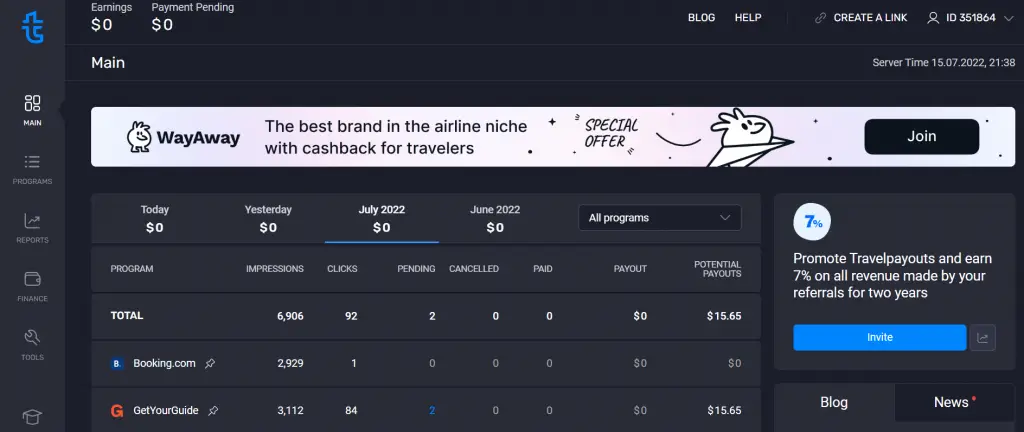 Should you join Travelpayouts?
If you produce content in the travel niche, I think that Travelpayouts is a really convenient way how to monetize your efforts.
The affiliate commissions they offer are about the same or sometimes even higher than the separate affiliate programs that they support. And all of the earnings are summed up so you don't have to wait as long to reach the payment threshold. And the best part – all of the statistics about the views and bookings and potential earnings are visible on one common dashboard.
Check out Travelpayouts here and start earning money from your travel content online!