Some of the links in this post are affiliate links. This means if you click on the link and purchase the item, I will receive an affiliate commission at no extra cost to you. All opinions remain my own.
Hiking footwear comes in different sizes and styles. Knowing what to look for in hiking boots can make the difference between finishing your trail and quitting midway due to an injury.
Bruises and injuries are the last thing you want while in the wild. So, take as much time as you need to find your hiking sole-mate (pun intended). To help you out, consider the following factors: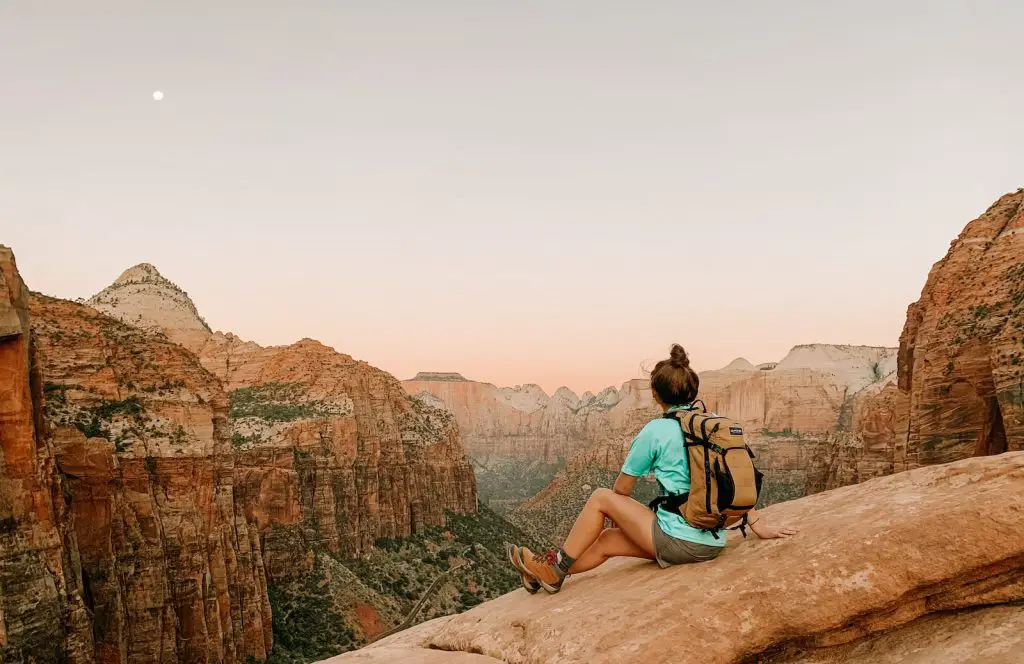 Where do you Hike?
Hiking trails can be rocky, muddy, flat, or steep. Few shoes are designed to handle all these terrains. If you hike on flat surfaces, you can adventure your favorite trails while wearing light footwear.
If your trails tend to be rocky, full of elevation and mud, invest in a pair of robust shoes. That being said, buy durable and comfortable shoes if you hike different terrains. They might be heavy. But you will always finish your hikes with few to no injuries.
How Often Do You Hike?
Someone who hikes twice a year with no backpack does not need tough boots. You can purchase lightweight albeit comfortable shoes knowing that you won't be putting a lot of strain on your legs.
If you tend to camp day and night, you probably carry a lot of weight on your back. That puts more stress on your feet, which could be detrimental to your health if you don't have proper boots.
Construction Materials
When it comes to making your final decision about hiking boots, the most important factor to consider is the construction material. Not only do you need comfortable boots, but they also need to be women-specific.
Female feet tend to be shorter and narrower. They have a higher instep and the toe region is shaped differently. In other words, be specific with boots and buy the best womens hiking shoe. Avoid gender-neutral footwear when it comes to hiking.
Consider buying boots based on how well they handle different terrains. This might require some research. But this is where product review sites come in handy. 
If you're a backpacker, compare the best backpacking footwear for women. These shoes provide tremendous support to your ankles and feet. Some of them are also water resistant. 
Look at the materials used to create the outer and inner soles. They need to be comfortable and shock-absorbent. Also, look at the thread design, price, and looks.
Best Women's Hiking Footwear
If you're in a hurry and want recommendations for the best hiking boots for women, here's a sneak peek of the top three choices:
The Oboz Sawtooth X Low B-Dry Hiking Shoe
As the name suggests, this shoe is recommended for dry terrains. It comes in a variety of colors, including lupine, grey, and slate. It has an adaptive foam that tucks onto your feet's arches to keep you comfortable throughout your hike.
Its midsole is made out of nylon to absorb a decent amount of shock. Additionally, it offers protection to your ankles thanks to its 8mm heel rise and a waterproof membrane just in case it rains while you're in the wild.
KEEN Women's Targhee 3 Low
This low-height pair of waterproof shoes from KEEN isn't just affordable. It is 100% made of fabric, meaning it's comfortable. It comes with a rubber sole and provides excellent traction in all sorts of trails.
Unlike most footwear, the Targhee 3's have been made to adapt to different terrains. This helps provide balance in uneven trails, which minimizes your chances of injury.
 Another benefit of selecting the Targhee low-profile shoes is that they take care of your entire foot. They provide breathing space to your toes. On the other hand, they cushion the arches of your feet. 
The Oboz Bridger Mid
If you're looking for shoes that will provide excellent protection to your ankles, look no further than the Oboz Bridger. It has a classic design but incorporates modern technology to provide proper grips and comfort.
Oboz used a blend of rubber and rubber to make the Bridger Mid ankle shoe. Leather provides durability. It's also waterproof. Rubber provides proper grip and comfort. The shoe comes in a variety of sizes and colors. But it's the most expensive of these three pairs of boots we've mentioned.