Hi, my name is Una. I am currently working in a regular 9-to-5 job, but I have always loved to travel. In fact, I can't remember any vacation, which hasn't been spent abroad. I started this blog to document my travels and the knowledge I have gained.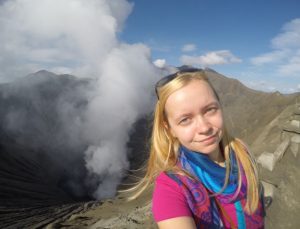 I also really like travel blogs. These amazing people go to wonderful places and have inspiring pictures and tales to share with the rest of the world. Now I'm trying to be one of them – I select my best pictures, wander through the internet in search for bucketlist destinations and try out different other travel-related things.
And the more blogs I read, the more interesting the blogging itself becomes. There are so many curiosity-inducing details to it. How do you write a post that supports all of the SEO requirements? How do you format it, so that it would be easy to read? How do you choose pictures to share for all of the social media channels? How do you find the right combination of WordPress plugins? How do you make money from a travel blog? How do you disclose affiliate links? I am trying out here a lot of blogging related stuff, so don't be surprised to see that this blog changes and grows with me.
I'm writing this blog for people similar to me. Some will be interested in the travel-related posts before going on a vacation to the same destinations. Others will find answers to blogging-related questions that I have figured out on my blogging journey.
These are some of my favorite destinations:
And here are some blogging advice, which other people have found to be helpful:
If you like what you see here and would like to receive notifications about new blog posts, please sign up for my newsletter here: