Some of the links in this post are affiliate links. This means if you click on the link and purchase the item, I will receive an affiliate commission at no extra cost to you. All opinions remain my own.
Let me guess – you never thought of Romania as a hiking destination, right? Well, you're in for a surprise! 45% of the country's surface (the size of Italy) is occupied by the Carpathian Mountains. Reaching altitudes as high as 2,554m, the Romanian Carpathians offer lots of options, trails, and experiences for anyone who loves being outdoors. As you can expect, lots of beautiful scenery too – but of wild, untouched areas, with small villages here and there and shepherds roaming the lands. 
But there's more – Romania is known as Europe's last wilderness reserve. It's home to Europe's largest population of brown bears and you may see them on a hike or go on a specialized wildlife tour. The extinct bison have been re-wilded in these parts too. And besides that, there are wolves, lynxes, chamois, deer, wild boars and many other mammals and small animals freely roaming in the mountains.
So a hiking trip in Romania will be more than your typical, touristy experience – you'll literally go into the wilderness! So let's have a look at what are the best places to go hiking and what to expect:
Table of contents:
The mighty Fagaras Mountains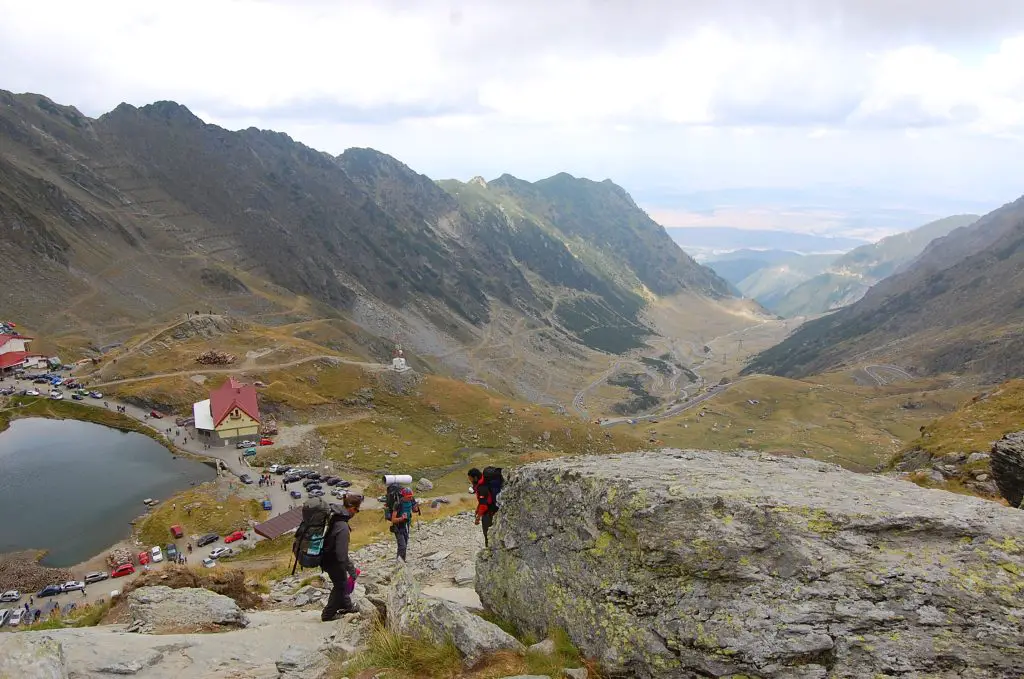 The Fagaras Mountains are known for being the highest in Romania, home to the highest peak (Moldoveanu Peak – 2,544m) and second highest (Negoiu 2,535m). However, Transylvania's Alps as they're also known, have much more than that to offer. 
It has the longest mountain ridge in the country (70km) and the wildest and most spectacular landscapes. With its narrow hiking trails and rugged crests reaching 2300 – 2500m, this mountain range is one of the most tantalizing and challenging hiking destinations in Romania and Europe. The sights here are breathtaking: alpine valleys surround glacial lakes encircled by a rocky landscape varying with crystalline schists. The Fagarasi Mountains also boast 30 peaks over 2400m and 9 over 2500m, so hiking lovers have a lot of choices.
The top Romanian attraction Transfagarasan Road is here. Crossing the mountains North-South, this spectacular road will lead you to Balea Lake which is the starting point for most trails in the area. The road is open for driving only between July – October and outside of that there's a cable car that will take you to Balea Lake. 
By far the most popular hiking trail here is to go up Moldoveanu Peak, which is also the most challenging. It requires three full days with two nights at Podragu mountain cabin. You'll encounter some dangerous sections on rocky trails on cliffs where you'll have to hold on to cables, so the trail is suitable for experienced hikers. 
The next most popular trail is to summit Negoiu (2,535m) which is more suitable for beginners too. It requires two days if you begin from Brasov or Sibiu with one overnight at Negoiu Cabin. Trails leading up to Vanatoarea lui Buteanu (2507m) and Lacul Capra (2230m) starting from Balea Lake are other excellent choices, shorter and easier hikes that can be done within a day.
Make your way to Sibiu or Brasov and from there you'll find hiking guides or routes to approach Fagaras Mountains. You won't see too many signs of civilization apart from other hikers and a few mountain huts, so you'll need to bring food supplies and the right equipment. Expect long hikes, wild sceneries, and dramatic altitude differences – that's why these mountains are considered the most difficult of them all. But, oh, the rewards are worth it! 
The isolated, even wilder Retezat Mountains 
Called often a paradise of glacial lakes, Retezat Mountains are known as the next group of tallest mountains reaching maximum altitudes of 2,509m. They're also one of the most spectacular places in Romania for a good reason: when hiking here you'll see valleys with chains of emerald lakes and numerous landforms made by glacial erosion. 
The best place to see these sights are in Retezat National Park which doesn't include the entire massif. In its north-western part, this pristine piece of land also comprises a biosphere reserve recognized by UNESCO. The park was tipped to become part of the New 7 Wonders of Nature list if there had been a few more votes. Maybe someday it will be since it's home to hundreds of bird species, thousands of plant species, and no less than 55 species of mammals, many of them protected by law. Brown bears, roebucks, black goats, lynxes, and wolves to name a few.
If Fagaras Mountains are wild, at least you'll see other hikers here and there. But in Retezat? Not even that! Why? Because they're difficult to access and there are no places to stay in the area, and the only option is a camping expedition. 
This makes it the premier destination for experienced trekkers and those looking for a real adventure!  If you're one of those, the main trails to go for are to summit Peleaga Peak (2509m) the highest in the range, or the lakes trail. This will also take you to Bucura Lake, the largest glacial lake in the country. Its serene waters, cool air, and inspiring location will be memorable.
On the trail to the next highest peak Papusa (2,508m) you'll be able to see one of Retezat's deepest lakes – Lake Galesu (over 20m deep). The descent through Pietrele Valley is also a challenge, requiring 8-10 hours but loved by those who want to improve their hiking skills. But as you can imagine, all of these need very good physical condition.
Other day hikes will take you to the other peaks such as Bucura I, Bucura II, and Judele. Covering this circuit could be done in about six hours, but sometimes it gets very windy at high altitudes and it's likely you may run into wild animals, so having a hiking guide with you is a must. 
To approach Retezat National Park you need to get to Carnic, accessible only by a car coming from Sibiu or Timisoara.
Apuseni Mountains: incredible natural diversity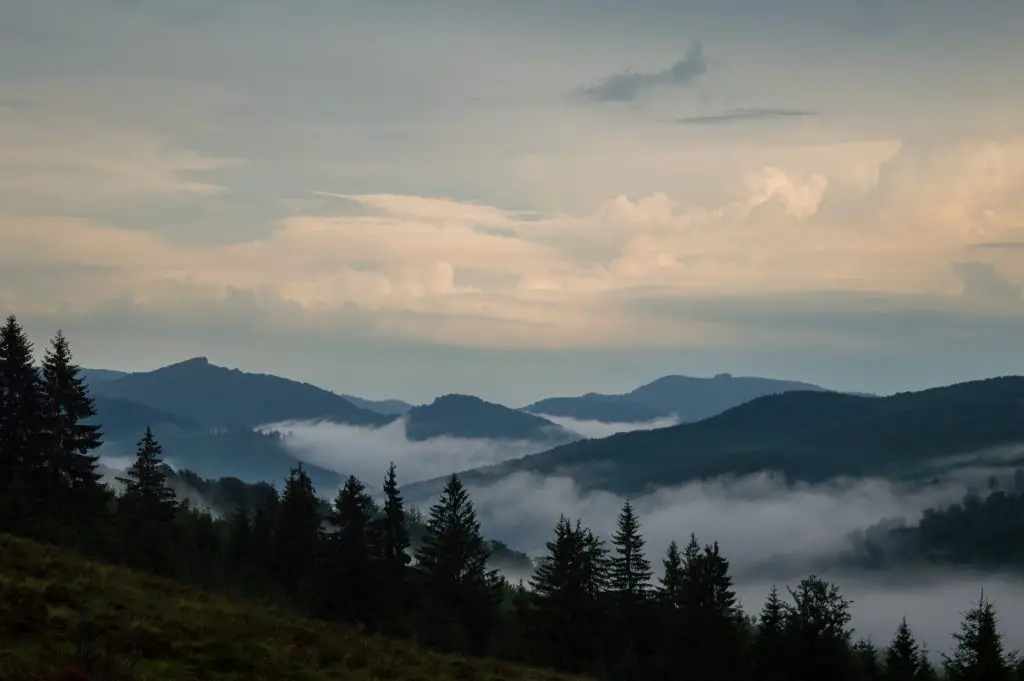 Locally known as the land of fire and ice, Apuseni Mountains is the general name for the Western Carpathians west of Cluj-Napoca, Romania's second-largest city. Apuseni Mountains are a distinctive mountain range featuring numerous natural attractions, subterranean rivers, and almost 400 caves. 
This land includes gentle ridges, deep valleys, and sinkholes, alternating with gorges and canyons. The diversity of its landforms and medium heights (the highest one is Bihor 1,849m) makes Apuseni one of Romania's most popular hiking destinations for beginners and medium-experienced hikers.
In the heart of the massif is the starting point for many trekking trails called Padis plateau. You can stay at Cabana Padis or in a tent, which is the preferred option for most people. Trails are usually of medium difficulty (8-14 km, 4-6h) going through woodlands, picturesque valleys, and traditional villages.
In other parts of Apuseni, the trails, and scenery vary a lot. In Scarita Belioara reserve you'll find wild landscapes with lots of karst formations but without dangerous ridges. So they're an ideal place to test and improve your hiking technique, a good training ground for Fagaras mountains!
The most famous hiking route in Apuseni will take you to Ponor Citadels which usually takes six hours until you get to your destination, an imposing 150m-deep cave. Other popular routes such as The Lost World, the Citadels of Radesei, or White Cliffs are zigzagging among stunning gorges and abyssal pit caves and ravines. 
Fortunately, unlike Fagaras and Retezat, you'll have no trouble finding accommodation in the area. Some very beautiful mountain chalets too: Montesse Chalet, Rose Hip Hill Guesthouse, La Noi La Munte, and Raven's Nest, to name a few. And in the villages of Salciua, Sub Piatra, Marisel, and Garda de Jos you'll find a lot more guesthouses. But for less hassle, going on a guided hiking trip is one of the best things to do in Cluj which is also Transylvania's unofficial capital.
Piatra Craiului: ride me if you can!
It's impossible not to notice Piatra Craiului from a distance. Its 27 km long limestone ridge at 2,200m high is like a glittering jewel in the sky hiding a variety of landscapes. Literally translated as the 'King's Rock' this massif has a unique reputation with Romanian hikers thanks to its famous ridge scratching the sky like a natural barrier. 
It's also home to abrupt rock cliffs, labyrinthic narrow glens, ample areas of juniper alternating with deep canyons, precipitous slopes, and white peaks. Piatra Craiului boasts not only impressive animal life and vegetation but also jaw-dropping scenery – in my opinion, the best in the country!
The place is ideal for both beginner and experienced hikers featuring a range of trails from low- and medium- to high difficulty. However, the most famous trails are situated on the western side of the massif. The preferred base camp to access these hikes is Cabana Foii at the base of the range. 
One popular route is called La Lanturi (translated as 'At the chains'). It requires an above-average physical condition because it will take you to the highest peak in the range, La Om Peak (2,238m) on the ridge. And to get there you'll pass through some difficult sections where – you guessed it – you'll need to hold on to robust metallic cables and chains. No technical equipment is needed, but a few technical skills, patience, and courage. 
Crossing the main ridge South-North is something only for experienced trekkers as it covers 20 km, takes 8 hours, and is highly technical and dangerous. You'll need a 3-day trip for this and to stay overnight at Curmatura Cabin located on the Eastern side of the massif. 
Most of the other treks of easy and medium difficulty start from Fantana lui Botorog after passing through the superb Zarnesti Gorges. From there, you have a bunch of options: Saua Vladeasa, Poiana Zanoaga, and Piatra Mica, to name a few. 
To go hiking in Piatra Craiului You can stay in the villages of Magura, Pestera or Zarnesti where you'll find plenty of options. Lots of hiking day trips from Brasov too, one of Romania's most popular tourist cities.
Ciucas Mountains: silent giants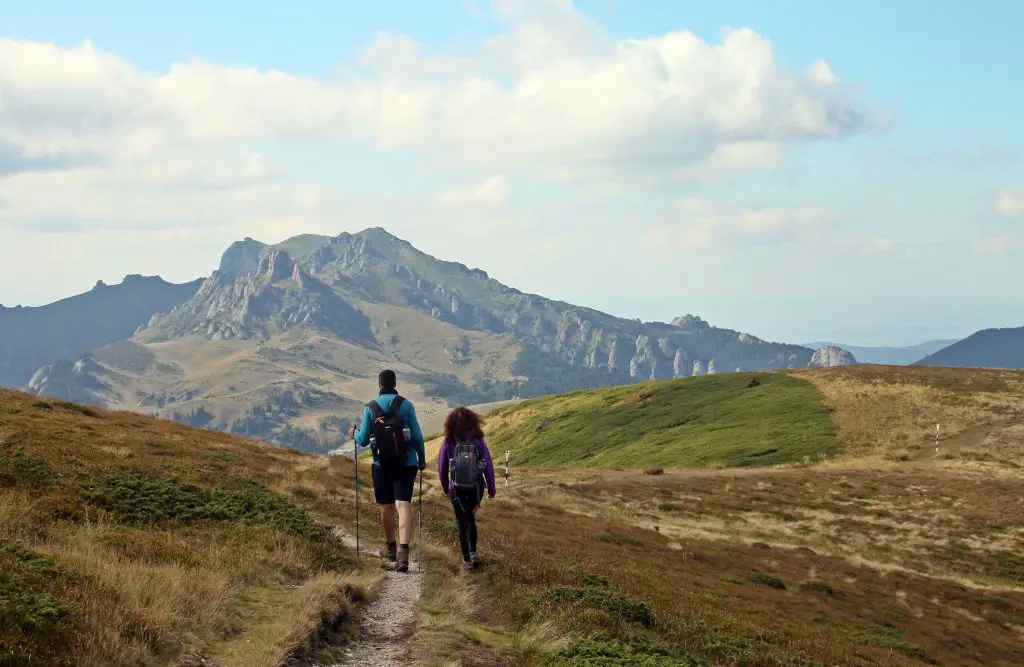 Ciucas Mountains, also close to Brasov, are rarely in the spotlight since there are so many other popular mountain ranges nearby. Lying opposite Bucegi Mountains, Ciucas are known for their unusual karst scenery and peaks, making them a one-of-a-kind hiking destination in Romania. 
The most impressive karst formations in the area are Mana Dracului (Devil's Hand), Babele la Sfat (Old Women Talking), Turnul lui Goliat (Goliat's Tower), as well as Tigaile Mari, and Tigaile Mici. Weirdly shaped over time by precipitation and winds, all these high cliffs and peaks can be found in the northern part of the massif, close to Ciucas Peak.
And even if it can't compare with the other high mountains in Romania, Ciucas Peak at 1,954m is equally challenging and rewarding once you're at the top. From here you'll get breathtaking views of the entire area which I think is one of the most spectacular in the country.
But Ciucas is more than that. The massif boasts 12 hiking trails, most of them starting from Cheia, a local mountain resort easily accessible from Brasov or Bucharest. You can traverse Ciucas in a day, so if you depart from Bucharest, you'll likely reach the highest peak and be back home by nightfall. 
However, it would be better to split it up and enjoy your night at Ciucas Peak Chalet. You can access Ciucas either from Vama Buzaului village or Cheia village on the DN1A and climb up to the chalet via the Gropsoarele spur. From there, climb further to Ciucas Peak and descend back to the starting point via the Bratocea spur. The whole thing will take about 6 hours. The best part about Ciucas hikes is that they are reachable for trekkers of all levels, so it's a good alternative to more challenging trails like those in Fagaras or Apuseni.
And despite the low temperatures, the area is incredibly verdant. Ciucas's lush valleys are home to many wildlife species, from chamois and deer to wolves, lynx, and brown bears. Majestic wild horses, as well as bird species like the Golden Eagles and the Finch, also live in this region. Wildflowers like the Field Pansy, the Spring Gentian, the Bluebell, and the Primrose are also a delight to the eye.
With this, I hope you see what a fantastic destination for hiking Romania can be – even if most people don't know about it! That's what makes it even more beautiful – imagine being alone in the complete wilderness far from the hustle and bustle of modern city life! 
Marius Iliescu is the founder of Romanian Friend: a one-stop-shop website with travel inspiration, tour ideas, and practical info for those planning to visit Romania. His mission is to make sure people experience the best of his country while supporting responsible, inclusive tourism that helps local communities. Follow them on Facebook or Instagram.