Some of the links in this post are affiliate links. This means if you click on the link and purchase the item, I will receive an affiliate commission at no extra cost to you. All opinions remain my own.
You don't have to be a professional mountain climber to get to enjoy some really magnificent mountain views. Tatra mountains in the South of Poland is a great place for the first mountain hiking experience that you can get.
These mountains have countless trails to choose from ranging from easy to really hard in difficulty. The trails are well-marked, the distances are mostly doable in a day or less, and the locals are friendly and offer nice and cheap accommodation in the area.
Here are some things that you should know and consider before going on a hike in the Tatra mountains.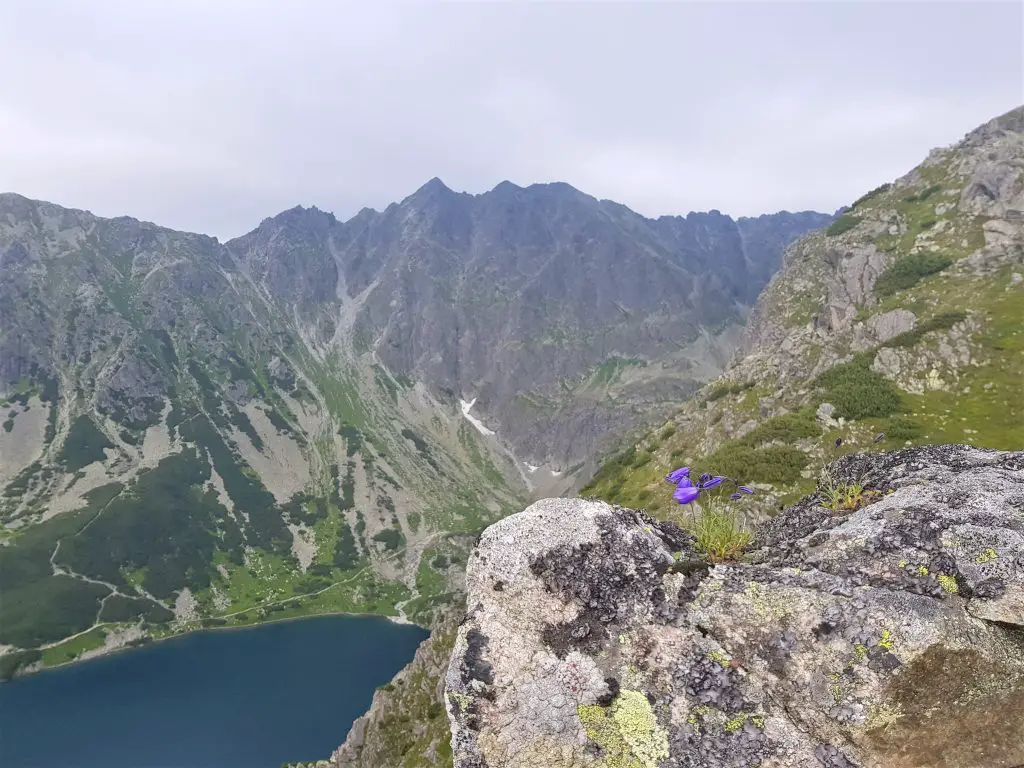 Choose the right path
There are many apps that can give guidance on hiking trails. This is the one that I've used and really enjoyed in the Tatra mountains.
In this app, you can see hiking paths with their difficulty, elevation, length, and how much time it will take you to cover that part of the trail. I've found these time estimates to be quite accurate.
So before you embark on your hike, plan it in the app. See the parts that you'll be going through and count the time together. Plan also some time for some rest, lunch, and taking pictures.
If you plan to have a longer hike but haven't hiked for some time or ever, prepare for it beforehand. A few days before the longer hike, try out a shorter one to see if the time estimates are true for you too. This will be a great chance for your body to adjust to hiking in the mountains as well. Trust me, you don't want to start with a 20 km hike in the mountains.
Pay attention to the difficulty of the paths as well. If you are a beginner, don't use the hardest paths or the paths with the steepest incline. These hiking paths might be hard or downright dangerous for beginners.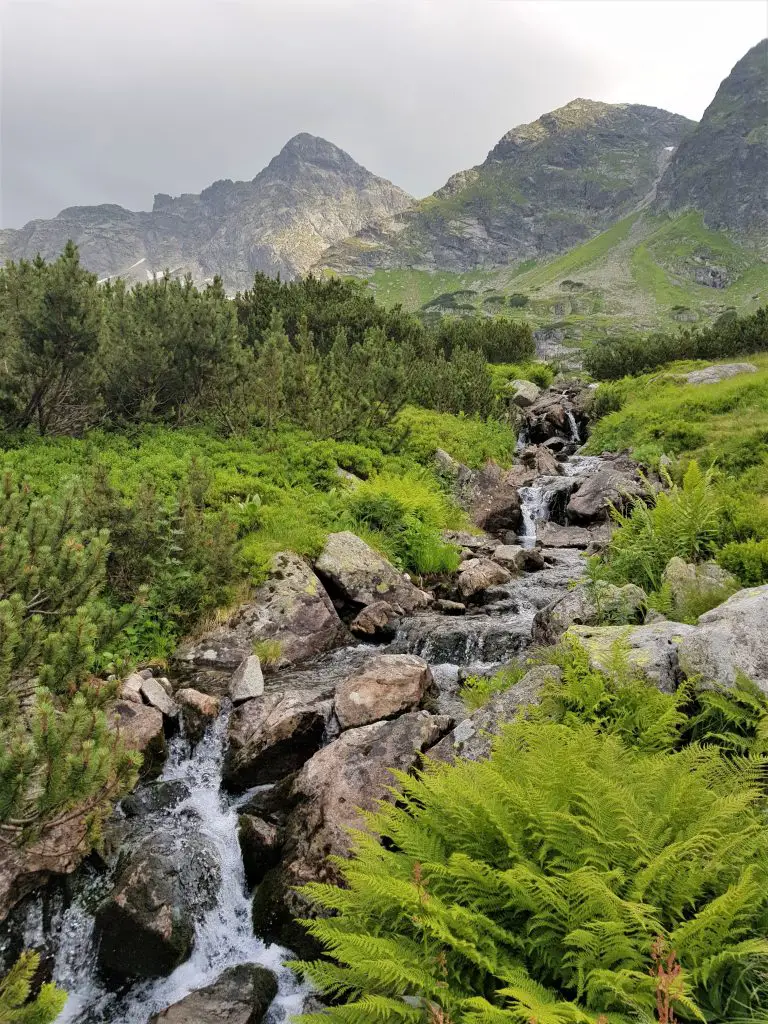 Bring enough food and water
When you know which trail you'll go to conquer, plan the food and water accordingly.
If you know that you'll have lunch in one of the huts in the mountains, then you need to bring less food. Just remember, that the mountain restaurants rarely take cards, so bring some cash along with you.
However, if you have chosen a more remote trail, then make sure that you can restore your energy during the hike. The food doesn't have to be fancy, it's enough that you take some sandwiches, nuts, vegetables like bell pepper or cucumber, granola bars, or maybe some chocolate for a quick energy boost.
Another thing that you shouldn't skip is water. I usually take at least 2 liters for a day hike. Drinking from small and clear streams in the mountains should be fine, but you can use this water bottle that filters water while drinking, just to be extra safe.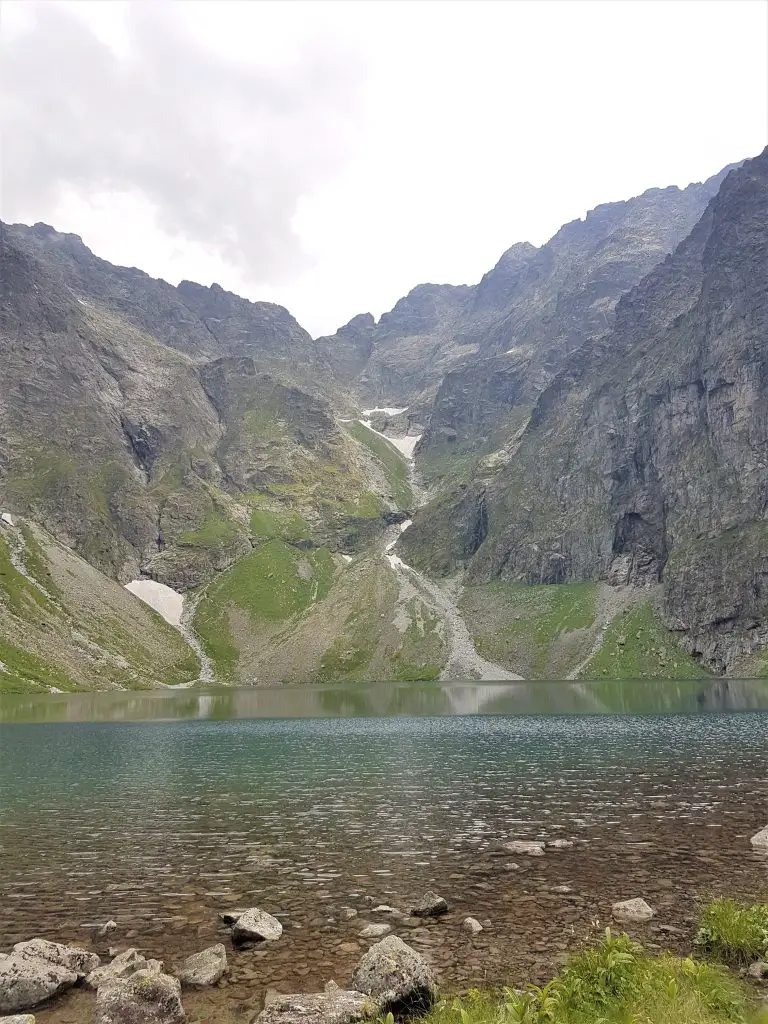 Go with the appropriate footwear
Mountains are no place for flip-flops. Or heels. Or anything else that would be uncomfortable to walk in on an uneven surface for hours.
Depending on weather conditions, the length of the hike, and the chosen difficulty, you can choose your footwear appropriately.
For simple trails without much difficulty, you can use sandals or sneakers. They should be fine in dry and warm weather, as long as the soles are quite thick and non-slippery. You'll have to walk on stone, and you don't want to hurt your legs.
But if the weather forecast says that there is a chance of rain, choose some boots that are waterproof or preferably have GORE-TEX. In the mountains, the rain can come and go quickly, and you don't want to hike for hours in wet shoes.
No matter which shoes you choose, be sure to take these blister pads with you. They are magical! Just put them on when you feel that a blister is starting to form, and they will protect your skin, will make the pain stop, and will not come off during the rest of the hike.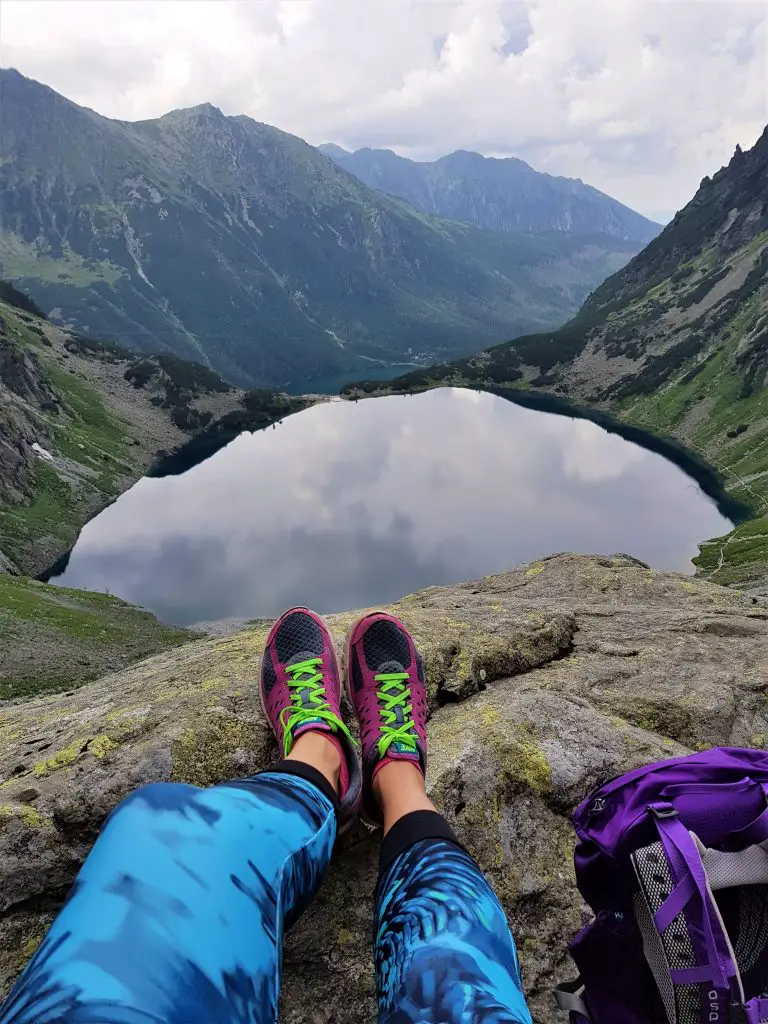 Check the weather beforehand
Weather is constantly changing in the mountains. Even if you have planned your vacation in a time when the weather forecasts a whole week of rain, it doesn't mean that you won't be able to go on a hike.
You may notice in the weather forecasts that it is raining on one side of the Tatra mountains many times while the weather is dry and sunny on the other side. It seems like the clouds are caught up in the peaks and don't go to the other side of the Tatra mountains.
So if you have planned a hike on the Poland side and it will rain there, check the weather on the side of Slovakia as well. You might get a dry hike, just on a different trail. The distances aren't that far away and if you have your own car it will take just around an hour more to get to the other side of the mountains.
Another reason for checking the weather is that you don't want to be in the mountains if there is a storm or heavy rain. It's not just uncomfortable, but it's also quite dangerous. The stones might get slippery on the path, and they might also roll down from their usual places. And the trees might also fall if the wind is strong enough. So if you don't have much experience of hiking, just don't risk going out on a bad weather day.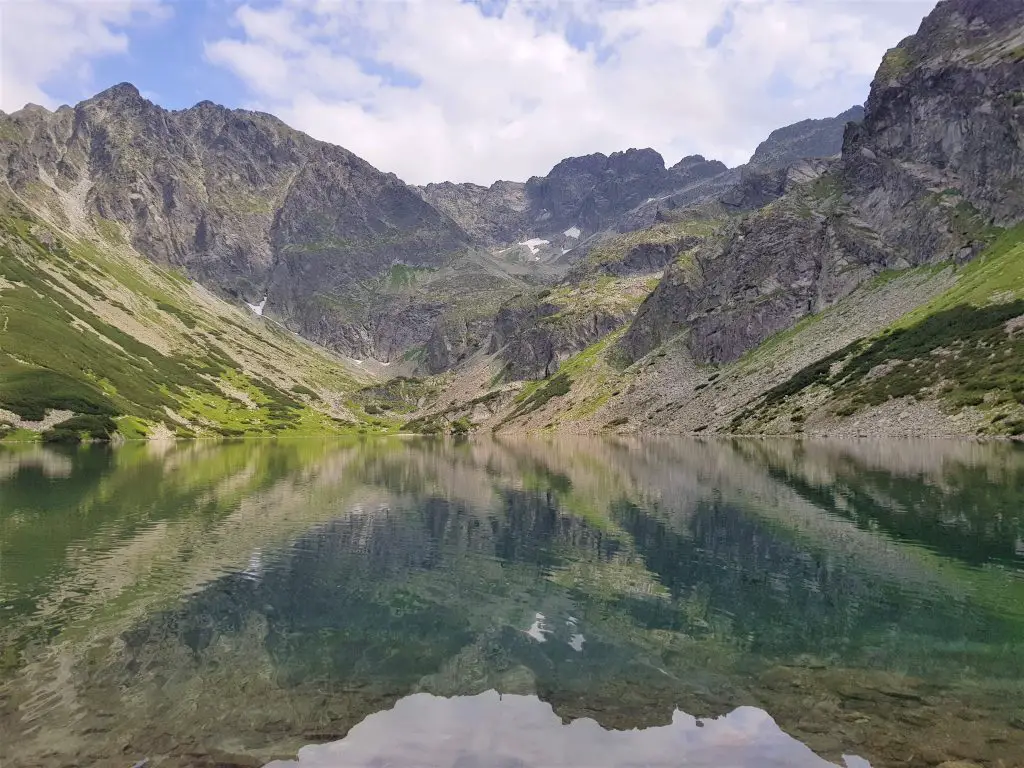 Know about emergency options
If there is an emergency during your hike in the Tatra mountains, there are several options for how you can get help.
In polish Tatras the emergency service is free. It's provided by TOPR ("Tatrzańskie Ochotnicze Pogotowie Ratunkowe" – "Tatra Volunteer Search and Rescue"). Website: http://www.topr.pl/ They can be reached by calling emergency number 985. The service has several huts in the mountains with rescue officers and a helicopter in Zakopane for more serious injuries.
In the high Tatra mountains in Slovakia, the mountain rescue service can be reached by calling 18 300. Or a more general emergency service can be reached by calling 112.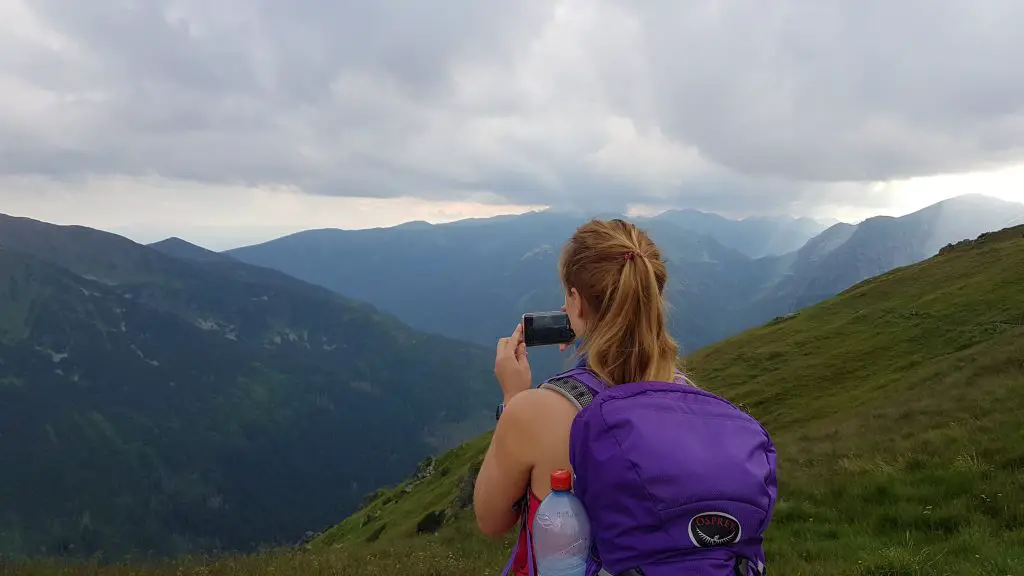 Check out the cable car locations
There are a few cable cars in the Tatra mountains that you can incorporate into your hike. You can go up in a cable car and hike down the mountain or the other way around. This will give you the opportunity to save you strength for some part of the hike and see more of the mountains up close.
There is a cable car leading to Kasprowy Wierch in Zakopane. You can check out how to hike this route to Kasprowy Wierch here. In Slovakia, there is a cable car to the Lomnicky peak. It consists of several parts, where you can take a hike in the middle before you go to the highest point in the Tatra mountains in a cable car.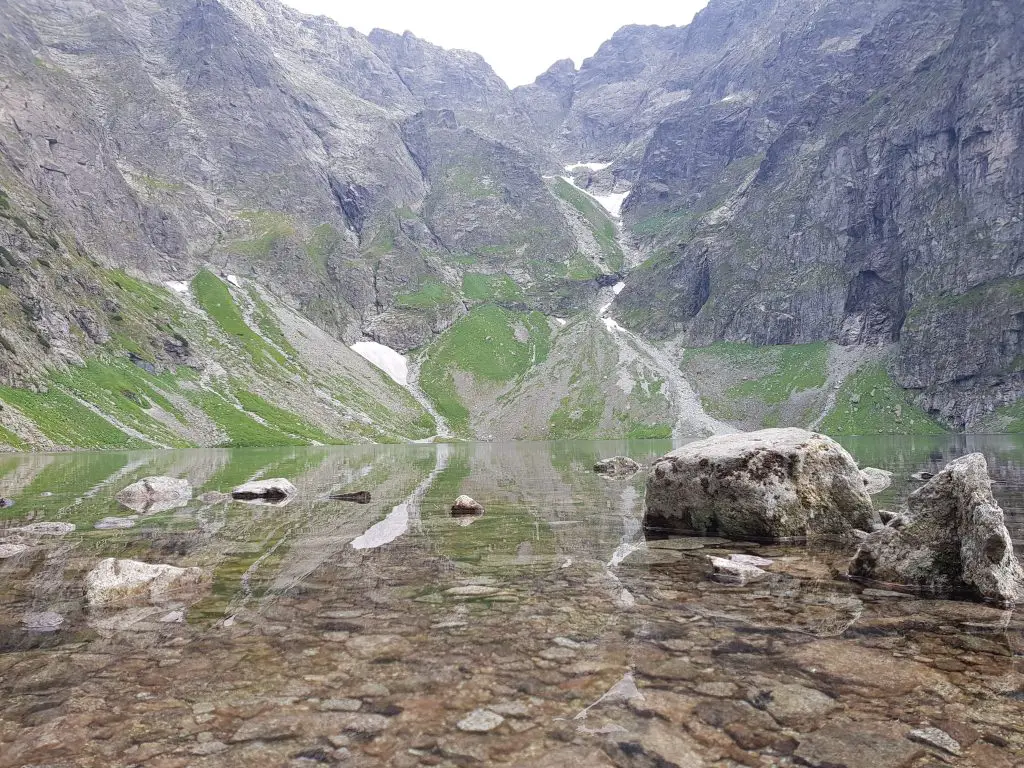 Don't forget any essential hiking items
Packing for a hike is an art. You don't want to carry a lot of heavy and unnecessary items. But on the other hand, if something important is missing, it might ruin the whole day.
Check out this list of items for one day hike that I've found useful, but sometimes forgotten to take with me on a hike. Learn from my mistakes and take everything necessary with you!
And most importantly, remember this famous hiking quote: "Take nothing but pictures, leave nothing but footprints, kill nothing but time." – Aliyyah Eniath.