Some of the links in this post are affiliate links. This means if you click on the link and purchase the item, I will receive an affiliate commission at no extra cost to you. All opinions remain my own.
Looking for a vacation spot that has all the beauty of nature and all the culture of a city? Look no further than Florida! This amazing state is home to some of the most beautiful cities in the country. Each one has its own personality and charms, making it worth considering for your next trip. Here are the best ones to check out.
Key West
Recommended by Megan from Megan Starr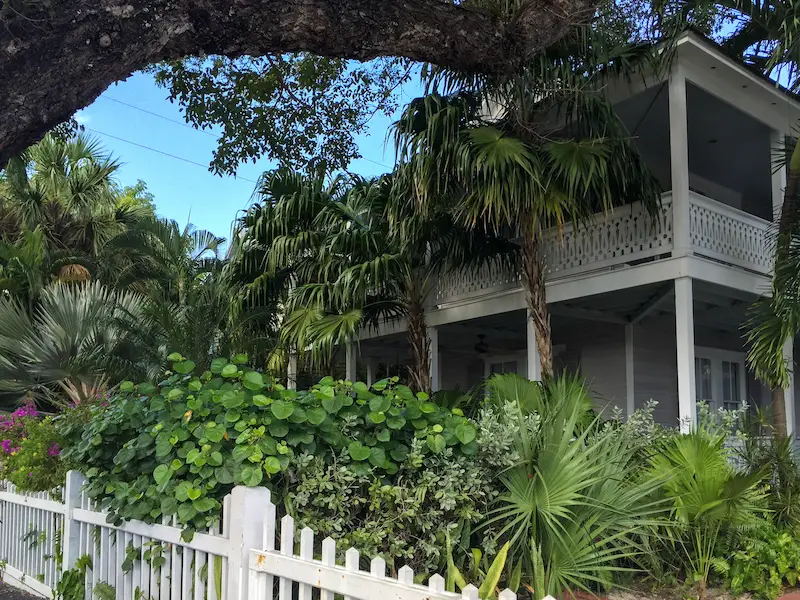 One of the most beautiful cities in Florida is Key West – the very last island in the Florida Keys. The city is easily the most laid-back in Florida and it offers a plethora of things to do regardless of the type of traveler you are! It is also a year-round destination which makes it perfect for trip to fight the winter blues.
The drive to Key West is half the excitement and is one of the best things to do there. On a Miami to Key West road trip, you will pass Key Largo, Islamorada, Bahia Honda State Park, and Marathon… all worthy of a quick stop!
Once you finally make it all the way out to Key West, you can relax on one of the beaches (Smathers Beach is a famous favorite) or you can start bar-hopping on Duval Street.
One of the most renowned bars on the street is Sloppy Joe's and if you happen to be there over NYE, you can see the bar lower a conch shell at midnight.
Snorkeling and kayaking are also two very popular activities in Key West and you can even go kayaking through mangroves on the island.
If you plan well enough ahead, you can take a day trip to Dry Tortugas National Park. This park is only reached by boat or plane and you must book well in advance to find availability.
Two of the best choices for accommodation are the Southwinds Motel (for budget travelers) and Opal Key Resort & Marina (for luxury travelers). 
Orlando
Recommended by Trijit from Budget Travel Buff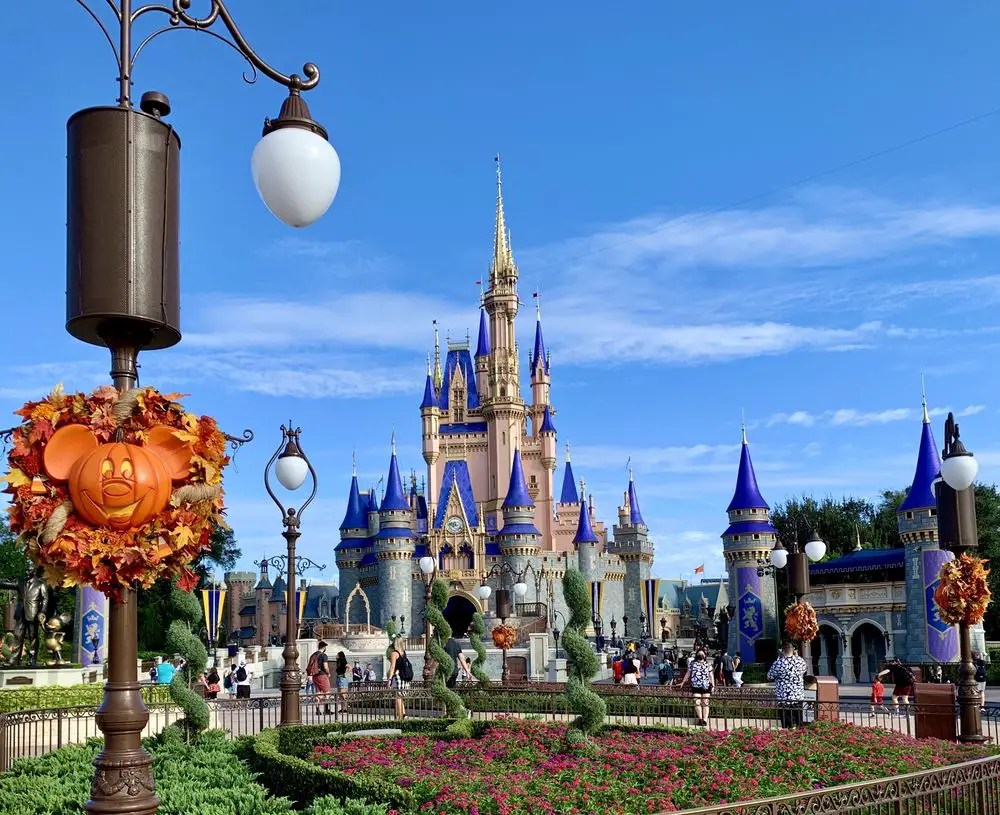 Due to its range of amusement parks and convenient position to other well-liked Florida attractions, Orlando, which is located in the state's center part, has grown to be one of the most popular tourist destinations in Florida.
Disney World, the largest attraction of them all, is in Orlando. In addition to Disney, Orlando has a ton of other entertaining things to do, so you can avoid the crowds at the theme parks. You can stroll through the magnificent parks and gardens that lead to avenues with trees here. There are also a lot of wonderful restaurants and museums to visit. There are some enormous commercial malls as well as a thriving performing arts sector. 
Orlando is the most visited city in Florida, and Disney World is one of the most popular locations there. Walt Disney World, Universal Studios, Sea World, and Discovery Cove are just a few of the theme parks that can be found in Orlando, which is known as the theme park capital of the world. Don't miss the opportunity to visit the Hogwarts Castle at Islands of Adventure if you are a Harry Potter enthusiast. Although it is not a true castle, but if you want to get a unique experience, this is one of the most beautiful castles in Florida that you shouldn't miss. 
In general, you can anticipate a wonderful family atmosphere, a ton of tourists, first-rate shopping, and the largest McDonald's in the world. Orlando also has a lot of historical, cultural, and recreational activities to assist you to have a wonderful Florida vacation. You can stay at Universal's Endless Summer Resort which is located at the northern end of I drive. It is located at a convenient location and offers all the basic amenities. Additionally, free shuttles are available to take you to and from the theme parks.
Fort Lauderdale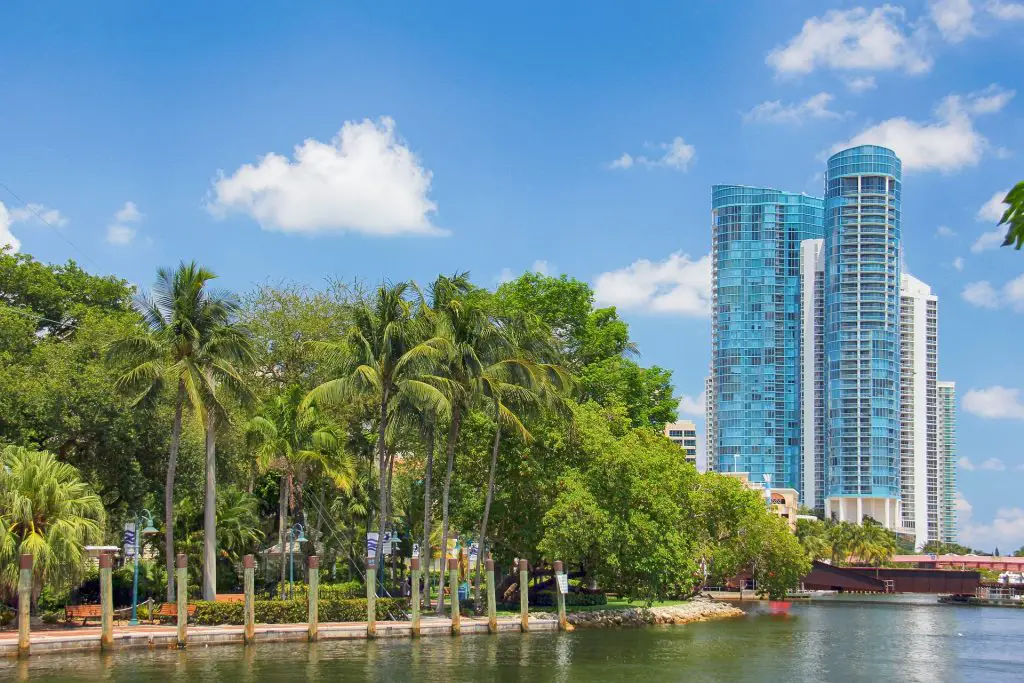 Fort Lauderdale is one of the most beautiful cities on the east coast of Florida. With its sandy beaches, stunning blue waters, and lush green parks, it's easy to see why Fort Lauderdale is such a popular tourist destination. Here are three things to do in this vibrant city:
1. Take a walk or bike ride along the beachfront promenade. The promenade stretches for over 2.2 miles, making it the perfect place to get some fresh air and take in stunning ocean views.
2. Visit one of Fort Lauderdale's many museums and art galleries. From the NSU Art Museum Fort Lauderdale to the Museum of Discovery and Science, there's something for everyone to enjoy.
3. Head to Las Olas Boulevard for some shopping, dining, and entertainment. This iconic street is lined with boutique stores, trendy restaurants, and lively bars, making it the perfect place to spend an afternoon or evening.
Stay in the beachfront Ocean Sky Hotel & Resort to enjoy nice rooms, a central location, and an option to rent jet skis, kayaks, and boogie boards.
Palm Beach
Recommended by Diana from Travels In Poland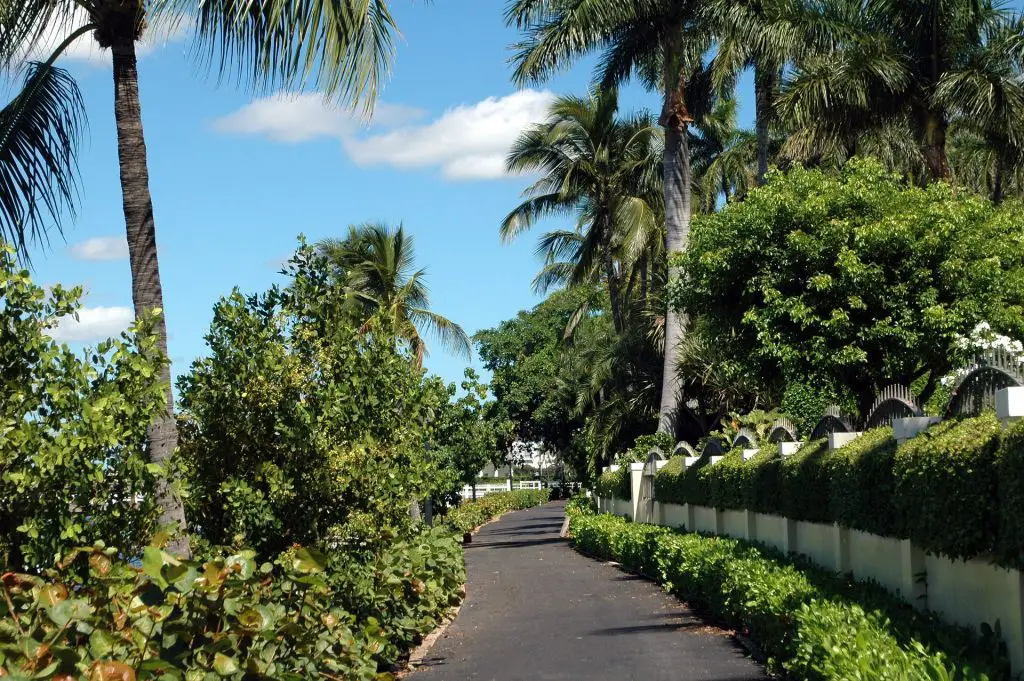 Located on the east coast of the Atlantic, about an hour north of Fort Lauderdale, West Palm Beach is a beautiful city and attractive to travelers who want to experience the most stunning white sand beaches and wonderful food but not the crowds that are usually seen in bigger cities.
West Palm Beach has a variety of activities, particularly water activities. Local companies specialize in jet skiing, snorkeling, kayaking, parasailing, water skiing, surfing, wubing, wakeboarding, and more. Visitors can pick from the numerous water activities to partake in on the ocean.
A visit to the famed Antique Row is a must when visiting West Palm. Numerous antique shops provide visitors with a chance to browse an area that is frequented by interior designers.
If shopping is a must, Northwood Village is a charming area with unique shops and great dining, or The Tanger Outlets also provide a chance to shop some of the better-known brands at a discounted price.
Worth Avenue is an iconic Palm Beach street lined with high-end shops, restaurants, and hotels. It's the perfect place to do some people-watching and do some shopping if you're feeling splurge-y.
The Henry Morrison Flagler Museum is housed in a former mansion of oil tycoon Henry Flagler, one of the founders of West Palm Beach. The museum offers tours of the opulent rooms as well as exhibits on Florida's history.
One of the best restaurants in the area is a hidden gem, tucked away just south of City Place, Cafe Sapori has real authentic Italian food that is actually worth the price. Check out Hilton Singer Island Oceanfront Palm Beaches Resort if you want beautiful affordable rooms close to the ocean and to the many attractions of West Palm Beach. For a bit more luxury, the Four Seasons is the way to go.
St. Petersburg
Recommended by Tori from Tori Pines Travels and Merry Allison from Virginia Vacation Guide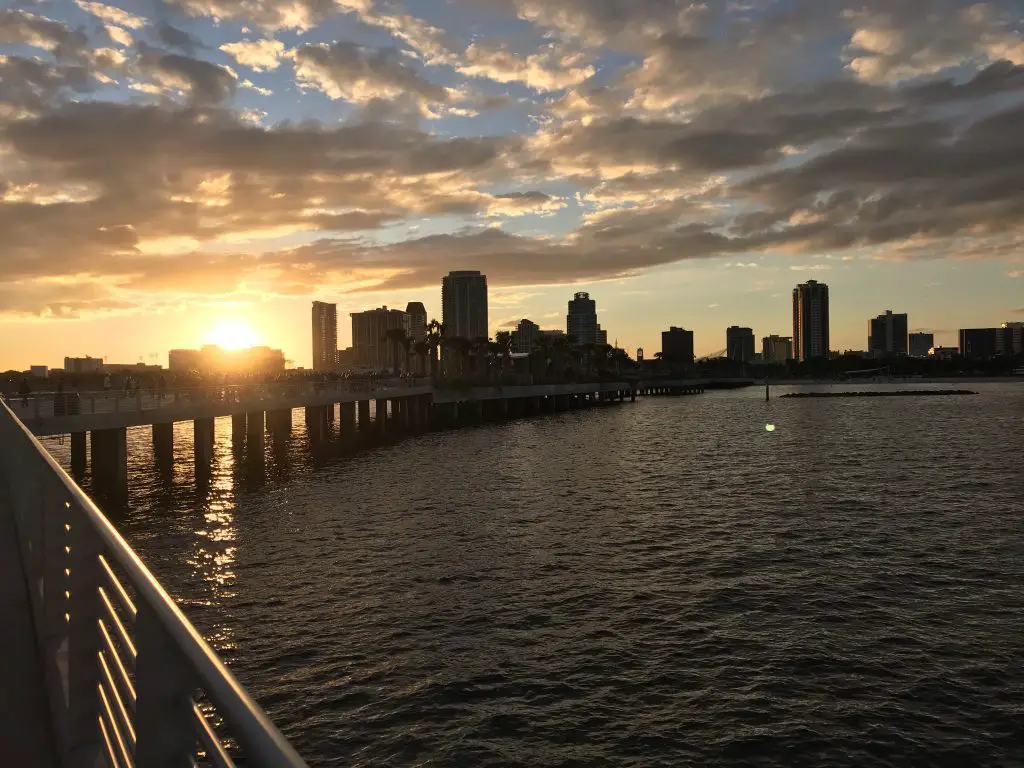 One of the most beautiful cities in Florida is the charming town of St. Petersburg, Florida. It's beautiful for its water views, loads of art, palm tree-lined parks, and charming historic downtown. Located on Tampa Bay, you can enjoy time on the bay, or one of the many nearby beaches like Clearwater Beach, St. Pete Beach, Fort DeSoto Dog Beach, Ana Maria Island, and many more.
Getting there is easy as the large Tampa International Airport is only 20 minutes away and the St. Pete Clearwater International airport is just 15 minutes from the city. Book a few nights at the historic Vinoy Hotel, a huge pink palace located right on the bay.
The city is known for its art but also offers incredible seafood, nightlife, sporting events, and family activities. Start out by appreciating the art the city is known for. You'll find several museums close by, along with beautiful street art around every corner. Then, explore the 3,000-foot pier featuring more art installments, kids splash pads, a market, a museum, great fishing, and 5 restaurants.
Head up to one of the best bars in St. Petersburg, Pier Teaki at the end of the pier for views of the city and the water, tropical drinks, and a fun vibe. Or for a more local experience, visit the Canopy rooftop bar instead. Some of the best restaurants in town include Trophy Fish for seafood and experience, Ceviche for tapas, or BellaBrava for Italian cuisine.
If you want to enjoy local food with great entertainment, get tickets to see a Tampa Bay Rays baseball game at Tropicana Field. They have a wide variety of local food vendors and a really enthusiastic team of baseball players who are a lot of fun to watch. Not to mention they have a stingray touch tank which is great for kids.
St. Petersburg is home to many natural wonders that make it a beautiful Florida destination. One of the main attractions is the photogenic Sunken Gardens, which is a botanical garden and home to an extraordinary array of exotic plants, trees, and flowers from around the world. 
Due to the warm Florida climate, the gardens feature many tropical and subtropical flora, including royal palms, water lilies, shrimp plants, and much more. There is also a Desert Garden area featuring a wide variety of cacti in different shapes and sizes, as well as a Japanese Garden featuring a koi pond.  
One of the highlights of Sunken Gardens is the stunning Chilean flamingos whose habitat includes a pond and fountain. There are also turtles and exotic parrots, including macaws, Amazons, and cockatoos.
Another natural beauty in St. Petersburg is Weedon Island Preserve. The extensive park is 3,190 acres in size and includes trails that wind through wetlands, mangrove forests, and among waterways along Tampa Bay. There is also a 45-foot observation tower that provides expansive views of the surrounding park. 
Kayaking is a popular activity in the preserve, and it gives visitors a chance to explore the water-based flora and fauna. The preserve is home to turtles, crabs, frogs, alligators, snakes, white ibis, pelicans, herons, egrets, and much more. 
St. Augustine
Recommended by Victoria of Southern Trippers
Easily one of the most beautiful cities in Florida, St. Augustine derives much of its charm from the historic Spanish Colonial-style architecture in the area. 
And that makes sense since this incredible metropolis is the oldest city in the country and was initially founded in 1565. 
So, if you want to admire some of this amazing beauty for yourself, head to the Lightner Museum and stand in awe of this Spanish Colonial edifice with its stunning courtyard. 
Then, venture inside to see exquisite Native American art, stained glass windows, and decorative items from the building's time as the Alcazar Hotel in 1888. 
Next, head to the St. Augustine Lighthouse and see one of the most haunted places in Florida. If you're feeling extra brave you can even sign up for a ghost tour or simply join a sunset tour for amazing views of the area. 
Finally, head to the oldest masonry fortification in the USA and take in the grandeur of Castillo de San Marcos, or "the fort" as locals refer to it. It's a great place to go since volunteers routinely dress up and reenact historic battles that took place here. 
Just don't leave the city without dipping fresh bread into basil-infused olive oil at Collage before unwinding inside the Old City House Inn & Restaurant for the night. In fact, this establishment dates back to1873 and boasts impressive grounds that are only outshone by the rooms themselves.
Mount Dora
Recommended by Kyleen from The Bonnie Traveler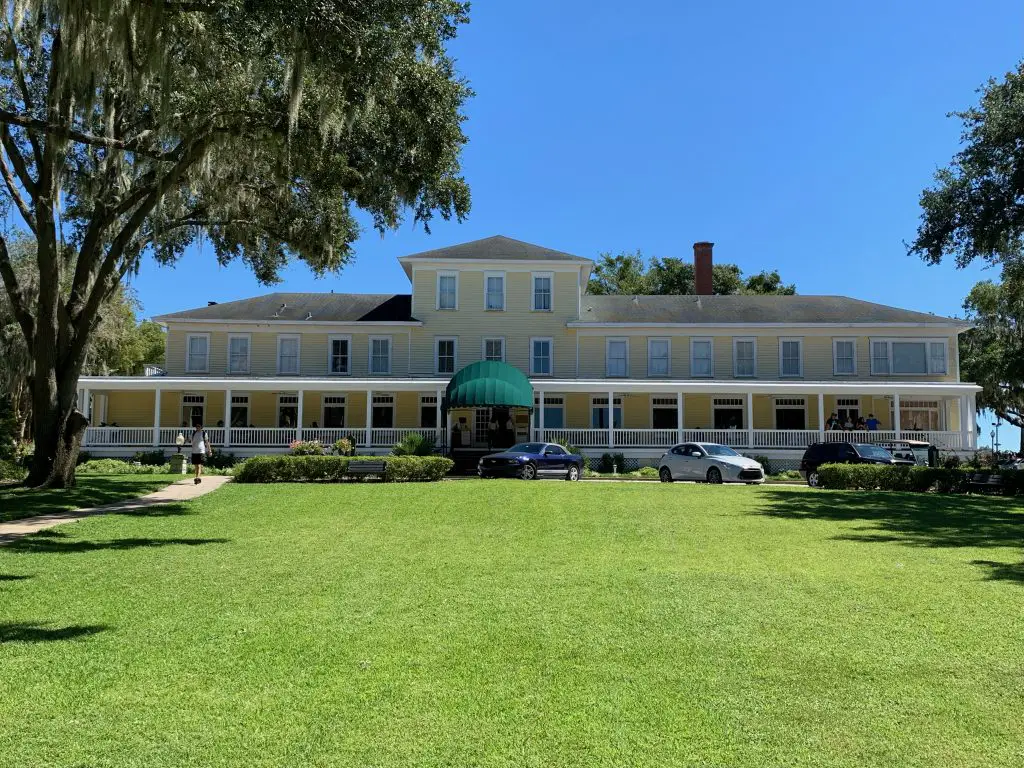 Mount Dora is one of the most charming cities you will find in Central Florida. Located 40 minutes from Disney and 1 hour from either coast, Mount Dora is close to all the major attractions but is worth your time to explore and enjoy the relaxed refinement of the city.  
Mount Dora's historic downtown sits between the mossy-oaked Donnelly Park and Lake Dora. Visitors can easily stroll the three blocks of quaint shops and cafes on their way to the Lakeside Inn. The 140-year-old hotel has a beautiful veranda where guests can eat lunch overlooking the lake.
One of the best ways to experience the 'real' Florida is to take a boat tour of Lake Dora and the Dora Canal. Premier Boat Tours, which docks at the Lakeside Inn, offers guided pontoon tours that share the history and natural beauty of the area. Guests will see herons, turtles, and possibly alligators as you travel through the canopy of trees on the Dora Canal. This tour is fun for all ages. You can read about more family-friendly activities in the Mount Dora area from the Bonnie Traveler in 11 Snazzy Things to Do in Mount Dora | A Family Guide.
If you love the history of Mount Dora, then you must visit Renninger's Antique Market. This sprawling flea market includes a farmer's market, an antique center, and consignment shops. If you come during an Extravaganza weekend you can search for vintage gems for acres. 
For a romantic, intimate dinner, make reservations at the Goblin Market, downtown. This elegant restaurant and bar serves award-winning dishes that will delight your palate.
Insider tip: Mount Dora hosts two of the country's best fine arts festivals. In October and February, the entire downtown is blocked off to cars and filled with vendors for the Craft Fair and Art Festival. If you love unique, handcrafted pieces of art, make sure to visit Mount Dora during one of these festivals. They do not disappoint!
Panama City Beach
Recommended by Roshni from The Wanderlust Within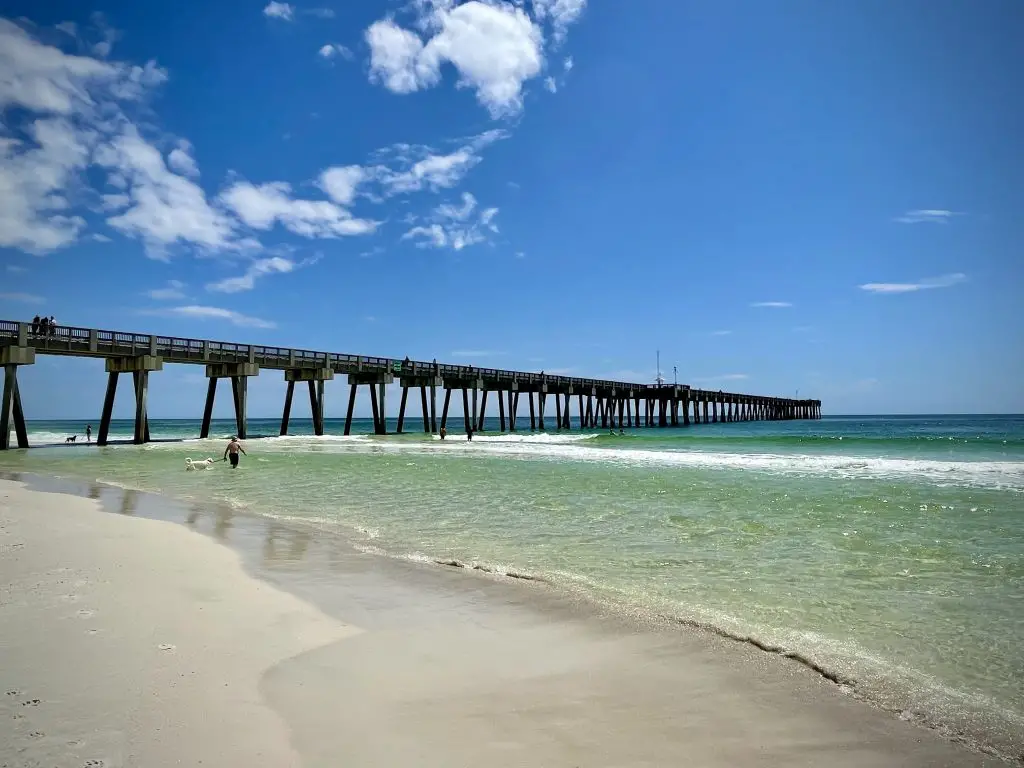 Made up of 27 miles of pristine white beaches, Panama City Beach is one of the prettiest cities in the state. It is located in the Florida Panhandle and has its own airport just 20 minutes away (Northwest Florida Beaches airport).
There are plenty of things to do in Panama City Beach, but some of the highlights include taking a sailing trip to Shell Island, an uninhabited, protected island off the coast, that is surrounded by bottlenose dolphins.
Other must-do activities include visiting Pier Park and enjoying the rides, restaurants, and shopping, and exploring the two state parks that run through the city, Camp Helen and St Andrews. They are both great for kayaking, hiking, paddle boarding, fishing, and swimming.
Panama City Beach is also a great place for foodies. If you like breakfast or brunch then Andy's Flour Power is an absolute must, you have to try the Pistachio muffins, the french toast, and the breakfast martinis. 
One of the best places to stay is Calypso Resort & Towers, located right on the beachfront and next to Pier Park. It has its own private beach, pool, and gym, and is easy to walk to many of the close by amenities, including Diego's, a highly recommended Mexican restaurant.
Anna Maria Island
Paula from Paula Pins the Planet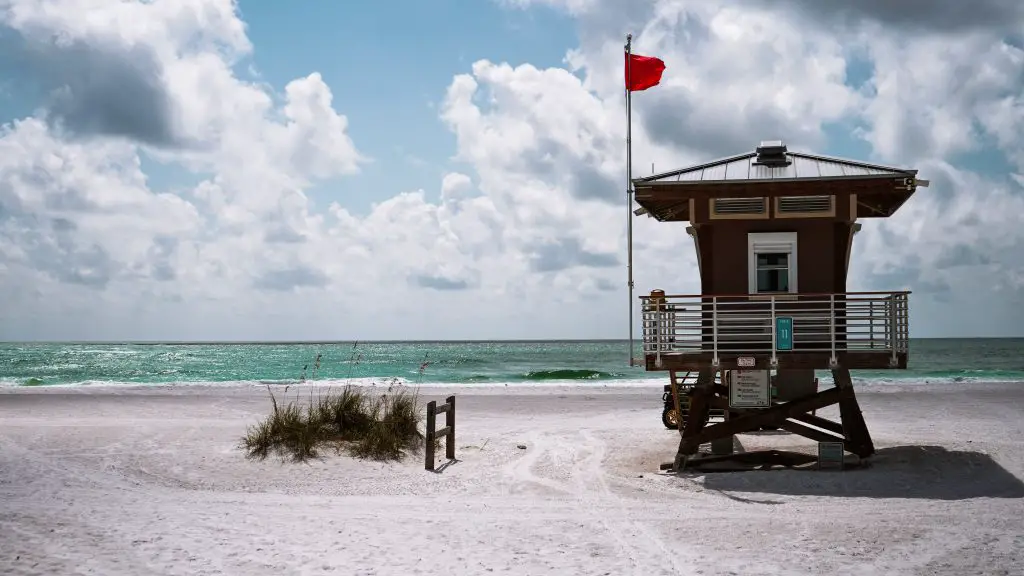 There are plenty of things to do on Anna Maria Island such as exploring the Historic Bridge Street, you can rent bicycles for the day and visit the local shops, stop for coffee or ice cream or just enjoy the island lifestyle. You can also head out on a wildlife-watching boat trip, as a boat trip is a favorite with the kids. 
When it comes to beautiful beaches, you'll be spoilt for choice if you divide to visit Anna Maria Island. There are a couple that steals the spotlight including Manatee Beach, Coquina Beach, and Bayfront Park Beach. Manatee and Coquina Beach are great for families, there is always a lifeguard stationed here, and you'll find plenty of amenities nearby including cafes and restrooms.
Local Tips to visit Anna Maria Island: If you are planning to visit Anna Maria Island, you don't really need a rental car. You can rent bikes, and a golf cart, or use the free trolley to get around the island from 6 am to 9 pm.
If you are traveling by car, keep in mind that the island has very limited parking. 
The best time to visit is January – March or October because it's cooler on Anna Maria Island around then. These times of the year are also the quietest if you are looking for uncrowded beaches.
Pensacola
Recommended by Roshni from The Wanderlust Within
One of the most beautiful and historical cities in Florida lies on the Northwest coast of the state along the Panhandle. The easiest way to reach Pensacola is from either its own International airport or within a 2-hour drive from Northwest Florida Beaches airport in Panama City Beach.
Pensacola is often referred to as "The City of Five Flags" as it is known for having changed ownership several times, and with this comes a rich history and plenty of historical landmarks, museums, and attractions. Pensacola is also located along the Gulf of Mexico, meaning there are plenty of outdoor activities to try including glow paddle boarding on Sabine bay and discovering the country's most popular National seashore (Gulf Islands).
One of the most unique things to do in Pensacola is to go dolphin watching onboard a world-class racing trimaran. There are only 23 in the world, and Pensacola is home to one of the few that are open to the public.
One of the best hotels to stay at is the Hampton Inn Pensacola Beach, it is located along the beachfront and is within walking distance of Gulf Pier as well as plenty of amazing restaurants and bars in Pensacola.
If you're looking for a fun activity during your visit, go to Fort Walton Beach and consider renting a pontoon boat with Pontoon rentals Fort Walton Beach to explore the beautiful waters of the Gulf of Mexico. Several companies offer pontoon rentals in Fort Walton Beach, allowing you to enjoy a leisurely day on the water with family and friends. You can cruise along the coastline, drop anchor in a secluded cove, and even try your hand at fishing. Pontoon rentals are a great way to experience the laid-back lifestyle of the Emerald Coast.
Clearwater
Recommended by Candice from CS Ginger
Clearwater, Florida is one of the most beautiful cities in Florida. It has miles of white sand beaches and is known for its clear, blue waters. The town does not have too much commotion but it is not dull either.
One of the top three things to do in Clearwater is to visit the beach. Clearwater has the best family beaches in Florida. They are very pretty beaches, and the water is great for kids and adults. You will want to visit the sponge docks in Tarpon Springs as well.
It is a great place to eat food, shop, and see some cool large boats. If you still have time after those activities, you will want to check out the Clearwater Marine Aquarium. The aquarium was home to Winter the Dolphin.
Winter was a rescue dolphin that swam using a prosthetic tail. Winter lost her tail after being entangled in a crab trap at just two months old. The aquarium is also home to other dolphins, sea turtles, stingrays, and more.
When visiting Clearwater, make sure you wear comfy shoes. There are great shops and many beach activities.
If you are looking for a place to stay, check out the beautiful Opal Sands Resort. The resort is right on the beach and has stunning views of the Gulf. The rooms are spacious and modern. There are rooms for everyone and a fantastic beachside bar that plays live music.
Sarasota
By Terri at Female Solo Trek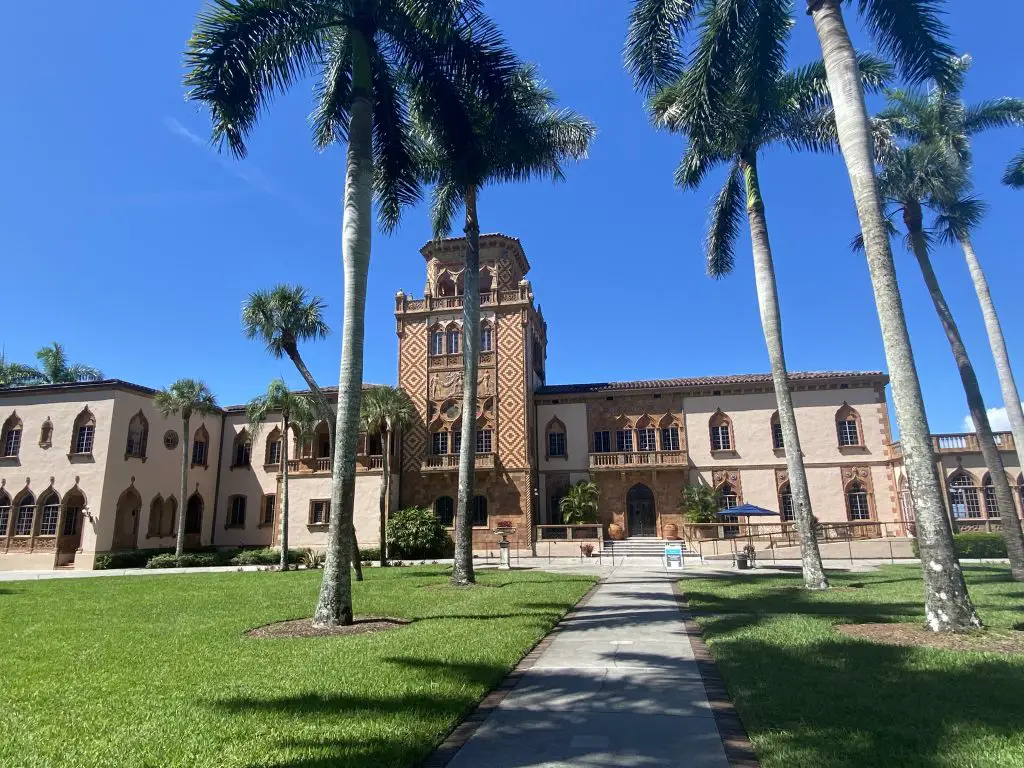 Located in west Florida on the Gulf of Mexico, Sarasota was the winter home of such world-famous circus operations as Barnum & Bailey as well as the Ringling Brothers. Nicknamed the "Circus Capital of the World," Sarasota is nestled on the bay.
The European-style city is home to multiple art museums, theaters, and a world-class botanical garden.
The number one excursion for any visitor is to see the Ringling Museum complex, located on a 20-acre waterfront lot in Sarasota. You can tour John and Mable Ringling's mansion (Ca' d'Zan) which he called the "House of John." The museum also includes an art museum and a circus museum.
The second most important place to visit is the Marie Selby Botanical Gardens, which is home to rare tropical plants, orchids, bonsai gardens, and native Floridian trees. This 15-acre garden is named after Marie Selby, the first woman to cross the United States by automobile. She prepared a special trust so her private home would be turned into a public botanical garden.
Art exhibitions are held at the Payne Mansion.
There are rocking chairs situated in the wildflower gardens.
Finally, no visit to Sarasota is complete without posing at the 25-foot sculpture of a sailor kissing a nurse on V-J (Victory over Japan) Day on August 14, 1945. It is known as the "Unconditional Surrender" sculpture. You can pose in front of the sculpture located at the Sarasota harbor, then book a boat trip, jog, or sip a cocktail at sunset.
If you looking for something quirky to do, go in search of 36 examples of "bike art" in Sarasota. Created by "Dr. Nik," bikes festooned with flowers, ribbons, peace signs, and cartoon characters are located around the library, harbor, theaters, and stores. Naturally, flamingos like to roost on the bike art. Some bikes also feature messages (such as "Keep Evolving, Please").
South Beach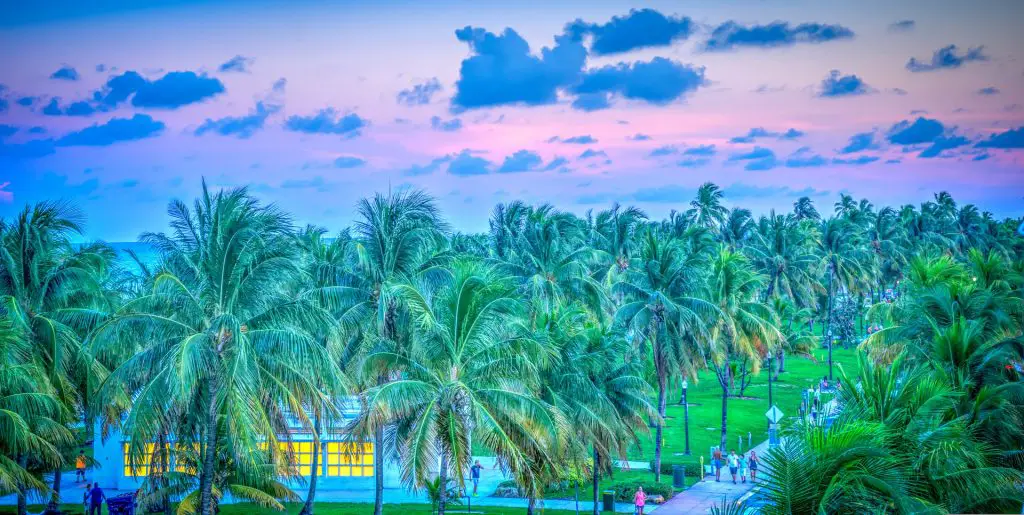 South Beach is one of the most beautiful cities in Florida. It's a great place to visit if you're looking for some sun and sand. Here are three things to do while you're in South Beach:
1. Go for a swim: South Beach is home to some of the best beaches in Florida. The water is warm and the sands are white. There's no better place to take a dip.
2. Hit the shops: South Beach is also a shopper's paradise. You'll find all the latest fashion trends and designer labels here. There's something for everyone. Check out Ocean Drive and Lincoln Road if you wish to go shopping or just to find a stylish restaurant and to people-watching.
3. Party the night away: South Beach is known for its nightlife. There are plenty of clubs and bars to keep you entertained well into the night. If you're looking for a good time, this is the place to be.
If you are looking for a nice place where to stay without breaking the bank, check out The Goodtime Hotel. It's centrally located, has a great design, and even offers free bikes for its guests!
Hurricane Ian damage in Florida
Hurricane season is always a difficult time for those living in hurricane-prone areas, but this year has been especially devastating. Thousands of people have lost their homes and all of their possessions, and many are still without power or running water. Several of the beautiful cities in Florida will never be the same after the damage done by the hurricane.
The American Red Cross is currently accepting donations to help those affected by the recent hurricanes in Florida. If you would like to help, please consider making a donation. Every little bit helps, and your contribution could make all the difference in the lives of those who have lost everything.
---
---