Some of the links in this post are affiliate links. This means if you click on the link and purchase the item, I will receive an affiliate commission at no extra cost to you. All opinions remain my own.
Is there anything more romantic than spending time on a quiet Greek island with your loved one? These idyllic destinations are the perfect place to relax and soak up the sun. From sprawling seaside villages to rustic hideaways, here are some of the best quiet Greek islands for couples.
Table of contents:
Corfu
Recommended by Dani from No Hurry To Get Home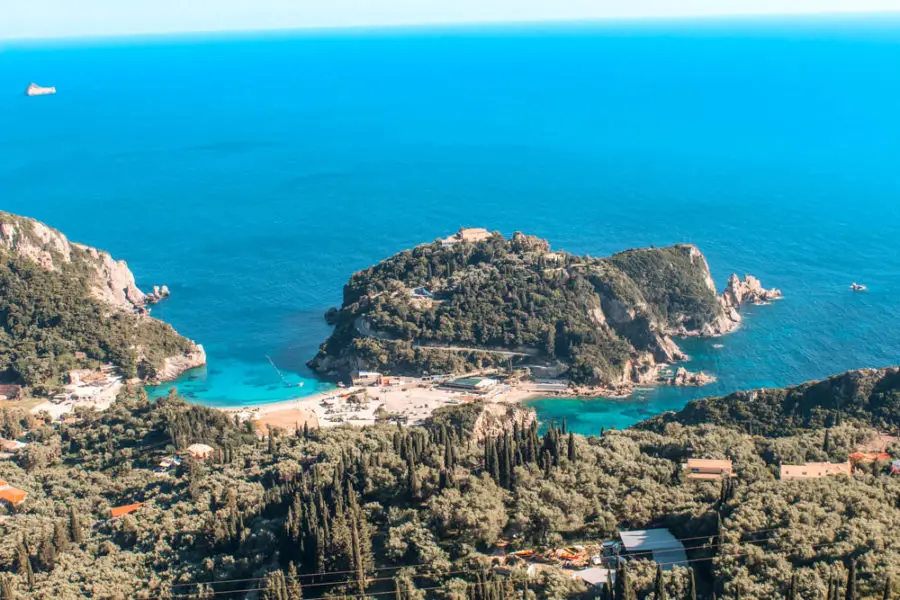 Aside from getting to lounge at romantic beaches for hours on end with your partner, this gorgeous island in Greece has plenty more to offer visitors. 
A few of the must-dos for couples are snorkeling at Porto Timoni to explore the waters around the island, checking out the plethora of historical buildings at Corfu Town, and swimming at Canal D'Amour (legend has it that couples who swim here will never break up!).
Hiking is also on the menu if you and your partner are into the outdoors, with wonderful trails spread all over that most visitors never venture into. One of the can't-miss hikes is the Lakones Path, which is a loop around the area in Pelokastrista village. This hike takes roughly 4 hours and provides a vast array of different landscapes and activities, including beautiful coastal views, slopes of citrus, forests, and plenty of olive groves!
As for where to stay in Corfu for couples, Porto Demo Boutique Hotel is a great choice for a romantic getaway. It's located in a quiet spot in Agios Georgios and provides unbeatable views of the bay!
Kythnos
Recommended by Missy from Travels With Missy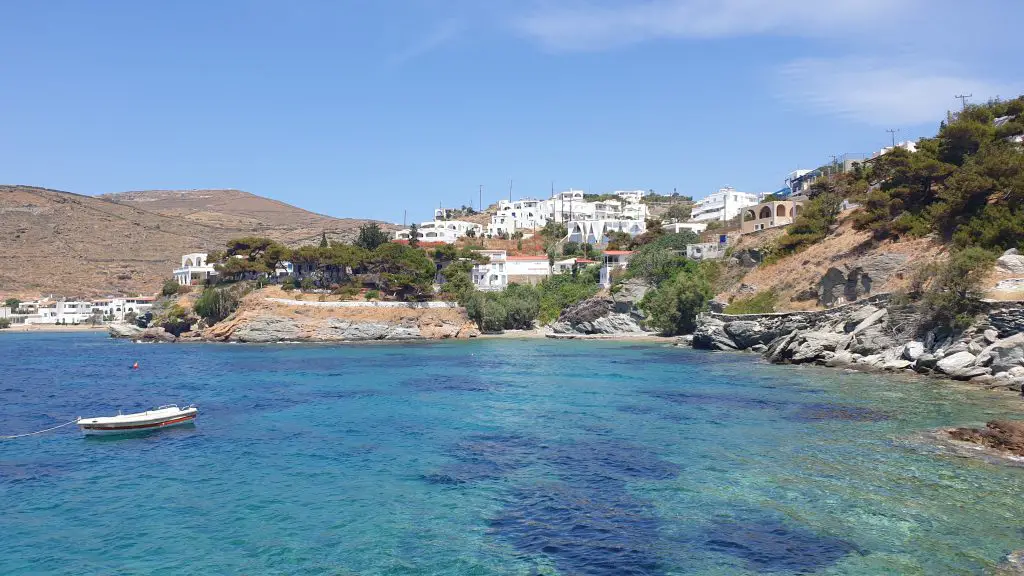 The island of Kythnos is a short ferry ride from Athens and the port of Lavrio. Taking only an hour and a half, this is one of the closest Cyclade islands to reach for couples visiting the Greek islands and limited on a short amount of time. 
The port of Kythnos is quaint, lined with small tavernas and coffee shops. It makes a great base for couples as it's the largest town on Kythnos and the hub of activity. Kythnos is one of the quieter Cyclade islands, and one of its most mountainous. With two taxis in operation on the island, this is the perfect place to switch off your phone, relax and unwind. 
During the summer months, the small town of Kanala is one of the best places for couples looking for a quiet place to relax. With two beaches in the area, there are a number of excellent accommodation choices. Kanala Studios Kythnos is a recently built hotel that has stunning views over the Aegean Sea and a fantastic pool. The town of Kanala has 2 restaurants, and one of the dreamiest cafes, Molo, which embodies all things that Greeks islands do so well – stunning views, crystal clear water, delicious Greek food, and a beautiful setting. 
Popular tourist attractions on the island of Kythnos include visiting the incredible Kolona Beach, either by boat (highly recommended) or by vehicle. The sand spit is a perfect day out for couples looking for crystal clear water, a soft sandy beach, and a great tavern. Much like the beaches in Milos, you'll be able to find several secluded beaches on Kythnos.
Folegandros
Recommended by PlacesofJuma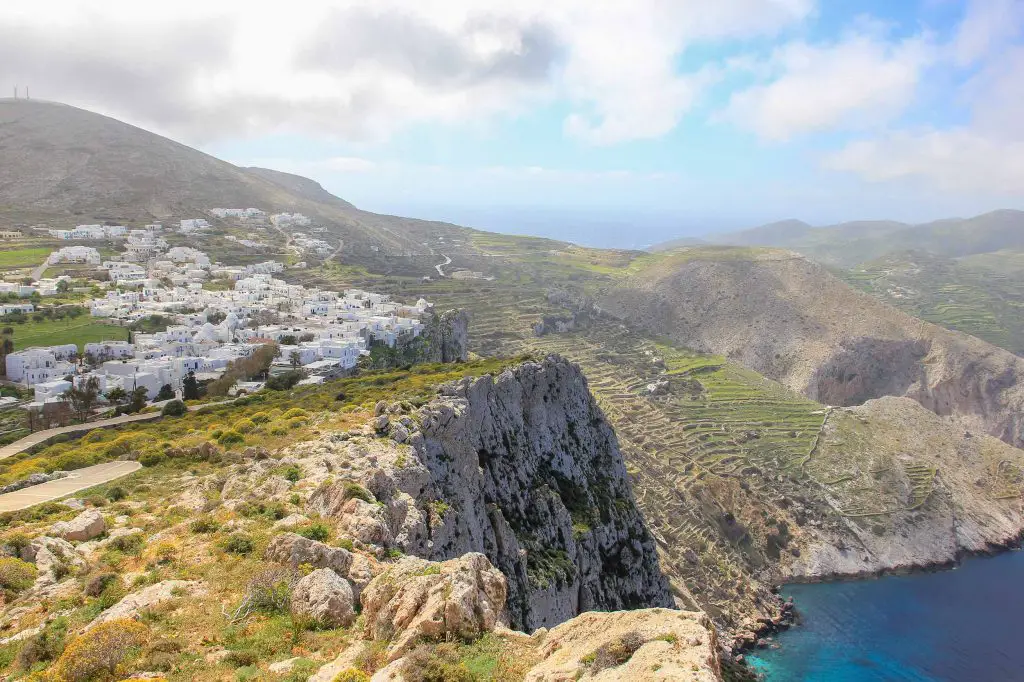 Folegandros is a wonderful tip for an unforgettable and moreover quiet couple's vacation in Greece. It belongs to the Cyclades, a group of islands a few hours south of Athens, and a visit is highly recommended. The great thing is that this dream island is still a real insider tip, off the typical tourist paths.
Especially unique is the landscape of this small mini island. It is extremely rocky, has a rugged cliff, but also beautiful sandy beaches that invite you to swim and relax. Moreover, the snow-white Chora, located on imposing rock hundreds of meters above the sea, is simply romantic.
In general, Folegandros is a beautiful small island, which is ideal for hiking and outdoor activities thanks to its beautiful landscapes and intact nature. Around the island, there are numerous well-marked hiking trails that will take you to the most beautiful beaches and fabulous viewpoints.
Adventurous couples explore Folegandros by quad or scooter. A highlight is the traditional village of Ano Meria, where you can find nice taverns and marvel at the authentic landscape. An absolute highlight and a must is a visit to the church of the Virgin Mary. It is the landmark of the island and can be reached via a beautiful footpath.
For a couple's vacation, you will find some terrific accommodations on the island. Especially recommended are the Onar Suites & Villas with a beautiful pool and magnificent views.
Kos
Recommended by Lowri from Many Other Roads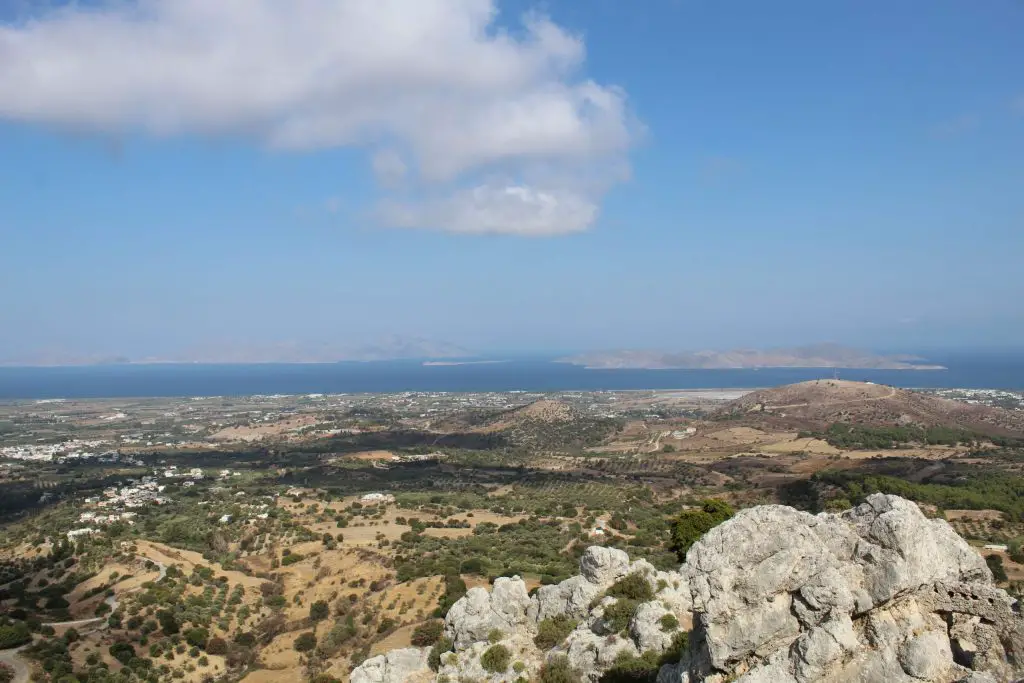 Greece is full of the most amazing destinations for couples. There are endless options for all types of travelers. But for those searching for a quiet Greek Island to spend quality time together, Kos should be on your list.
Kos Island is famous for its breathtaking beaches and clear waters. Combine this with its friendly locals, amazing food, and incredible views and you can easily see why so many fall head over heels with this Island. It is not the most popular Greek Island to visit so you will find it a lot quieter than some of the other Islands like Mykonos. 
One of the best things to do in Kos as a couple is to explore the many local wineries. The Island is full of some of the most unique wine spots, so Kos is the perfect destination for wine lovers. For the ultimate romantic afternoon, stop by Ktima Akrani for the most incredible views over the vineyards as you sip on local wine.
For those who want to visit a fairytale-like location when visiting Kos, Old Pyli is a must-visit. Here you will find the Pyli Castle, hidden paths, and Oria Taverna. This is one of the best traditional Tavernas on the Island. 
After a day of exploring, why not watch the sunset over the hilltop village of Zia? The town of Zia is a loved destination with couples thanks to its cobbled streets to explore, fantastic places to eat, and relaxed atmosphere. 
There are so many hotel options around Kos you will find it hard to decide where to stay. For the ultimate romantic and quiet stay, Pelagos Suites Hotel & Spa is a great option.
Paros
Recommended by Natali from She's abroad again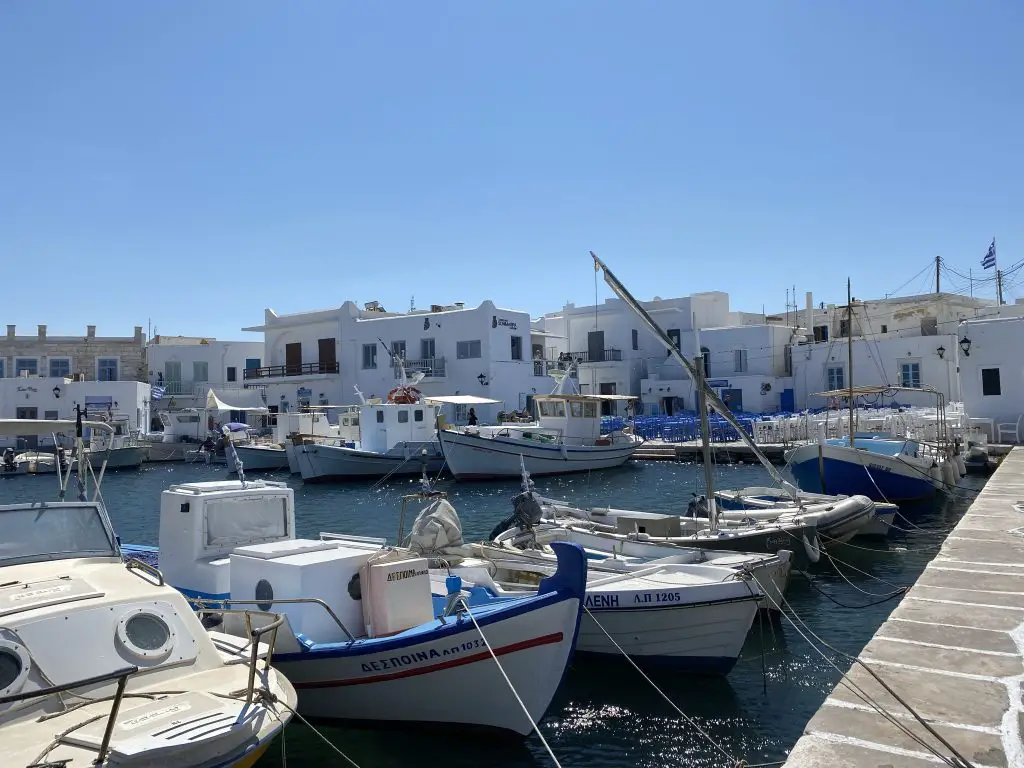 Paros is the hidden gem of the Cyclades, often overlooked by couples in favor of Santorini, which is unjust given its beauty, tranquillity, and numerous romantic activities for couples. If you are looking for a budget-friendly island to spend your holidays, Paros should be on the top of your list.
The island is best known for its beaches and seaside villages with cobblestone streets and white houses lined with pink bougainvillea trees. Paros is small enough that you can discover the whole island in a couple of days but big enough that you don't get bored.
The first place on your Paros itinerary should be Naoussa, a fishing village quickly becoming the island's hotspot. Grab your partner, stroll the cobblestone streets and soak in the atmosphere of a greek island. Sit down for a candlelit dinner in one of many tavernas on the seafront. Afterward, opt for a drink in one of the bars with live music.
You can choose between many beaches on the island. Kolimbithres beach in the north is a unique beach with unusual rock formations. Marcelo beach, close to Parikia, is a beautiful, long sandy beach. Finally, Piso Livadi beach on the eastern part of the island is a place to go for an authentic fishing village experience. 
For an active couple, hike the Byzantine route from Lefkes to Prodromos. The trail offers exceptional views of the whole island!
Madaky hotel in Naoussa is a perfect place to stay on the island. It is just a short walk from the restaurants in Naoussa in a quiet and secluded area.
Milos
Recommended by Marjut from The Smooth Escape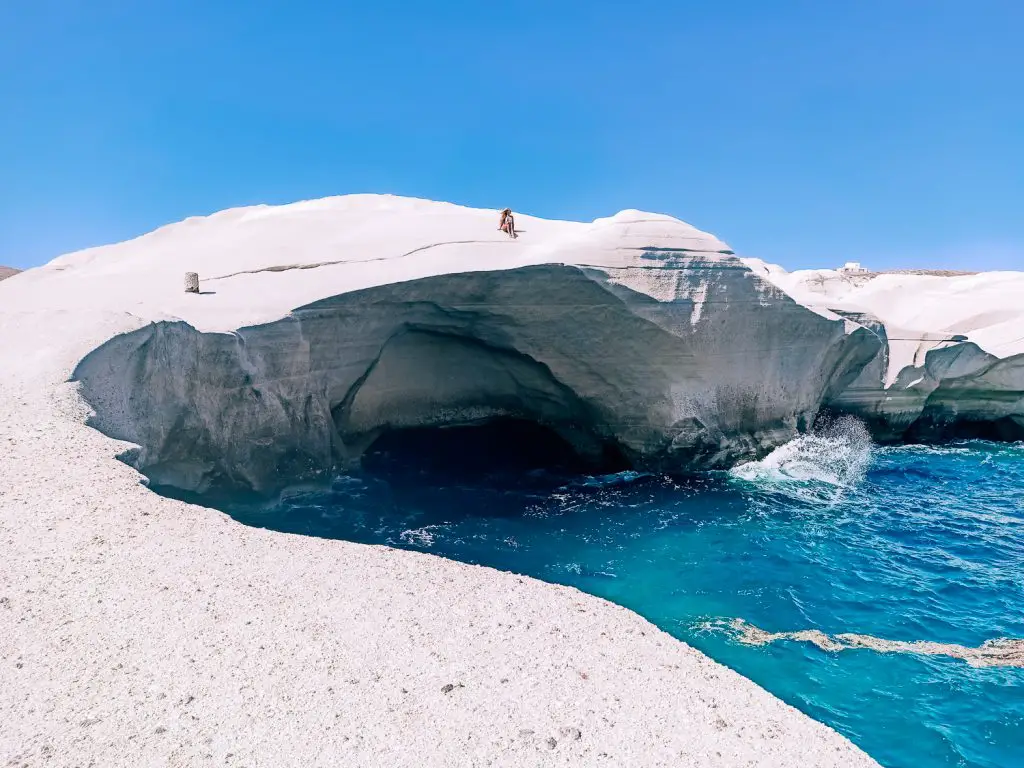 The beautiful island of Milos is located in the heart of the Aegean Sea and is a part of the Cyclades island group. It's an excellent destination for couples who enjoy unspoiled nature, want to get away from crowds of tourists, and experience a more authentic Greek island.

There aren't many upscale resorts, high-end boutiques, or crazy nightlife in Milos. Instead, the island boasts jaw-dropping volcanic landscapes, charming whitewashed villages, and some of the most beautiful beaches in Greece. 

One of the best things to do in Milos is to sail around the island. You can either rent your own boat or go on a sailing tour, which will take you to stunning remote beaches, great snorkeling locations, and incredible sea caves. 

Another activity you shouldn't miss in Milos is visiting Sarakiniko beach. With its white moon-like rocks and aquamarine water, it's a truly unique place and one of the most famous attractions on the island. The beach looks especially beautiful at sunrise when the first rays of sun paint the rocks with vivid shades of orange and pink. 

Make sure to also visit the island's capital Plaka. Here, you'll find an abundance of traditional whitewashed houses, cute shops, and outdoor restaurants with a sunset view. Plaka is also an excellent place to base yourself in Milos. One of the best places to stay here is Halara Studios which offers stylish Cycladic-style apartments with breathtaking views of the Aegean Sea.
Lefkada
Recommended by Erki from Genem Photography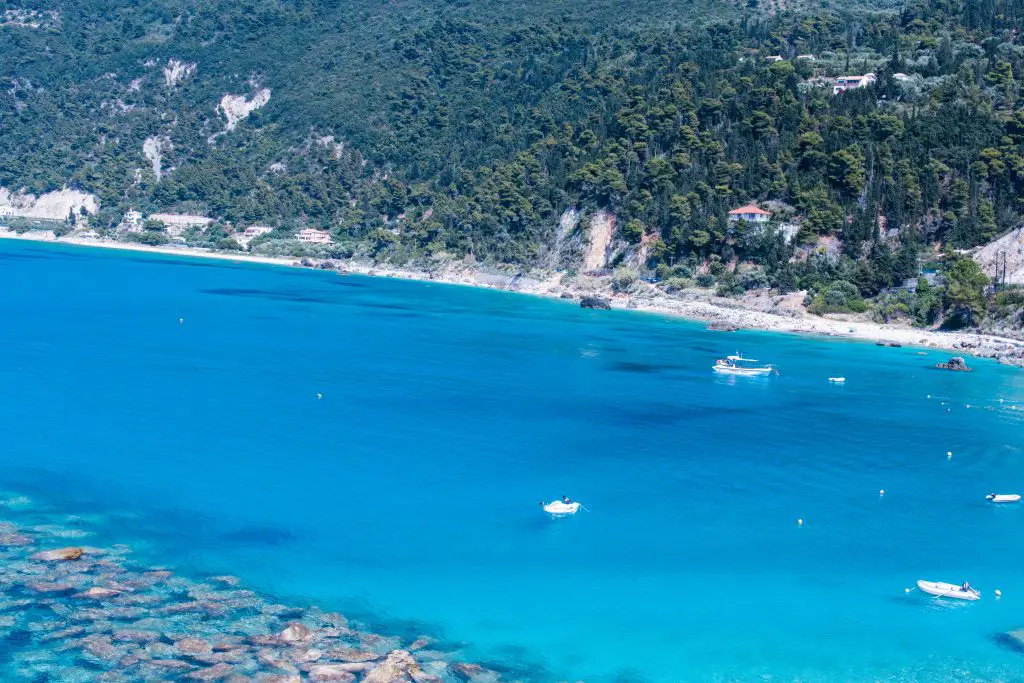 Lefkada is one of the Ionian islands that are well known for its green nature and turquoise beaches. It's also one of the few Greek islands that are connected with the mainland via a bridge. It could be the best quiet Greek island for couples due that it's not as popular as neighbors Corfu island and Zakynthos.
The best thing to do as a couple is just to chill on the beach. The water is extremely crystal clear and the beaches are covered with white sand. The most notable beaches are Kathisma beach, Porto Katsiki, and Mylos beach. The quietest beach is the last one as it's more off-grid than other options.
From Lefkada island, you will also find several hiking options. Near Egklouvi village are several hiking options like 5 Peak Loop and hike to the picturesque Church of the Prophet Elias.
If you dare to be more extreme, then Lefkada is also known for water sports. Specifically, kite- and windsurfing are the main water sports in this region. If you don't have any experience, then you will find several businesses near Lefkada Town, and Vasiliki, where they will teach you all the basics.
You will see the best sunsets at Rachi restaurant, where you also should book in advance as it's always full. Also, you will find several accommodation options from Lefkada island like Zephyros Rooms And Apartments.
Santorini
Recommended by Roxanne from Faraway Worlds
A popular honeymoon destination, Santorini is also a wonderful place to enjoy a quiet, romantic stay. Staying outside of the main town makes you feel far away from the tourist buzz, with views of the caldera visible from the eastern side of the island. From a distance, Fira's famous churches with blue, domed rooms and small white houses scattered over the cliff tops also make for stunning views.
During your stay, wander through the narrow streets of Fira and visit the shops in the main town. It's a charming place to spend a few hours. In the late afternoon, walk along the cliffs from Fira to Oia, and stop for a drink at one of the luxury resorts between the towns to watch the pink and purple sunset over the caldera. And spend a day discovering the island's volcanic history by visiting the white, pink, and black sand beaches or climbing to the top of Nea Kameni, the island volcano, to see the magnificent, panoramic views.
The small village of Pyrgos is the best place to stay in Santorini for a quiet trip with beautiful views. The white town is charming and still has elements of a traditional village, and there are some lovely apartments and boutique hotels close by.
Lemnos
Recommended by Anda from Travel for a while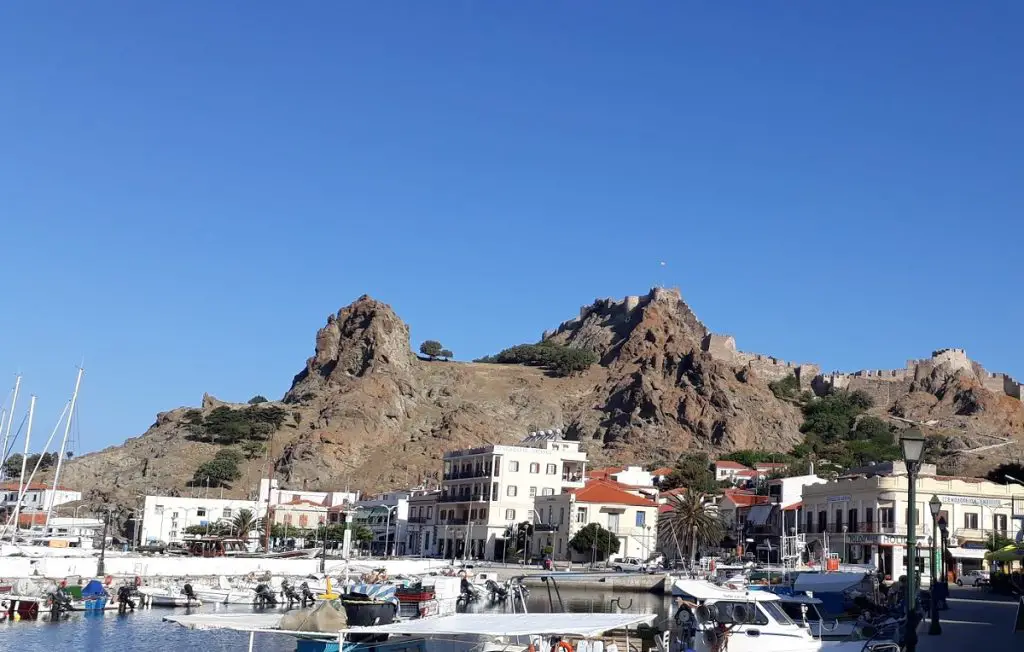 Lemnos is one of the quiet Greek islands in the North Aegean. The volcanic island has a very diverse landscape, perfect for exploring on a romantic vacation.
You need a car to explore the island, and the best place to stay is in the harbor city of Myrina. Choose the Grand Patelli Hotel for its location, modern rooms, free parking, and outdoor spaces.
Myrina is a picturesque town, with a castle dominating the two bays beside it. After exploring Myrina Castle and enjoying the views from above, go for a walk on the waterfront. Choose one of the taverns by the sea, and have a light dinner under the stars.
You can spend each day on a different sandy beach. From the western shore, you are guaranteed to catch some incredible sunsets, with Mount Athos in the background.
Another must on Lemnos island is a visit to a local winery. The wines of Lemnos are among the best in Greece. Make sure to try the local white sweet wines.
Depending on your time on the island, you can also explore the archaeological sites, hike to the unusual Profiti Ilias Church for some great views, and find the sand dunes or the salt lagoon. Feast on the fresh seafood the fishermen bring out every day and don't ignore the traditional Greek food either.
Hydra
Recommended by Dymphe from Dymabroad
One of the best quiet Greek islands for couples is the island of Hydra. This is a small island that you can reach from Athens in a quick way by ferry. The island is completely car-free and very picturesque, and there are many pretty places on the island.
Also, there are many great things to do in Hydra. One of the best things to do on the island as a couple is having food and drinks at Sunset Restaurant, from where you can enjoy an incredible view of the sea. This is a restaurant that is very easy to reach on foot from Hydra's port. Also, it is great to relax at one of the beaches on the island, of which Kamini Beach is a great one with very clear water. Another one of the best things to do on Hydra for couples is exploring Hydra's old port. Here, you can find a lot of typical Greek streets with many shops and restaurants. Also, you can find the Monastery of the Assumption of the Virgin Mary here which is very interesting to see.
Furthermore, as the island is completely car-free, if you want to get to other places on the island, you can do so by water taxi.
Also, a great and quiet hotel on Hydra is Hydroussa Hotel Hydra.
Crete
Recommended by Annelies from Travelers and Dreamers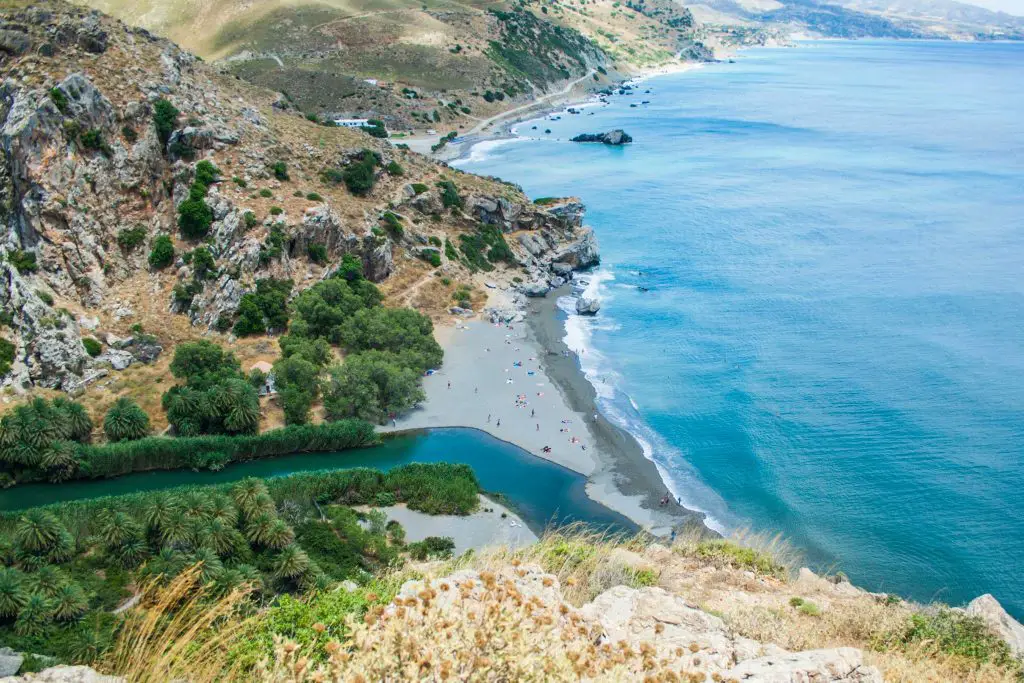 Crete is a great island in Greece to enjoy a peaceful and quiet vacation as a couple. While Crete may not directly seem like a destination to enjoy calmness and quietness, there are many places in Crete that are still relatively off the beaten path. A general rule is to skip the northern part of the island, where places like Chersonissos are located, and instead choose one of the lesser-known places in the East and Southern part of the island. The small fishing village of Loutro, the seaside town of Matala.
Crete is a great destination for culture as well as nature and food lovers. The Creten cuisine is exquisite, with a lot of varieties of Creten cheeses, delicious Cretan Dakos (small toasts with tomato and cheese), and wonderful pastries like Sarikopitakia. As for activities, it's pretty easy to skip major tourist attractions like the Samaria Gorge, Elaffonisi beach, and Knossos and find great alternatives. Instead of these, try the Tylissos Ruins, and the Kourtaliotiko Gorge and relax at the secluded beaches of Xerokampos or Triopetra.
There are some amazing hotels and guesthouses to be found on Crete for a quiet vacation. Check out Hotel Porto Loutro, the White River Cottages in Lasithi, or Dimitris Resort in Matala.
---
---