Some of the links in this post are affiliate links. This means if you click on the link and purchase the item, I will receive an affiliate commission at no extra cost to you. All opinions remain my own.
Planning a trip to Greece, with its plethora of stunning islands, ancient ruins, and mouthwatering cuisine, can be an exciting yet daunting task. This land of epic history and equally epic landscapes calls to travelers across the globe, beckoning with its unique blend of the ancient and modern.
Pre-trip research and planning can save you both time and stress, leaving you free to fully enjoy all the richness that Greece has to offer.
This blog post aims to provide you with a comprehensive guide, detailing the necessary steps and considerations to ensure your Greek odyssey is an unforgettable adventure.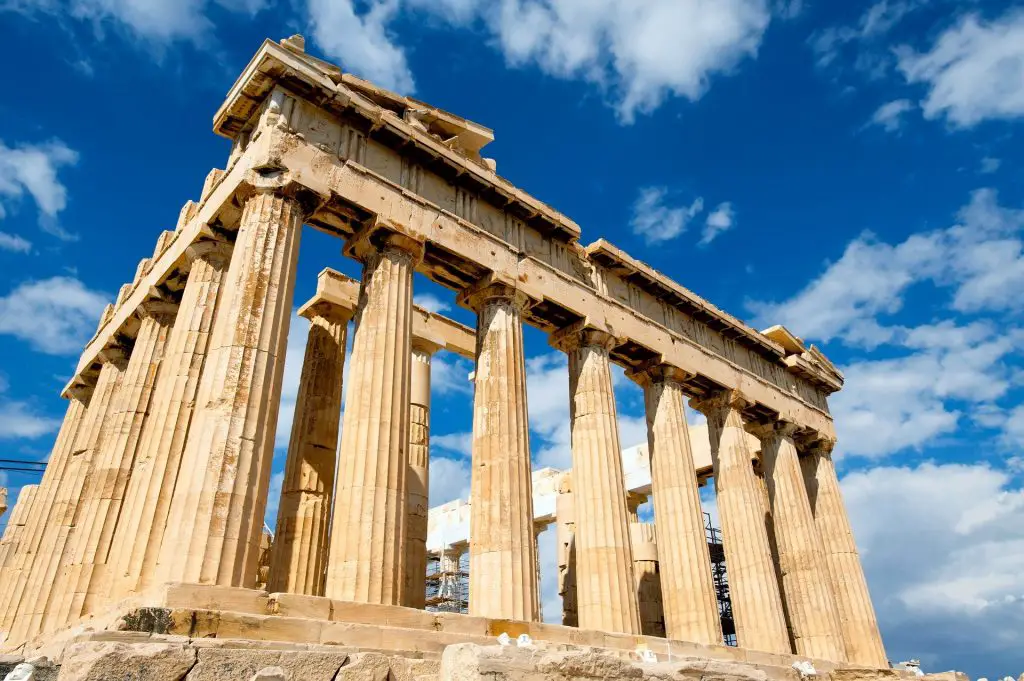 When should you go? The best time to visit Greece can depend heavily on your preferences and the type of experiences you seek. Our recommendation is September or October when it's still warm and the water is great for swimming, but the high season with crowds and higher prices has ended.
Choosing the right destinations in Greece is another critical step. The country is studded with iconic cities, like Athens and Thessaloniki, each offering its unique charm. Greece's sun-soaked islands – from the glamorous Mykonos to the serene Naxos – can't be missed either.
So, whether this is your first trip to Greece or you're a seasoned traveler, dive in as we demystify how to plan the perfect trip to Greece. Your Greek holiday is just a scroll away!
Table of contents: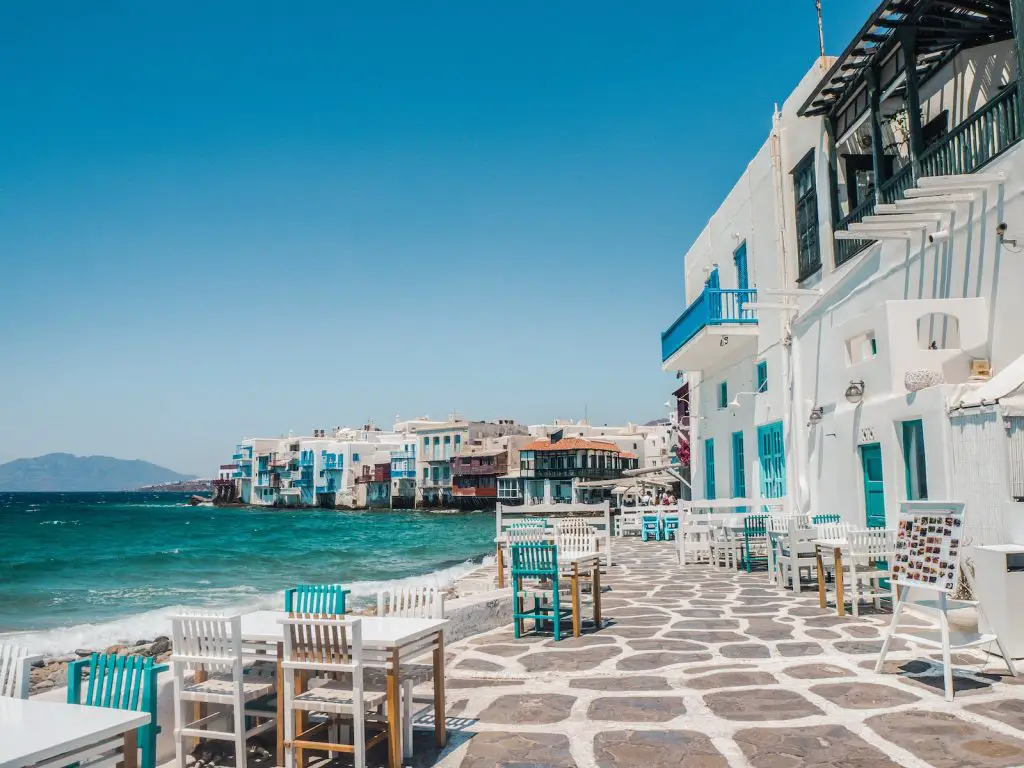 Deciding When to Go to Greece
Deciding when to go to Greece is a critical aspect of your trip planning. While Greece is indeed a stunning destination year-round, there are optimal times to visit, depending on your interests and the type of holiday you want. If you're seeking a balance between good weather, fewer crowds, and attractive prices, then September and October stand out as the perfect months to explore this Mediterranean gem.
September and October in Greece are typically known as the "shoulder season". This period immediately follows the peak summer months, offering many advantages. First, the weather remains favorable – pleasantly warm, yet without the intense heat of the high summer. The sea, after being warmed up throughout the summer, is perfect for swimming and water-based activities.
Secondly, fewer tourists frequent Greece in September and October, compared to the bustling summer months. This means you can enjoy more relaxed sightseeing, with shorter lines at significant archaeological sites, like the Parthenon or Delphi. Also, beaches, cafes, and restaurants in popular islands like Santorini or Mykonos are less crowded, providing a more authentic and leisurely experience.
From a budget perspective, traveling during these months can be a smart economical choice. Many hotels, airlines, and tour operators offer off-peak rates, which can considerably cut down your travel costs.
Lastly, this period sees many local festivals and events that reflect the rich tradition and culture of Greece. The grape harvest, for instance, is a fascinating time, especially in the wine-making regions of the country.
So, when deciding when to go to Greece, consider the many benefits of visiting in September and October. This timing offers a wonderful blend of beautiful weather, fewer crowds, lower costs, and cultural immersion, truly enhancing your Greek vacation experience.
Choosing Your Destinations in Greece
When it comes to selecting your destinations in Greece, the options are vast and varied. From iconic cities steeped in history to idyllic islands offering pristine beaches and vibrant nightlife, Greece is truly a traveler's paradise.
Starting in Athens, the nation's capital and the heart of ancient Greece is a must. Famous for landmarks such as the Parthenon, Acropolis, and the National Archaeological Museum, Athens offers a compelling mix of history, culture, and modern urban vibes. Make sure to roam around Plaka, the city's old neighborhood, known for its charming streets and local eateries.
If you are staying in the capital city for longer, you might want to consider going on different day trips from Athens. This way you can explore not just the capital, but also to surrounding archeology wonders.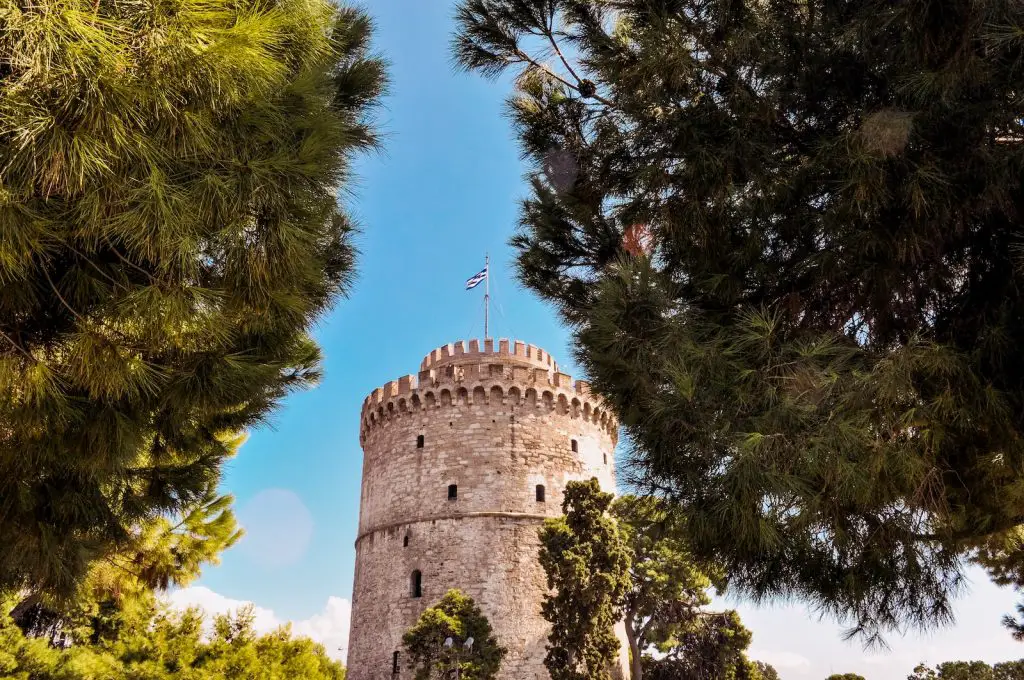 After absorbing the hustle and bustle of Athens, consider Thessaloniki, the country's second-largest city. Known for its rich Byzantine history, vibrant nightlife, and delicious food scene, Thessaloniki provides a different, yet equally enriching Greek city experience.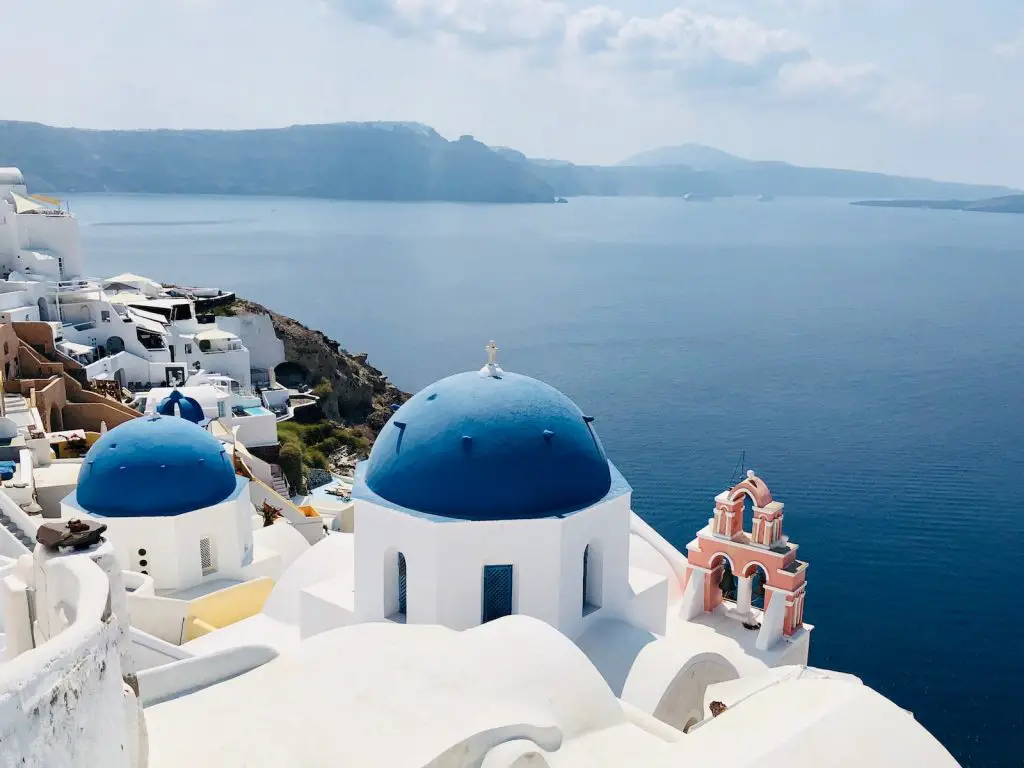 Your journey won't be complete without hopping over to Greece's iconic islands. Santorini, with its famous blue-domed churches, stunning sunsets, and unique volcanic beaches, is a crowd favorite. Here, you can also visit ancient ruins, like those at Akrotiri, or sample some excellent wines, thanks to the island's unique volcanic soil.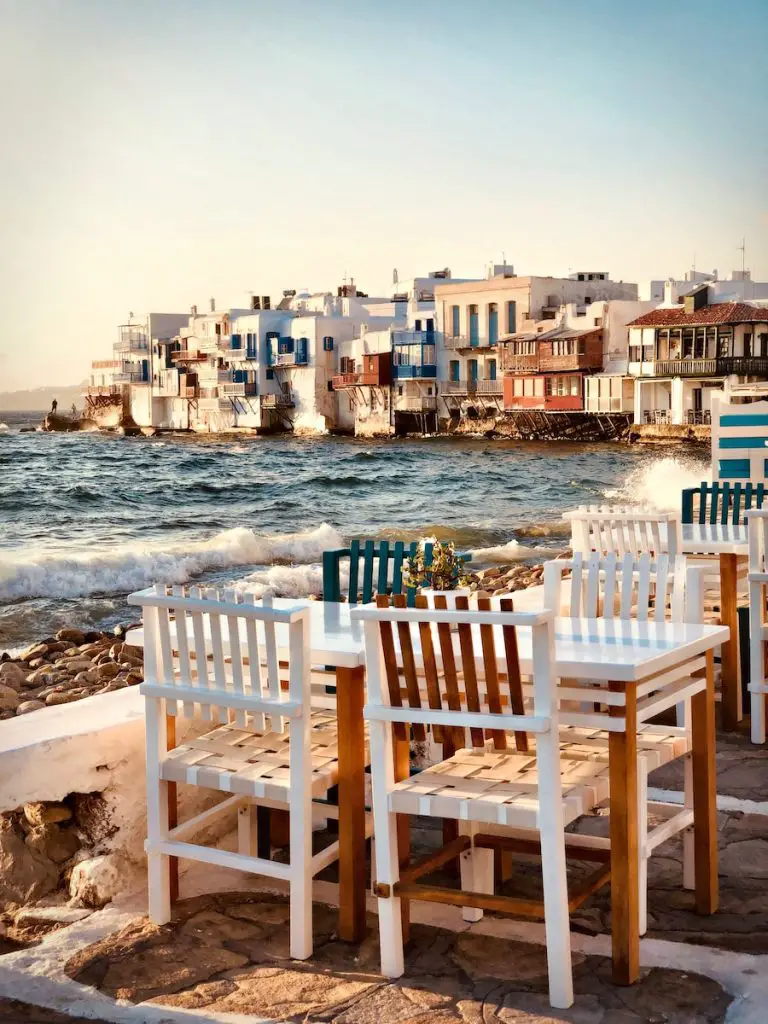 Mykonos is another popular island, renowned for its chic vibe, fantastic beaches, and lively party scene. If you're a fan of nightlife, this island should be on your list. However, Mykonos also offers beautiful traditional architecture in Mykonos Town, and the nearby island of Delos is a significant archaeological site.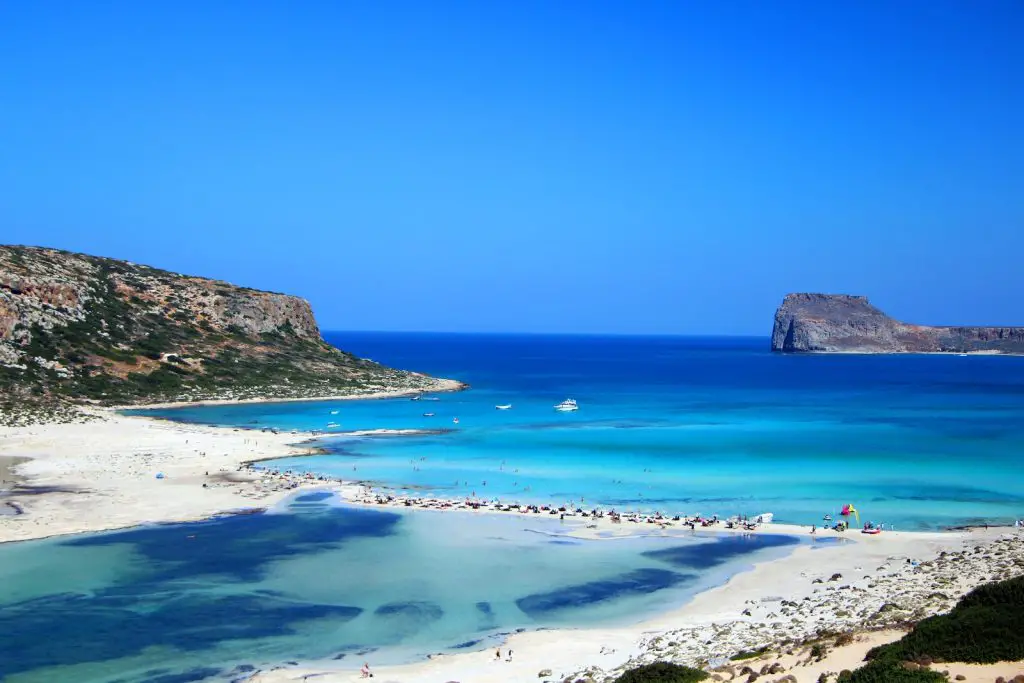 For a more serene and authentic Greek island experience, consider Naxos or Crete. Naxos, the largest of the Cyclades islands, offers stunning beaches, quaint mountain villages, and excellent local cuisine. On the other hand, Crete, the largest Greek island, boasts an impressive array of experiences, from exploring the ancient Palace of Knossos to hiking the Samaria Gorge and savoring the unique Cretan gastronomy.
If you are looking for the cheapest places to travel to, Crete should be on your list. Even though Greece might not be known for its affordability, Crete has many budget holiday options and a lot of beaches, hikes, and old-town strolls that you can enjoy there for free.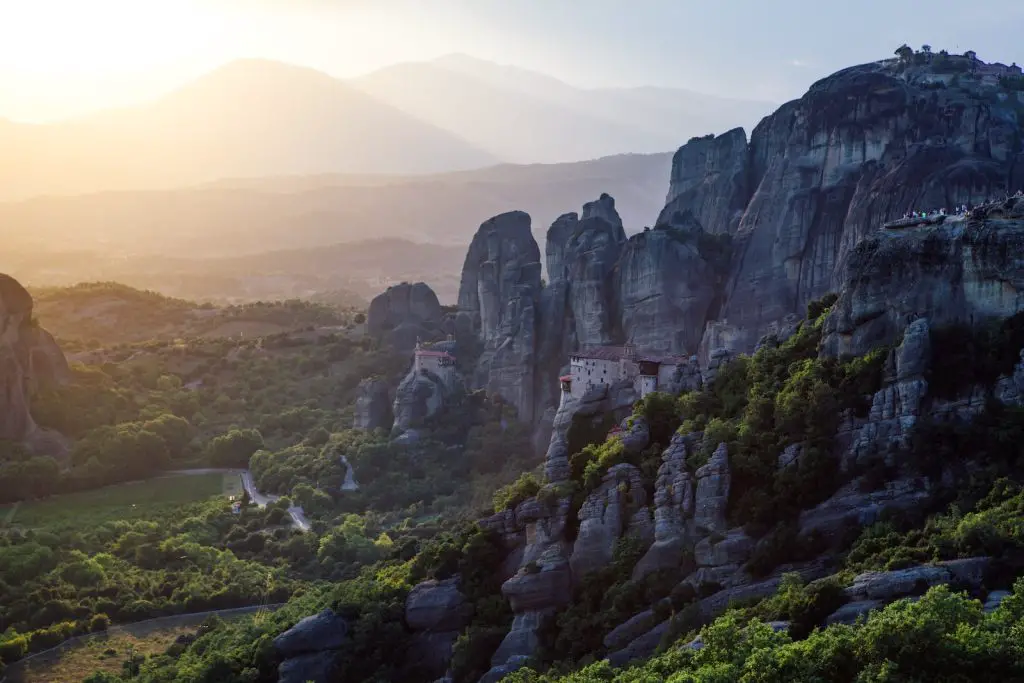 In the northern region, the monasteries of Meteora, perched atop towering rock formations, offer a sight that's as breathtaking as it is humbling. And for a journey back in time, the UNESCO-listed archaeological site of Delphi, once considered the center of the world in ancient Greek religion, is a must-visit.
In conclusion, when choosing your destinations in Greece, consider your interests and what you want out of your Greek adventure. Whether it's the cultural richness of Athens, the stunning landscapes of the islands, or the unique historical sites scattered across the mainland, Greece offers an unforgettable experience for every kind of traveler.
Setting a Budget
A crucial step in planning your Greek holiday is setting a realistic budget. Greece offers a range of experiences that can suit varying budgets, from shoestring to luxury. It's important to remember that your budget should reflect your personal travel style and the experiences you prioritize.
Accommodation will likely be one of the most significant components of your budget. Prices can vary significantly, from budget-friendly hostels and mid-range hotels to luxurious resorts and private villas. In high-demand areas like Athens, Santorini, or Mykonos, prices tend to be higher, especially during the peak summer months. However, visiting in September and October, as previously suggested, can lead to substantial savings.
Food and dining in Greece can also range widely in cost. While dining at upscale restaurants in touristy areas will be more expensive, you can also find plenty of affordable, delicious food at local tavernas. Street food, such as souvlaki or gyros, can be a budget-friendly yet tasty option.
Sightseeing and activities are another area to budget for. Entrance fees to significant archaeological sites or museums can add up. However, Greece also offers many free or low-cost activities, such as exploring local markets, hiking, or spending the day at the beach.
Transportation costs depend on your chosen destinations and mode of transport. Intra-city travel in Athens or Thessaloniki can be quite affordable, especially with the use of public transportation. If you plan to visit several islands, consider the costs of ferries or domestic flights. Car rental is another option, particularly useful if you plan to explore more rural areas or islands in depth.
Lastly, don't forget to include some extra room in your budget for miscellaneous expenses. This could be anything from souvenirs to a spontaneous boat tour or a special dinner out.
In conclusion, setting a budget for your trip to Greece requires careful consideration of your travel style, preferred activities, and the time of year you're visiting. Remember, with a bit of research and careful planning, you can enjoy a memorable Greek holiday that suits your budget perfectly.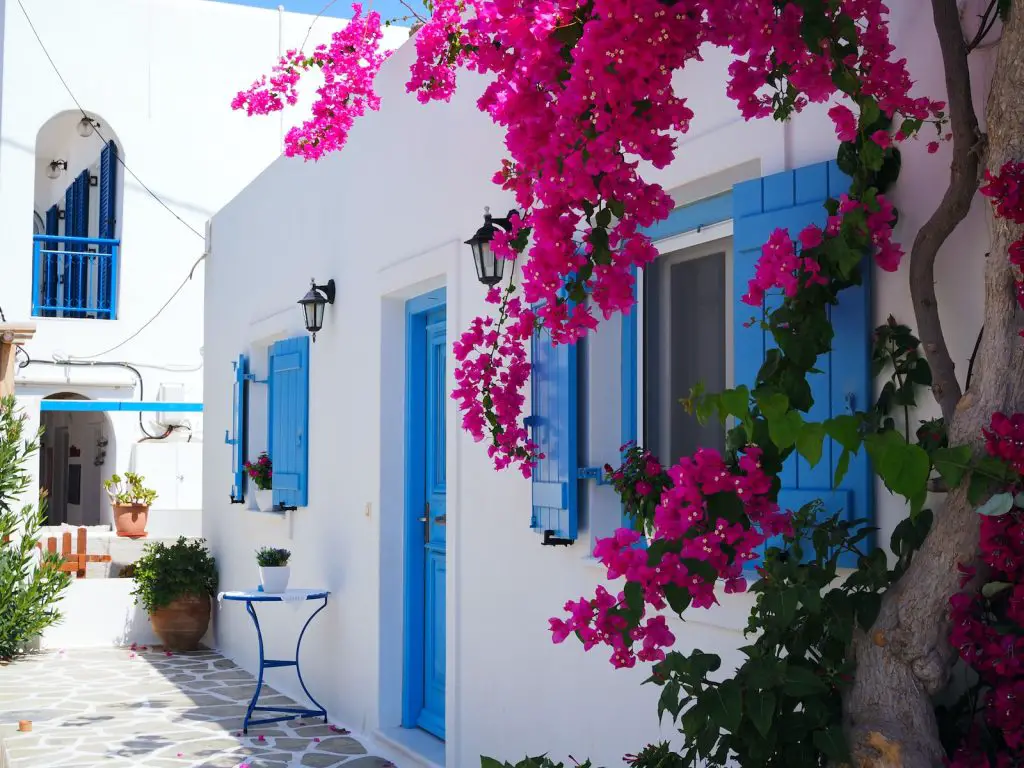 Booking Your Flights, Accommodation, and Tours
Once you have decided when to go, which destinations to visit, and set a budget for your trip to Greece, the next step is to book your flights, accommodation, and any tours you might be interested in.
Booking Flights: There are numerous platforms where you can compare and book flights, such as Skyscanner, Expedia, or Google Flights. These platforms allow you to explore options, compare prices, and select the most suitable flights. Remember to check if the fare includes luggage and any other extras you might need.
Accommodation Booking: Depending on your budget and preferences, you have a range of accommodation options in Greece, from budget hostels and guest houses to boutique hotels and luxury villas. Booking.com and Expedia offer a wide variety of hotels, while Airbnb could be a good option if you're looking for apartment rentals or unique accommodations. Always read the reviews before booking and check the location to ensure it is convenient for your plans.
Booking Tours: For sightseeing tours, cultural experiences, or outdoor activities, platforms like Viator and GetYourGuide offer a wide array of options. These sites provide reviews, and detailed descriptions of the tours, and often have flexible cancellation policies. For specific experiences like wine tastings, cooking classes, or sailing trips, consider booking directly with local providers, as they often offer a more personalized experience.
Before you confirm your bookings, make sure to check the cancellation policies, especially in light of potential travel disruptions.
Finally, consider travel insurance. Companies like World Nomads or Allianz Travel provide various plans covering everything from trip cancellations to medical emergencies. Remember, it's better to be safe than sorry when planning your travels.
In conclusion, booking your flights, accommodation, and tours for your Greek adventure is a process made easier by various online resources. These platforms not only help you secure your plans but also provide a means to compare prices, ensuring you stay within your budget while experiencing the best of what Greece has to offer.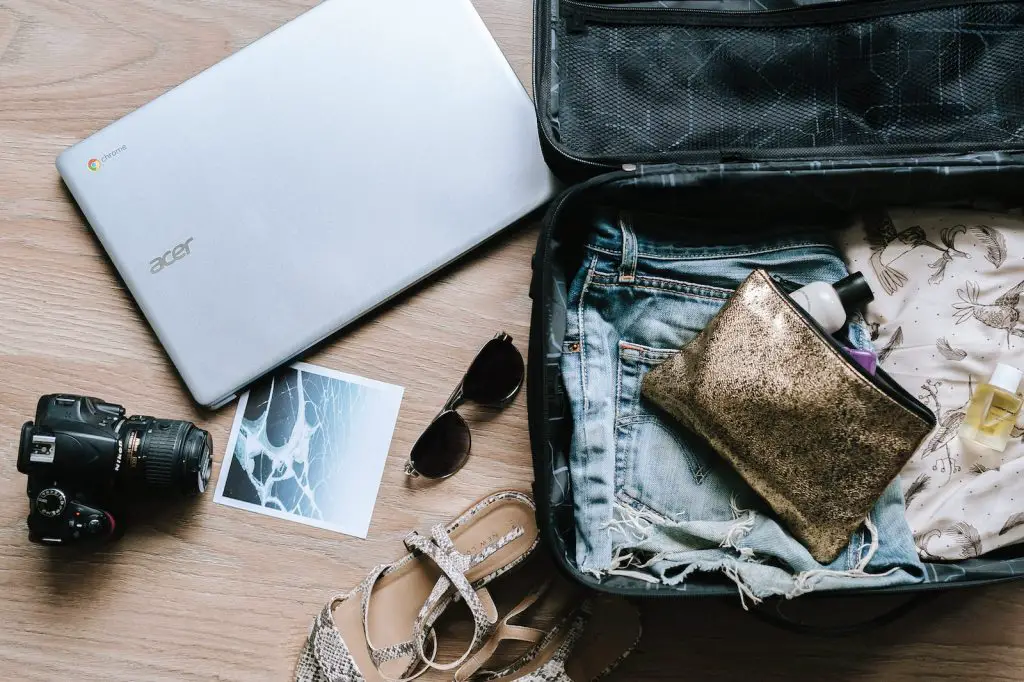 Packing for Greece
When packing for Greece, especially for a summer or beach holiday, it's important to consider the climate, cultural norms, and the activities you'll be participating in.
Clothing: Greece's summer is typically hot and sunny. Pack light, breathable clothes. Include items such as:
Shorts and light trousers
T-shirts and tank tops
Sundresses or light maxi dresses
Swimwear (perhaps more than one piece, so you always have a dry one)
Beach cover-ups or sarongs
A light jacket or cardigan for cooler evenings
Comfortable walking shoes or sandals for exploring
A pair of dressier shoes for night outings
A hat, sunglasses, and a high-SPF sunscreen to protect against the sun
Undergarments and sleepwear
Beach Essentials: If you plan to spend plenty of time at the beach, include:
Beach bag or tote
Beach towel (though some accommodations may provide these)
Flip flops or beach sandals
Snorkel gear if you plan to explore underwater (though many places also offer rental)
Toiletries and Health: While you can find most things in Greece, packing essential toiletries can save time and hassle:
Travel-sized shampoo, conditioner, body wash, and toothpaste
Razor, deodorant, and other personal care items
A small first-aid kit with band-aids, antiseptic wipes, and any necessary medication
Bug spray and after-bite if you are susceptible to mosquito bites
Prescription medications and any necessary paperwork
Tech and Travel Docs: Don't forget the necessary tech and travel documents:
Smartphone, charger, and perhaps a portable power bank
Adapter plug for Greek outlets (Type F)
Camera, if you're not using your phone for photos
Copies of your passport, travel insurance, and other important documents
Travel guide and map, if you prefer physical copies
Miscellaneous: A few more things you might want to consider:
Reusable water bottle: Staying hydrated is crucial in the summer heat
A good book or e-reader for beach days
Travel pillow and eye mask for the flight
Remember, when packing for your trip to Greece, less is often more. Many items can be purchased locally if needed, and traveling lighter can make your journey more comfortable. Now, with your bags expertly packed, you're ready to enjoy all that Greece has to offer!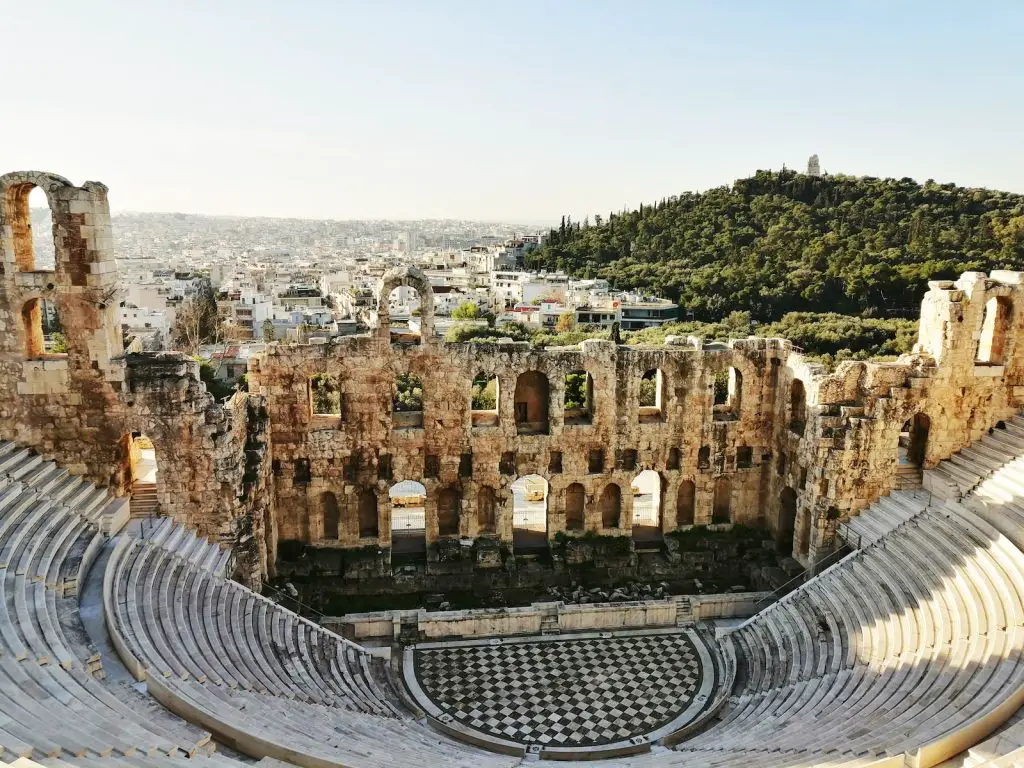 Other Things to Do Before Your Trip to Greece
Once you have your travel itinerary sorted, flights booked, and packing list ready, there are a few more steps to take to ensure you're fully prepared for your Greek odyssey.
Learn a Few Greek Words and Phrases
While many Greeks, especially in the cities and tourist areas, speak English, learning a few basic Greek words and phrases can significantly enrich your travel experience. This simple act shows respect for the local culture and can help build rapport with the locals.
Understand Cultural Etiquettes
Every country has its own set of customs and Greece is no different. Before your trip, read up on Greek cultural norms and etiquettes. For example, Greeks appreciate politeness and it's customary to greet people with a friendly "Hello" (Yah sas) when entering shops or restaurants. It's also important to dress modestly when visiting monasteries or churches – shoulders and knees should be covered for both men and women.
Familiarize Yourself with the Local Cuisine
Greek cuisine is a true delight. Before you go, familiarize yourself with some popular Greek dishes beyond just gyros and souvlaki. Learn about meze (Greek appetizers), try out some Greek wines, and don't forget about Greek coffee. Knowing a bit about the local cuisine beforehand will help you decipher menus and make the most of your culinary adventure in Greece.
Research Local Transportation
Getting around in Greece, particularly in Athens and other large cities, can involve a combination of walking, taxis, buses, trams, and the metro. Research the options available at your chosen destinations and familiarize yourself with the local transportation systems, including ticket prices and schedules.
Plan Your Mobile Connectivity
Check with your mobile provider about international roaming charges or consider purchasing a local SIM card upon arrival for data and local calls. Most cities and many accommodations offer Wi-Fi, but having data can be particularly helpful for navigation and looking up information on the go.
Organize Your Travel Documents
Ensure your passport is valid for at least six months beyond your planned departure date from Greece. Keep a photocopy of your passport separate from the original, in case it's lost or stolen. Additionally, have digital copies available, perhaps saved in an email or cloud storage. If you're renting a car, ensure your driver's license is accepted in Greece or if an International Driving Permit is required.
Check the Weather
Last but not least, check the weather forecast a few days before your departure. While Greece generally enjoys a Mediterranean climate, weather can vary, especially if you're visiting multiple regions or islands. This can help with last-minute packing adjustments.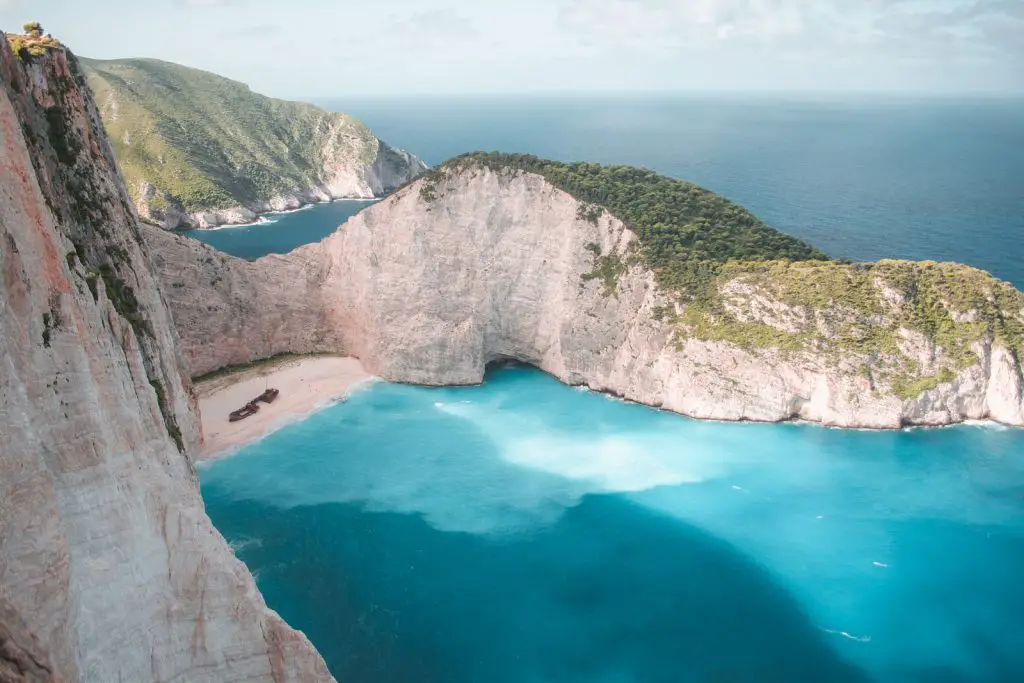 Frequently Asked Questions
Here are some questions that I get when talking about Greece. If you have any other, please comment below!
When should I start planning a trip to Greece?
Ideally, you should start planning your trip to Greece around 6 to 8 months in advance. This timeline allows ample time to research, set a budget, choose destinations, book flights, accommodations, and tours at the best prices, and to arrange other essentials like travel insurance. However, spontaneous trips can also be arranged on a shorter timeline, especially if you're flexible with your travel dates and accommodations.
Is Italy or Greece cheaper?
Greece is generally cheaper than Italy. This applies to various aspects of travel, including accommodation, dining, and local transportation. However, prices can vary depending on the exact locations you visit within each country and the type of travel experience you're seeking.
Which is prettier Greece or Italy?
Both Greece and Italy are incredibly beautiful countries, each offering unique scenic beauty, historical landmarks, and cultural richness. Greece boasts stunning islands, clear blue waters, and ancient ruins, while Italy enchants with its charming cities, rolling vineyards, and remarkable Renaissance architecture. The "prettier" country would largely depend on individual preferences and what you're seeking in your travel experience.
Which part of Greece is the cheapest?
While the cost can vary based on factors like season and specific locations within each island, generally, islands like Crete, Andros, Tinos, Naxos, and Corfu are more affordable compared to the more popular and touristy islands like Santorini and Mykonos. Out of these more budget-friendly options, Crete, being a larger island with a diverse range of accommodations and dining options, often offers the most value for your money. However, the exact costs can fluctuate, so it's always recommended to check current prices and plan accordingly.
What month is the cheapest to Greece?
The cheapest months to travel to Greece are typically in the shoulder season, which are September and October. During this time, the weather is still pleasant, but the summer crowds have decreased significantly. This drop in tourist demand often results in lower prices for accommodations, flights, and sometimes even attractions. So, for budget-conscious travelers, September and October are great months to consider.
---
---