Some of the links in this post are affiliate links. This means if you click on the link and purchase the item, I will receive an affiliate commission at no extra cost to you. All opinions remain my own.
Planning to rent a car in Palermo, Sicily?
You've landed on just the right page! I'm here to help you navigate the car rental process in Palermo, Sicily, ensuring you feel fully prepared and excited about the journey ahead.
By the time you finish reading this blog post, you'll have gained a comprehensive understanding of the car rental procedure in Sicily, along with answers to frequently asked questions concerning driving in this enchanting region.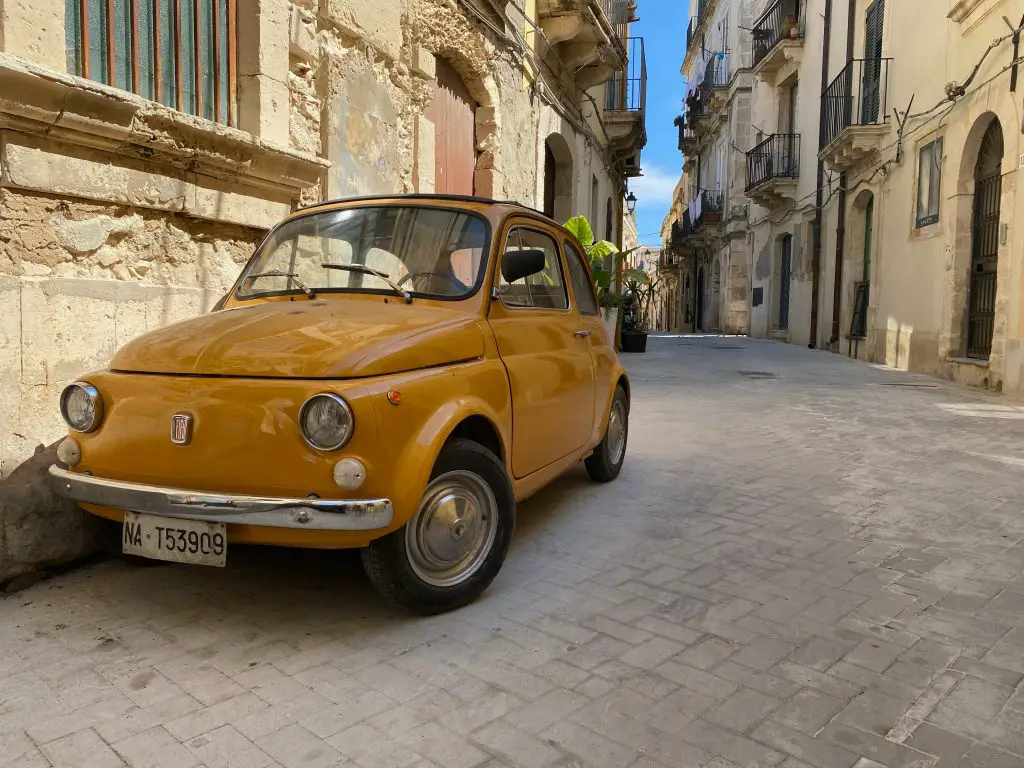 Now, let's discuss the ideal place to rent a car in Palermo, Sicily. In my car-renting experience, I've been thoroughly impressed with Discover Cars, a service I wholeheartedly endorse. In this blog post, you'll discover why Discover Cars has become my first choice for car rentals in Sicily.
If you've stumbled upon stories of Palermo car rental scams, fear not – we'll tackle those issues head-on to ensure you're well-informed and protected from unexpected charges. We'll also delve into car insurance in Sicily, a crucial consideration for all car rentals on the island.
Ready to unravel the intricacies of car rental in Palermo, Sicily? Let's embark on this informative journey, starting with how to rent a car in Palermo with Discover Cars, and wrapping up with an FAQ section addressing car rentals in Palermo.
Renting A Car in Palermo Airport With Discover Cars
One of the things that you should do when planning a trip to Sicily is to rent a car beforehand. Not only it saves money, but you'll also be sure that you will get a vehicle and you can plan your vacation itinerary around the island without worrying about transportation.
There are several reasons why I recommend booking your rental car with Discover Cars:
This platform compares car rental deals from numerous cost-effective providers, ensuring you land the most attractive offer.
The price you see on Discover Cars is all-inclusive, encompassing all charges, taxes, and insurance – this means you won't have to fret over unexpected expenses cropping up once you've reached your destination.
Numerous customers have had a wonderful time organizing their trips with Discover Cars and have left valuable feedback about each car rental firm. These reviews can be extremely helpful if you're looking for a smooth, worry-free experience.
Reserving a rental car with Discover Cars is quite an effortless process, which I'll guide you through below.
Book Your Vehicle Online with Discover Cars
Your first step is to select a pick-up location and the duration for which you'll need the car.
Do keep in mind that many car rental services charge additional fees for operations outside regular business hours. So, if you're arriving or departing during nighttime, it might be worth considering a taxi for your hotel commute and renting a car the next day in the city.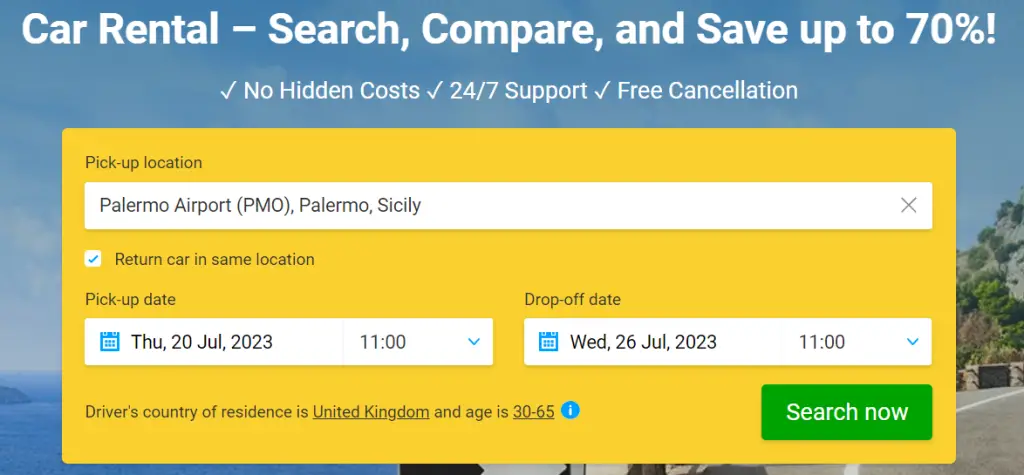 Once you've specified your pick-up spot and travel dates, you'll receive a list of available vehicles along with various options for tailoring your search to meet your needs.
Be sure to check the pick-up location details. In Palermo, for instance, you can rent a car either at the airport or within the city.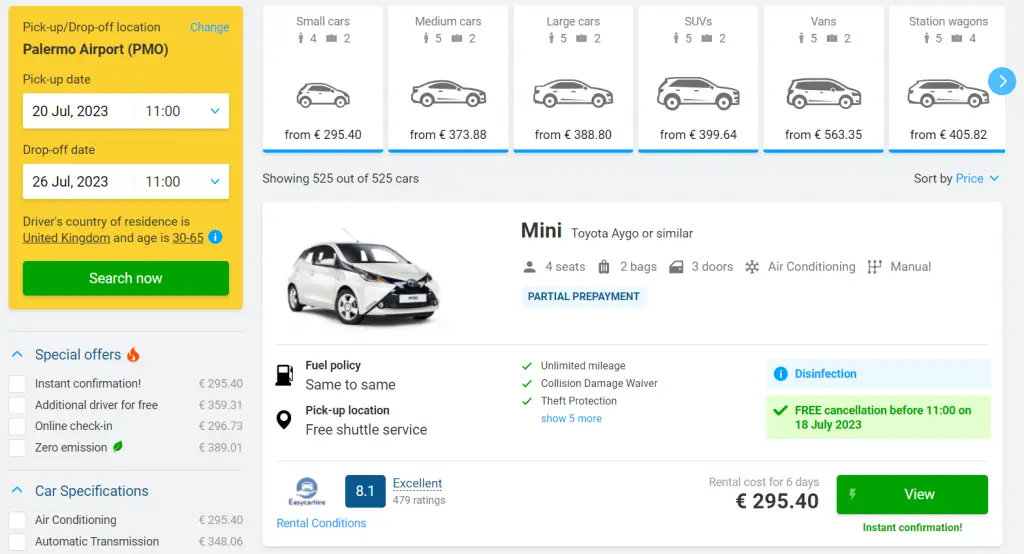 Upon choosing a rental car, you'll see more in-depth information regarding your booking. While all these details are essential, pay particular attention to the following aspects:
Pick-up location – even if you select the airport, the rental car service might be a little further away, necessitating a shuttle service. This service is usually free, and the pick-up instructions are typically straightforward.
Business hours – if your flight coincides with non-business hours, there could be an extra fee for the rental car.
Fuel policy – keep this in mind for when you return the car. If the car has less fuel than the policy stipulates, you might incur additional charges.
Rental conditions – the blue link at the bottom will specify extra conditions such as the driver's age, necessary documents, and the refundable security deposit.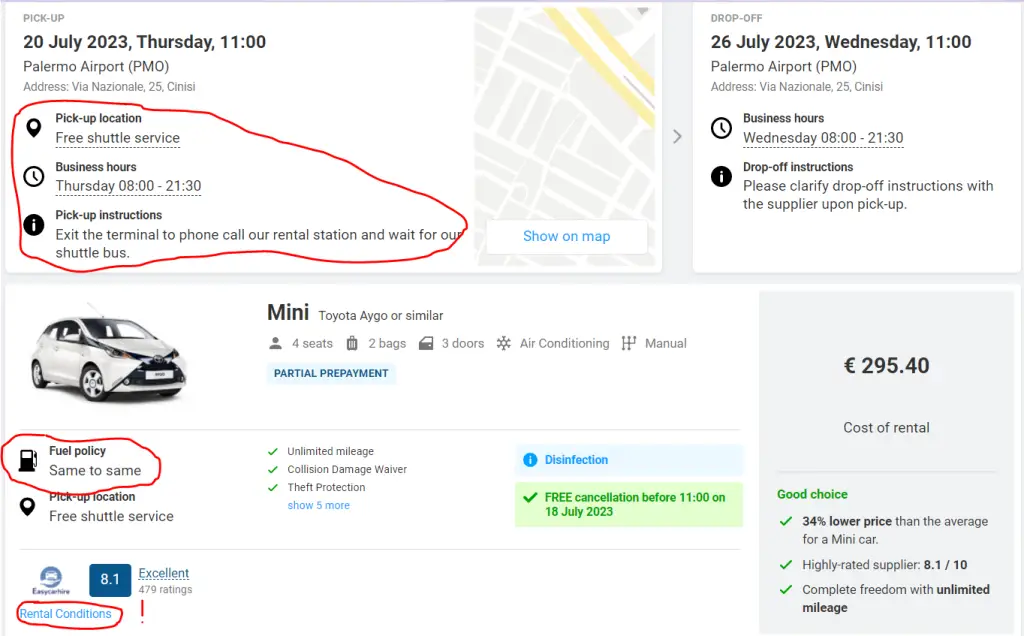 In planning your Sicilian car rental adventure, it's crucial to understand the driver's requirements. The minimum age for renting a car is 21 years, but bear in mind that drivers under 25 may face a young driver fee. Conversely, the maximum rental age is 80 years, with drivers above 75 potentially required to pay a senior driver fee. To qualify for car rental, your driving license must have been issued by authorized bodies at least one year prior to your rental's commencement.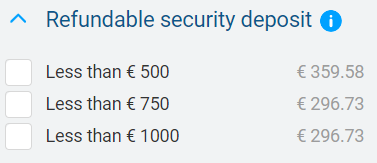 Many firms also ask for a refundable security deposit. The amount can greatly vary from €200.00 to €1000.00, so it's vital to verify this with your chosen company in their rental conditions. This sum will be held on your credit card and returned after the rental period concludes, provided there is no damage to the car's bodywork that would necessitate using this deposit for repair costs.
And that's all there is to it – a straightforward guide on how to rent a car in Palermo, Sicily.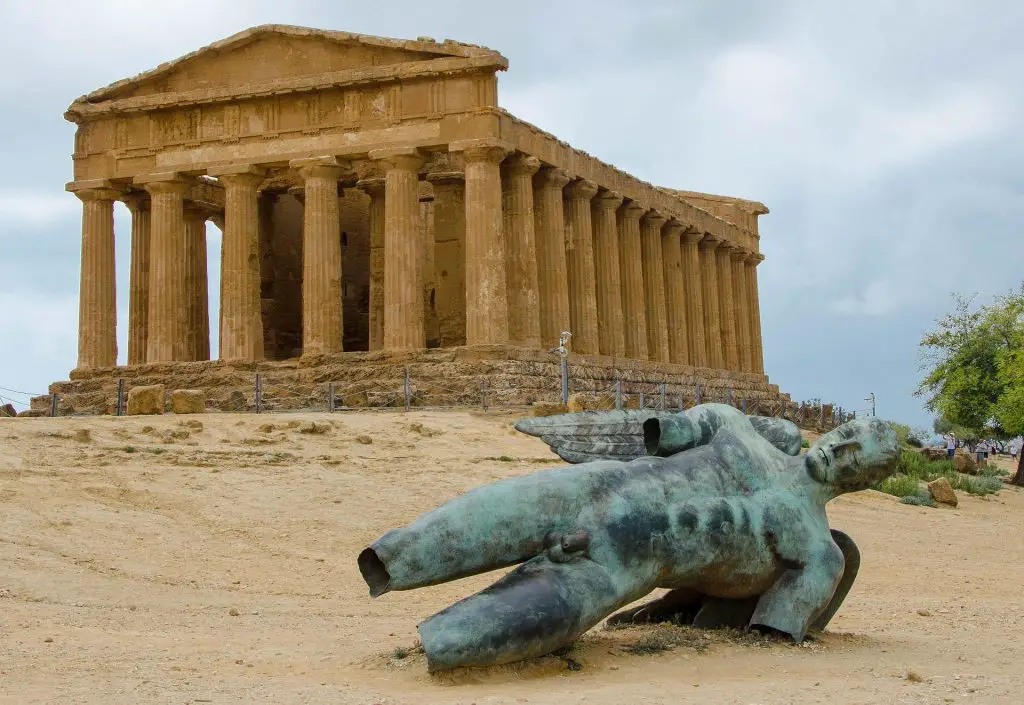 Top Attractions You Can Easily Visit with a Rental Car in Sicily
One of the greatest advantages of having a rental car at your disposal in Sicily is the freedom it affords you to explore the island at your leisure. Here are some of the top attractions that you can easily visit with your rental car on a day trip from Palermo.
1. Monreale
Located just a short drive away from Palermo, Monreale is home to one of the most stunning cathedrals in Sicily. Its glittering mosaics and grand scale make it a must-visit location. The cathedral combines elements of Norman, Arab, Byzantine, and classical architecture – a testament to Sicily's rich cultural history.
2. Cefalù
Cefalù, a scenic seaside town, is under an hour's drive from Palermo. It's known for its stunning beaches, a vibrant historic center, and the impressive Norman Cathedral. The town's charming streets, lined with lovely shops and restaurants, offer a relaxed atmosphere to unwind.
3. The Valley of the Temples, Agrigento
This UNESCO World Heritage Site is a comfortable drive from Palermo. The Valley of the Temples consists of eight ancient Greek temples in various states of preservation, set amidst almond trees and olive groves.
4. Taormina and Mount Etna
A longer drive away, Taormina is known for its Greek Theatre, which offers a breath-taking view of Mount Etna and the sea. After visiting Taormina, you could drive to Mount Etna, Europe's largest active volcano, and explore its fascinating lava fields and craters.
5. The Roman Villa del Casale, Piazza Armerina
This Roman Villa is renowned for its well-preserved mosaics that cover more than 3500 square meters. It offers a unique glimpse into the lifestyle of a wealthy Roman family during late antiquity.
6. Syracuse
A city rich in history and ancient architecture, Syracuse is home to Greek and Roman ruins and the beautiful island of Ortigia. It offers a range of attractions, from the archaeological park to the narrow alleys of Ortigia.
7. The Baroque Towns of the Val di Noto
The southeastern corner of Sicily hosts eight towns collectively known as the Val di Noto, another UNESCO World Heritage site. Known for their distinctive Baroque architecture, towns like Noto, Modica, and Ragusa are worth a visit.
Remember, having a rental car in Sicily means you can plan your itinerary according to your interests and pace. Whether you're a history buff, a lover of natural beauty, or a foodie eager to sample the local cuisine, Sicily has something for everyone. With Discover Cars, your journey through Sicily can be comfortable, convenient, and entirely under your control.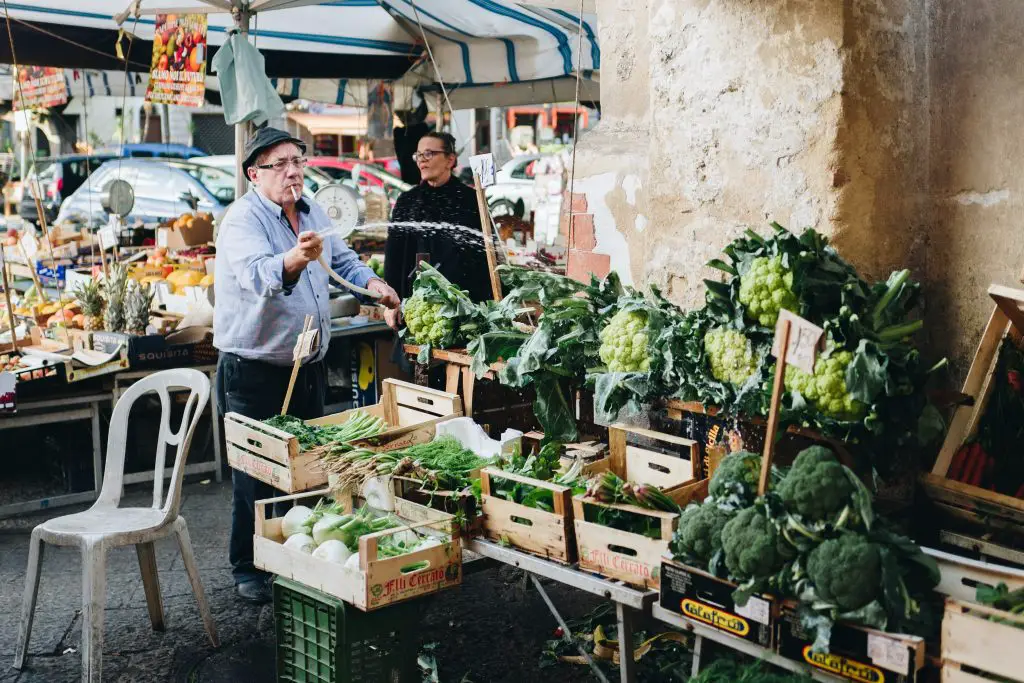 10 Tips for Driving and Renting a Car in Palermo
Renting a car and driving in Palermo, Sicily, can provide you with a unique and immersive experience. However, it's essential to be aware of local driving rules, road conditions, and rental procedures to ensure a smooth journey. Here are some practical tips to keep in mind:
1. Understand the Rules of the Road
In Italy, driving is on the right-hand side of the road. Seat belts are mandatory, and using a mobile phone while driving is illegal unless it's hands-free. Be aware that speed limits vary depending on the type of road and vehicle, and always follow the signs.
2. Familiarize Yourself with ZTL Zones
Many Italian cities, including Palermo, have 'Zona Traffico Limitato' (ZTL) or limited traffic zones. These zones are restricted areas where vehicles without a permit cannot enter at certain times. Always check the signs and avoid entering these zones to evade hefty fines.
3. Parking
Parking can be challenging in Palermo city center. Blue lines mark paid parking areas, while white lines indicate free parking spaces. Avoid parking in spots marked with yellow lines, as these are reserved for special vehicles. Using a GPS or a parking app can make finding a parking spot easier.
4. Insurance
Ensure you're adequately insured. Your rental agreement with Discover Cars includes basic insurance, but it might be worth considering additional coverage for peace of mind.
5. Car Size
Streets in Palermo and other Sicilian towns can be narrow and winding, so a smaller car might be more practical. A smaller car can also be easier to park.
6. Fuel Policy
Make sure you're clear about the rental company's fuel policy. Usually, you'll pick up the car with a full tank and will be expected to return it the same way.
7. Driving Attitude
Sicilian drivers are known for their aggressive driving style. Stay calm, maintain a safe distance, and follow the rules.
8. Navigation
Having GPS can be incredibly helpful when navigating Sicilian roads. Many rental cars come with GPS, or you can use your smartphone.
9. International Driving Permit
While EU licenses are accepted, if you're from outside the EU, you might need an International Driving Permit alongside your national driving license.
10. Check the Car
Before driving off, check the car for any existing damage and ensure it's recorded to avoid being held responsible for it later.
Remember, the key to a successful road trip in Sicily is preparation. Being aware of the local rules, customs, and rental procedures can help ensure a memorable and stress-free driving experience. With Discover Cars, you'll be well-equipped to explore the beautiful island of Sicily at your own pace.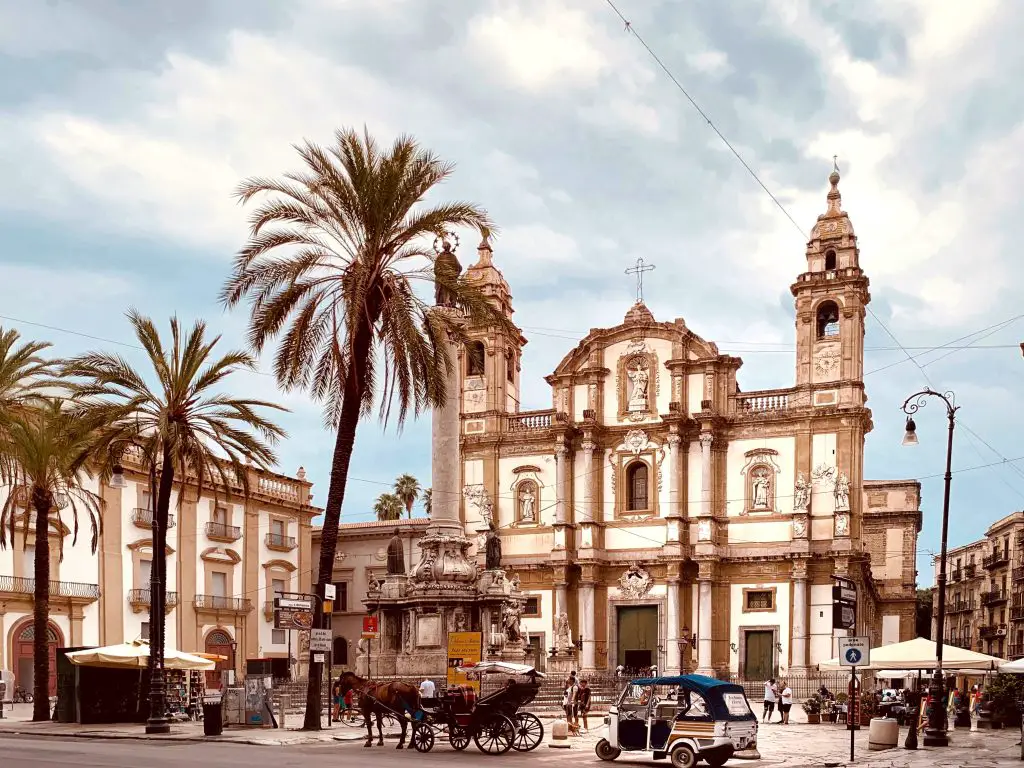 What are Common Car Rental Scams in Sicily?
While renting a car is a convenient way to explore Sicily, it's important to be aware of potential pitfalls that could spoil your experience. Here, we'll highlight some common car rental scams that have been reported in Sicily and provide tips on how to avoid them. Remember, while these scams can occur, most rental experiences are trouble-free. The aim is not to alarm, but to educate and prepare.
1. Hidden Charges
Some companies may add extra fees that were not clearly communicated when you made the booking. These could include out-of-hours pick-up or drop-off fees, high charges for child seats, or exorbitant fees for additional drivers.
Tip: Always read the terms and conditions carefully before booking. Discover Cars includes all fees in the price you see online, ensuring transparency.
2. Excessive Fuel Charges
Some companies might charge you for a full tank of fuel at an inflated rate and ask you to return the car empty. They might claim that this is more convenient, but you may end up paying for more fuel than you actually use.
Tip: Look for a fair fuel policy where you pick up the car with a full tank and return it full.
3. High Pressure to Buy Additional Insurance
Rental staff may pressure you into buying additional insurance, insisting that the coverage included with your booking is not enough.
Tip: Know what your booking includes in terms of insurance and whether your travel insurance or credit card offers additional coverage.
4. Unfair Damage Charges
Some renters have reported being charged for damage they did not cause. This could be minor scratches or dents that were on the car when they picked it up, or even damage that supposedly occurred after they dropped off the car.
Tip: Take photos of the car when you pick it up and when you drop it off. Ensure any existing damage is documented in the rental agreement before you leave the lot.
5. Mandatory Extras
You might find mandatory extras added to your bill, such as a 'mandatory' GPS or an 'obligatory' cleaning fee.
Tip: Confirm with the company what is included in the price before you book. Discover Cars provides all details upfront with no hidden fees.
Remember, while these scams can happen, they are not the norm. Most car rental experiences go smoothly. The best way to avoid these scams is to book with a reputable company like Discover Cars, read the terms and conditions carefully, and keep all your documents until a few months after your rental.
Renting A Car in Palermo: Frequently Asked Questions
Here are some common questions I get when talking about renting a car in Sicily and specifically in Palermo. If you have any other questions, please write them in the comments below!
Is it worth renting a car in Palermo?
Renting a car in Palermo can offer enhanced flexibility for exploring the city and surrounding areas. However, this is typically more suitable for those who are comfortable navigating the often congested traffic and narrow streets that are characteristic of Sicilian cities. Public transport, walking, or using taxis can be a more stress-free option for those unfamiliar with the driving conditions. Furthermore, many historic sites and attractions in Palermo are concentrated in areas with restricted vehicle access. Thus, while a rental car can be advantageous for regional exploration, it may not be necessary for navigating the city itself.
Is Palermo a walkable city?
Palermo, the capital city of Sicily, is indeed a walkable city, especially within its historic center. Many of the city's renowned landmarks, such as the Palermo Cathedral, the Teatro Massimo, and the Palatine Chapel, are located within close proximity to each other, making them easily accessible on foot. The city also boasts a rich array of markets, eateries, and shops that can be explored leisurely by walking. However, as with any city, some areas can be busier or more challenging to navigate than others, and visitors should remain aware of their surroundings. Despite this, the overall pedestrian-friendly layout of Palermo enhances the city exploration experience.
Is driving in Palermo difficult?
Driving in Palermo can indeed be challenging, particularly for those unaccustomed to the local driving habits and the city's layout. The streets are often narrow and congested, especially in the historic city center, and parking can be limited. Drivers also need to be mindful of 'Zona Traffico Limitato' (ZTL) areas, restricted traffic zones in which non-resident vehicles are usually not allowed. Additionally, many local drivers in Palermo are known for their assertive driving style, which can feel unpredictable to visitors. As a result, if you're considering renting a car in Palermo, be prepared for these potential challenges.
Is parking easy in Palermo?
Finding parking in Palermo can be a challenging task, particularly in the city center. Due to the city's dense layout and narrow streets, parking spaces are often limited. There are some public parking lots and garages available, but these can fill up quickly, especially during peak times. Street parking is subject to various regulations, including pay-and-display zones and residents-only areas. It's crucial to pay attention to local signage to avoid fines. For those staying in the city center, it might be more convenient to explore on foot or use public transportation, as many hotels do not offer parking and navigating the city by car can be demanding.
How to rent a car in Sicily?
Renting a car in Sicily is a straightforward process. You can do it online before you arrive or once you're on the island. Pre-booking online often provides the best deals and ensures that the vehicle type you prefer is available. Platforms like Discover Cars offer a user-friendly service where you can compare rates from different car rental companies.
Is driving in Sicily difficult?
Driving in Sicily can be a mixed experience. While the island offers beautiful scenic drives and well-maintained highways, navigating in the cities, especially in Palermo and Catania, can be challenging due to heavy traffic, narrow streets, and assertive local driving styles.
Additionally, signage might not always be clear, and GPS can occasionally be inaccurate on rural roads. Parking can also be a struggle in densely populated areas. The island's mountainous terrain and winding roads require careful driving as well.
That said, having a car allows for greater flexibility to explore lesser-known areas at your own pace, which can enhance your visit if you're comfortable with these potential challenges.
Is car rental expensive in Sicily?
The cheapest rental car for 6 days in the high season of 2023 in Palermo costs € 295.40.
The cost of car rental in Sicily can vary significantly based on a number of factors such as the type of vehicle, rental duration, time of year, and how far in advance you book. Generally, prices can be quite competitive, especially during off-peak seasons. However, during peak travel times such as summer, prices can increase due to high demand.
Additional costs such as insurance, fuel, and extra services like GPS or child seats can also add to the overall cost. It's also important to consider potential parking fees, especially in larger cities like Palermo or Catania.
To ensure you get the best deal, it's advisable to compare prices from different rental companies and book in advance.
What are the requirements to rent a car in Italy?
To rent a car in Italy, you must be at least 21 years old, although this can vary by rental company, and some may charge an additional fee for drivers under 25. You need a valid driver's license from your home country; if it's not in English or not written in the Roman alphabet, it's generally recommended that you also carry an International Driving Permit. Additionally, you should have a credit card in the name of the main driver to secure the rental and cover any potential incidental charges. Some rental companies may also require you to have held your driving license for at least one or two years. Always check with the specific car rental company for their precise requirements to ensure a smooth rental process.
Do I need an international driver's license in Italy?
If you're planning to drive in Italy and your driver's license is issued by a non-EU country, you need to obtain an International Driving Permit (IDP) in addition to your valid home country's driver's license. If your license is not in English or not written in the Roman alphabet, an IDP is usually required. The IDP is an official translation of your license and is recognized internationally.
While car rental companies might not always ask for it, it can be useful in case you're stopped by traffic police or involved in an accident. Always check current regulations before your trip, as requirements can change.
Is Sicily left-hand drive?
Sicily, like the rest of Italy, operates on a right-hand traffic system, meaning vehicles drive on the right-hand side of the road.
Is Uber available in Sicily?
Yes, Uber is available in Sicily. The service operates in major cities and tourist hubs, offering a convenient way to travel around if you'd prefer not to drive yourself or use public transportation. However, it's important to note that availability can vary depending on the area and time of day, and fares may fluctuate during peak times.
Does Google Maps work in Sicily?
Yes, Google Maps does work in Sicily and is a popular tool for navigating the island. It can provide directions for driving, walking, cycling, and even public transportation. However, depending on your mobile data plan, using Google Maps abroad might incur roaming charges. To avoid this, you can download offline maps of areas you plan to visit in Sicily while connected to Wi-Fi. These offline maps will allow you to search and navigate even without an internet connection. Keep in mind that real-time features, like traffic updates, won't be available in offline mode. Always ensure your offline maps are up-to-date before setting out on your travels.
Do you need a car in Sicily?
If you're interested in exploring the wider island, its beautiful countryside, and quaint villages, a car becomes almost indispensable. Car rental services like Discover Cars can offer an easy, flexible, and often more comfortable way to experience Sicily. It allows you to navigate the island at your own pace, avoiding the limitations and schedules of public transportation, and giving you access to off-the-beaten-path locations that make Sicily truly unique.
Conclusion
Exploring Palermo and the rest of Sicily by car is an unforgettable adventure, offering you the freedom to immerse yourself in the rich culture, breathtaking landscapes, and delightful cuisine at your own pace. While it's crucial to be aware of potential car rental pitfalls, remember that these are exceptions, not the rule. Most car rental experiences are smooth, hassle-free, and add immeasurable convenience to your trip.
With proper planning, understanding the driving rules, and choosing a reliable car rental company like Discover Cars, your Sicilian road trip can be a memorable highlight of your travel experiences. Always stay informed, ask questions, and read the fine print, so you can focus on making the most of your journey through this stunning Italian island.
Ready to embark on your Sicilian adventure with peace of mind? Visit Discover Cars now and find the perfect rental car for your trip. Experience the flexibility and convenience of exploring Sicily on your own terms. Buckle up and enjoy the ride!
Book Your Car Rental with Discover Cars Now!
---
---