Some of the links in this post are affiliate links. This means if you click on the link and purchase the item, I will receive an affiliate commission at no extra cost to you. All opinions remain my own.
Nestled in the majestic High Tatras region, the charming city of Poprad offers a treasure trove of activities and attractions for families. From interactive museums and historical landmarks to outdoor adventures and water parks, Poprad is a true playground for kids of all ages.
Join us as we dive deeper into the delightful world of Poprad and its surroundings, revealing all the hidden gems and must-do activities that make this city a perfect family-friendly destination. Get ready to start creating unforgettable memories in Poprad!
Staying in Poprad only for a couple of days? Our top recommendations of things to do in Poprad with kids:
Explore the Square of St. Egíd and the city center of Poprad, as this is unique to this city;
Hop on the Tatra Electric Railway and go to Štrbské Pleso. There, if you have a stroller you can go around Štrbské Pleso Lake with the High Tatras in the background. For older kids, check out Tatras Tower of Dreams and multiple hiking trails that start in this town.
Table of contents:
Things To Do In Poprad
Here's a list of must-visit attractions and things to do in Poprad to make your stay in this picturesque city an unforgettable one.
AquaCity Poprad
AquaCity Poprad is a top-notch destination for family fun in Slovakia. It is an aquatic extravaganza that provides a perfect blend of entertainment and relaxation.
The water park is renowned for its 13 thermal pools. Filled with mineral-rich water drawn from a depth of 1,300 meters, these indoor and outdoor pools offer a unique swimming experience. The park also boasts exciting water slides and over 350 water attractions, promising endless excitement for all ages.
For the youngest visitors, the park features a two-story sea-themed playground and a supervised kindergarten, providing them with a safe and exciting environment. An array of child-focused activities offered at AquaCity ensures hours of joy and learning for your little ones.
The grown-ups are not forgotten, either. The park houses the largest wellness and spa center in Slovakia, where parents can unwind and recharge. With a special kids' pool designed like an exotic bay, AquaCity Poprad captures the essence of a fun-filled family vacation.
Square of St. Egíd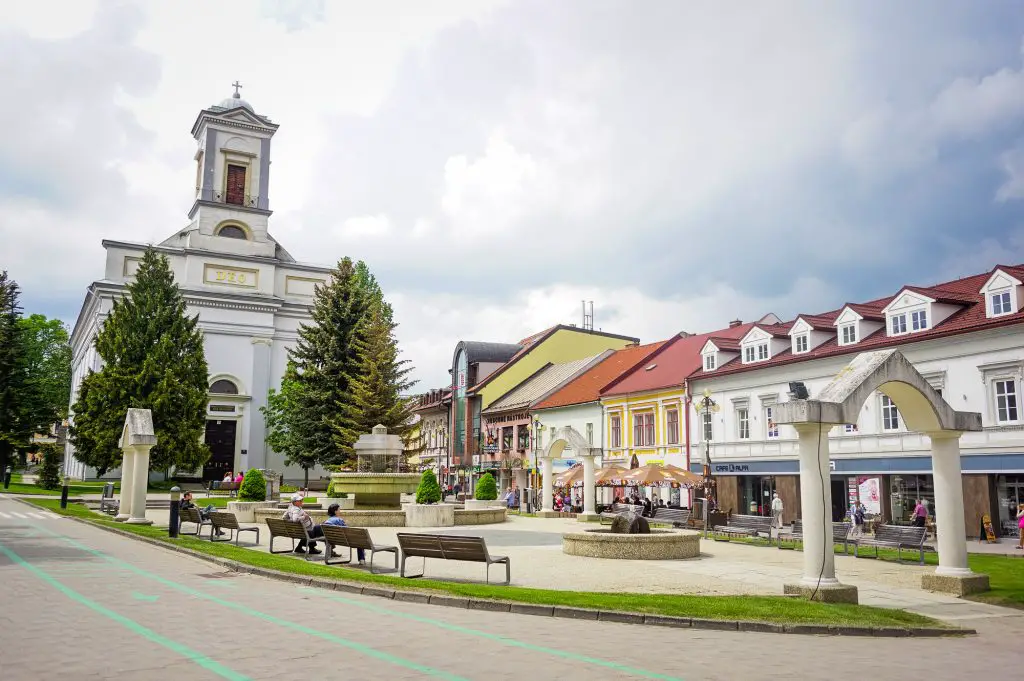 The Square of St. Egíd in Poprad serves as a vibrant community hub, popular with both locals and tourists. The Square houses a modest yet charming fountain and is often a choice spot to enjoy an ice cream. There are multiple restaurants and a surprisingly spacious supermarket next to a church. A new shopping mall at one end of the square offers a variety of shopping options.
Visitors can indulge in the lively atmosphere of a market held every Thursday and Friday, while also exploring different shops and eateries. Police patrols ensure a safe environment. The square is a pedestrian-friendly area with numerous cafes and shops, and a mall at one end. It also hosts a New Year's Eve party, creating memorable experiences.
Despite its size, it seamlessly blends old and new, with historical buildings standing alongside modern constructions. Two historical churches and a beer pub with a large outdoor barrel are among the standout features. The area also provides a platform for concerts and other summer programs, making it a cultural hotspot.
Tatra Gallery
Located in Poprad, Slovakia, the Tatra Gallery is a treasured spot for art enthusiasts. Set within a restored former steam power station, this airy and modern gallery offers a unique atmosphere that enhances the overall art-viewing experience.
The Tatra Gallery is notable for its diverse range of artworks. It houses a permanent exhibition featuring renowned Slovak artists and frequently hosts rotating exhibits. These encompass an array of mediums, from paintings and photographs to fashion, promising a rich, immersive experience for all art lovers.
Visitors frequently praise the friendly and helpful staff, who contribute to the gallery's cozy and welcoming atmosphere. Moreover, its convenient location, just a short walk from the Poprad Railway Station, makes it easily accessible for both locals and tourists.
With its fair prices and enriching exhibitions, the Tatra Gallery has cemented its reputation as a must-visit destination in Poprad. Whether you're drawn to contemporary art or historical pieces, this gallery has something to captivate every eye.
Podtatranské Museum
The Podtatranské Museum in Poprad, one of the oldest museums in Slovakia, takes you on a historical journey. Located in a pseudo-Renaissance building from 1886, the museum presents various exhibitions that shed light on life under the Tatras, from prehistoric times to the present.
In addition to exploring the history of the region, visitors have the opportunity to admire an exhibition dedicated to Neanderthals. With its range of displays, the museum offers a blend of education and entertainment, making it an ideal stop for families visiting Poprad.
The Podtatranské Museum also boasts a large collection of local craftsmen exhibits, providing a unique insight into the region's cultural heritage. So whether you're a history buff or simply curious about the past, a visit to the Podtatranské Museum is sure to leave you enriched.
Day trips from Poprad
Here are some of the best day trip destinations from Poprad that will transport you into a world of captivating beauty, intriguing history, and exhilarating adventures.
Hiking in High Tatras National Park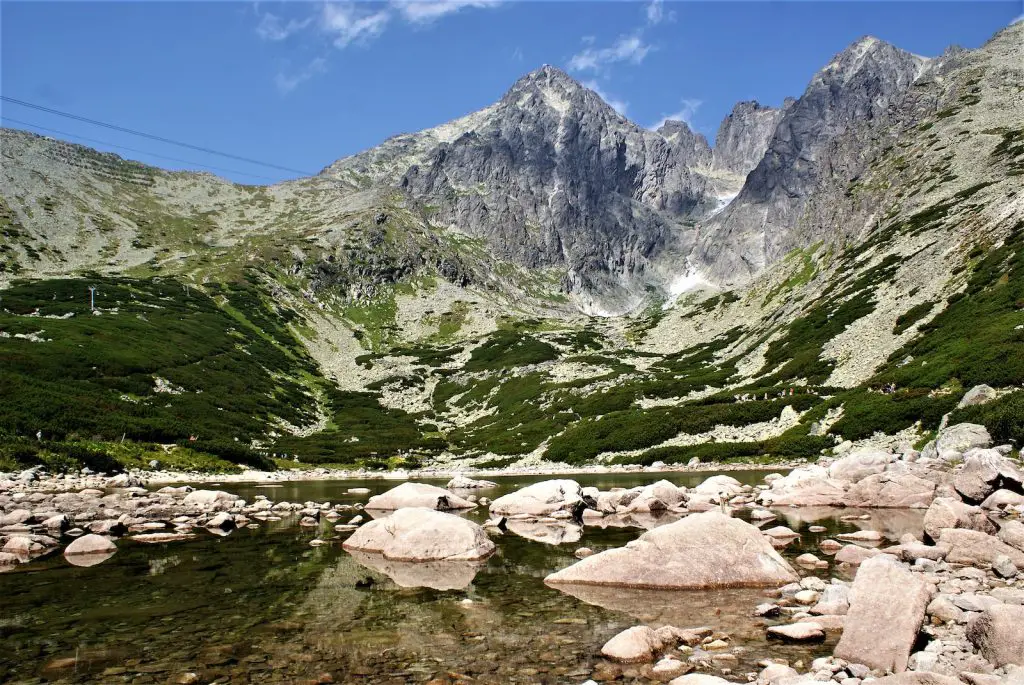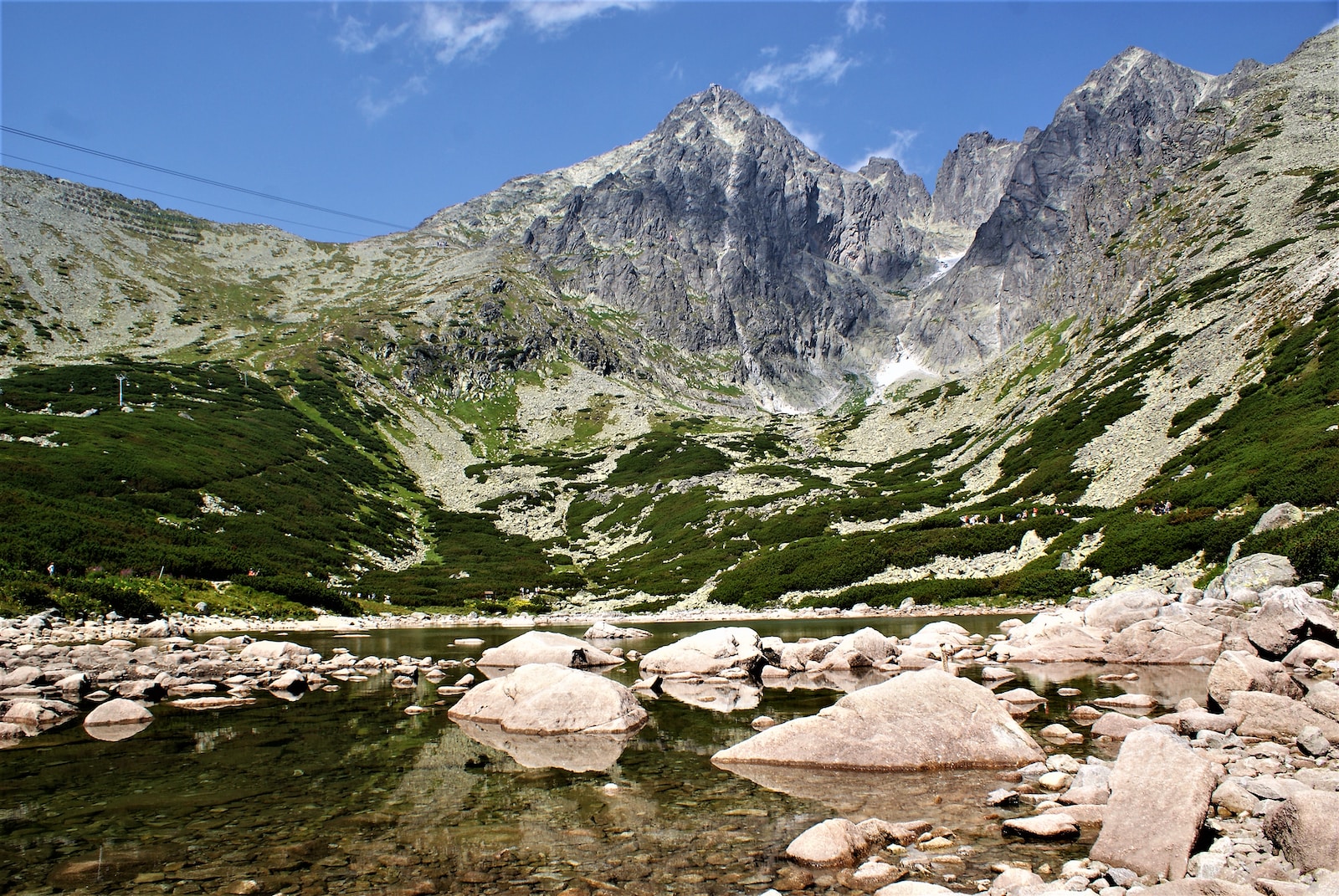 Hiking in High Tatras National Park is an exciting adventure offering the opportunity to explore one of Europe's most scenic mountain ranges.
The park, a recognized UNESCO biosphere reserve, boasts numerous hiking trails that cater to different skill levels. Kriván and Gerlachovský štít are some of the most popular hikes, with stunning views that are sure to captivate children and adults alike.
The park's varied flora and fauna provide a fascinating education for kids, with opportunities to spot animals like bears and marmots. For families with older children, the High Tatras are a treasure trove of natural beauty and thrilling hiking experiences. The High Tatras also hosts a number of attractions such as the Green Lake, making it a must-visit for nature-loving families.
This is an unforgettable destination that encourages kids to connect with nature and instills an appreciation for outdoor activities.
Tricklandia
Located in Starý Smokovec, Tricklandia offers a fascinating journey into the world of optical illusions. The museum presents a unique blend of art and interactive attractions that captivate and amuse visitors of all ages.
Children will be thrilled by the trick-art paintings and the spectacular mirror maze, touted as one of the most beautiful in Central Europe. They can also explore exciting features such as augmented reality and anti-gravity rooms, making their visit not only fun but educational as well.
Offering a wonderful blend of fun and learning, Tricklandia is an enchanting destination for kids. It's a place where fairy tales come to life, and where the impossible seems possible. A visit promises an unforgettable experience for the young and the young at heart.
Tatras Tower of Dreams
The Tatras Tower of Dreams, located near Štrbské Pleso Lake, is an unforgettable destination, especially for families with children. This innovative entertainment and educational project rises 53 meters high and is situated at an altitude of 1,367 m above sea level, making it one of the highest towers in Europe. The tower features barrier-free access, an architectural marvel appealing to all age groups.
Children will be thrilled by the 61-meter-long dry slide and a walking network suspended 43 meters above the ground. An adrenaline-inducing glass floor offers a breathtaking view from almost 50 meters high. With a mobile application, the adventure continues even after leaving the tower.
A visit to the Tatras Tower of Dreams offers unique emotions, experiences, and a chance to appreciate the natural beauties of the High Tatras using the most modern technologies. This makes it a must-visit destination for kids, providing both entertainment and educational value.
Boating on Štrbské pleso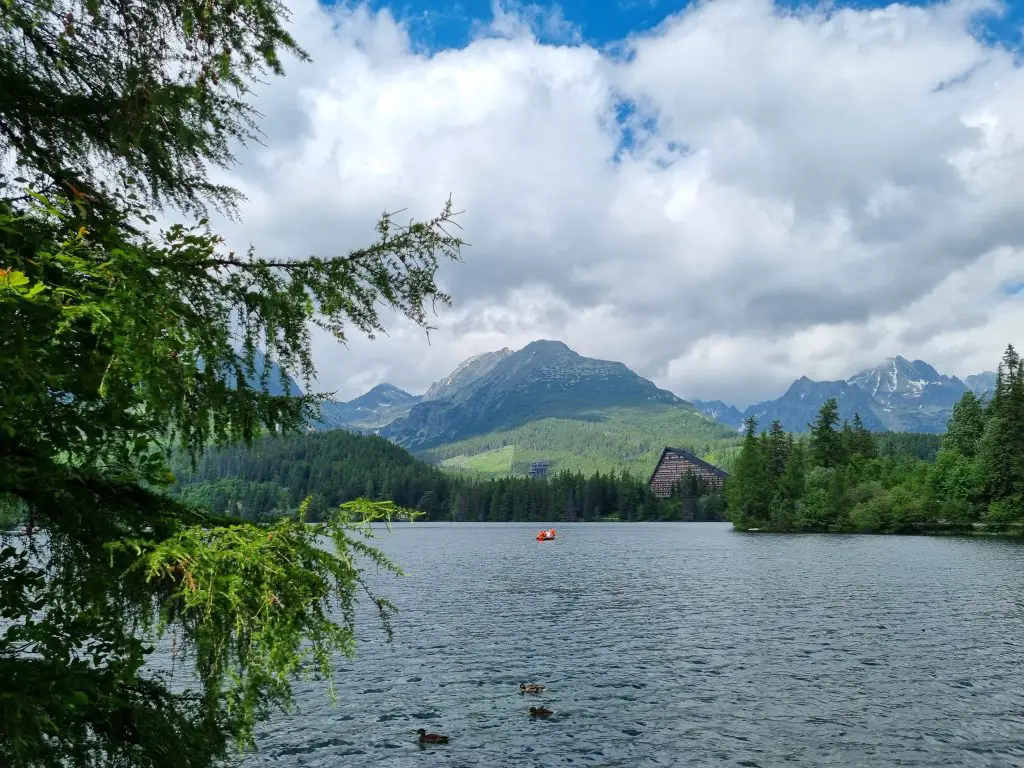 Boating on Štrbské pleso offers an enchanting and family-friendly experience amidst the stunning backdrop of the Tatras. Docked at a new pier, 18 stylish wooden rowing boats, and a sports rowing boat are available for visitors to explore the lake and its beautiful surroundings.
While engaging in this activity, kids can learn about rowing and navigation, enhancing their skillset in an entertaining manner. The activity also adheres to strict safety rules, ensuring a secure and enjoyable time for families.
The exceptional views from the lake present a different perspective of the Tatras, making it an unforgettable adventure. Therefore, boating on Štrbské pleso makes it a great destination for kids and their families.
Spiš Castle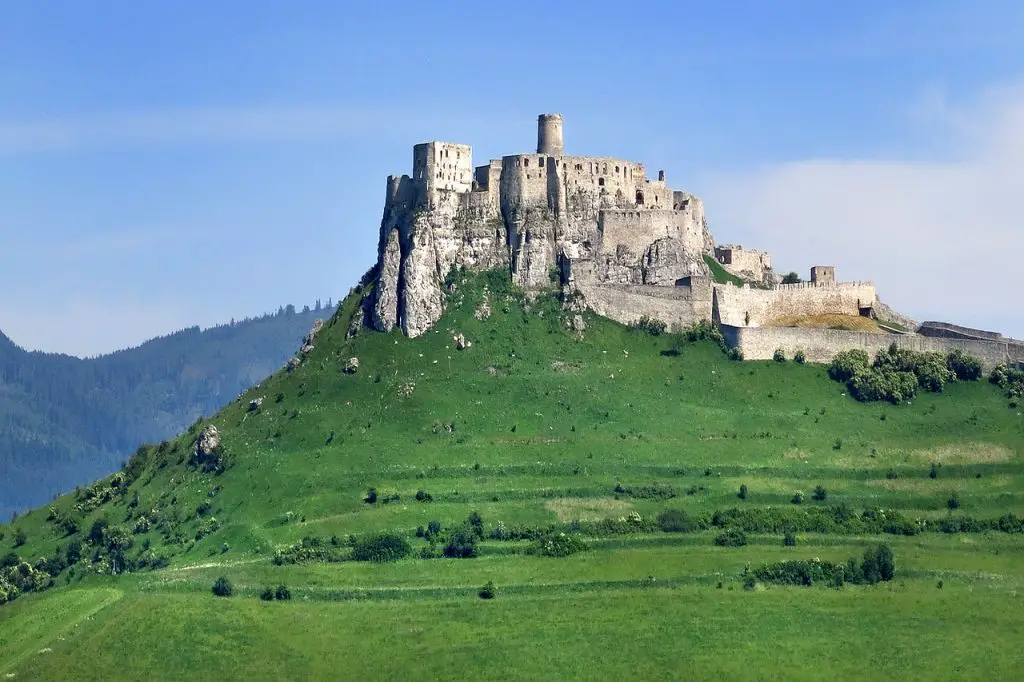 Spiš Castle is one of the largest castle sites in Central Europe, dramatically perched atop a hill overlooking the Slovakian landscape. Its history, dating back to the 12th century, and the expansive fortress itself are a testament to the architectural mastery of the past, promising a wealth of learning for the curious minds of children.
The castle, located above the town of Spišské Podhradie and the village of Žehra, is steeped in cultural significance and was included in the UNESCO list of World Heritage Sites in 1993. This not only underlines its historical value but also guarantees well-preserved and safe facilities for families.
While the interior is under renovation as of June 2023, the castle grounds and surrounding vistas remain open to the public. Even without interior access, kids will enjoy the chance to explore the castle's fortifications, imagine tales of knights and royalty, and take in stunning views. With a discounted entrance fee and a virtual tour available, visitors get a bargain experience of a magnificent heritage site.
In conclusion, a trip to Spiš Castle offers an educational, adventurous, and affordable journey into history, making it a fantastic destination for families with children.
Dobšinská ice cave
Dobšinská Ice Cave is a mesmerizingly chilly wonder nestled in the heart of the Slovak Paradise National Park. As part of the Stratená Cave System, it's famed for its unique formations, adding to its UNESCO World Heritage status since 2000.
The cavernous beauty is one of the world's most renowned ice caves, boasting an impressive ice-filling volume of 110,132 m³. It houses awe-inspiring stalactites, stalagmites, ice falls, and floor ice, reaching up to 25 meters high.
Great for Kids: The cave's enchanting ice formations offer a real-life winter wonderland that will surely captivate the young ones. They'll enjoy the thrill of being in a frozen cave and learn about its geological history firsthand. It's an educational adventure that combines science, nature, and the magic of discovery!
Note: Come prepared with warm clothing as the cave's temperature is naturally cold. Make sure to bring cash for cave tickets and extra charges like photo permits.
Plan your visit now and let the kids experience the mystical allure of the Dobšinská Ice Cave!
Hiking in Slovak Paradise National Park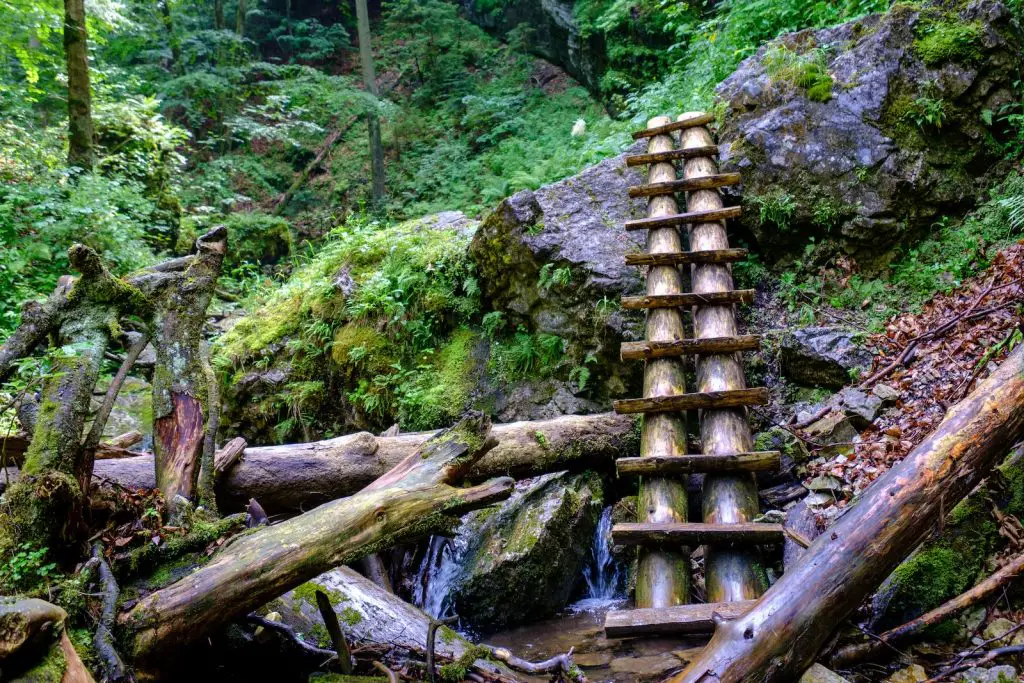 Hiking in Slovak Paradise National Park is an unforgettable experience for families and outdoor enthusiasts. The park features over 300 km of hiking trails, with something for everyone, from beginner-friendly paths to more challenging routes.
Sucha Bela, the park's most popular gorge, is perfect for a family adventure. With a hiking trail that is 3.7km long, it offers a unique experience with ladders, chains, and bridges enhancing the adventurous appeal. The 2-3 hour journey culminates in stunning vistas that are sure to inspire young explorers.
Next is Piecky, a gorge whose name translates to "fireplaces", offering an intriguing exploration for families. The scenic beauty and unusual formations make it an excellent choice for those looking to inspire curiosity in their children.
The Dobšiná Ice Cave, accessible with an average physique, offers a cool retreat and a fascinating geological journey for kids. The cave's icy formations and the mystery of its underworld will spark imaginations and provide a memorable learning experience.
The Prielom Hornadu trail is the longest in the park, taking you along a breathtaking 18km gorge. It's a longer trek that may be suitable for older kids and teenagers who are up for an adventure. The trail offers stunning views from the Tomášovsky viewpoint, a fantastic reward after the exhilarating hike.
Whether it's the adrenaline-fueled ladders of Sucha Bela, the enchanting formations of Piecky, the icy allure of Dobšiná Ice Cave, or the panoramic views from Prielom Hornadu, Slovak Paradise National Park is a thrilling destination for kids and families alike.
Belianska Cave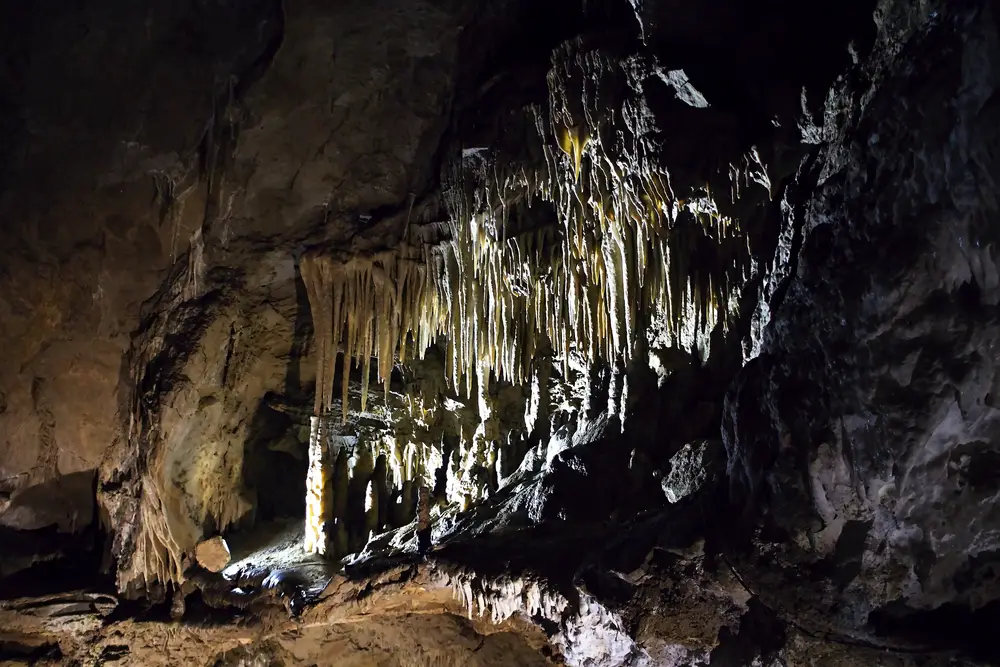 Belianska Cave, located in the heart of the Tatra National Park, Slovakia, is a stalactite marvel that kids and adults alike will find fascinating. As the only cave open to the public in the Tatras, it offers an intriguing peek into the mysterious underworld.
Rich in bizarre rock formations and abundant calcite fills, the cave's beauty is unquestionable. Its 1-kilometer educational route, complete with stairs and handrails, not only engages children in active exploration but also ensures their safety.
The tour is filled with captivating Slovakian tales and remarkable natural spectacles, such as underground lakes and waterfalls. This cave isn't just an attraction, but a geological classroom waiting to be discovered.
Despite its remote location in the mountains, the Belianska Cave provides a full infrastructure, including lighting, making it an easily accessible and enjoyable destination for families. The additional seasonal music shows inside the cave provide an unforgettable sensory experience for everyone, making it a not-to-be-missed destination when visiting Slovakia.
Dunajec River Rafting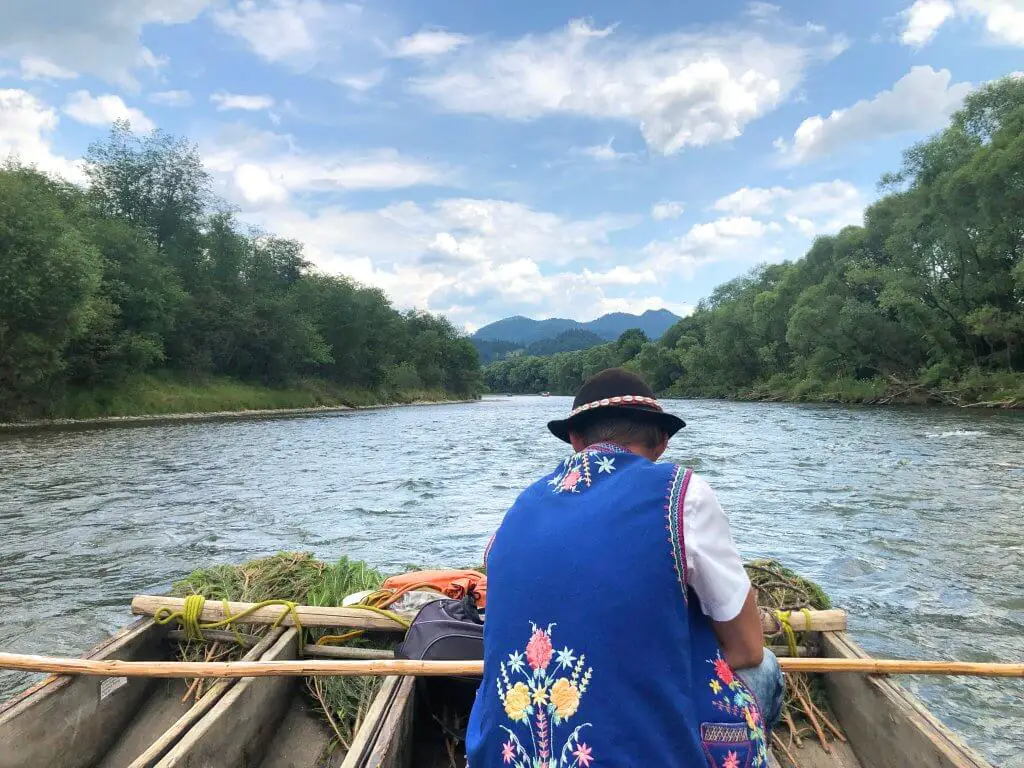 Dunajec River Rafting offers a unique adventure opportunity in the border between Slovakia and Poland. This unforgettable experience is an excellent choice for families seeking to bond through a mix of thrill and nature appreciation.
Children will be thrilled by the prospect of rafting in two countries. The river, beautifully enveloped by the Pieniny Mountains, offers stunning landscapes that capture the imagination of young explorers.
Safety is paramount in this activity. The rafting season, running from May until October, ensures optimal conditions for a secure and enjoyable journey. The rafting trips are facilitated by skilled guides, guaranteeing a smooth and safe ride.
Moreover, the excursion's starting point, the charming village of Červený Kláštor, enhances the cultural experience of the trip. Dunajec River Rafting is not only an adventure destination but a place where children can learn about nature, geography, and culture in the most interactive manner.
Treetop Walk Bachledka
Treetop Walk Bachledka is an exciting destination situated at the ridge of Spišská Magura, bordering Pieniny and Tatra National Parks. This walkway, more than 600 meters long, allows visitors to explore the stunning Tatras from the treetops.
For kids, this place is a playground of nature, fostering curiosity and appreciation for the environment. With a gentle climb that safely takes you from the ground up to the crowns of magnificent trees, it is a truly immersive nature experience.
Apart from the scenic views, the attraction is teeming with informative placards about the local ecology, making it a great educational trip as well. Plus, the thrill of walking high above the ground will be a memorable experience for young adventurers.
At the end of the path, there are fun activities like a net jump, further enhancing the exhilarating experience. Open daily from 9 a.m. to 6 p.m., Treetop Walk Bachledka offers a unique perspective of nature's beauty that kids and adults alike will surely enjoy.
Tatralandia Aqua Park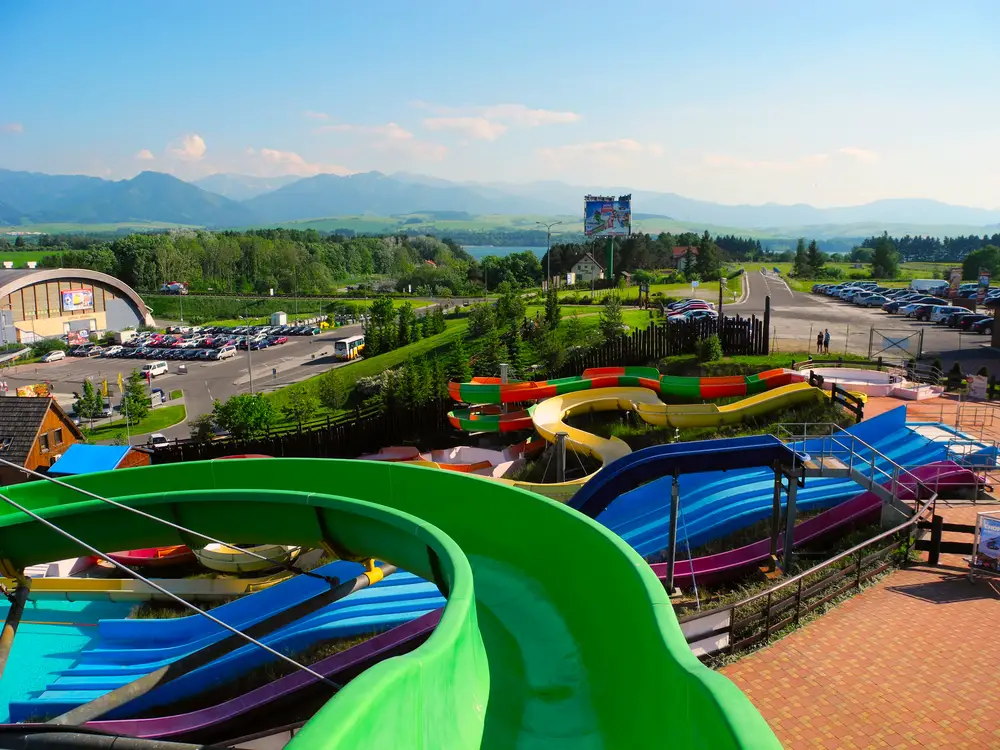 Tatralandia Aqua Park is a slice of aquatic paradise nestled in Slovakia. As the biggest aqua park in the country and one of the largest in Central Europe, this place is brimming with splashes of fun and entertainment for the whole family.
The park features a staggering 10 swimming pools and 6 water slides, promising endless adventure and heart-pounding excitement. The Tropical Paradise is a perfect escape for a hint of the exotic right at your doorstep. Adding to the allure, children under 6 can enter for free, making it an enticing destination for families with young kids.
Safety is paramount in Tatralandia, and the park's staff are always at hand to ensure a smooth and enjoyable visit. Moreover, the park's Holiday Village adds a comfortable and convenient accommodation option right on the premises.
Tatralandia Aqua Park is indeed a fantastic destination for a memorable family outing. Kids will love the thrill of the water slides and the chance to splash around in the pool, while adults can relax and enjoy the park's amenities.
Kežmarok Castle
Kežmarok Castle is a beautifully preserved medieval fortress located in Kežmarok, Slovakia. Originally built in 1463, it's a true treasure for history enthusiasts. This captivating spot houses various exhibitions, showcasing the region's rich past and providing a peek into life centuries ago.
For children, Kežmarok Castle is a gateway to a magical world of knights and princesses. The castle's guilds and crafts exhibition is an exciting way for kids to learn about old professions and lifestyles. A unique attraction is the castle's Vintage Car museum, sure to catch the eye of every young visitor.
With its diverse exhibitions, beautiful structure, and exciting tales of history, Kežmarok Castle is an excellent family-friendly destination. Offering not just sightseeing but also education, it's a destination that makes learning history a fun and engaging experience.
---
---