Some of the links in this post are affiliate links. This means if you click on the link and purchase the item, I will receive an affiliate commission at no extra cost to you. All opinions remain my own.
There's something innately romantic about escaping the hustle and bustle of city life and embracing the tranquility of nature, especially when you're with your significant other. In this blog post, we will be exploring 40 fun camping activities for couples that will undoubtedly deepen your bond and create unforgettable memories.
Camping as a couple is an opportunity to grow closer. You learn to work as a team, overcome challenges together, and appreciate the simple joys of life. The best part? It's an adventure that is completely customizable to your preferences, whether you're outdoor enthusiasts, relaxation seekers, or a blend of both.
Are you excited to transform your camping experience into a series of memorable moments? From stargazing and hiking to cooking over a fire, our comprehensive list has got you covered. Remember, these activities are not just tasks to keep you occupied – they're opportunities to communicate, collaborate, and learn about each other in new ways. So, are you ready to dive into these fun camping activities for couples? Keep reading!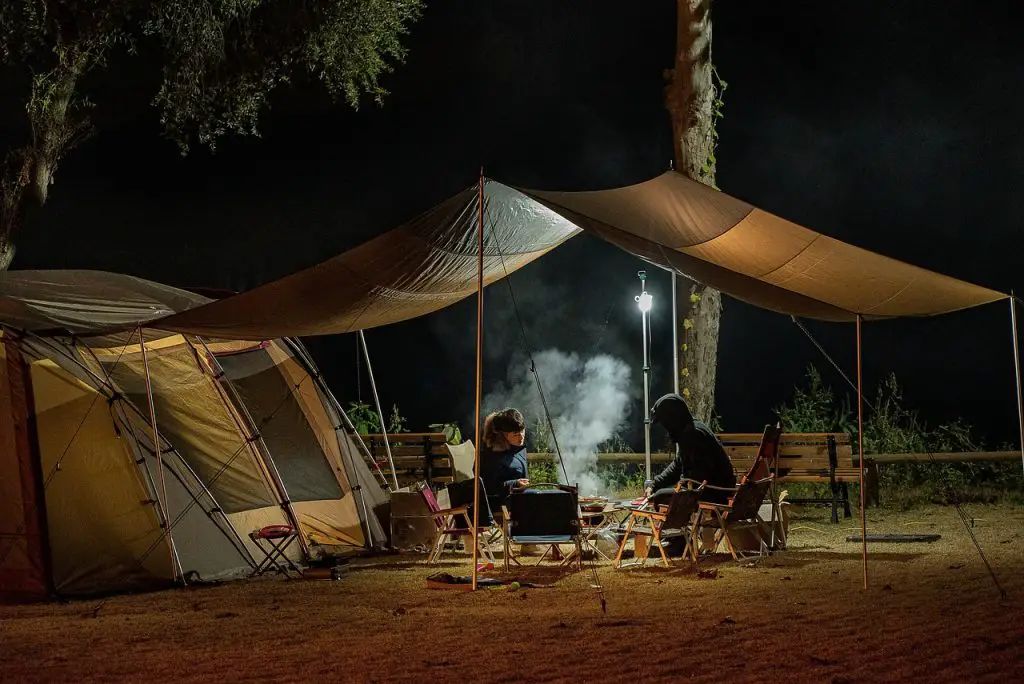 Table of contents:
40 Romantic Camping Ideas for Couples
Stargazing: Lay on a blanket together and spend a night spotting constellations, appreciating the vastness of the universe.
Hiking: Challenge yourselves with a scenic hike, turning the journey into a bonding experience.
Cooking Over the Fire: Prepare a campfire meal together, turning the essential task into a fun, shared experience.
Kayaking/Canoeing: Get on the water in a kayak or canoe and enjoy the tranquility and teamwork it brings.
Nature Photography: Capture the beauty around you with a shared passion for photography.
Birdwatching: Try spotting and identifying different bird species, making a game out of who can find the most.
Outdoor Yoga: Start your day with a calming yoga session in a peaceful outdoor setting.
Fishing: Enjoy the silence and patience that fishing requires, sharing the thrill of a catch.
Mountain Biking: Explore your surroundings on two wheels for an adrenaline-filled activity.
DIY Outdoor Cinema: Set up a projector and enjoy a movie under the stars.
Outdoor Board Games: Bring your favorite board games and enjoy some friendly competition.
Swimming: Find a nearby lake or river and enjoy a refreshing swim.
Geocaching: Turn your camping trip into an exciting treasure hunt with the geocaching app.
Sunset Picnic: Prepare a picnic basket and enjoy a meal while watching the sunset.
Making S'mores: Share a sweet treat by the fire, making S'mores together.
Wildflower Hunting: Take a walk and try to identify different types of wildflowers.
Storytelling by the Campfire: Share stories, real or fictional, in the glow of the fire.
Camping DIY Crafts: Use nature to inspire some DIY crafts, like leaf printing or pinecone art.
Outdoor Painting: Set up your easels and paint the natural beauty around you.
Night Walks: Take a lantern and explore the calm and quiet of the forest at night.
Hammocking: Set up a hammock and relax together while reading or napping.
Rock Climbing: For the adventurous, try rock climbing to share a challenge and achievement.
Animal Spotting: Try spotting local wildlife, always keeping a respectful distance.
Building a Shelter: Try your hand at survival skills by building a makeshift shelter together.
Outdoor Massage: Bring a portable massage table or mat, and give each other relaxing massages.
Cooking Competition: Have a fun cook-off using campfire recipes and let your tastebuds decide the winner.
Astronomy Lessons: Bring a telescope and a guidebook to learn about celestial bodies.
Wild Berry Foraging: With a proper guide, go foraging for wild berries or edible plants.
Campfire Sing-alongs: Bring a guitar and sing your favorite songs around the fire.
Dance Party: Use a portable speaker and have a dance party under the stars.
Outdoor Meditation: Practice mindfulness and enjoy a shared silence in the tranquility of nature.
Water Balloon Fight: Cool off with a playful water balloon fight.
Couples Yoga: Try some partner yoga poses for a fun and active session.
Treasure Hunt: Create a treasure hunt for your partner, providing clues leading to a surprise.
Leaf Boat Racing: Craft tiny boats out of leaves and sticks and race them down a stream.
Outdoor Sketching: Sit and sketch the natural scenery, comparing your artistic interpretations.
Glow-in-the-dark Games: Bring glow sticks for nighttime games like glow-in-the-dark ring toss.
Outdoor Journaling: Write about your experiences and thoughts, then share them if you feel comfortable.
Silent Walk: Walk silently together, communicating only through gestures, experiencing nature without words.
Plant Identification: Bring a guidebook and try to identify different trees and plants.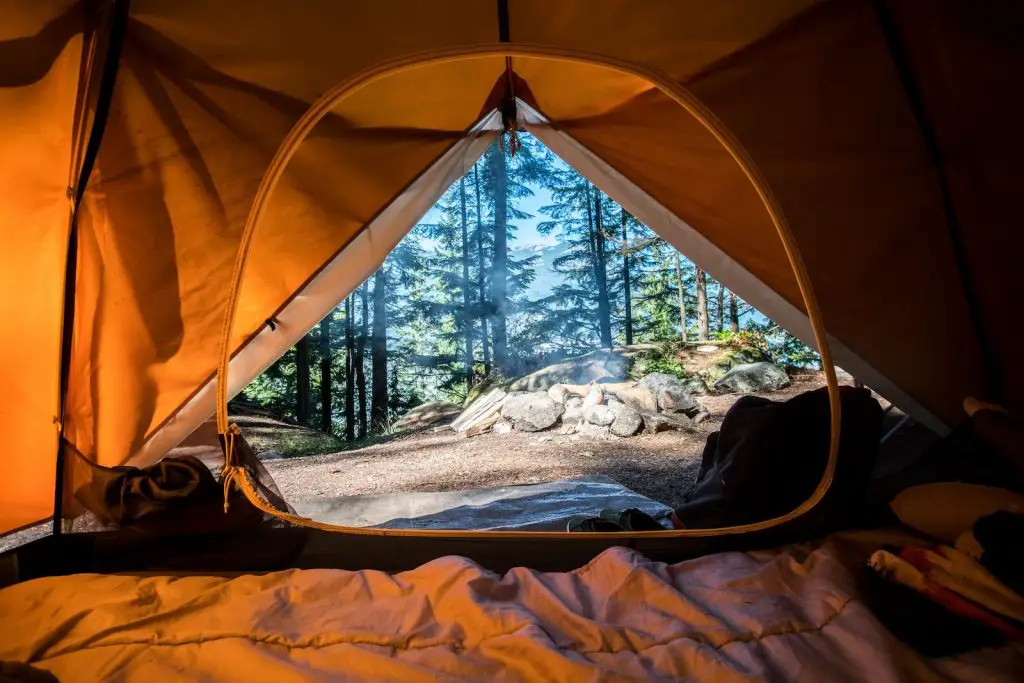 How can I be romantic while camping?
Romance in a camping setting often comes from small, thoughtful gestures and appreciating nature together.
Start by planning some surprise activities from the list above, like a sunset picnic or setting up a DIY outdoor cinema. A heartfelt love note hidden in their backpack or a special campfire treat can also add an element of surprise and warmth. At night, a stargazing session becomes the perfect setting for deep, intimate conversations.
If you think that a tent is not the most comfortable setting for romance, try out a two-person cot tent. This unique tent not only elevates you off the ground, ensuring a comfortable night's sleep away from the damp earth but also provides an intimate space for couples.
Remember, you're surrounded by nature's beauty, so use it as an excuse to slow down, disconnect from distractions, and truly connect with your partner. Make an effort to help with camping tasks and appreciate your partner's contributions. This shared experience, paired with these small gestures of love and appreciation, can create a deeply romantic camping trip.
Is camping as a couple fun?
Absolutely, camping as a couple can be a lot of fun! The experience of being in the great outdoors, away from the everyday stresses of life, provides a unique setting for couples to bond.
Engaging in activities like hiking, cooking together, or stargazing provides a shared experience that can bring joy and excitement. These moments are not only fun but also create lasting memories.
Overcoming camping challenges together, such as setting up the tent or building a fire, can also be a fun and rewarding experience. It encourages teamwork, patience, and understanding – qualities that strengthen a relationship.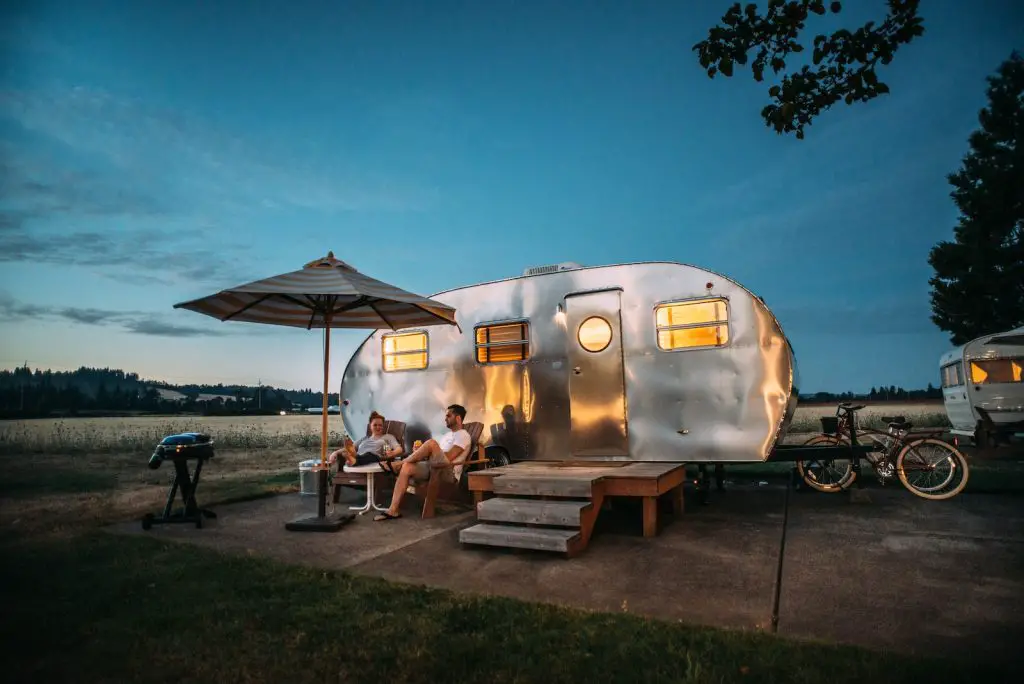 How do I go camping with my girlfriend?
Planning is key when camping with your girlfriend. Begin by choosing a campsite that matches both your comfort levels. It could be a fully serviced campground or a remote location, depending on your preference and experience.
Next, involve her in planning activities that you both enjoy. From hiking and bird watching to cooking a meal together, these shared experiences will bring you closer. Also, ensure you pack all necessary equipment, and don't forget items that can increase comfort, like a good-quality tent, sleeping bags, and cooking supplies.
Most importantly, communicate and collaborate during your trip. Camping is about teamwork, so sharing responsibilities like setting up the tent or cooking can be a great bonding opportunity. Remember, the goal is to enjoy each other's company, relax, and have fun.
Can camping be a date?
Yes, camping can certainly be a date! In fact, it's a wonderful way to create a unique and memorable experience. Far from the traditional dinner or movie date, a camping trip offers a chance to connect on a deeper level.
Whether it's a day trip to a scenic spot or an overnight stay under the stars, camping provides an opportunity to share adventures. You can enjoy activities like hiking, cooking meals together, or even just relaxing and conversing by a cozy campfire.
Is camping a good first date?
While camping can be a fantastic dating activity, it may not be the best choice for a first date. First dates are typically about getting to know each other in a comfortable, low-pressure setting, and camping can be quite the opposite.
Camping involves close quarters and little personal privacy, which might be too intense for a first meeting. Additionally, it can pose unexpected challenges, such as bad weather or equipment failure, that might create unnecessary stress.
A better approach might be to start with a traditional first date, such as coffee or dinner. Once you get to know each other better and feel comfortable, a camping trip can be a fantastic adventure for future dates.
What to read next?
---
---