Some of the links in this post are affiliate links. This means if you click on the link and purchase the item, I will receive an affiliate commission at no extra cost to you. All opinions remain my own.
Before my trip to Java, I knew next to nothing about the place. Now after the trip I have experienced a lot of intriguing things there, which inspire me to share my impressions and urge everyone to go and enjoy the mysteries of Java and its volcanoes.
Java is a big island in Indonesia, where I took part in several unforgettable adventures. The first one was money exchange.
Indonesian money is so cool! It made me feel like a millionaire because I had several millions of it in my bag. Unfortunately, it sounds more impressive than it actually was, because in exchange anyone can get three million on Indonesian money for a little fit more than 200 Euros. But it is still funny when you can post in Instagram a picture with your dinner and comment that it cost 100k.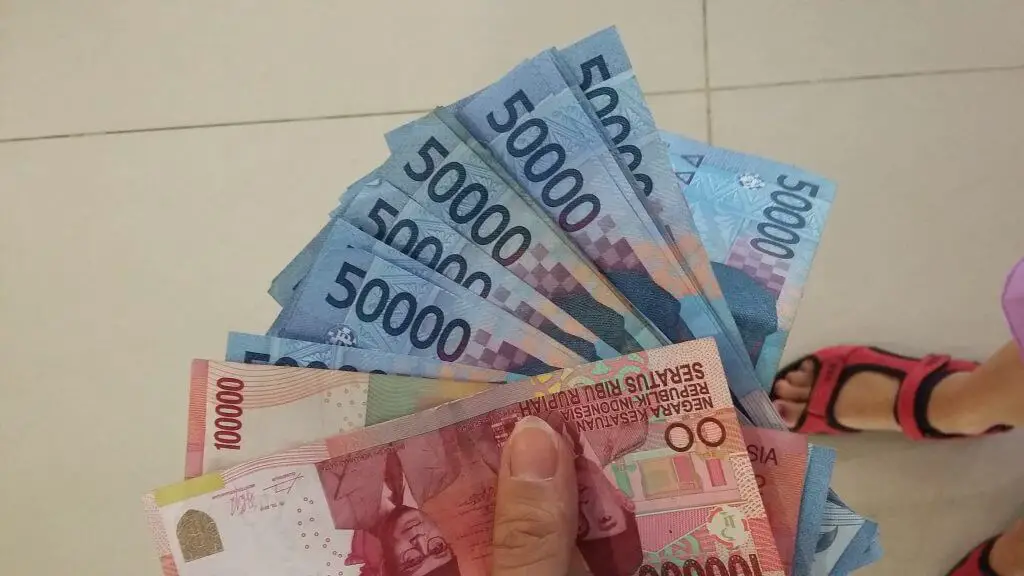 The strategy for volcano adventure is a bit tricky. You don't just go to a volcano on your own at some random time (unless you have a jeep in Java or love long hikes). The simplest way is to be a part of a tour organized by locals. The aim of the tour is to see how the sun is rising above several volcanoes. The best place to stay would be a hotel in Malang, because:
There is a choice of different hotels;
There are cafes, juice places, spas and other kinds of attractions;
You can find several offers for volcano tours and choose the best;
There is a train station, so you can continue your adventures by traveling to Yogyakarta or some other city of Java.
I stayed in Kertanegara Guest House and have the best memories of it. If you ask in reception, the hotel staff can arrange a volcano tour too.
So we booked a volcano tour in the reception for several hundred thousand rupiahs and went to sleep. A very short sleep. Sunrise watching means, that you have to be at the watching place long before the sunrise if you want to get the best viewing spot. We departed from the guest house at 1 am, and the sunrise was at 5.17 am.
This was also the occasion to take out the warmest clothing possible, as the adventure was chilling:
Jeeps were driving with opened windows for ventilation;
Even in Indonesia, several hours of being on a mountain above the clouds at night can get freezing.
Locals have made a business out of every tourist need. At the spot of sunrise waiting one can get not only fried corn and fried bananas, but also it is possible to rent a jacket for several hours.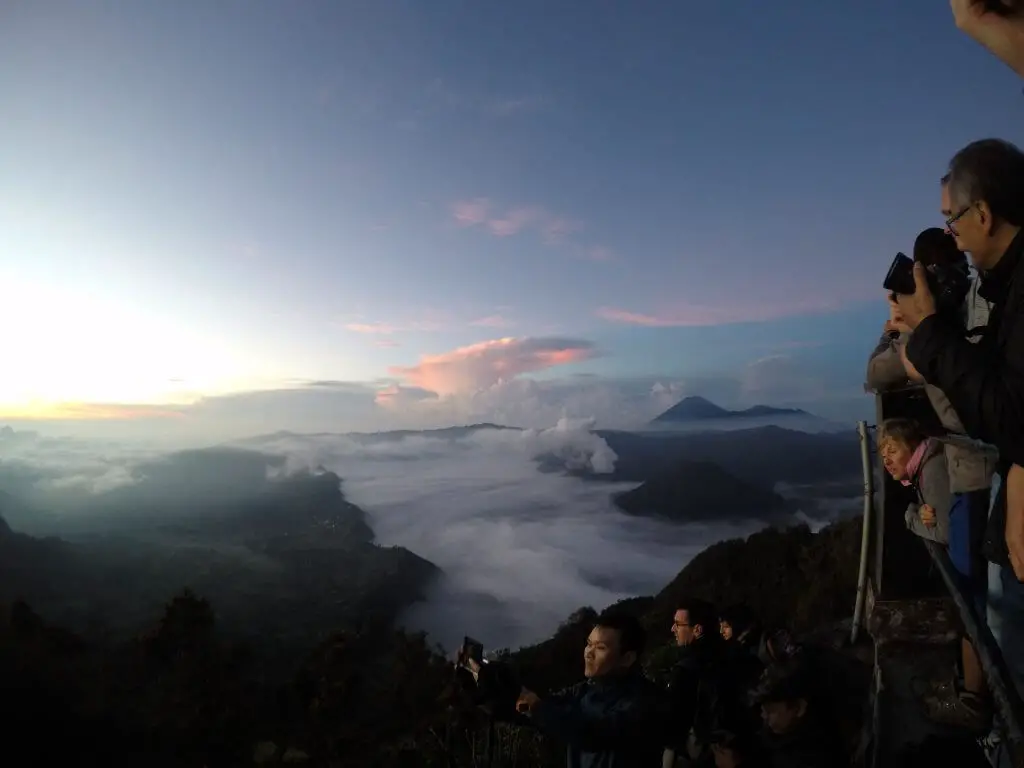 This was the first time, when I got to try out night lapse function on my GoPro. I guess there is a lot of space for improvements, as the 3-way didn't want to stay in place and images were quite blurry during the darker time. Well, need more practice or try the new GoPro Hero5.
When the sun had risen above the horizon, our guide continued the tour with promises to show us the best place for taking photos. He even had his "spot", where we all could get a picture leaning against a tree, facing the sun for the perfect light, with magnificent volcanoes in the background.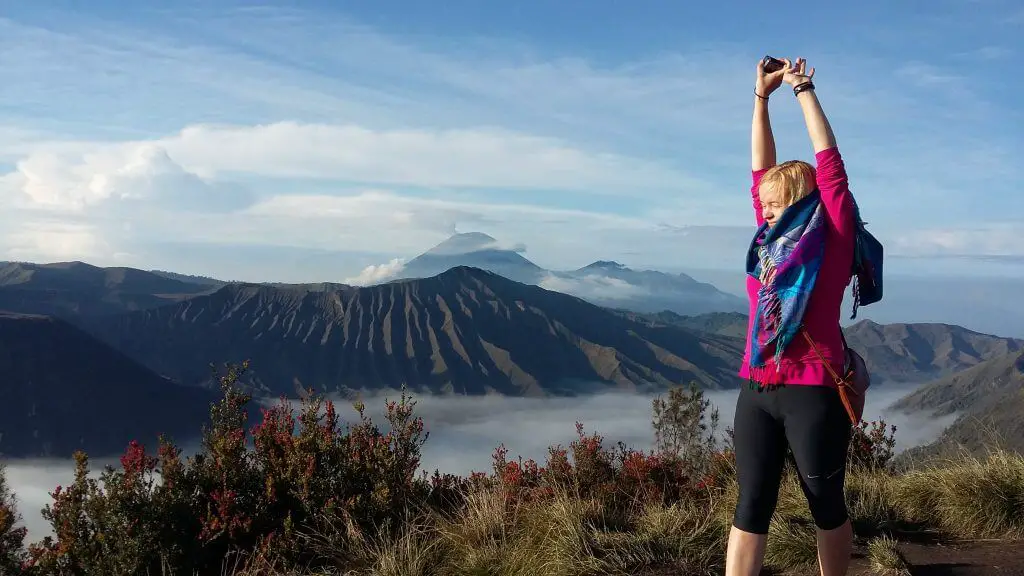 Our group was transported by jeeps like these. It seemed quite old and characteristic to Indonesia. They have probably been driving tourists around before I was even born.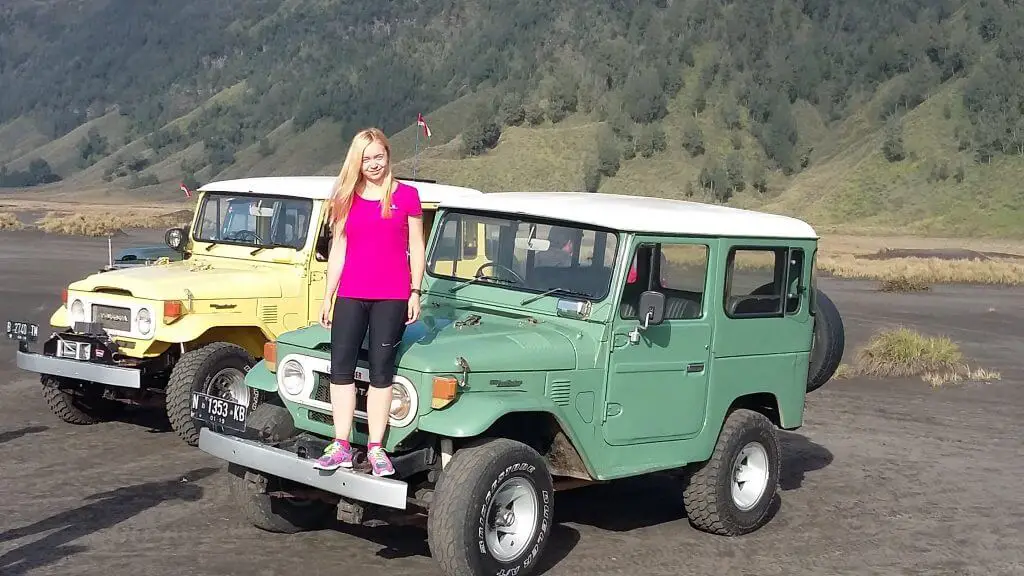 Our next stop was also a volcano, but now close up – we had a chance to climb up and look into a crater. For half of the way, tourists can hire small horses for transportation. The people leading the horses were quite funny and talkative.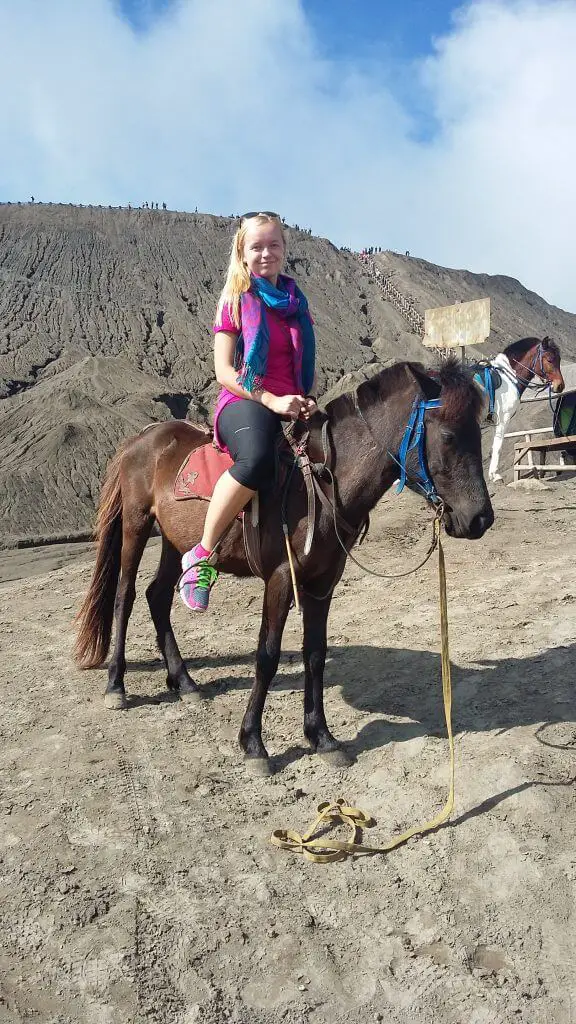 The view from the Semeru volcano was fantastic. As there were no rice fields or tree-jungles in the near distance, it seemed like a surface of the moon.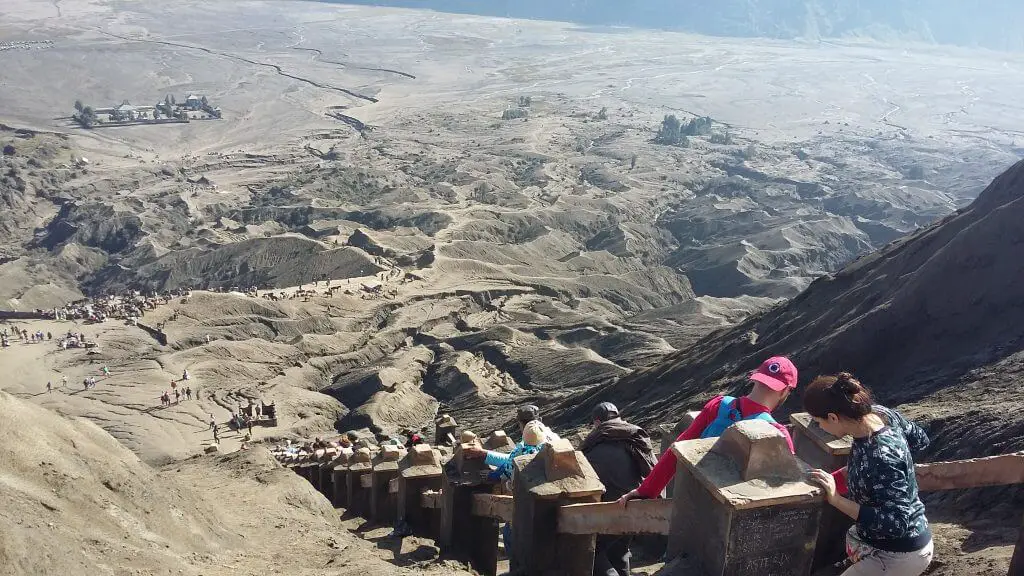 The view inside the volcano was like out of this world too. This was my first time on a volcano, and it is a bit scarier than the regular mountains.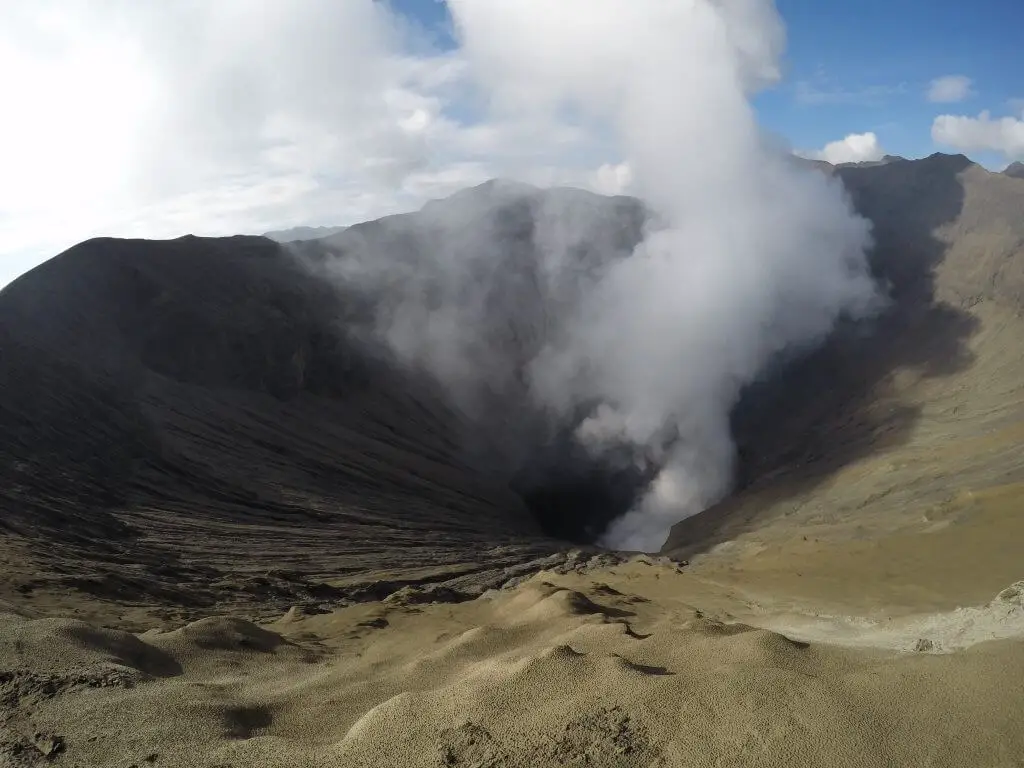 Despite the early waking and cold morning, this adventure was very impressive and memorable. I would like to see more volcanoes on my future trips. People said that hiking around them is challenging and magnificent.
Similar volcano tours
It's possible to pre-book the volcano tours online for a less stressful experience: