Some of the links in this post are affiliate links. This means if you click on the link and purchase the item, I will receive an affiliate commission at no extra cost to you. All opinions remain my own.
Looking for a day hike packing list with items that are essential to make the hike great but often are forgotten at home?
Then here it is! If you are planning to go on a one-day hike and don't want to miss anything then check out this list of commonly forgotten items.
One-day hikes are great because you don't need a lot of preparation and you still get to see amazing scenery and enjoy the physical activity outdoors. As someone who has hiked a lot, I put together this hiking packing list to help you avoid packing mistakes on your next hike.
These are the most commonly forgotten items that should be on your one-day hike packing list!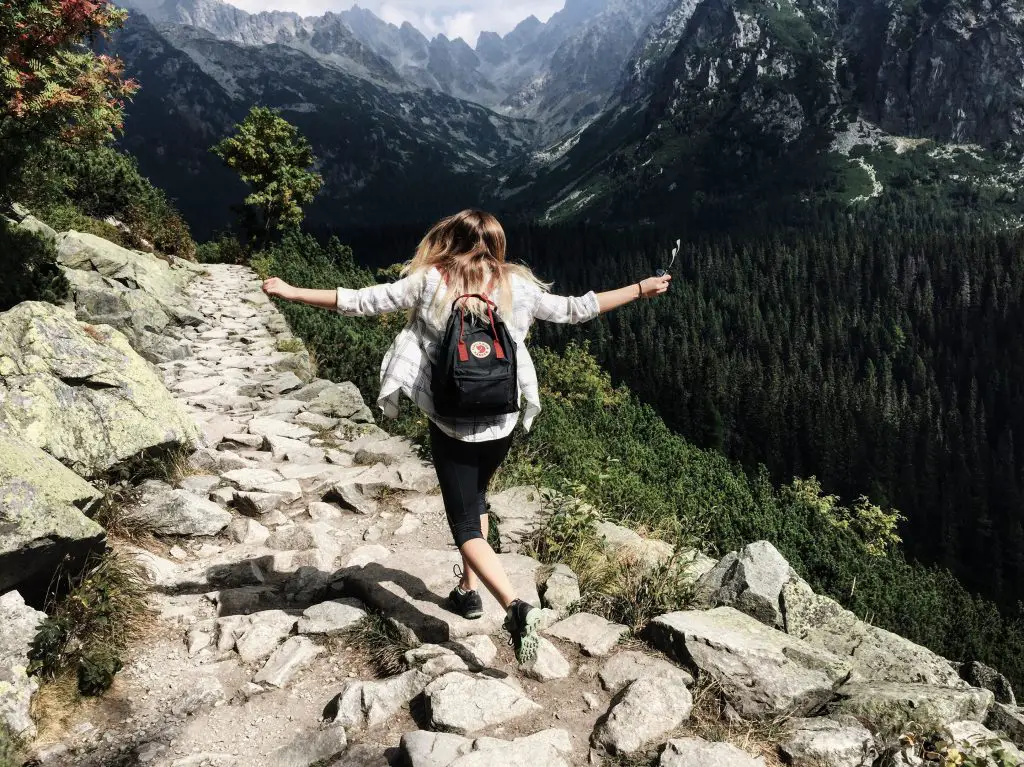 What to bring on a day hike
Don't forget these essential things that might be really helpful to turn your hiking experience into a great adventure by overcoming any obstacles that the nature might present.
It's important to have a waterproof backpack in case it is raining during your hike. This Osprey backpack comes with a built-in water protector so you can cover it when it is starting to rain.
This is important so that you could keep your other belongings safe and dry during the rainy period of the day. No one wants to soak their phone, extra clothes and food.
If you have a backpack without a built-in water reservoir, make sure to take a regular water bottle with you. Hydration is critically important, and on the hiking trail, there might not be any shops or streams where to get fresh water.
LifeStraw is a great option as it has a filter inside to help you get drinkable water on a hike even from a not-so-clean source.
If you have a long hike in mind, you'll probably plan for a meal. Pack lunch and some snacks. Consider taking a trail mix with you as well. It's a great option when you want to boost your energy while moving. Having nice little packets with single portions of nuts and dried fruit like organic dates will keep your energy levels up without leaving you feeling weighed down by a lot of food.
Having a working smartphone on a day hike is really important. It serves many purposes – as a phone, to call the help in case of an emergency, as a navigation device, as a camera, and probably other uses as well. And, as we all know, the battery may run low quite fast if the rural areas. That's why it's important to have a portable charger with you.
This solar power bank is durable and can charge a variety of phones like iPhone, Samsung and so on. It also has a flashlight and a compass.
Just remember that the solar panel on this power bank is quite small, and it's hard to align the panel perfectly with the sun for charging during a hike when you are moving. So the solar charging option is just an added bonus that you can use, but don't expect the power bank be fully charged just from a hike in the sun. Fully charge your power bank at home before the hike.
Sometimes the weather may be unpredictable. Even if you checked the weather forecast before your hike, it might be rainy for a bit, if you are hiking in mountains. You want to be prepared for this so take a rain poncho with you.
This rain poncho is reusable and can fit you and your backpack underneath. It also has a reflective stripe for an improved night time visibility. It also has two pockets for your belongings.
When it's not raining, it's usually too sunny. Murphy's law for hikers.
Usually, it's a good idea to protect yourself from sun and not to go in the direct sunlight for long periods of time. But during a hike you might not be able to just hide in the shade. That's why you need to take sunscreen with you.
Body parts that usually get damaged by the sun during a hike are the tops of your ears, nose, cheeks, shoulders, legs. So make sure to protect yourself.
Even if you like sunbathing, a hike is not the best time for it. You will be carrying a bag and wearing hiking clothes that might leave patches of your skin hidden from the sun. So the final look will not be great if you don't protect your skin.
Sun hat is another piece of clothing that we don't think that we'll need on a hike until we actually do. It doesn't take much space, but makes a world of difference.
A sun hat will protect you from overheating, which might be dangerous during a hike. It also blocks out UV rays and protects your face and neck from the sun.
If you suspect that you'll be hiking along a body of water and the weather will be pleasant, make sure to take a microfiber towel with you. This will allow you to go for a quick swim to refresh yourself during a hike.
This towel is super absorbent and you will be dry just moments after coming out of the water. And it dries quickly as well. You can simply attach it to your backpack for a few minutes of walking and it will be dry and read for your next swim.
If you are hiking solo, bring a tripod with you to capture more stunning pictures of you in the wilderness. It's a great option to set just the right background and take as many pictures as you want.
This one is meant for a phone, but there are other options for bigger cameras as well.
Prepare for a longer hike by bringing a headlight. If you suspect that you'll won't be finished until the dark, be prepared with a headlamp that will illuminate the path and can run up to 45 hours. That's more than enough for a day hike.
Many people forget to take a trowel with them on a hike. But that's the polite way how to deal with poop on a hiking trail, where no WCs are available.
Dig a hole with this trowel away from any water sources, trails, and campsites, and bury your waste where it will compost without troubling anyone.
Compeed blister pads will make you forget the ordinary plasters. They are like magic for any forming blisters during and after a hike. Blisters are one of the most common injuries that you might get while hiking. In these pads, there is an advanced active gel that activates on the blister and cushions it. This way you can continue your hike without feeling any pain from the blister.
Accidents is not something that we expect when going on a hike, but life happens. And sometimes it's really great that you haven't forgotten to take a first aid kit with you.
Just consider the terrain where you'll be going.
And this first aid kit doesn't take much space, so probably should pack it, right?
Hand sanitizer should be used after the nature calls and before preparing and eating any food. It's just common sense that you don't want any germs on your hands.
You can take a small hand sanitizer bottle with you, or you can take wipes. I prefer the wipes because I can clean other things with them as well. But the bottled sanitizer leaves less waste, so that's one thing to consider.
If you plan to encounter people in closed spaces while getting to/from a hike, most probably you should not forget to take a face mask with you.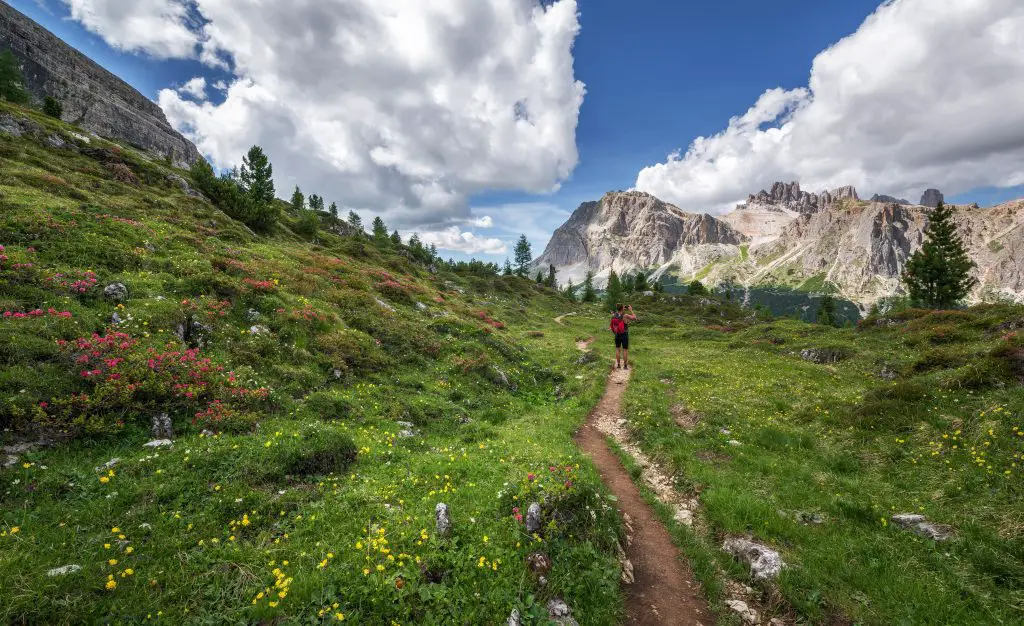 What should you not take on a hike
If you are going just for a day hike, you probably can go without much preparation. However, there are some things that should not be taken on any hike, as they will just be weighting you down and not giving much value.
Jewelry
Don't take any expensive jewelry with you on a hike. It might get lost, be stolen, or be damaged on a hike. And hiking is not really a place where you can show off your newest blings.
Nice clothing
Don't wear anything that you might feel sad about if it would be damaged. Hiking may lead to some not so clean places, difficult terrains, falling down, or just sitting on the ground or rocks. And that might damage any clothing.
Cotton clothing
Wear something that is meant for exercise. Don't wear cotton, as it will soak up your sweat, but won't dry out fast. It will be harder for you to wear wet and heavy clothing.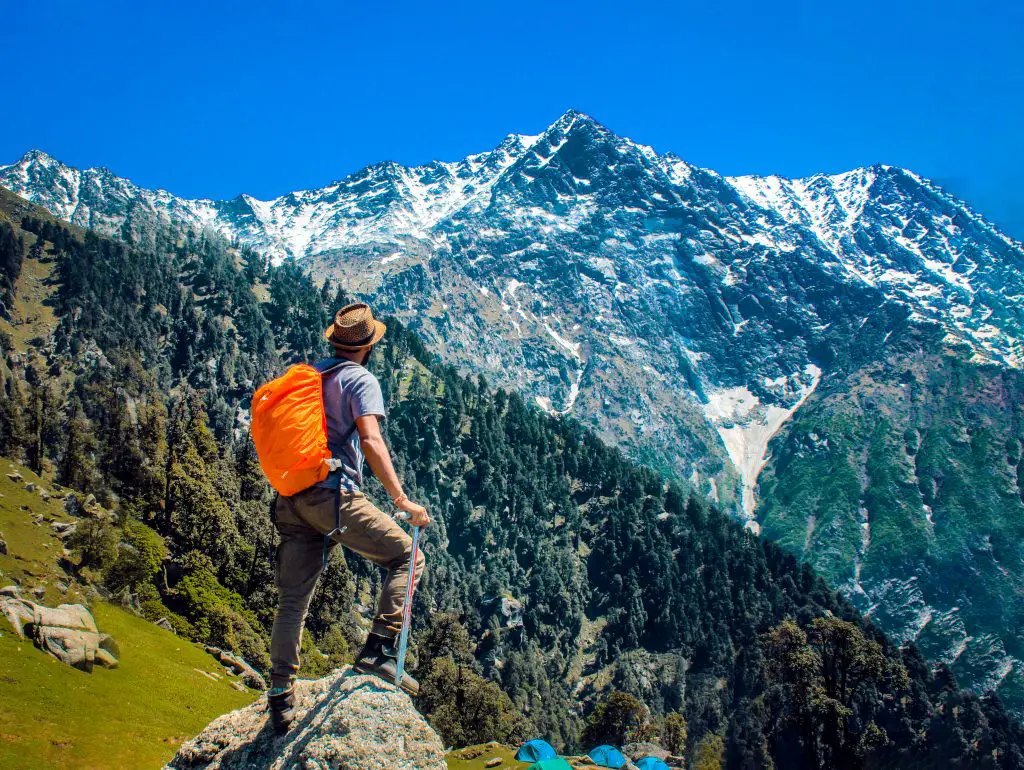 Heavy camera equipment
If you are just an amateur photographer and plan to go on a challenging hike, don't take all your heavy equipment with you.
When you are at the limits of your strength, you won't be able to focus on all the fancy settings your camera has. You most probably won't even take out the camera from its case.
A smartphone is enough.
Unless you are fit and the pictures are the main goal of your hike.
Nice shoes
Wear comfortable shoes meant for the terrain that you'll be tackling. Don't wear anything that you might damage and feel sorry about. And don't wear something that will just look good in photos but will leave your feet in blisters. It's not worth spoiling the hike.
Hiking inspiration
Don't know where to hike next? Check out these posts for inspiration: