Some of the links in this post are affiliate links. This means if you click on the link and purchase the item, I will receive an affiliate commission at no extra cost to you. All opinions remain my own.
Barcelona is incredibly beautiful, which makes it the perfect place to take some amazing pictures. There is elegant architecture, breathtaking nature, and Spanish culture everywhere you look.
Here are some tips that you need to know before visiting Barcelona to get the most out of your trip.
Below you'll find some of the best Instagram spots in Barcelona suggested by travel bloggers.
Park Güell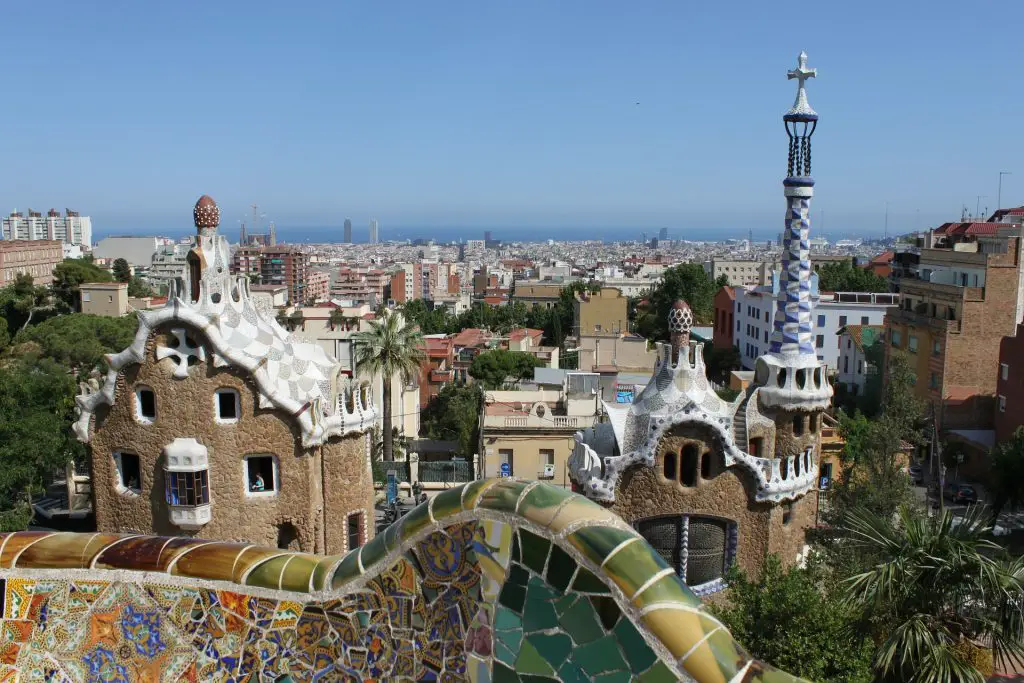 By Her Life in Ruins – KB
Park Güell is one of the most iconic spots in Barcelona. This sprawling green space is the work of Antoni Gaudí, whose masterpieces are scattered around the city and are so profound that they have UNESCO World Heritage Site status – a HUGE deal!
The park covers over 17 hectares and is full of all sorts of gems, especially the regulated tourist area, which houses the stunning mosaics, gingerbread-esque houses, and arches that seem to defy gravity. Plus, Park Güell only allows a certain number of visitors into the regulated tourist area at a time, allowing you to take your time and enjoy the area without tons of people running about. If that's not enough, the view of the city from this zone is stunning enough to make your jaw drop!
Restricted zone tickets start at 10€ and are designated by time. The other 93-ish% of Park Güell's nature and leisure areas are totally free to visit.
Park Güell is easy to reach via bus shuttle from Carretera del Carmel (which is free with your ticket!), Carrer de Larrard (from the Carrer d'Olot side lane), Avinguda del Santuari de Sant Josep de la Muntanya (via escalator), walking, or taxi.
Tibidabo Mountain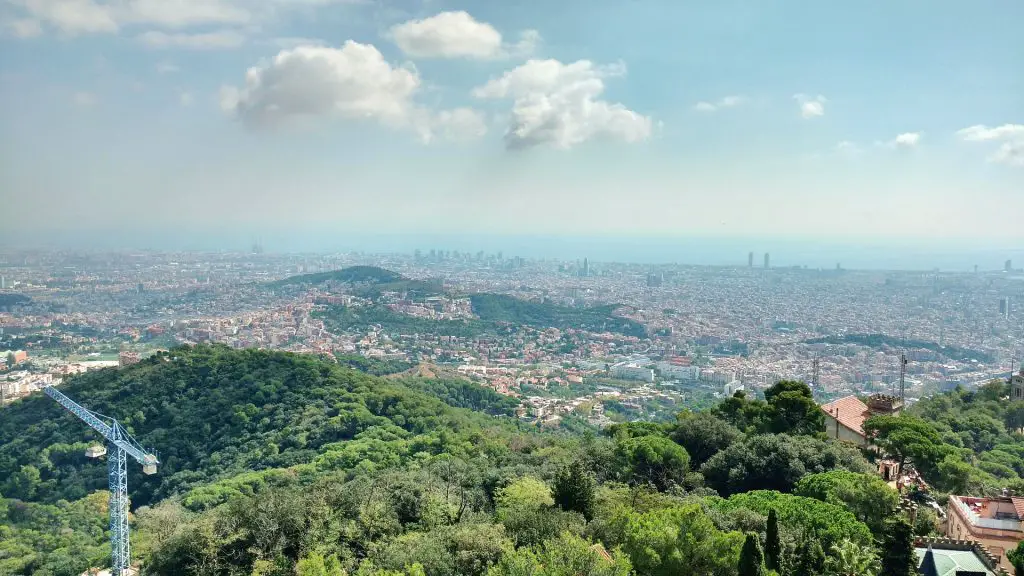 By Latitude 41 – Justine
Tibidabo Mountain at the Collserola ridge is the highest point in Barcelona – at a whopping 512 meters above sea level.
If you like thrilling theme parks, head to the Tibidabo Amusement Park, which opened in 1905 and is one of the oldest theme parks in Europe. It has a mix of kiddy and non-cheesy rides vintage rides, which makes for incredible shots also.
For the most exhilarating and unparalleled view, ride the Talaia, an "arm" that goes straight up and gives you a sweeping view of all of Barcelona, the Mediterranean Sea, and the picturesque Temple of the Sacred Heart church.
If you don't want to pay for the park, you can find any view from the Tibidabo mountain amazing, like from the aforementioned Temple of the Sacred Heart church.
To get to Tibidabo, take the shuttle bus from Plaça Catalunya (Bus Lanzadera) that leaves every 30 minutes by the Desigual shop. It costs 3 euros per trip. Alternatively, take the Tibidabo Funicular at Plaza Doctor Andreu s/n, which costs 4.10 euros. Tibidabo isn't the easiest or quickest place in Barcelona to get to, but it's much less crowded than Barcelona's city center, and is 100% worth it for the views!
Sagrada Familia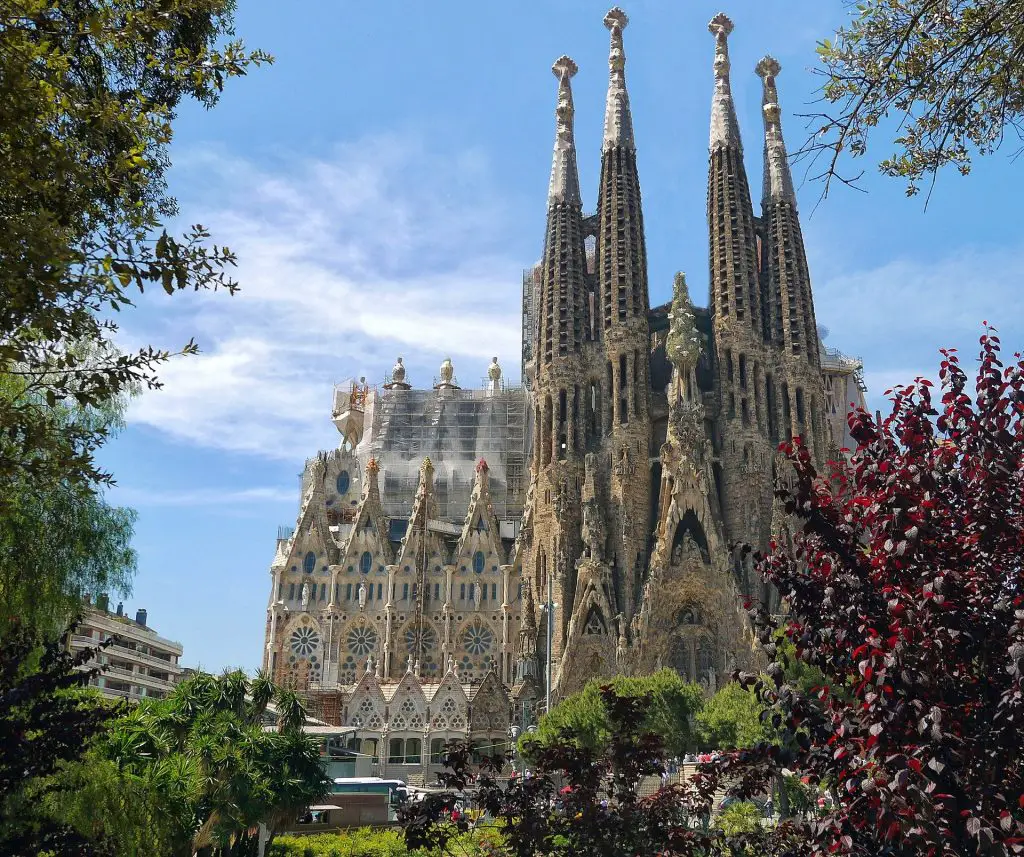 By Constant Traveller – Priyanko
There are many reasons to love Barcelona but the best one is always going to be a visit to the Sagrada Familia, a mammoth construction to the faith that is still ongoing more than 150 years after it got off the ground. Antoni Gaudi's masterpiece and Barcelona's place of pride is a must-visit spot for any visitor in the Catalan capital.
The Sagrada Familia is not just any ordinary cathedral after all. The usage of building a traditional cathedral met with Gaudi's creative vision to form this most unlikely mélange, so much so that even after his death in 1926, the construction to build what would be the world's tallest church once it's completed (in 2026) is still ongoing.
Getting here is easy with many buses and L2 and L5 metro connecting here.
Make sure to take an Instagram-worthy photo right in front of the massive cathedral and vow to return once it's completed in a few years' time. What a before and after photo that would be!
Casa Vicens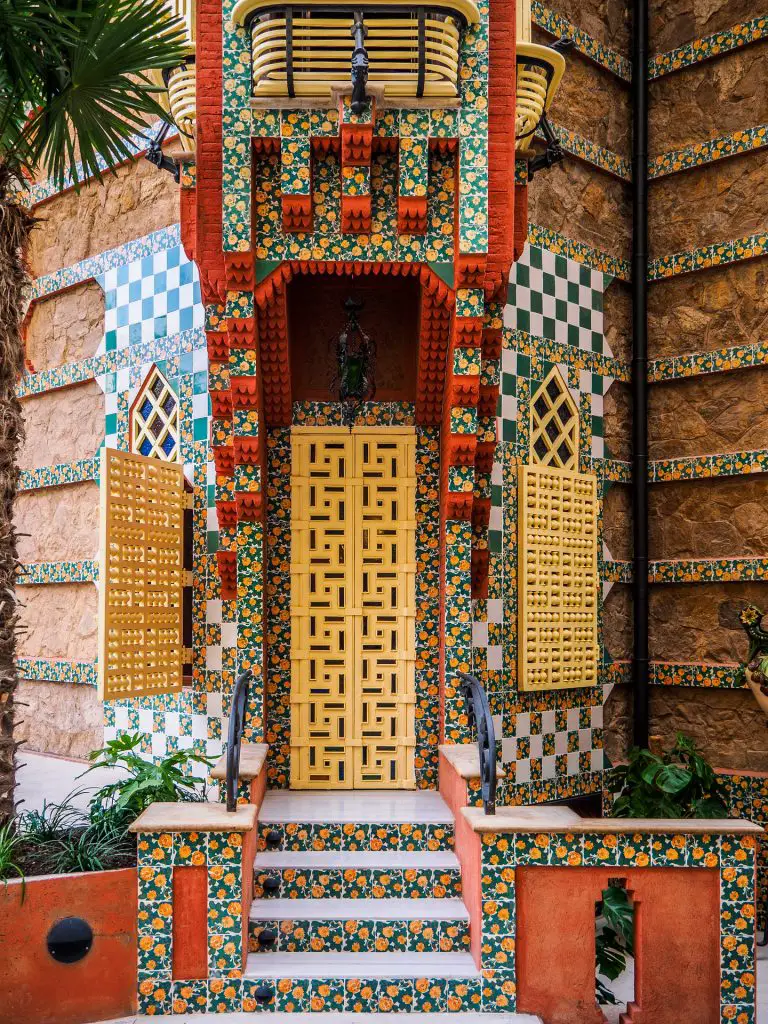 By My Path in the World – Or Amir
Casa Vicens is Antoni Gaudi's first house in Barcelona and the building that revealed his genius and started his successful career. Along with his other creations, it was declared a UNESCO World Heritage Site.
To create this remarkable piece, Gaudi mixed several architectural styles like Neo-Mudejar and Art Nouveau and materials like iron and ceramics. Along with all the bright colors and interesting embellishments, you can easily understand why it's one of the best Instagram spots in Barcelona.
Today, Casa Vicens is a museum. You can either enjoy this architectural masterpiece on the outside, take a guided tour inside the museum, or visit the museum on your own. Book your tickets in advance as you need to pick a specific time slot for your visit.
How to get there: Casa Vicens is located on Carrer de les Carolines, 20-26. The two closest Metro stations to this address are Fontana and Lesseps.
Platja de la Barceloneta
By Family off Duty – Thassia
From fabulous restaurants to impressive architectural wonders – Barcelona is the city that has so much to offer, you definitely won't go back home disappointed after visiting this city. We totally enjoyed spending time at the beach as the weather is almost always great giving the visitor plenty of opportunities to enjoy the outdoors.
Platja de la Barceloneta is a great beach with amazing views along its promenade which is perfect for Instagram shots or for a swim, strolls or bike rides at the end of your busy sightseeing day.
You could rent a bike and cycle the entire extent of the beach or reach other areas of the city such as the harbor or the popular La Ramblas street from the seaside are. At this beach, there is plenty of opportunity for a good Instagram image. There is a hotel at the end of the beach with a shape that is fairly similar to a famous building in Dubai.
Mural "The world begins with every kiss"
By Once in a Lifetime Journey – Mar
A stone's throw away from the Catedral de Barcelona in an unassuming location lies a gorgeous mural and possibly one of the best Instagram Spots in Barcelona – particularly for lovers. Joan Fontcuberta has created a beautiful ode to love and freedom with his piece called "The world begins with every kiss".
From afar, the image is a painting of two lips caressing each other, but on closer inspection, you will see that it is, in fact, a mosaic with thousands of smaller images. These photos are of random Barcelonians who sent their snaps in after newspaper El Periodico asked the citizens of Barcelona to send through their "moment of freedom". By standing in front of the mural you will be joining thousands of others in celebrating their own, as well as their city's, freedom.
You can find this wonderfully Instagrammable spot in Barcelona at the Plaça d'Isidre Nonell closest to the Jaume I (L4) metro station.
Mirador de Colom
By German Backpacker – Patrick
For me, the best spot in Barcelona to take pictures is the "Mirador de Colom"! This tower is located at the end of the famous Ramblas walking street, right next to the harbor and the beach promenade.
Compared to many other attractions in Barcelona, the entrance fee is pretty low (6 €) and generally, the viewpoint is still undiscovered by the crowds. This is good since the viewing platform on top is actually tiny!
An elevator brings you to the top from where you will have stunning views of the city. Thanks to the central location, you can not only see Las Ramblas but also the harbor, the beach, and even the Sagrada Familia from above.
While it might be difficult to get a picture of yourself in it (as mentioned, there is barely any space to move) you will be able to get great Instagram shots of the city. Try to be there in the later afternoon for the best light!
Bunkers del Carmel
By Vicki Viaja
I guess everyone that has ever been to Barcelona has to admit that it's a city of extraordinary beauty. For me, one of the best places to see all this beauty at once is the Bunkers del Carmel. From there, you have a breathtaking panorama view over the whole city and you can admire the unique style of the city from above.
This great view isn't accidental, though. The bunkers were built for strategic reasons on top of a mountain because you were able to see approaching enemies from all directions already way before they could reach the city. Even though the bunkers are no longer used for strategic reasons today, dozens of travelers get here every day to enjoy the great view and take wonderful pictures. In addition to a fantastic view over the rooftops of Barcelona, you can see the sea from here and watch the cruise ships waiting in the port.
Anyway, If you enter the bunkers, you can find a small exhibition where you can learn more about the history and use of this place.
Castel Montjuic
By The Elusive Family – Diana
Castel Montjuic is among the best gems in Barcelona. High above the city, this hill has sweeping views of the city and is a wonderful way to spend the day. There are numerous areas to take great Instagram pictures, with a prime spot being at the top with a background of the city beneath.
Castel Montjuic was once an old military fortress that was used to defend from incoming invaders from both land and from the Mediterranean Sea. At 173 meters above sea level, Castel Montjuic's vantage point has provided the city with a means of defense during war and invasions. When its defensive purposes were no longer needed, Castel Montjuic evolved throughout the centuries and became used as a prison and torture center.
Today, the fortress is a draw for tourists visiting Barcelona. Walking tours are available and there is a museum and gardens to visit as well as exploring the Castel itself. Visitors can also take a cable car, bus or walk to the Castle, though the cable cars are always a fun experience in Barcelona.
Parc de la Ciutadella
By My Snapshot Traveler – Lisa
Nestled in the heart of Barcelona is Parc de la Ciutadella, a 70-acre sanctuary of tree-lined walkways, grassy areas, sculptures, and fountains. This park is home to the famous Castell de Tres Dragons, the spectacular Arc de Triomf, and the Barcelona zoo.
The park is open year-round, but it's most popular during the warmer months when visitors are treated to live music in the evenings.
One of the most Instagram-worthy spots is La Cascada located on a small pond in the northeastern part of the park. As a young architect just beginning his career, Antonio Gaudi helped with the design, which was inspired by the Trevi Fountain in Rome. The fountain is flanked by stone steps leading to a marble sculpture of Venus and topped with four golden horses.
The best location to get a great picture? Standing at the head of the pond, you'll have a panoramic view of the water, fountain sprays, sculptures, and palm trees.