Some of the links in this post are affiliate links. This means if you click on the link and purchase the item, I will receive an affiliate commission at no extra cost to you. All opinions remain my own.
Barcelona is known for its amazing architecture, beautiful beaches, and delicious food. It's also one of the most beautiful cities in Spain. The Catalan capital is a very popular tourist destination during summer, so it's actually better to go in the low season when there are fewer crowds. Read other things to know before traveling to Barcelona in the post below.
Avoid high season, bank holidays, and school breaks
If you are on a budget, there are certain times of the year when it's significantly cheaper to visit Barcelona. Check out the calendar and watch out for the high season, bank holidays and school breaks that can make booking accommodation and renting a car so much more expensive due to the increased demand.
One of the best times when to visit Barcelona is just after the high season in late September and the beginning of October. This way you still get the benefits of nice (and not hot) weather but can be sure that there will be fewer crowds in the city.
The number of tourists decreases after summertime, and with that, the queues to the most famous attractions get shorter and prices, in general, get lower.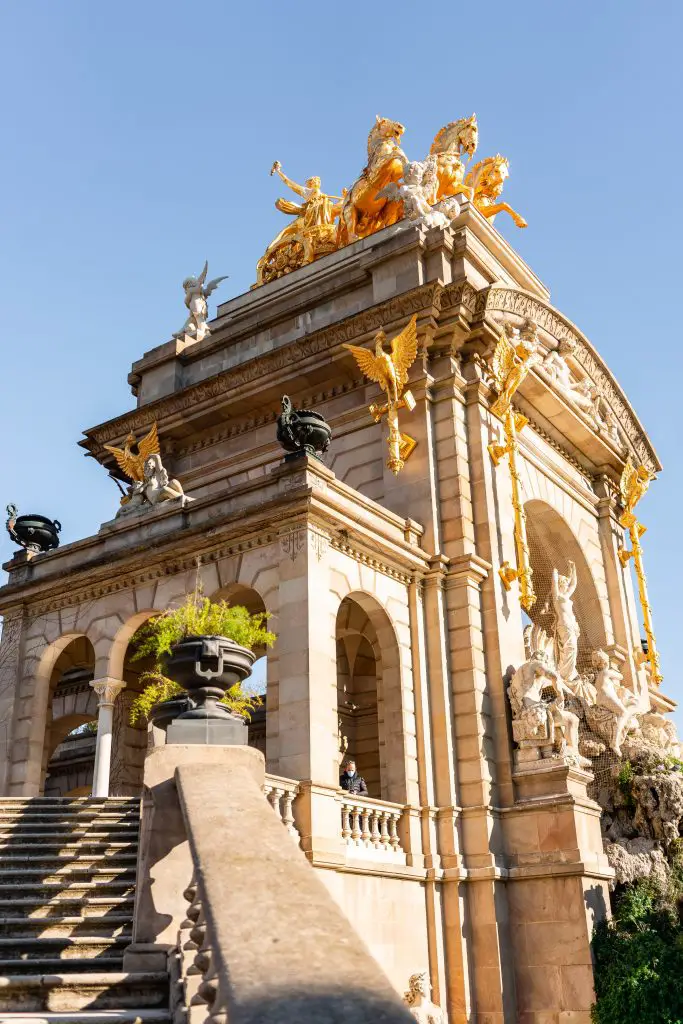 Research & book in advance
It's smart to book these things in advance: hotel, rental car, tours, and attractions.
Not only do you get cheaper prices that way, but it's also great for planning and peace of mind. If you know what you want to see, you can book a hotel in a location that is better suited for your interests.
Or, if your priority is to book the cheapest hotel/flight possible, doing so in advance may let you be more flexible with the available dates so that you can move your arrival/departure to the most cost-effective time.
Also for the well-known attractions such as Sagrada Familia church, the online tickets are cheaper and they guarantee that you will actually be able to go inside. If you just try to buy the entrance tickets when you arrive at the site, they might be already sold out for the day. Or you may have to wait in a really long line to get the tickets.
Save time and money when visiting Barcelona's main attractions
If you are interested in visiting several museums in Barcelona and getting around with public transportation, buying the Barcelona Card might be a great way how to save money.
Another thing to consider is waiting in the queues. As an example, Park Güell can have long admission queues, but with an online ticket, you can just show it at the entrance without standing in line.
For Sagrada Familia the amount of visitors is limited, so having an online ticket is a way to ensure that you will get a chance to visit this masterpiece. Sagrada Familia tour is a typical tourist attraction, but there is a reason why people are willing to pay a lot in the entrance fees and wait in lines. The church is a masterpiece and must be seen both from the outside and inside.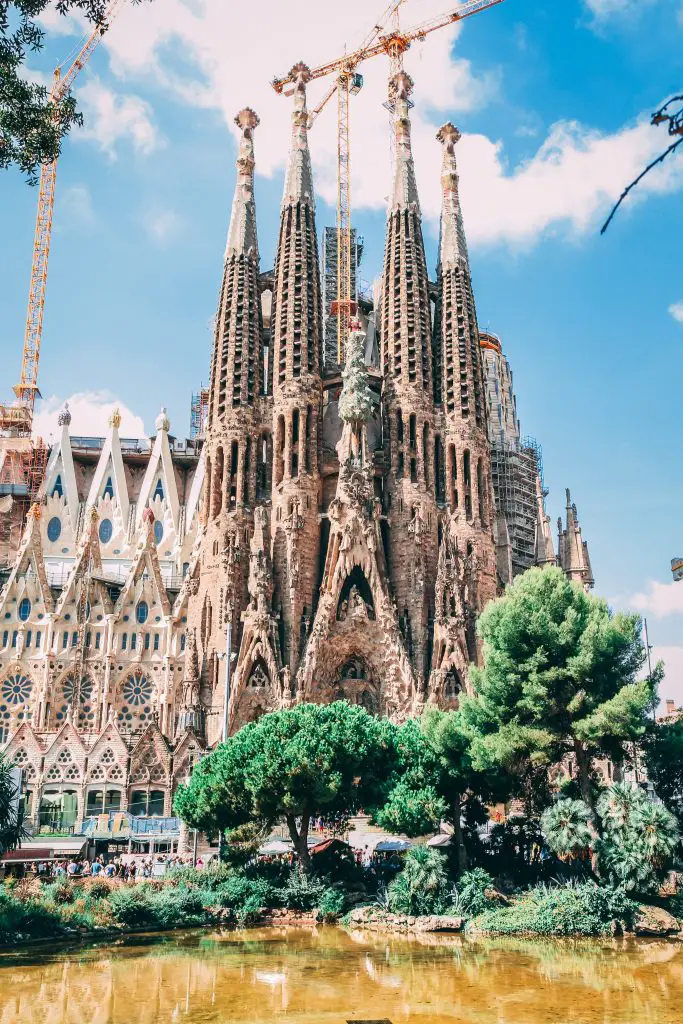 Stay in the city center
If possible, book a hotel in the city center. This will reduce the time you'll need to travel to the best things to do in Barcelona, as well as allow you to visit a lot of cool restaurants in the evening without worrying about how to get back to the accommodation.
Staying in the city center also gives good access to public transportation. If you don't plan to go on day trips outside of Barcelona to places like Girona, Tarragona, or Montserrat, you don't even have to rent a car. And even if you want to have a day trip outside of Barcelona, there are still options for how to do this by using public transportation.
Use the metro Barcelona
Metro is probably the best way how to get around in Barcelona. And this is one of the most important Barcelona tips to remember.
Even though you might think that the attractions are just a few blocks away from each other, in reality, it takes a lot of time to walk a few blocks on foot in the hot Spanish weather.
And if you plan to use a car to get around, finding a free parking spot nearby might take as much time as just walking to the attraction.
Metro, on the other hand, is quite fast and cheap. Check out the ticket prices here! You can buy a certain amount of rides or days. One day of unlimited rides cors a little bit more than 10 Eur, and that can save you a lot of time you'd otherwise spend just walking.
You can easily travel from the Barcelona airport to the city by using the metro, so don't spend a lot of money on a taxi or transfer if your hotel is located anywhere near a metro station in Barcelona.
The good public transportation system is one of the reasons why you should travel to Barcelona – you won't have to rent a car.
Don't try to see everything
Barcelona is a big city and there are uncountable things to see and do. But you don't have unlimited time and budget to check out all of them.
Before you go to Barcelona, think about your priorities – what do you want to get out of this trip? Do you want to relax? Explore the Spanish culture, architecture, and cuisine? See the main attractions of the famous city that are visible on the postcards?
Depending on your wishes you should add the things that you want to do to your itinerary. But don't try to see and do everything! You will just get exhausted and maybe even disappointed what there is not enough time in a day to cross off all of the planned things to see from your list. Barcelona might be unpredictable – there might be long queues in the attractions, slow traffic, and even some places that are so interesting that you just want to enjoy them and not rush to the next one.
But try to see some of the buildings designed by Antoni Gaudí
Antoni Gaudi's architecture is something unique and spectacular. There are seven buildings in or near the center of Barcelona that he had contributed to. All of them are monuments to testify his creativity.
You don't have to check them all out, but choose at least some to see in person. The seven buildings are: Parque Güell; Palacio Güell; Casa Mila; Casa Vicens; Gaudí's work on the Nativity façade and Crypt of La Sagrada Familia; Casa Batlló; Crypt in Colonia Güell.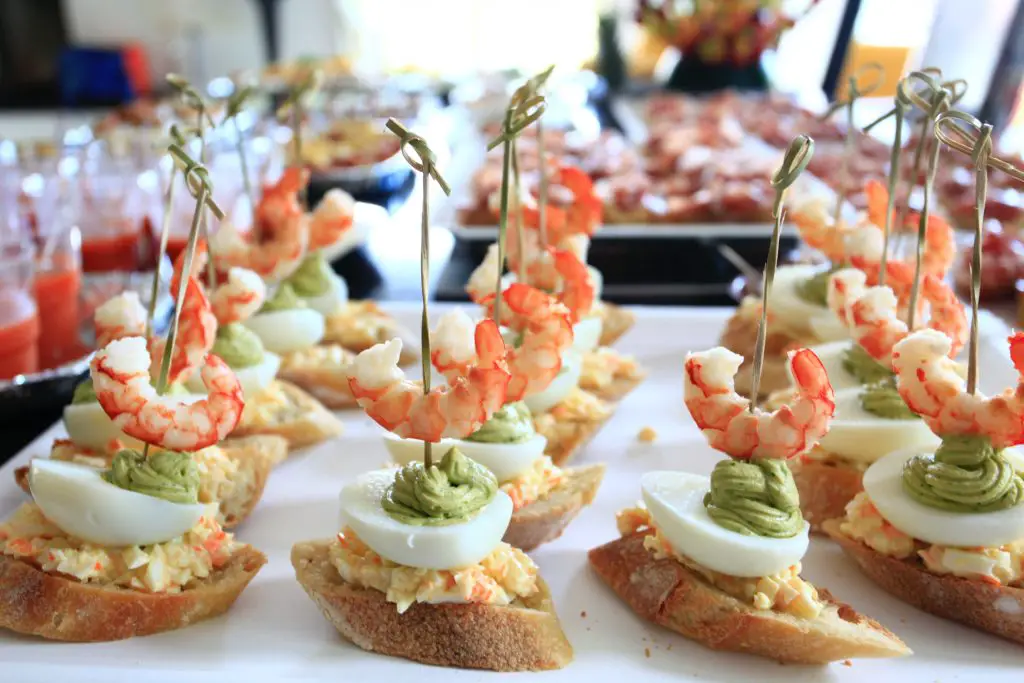 Try tapas
A tapa is a bite-sized portion of food. They are like appetizers in Spanish cuisine. Traditionally tapas are savory food. it could be bread and different kinds of meat, seafood, and small pieces of vegetables or mushrooms.
In Barcelona, you can find tapas bars that mainly specialize in serving different kinds of tapas, or you can just go to a regular restaurant and check their menu. There most likely will be a section specifically for tapas, as this is such an integral part of the cuisine.
When you order tapas, try the ones that seem to be more traditional and maybe have some ingredients that you don't recognize. This way you can experience something that is unique to Spain and that you can't just order in a restaurant in your hometown.
Explore the Gothic Quarter
The Gothic Quarter is the historic center of the old town of Barcelona. There you can stroll around and enjoy the beautiful architecture, or just sit in one of its nice squares and watch the people on their way to see the next attraction. The Gothic Quarter is one of the most iconic places in Barcelona, and generally, it's free to explore as long as you don't stop and any of the trendy bars to try some tapas and beer.
Don't miss Catedral de Barcelona, the magnificent Gothic Cathedral. There are some scheduled times when you can enter for free to pray and worship, you just need to check beforehand not to miss them. But it's also really beautiful from the outside, so don't be sad if you don't get in.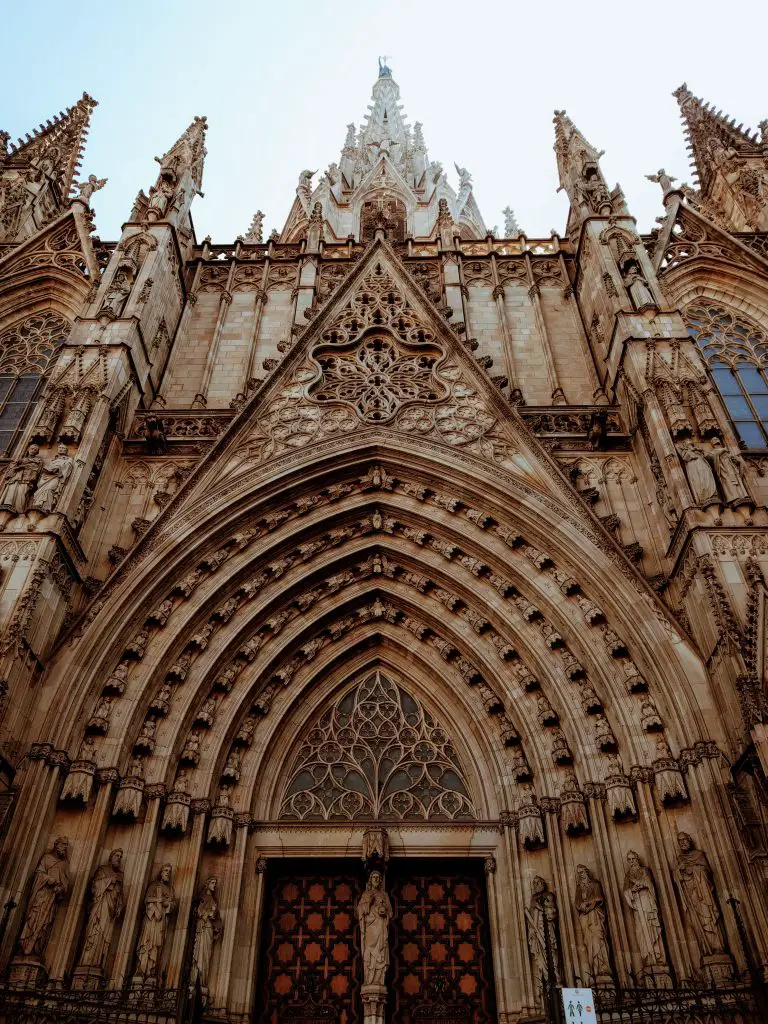 See La Rambla
La Rambla is the most famous pedestrian street in Barcelona and you shouldn't miss it. It's just 1.2 km long, but it boasts some nice architecture, great restaurants, street performers, and souvenirs.
This is definitely one of the must-see places in Barcelona. But, as it's on every visitor's list of the things to do in Barcelona, the street can get really crowded. So don't plan to have a peaceful stroll there otherwise you might get disappointed. It's better to treat it as a thing to see before you move on to the Gothic Quarter and other less crowded and more enjoyable places.
Get off the beaten path
Barcelona is a really beautiful city and not all of its exquisite houses and parks are found in the top-things-to-see lists and listed in Barcelona travel tips.
If you have time, you can just walk around in the city center and discover some nice squares, random buildings with great architecture, and small specialty shops hidden along the pedestrian zones on the streets.
Or you can find online a self-guided walking tour. This will give you an option to still see some of the most popular places while allowing you to discover some less-known ones.
Tipping in Barcelona
Tipping is totally optional in Barcelona and generally only practiced by tourists. You don't have to tip if you don't want to and it won't be considered rude. But if you are accustomed to giving tips, you can leave 5% for good service and 10% for an excellent one.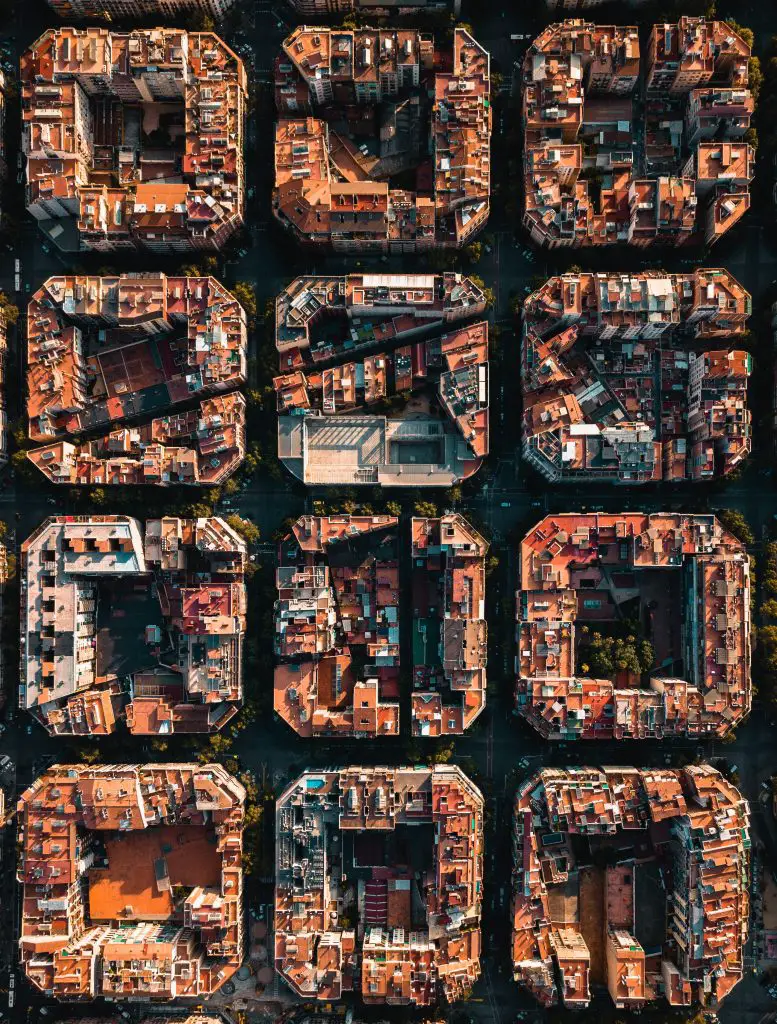 Beware of pickpockets
Pickpockets are one of the main problems for tourists in Barcelona city. The usual tips to avoid being pickpocketed are:
Don't carry a big amount of cash with you
Be careful with your camera, phone, and other expensive equipment. You can try carrying your backpack not on your back, but on your front instead
Choose a day bag designed for travel with some hidden pockets or pockets in protected locations where to put the most valuable things
When you sit down to eat in a street restaurant, don't put your bag somewhere on the ground or out of sight. Preferably put the bag in a free chair next to you
Adjust your dining schedule
It might be surprising for tourists, but dinnertime is quite late in Spain. The locals rarely arrive in restaurants for dinner earlier than 9 pm. Calculate your meals in a way that allows a later dinner and includes some time for a walk afterward to let the food settle before bedtime.
And if you feel hungry between the late mealtimes in Barcelona, feel free to visit a tapas bar to get a quick appetizer. It's acceptable to eat tapas throughout the day as snacks, and that is a great way how you can adjust to eating the main meals so late.