Some of the links in this post are affiliate links. This means if you click on the link and purchase the item, I will receive an affiliate commission at no extra cost to you. All opinions remain my own.
Costa Brava in Spain has captured my interest with its wild beauty, rocky cliffs, and dreamy villages. If you are traveling to Barcelona, I'd suggest having a day-trip or two to soak in the beautiful views of Costa Brava. There are several other possibilities for day-trips from Barcelona, such as exploration of Roman ruins in Tarragona, enjoying Game of Thrones locations in Girona or hiking in the Montserrat mountain range. From all of these experiences, Costa Brava hike is a bit less known among the tourists, so you might even evade the crowds here.
During my week-long stay in Spain, I managed to go hiking on Costa Brava twice. The first time was spectacular, and a bit of a learning experience. For the second time, I was a bit wiser in planning.
I knew that I want to see breathtaking views without the effort of walking through paths near villages without any views. From the first hike on Costa Brava, I had learned that it is wise to start going on a Cami de Ronda path from any city and go as long as there are beautiful views. But when the path turns away from the sea, the amazing views are gone. That is the time when it is wise to go back to the car and continue to another city or village and repeat.
Hike Costa Brava – Cami de Ronda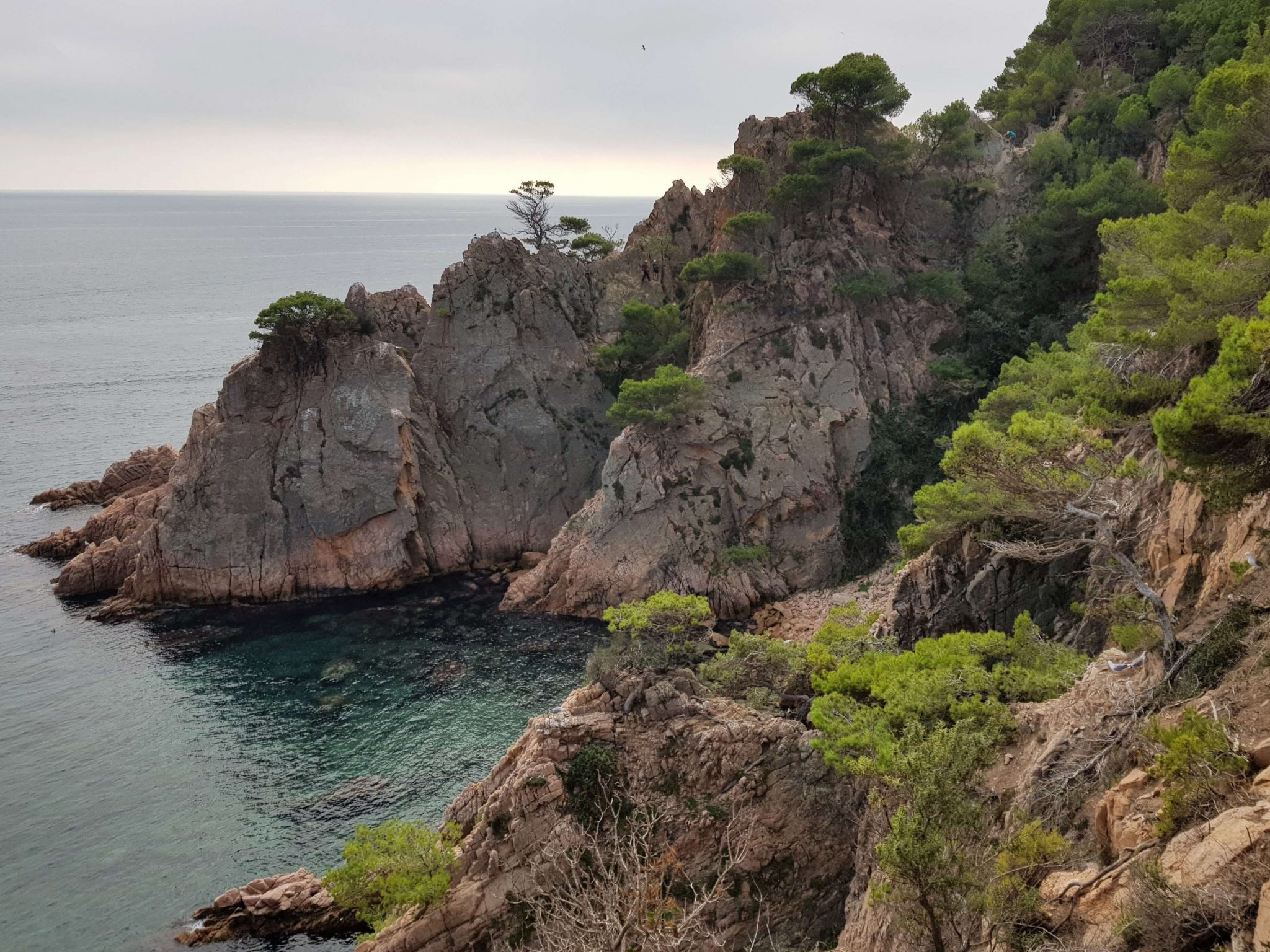 Cami de Ronda is the Costa Brava Coastal Path route which leads all the way from Blanes to Portbou covering 230 kilometers. It was used by Guardia Civil control the coast and stop smuggling. Nowadays it has been developed as a hiking path. Some parts of it have been renewed and are great for tourists to catch the magnificent views, and some parts are a bit more rugged.
While looking on the internet for the best tips about hiking Costa Brava, I stumbled across the Otts World blog. There is a lot of useful and detailed information explained about the hikes, e.g. Top 5 Cami de Ronda day hikes in Costa Brava. It is possible to even download a book to get a very detailed description of the whole hike of Cami de Ronda.
You can pick almost any village or city looking on the map from Barcelona to the border with France and you will find a path to hike and enjoy Costa Brava.
My plan for the day trip was to go to Sant Feliu de Guíxols and find a hiking path there. After exploring that path, I wanted to do the same in a very small town close to Barcelona. And I enjoy the small roads on the coast, where on one side of the road there is a high mountain and on the other side there is a drop to the sea. A road exactly like that leads from Sant Feliu de Guíxols to Tossa de Mar, just along the sea with amazing views and thrilling turns.
Sant Feliu de Guíxols
Sant Feliu de Guíxols is a touristy town with a port. There is a beach, several hotels, and a monastery.  If you want to hike Costa Brava from this town, the path starts near the port. Just go along the sea and soon you will notice red-and-white stripe markings of the Cami de Ronda path. The path will lead up the mountain and offer a great view of Sant Feliu de Guíxols.
After a short walk, the path will start to lead down back closed to the sea. On some of the rocks closer to the sea, I spotted climbers – people were not just hiking Corta Brava wild rocks but trying to go around them. This looked exciting and a bit frightening at the same time, as the rocks and the sea were quite wild.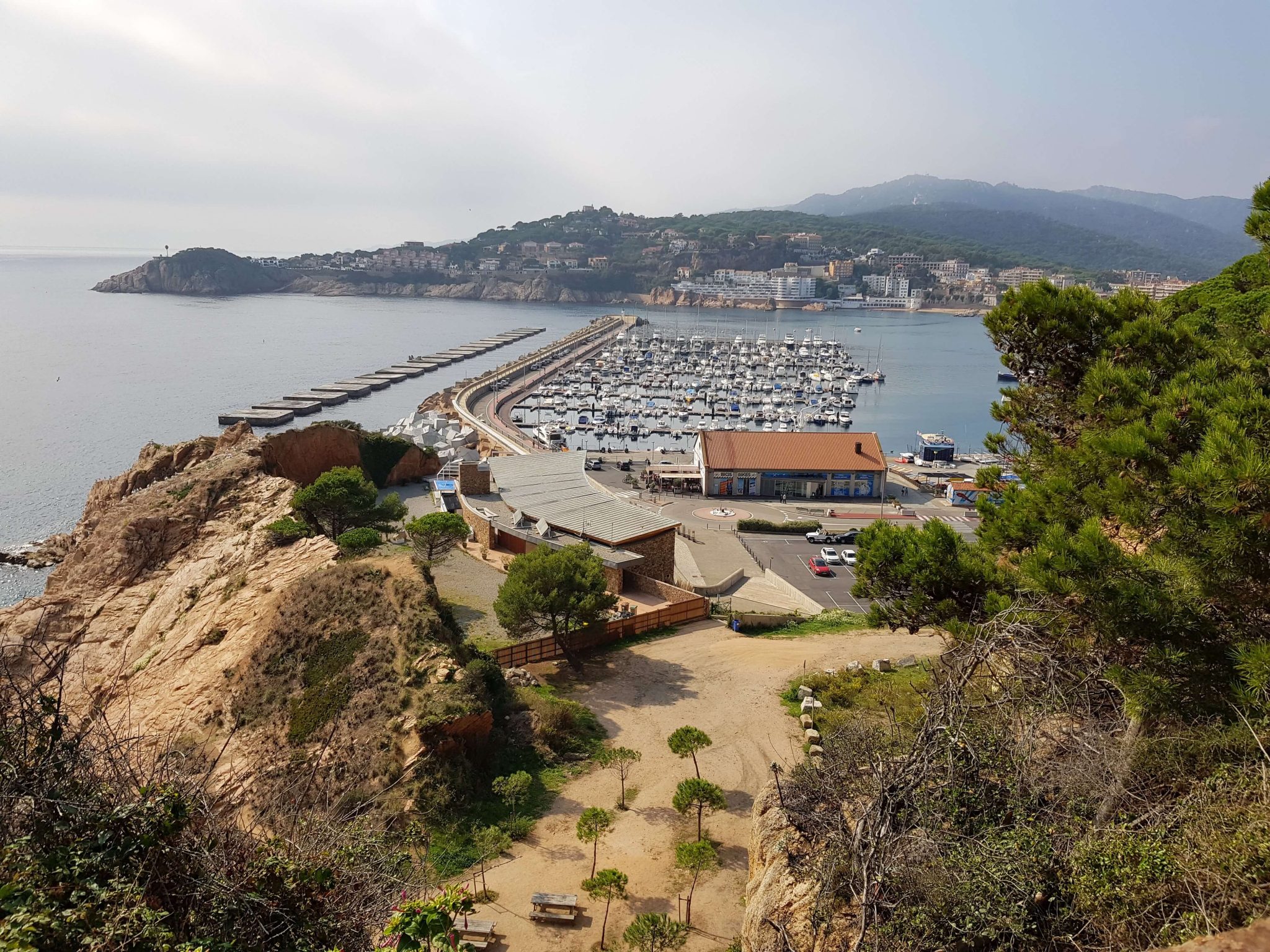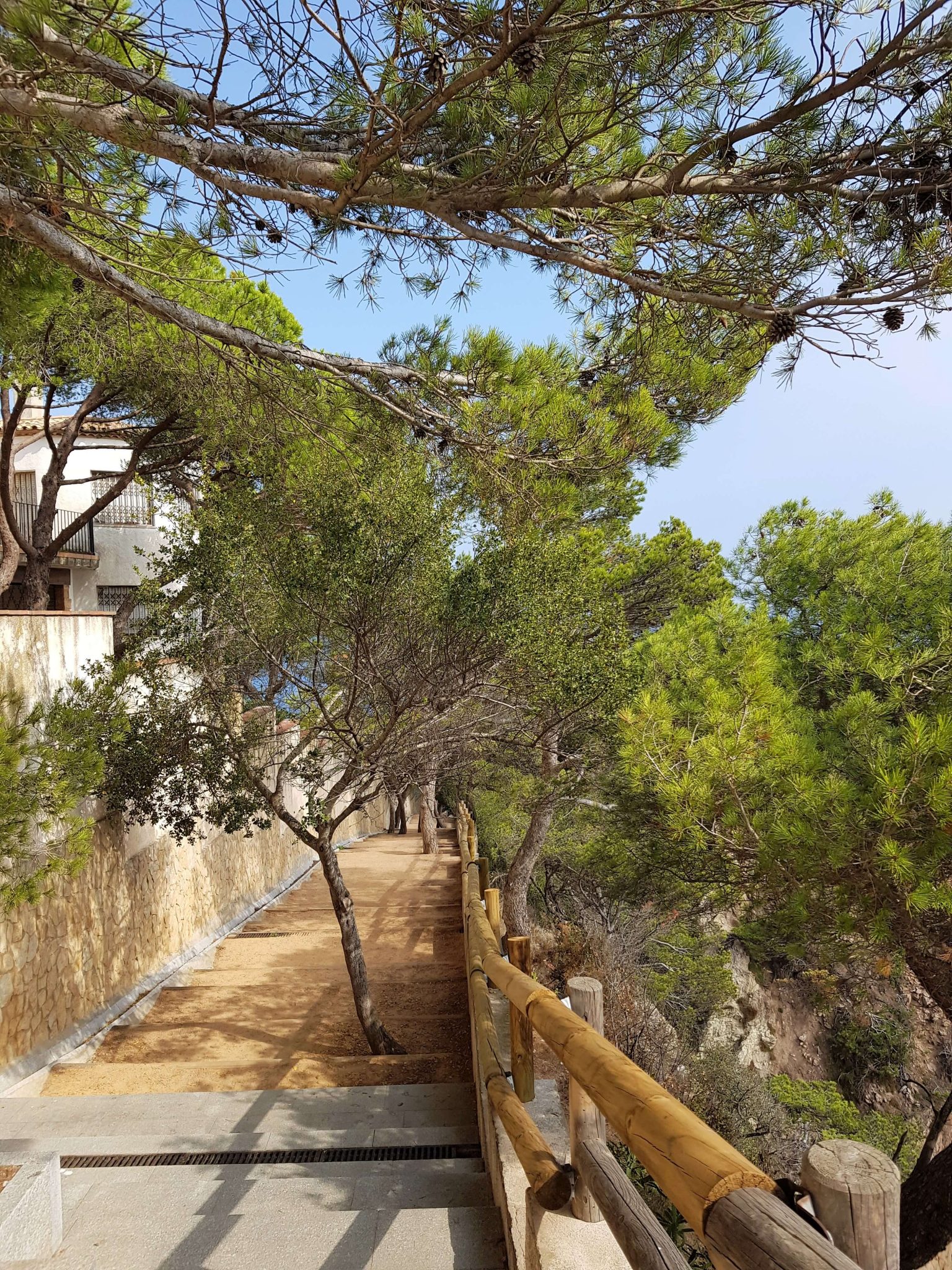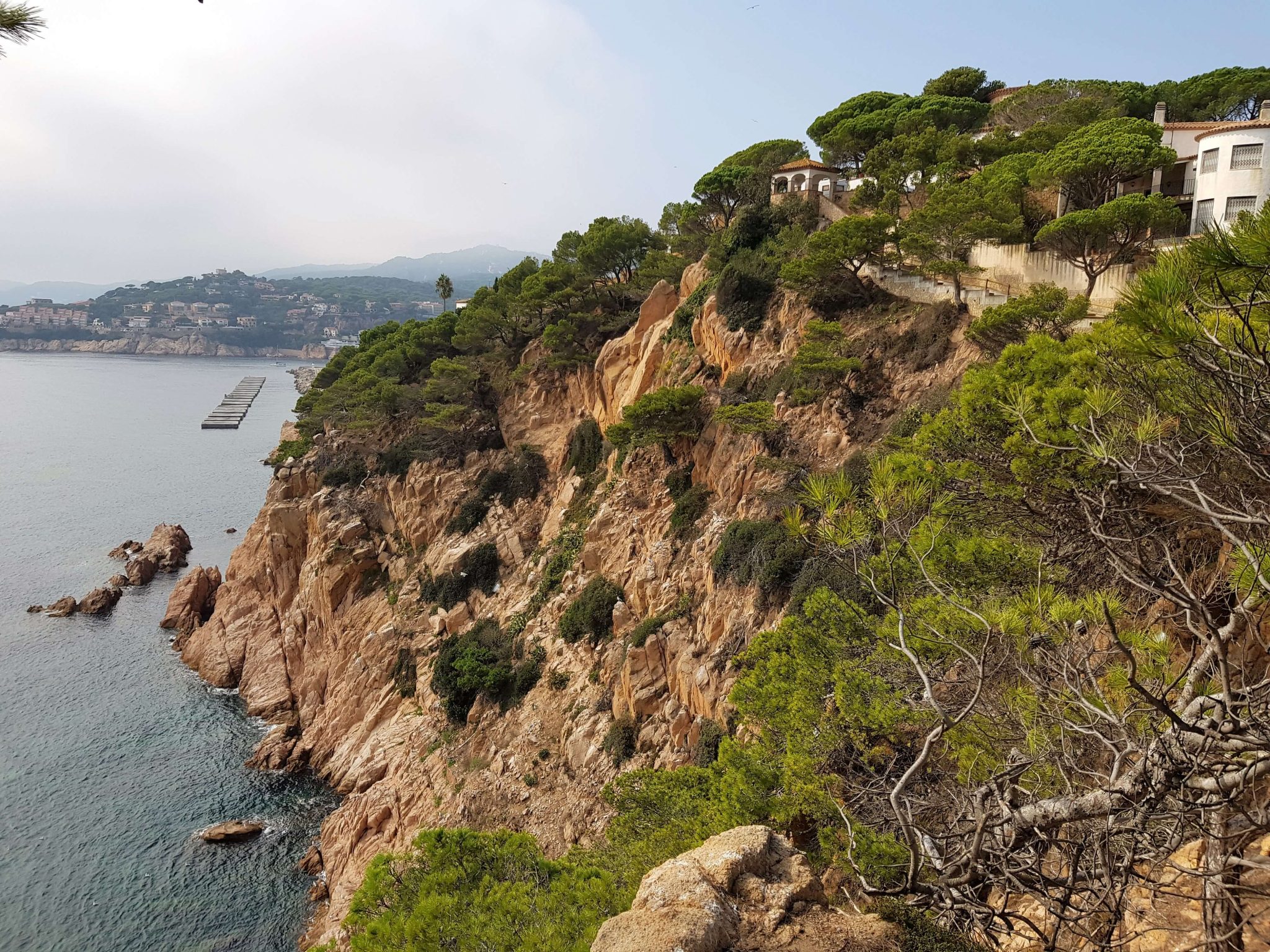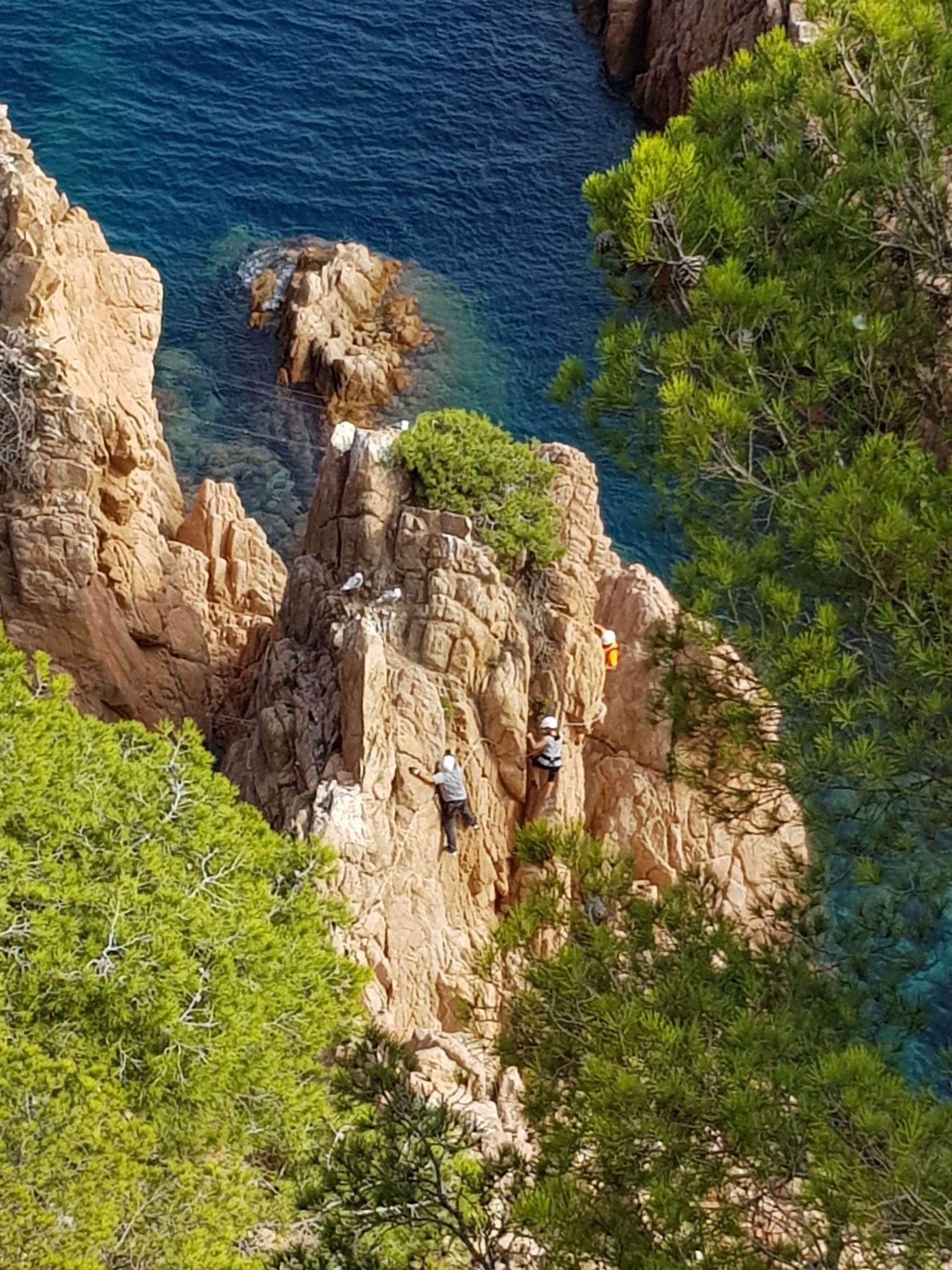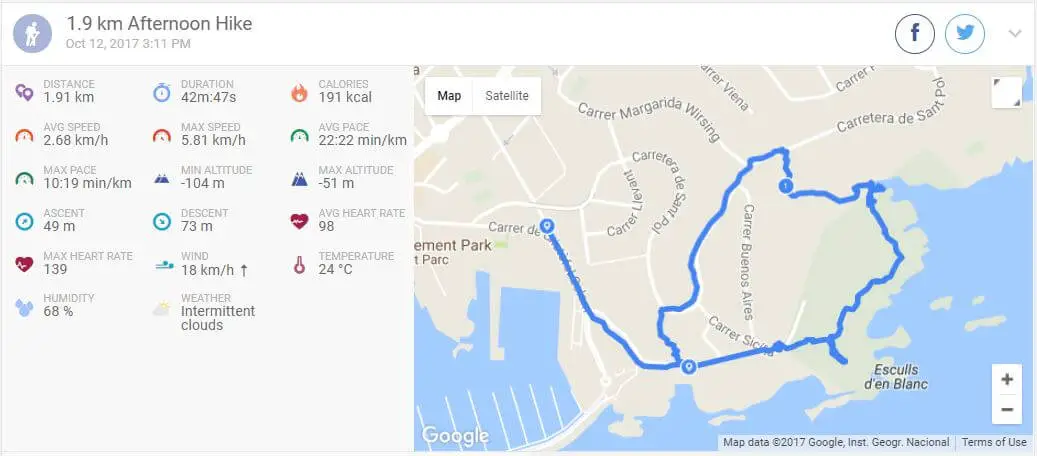 The hike of the beautiful coast near Sant Feliu de Guíxols can be around 2 kilometers long if you want to see the highlights of Costa Brava without going for a full day hike.
Canyet de Mar
A little bit closer to Barcelona, there is Canyet de Mar town. Near Restaurant Rosamar, there is an adorable beach. In the pictures below you will see a pathway put together from small stones. The path goes around a small cliff nearer to the town and then leads further away until it ends in the sea.
The town was dreamy quiet in October. The weather was warm, and the colors of Costa Brava were quite dramatic. I really suggest visiting this place, as it is something different from the touristy cities which consist mainly of hotels.
The hike here is not a long one as well, but it is breathtaking nevertheless.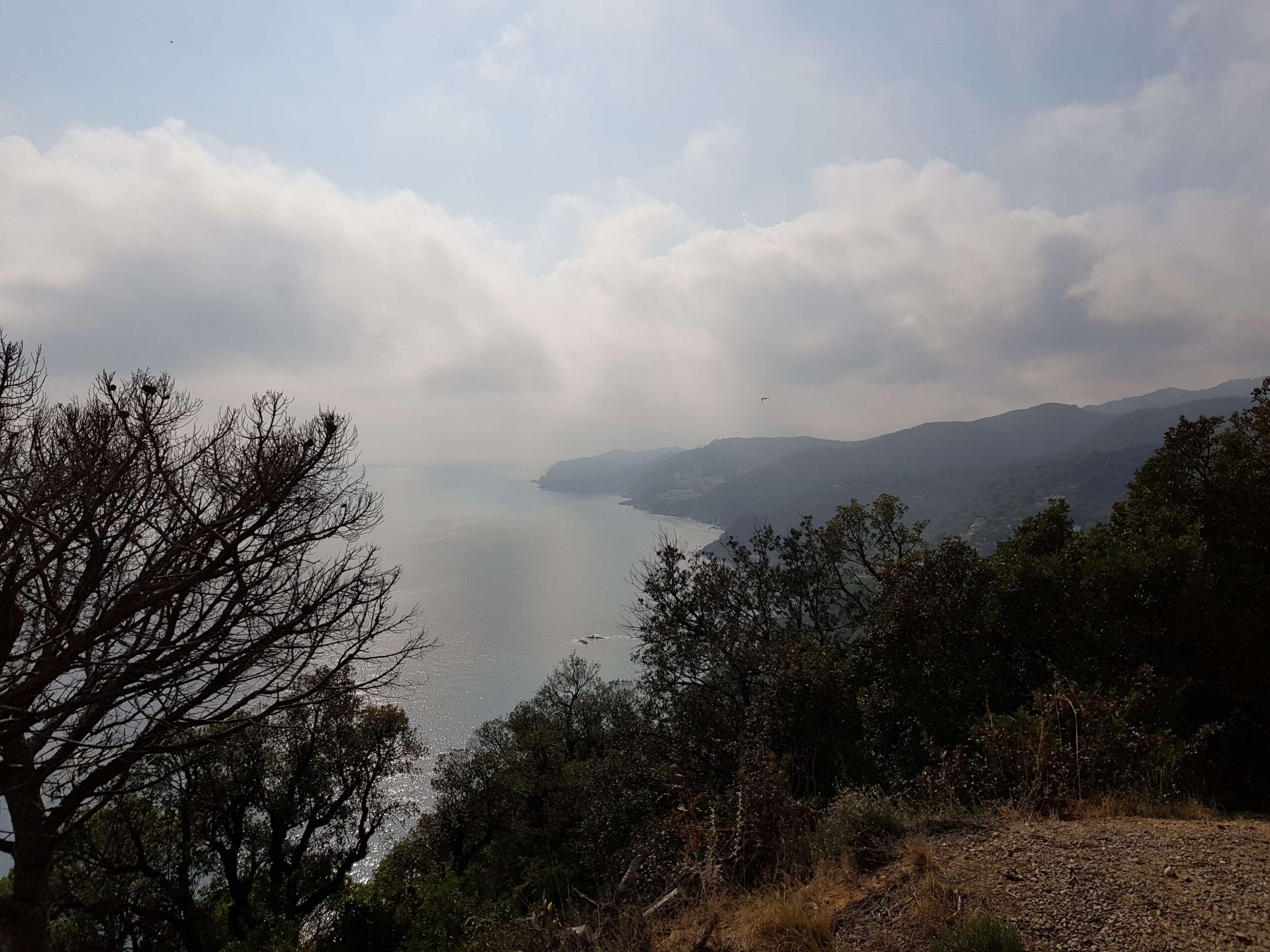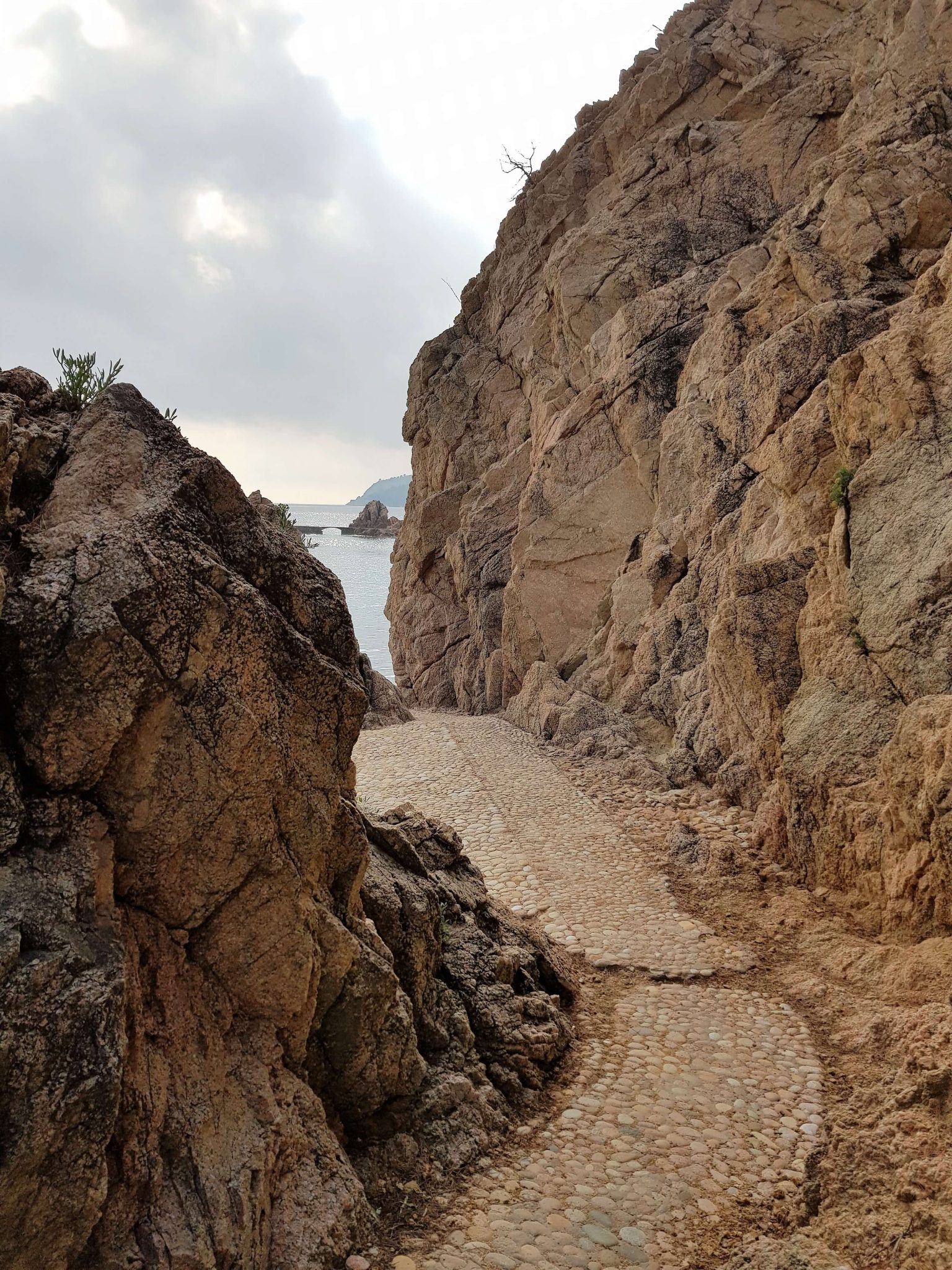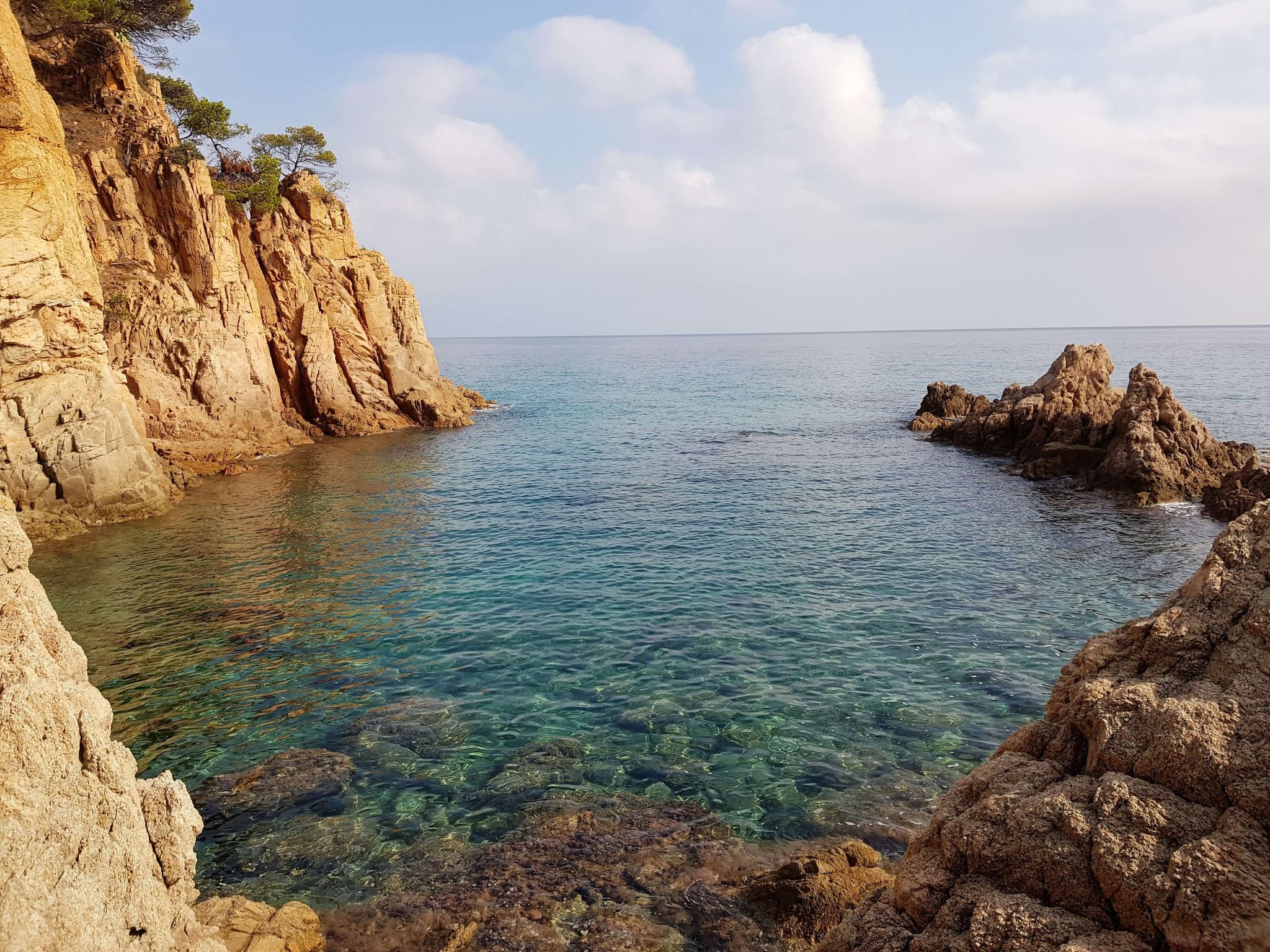 Road to Tossa de Mar
The road GI-682 challenged my driving skills, as it was turning all the time, and with each turn revealed more splendid views. If you are renting a car while staying near Barcelona, I'd suggest driving some of the mountain roads. This road was not very narrow, and it felt quite safe to drive while still getting the thrill of driving along mountains.
I turned away from this road at Tossa de Mar, which I had already explored previously.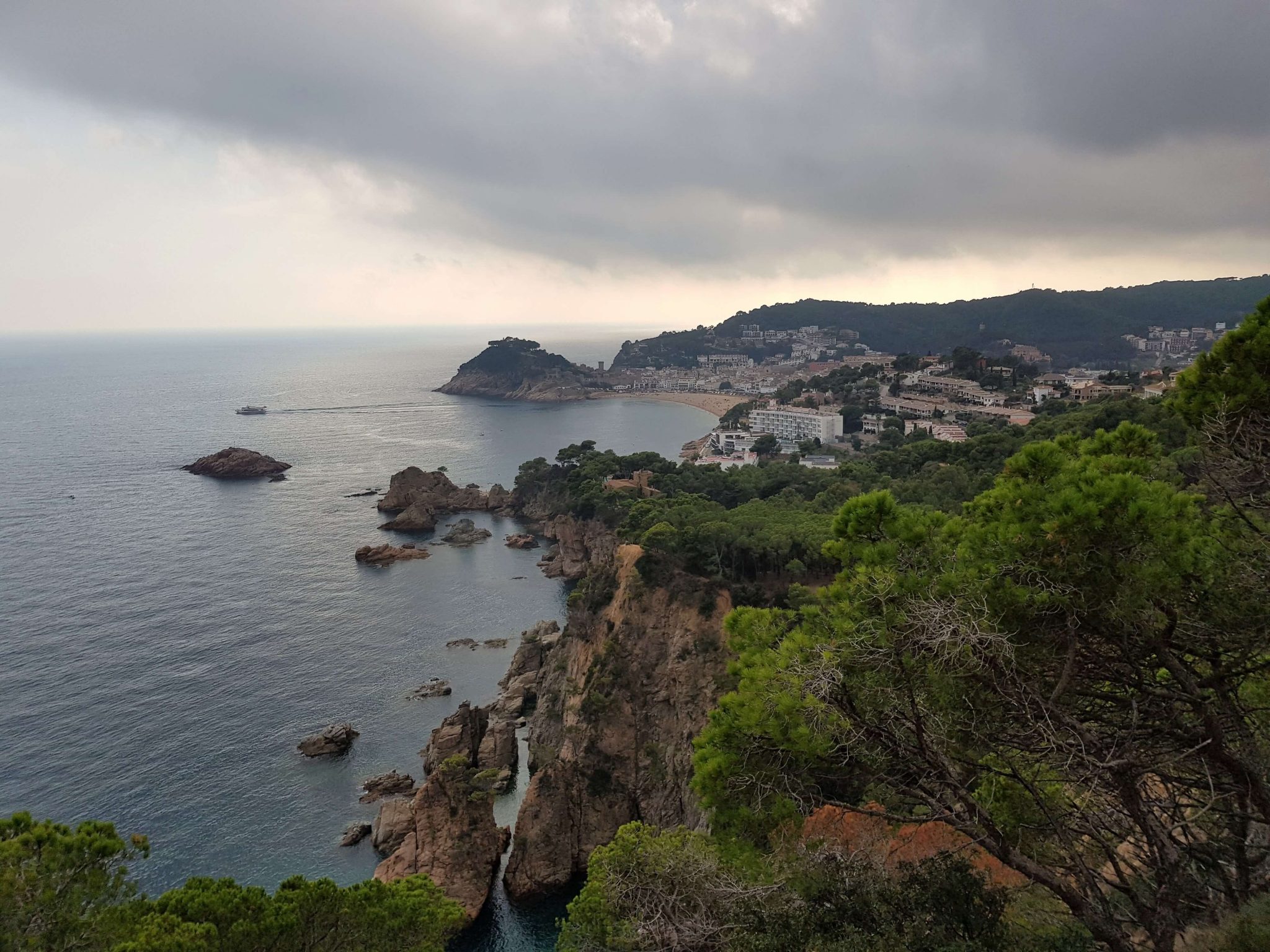 Top tours
If you prefer that someone else organizes the hike for you, check out these popular tours:
Your turn
Have you ever gone on a long hike? Or would you like shorter hikes?