Some of the links in this post are affiliate links. This means if you click on the link and purchase the item, I will receive an affiliate commission at no extra cost to you. All opinions remain my own.
Spring break is the perfect time to escape the cold weather and head to a warm and sunny destination. Mexico offers a wide range of options for those looking to relax on a beautiful sandy beach, explore ancient ruins, or experience the vibrant culture.
In this blog post, we will take a look at some of the best spring break destinations in Mexico.
From the party-centric hotspots of Cancun and Cabo San Lucas to the more laid-back and cultural destinations of Tulum and Mexico City, there is something for every type of traveler.
Whether you're a college student looking for a wild time or a family looking for a fun and educational vacation, these destinations are sure to provide an unforgettable spring break experience. So pack your bag for the best spring break!
Table of contents:
Cancun
Located on the Yucatan Peninsula, Cancun is known for its beautiful beaches and vibrant nightlife. It's one of the most popular Mexico spring break destinations for college students and young travelers looking to party and enjoy the warm weather.
With its crystal-clear waters and white-sand beaches, one look at this magical city will have you counting down as soon as possible.
There are so many unique activities just within reach of this paradise to make your stay memorable, from swimming with dolphins in a natural lagoon to exploring ancient ruins.
If you are looking for a 5* experience, check out Grand Oasis Cancún. With daily entertainment options and unlimited beverages included, you may never want to leave.
No matter what you choose, both your sense of adventure and your Instagram feed will thank you later. So go ahead and book those plane tickets – it's time to party in Cancun!
Playa del Carmen
Located just south of Cancun in the Riviera Maya, Playa del Carmen is a more laid-back and upscale alternative to Cancun. It's known for its beautiful beaches, shopping, and dining options.
This picturesque location features plenty of activities to keep your whole family entertained. When you're not lounging in one of Playa del Carmen's many luxurious hotels, we suggest taking an underwater diving tour or going full Rambo at Xplor Park, where you can both rappel and zip line through the incredible jungle terrain.
Whether you choose relaxation or adventure, there truly is something for everyone on a Mexico spring break trip to Playa del Carmen!
Cabo San Lucas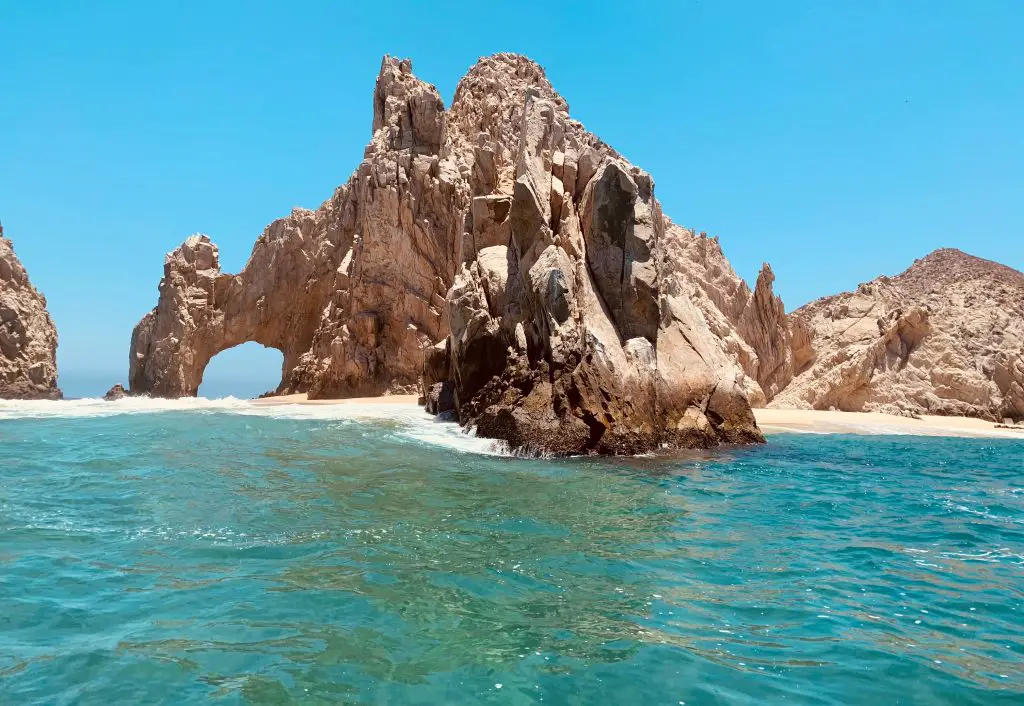 Located on the tip of the Baja California Peninsula, Cabo San Lucas is known for its beautiful beaches, world-class golf courses, and water sports.
If you're looking for a fun-filled spring break getaway, Cabo San Lucas is a great choice. With sunshine year-round and plenty of activities to keep you busy, it's an ideal destination.
You can explore the cobblestone streets of El Centro or relax on the serene white sand beaches along the Sea of Cortez.
If you're feeling adventurous, take part in one of the many water sports such as snorkeling.
If it's flying you're looking for, hop on the wildest zip line around that takes you through tropical jungles, up and over palm-tree-lined mountain ridges.
Of course, no visit to Cabo San Lucas would be complete without experiencing an epic sunset cruise at Lands End Rock – it'll be a night to remember!
Puerto Vallarta
Puerto Vallarta is absolutely worth visiting this spring break. Located on the west coast of Mexico, Puerto Vallarta offers sun-filled days and tranquil nights in a vibrant town with a unique fusion of old-world Mexican charm and modern energy.
For the adrenaline junky, one unique activity to look into while you're in town is parasailing off the coast, during which you'll have breathtaking views of tropical beaches and lush jungle settings.
For a more relaxed experience, opt for an incredible nighttime dinner cruise around Banderas Bay; it's perfect for couples looking for a romantic date or family members wanting to share the majestic beauty of Villarta together.
An adventure awaits at Puerto Vallarta this spring break!
Tulum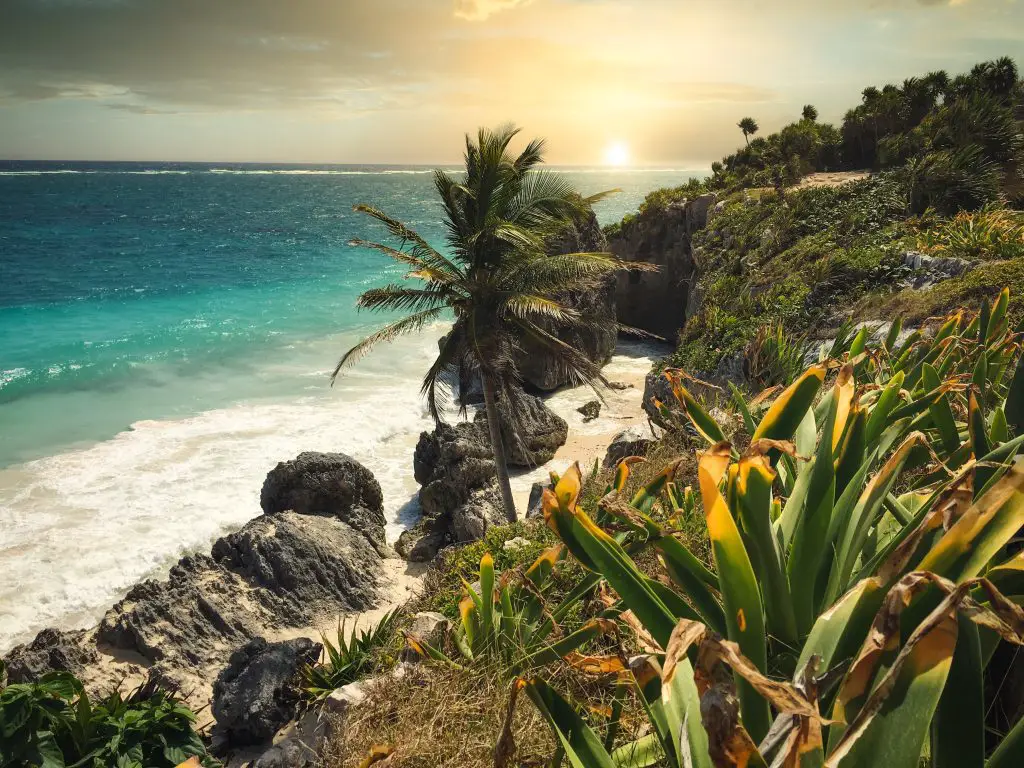 Looking to escape the winter blues? Tulum, Mexico, is the perfect destination to jazz up your spring break vacation!
Located on the Yucatan Peninsula, Tulum is a laid-back beach town with a bohemian vibe. It's known for its beautiful beaches, cenotes (natural swimming holes), and Mayan ruins. This picturesque Mexican town is booming with activities from sun up to sundown.
There are many things to do in Tulum to make your spring break unforgettable.
Enjoy a lazy day catching some rays on one of its many white sand beaches or browse during a stimulating tour of ancient Mayan ruins. Dine on freshly-caught seafood with a view at local eateries as you watch the spectacularly picturesque sunset fall over the Caribbean Sea.
As far as unique experiences go, we recommend exploring underwater rivers and cenotes near Tulum within the lush jungle for an unforgettable snorkeling experience where you might even get to swim alongside friendly sea turtles.
So pack your bags; this is one of the best Mexico spring break locations to enjoy!
Mexico City
Mexico City, also known as Ciudad de México, is the perfect destination for those looking to experience the rich culture and history of Mexico on their spring break. Known for its vibrant nightlife, delicious food, and impressive historical sites, there is no shortage of things to do and see in this bustling metropolis.
One of the top attractions in Mexico City is the historic center, also known as Centro Histórico. This area is home to many of the city's most famous landmarks, including the Zócalo, or main square, which is the largest plaza in Mexico. The square is surrounded by important buildings such as the National Palace, which houses murals by Diego Rivera and is open to the public. The Metropolitan Cathedral and the Templo Mayor, the main temple of the Aztecs, are also located in this area. It's also the best place to stay in Mexico City for first-time visitors.
For those looking for a more active spring break, Mexico City offers many opportunities for outdoor activities such as visiting Chapultepec Park, which is one of the largest city parks in the world. It is home to several museums, a castle, lakes, and many green areas to enjoy. The park also offers bike rentals and Segway tours, as well as the opportunity to row boats on the lake.
Foodies will love Mexico City for its delicious and diverse culinary scene. From street food to gourmet restaurants, there is something for every taste and budget. Some popular dishes to try include tacos al pastor, tamales, and mole. For a sweet treat, try some traditional Mexican sweets like churros or flan.
March also happens to be one of the best months to visit Mexico City for mild and dry weather.
Mexico City is a vibrant and exciting destination that offers something for everyone. With its rich culture, history, and delicious food, it is the perfect place to spend spring break.
Cozumel
Cozumel is a beautiful and diverse island that is a popular spring break destination for both families and party-goers.
For those who are looking for a more family-friendly experience, Cozumel offers many activities to keep everyone entertained. One popular attraction is Chankanaab Beach Adventure Park, where visitors can swim with dolphins, snorkel, and enjoy the beautiful beach.
Another must-see for families is the Cozumel Island Museum, where you can learn about the history and culture of the island.
For those who are looking for a lunch spot with the best view, Coconuts Beach Club is a popular bar and restaurant with live music and a lively atmosphere.
Please keep in mind that Cozumel is a family-friendly destination. Visitors should respect local customs and be mindful of other travelers and families.
Isla Holbox
Isla Holbox is a small and peaceful island located off the coast of Mexico's Yucatan Peninsula, making it a popular destination for those looking to escape the hustle and bustle of city life. This island is known for its stunning beaches, vibrant wildlife, and laid-back atmosphere, making it a perfect destination for both families and solo travelers.
For families, Isla Holbox offers a variety of activities to keep everyone entertained. One popular attraction is bird watching on the island. Visitors can see a variety of bird species, including flamingos.
The island is also known for its stunning beaches, such as Playa Punta Cocos, where families can relax, swim, and soak up the sun. Another popular activity for families is fishing, where you can rent a boat and try your hand at catching big tarpon, baby tarpon, snook, barracuda, cobia, or sea trout.
For those who are looking for a more adventurous experience, Isla Holbox also offers a variety of water sports, including kitesurfing, kayaking, and stand-up paddleboarding.
At night, Isla Holbox is a peaceful and relaxed destination, with a few small bars and restaurants where visitors can enjoy a drink and some local cuisine.
In conclusion, Isla Holbox is one of the best Mexico spring break spots for those looking for a peaceful and laid-back experience.
Rocky Point (Puerto Escondido)
Rocky Point, also known as Puerto Escondido, is a popular spring break destination for those looking for a mix of adventure and relaxation. This Mexican city is known for its stunning beaches, vibrant nightlife, and unique cultural experiences.
For spring breakers who are looking for adventure, Rocky Point offers a variety of activities to keep you busy. One popular activity is ATV tours, where you can explore the surrounding desert and beaches. In addition, Rocky Point is a popular spot for water sports, including kitesurfing, wakeboarding, and kayaking.
For those who are looking for a more relaxed experience, the city's stunning beaches are a must-visit. Popular spots include Playa Coral and Playa Carrizalillo, where you can relax, swim, and soak up the sun.
At night, Rocky Point is a vibrant and lively destination, with a variety of bars and clubs to choose from. Visitors can enjoy live music, dance the night away, and sample the local cuisine at one of the many restaurants in the city.
---
Travel tips and tricks:
I highly recommend trying these tools for yourself – not only will you save money, but you'll also create memories that last a lifetime. Happy travels!
---