Some of the links in this post are affiliate links. This means if you click on the link and purchase the item, I will receive an affiliate commission at no extra cost to you. All opinions remain my own.
San Diego is a beautiful coastal city in southern California that offers a wide range of activities and attractions for families. From outdoor adventures to cultural experiences, there's something for everyone to enjoy.
The best part?
Many of these activities and attractions are completely free.
In this blog post, we'll be sharing a list of the top 8 free things to do in San Diego with your family. From visiting Balboa Park to taking a hike in Torrey Pines State Reserve, these suggestions are sure to provide a fun and memorable experience for all.
So pack your sunscreen, grab your loved ones, and get ready to explore all that San Diego has to offer.
Table of contents:
Have fun in Balboa Park
Recommended by Kim Swanson of Traveling Swansons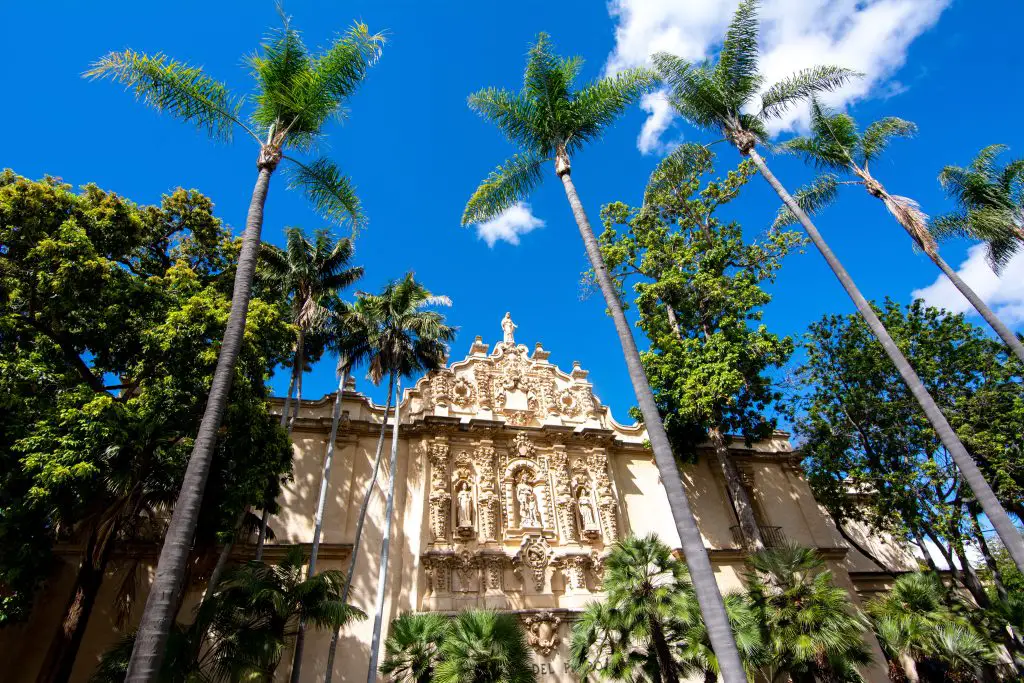 If you're looking for free things to do in San Diego with family, Balboa Park should be at the top of your list.
Balboa Park is one of the most popular places to go in San Diego.  It's a huge urban cultural park with museums, stunning gardens, and performing arts venues.  It's also the home of the world-famous San Diego Zoo.
While many things in Balboa Park cost money, there is still a good amount for families to do for free.
You can simply stroll through Balboa Park and enjoy all the stunning gardens and impressive architecture.  You must stop in front of one of the most photographed spots in San Diego, The Balboa Botanical Building, and take a photo.
Spanish Village Art Center is a fun area to walk around and enjoy the colorful courtyard and unique art.
Those with younger kids will enjoy the playgrounds Balboa Park has to offer.  Pepper Grove Playground and the Sixth Avenue Playground will entertain the kids with swings, slides, and climbing structures.  There are also many picnic tables to enjoy a relaxing family picnic.
While walking around Balboa Park, you might also catch some live music or even a magician. 
For art lovers, admission to Timken Museum is always free.  Also, the San Diego Museum of Art has installed a variety of sculptures outside the museum called Art of the Open Air that you can enjoy for free.
Experience the historic Gaslamp Quarter
Recommended by Rasika of Bae Area and Beyond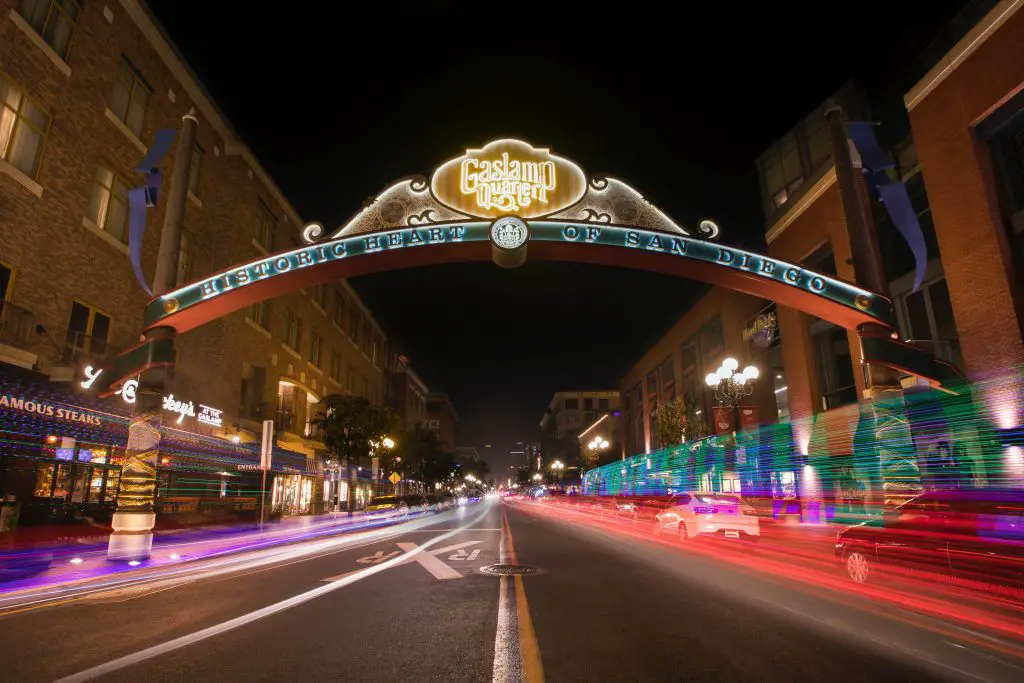 San Diego's historic Gaslamp Quarter is a unique experience that won't cost your family anything! Make sure to add it to your San Diego itinerary.
With its rich history, lively shops & restaurants, unique art galleries, and stunning buildings, this iconic 19th-century neighborhood offers something for everyone.
Located in the heart of downtown San Diego, the area has been designated as a Historic District by the National Register of Historic Places since 1980. With its Victorian-style buildings, it's easy to see why this neighborhood is one of the most popular tourist destinations in San Diego.
Grab some ice cream at Ghirardelli Ice Cream & Chocolate Shop or get some candy-themed accessories at It'Sugar. Choose some San Diego souvenirs at The San Diego Shop.
Springtime is an especially great time to visit the Gaslamp Quarter, as it's when the weather starts to warm up. San Diego streets are lined with blooming flowers and you can enjoy the warmer temperatures while exploring the area.
Another good time to visit is during the summer months when there are plenty of outdoor activities, festivals, and summer events including the weekly Gaslamp Artisan Market. From live music to delicious places to eat, there's something for everyone in the Gaslamp Quarter during this time of the year.
See the sea lions and seals in La Jolla
Recommended by Brittany of Travel by Brit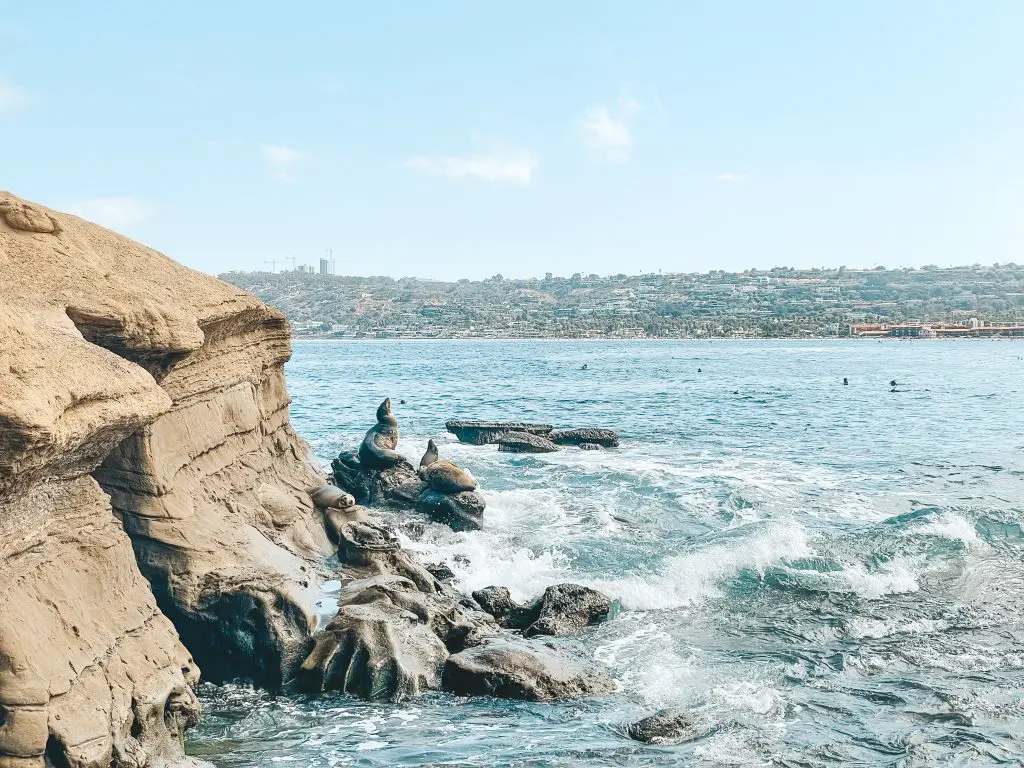 During your vacation to San Diego, spending one day in La Jolla is a must. La Jolla is a neighborhood just a short drive north of San Diego and offers plenty of free things to do, like shopping, hanging out at the beach, and, best of all — spotting seals and sea lions at La Jolla Cove!
La Jolla Cove is a free attraction in La Jolla, and typically, the cove is filled with seals and sea lions, especially if you visit during April and June. It's a great thing to do with kids of all ages! In addition to La Jolla Cove, you can see these adorable creatures at the Seven Sea Caves, Boomer Beach, Shell Beach, and the Children's Pool. They're most active in the morning and evening and typically dive into the ocean to search for food around noon.
If you want to see baby seals and sea lions or even witness a live birth, you should plan to visit in February. After saying "hello" to the sea lions, check out the La Jolla Tide Pools and go window shopping on Prospect Street — two other great things to do for free in La Jolla, before heading back to San Diego.
Hike in Torrey Pines State Natural Reserve
Recommended by Kristin of Global Travel Escapades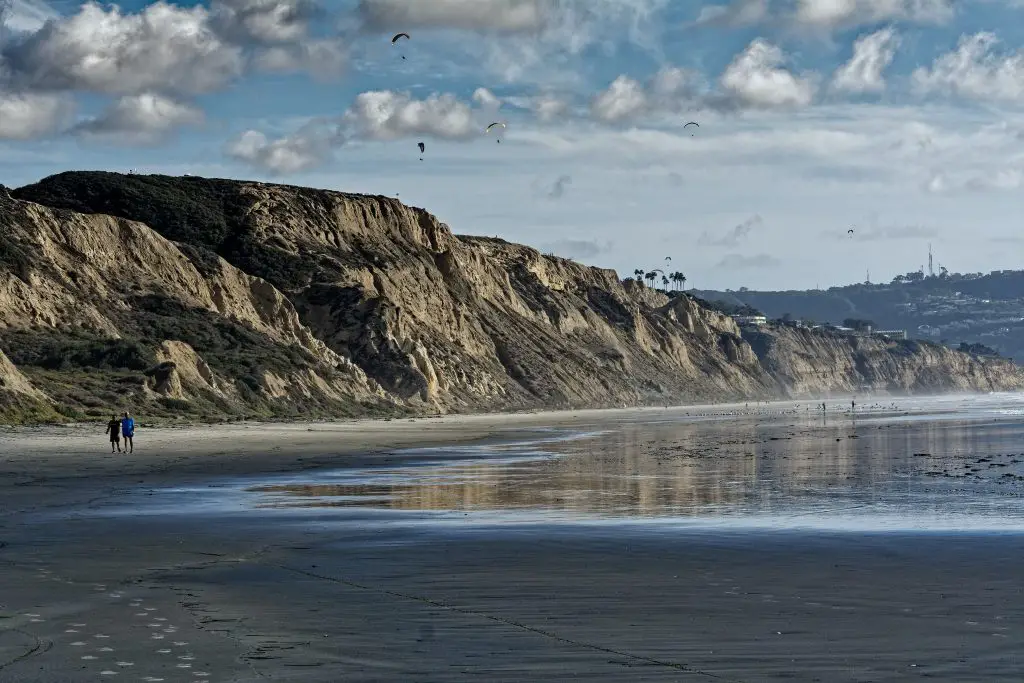 If you're staying in San Diego and able to make your way around the city to Torrey Pines State Natural Reserve, then a fun and free activity is to go hiking along one of the winding trails! At the park, you'll find a variety of trails that are less than 5 miles, and they all range from easy to moderate. Therefore, even young kids or those who aren't as fit can comfortably complete the hikes!
During your hike, you'll be able to take in stunning views of the ocean and enjoy the picturesque landscapes of wildflowers, cacti, and other native plants. It's a great way to experience San Diego's diverse landscapes without paying an entrance fee or purchasing tickets!
You'll also be able to escape the hustle and bustle of the city while taking in the fresh air and getting some exercise! And since the state natural reserve is open year-round to visitors and San Diego is fortunate enough to have pleasant weather nearly every day, anytime is a good time to hike at Torrey Pines!
All in all, hiking at Torrey Pines is a great way to experience the outdoors, enjoy quality time with loved ones, and save money!
Enjoy the marina
Recommended by Alanna of Periodic Adventures
One of the most laid-back, yet entertaining things you can do in San Diego with your family is walking along the marina. Located behind the big, swanky hotels is a free public walkway (called The Embarcadero) that spans from the Hilton Hotel on the southern end all the way to the SAN airport on the northern end of the coast.
It passes iconic spots like the USS Midway Museum and numerous parks and piers. You can easily watch boats move in and out of the harbors, which makes for a fun pastime, especially for kids! Not only that, but because it follows the coast, kids will love spotting birds flying overhead.
Check out the Tuna Harbor Dockside Market on Saturdays where vendors sell fish that have been locally caught.
If you need a food break, there are plenty of restaurants, quick service spots, and coffee shops along the way for you to peruse.
Luckily the weather in San Diego is great year-round, however, spring through fall is best for a long outdoor walk like this so it doesn't get too chilly, which can happen in the winter.
Whether you only have one day in San Diego or a whole weekend, you don't want to miss this beautiful and entertaining walk along the marina!
Visit Del Mar Beach
Recommended by Kristin of Global Travel Escapades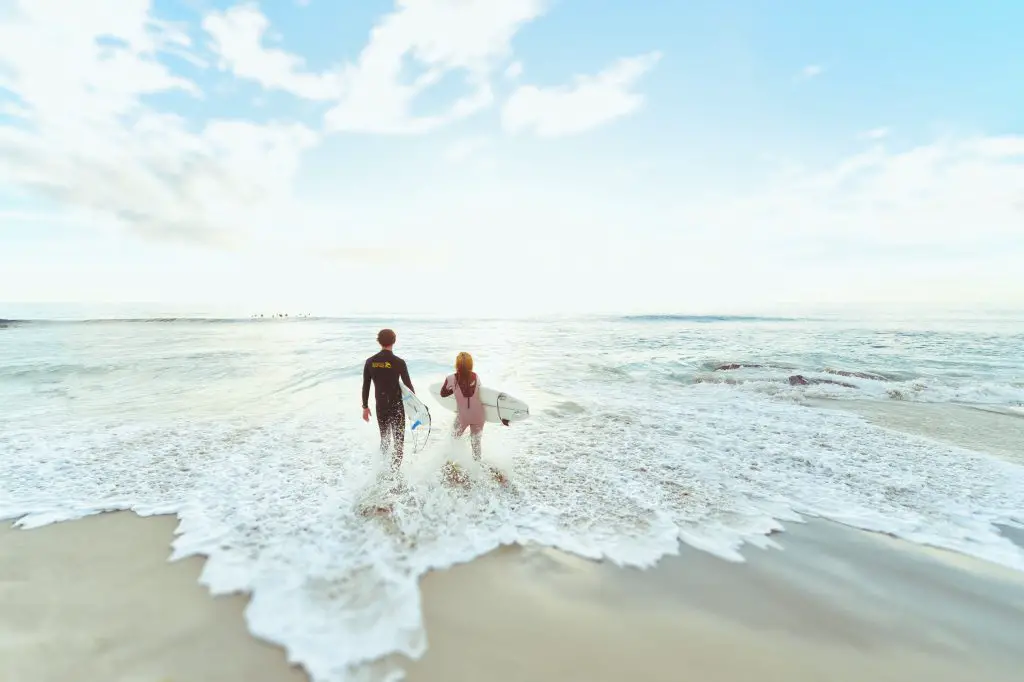 Another family-friendly and fun activity to do while in San Diego is to spend the day at Del Mar Beach. With its long stretch of sand and calm waves, it is one of the more popular beaches in San Diego, and a great location for a chill family day out!
For kids or parents looking to try surfing, the waves at Del Mar Beach are usually quite tame since it's a beach break, so it's perfect for those ready to begin their surfing journey. Plus, there are plenty of seasoned surfers in the area who are more often than not happy to give advice and tips.
Other amenities offered by the beach include Seagrove Park, a playground for kids to play in, and picnic tables to eat at. Though parking lot spaces are limited, visitors can find parking on the side streets with ease.
And if your family gets hungry or thirsty during the day, you'll discover that there are lots of tasty restaurants and boutique shops around the area to satisfy your cravings. All in all, if you're looking for a place to sit back and relax for a chill family day, head on over to Del Mar Beach!
Take a stroll through the Little Italy neighborhood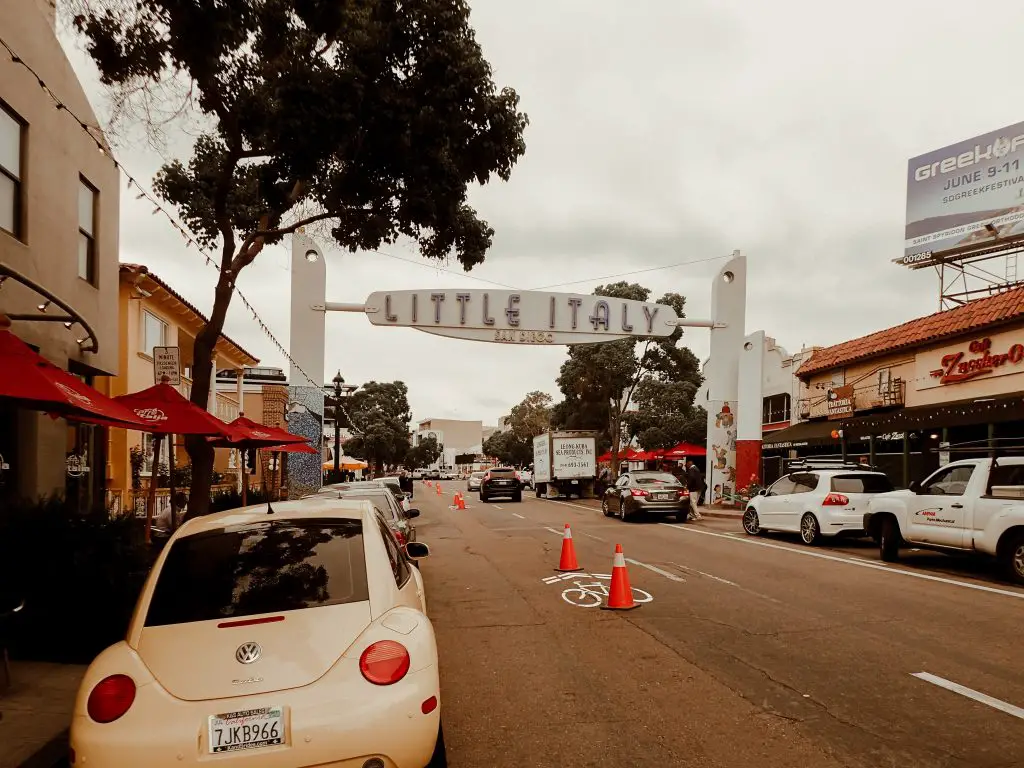 Little Italy is a charming neighborhood located in the heart of San Diego. It's a great place to take a stroll and explore the vibrant culture and history of the area. The neighborhood is known for its authentic Italian restaurants, cafes, and markets, as well as its colorful murals and street art.
The neighborhood has a few festivals and events throughout the year such as the Mission Federal Artwalk in spring.
One of the best things about Little Italy is the abundance of delicious Italian food. You can find everything from pizza and pasta to gelato and tiramisu. Many of the restaurants have outdoor seating areas where you can enjoy a meal while taking in the sights and sounds of the neighborhood. If you're looking for a quick bite, there are also plenty of food trucks and street vendors offering Italian-inspired dishes.
Little Italy is also home to several markets and shops where you can find unique Italian themed goods. The Farmers' Market on Saturdays is a popular destination, offering a wide variety of Italian meats, cheeses, and other specialty foods. You can also find wines, olive oils, and other gourmet products. Even if you don't plan to buy anything, it's fun to browse the unique products on the display.
Overall, taking a stroll through the Little Italy neighborhood is a must-do for any family visiting San Diego. The combination of delicious food, unique shopping, and vibrant art and architecture makes for a memorable and enjoyable experience.
Visit the Old Town San Diego State Historic Park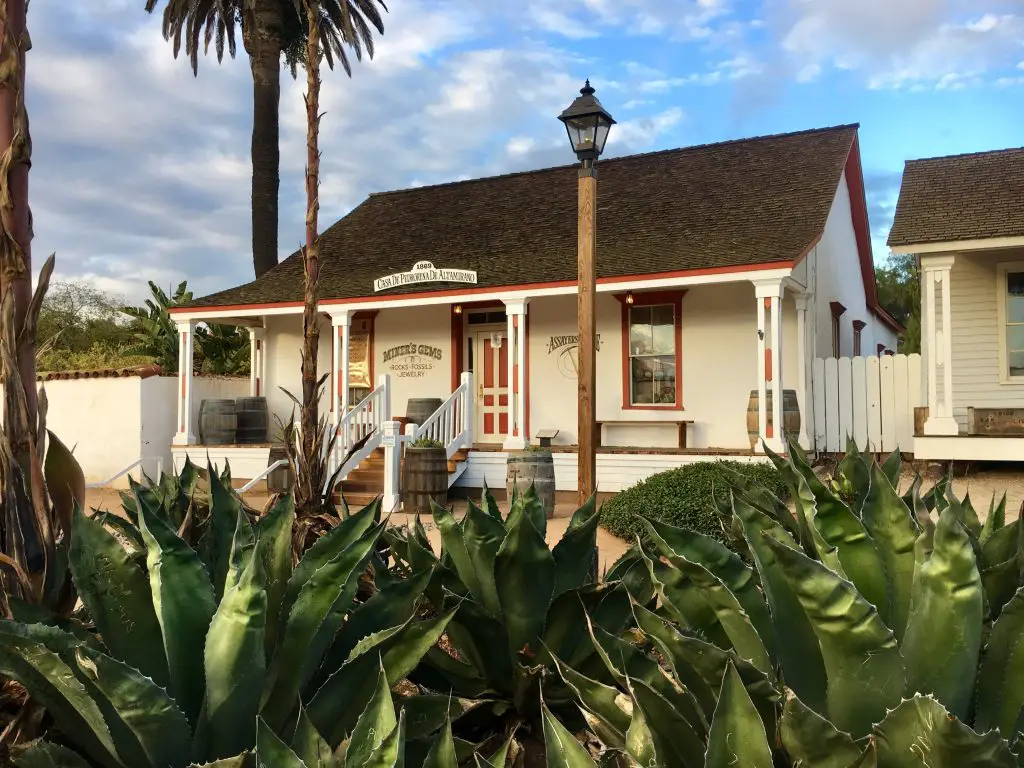 Old Town San Diego State Historic Park is a must-see destination for anyone interested in the history and culture of San Diego. The park covers a large area and includes several historic buildings, museums, and gardens that showcase the early days of the city.
There is no admission fee for Old Town San Diego State Historic Park, and even the parking is free.
One of the main attractions of the park are the free walking tours. Starting at the Robinson-Rose Visitor Center they happen almost daily. Be sure to sign up beforehand, as the spaces are limited.
The park has several historic buildings that have been restored and are open to the public. These include the La Casa de Estudillo, a beautiful Spanish-style adobe home built in 1827, and the Mason Street School, which was the first public school in San Diego. Visitors can take a tour of these buildings and learn about life in early San Diego.
Overall, Old Town San Diego State Historic Park is a great destination for families looking to learn more about the history of San Diego. With its historic buildings, museums, and gardens, it offers a unique and enjoyable experience for visitors of all ages.
---
---