Some of the links in this post are affiliate links. This means if you click on the link and purchase the item, I will receive an affiliate commission at no extra cost to you. All opinions remain my own.
Dunajec river runs through Pieniny Mountains and a part of it is a border between Poland and Slovakia. The scenic river gorge is a popular destination for many nature lovers as it offers a range of rafting, kayaking, and cycling options.
The river gorge is surrounded by mountains with limestone formations, cliffs, and forests. From the river, you can see the high summits of Trzy Korony (982 m) and Mt. Sokolica (747 m) which are a part of the Pieniny Range. The surrounding territory is a part of a protected national park with rare flora and fauna.
The Dunajec river rafting activities are available from April until October. It usually takes around two hours to pass through the gorge and some time to get back to the starting point depending on whether you use a shuttle bus or rent a bike.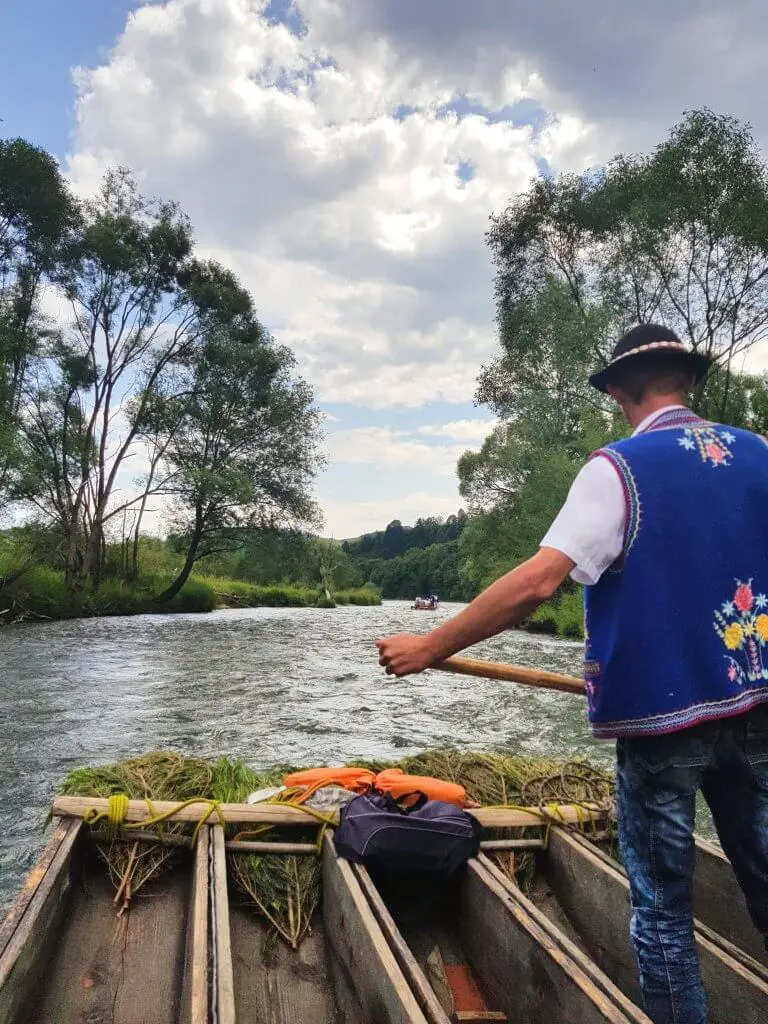 Dunajec river gorge trip from Zakopane
If you are staying near Zakopane, a rafting trip to Dunajec is a perfect way to spend a day after a long hike. It's because during the rafting activity you won't have to use your feet much.
If you are looking for a more scenic and relaxing way to spend a day, choose the wooden rafts. For those who seek more adventure rafting on pontoons or kayaks is available. If you are traveling with children it's probably better to choose the more active option as they might get bored by just sitting on a raft and looking at the scenery around them.
Personally, I like the wooden rafts better. Even though this is a tourist attraction the wooden rafts give a bit more authentic feeling. They are perfectly safe and have been used in this area for centuries to transport goods and people.
Usually, there are 12 seats in a raft and two boatmen – a foreman at the front and an assistant at the back of the raft. They are guiding the raft with long wooden poles which are jammed against the river bed. In some places, the river may be up to 18 meters deep.
My tip is to wait for the first people to get on the raft and to try to go on as the last. As the raft is filled with people starting from the last row, you'll get a front-row seat if you let others take their places first.
The Dunajec river rafting is around 2 hours long and covers a distance of 15-18 km depending on your starting point.
Dunajec is a quite calm river in this part as it is controlled by an upstream dam.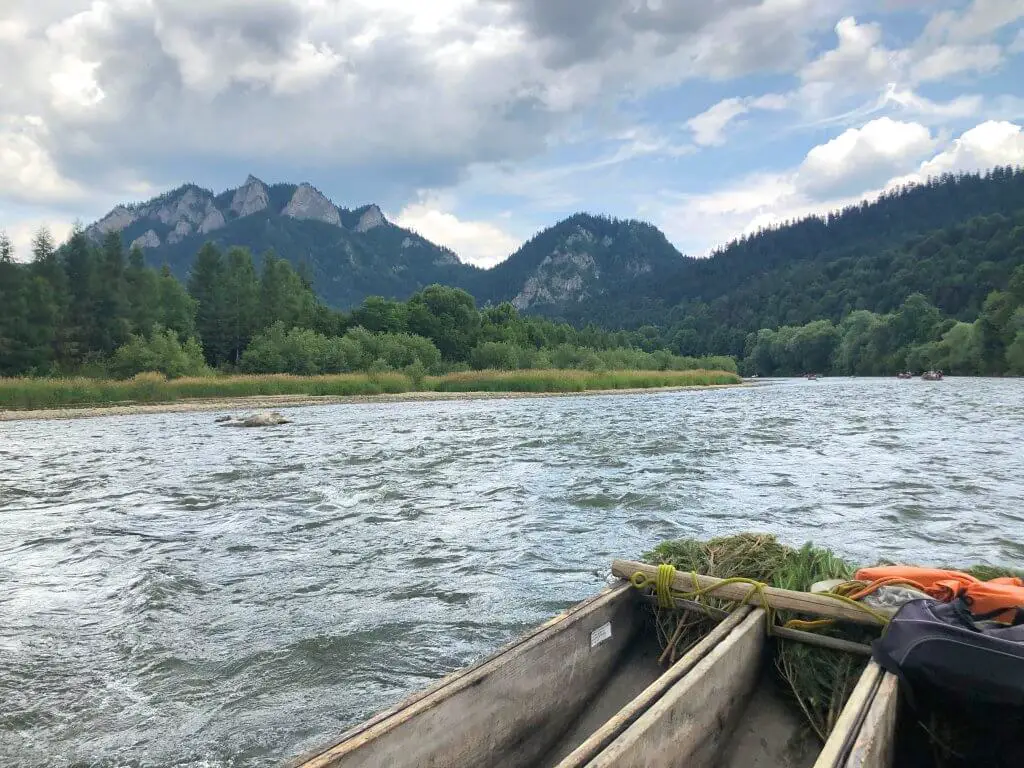 How to get to Dunajec river rafting
There are several guided tours available, however, it's also easy to go to the rafting activity in your own car. The rafting starting points are located around 50 km from Zakopane.
Along the way, you'll notice several businesses offering rafting activities near the starting point. The only thing to remember is that during the summer months there might be some queues.
There is also a difference in which starting point you choose.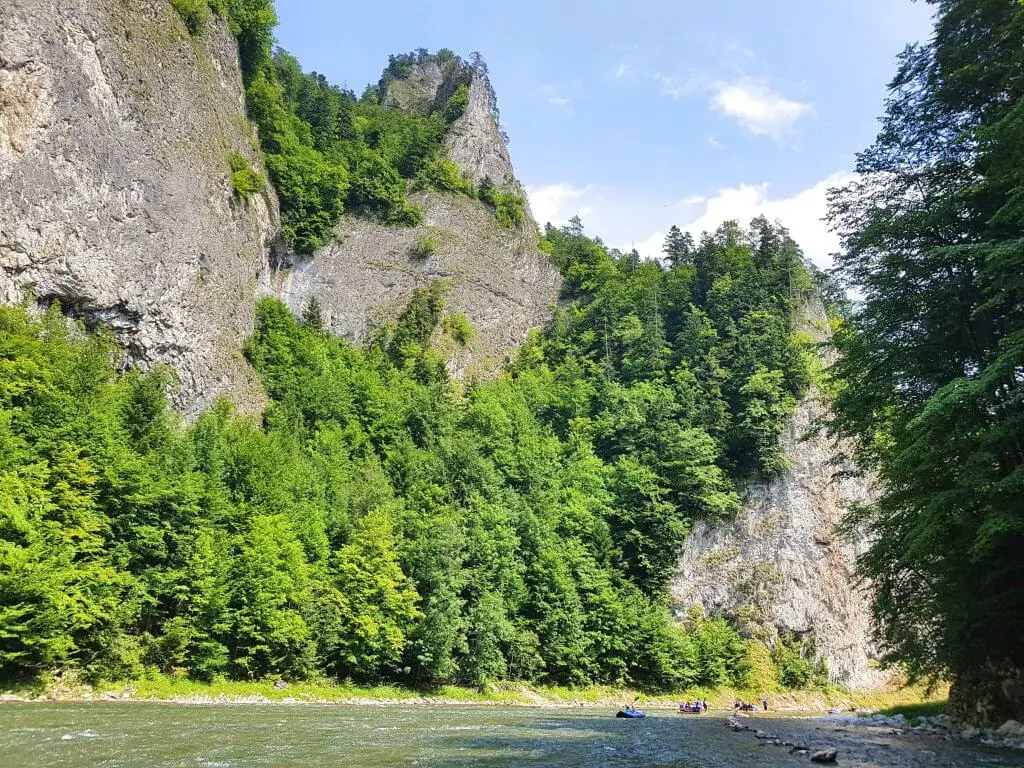 Polish side
From the Polish side, you'll get a bit longer rafting trip, as the distance between the starting point and the ending in Szczawnica is a bit longer. However, the only option to get back to your parked car at the starting point will be a bus (at least I didn't succeed in finding a bike rental and a good route back).
Here you can find the approximate costs of this adventure.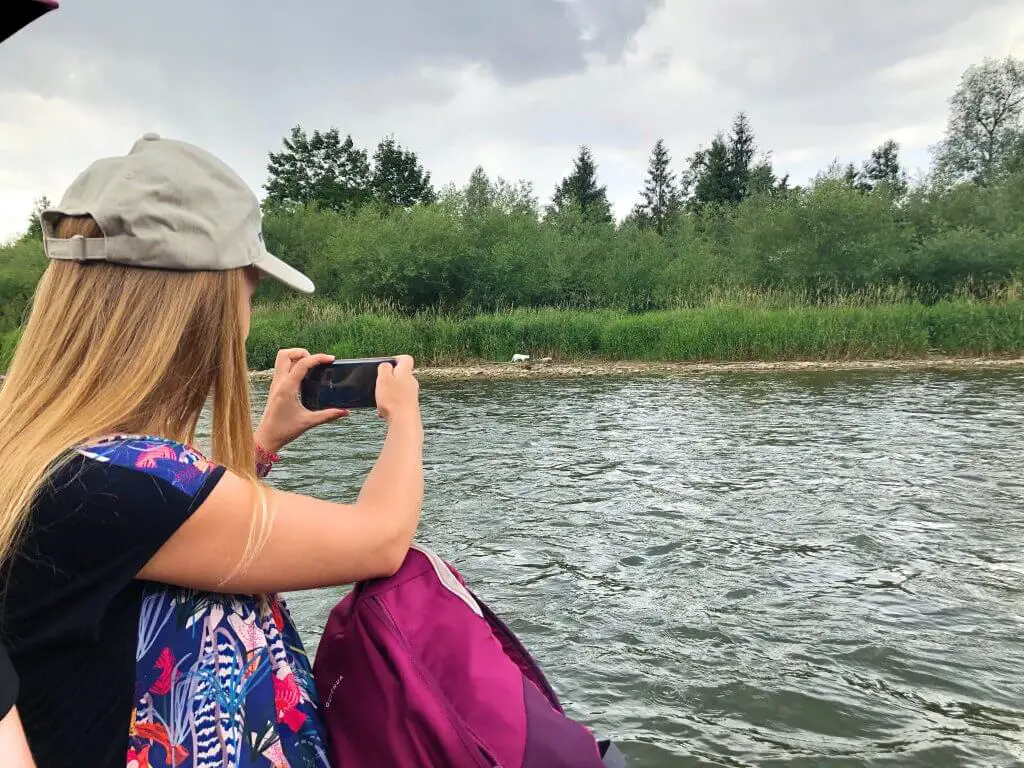 Slovakian side
From the Slovakian side, the rafting itself will be a bit shorter, but you won't miss much. The most interesting part of the route with the impressive cliffs surrounding the river is common on both sides.
The advantage of the Slovakian side is that you can get a bike at the rental and go all the way back by yourself. The terrain is really great as the cycling road is in good condition and there is not much change in elevation. This just extends the experience in the Pieniny Mountains a bit longer.
Here you can find the approximate costs of this adventure.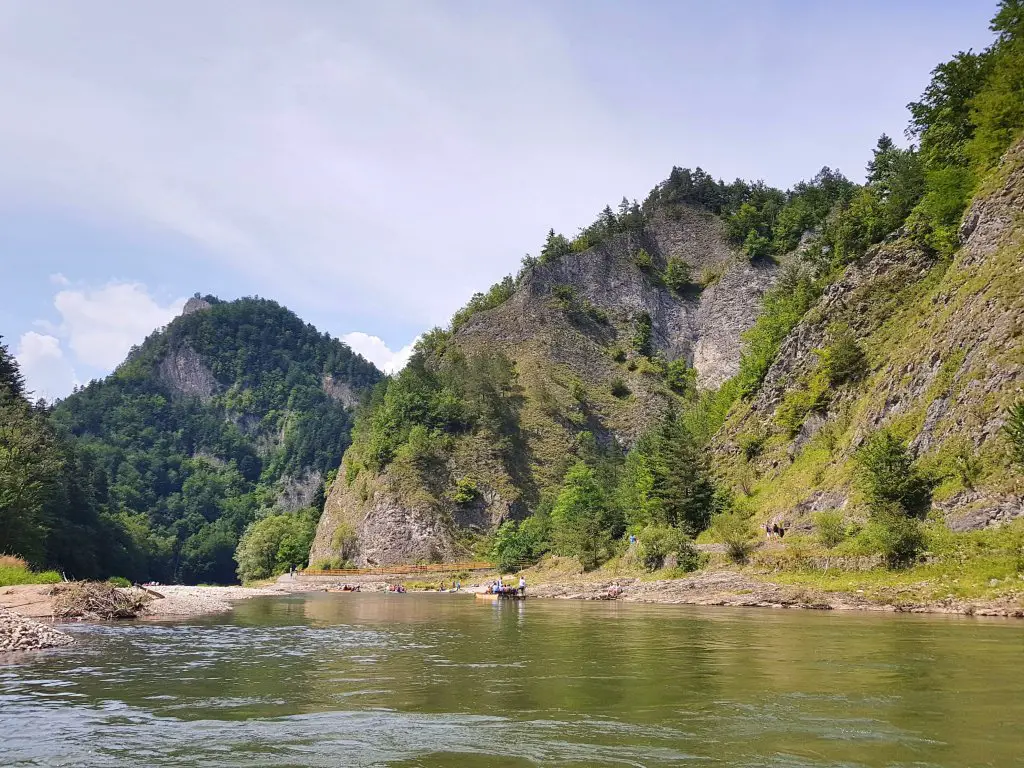 What to take with you
There are some things that you need to take with you when you go:
Sunscreen
Cap/scarf to protect yourself from the sun
Waterproof clothes or a change of clothes (raft is roofless so there is a chance to get wet in rain)
Drinking water
Some money for snacks, shuttle bus or bike rental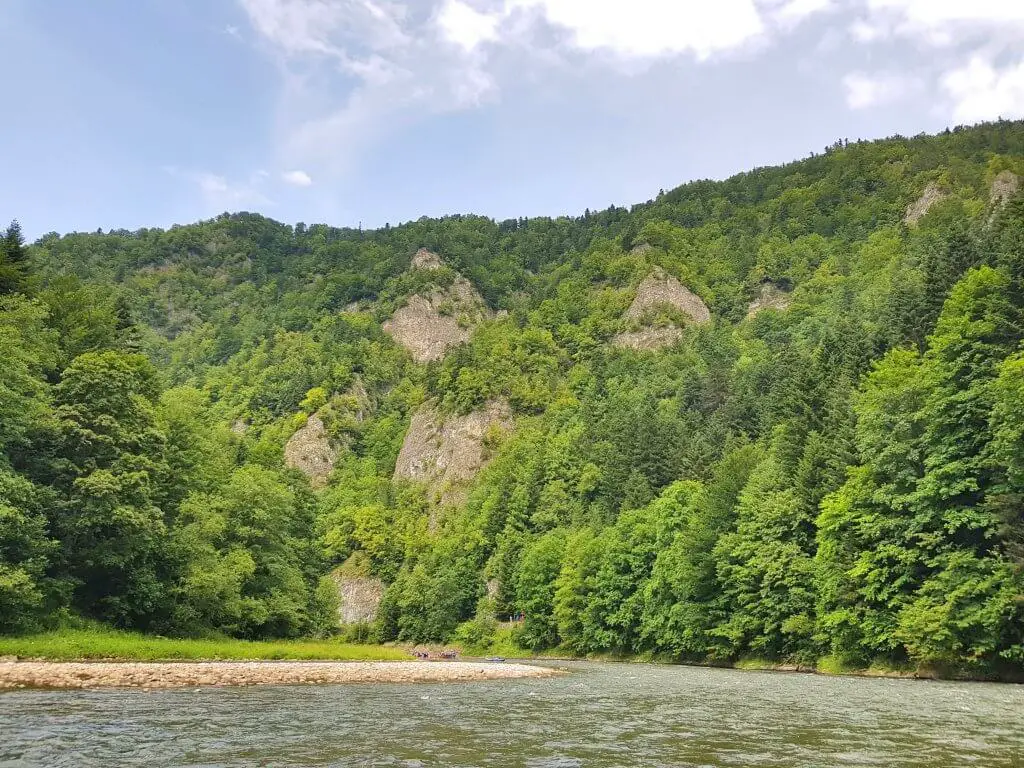 Where to stay in Zakopane
I stayed near Zakopane, but not exactly in the center of it. Our guest house Polakówka was quite cheap, but it had several bonuses:
It was clean and the rooms were nicely furnished;
There was a kitchen area with a pool table for common evenings with our friends;
It was quite close to Zakopane, but far enough that we didn't have to wait in the usual traffic jams to get out of Zakopane if we wanted to go to Dunajec rafting or Slovakia side of the mountains;
There was one big cat with two babies, which were the cutest!
Overall if you are traveling with friends I'd suggest taking a house like this outside of Zakopane itself (if you have a car) or checking out Airbnb's in the city center. If you use this link, you will get around a 20 Eur discount for your first stay (and I will get a few Eur as well, which is a win-win).
Other day trips from Zakopane
These are some other things I recommend seeing and doing during a vacation near Zakopane: