Some of the links in this post are affiliate links. This means if you click on the link and purchase the item, I will receive an affiliate commission at no extra cost to you. All opinions remain my own.
Nestled at the foot of the Tatra Mountains, Zakopane offers a diverse array of experiences from delightful mountain hikes to relaxing thermal spas, captivating historical sites, and local culinary delights.
The picturesque mountain resort town of Zakopane, Poland affectionately is known as the "Winter Capital of Poland". However, don't be fooled by its title – Zakopane is equally enchanting during the glorious summer months, boasting vibrant green landscapes, sun-drenched peaks, and a wealth of activities for the entire family to enjoy.
In this post, we'll explore the very best things to do in Zakopane with kids during the summer. Whether your family loves to explore nature, has a taste for adventure, or simply enjoys soaking in the local culture, there's something for everyone in this charming Polish town.
So, pack your sense of adventure and get ready to create unforgettable memories with your little ones as we journey through the scenic beauty and enchanting allure of Zakopane in summer!
Table of contents:
Krupówki Street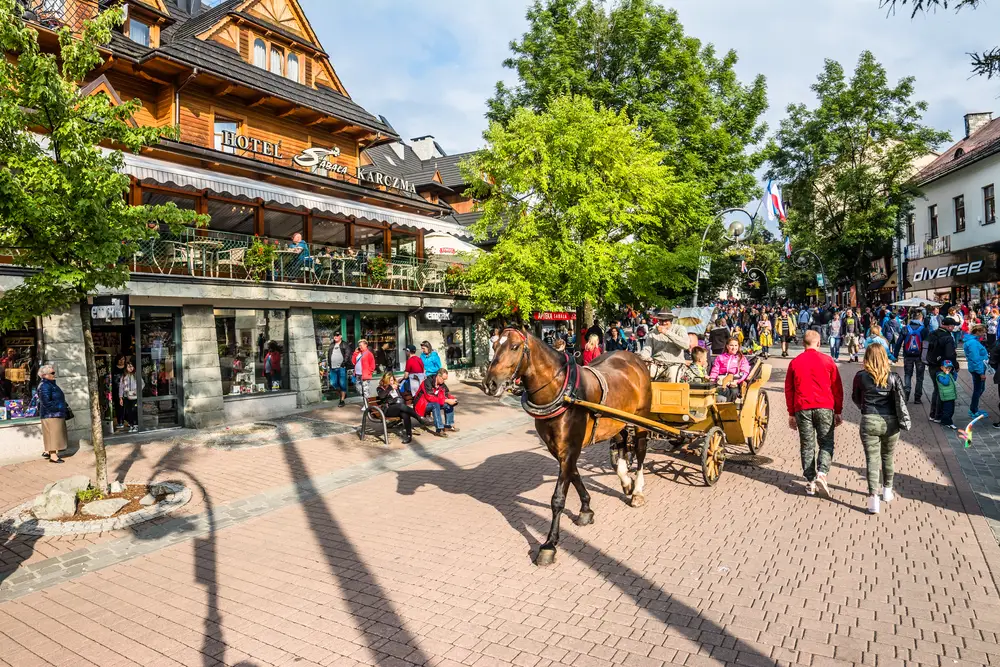 Krupówki Street is the vibrant heart of Zakopane, offering a plethora of attractions that are sure to captivate children and adults alike. This lively pedestrian street, bustling with energy and brimming with local culture, is a must-visit while you're in town.
A walk down Krupówki is like a mini tour of the town's traditional offerings. Lined with charming wooden buildings, this street is filled with a variety of shops where you can find locally made handicrafts, toys, and the town's famous smoked cheese, Oscypek. The colorful and lively market is a great place to introduce your kids to the local culture and traditions.
When it's time to refuel, choose from a multitude of eateries serving delicious local and international cuisine. Don't forget to treat the kids (and yourself) to a local pastry or ice cream.
As you stroll down the street, don't miss out on the opportunity to enjoy live performances from local musicians and artists that often add a vibrant atmosphere to this bustling boulevard.
Tip: Be sure to visit the charming market at one of the ends of Krupówki Street – Targowisko pod Gubałówką. Here you'll find all kinds of souvenirs and tasty treats for prices that are usually lower than in the Krupówki Street shops.
Zakopane Aqua Park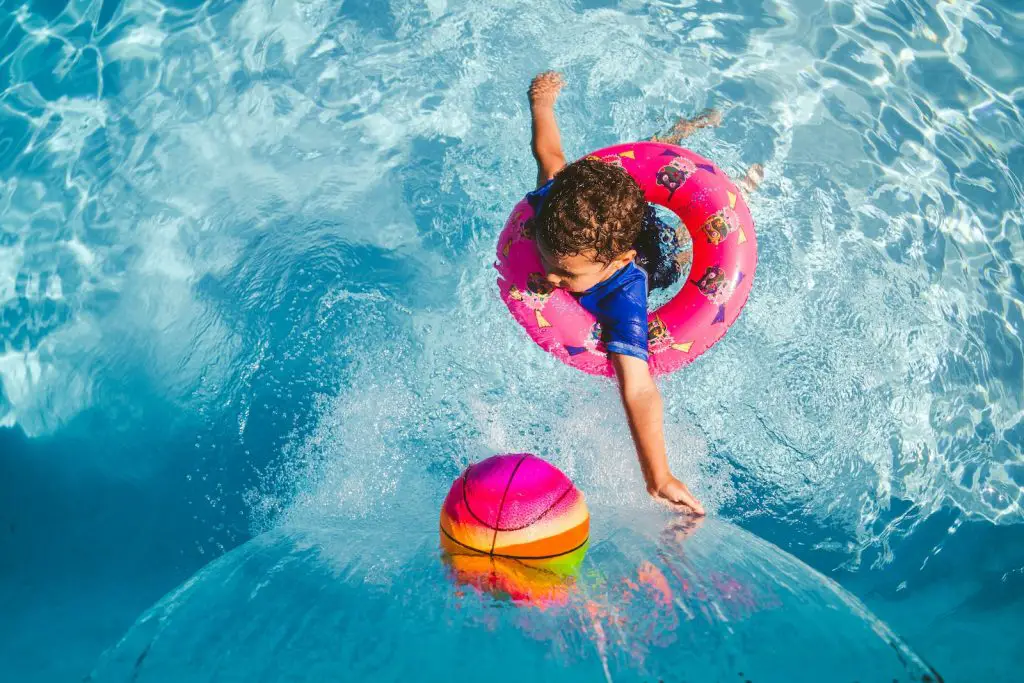 Zakopane Aqua Park is a fantastic destination for families seeking a splash of fun. This aquatic wonderland offers an array of facilities to entertain kids of all ages and is sure to be a highlight of your trip.
The main attraction is the network of swimming pools, both indoor and outdoor. The children's pool area, equipped with small slides and fun water features, is perfect for your little ones. For bigger kids, the thrill of the larger water slides will undoubtedly be a memorable experience.
Additionally, the park offers a lazy river, a playroom for kids, and a bowling alley, providing non-stop entertainment for the entire family. When it's time for a break, the onsite restaurant offers a variety of kid-friendly meals and refreshments.
Tip: Don't miss the chance to unwind in the outdoor thermal pool. Heated to a comforting temperature, it's a great way for parents to relax while the kids continue to play. This pool also offers stunning views of the nearby Tatra Mountains.
Gubałówka Hill
Gubałówka Hill is one of Zakopane's iconic landmarks, providing visitors with mesmerizing views of the town and the Tatra Mountains. It's a paradise for both nature enthusiasts and adventure seekers. With a host of activities on offer, Gubałówka Hill is an exciting destination for families.
Funicular to Gubałówka
An adventure on Gubałówka Hill begins with a funicular ride up to the top. As you ascend, the panoramic vistas of Zakopane unfold before your eyes, leaving you and your kids in awe of the scenery.
The funicular is not just a means of transport, but an attraction in itself, offering a unique and exciting experience for the little ones.
Once you reach the summit, the sight of the majestic Tatra Mountains under the clear blue sky is genuinely breathtaking and creates an ideal backdrop for some family photographs.
Gravitational Slide on Gubałówka
For those seeking a thrill, the gravitational slide on Gubałówka Hill provides an exhilarating experience. The slide, also known as a summer toboggan, allows you to control your own speed as you twist and turn down the mountain.
The combination of adrenaline, speed, and beautiful scenery will leave your kids (and probably you too) grinning from ear to ear. It's a fun and exciting way to descend the hill and is sure to be a hit with your family.
Other Attractions
Apart from the funicular and gravitational slide, there are also other notable attractions on Gubałówka Hill. There is a whole street dedicated to attractions. Here you'll find small eateries, trampolines for kids, paintball, a small adventure park, and more. There's also a small market selling local crafts, perfect for picking up a souvenir or two.
In conclusion, a trip to Gubałówka Hill offers more than just panoramic views. It's an adventure-packed destination, providing endless fun and memorable experiences for the whole family.
Exotic Parrot House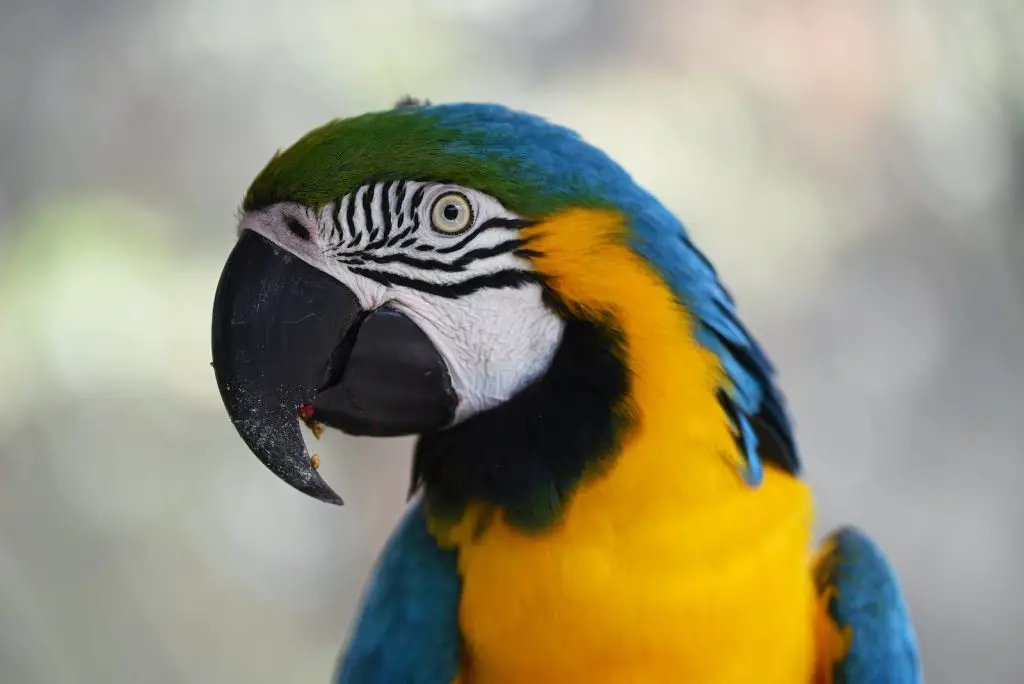 The Exotic Parrot House in Zakopane is a hidden gem that's sure to delight the entire family. Filled with a riot of colors and sounds, this small, specialized zoo is home to a variety of parrot species from around the world.
Kids will love the chance to get up close and personal with these charming and intelligent birds. They can learn about the different species, their habitats, and even their individual personalities. The staff at the Parrot House are passionate and knowledgeable, and always happy to answer questions.
Visiting the Parrot House is not just entertaining but also educational. It's a wonderful opportunity to teach kids about biodiversity and conservation.
Tip: Don't miss the chance for a memorable photo opportunity. For a small fee, children can feed and interact with the parrots under supervision, making for some truly unforgettable holiday snapshots.
Kids Park Janosika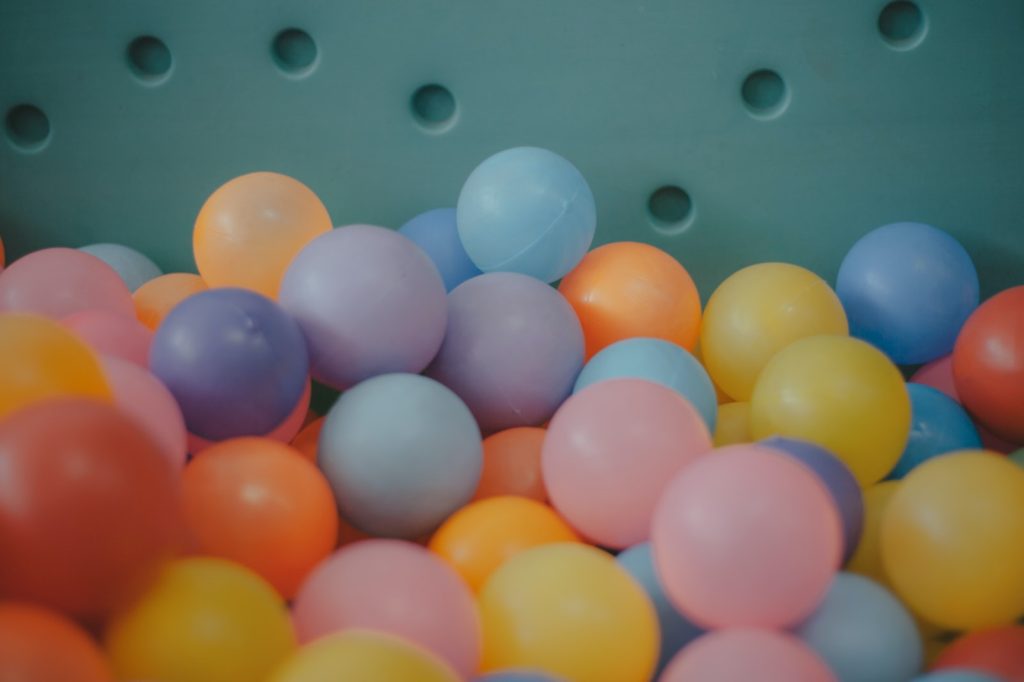 Nestled in the heart of Zakopane, Kids Park Janosika is an indoor paradise designed specifically for children. With a myriad of playground equipment of more than 700m2, the park is a safe and fun environment where kids can play to their heart's content.
There's something for every age group here – a huge ball pit, slides, climbing frames, and even an ECO cafe. There is also a dedicated place for 1-2-year-olds with a smaller ball pit and special toys. Older children will enjoy the challenge of the pontoon track.
Mouse House (Myszogrod)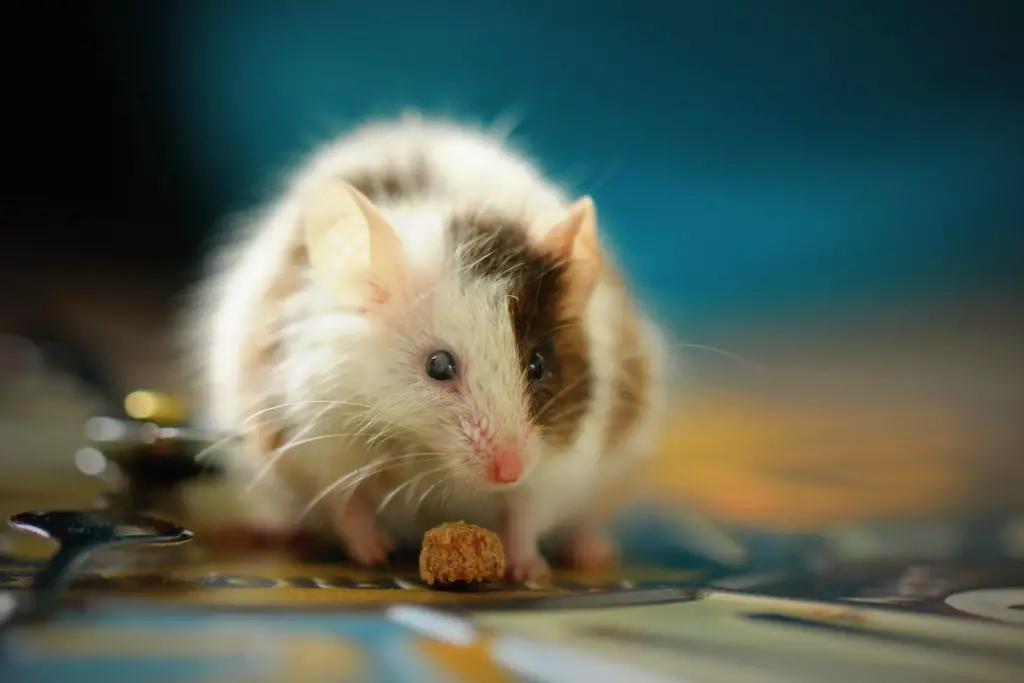 Mouse House, or Myszogrod in Polish, is a unique attraction in Zakopane that promises a fun-filled visit for your children. This interactive museum is designed to spark the imagination and curiosity of the little ones.
The museum's concept is based on the world of mice. The kids can explore different themed rooms filled with amusing and educational exhibits.
Tip: This is a great attraction to save for the rainy days.
Thermal Pools
The area surrounding Zakopane is known for its healing thermal waters. You can enjoy soaking in different thermal baths with indoor and outdoor pools (hello, mountain views!), all within a short drive from Zakopane.
Chochołowskie Thermal Baths
Chochołowskie Thermal Baths, located near Zakopane, are the largest thermal baths in Poland. Throughout the water park, 30 different pools have almost 3,000 m2 of water surface.
At Chochołowskie Thermal Baths, the fun is not limited to the adults. Children, both young and older, have a host of attractions specially tailored for them. The baths offer a dedicated toddler area with a playground, slides, paddling pools, and even a children's bathhouse to ensure the little ones have just as much fun as the grown-ups.
Older children can enjoy a family slide zone located within the building and a unique steam room designed specifically for them. For some indoor fun, the "Aquarium" playroom situated on level +1 next to the café is perfect for some playtime out of the water.
During summer, the outdoor playground with water attractions comes alive, featuring a delightful Ship swimming pool. For the younger kids, there's a cozy indoor playground complete with a children's pool. At Chochołowskie Thermal Baths, every child will find something to enjoy.
You can also visit the outdoor pools for a unique experience of soaking in warm water while admiring the stunning panoramic views of the Tatra Mountains.
For those who want a bit of pampering, the spa offers a range of treatments that can be enjoyed while the kids are busy playing in the water.
Bukovina Thermal Baths
Situated in the beautiful Bukovina region near Zakopane, the Bukovina Thermal Baths are a fabulous family-friendly destination. It's a haven of relaxation and entertainment, offering both thermal pools and recreational facilities suitable for all ages.
The complex boasts an impressive selection of indoor and outdoor pools with water jets, massage benches, and waterfalls, perfect for a fun and rejuvenating experience. For the little ones, there's a dedicated children's area complete with mini slides and play equipment to ensure they have a memorable time.
Additionally, the Bukovina Thermal Baths offer an array of wellness and spa treatments for adults seeking some pampering, while the kids enjoy the water fun.
The surrounding scenery is an attraction in itself. The view of the Tatra Mountains from the outdoor pools is simply breathtaking.
Tip: Don't miss the opportunity to enjoy a meal at one of the on-site restaurants. They serve delicious local cuisine, allowing you to turn your visit into a full-day, immersive cultural experience.
Szaflary Thermal Baths
At Termy Szaflary, families can look forward to a high-standard relaxation experience, offering plenty of fun-filled activities for children. The thermal water pools, featuring an array of hydro-massage devices such as water whips, massage benches, sprayers, geysers, and neck and shoulder jet massage devices, provide a rejuvenating retreat for the adults while the little ones enjoy their own adventures.
Young guests can have a blast in the outdoor toddler pool, complete with an enchanting elephant slide. The summer months add even more excitement with the Children's Cove, offering games and shared fun under the watchful eye of qualified assistants for ensured safety.
Older children are not left out; they can zip down the indoor slides or brave the thrilling 55-meter-long outdoor slide. The summer season also brings an extra pool featuring Aqua zorbing and boats, adding another layer of aquatic fun at Termy Szaflary.
Tip: Be sure to spend some time in the outdoor pools. The beautiful views of the surrounding countryside, combined with the soothing warm water, create a truly unique and memorable experience.
Gorący Potok Thermal Baths
At Termy Gorjacy Potok, relaxation, fun, and lasting memories await you and your family. This unique thermal bath complex boasts several outdoor pools filled with natural, raw sulfur water, each offering distinctive features to suit every visitor's preference.
With 21 diverse swimming pools equipped with fountains, water massages, geysers, and slides, there's never a dull moment. Particularly for the children, there's a dedicated children's zone and even a rope park. Regardless of the season, the pools' sulfur thermal water stays comfortably warm at 34-40°C, providing a unique relaxation experience.
For those seeking further relaxation, the complex also features a tranquil sauna zone and a SPA zone offering unusual baths in pools with increased sulfur content, mud baths, massages, and cosmetic treatments.
Tip: Don't forget to treat your taste buds at the Beef Master restaurant, renowned for its exquisite beef steaks from around the world.
Bania Thermal Baths
Immerse yourself in the thrilling adventure that awaits at Terma Bania Aquapark. Featuring 14 pool basins, over 300 meters of exhilarating water slides, geysers, water cannons, Jacuzzis, and artificial waves, this aqua park promises a tremendous amount of fun and a fantastic relaxation time for the whole family. Best of all, you can indulge in these attractions regardless of the weather or outdoor temperature.
Terma Bania boasts three distinct zones—Fun, Relax, and Sauna—each designed to cater to different moods and needs. The Fun Zone is particularly loved by children, offering indoor and outdoor thermal pools with water temperatures ranging between 34°C to 38°C, all-season waterslides, water carousels, cascades, and even an indoor water playground. In the summer season, additional outdoor playgrounds and a sunbathing zone with over 500 comfortable deckchairs add to the allure.
A new highlight of the Fun Zone is the thermal bathtubs filled with raw, sulfuric geothermal water at a comfortable temperature of 37°C. Bathing in this thermal water has multiple health benefits, such as relieving headaches, muscle and joint pains, improving metabolism, and lowering stress levels. Experience the blend of adventure and wellness at Terma Bania Aquapark.
Thermal Bath Price List 2023
Prices are calculated for a family of 2 adults and 2 children that are more than 3 years old in the high season.
| Thermal bath | Short visit | Whole day |
| --- | --- | --- |
| Termy Zakopiańskie | 199 zł (2,5h) | 279 zł |
| Chochołowskie Thermal Baths | 249 zł (4h) | 369 zł |
| BUKOVINA Thermal Baths | 269 zł (4h) | 359 zł |
| Termy Szaflary (free for children until 120 cm) | 279 zł (2,5h) | 329 zł |
| Gorący Potok | 258 zł (2,5h) | 358 zł |
| Terma Bania (1zł for children until 104 cm) | 258 zł (3,5h) | 580 zł |
Zakopane thermal bath price comparison for families
Tatra National Park
Tatra National Park is the main attraction of the region, but it can be quite challenging to go on a hike with small children. Nevertheless, there are some peaks and valleys that are easily accessible even to the smallest of children, so that you could enjoy the mountains together as a family.
Kasprowy Wierch
Situated at the heart of the Tatra Mountains, Kasprowy Wierch is a must-visit when in Zakopane, especially for families who love nature and stunning vistas. Known for its panoramic views, Kasprowy Wierch can be accessed via a thrilling cable car ride that's sure to excite the kids.
Once at the top, you're greeted by a breathtaking panorama of the surrounding mountains and valleys. There are several easy hiking trails suitable for children, allowing you to explore and appreciate the stunning natural beauty of the area.
In summer, the vibrant flora provides a fantastic backdrop for family photos. In winter, Kasprowy Wierch turns into a ski paradise suitable for experienced skiers.
Tip: Don't forget to check out the meteorological observatory at the summit. It's the highest-situated building in Poland and offers an interesting insight into weather monitoring in such high altitudes.
Morskie Oko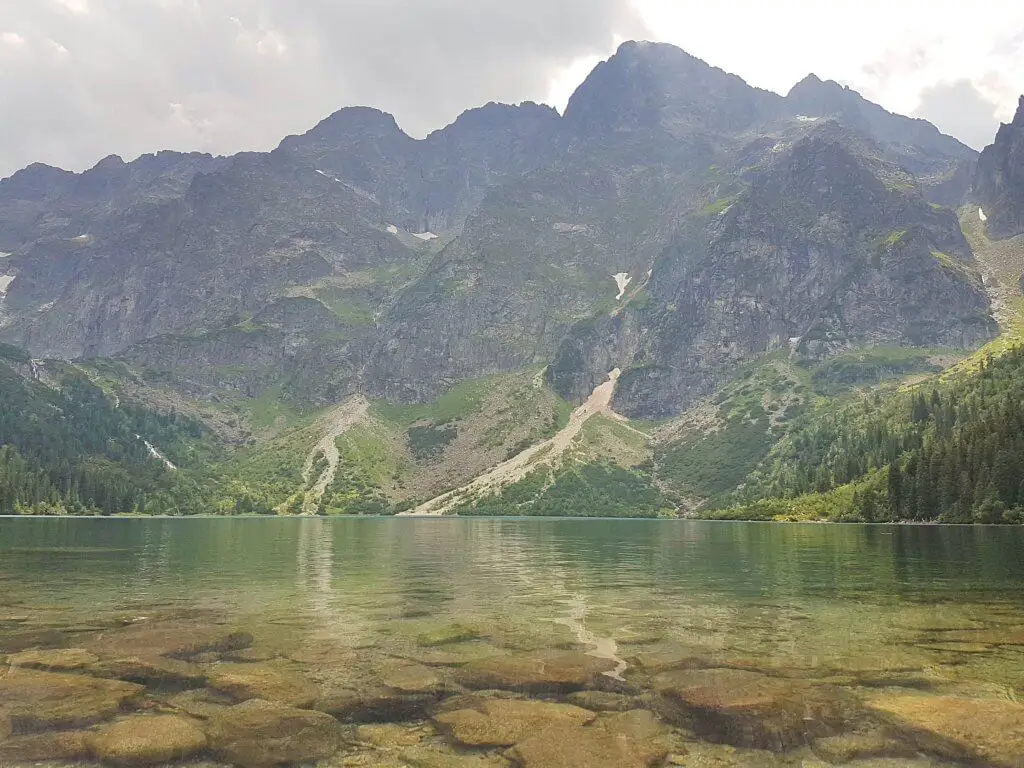 Morskie Oko, or "Eye of the Sea", is a spectacular natural gem in the Tatra Mountains near Zakopane. This is the largest and one of the most beautiful lakes in the Tatras, and it's an absolutely unforgettable destination for a family outing.
A well-marked trail leads you through beautiful forests and mountain landscapes to the lake. While it might be a bit challenging for very young kids, older ones will likely enjoy the adventure. The surface of the road is flat and suitable for strollers if you are up for a few hours of uphill stroller pushing. You can also opt for a horse-drawn cart ride part of the way, which is an exciting experience for the kids.
Once at the lake, you'll be greeted by the majestic beauty of Morskie Oko, with crystal-clear waters reflecting the surrounding peaks. On a clear day, you might even spot some of the local wildlife.
Tip: Pack a picnic and enjoy lunch by the lakeside. The view of the mountain reflected in the lake is incredibly picturesque, making for a truly special picnic spot. Remember to take any rubbish with you to preserve this beautiful environment.
Dolina Koscieliska (Koscieliska Valley)
Dolina Koscieliska, or Koscieliska Valley, is a wonderful destination for a family hike near Zakopane. The valley offers gentle trails winding through beautiful scenery, making it an ideal choice for families with children.
The main trail is stroller friendly, and a river flows in the valley offering nice views.
Along the way, you'll pass through serene meadows, babbling brooks, and charming wooden bridges, with the stunning backdrop of the Tatra Mountains accompanying you. There are several traditional shepherd's huts where you can try local cheese and other delicacies.
You might also enjoy exploring the caves scattered throughout the valley. Some of these are open to the public and are a thrilling diversion for adventurous kids.
Tip: Be prepared that this is a popular destination and may get crowded in the high season. Try to arrive early.
Strazyska Valley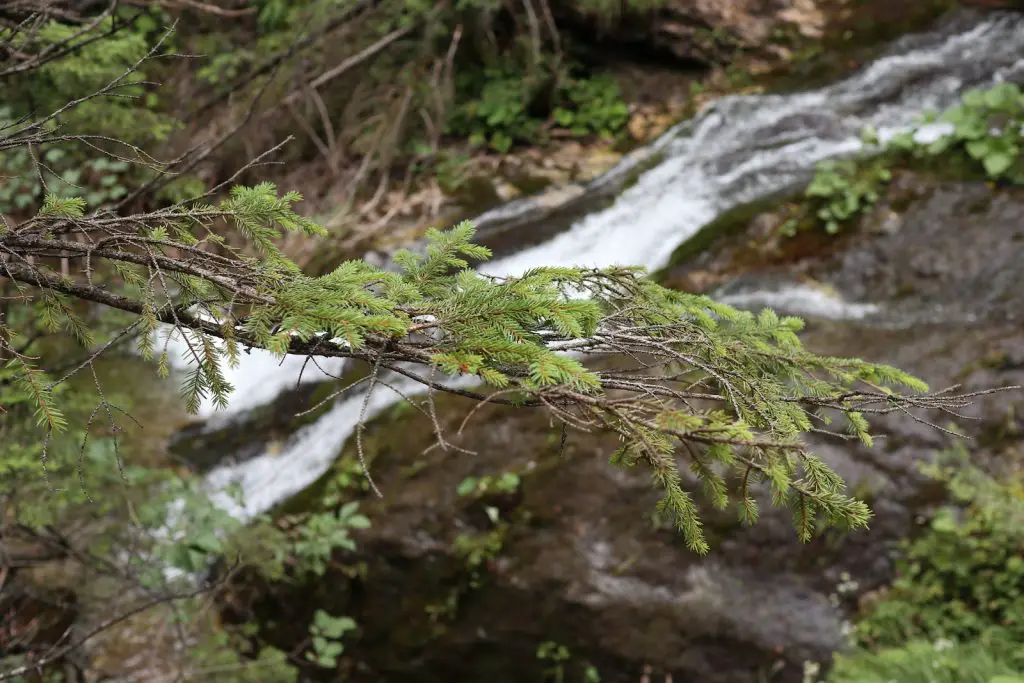 Strazyska Valley is another family-friendly hiking spot near Zakopane. This picturesque valley offers easy walking paths, perfect for little legs.
As you walk through the beautiful forest, you'll cross charming wooden bridges, and a stunning waterfall, Siklawica, awaits you at the end of the trail. It's an impressive sight, and kids will enjoy the excitement of hearing the roar of the water as they get closer.
The valley also has a few picnic spots, so consider bringing a lunch and making a day of it. The beautiful surroundings create a calm and relaxing atmosphere for an unforgettable family day out.
Tip: In the winter, the valley transforms into a magical winter wonderland. If you're visiting during this season, don't miss the opportunity to enjoy a snowy walk, but make sure everyone is dressed warmly!
Dunajec River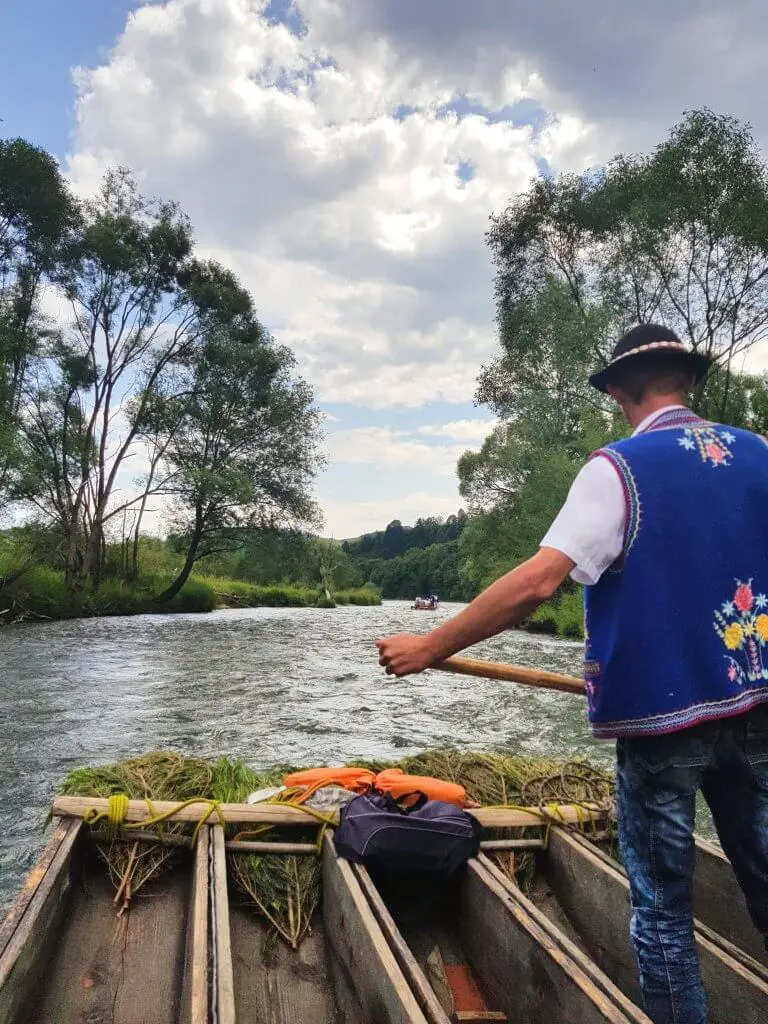 Just a short drive from Zakopane, the Dunajec River offers a unique and thrilling experience – river rafting. This adventure is suitable for families with children, making it an exciting addition to your Zakopane itinerary.
The traditional wooden rafts are guided by experienced highlanders who will navigate the calm waters of the Dunajec. The rafting route snakes through the stunning landscapes of the Pieniny Mountains, providing you with a breathtaking, scenic view. The trip is safe for kids and the rafters provide interesting commentary during the ride, often sharing tales and legends associated with the region.
While the main attraction is the rafting itself, the surrounding area is also worth exploring. You could visit the charming town of Szczawnica or the Cerveny Klastor monastery across the border in Slovakia.
Tip: Remember to dress appropriately – even on warm days, it can get a bit chilly on the river. Also, bring a change of clothing for the children.
Niedzica Castle
Located atop a hill with stunning views over Lake Czorsztyn, Niedzica Castle is a fantastic spot for a family day trip near Zakopane. This 14th-century castle brims with history and mystery, guaranteed to spark the imagination of children and adults alike.
As you explore the castle's rooms, towers, and courtyards, you can learn about the region's history and hear fascinating tales about the castle's past residents. Some even say the castle is haunted! The castle also houses a museum, displaying a collection of historical artifacts and exhibitions.
The area around the castle offers lovely walks and picnicking spots, perfect for enjoying the impressive lake and mountain views. There's also a small playground for kids near the castle.
Tip: Don't miss the chance to take a boat trip on Lake Czorsztyn. The view of the castle from the water is simply breathtaking, and it's a great way to round off your visit.
Bachledka Treetop walk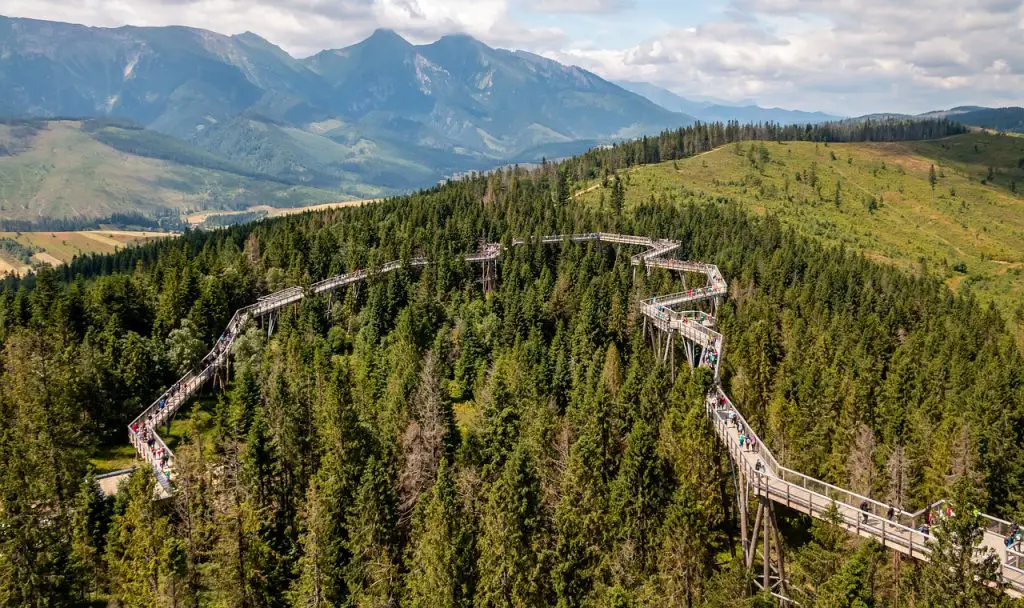 On a day trip from Zakopane, discover the breathtaking beauty of Pieniny National Park from a unique perspective with Bachledka Treetop Walk. Nestled in the heart of the park's majestic forests, this treetop walk offers an immersive experience, introducing you to the unique flora and fauna of the Belianske Tatras.
Journey through the forest and its myriad of animal and plant species, and anticipate many surprises along the way. The experience is also an educational one – with numerous information boards at three stops on the horizontal part of the trail offering insights into the local ecosystem.
The view from the 32-meter-high observation tower is nothing short of spectacular. Imagine standing among the towering trees, some of which have been here longer than us.
The treetop trail extends for 1234 meters, 631 meters of which lead to the observation tower. Another notable feature is the trail's complete barrier-free access. The 10-seater Gondola Bachledka cable car, the walkway through the treetops, and the PANORAMA restaurant – all cater to a comfortable, hassle-free trip for families, including those with strollers and wheelchairs.
Tip: Make sure to take the cable car ride. Not only does it serve as a convenient transport option, but it also offers a thrilling experience with panoramic views of the park.
What to read next?
---
Travel tips and tricks:
I highly recommend trying these tools for yourself – not only will you save money, but you'll also create memories that last a lifetime. Happy travels!
---