Some of the links in this post are affiliate links. This means if you click on the link and purchase the item, I will receive an affiliate commission at no extra cost to you. All opinions remain my own.
I've had my Fjällräven Kånken backpack for about 4 years now. It's been through a lot with me, and I wanted to share my thoughts on it after all this time.
Overall, I've been really happy with the backpack. It's held up well against wear and tear, and it's still in good condition.
Here are some of the pros and cons of the Fjällräven Kånken backpack after using it for so long.
Fjällräven Kånken basic description
Fjallraven Kanken backpack has become iconic as everyone from teenagers on the street to Instagram influencers seems to have one. Fjallraven Kanken Classic is the most popular backpack (and this is what I have been using), but you can get also Fjallraven Kanken Mini, the laptop backpack, and a few other kinds of Fjallraven backpacks.
The bag has one main compartment that has 16 liters of storage space. Fjällräven Kånken's backpack inside fits everything that you could wish to carry with you in an everyday backpack. It fits perfectly the A4-sized notebooks for work and school. There is a separate compartment at the back that contains a removable seat pad. It's meant to protect your back from anything pointy that you may carry in the backpack.
On the outside, the Fjallraven Kanken Classic backpack has one zippered pocket and two side pockets.
There are adjustable shoulder straps as with the majority of backpacks, and the iconic top handles for easier carrying in hands. If you wish, there is an option to buy separate shoulder pads if you feel that the regular strap doesn't give you enough support.
Fjallraven Kanken bag is made of Vinylon F fabric that is durable and water-resistant.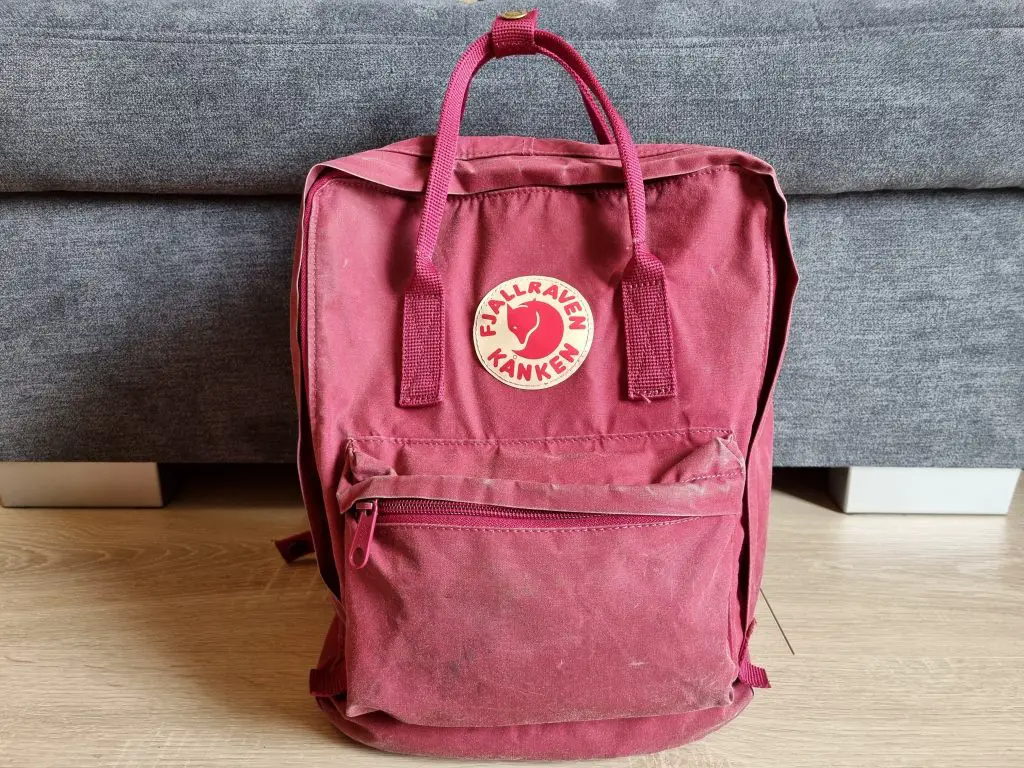 The story of my Fjällräven Kånken backpack
I have been going on some business trips for a few years. Usually, they are two-day occasions with an overnight stay in another European country. For the longest time, I couldn't get the packing for these trips right.
I could take a carry-on size luggage bag + a smaller bag to use during the day when walking around the town. But that was inconvenient as I got to the hotel only in the evening, and would need to still carry the luggage bag with me for the majority of the time.
I tried also packing a carry-on tote bag. This was more convenient, and I didn't need so many things for one night's stay anyway. But carrying a bag on one shoulder with a laptop and a water bottle quickly becomes uncomfortable.
So after a few trips, I started to look for a backpack.
Buying Fjällräven Kånken
In many Nordic countries, you can't walk 100 meters in the city without seeing someone with a Fjällräven Kånken backpack.
People use them for everything – school, work, and sports activities. They are just a natural part of everyday life.
So when choosing a backpack that would be comfortable, in a carry-on size, and would perfectly fit in the business environment that I had to be in during the day, Fjällräven Kånken was the winner.
I bought it in a sports shop, as I wanted to touch it first. But there are many more color options online. So I'd suggest testing the bag in a shop, and then choosing the perfect color and a better price online.
Using Fjällräven Kånken as an office bag
In today's world, more and more people are working from home or from remote locations. This means that the traditional office bag may no longer be practical or necessary.
Enter the Fjällräven Kånken: the perfect alternative to the stuffy briefcase or heavy laptop bag. The Kånken is light, durable, and stylish, making it a great choice for those who need to pack light but still want to look professional.
Plus, its unique design means that you can easily add or remove items as needed, making it a versatile option for carrying everything from your laptop to your lunch.
I was able to fit a laptop, a water bottle, and some sports gear for functional training in the bag without any problems.
So if you're looking for an office bag that is both functional and stylish, the Fjällräven Kånken is a great option to consider.
Using Fjällräven Kånken for travel
If you're anything like me, packing for a trip can be a bit of a nightmare. There's always the question of how to fit everything you need into one suitcase, and then there's the added worry of whether or not your belongings will stay safe while you're on the go.
That's where the Fjällräven Kånken comes in. This versatile backpack is perfect for travel, whether you're taking a weekend getaway or a longer trip.
The Kånken is made from durable fabric that will protect your belongings, and it also includes a pocket in the inner compartment that is great for storing things like your passport and boarding pass.
The big main compartment works great with the packing cubes for organization.
And the bag weighs so little that you can easily add heavier things inside of it without worrying about exceeding the carry-on weight limits.
Plus, the Kånken comes in a variety of fun colors, which will look great in travel photos.
Using Fjällräven Kånken as a diaper bag
When you become a parent, you quickly learn that diapers take up a lot of space. In fact, you may find yourself carrying around more diapers than you ever thought possible.
And while there are plenty of diaper bags on the market, few are as stylish or as functional as the Fjällräven Kånken.
Originally designed as a school backpack, the Kånken has a big compartment to keep all of your essentials. The bag also opens up nicely so that you can overlook everything that you have packed and quickly take out the necessary toys, clothes, or wipes.
So whether you're headed to the park or the playground, the Fjällräven Kånken is the perfect diaper bag for any parent on the go.
What happens if you wash Fjällräven Kånken in a washing machine?
It is strongly suggested that you clean your Fjallraven Kanken backpack with lukewarm water and mild detergent, and only handwash it.
I rebelled against this recommendation and can only regret it now.
I washed my Fjällräven Kånken in a washing machine. I used the hand-washing setting, put it to only 20 degrees Celsius, and air-dried the bag afterward, but it has never been the same as in the beginning.
The color just washed away in some places, and the strongest dirt didn't even come off.
Fjällräven Kånken pros
There are many good things that you should take into account when buying a Fjällräven Kånken backpack:
Fjällräven Kånken is a versatile backpack that can be used for a variety of purposes.
Fjällräven Kånken is made from durable fabric that will protect your belongings and last for a long time.
Fjällräven Kånken includes a pocket in the inner compartment that is great for storing things like your passport and boarding pass.
Fjällräven Kånken is lightweight and easy to carry around.
Fjällräven Kånken comes in a variety of fun colors.
Fjällräven Kånken cons
However, the backpack is not perfect. Here are some bad things to consider before buying it:
Fjällräven Kånken has thin shoulder straps. You might need to buy additional cushions if you plan to carry heavy things.
Lightly and brightly colored bags may get dirty quite fast and cleaning them is a manual process.
It's not recommended to leave the bag for long in direct sunlight as that might make the color fade. But it's not easy to evade the sun, is it?
The side pockets are quite small and you can't store many bigger water bottles in them.
There aren't many other pockets for organization, so if you are a control freak, you will have to use packing cubes or some other solution.
Fjällräven Kånken is not water-proof, it is only water-resistant. In case of a rainy day, you might need to use a backpack cover or an umbrella to keep your belongings dry.
Is Fjällräven Kånken worth it?
The Fjällräven Kånken backpack is not the cheapest one that you could find. So, naturally, you might wonder, why should you spend more money on it if there are cheaper alternatives?
This is a personal preference question, but for me, it has been worth it.
I have used Fjällräven Kånken on a daily basis throughout the years, and I doubt that I would have used any other less stylish bag so much.
Fjällräven Kånken has helped with my back issues – carrying heavy tote bags on one shoulder is not as healthy. And I have always been able to carry as much stuff as I want with me, as the bag is really spacious.
Even though the color has faded a bit, the bag still is functional and probably will last me a few more years.
Would I buy the Fjällräven Kånken backpack again?
Yes, definitely. My only change would be to buy a less colorful option.
The bright color has faded over the years of usage, and the dirt is quite visible in this color. There are many green/gray options that I think would be a bit more practical for the careless attitude that I have toward keeping the bag in good condition.
EDIT: A few years have passed since this Fjallraven backpack review and I actually upgraded to a Re-Kanken backpack after this one.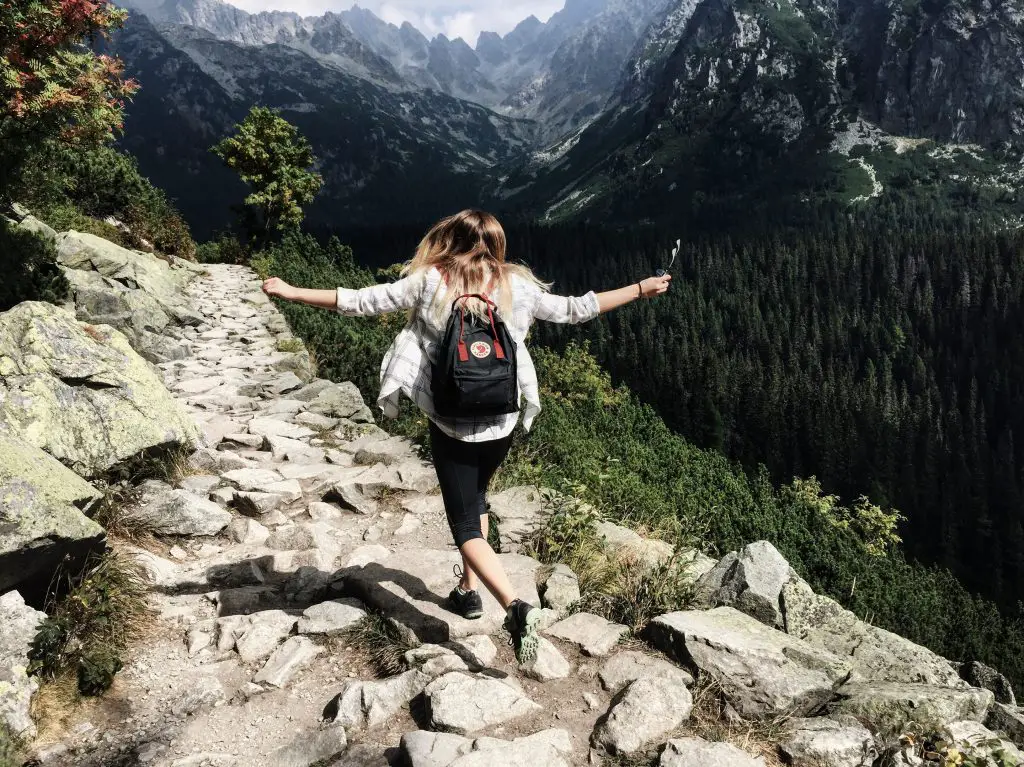 How to clean a Fjallraven Kånken backpack?
To clean a Fjallraven Kånken backpack, follow these steps:
Empty the backpack and remove any detachable parts, such as the shoulder straps or the hip belt.
Brush off any loose dirt or debris from the outside of the backpack using a soft-bristled brush.
Mix a solution of warm water and mild soap in a small bowl. Dip a clean cloth into the solution and use it to gently scrub any stains or dirt spots on the outside of the backpack.
Rinse the backpack thoroughly with clean water to remove any soap residue.
Use a clean, damp cloth to gently wipe the inside of the backpack. Be sure to clean any pockets or compartments, as well as the lining and the bottom of the backpack.
Allow the backpack to air dry completely before using it again.
It is important to avoid using harsh chemicals or abrasive cleaners on the backpack, as these can damage the material or the color. Additionally, do not machine wash or machine dry the backpack, as this can also cause damage. If the stains or dirt spots are particularly stubborn, you may want to contact Fjallraven customer service for additional cleaning instructions.
Frequently asked questions