Some of the links in this post are affiliate links. This means if you click on the link and purchase the item, I will receive an affiliate commission at no extra cost to you. All opinions remain my own.
I have used a Fjällräven Re-Kånken backpack daily for more than 2 years now. Here is my review of the good parts and the drawbacks of the bag and my experience with it.
Summary:
I'd buy this bag again, it's just too practical.
I washed it in a washing machine and nothing bad happened.
I hope this review helps you decide whether Fjällräven Re-Kånken is the perfect bag for you too.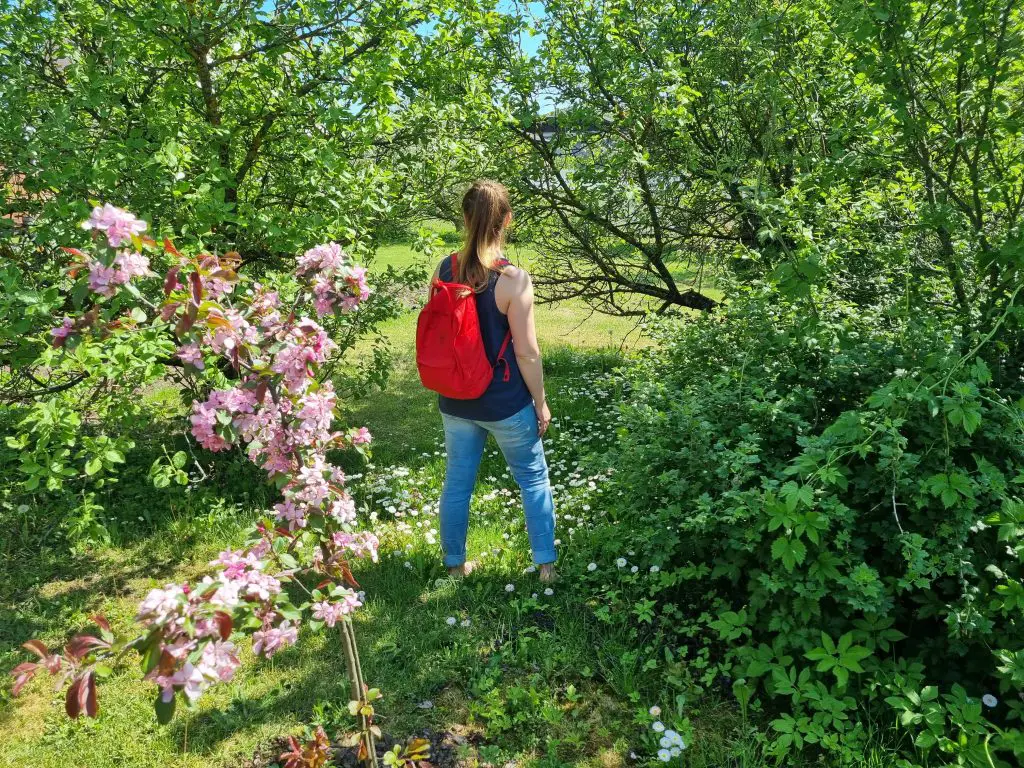 My experience after using Fjällräven Re-Kånken for 2 years
When my previous Fjällräven Kånken bag got too dirty to be acceptable for wearing in public, I knew that I won't be able to find any other bag that would support my daily activities in the same way.
So I searched for a new Fjällräven backpack.
Currently, when I need to purchase clothes or accessories, I try my country's version of thredUP. It's just more sustainable for the environment and my wallet.
I was browsing for the Fjällräven brand when I noticed a good deal for a Re-Kånken backpack. It was a bit different than my previous Kånken bag, but I decided to try something new.
When I bought my Re-Kånken backpack, it was already slightly used, had some little stains from a pen, and had been washed in a washing machine.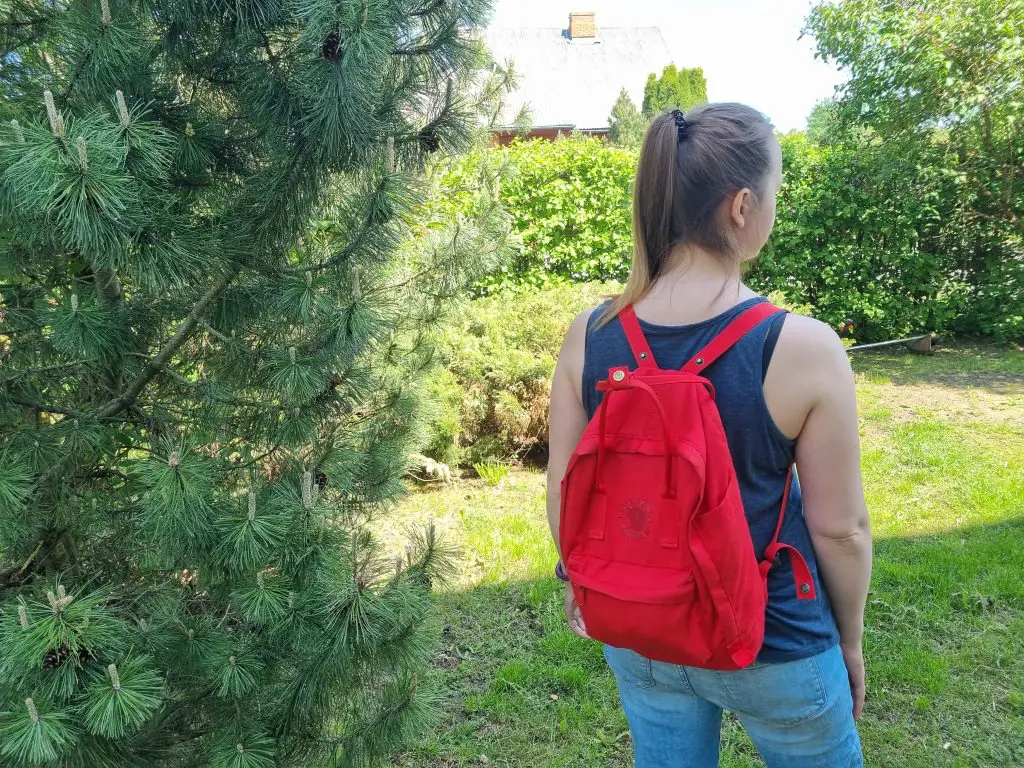 How do I use my Fjällräven Re-Kånken backpack?
Going to the gym – it fits everything from sneakers to the water bottle;
As a diaper bag – I have a baby and a toddler, so I have to carry a lot of stuff with me when we go out;
As a shopping bag – for groceries;
As a hiking backpack;
As an overnight bag.
Washing Fjällräven Re-Kånken in a washing machine
Now after 2 years of everyday usage, my bag had gotten really dirty. As you can see in the pictures below, from a distance the bag looks ok, but if you look closer, then the bottom is quite dirty. Because I like to put my bags on the ground in random convenient places.
There is also a small hole at the bottom on one side, but that's from carrying a foldable umbrella with me all the time. It sometimes opens a bit inside of the bag, and the edge was sharp. That's what happens if you live in a Nordic country.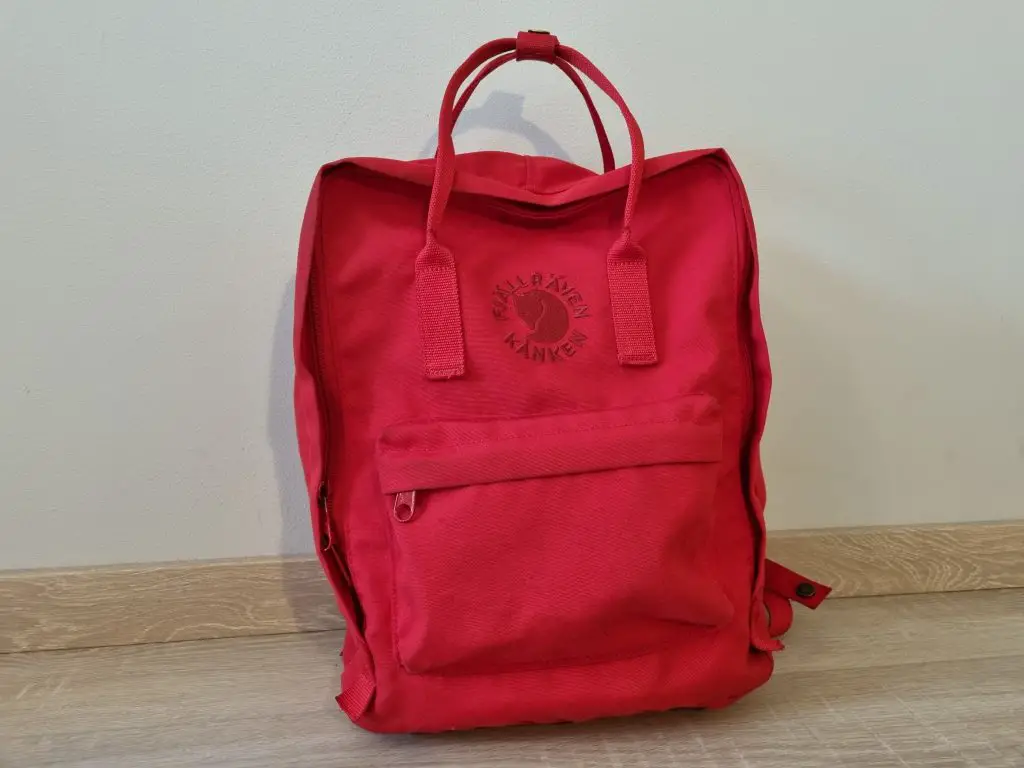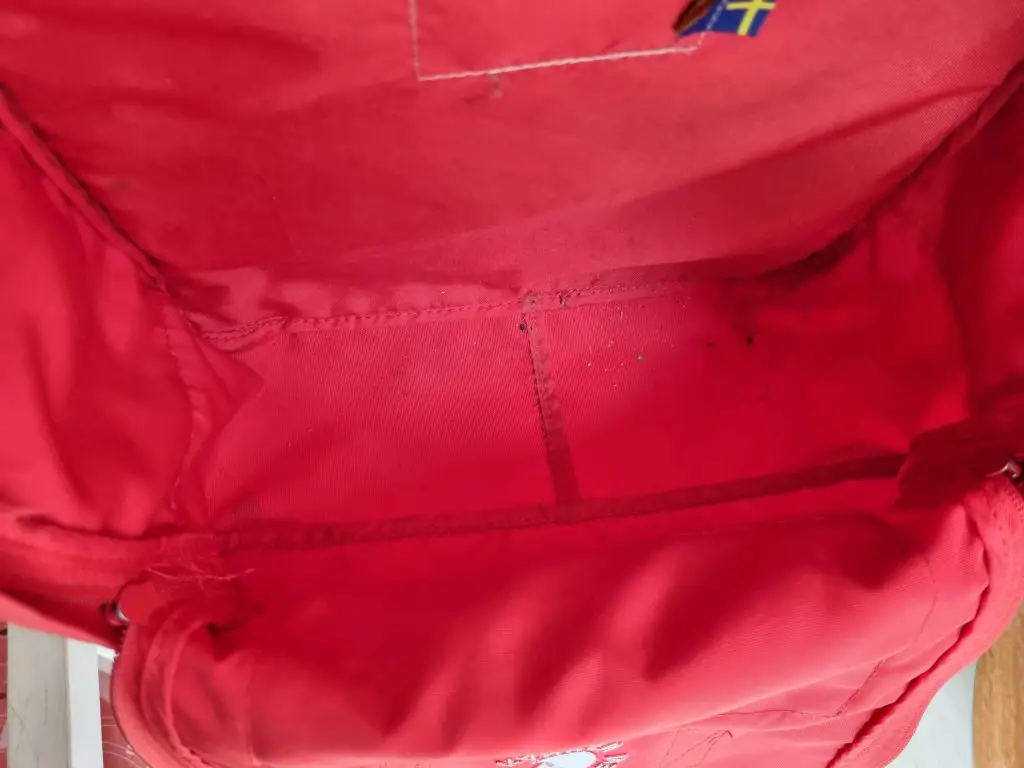 As I am a lazy person and don't have good handwashing skills, I did what I usually do – just put the bag in the washing machine.
I used the fast cycle for 30 minutes, 30 degrees Celsius, and a regular detergent. After washing I let the Re-Kånken bag air dry.
The result?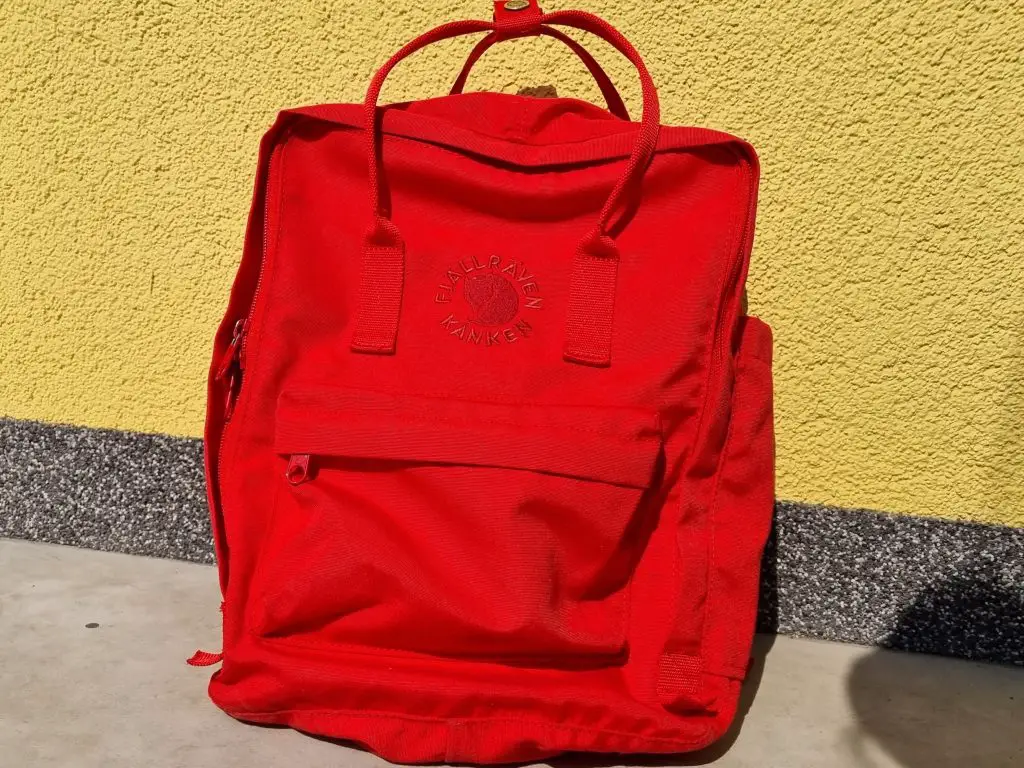 The majority of the dirt was cleaned and the bag now looks the same as in the day when I purchased it. The Re-Kånken bright color didn't fade after washing in the washing machine and the form wasn't lost (probably because it doesn't have much of a form compared to the regular Kånken).
I'm just not sure about the bag being water-resistant. Fjällräven says that Re-Kånken should be water resistant, but mine has never been. Maybe it's just not as water resistant as the regular Kånken that I had previously and expected for Re-Kånken, or maybe the water resistance was damaged when the previous owner machine-washed it. I kind of believe the former, because the material of Re-Kånken is completely different from the usual Kånken bag, and it just doesn't feel like being water resistant.
Re Kanken vs Kanken backpacks
Two popular variations in Fjallraven's Kanken range are the Kanken Classic and the environmentally conscious Re-Kanken. Both are exceptional in design and function, but they each offer unique advantages that may sway your decision one way or the other. Let's delve into the differences and similarities to help you choose the right one for your needs.
Materials and Sustainability
One of the key distinctions between the Kanken Classic and the Re-Kanken lies in their material composition. The Classic Kanken is made from Fjallraven's proprietary Vinylon F fabric. This synthetic material is lightweight and incredibly durable, and it becomes more resistant to water when the fabric gets wet. It's an ideal option for those who need a sturdy backpack that can handle various environments.
On the other hand, the Re-Kanken is constructed from a unique material known as SpinDye recycled polyester. This fabric is sourced from recycled plastic bottles, and the production process drastically reduces water, energy, and chemical consumption. If sustainability is a significant consideration for you, the Re-Kanken might be a perfect choice, offering a similar level of durability to the Classic but with a much smaller environmental footprint.
Design and Functionality
Design-wise, both backpacks are quite similar, sporting the iconic Kanken design. The rectangular shape offers a surprising amount of storage space and distributes weight evenly, ensuring that you can carry your gear comfortably. Both designs also feature a removable seat pad, perfect for impromptu rest stops or long waits at the bus station.
However, the Re-Kanken has an embroidered logo of the fox in front instead of the iconic white logo that the Classic Kanken has.
Tip: If you are looking for a bag for your Instagram photos, Classic Kanken will be more recognizable due to the reflective logo in its design.
Color Options
Fjallraven is known for providing a wide array of vibrant color options in its products, and neither of these backpacks is an exception. The Classic Kanken has a slightly wider range of colors, allowing you to choose from an extensive palette to match your personal style.
In contrast, the Re-Kanken offers a more limited color range, but these options are rich and deeply saturated, thanks to the SpinDye technology used in the fabric's creation.
Tip: In my experience, I wouldn't recommend buying Classic Kanken in bright colors, as they are more likely to get dirty and fade after washing. But if you want that pop of color, Re-Kanken will be perfect, as it doesn't lose its intensity even after the washing machine.
Comparison Thoughts
Choosing between the Kanken Classic and the Re-Kanken ultimately comes down to your personal preferences and values. If you are a staunch supporter of environmentally friendly products and value sustainability, the Re-Kanken is a clear choice. It offers similar functionality to the Classic but with a strong commitment to reducing environmental impact.
However, if you're looking for a wider range of colors or prefer the traditional Vinylon F fabric, the Classic Kanken may be the best fit. The Classic is also an excellent choice if you're on a tighter budget, as it is typically a bit less expensive than the Re-Kanken.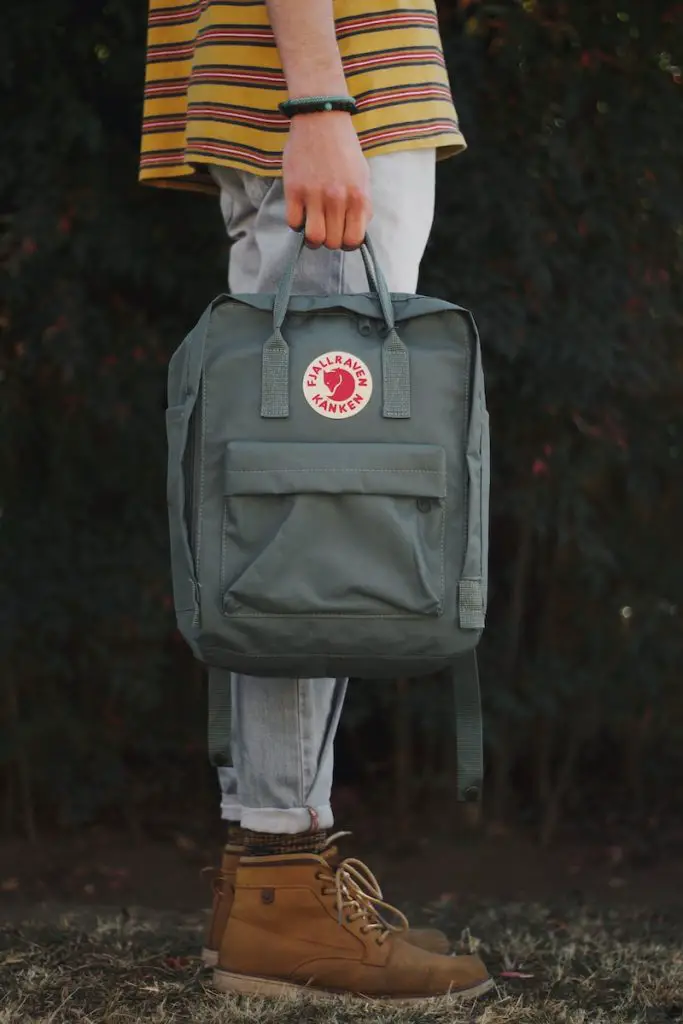 Frequently asked questions
Here are some questions that I've seen about Fjallraven Kanken bags.
Is Re-Kånken waterproof?
Fjällräven Re-Kånken is not waterproof. It should be water resistant, but in my experience, it's not. It's more like a regular thicker bag fabric – some rain will quickly soak the contents of the bag.
Is Kånken still cool?
Fjällräven Kånken has a minimalistic and practical design that has been in style for 50 years and will continue to be cool in the years to come. There is just something iconic about the design and the ease of use that draw people to buy and carry these bags everywhere.
Are Kånken bags uncomfortable?
In my experience, Fjällräven Kånken bags can fit A LOT of stuff. The shoulder straps are thin (if you haven't bought the padding) and may hurt your shoulders if you carry a heavy backpack for a long time.
That being said, I don't have shoulder pads, and I have been carrying Kånken backpacks for hours. If you have at least some fabric like a T-shirt on your shoulders, it will not be uncomfortable.
I also have carried my sports gear from the gym to home in Fjällräven Re-Kånken with bare shoulders – this combination is uncomfortable and sweaty.
Do Re-Kånken backpacks fade?
My Fjällräven Re-Kånken backpack hasn't faded from the sun or washing in a washing machine. After 2 years of usage, the color looks as new. And it's a bright red bag, not a black or neutral one.
How long do Kånkens last?
In my experience, Fjällräven Kånken lasted for 4 years. After that its bright color was dirty or washed out and the bag looked bad. Fjällräven Re-Kånken is now more than 2 years old and doesn't look aged at all – the color doesn't fade, the material is strong, and the washing process is simpler.
---
---