Some of the links in this post are affiliate links. This means if you click on the link and purchase the item, I will receive an affiliate commission at no extra cost to you. All opinions remain my own.
There is a travel hack that I use every time I go to a European destination and need to rent a car for cheap. In this post, I'll show you my considerations when choosing a place where to rent a car, and how to find good and cheap options.
Criteria for selecting a car rental
When you are looking for a cheap rental car, there is only one overall criterion to look for: the overall price which you will have to pay out of pocket at the end of the deal.
However, the overall price consists of several other considerations, which also should be checked.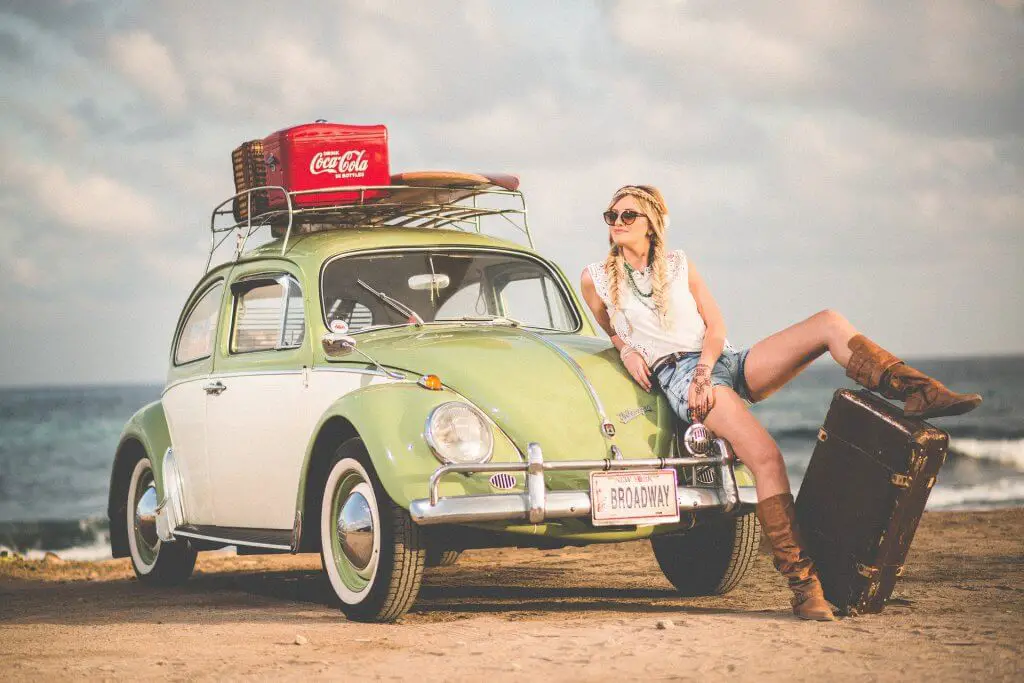 Excess insurance
When traveling, you want your holiday to be worry-free. One of the best ways how to achieve this is insurance. And rental cars have insurance as well.
The trick is that by default there is usually the basic insurance included in the price. But when you actually arrive at the final price online or in person, an insurance upgrade is usually offered.
For courageous people, this is only an upsell, which you might not buy. But for me it is important to feel safe and confident, especially driving the roads of a foreign country. So I always take the extra insurance and count it in the final rental price.
Another popular thing in Europe is to reserve the "excess" protection fee on your credit card. This basically means that you must have a credit card with enough balance and it will be reserved for the time of your renting. Afterward, if there haven't been any problems with the car, the sum is released. But if there have been problems, some of that money may be used to cover the expenses of the issue, if the basic insurance doesn't cover it.
Some car rental places use this to their benefit. If you don't earn them money by buying the full insurance, they might try to say that any damage to the body or bottom of the car is new and done by you, and it should be covered by the reserved amount of money.
I've found that it's easier just to buy the full insurance and find a car rental place that doesn't reserve any money on my credit card.
Extra driver
Some car rentals have extra drivers included in the rental price, but some don't. If you have planned to drive alone, it doesn't matter. But if you travel with friends, you should pay attention to this so that your friends could be drivers as well.
Fuel
There are some strange fuel practices in different European countries. In some of them, car renters might try to charge you for any discrepancies when you haven't fully understood the policy.
The thing I'm always looking for is the "Full to full" policy. This just means that you get a full fuel tank when you arrive and you should fill a full tank when you drop off the car after the rental period. This way the rental company can't really say that you picked a car with 2/3 of fuel and returned with 1/3 of fuel so you should pay the difference.
Pick-up
A smaller thing to pay attention to is where you can pick the car up. Usually, an airport pick-up is more convenient, but it might also be more expensive and crowded.
Don't shy away from a shuttle to the pick-up location. As far as I've experienced, these kinds of shuttles are well-organized and fast. And a lot cheaper than renting the car straight at the airport.
Mileage
Unlimited mileage is the way to go. Some car rentals may have daily/weekly limits, after which you'll have to pay extra.
One other thing to pay attention to is driving outside of the country. If you don't plan to cross a border, it doesn't matter to you. But if you plan to have a quick day trip to a neighboring country, check for a free border crossing for the car. Otherwise, you might get a surprise.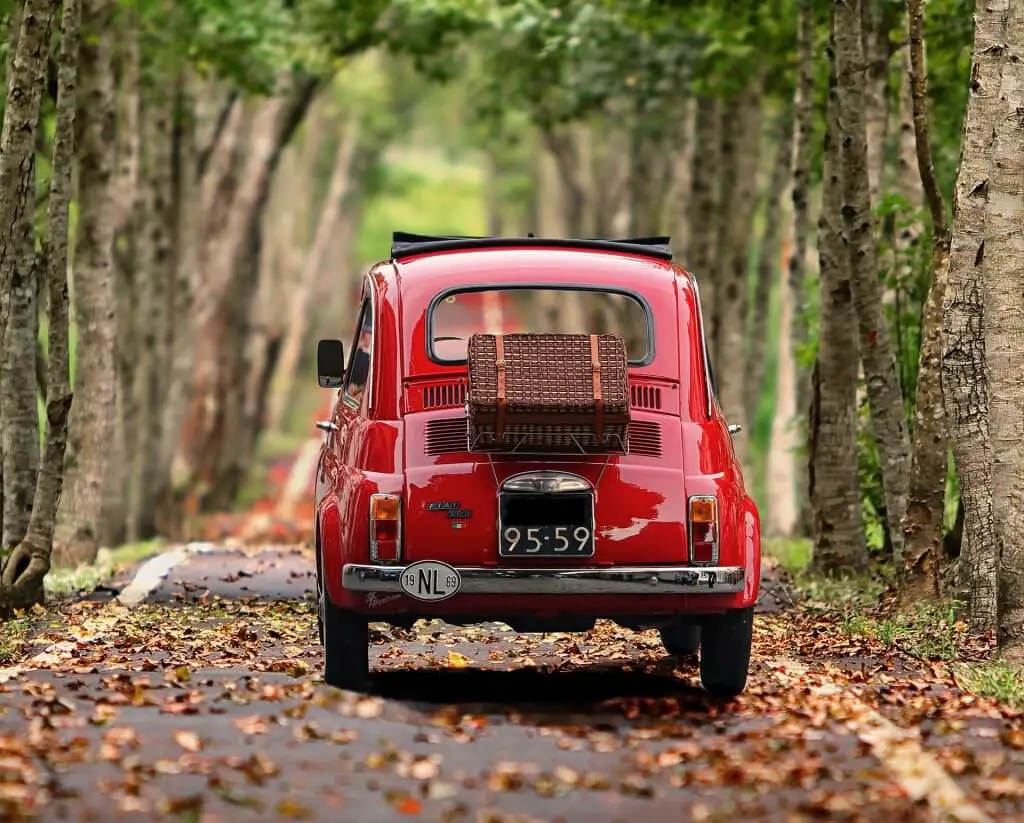 How to find and rent a car for cheap
My strategy for finding cheap rental cars is to look for local companies.
While researching prices for multiple well-known international car rental companies in many European destinations, I've always found that local companies have better-priced options.
My search usually looks like this: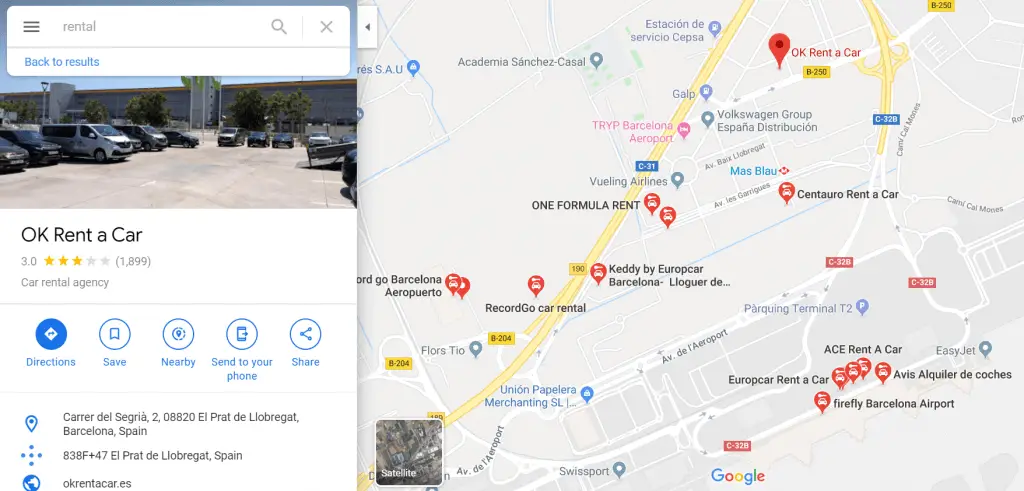 First I zoom in the Google maps to the airport where I'll be arriving. Then I do a search for "rental". It shows all the places near the airport where it's possible to rent a car. I go through them and open their websites. From there I can do the price comparison.
Generally, I've found that the local car rentals which are not at the airport but at a 1-2 kilometer distance are having the best offers.
Car rentals which I have used
Based on the search described above, these are the rentals that I've personally used in some of the European destinations:
Gran Canaria – AutoReisen (this was actually inside the airport, no need for a transfer)
The easy way out – a car rental comparison page
If you wish to skip the manual search for a cheap rental car, it's always possible to go to a rental car comparison page and choose the one for you.
I recommend trying out RentalCars. They offer a great choice of cars from the biggest rental car brands.