Some of the links in this post are affiliate links. This means if you click on the link and purchase the item, I will receive an affiliate commission at no extra cost to you. All opinions remain my own.
Crete is the largest of the Greek islands and a popular destination for beach and summer lovers. I've been there multiple times and will share with you the best things to do in Crete based on my experiences.
Here are some of the most popular questions about visiting Crete and short answers to them.
How long should I spend in Crete?
One of the reasons why I've been to Crete multiple times is that it is so big that a week is not enough to see everything.
There are amazing beaches, impressive archeological sites, charming cities, and breathtaking mountains. Realistically, you would need more than two weeks to check out all of the things the internet lists as "must-see".
And some people even choose to go on a quick cruise from Crete to the nearby islands like Santorini.
However, if you are picky and don't want to see EVERYTHING, then a week should be enough to see the main attractions in Crete. Just pick a few places and make an itinerary. Take into account the distances and your home-base location – due to curvy mountain roads some destinations may take around 12 hours to get to and back.
What should I not miss in Crete?
Below is a list of places which I'd recommend to see in Crete. These are quite versatile, so you might pick just a few which seem interesting.
One thing to consider when making an itinerary is how will you get to the destination, and what can you see on the way. If you choose to rent a car, you will be more flexible in selecting what exactly you want to see. But a car is not a must, as you might also get a guided tour or get around by using public transportation (which would affect what can you see along the way).
Cities in Crete
Crete is known for its beautiful and historic cities. Even if you don't enjoy a typical touristy city, you might be pleasantly charmed by the old buildings naturally merging with the surrounding mountains and the sea in Crete.
Larger cities are usually quite crowded in the high season, but you might also try to stop by smaller towns along your way. They usually offer a nice beach, some Instagrammable old houses, and local food in family-owned restaurants.
Chania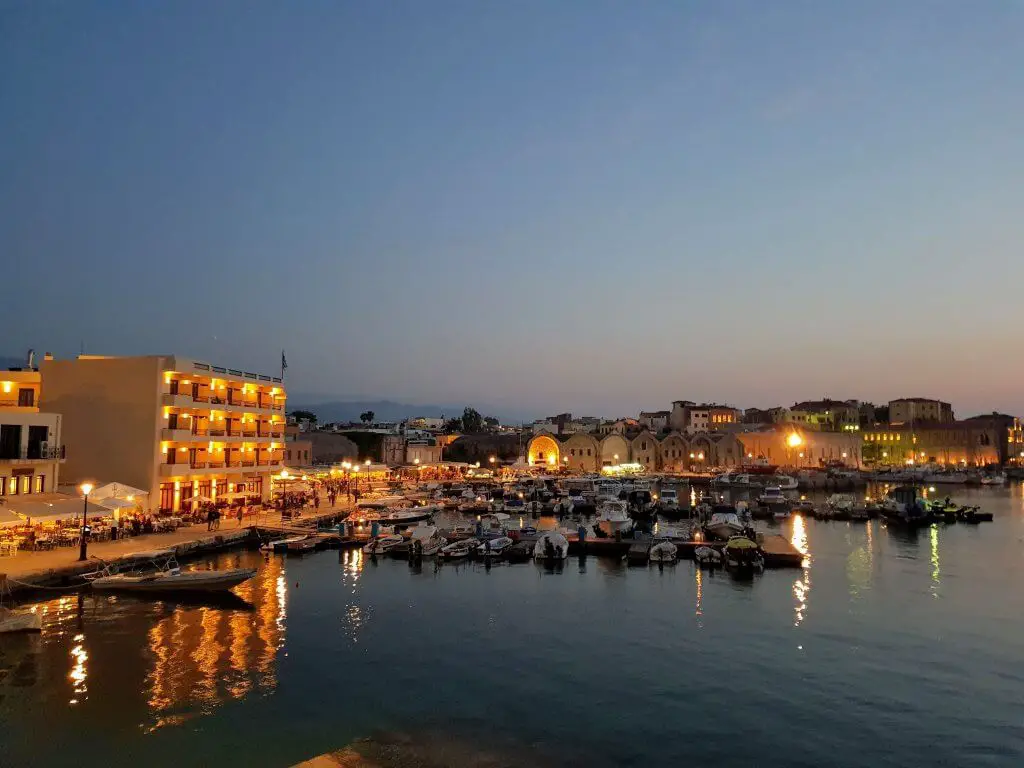 Chania is the second-largest city in Crete. It is famous for the 14th-century Venetian harbor, which is the main attraction you should see there. The surrounding old town is quite charming as well with its narrow streets and artistic buildings. It is also one of the most beautiful cities in the whole of Greece.
I'd suggest planning your visit to Chania around dinnertime. There are numerous waterfront restaurants near the harbor, which offer an amazing selection of fresh seafood and romantic views. Both times when I visited they offered complimentary rakia (strong drink) and some traditional sweets/fruits, so be prepared and leave some room for that.
Chania is a great base for exploring Crete. There are many day trips from Chania that you can do on your own or book a guided tour.
Heraklion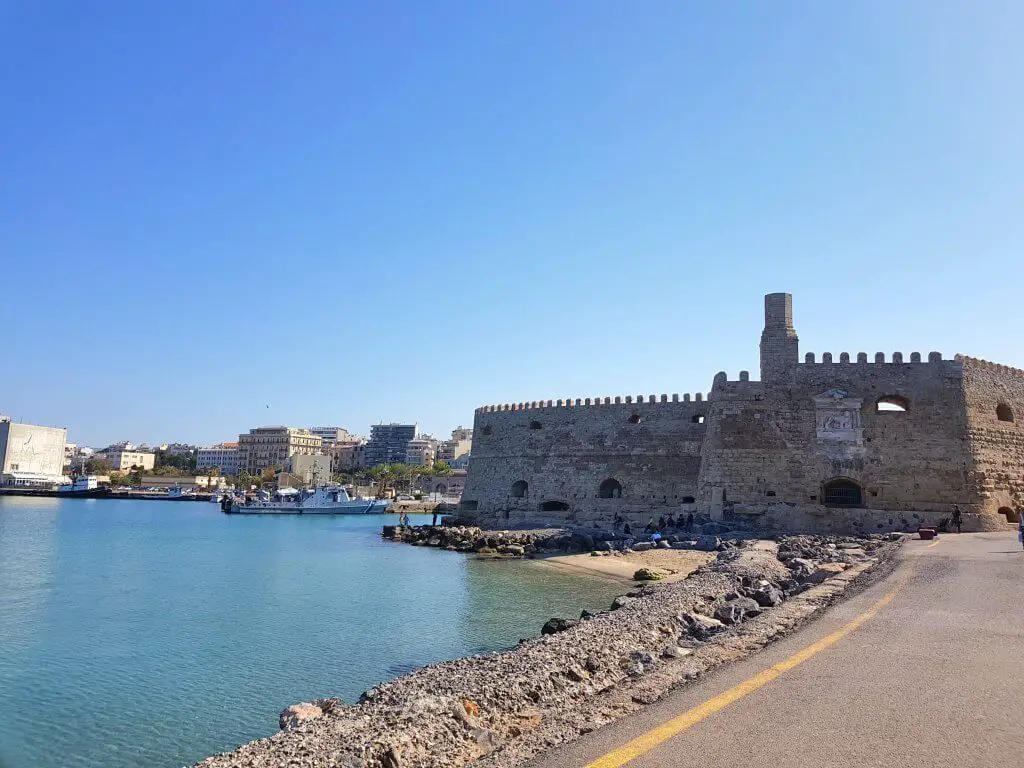 Heraklion is the largest city in Crete. It is also the capital city of Crete with the biggest port and airport. A lot of visitors to Crete arrive in Heraklion, which makes the city quite busy and touristy.
One of the most notable attractions here is the Koules Fortress. It was built by the Republic of Venice and still stands as an imposing start of a breakwater guarding the port. It is a great place for a walk with city and sea views.
Heraklion is also a great base for exploring Crete, especially if you arrive in Crete through this city.
Malia
Malia is a coastal town near Heraklion. It is known to be a major party resort with its clubs, pubs, and restaurants. Malia is a great place to celebrate a vacation, but it probably wouldn't be the best place to stay for those who want to enjoy historic buildings, a bit of quiet, and not so many teenagers on the main beach.
However, if you are looking to party, Malia is the best choice for a base in Crete.
Archeological sites in Crete
Crete has a long and impressive history. Humans have lived there more than 130,000 years ago. The Minoans, the first advanced civilization in Europe inhabited Crete. It has been ruled by the Romans, the Byzantine Empire, Andalusian Arabs, the Venetian Republic, the Ottoman Empire, and now it is a part of Greece. So there are many historically important buildings and places that can be explored in Crete.
Minoan Palace of Knossos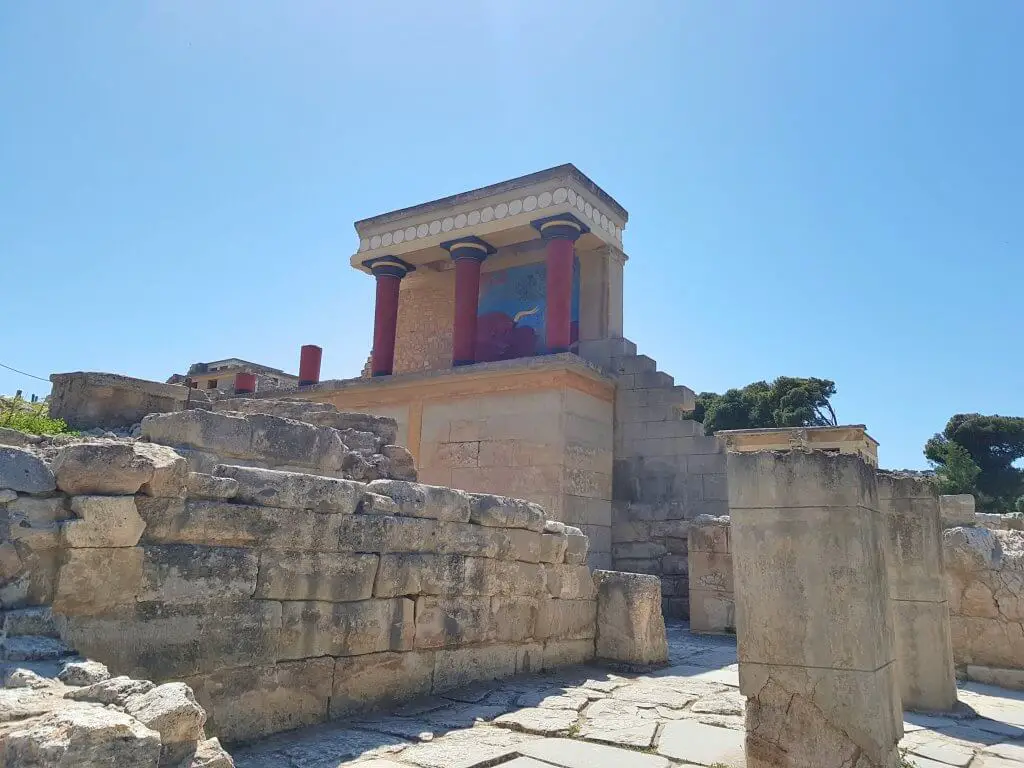 This is definitely a must-see place in Crete with its iconic wall art of a bull and columns, the rich history of Minoan architecture, and a maze of old ruins of the impressive palace.
Minoan Palace of Knossos is tied to the legend of Minotaur, half-man, and half-bull, so be sure to notice all the small pathways that resemble a labyrinth in the buildings that can be explored at the site.
Cave of Zeus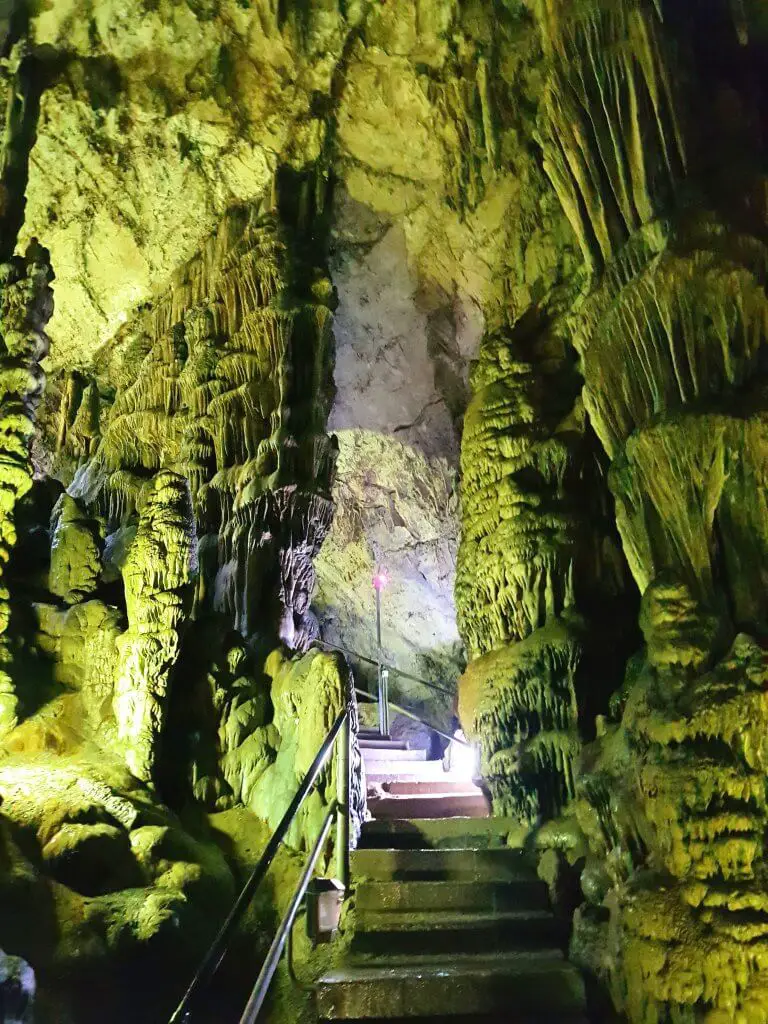 In Lassithi Plateau, there is a cave where legends say that Zeus was born. The Cave of Zeus itself is impressive with imposing stalactites and stalagmites, and the surroundings of the cave are worth visiting as well.
To get there, you'll have to drive up the mountains. The roads are narrow and making hairpins to slowly climb up. At the entrance of Lassithi Plateau, a beautiful view of the Crete below is worth a photo-stop. And from the Cave of Zeus, a similarly nice view of the fertile plateau should be enjoyed.
Spinalonga island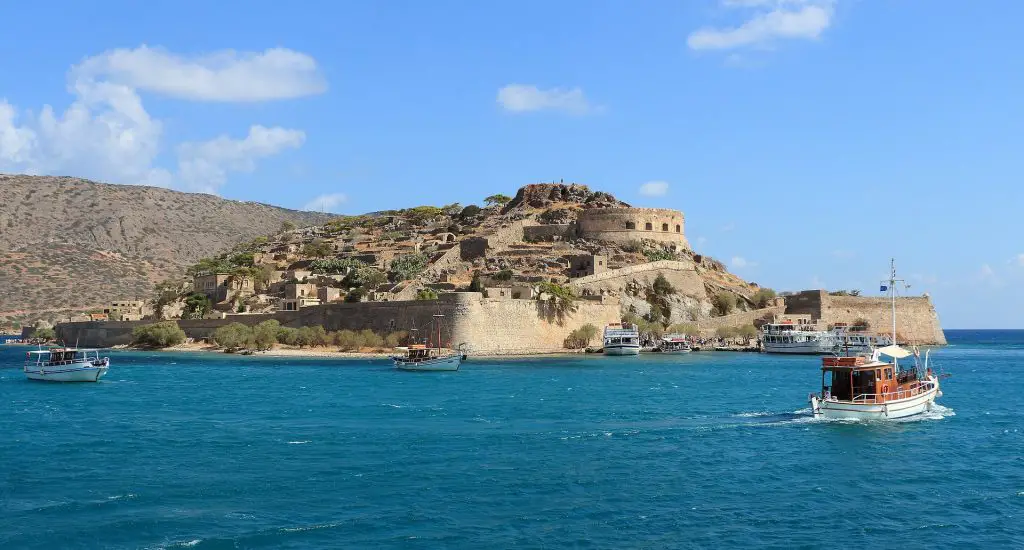 Spinalonga is an island to which you can get only by a short boat trip. A fort was built on the island during the Venetian occupation, and in later years it was used as a leper colony.
Nowadays there are no permanent inhabitants on the island. It has become a popular tourist destination. If you plan to go there, check the opening hours. During the high season, there might be a queue of others wishing to go there, so I advise you to be there in a timely manner.
Hikes in Crete
Personally, I prefer hiking over cities and tours of popular tourist attractions. Luckily, there are many more or less popular hiking routes in Crete.
Samaria Gorge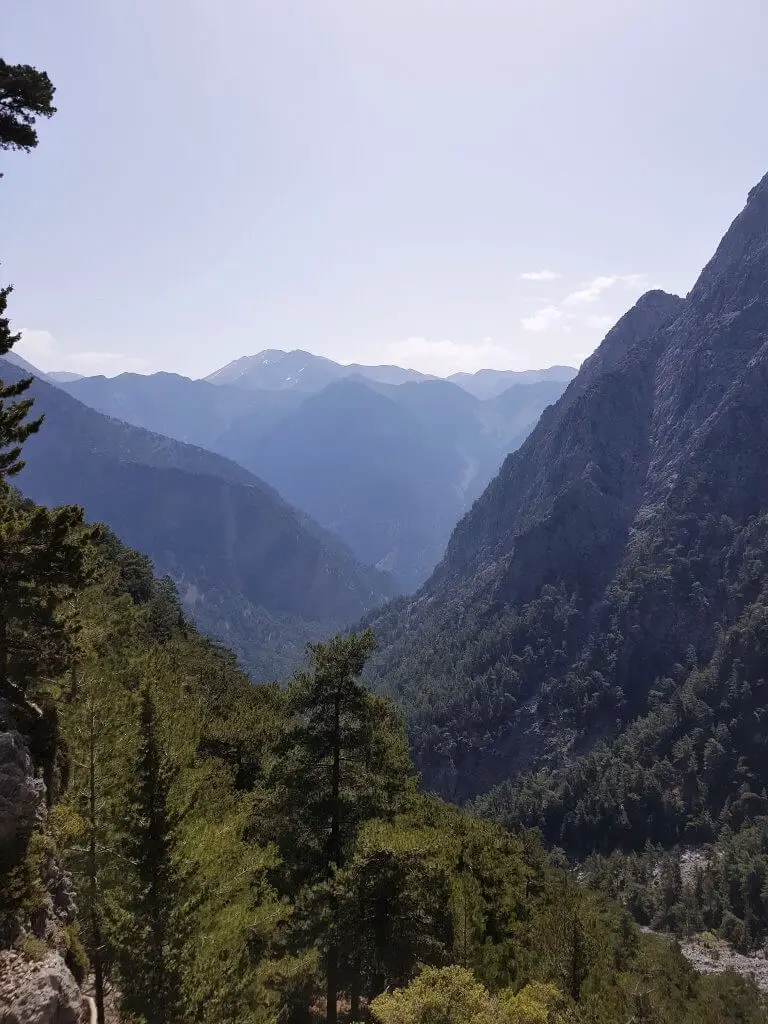 Samaria Gorge hike probably is the most popular one in Crete, as it is the longest and most impressive gorge on the island. It is around 16 kilometers long in one direction and takes around 5-7 hours for hikers to go through.
The hike is breathtakingly beautiful, with the rocky walls of the gorge surrounding you. Samaria Gorge ends at the sea, so you can reward yourself with a nice swim after the hike.
Richtis Gorge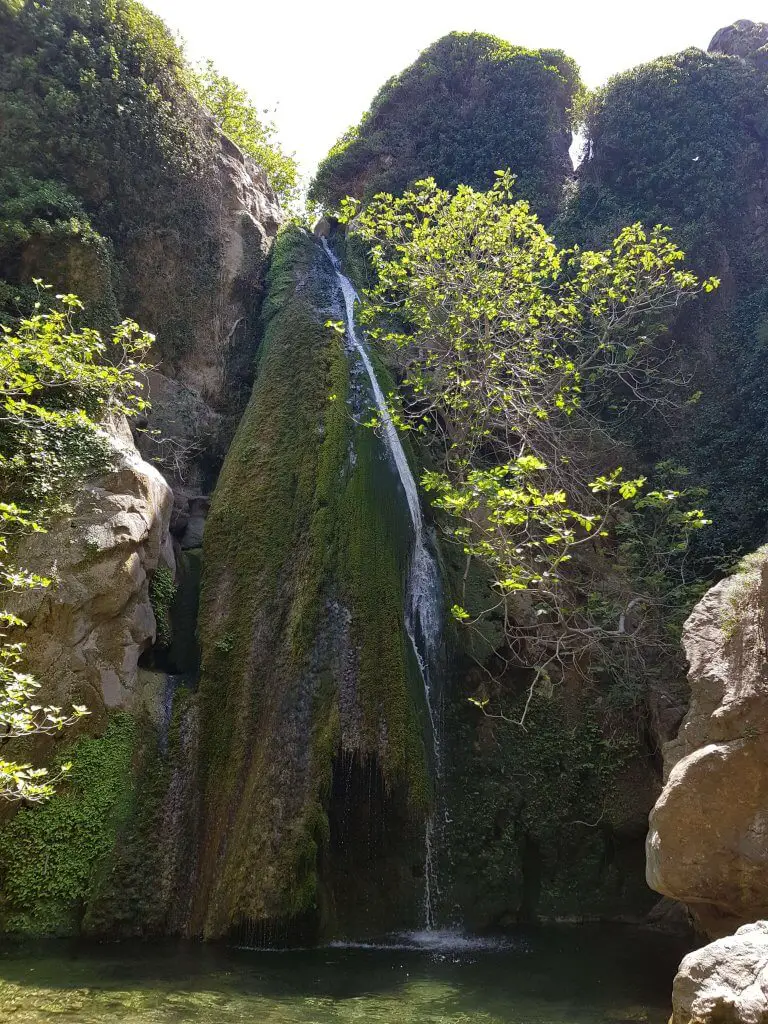 A bit lesser-known Richtis Gorge offers a nice hike, which is shorter and much greener than the one in Samaria Gorge. A bonus is that it's easier to do with a rental car, as you can climb down the gorge, have a swim in the sea, and then climb back up.
Mount Ida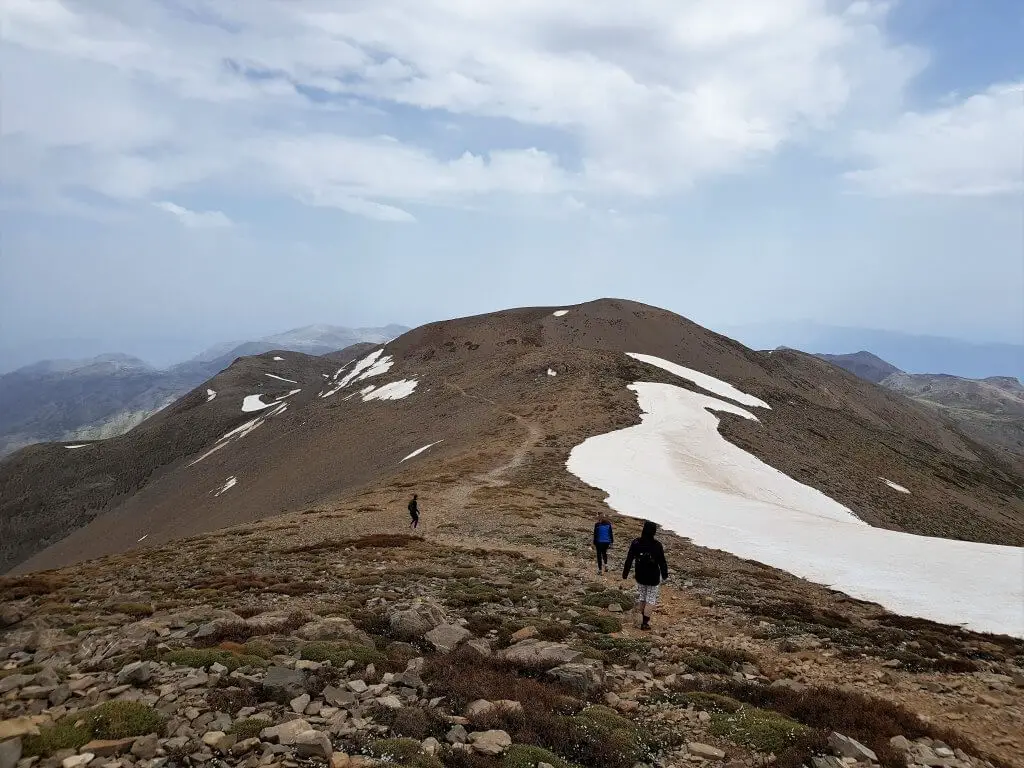 Mount Ida is the highest point in Crete, so the hikers are rewarded with a top-of-the-world kind of view when they reach the summit. The path is well-marked and moderately steep. A one-way trip is around 4.3 km long and the total climb is around 900 meters, so it is a bit challenging.
Imbros Gorge
Imbros Gorge runs parallel to Samaria Gorge but is shorter and easier to hike. It's almost as stunning and will be a good hike for children as well. This is a great option for hiking if you don't want anything challenging, but are interested in seeing a stunning canyon and beautiful rock formations.
Beaches in Crete
Crete is famous for its beaches. There is one for any taste. Sandy, tropical, rocky, pebble, dark sanded – quite a variety. Below are some beaches that I found the most amazing of all, so these are definitely worth a visit.
Elafonissi beach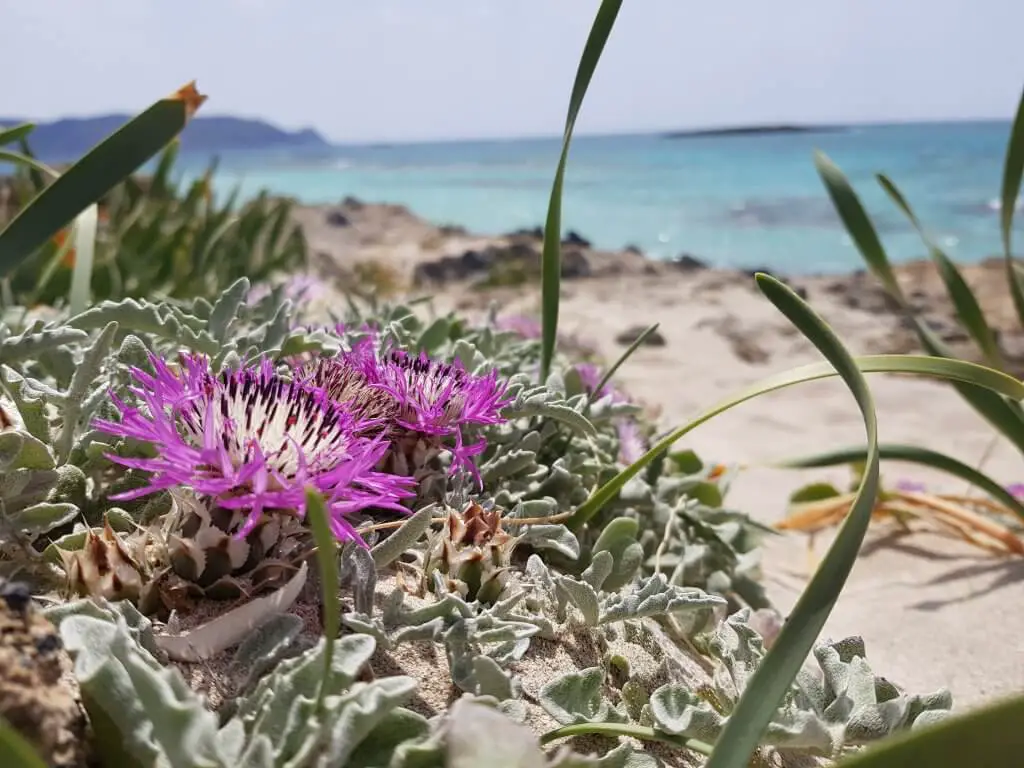 Elafonissi beach is special due to the pink coloring of its sand. It is quite big, with shallow waters for a great distance. I'd recommend going for a walk there – you can go around the nearby island and check out the interesting rock formations and plants. I found it hard to just lay in the shallow water, as it reflected the sun quite extensively. It may cause sunburns and overheat, so be careful.
Balos beach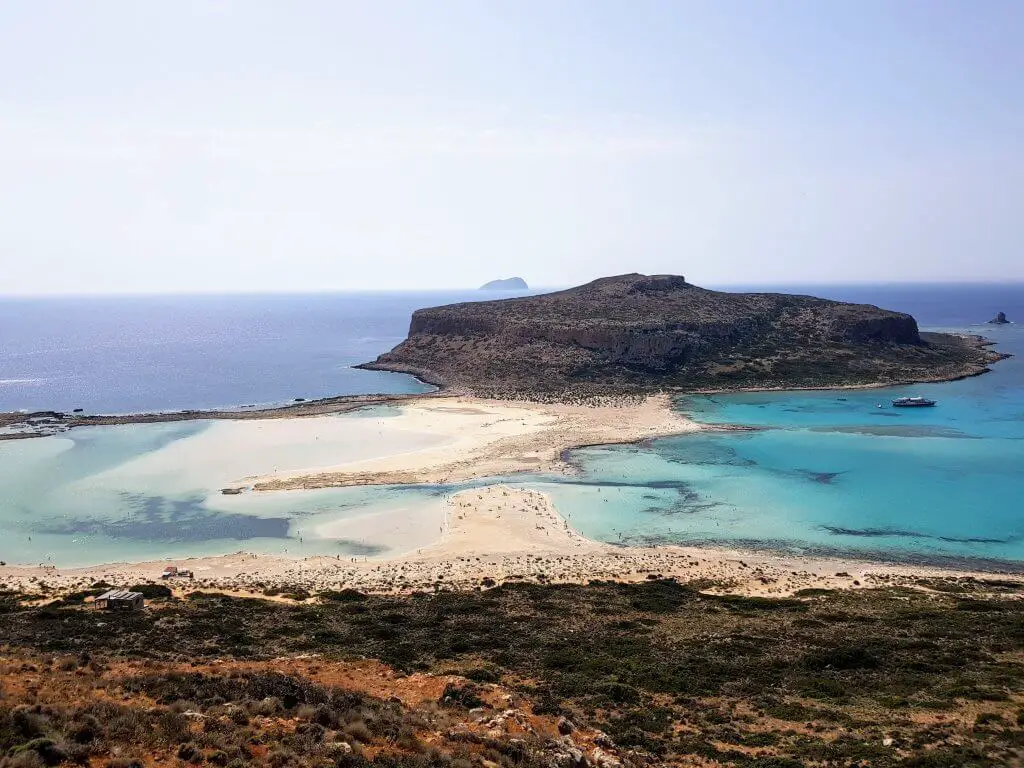 Balos beach is another epic destination. The nearby island is reachable on foot, you just have to walk through some patches of water. It looks very nice from the steep shores of Crete and gives an intimidating feeling when you climb down to the beach. Why intimidating? Because you know that you'll have to climb the steep stairs back up in flip-flops.
Top tours in Crete
If you prefer organized tours and don't want to explore Crete on your own, check out these top recommended tours from GetMyGuide:
What is the best area of Crete to stay?
The best place to stay in Crete depends on what you want to do there and what you plan to see.
If you want just a beach vacation with a few tours then I'd recommend looking for a beach-front hotel near one of the bigger cities. But probably not in the center of the city, as that would mean a million other people on the same beach. Hotels usually offer some of the most popular destination tours and an airport transfer, so there would be no need for a rental car.
If you are looking for a party, book a hotel in Malia or close to the city center in Chania or Heraklion.
If you are an adventurer and want to add as many items as possible to your Crete itinerary, then you can do what I did on the most recent trip to Crete. I got a rental car at the airport and booked two separate accommodations for the week. The first 3 nights I spent near Malia and did some road trips to the western side of Crete. And the next 3 nights I had an Airbnb near Kissamoss and explored the eastern side of Crete. This saved time on the road and allowed me to check out living in several towns.
Check out these 11 cool Airbnbs in Crete!
What is the best time of year to go to Crete?
From my experience, the best time is right before or after the high season in the summer. There are several reasons:
In the summer Crete tends to be hot. As I live in northern Europe, sometimes the heat is too much. Especially, if I want to go on a longer hike.
There are fewer crowds. In the previous time when I visited Crete in the first week of May, there weren't many people on the most famous beaches, archeological sites, and charming restaurants just at the waterfront.
The prices are lower. In the off-season, you'll get a lower price for a rental car and accommodation.
Check out these detailed guides on what to see in Crete
Road Trip in Crete: Cave Of Zeus, Knossos, And Heraklion
Hiking Mount Ida in Crete, Greece
Visiting Samaria Gorge With a Rental Car
Day Trip from Chania to Beaches of Elafonissi and Balos, Crete
Spinalonga and Richtis gorge day-trip in Crete, Greece
And if you are interested not just in Crete, but Greece overall, here are the best things to add to your Greece bucket list.