Some of the links in this post are affiliate links. This means if you click on the link and purchase the item, I will receive an affiliate commission at no extra cost to you. All opinions remain my own.
When it comes to destinations in Southeast Asia, Singapore is one of the favorites among many travelers. That's because the country has something to offer everyone, from vast green spaces and historic districts to thrilling theme parks and a multitude of world-class dining destinations.
In this article, we will explore the reasons why travelers love visiting Singapore and what makes it such a unique and exciting destination.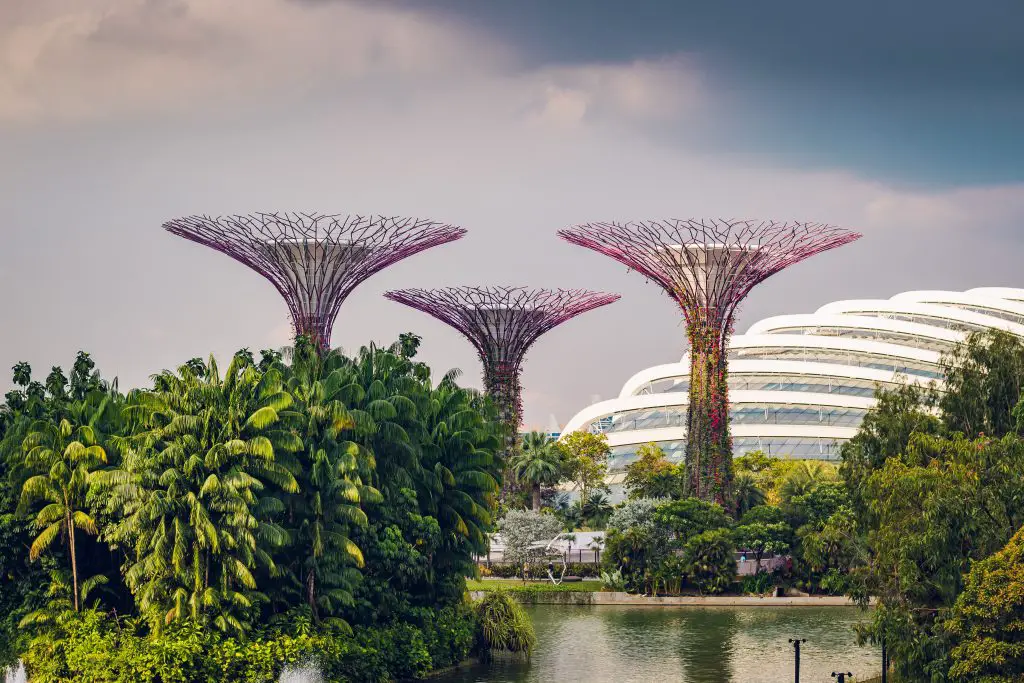 They Can Enjoy a Wide Range of Delicious Food
Travelers love Singapore's food scene for its incredible variety and unique blend of flavors.
The city-state is famous for its hawker centers, where visitors can sample local favorites like char kway teow, chicken rice, laksa, and satay. These centers offer an affordable and authentic way to experience the local food culture since they are well-integrated into local communities.
Indeed, travelers love the food scene in the Lion City because it offers a diverse range of options at varying price points, making it accessible for everyone to indulge in the country's delicious cuisine.
That being said, Singapore's food scene also caters to those with more refined tastes, with a range of high-end restaurants serving up delicious culinary favorites from around the world.
One of the most popular dishes in Singapore is chili crab, a sweet and spicy seafood dish that is a must-try for any foodie.
The city-state is also home to several Michelin-starred restaurants, showcasing the culinary talents of local and international chefs. Some notable places are Odette and Les Amis, which are awarded three Michelin stars—a great feat for any restaurant. 
There Are a Multitude of Family-Friendly Attractions
Singapore has many family-friendly attractions, making it popular among people looking for a fun holiday destination for family vacations. The country has a lot of places that kids and teens will enjoy.
For example, the Singapore Zoo is a hit with all animal lovers. There, visitors can enjoy close encounters with different kinds of creatures, including perennial crowd-pleasers like elephants, sun bears, orangutans, crocodiles, and the Malayan tapir.
Alternatively, you'll also get to see nocturnal animals in their simulated habitats when you visit Singapore Zoo's sister park, the Night Safari.
Visitors can also have an exciting time at Resorts World Sentosa, where they can find Universal Studios Singapore.  Visitors love this theme park for the immersive entertainment and thrilling rides it offers. As the only Universal Studios theme park in Southeast Asia, it is a must-visit destination for movie and pop culture enthusiasts. The park is divided into seven themed zones, each with its own attractions and rides based on popular movies and TV shows like Madagascar, Transformers, Jurassic Park, and Shrek. Each one of these zones transports visitors to different worlds and immerses them in the stories of their favorite characters. 
There Are Plenty of Lush Green Spaces
While Singapore has a world-class built environment, it also boasts plenty of greenery. Travelers love these green spaces for the peaceful respite they provide from the hustle and bustle of the city. The city-state is home to several world-class gardens, such as the Gardens by the Bay and the Singapore Botanic Gardens. 
Gardens by the Bay features remarkable futuristic structures and various exhibitions of both well-known and exotic plant species. Its attractions include the 25- to 50-meter-tall "Supertrees that light up at night during the scheduled light shows. The Singapore Botanic Gardens, on the other hand, is a UNESCO World Heritage Site that dates back to 1859 and features over 3,000 species of tropical and subtropical plants. 
In addition to these man-made attractions, Singapore is home to several nature reserves, such as the Bukit Timah Nature Reserve and the Sungei Buloh Wetland Reserve. These places, mostly still not encroached upon by civilization, continue to offer visitors a glimpse into Singapore's remarkable biodiversity.
The City-State Has Numerous Architectural Gems
Singapore is a city that boasts an impressive blend of architectural styles, from traditional to modern. Some of the most notable architectural gems include the Empress Place Building, a neoclassical building that was built beginning in 1864 and now houses the Asian Civilisations Museum. The House of Tan Teng Niah, located near the Little India neighborhood, is a colorful and ornate Chinese villa that dates back to the early 20th century. Another impressive structure is the Sultan Mosque, an iconic landmark in the Kampong Glam neighborhood that showcases traditional Islamic architecture with its intricate details and domed roof. These buildings serve as testaments to the multicultural heritage of the country, which straddles the traditions of both East and West.
In recent years, Singapore has also introduced numerous modern architectural marvels to its skyline, including world-renowned buildings like the Marina Bay Sands, the Esplanade – Theatres on the Bay, and the Jewel Changi Airport, a futuristic glass-and-steel structure that features the world's largest indoor waterfall, an indoor garden, a multitude of retail stores and dining destinations, and even a Changi Airport hotel. Indeed, travelers love exploring these architectural gems, which showcase the city's rich history and culture while also highlighting its modern and innovative spirit.
The Multi-Cultural Districts
Singapore is a melting pot of different cultures, so make sure to take time to explore the various ethnic districts of the city-state, which include the likes of Little India, Chinatown, and Kampong Glam.
Little India is a bustling neighborhood that showcases the Indian community's vibrant culture, with its charming rows of shophouses, aromatic spice markets, saree shops, and traditional restaurants.
Chinatown, on the other hand, celebrates the history and heritage of the Chinese diaspora community, with its ornate temples, traditional Chinese medicine halls, and street food stalls.
Finally, Kampong Glam, which is home to the Malay and Arab communities and the site of the famous Arab Street, features hip cafes, colorful murals, and the iconic Sultan Mosque with its golden dome.
Each one of these ethnic districts has a unique charm that reflects the city-state's rich cultural diversity, which comes alive, especially during festival seasons like Deepavali, Chinese New Year, and Eid al-Fitr.
Many travelers head to Singapore for different reasons. Some of them come for the gastronomical delights, others for the green city charms of the city-state, while others are rightfully enthralled by the beautiful historic buildings. Regardless, these reasons are also why many individuals come back over and over again. That said, consider these reasons as motivations to stop by the Lion City when taking a trip to Asia.