Some of the links in this post are affiliate links. This means if you click on the link and purchase the item, I will receive an affiliate commission at no extra cost to you. All opinions remain my own.
Paris, widely known as the romance capital of the world, is so much more than just that. The city is rich in architectural wonders, delicious food, remnants of centuries-old cultures, and so much more. It is no less than a dream destination for many, and planning a trip there and executing it can be no lesser feat than climbing the Eiffel Tower itself.
From financing the trip to finding accommodation and going sightseeing, planning such an overseas trip is a journey in itself and can be overwhelming.
In this article, we will outline a step-by-step guide for planning a trip to Paris to help you get ready for the most beautiful trip of your life.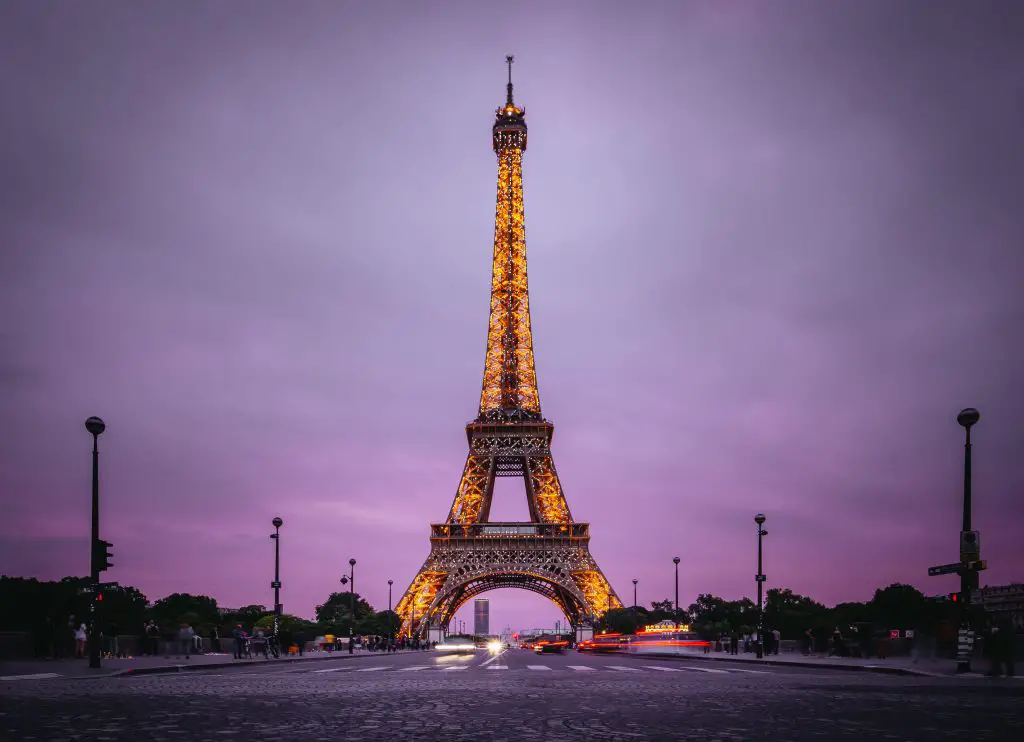 Before The Travel
There are several things that you must take care of before booking the tickets to the city of love.
Gather the Funds
The first step to planning every vacation or trip is to ensure that you have enough funds for ticketing, accommodation, travel, food, and miscellaneous expenses, among other things like travel insurance.
A trip to Paris can cost up to $2,300, $4,000, and $7,000 for a solo traveler, couple, and family of four, respectively, for a 7-day trip.
However, the cost might change depending on the airline, type of hotel, travel itinerary, and more. In any case, you should keep extra funds aside for changes in plans, dinner reservations, unexpected price hikes, and more.
Decide on the Time
While the city of lights is beautiful at any time of the year, you can decide on the timeline based on your availability and how you want to experience the city. While the peak tourist season is from June to August and September to November months see low numbers of tourists, the city has different things to offer in all the months. 
The spring season from March to May will allow you to experience the beautiful, tiled streets of Paris covered in cherry blossom flowers. Moreover, since there are very few tourists, you can enjoy pain au chocolat without standing in long lines at the bakeries. You will also see blue skies and ideal temperature with the occasional light showers.
The capital city of France is one of the best summer destinations worldwide. The months from June to August see long days, clear blue skies, and streets bustling with tourists and locals trying to make the most of the season. You can enjoy endless street festivals, fun outdoor activities, and picnics, and experience the nightlife of Paris to the fullest in summer.
Although the weather in Paris gets a little unpredictable in the months of fall from September to November, the prices are considerably lower than in summer, and you might be able to grab some great deals.
If you choose to go to Paris in the winter, you should be prepared for cold, gloomy weather. However, the city still offers plenty of indoor activities, and the Christmas decorations in Paris are undoubtedly one of the best in the world. You will also get to enjoy the hot chocolate of Paris in its full glory in winter.
Many people prefer to visit Paris in the off-season because of the low prices and less crowd. However, many attractions may be closed and even the locals might have gone away for their vacations during the off-season, so you might not get the full experience if you choose to visit Paris during the off-season.
Book Your Tickets
Once you have decided on a time and budget, you can start looking for a ticket to Paris. If you are traveling from outside Europe, going to Paris by air will be the best option for you. Flight tickets to Paris can range from $400 to $850 in the economy and $900 to $1,800 in first class for one person. However, the price depends on the time of visit, the airlines, and how far in advance you book your ticket. You might find cheap flights during the low season.
Paris has three airports: Paris Charles de Gaulle (CDG), north of Paris; Paris Orly (ORY), south of Paris; and Paris-Beauvais (BVA). Paris Charles de Gaulle Airport is the second busiest airport in all of Europe, and most international flights land here. The airport itself is huge and a testament to the city's rich history and grand architecture. From the airport, it is wise to take the train since traffic in Paris during the peak tourist season is not something you want to experience from inside a cab.
Another more exciting and classy way to travel to Paris is via train. However, you can only do that if you are traveling from somewhere in Europe. Multiple high-speed trains travel through other notable countries in Europe, like England, Luxembourg, Belgium, Spain, Italy, and more, while making their way to Paris. You can enjoy the scenic beauty of these places while traveling stress-free.
Apply for Travel Insurance
Travel insurance is a must while applying for a visa to France. Not only is it essential for the application and documentation processes, but it also acts as a safety net for you. No matter how intricately you plan a trip, several things can go wrong, from illness to theft to needing ticket reimbursements. Good travel insurance is a must-have, not only for a visit to Paris but also for any long-distance travel. There are multiple travel and medical policies for tourists planning to visit Paris, so be sure to avail of their services before applying for a visa.
Apply for a Visa
Depending on your home country, you will be eligible for either a Schengen visa or a short-stay visa. A Schengen visa holder can enter, travel freely, and leave the Schengen zone for 90 days. Alternatively, you will not need a visa if you reside in a European Union member country. You should also gather all the documents that you might need in customs, like an updated passport, vaccination card, etc.
Manage Accommodation
Paris is a big city, and finding the right accommodation in the area of your choosing may be more difficult than anticipated. The city is divided into 20 arrondissements or districts, and each has its own administration. All the arrondissements have something to offer, like the Louvre and Seine River in arrondissements 1st and 2nd or Notre Dame and Pantheon in arrondissements 5th and 6th. The 1st arrondissement is at the city center, and the others form a clockwise spiral and finish at the 20th in the east.
The accommodations are more expensive in the city center, but budget-friendly options are available for those who can look for them. You can find budget-friendly or luxury hotels, hostels, Airbnb, furnished apartments, and dorms for all kinds of budget options. If you do not want to go over budget, we recommend making reservations in advance, avoiding famous places like those that provide views of the Eiffel Tower, and researching extensively.
Prepare a Travel Itinerary
As mentioned before, Paris is overwhelming with the number of well-known tourist attractions and hidden gems scattered all over the city. Thus, if you want to make the most of your stay, it is best to have a Paris itinerary and adhere to it as much as possible. Planning your stay in advance will help you visit the attractions that you want. However, it is also vital to leave room in your Paris trip planner for some adjustments along the way. You can buy a Paris pass to access the major attractions or get the Paris Museum Pass to gain access to over 60 museums in the city.
Learn French
By learning French, we don't mean taking an extensive Duolingo course, we simply mean learning some essential French words that might help you navigate the city better.
It is common knowledge that people tend to be more friendly towards outsiders who make an effort to learn something about their culture and language. It is also good manners to learn some basic greetings or ways to ask for help in the language of the country you are visiting.
Alternatively, you can download translator apps, use pocket dictionaries, or hire a guide to help you communicate with the locals and make your stay even better.
Make Plans for Traveling Within the City
Traffic in Paris can be a nightmare during peak months, and hopping off a plane without deciding how to get to your accommodation can spoil your first impression of the city. Thus, it is recommended that you arrange to have a private or shared transfer from the airport to your accommodation.
Alternatively, you can take a train since it is near the airport, the cheapest way to travel to the city center, and is fast. However, you will have to take either a cab or public transport to your accommodation from the city center. There are also buses, cabs, and Ubers that you can take from the airport.
For traveling around the city during the course of your stay, you can use the metro system, which is very well-organized, effective, and cheap. You can purchase one-way bus tickets or the Paris Visite Pass, which is valid for one, two, three, or five days, and will also provide you with unlimited metro rides for as long as it is valid. These options are all available for under €20 and provide ample sightseeing options.
The Best Places to Visit in Paris
With planning out of the way, now comes the fun part of the trip to Paris. There are hundreds if not more, of attractions in Paris that you can visit during your stay. However, you have to make room in your itinerary for the ones that you don't want to miss so that you don't have any regrets while boarding the return flight. In this section, we will discuss the major attractions in Paris that will quench your wanderlust.
The Eiffel Tower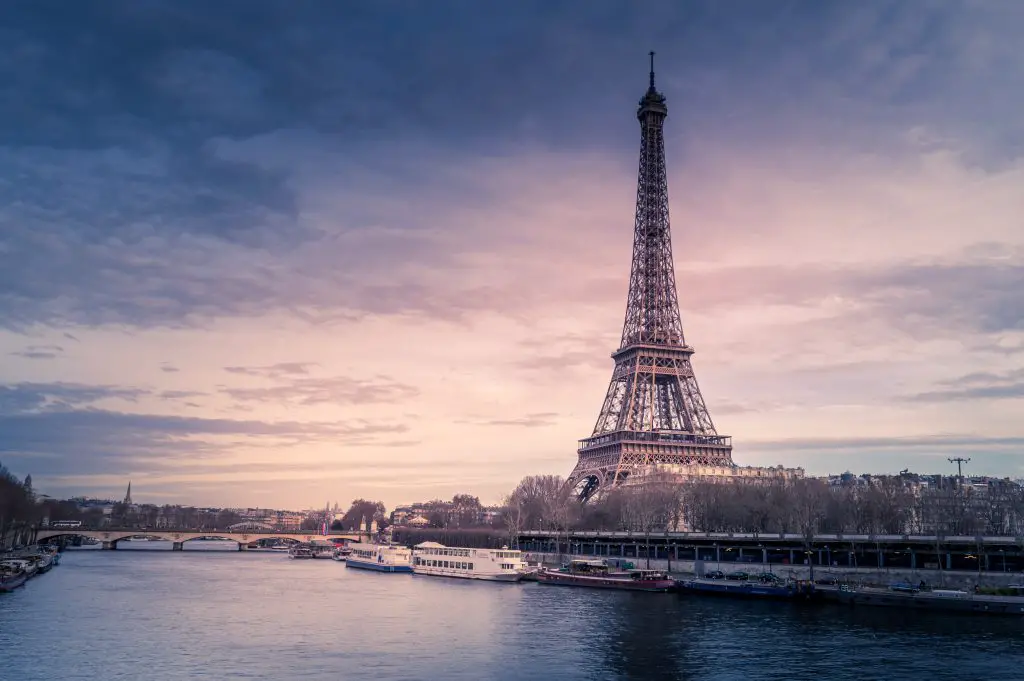 This one is pretty self-explanatory. You cannot visit Paris and not see La Dame de Fer, which gets over 25,000 visitors every day. The top of the tower allows you to see a spectacular view of the city of Paris, and there is also a champagne bar and a recreation of Gustave Eiffel's office at the top. You will find museum exhibits, souvenir shops, restaurants, changing exhibitions, a glass floor on the 1st floor, cafes, shops, an observation area, and the Jules Verne restaurant on the 2nd floor.
However, keep in mind that the security at the tower is very strict, and you will be subjected to two security checks; one at the entrance and one before entering the pillar to take the elevator or stairs. You also cannot take any luggage above the recommended size, and non-folding strollers, scooters, and bicycles are strictly prohibited.
Arc de Triomphe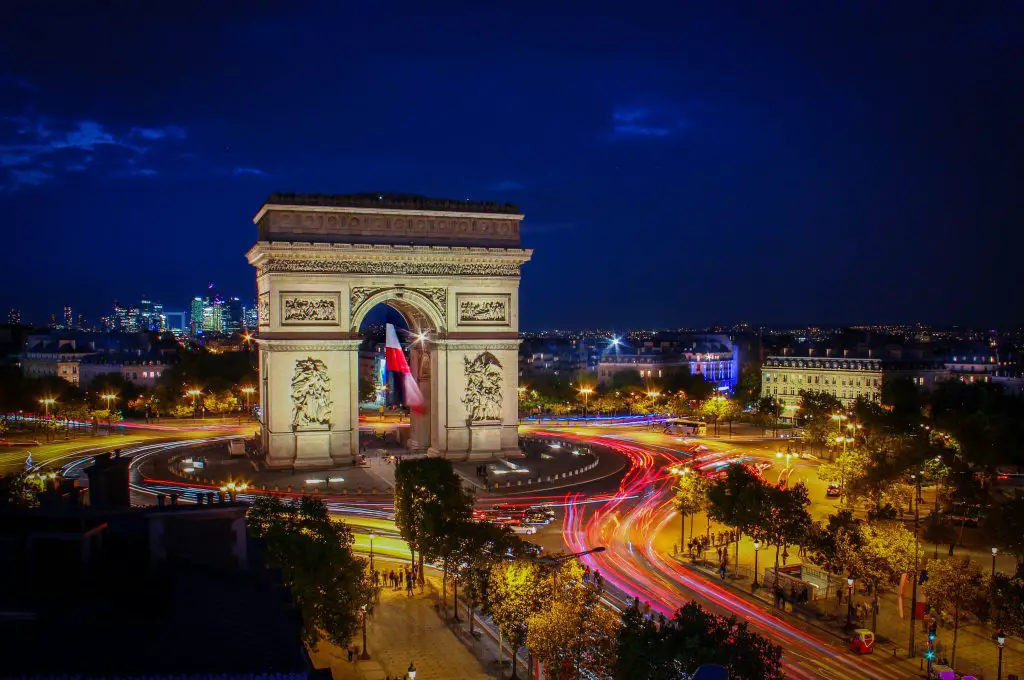 The Arc de Triomphe is a commemorative monument that stands at the center of Place Charles de Gaulle and is a symbol of French national identity. It took 30 years to build. The sculptures on the monument depict military victories of the French Revolution and other iconic pieces. There are 284 steps in the monument that one can take to reach the observation deck at the top. There is also a museum with interactive exhibits on the history of the arch one level below the observation deck.
The Pantheon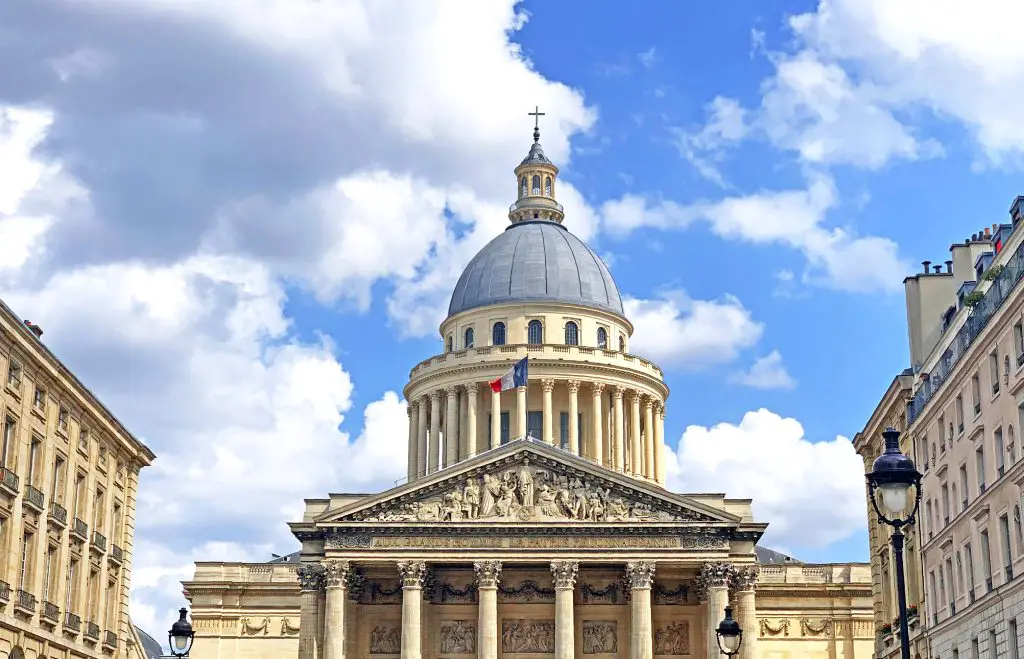 The Pantheon is an architectural wonder located in the 5th arrondissement of Paris. Its facade is built like the Roman Pantheon, with a high dome over the crossing and lower saucer-shaped domes over the four arms. This monument is the resting place of some great writers, churchmen, politicians, scientists, and generals who have played vital roles in the history of France.
It is recommended that you dedicate at least two to three hours to this monument to truly understand the rich history associated with it. You can even book the Paris bike tour and visit the Pantheon as part of the tour.
The Louvre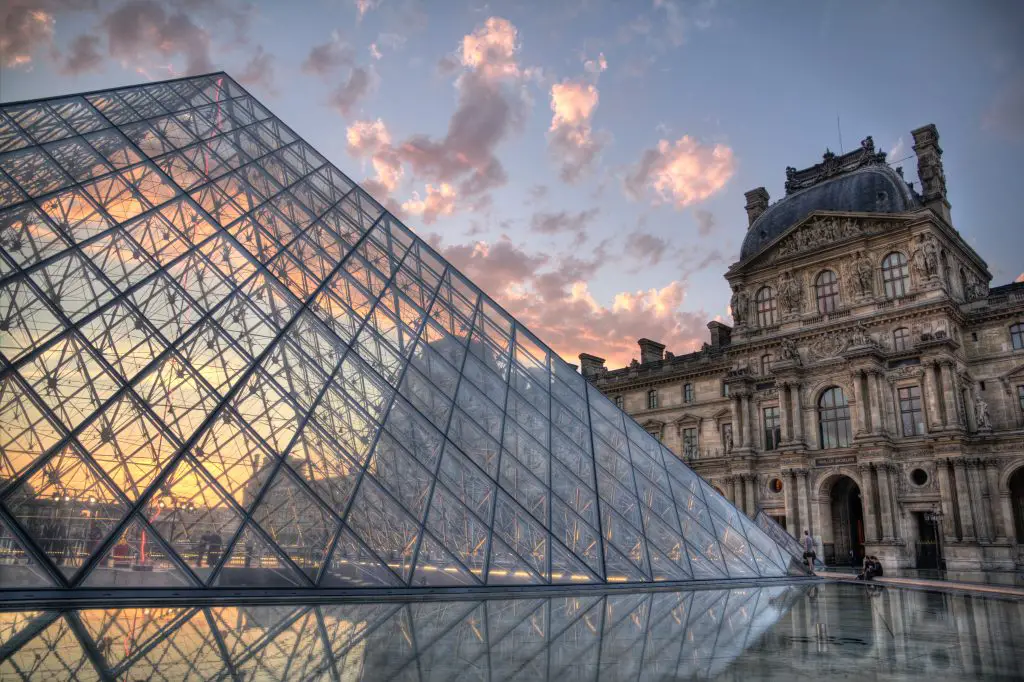 This is undoubtedly one of the most famous museums in the world, with many iconic and historic paintings like the Mona Lisa, Venus de Milo, and 100,000 other notable exhibits. You can also walk through the majestic Tuileries Gardens on your way to the Louvre. A stroll through the commercial area of the Louvre will allow you to see various other equally beautiful sections, like the medieval fortress and the modern pyramid.
However, the Louvre is not the only museum in Paris; there are other great museums scattered throughout the city, including the Musée de l'Orangerie, Galeries Nationales du Grand Palais, Musee d'Orsay, and Musée Marmottan-Monet which you can visit during your stay.
Disneyland Paris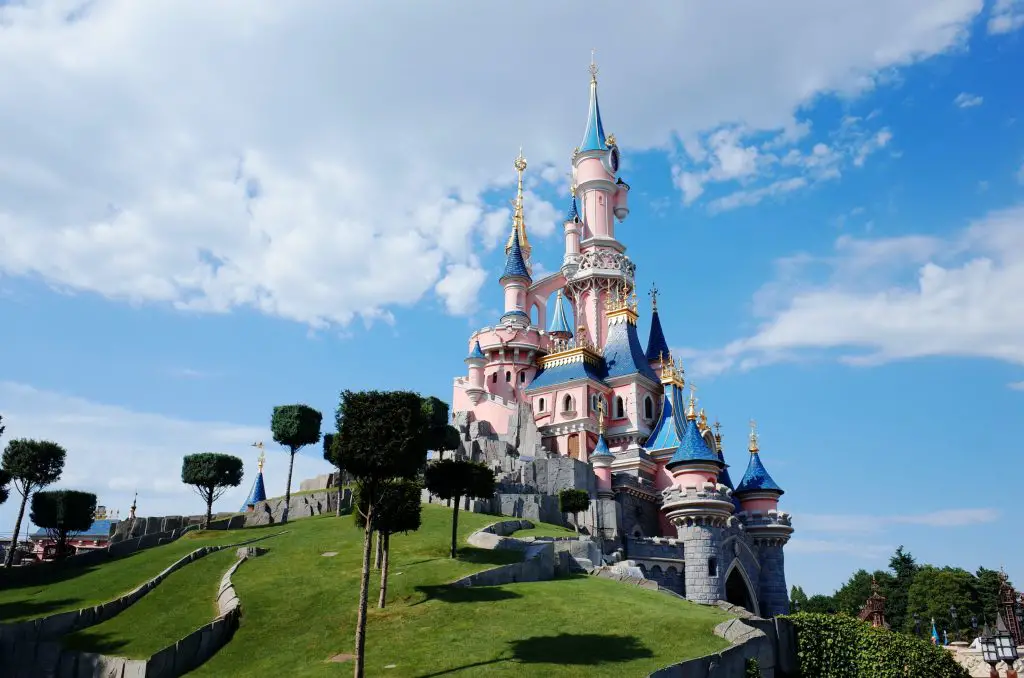 A trip to Paris would not be complete without visiting Disneyland Paris. The fairytale kicks up a notch in the city of love. Even if you are not traveling with children, Disneyland has enough magic for tourists of all ages. You can kick it with Mickey and the gang, have tea with Cinderella, Snow White, and Belle, take a tour of their land, or watch adrenaline-pumping shows like Mickey's Magical Celebration and Moteurs! Action! Stunt Show Spectacular! Moreover, this land of magic is conveniently located in the new town of Marne-la-Vallée, which is a coach transfer away from central Paris.
Palace of Versailles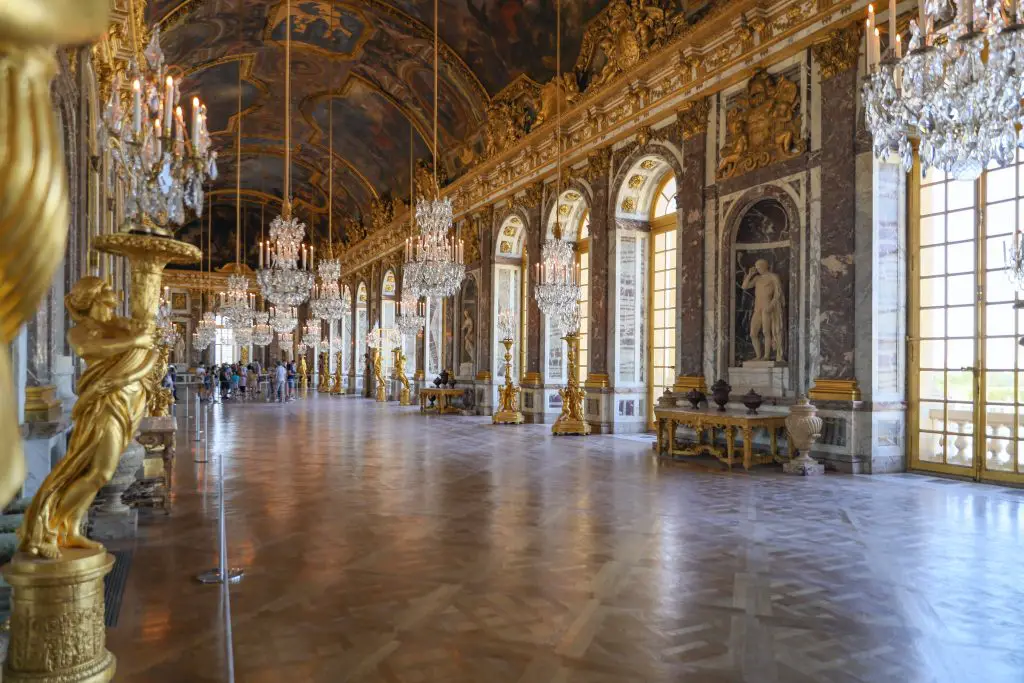 Visiting Paris is incomplete without visiting the Palace of Versailles, an estate no less in grandiosity and history than a small city. The palace dates back to the seventeenth century and was everything from a hunting lodge to a seat of power. It was converted into a museum in the nineteenth century. It features grand attractions like the Hall of Mirrors, the Grand Trianon, the Fountains, the park of the Chateau de Versailles, and so much more.
Other Notable Places
It is impossible to list all the places in Paris worth visiting; however, here are a few other notable places in Paris and fun activities that you can add to your Paris vacation plan:
Montmartre
Cabaret Show at Moulin Rouge
Sacré-Cœur Basilica
Wine and food tours on foot within walking distance of some notable monuments
Angelina, the famous tea house in Paris
Seine River Cruise
Covered Passages in Paris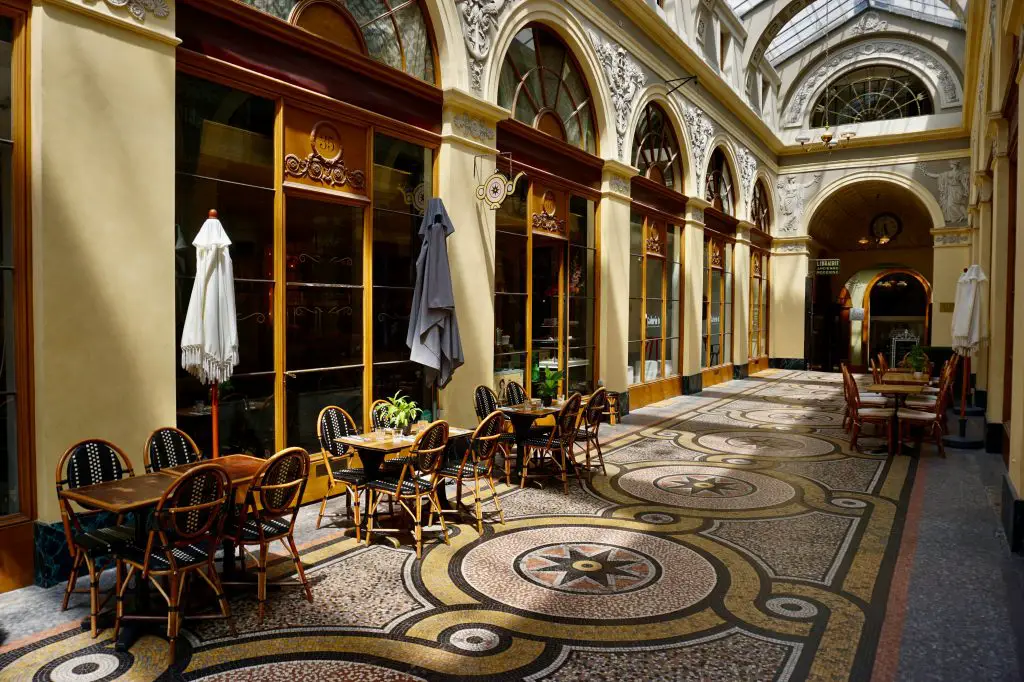 The covered passages in Paris, also known as Les Passages Couverts de Paris, are the gems hidden in plain sight in this mighty city. They were created in the 18th century as a labyrinth of commercial passages all over the city with stained-glass ceilings, mosaic works, and iron latticework.
Today, these passageways are Neoclassical architectural gems that house chic cafes, ancient boutiques, and other dainty little shops. The following are some of these beautiful passageways where you can find a stunning amalgam of history and modernization.
Passage des Deux Pavillons, Paris
Passage du Grand Cerf, Paris
Passage des Panoramas, Paris
Passage Choiseul, Paris
Galerie Vivienne Paris
Galerie Vivienne Paris
Things to Consider During Your Paris Trip
Bring Comfortable Clothing
Paris offers multiple sites within walking distance of the city center. Moreover, there are many hidden gems, like the covered passageways, that are best explored on foot. Evening strolls and late-night walks in Paris are equally special experiences. Thus, it is recommended to wear comfortable clothes and good walking shoes to make the most of your Paris experience.
Paris has metro cards and the Paris Visite Pass for traveling within the city. The metro system is well-managed and connected to almost all the sights. You can also take the train, which is regular and punctual. Cab rides and Uber can be expensive, especially during tourist season, so it is best to make the most of public transportation whenever possible to save money and make the most of your visit.
While you cannot look and act exactly like the locals, try your best not to stick out. Do not wear flashy clothes or act overtly like a tourist, especially on public transport and in crowded places, as tourists are easy targets of pickpockets and scams. Be mindful of your personal belongings and leave valuable items at your accommodation after ensuring that they are safe. Learn how to ask for help in French so that you are prepared should the need arise.
If you are lost, ask for directions at shops instead of stopping at random passer-bys. Also, if you are a first-time visitor, download offline maps or keep a physical map with you at all times. In the same vein, if possible, book your hotel near the city center so that it is easier to get to via public transport without having to change buses.
Book your accommodations before arriving in the city so that you can rest after a long flight. Similarly, make your reservations and bookings for sightseeing or at the major attractions in advance. Ensure that the places you want to eat at or visit are open during that time of the year, and make your dining reservations accordingly.
Always pack essential items like toiletries, clothes for the weather, shoes, etc. Also, your Paris packing list should include a travel adapter since the sockets might be different than where you are from. Carry an identification document on your person at all times in cases of emergency or for security checks at attractions like the Eiffel Tower.
There are multiple guided tours across the city for some must-visit places like the Louvre Museum, the Eiffel Tower, the Palace of Versailles, etc. A guided tour will usually feature a guide who will tell you everything you need to know about the place and allow you to see hidden gems or learn quirky tidbits about a place that you might have missed when visiting alone, especially if you are a first-time visitor. Such tours often allow you direct entry without waiting in line and other perks that you might have otherwise missed.
FAQs
Which is the best season to visit Paris?
Most people visit Paris during the summer, especially in July, when the number of tourists peaks. Similarly, the autumn season, during the months of September and October, is also considered a high season in Paris.
How many days are enough to visit Paris?
Ideally, you should spend at least a week exploring Paris beyond the major attractions, visiting a few hidden gems, and getting to know the city better. However, a three-day trip at the very least will suffice for visiting the major spots, dining at a few locations, and walking around a few neighborhoods. The key is having a good Paris itinerary and visiting the places that you really want to see before moving on to the other attractions.
How do I create the perfect Paris trip planner?
The first step to creating a good Paris trip planner or itinerary is not expecting to see everything in a couple of days that you are there. For reference, merely spending a minute in front of all the artwork in the Louvre could take up to 65 days. Therefore, set a timeline and stick to it. Make a list of everything you want to see and decide how much time you can spend in each place while allowing time for travel, meals, and rest. Do not get distracted by other attractions along the way. Make advanced reservations at restaurants around the major attractions so that you can fully utilize the time, and leave some room in the plan in case of unexpected delays or to squeeze in a few more sights.
What is the Paris Tourist Pass?
The Paris tourist pass, or Paris city pass, is an alternative to individual attraction tickets or one-way bus passes. The Paris pass allows you to save time and money since you won't have to buy tickets for each individual attraction. There are multiple types of Paris passes that require you to pay a sum upfront, and they include different packages and different attractions.
Conclusion
Planning a trip to Paris is a long process that can seem daunting if you don't know what and where to look. You can start by planning your budget and timeline, making an itinerary, and booking flights and accommodations.
The French capital is rich in historical monuments that can take days, if not weeks and months, to be fully understood; however, you must time your trip and visit each attraction smartly.
The cost of your trip depends on the season and duration of your visit, among other things.
The city offers many hidden gems, like covered passageways, cute cafes, food tours, and wine tours, that you can enjoy.
Remember to pack all the essentials, including travel adapters, and learn a few French words to make your visit easier.
---
---