Some of the links in this post are affiliate links. This means if you click on the link and purchase the item, I will receive an affiliate commission at no extra cost to you. All opinions remain my own.
If you're looking for a beautiful Southern California getaway without the L.A. traffic, San Diego is your city. With spectacular beaches, a thriving nightlife, and plenty of attractions, San Diego has something for everyone–furry friends included!
About San Diego
San Diego is located in sunny Southern California, a few hours south of Los Angeles and just north of the Baja California border. The gorgeous SoCal weather, with sunshine and clear skies from spring until fall, makes it a perfect location for a beachy getaway. In fact, it is one of the best summer travel destinations in the USA.
The prime tourist season is in summer, from June to August, so if you want to avoid the crowds (and summer heat), you may want to plan your trip somewhere in March through May or September through November.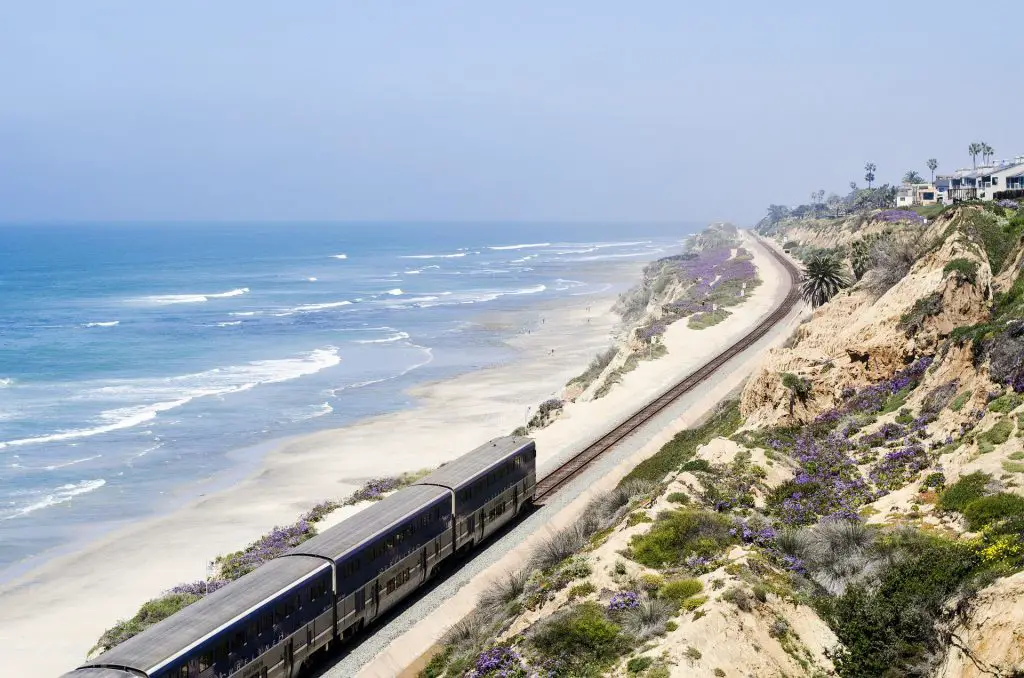 How to Get to San Diego
So you've made the excellent decision to visit San Diego! But how are you going to get there? Luckily, the city has plenty of options for nearly every kind of travel:
Flying: The San Diego International Airport (SAN) is a quick, 10-minute trip from downtown with domestic flights available from most major carriers. You can make the drive into the city yourself, use a ride-share app, or take the San Diego Transit Flier, Bus Route no. 992. 
Taking the Bus: There are plenty of options to take the bus to San Diego, which is often much cheaper than flying (especially if you're booking at the last minute). The bus terminal itself is downtown, just north of the San Diego Bay, with easy access to hotels in the city. 
Taking the Train: For the best views and most incredible start to your vacation, take the Amtrak Pacific Surfliner train to San Diego. This line covers 350 miles of Southern California coastline, from San Luis Obispo to San Diego, and includes stops at other gorgeous cities, like Los Angeles and Santa Barbara. The Surfliner goes to two different stations in San Diego, so you can choose between Old Town Transit Center near the airport or the Santa Fe Depot downtown. 
Driving: If you're driving anywhere in California, be aware of cities' rush hours. For San Diego, there can be heavy traffic from 7 to 9 a.m. and 4 to 7 p.m most days of the week. Save yourself the hassle by arriving in the city outside of rush hour, and double-check that your hotel or lodgings offer parking. 
How to Get Around in San Diego
No matter how you decide to get to San Diego, public transportation will be your best friend when navigating the city itself. 
Through the San Diego Metropolitan Transit System (MTS), you can purchase a Compass Card. This pass includes access to buses, trolleys, and trains, both the commuter rail and light rail. You can buy the Card itself at any train station or download the free Compass Cloud app to purchase tickets and plan your city treks. Depending on the length of your stay, you can get a pass for just a couple of days, a two-week pass, or a full thirty days. 
The public transportation has excellent coverage throughout the city, with stops in Little Italy, the San Diego Zoo, and plenty of other attractions you can read about below. There's even a vintage trolley for a cheap tour around Old Town.
If you're planning to rent a car or drive your own, three main interstate roads go through and around the city for easy travel. Some attractions have parking available, but you might have to pay for metered parking depending on where you go.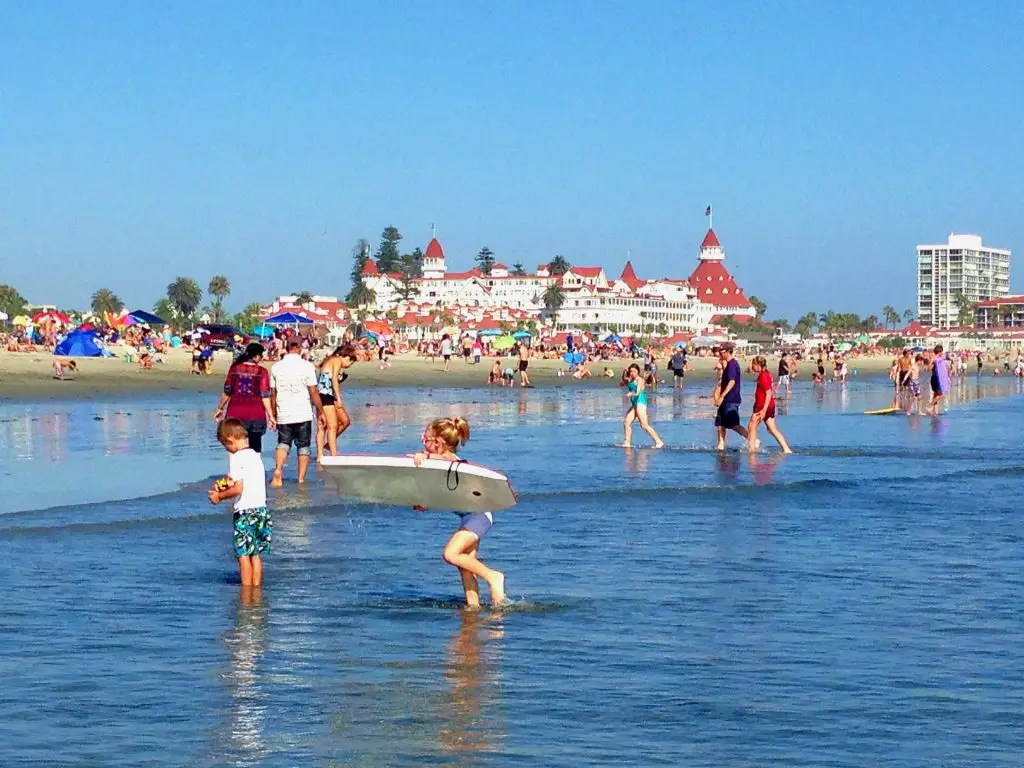 Where to Stay in San Diego
San Diego has various lodging options, from downtown hotels to beachfront resorts, and boutique properties to luxury accommodations. It's not hard to find a great place to stay– it's hard to pick which one you like best!
If you want to be close to downtown with a splash of history, check out Old Town. You can get a waterfront view with easy access to unique restaurants, live music, and an assortment of cultural events and festivals throughout the year.
Or, if you'd prefer a more modern, luxurious stay, look no further than East Village, San Diego's largest downtown neighborhood. The East Village has plenty of lavish hotels and resorts near cafes, restaurants, rooftop bars, boutiques, and more. Plus, it's extremely easy to navigate the neighborhood's grid system via public transportation.
And of course, there are always options on the beach. Pacific Beach is only a short bus ride or drive from downtown but has a mellower mood for anyone looking to relax by the ocean. There's the San Diego Surf School for all ages, plenty of parks and boardwalks, and Garnet Avenue has some of the city's best restaurants, boutiques, and vintage clothes shops.
No matter where you're looking to stay, there's an option for everyone, including Fido! With one of the highest percentages of dog-friendly hotels in the U.S., San Diego is the perfect city to bring your pup on vacation.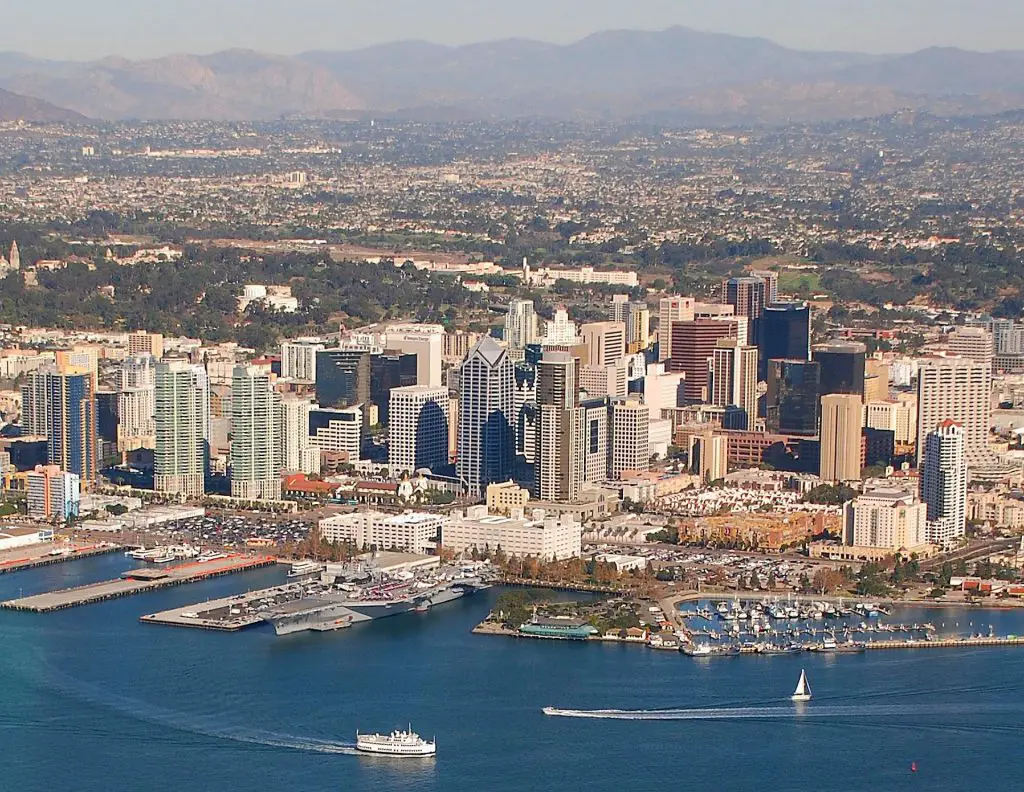 Top Things to Do in San Diego
The San Diego Zoo is one of the best zoos in the country, with four million annual visitors and 3,500 animals, including Xiao Liwu, the Giant Panda, and Angalifu, the rhinoceros. The zoo is typically open from 9 a.m. to 6 p.m., and you can purchase a day pass for $62 for visitors over twelve or $52 for kids ages three to ten. If you need a break from the sun, there are plenty of food options across the zoo, from fish tacos to craft beer, plus kid-friendly options for even the pickiest eater. 
You can also download the San Diego Zoo App for a GPS-enabled map of the zoo, plus lists of exhibits, activities, restaurants, and more.
For the best scenic view, you'll want to visit La Jolla Cove. Beautiful cliffs surround this beach, and it's a protected marine reserve– making it the perfect location for swimming, snorkeling, or relaxing on the sand. And the best part? It's completely free to visit! However, it can get a little busy in the height of summer (who wouldn't want to cool off in the most picturesque spot in the city?), so you may want to arrive early to beat the crowds.
If you're planning to visit San Diego in the winter, swing by La Jolla to observe the tide pools. You could catch a glimpse of crabs, sea cucumbers, small fish, or even an octopus. 
No matter when you visit San Diego, SeaWorld is a must-see. Open every day of the year, SeaWorld is the perfect combination of fun and education. Walk through the Shark Encounter, learn about the colony of 300 penguins, or watch the Sea Lion & Otter Spotlight show. And know that your visit is helping to fund wildlife rescue and rehabilitation efforts, habitat protection, and ocean health initiatives!
Tickets are about $100 if you buy in-person, but you can get $30 off by purchasing online– plus additional savings if you go with the two-day ticket. 
If you're itching for some excitement, head over to Belmont Park. Opened back in 1925, this beachfront amusement park has something for everyone: the huge Giant Dipper Roller Coaster, an antique carousel, mini-golf, go-karts, an arcade, and more. And if you want to decompress after a day of excitement, just stroll along the gorgeous boardwalk with an assortment of stores, boutiques, and restaurants. 
The park's operating hours vary weekly and some rides may be closed for maintenance, so be sure to double-check the schedule for the days of your visit. 
Mission Bay Bike Path
The Mission Bay Bike Path is the perfect way to get some exercise and drink in some scenic views. This twelve-mile route loops around Mission Bay and goes through or near ten different parks, SeaWorld and Belmont Park. It's a whole San Diego tour on one trail! 
Didn't bring a bike? There are plenty of rental spots around Mission Bay with bikes, electric bikes, or surrey carts for three or more people.
Little Italy
In the heart of Downtown San Diego lies Little Italy, a pedestrian-friendly neighborhood packed with incredible restaurants, art, cultural events, and so much more. In addition to spending the day (or days) eating, drinking, and walking, you can swing by the Farmers' Market from 8 a.m. to 2 p.m. on Saturdays or 10 a.m. to 2 p.m. on Wednesdays. If you brought your pup, there's the Little Italy Dog Park, with a separate area for smaller dogs if needed. As for food, you'll find the best Italian in the city just by wandering around and following your nose. For a more guided experience, there are also a variety of wine tastings planned regularly. 
A hop-on-hop-off trolley tour is $42 per person and provides transit to the sights of Little Italy and Old Town. You can get off at any stops that pique your interest, then hop back on when you're ready to keep going.
Air & Space Museum
The Air & Space Museum takes you through the history and science of aviation. The museum's diverse exhibits include a reproduction of the Wright brothers' 1901 Glider, the Apollo 9 Command Module, military helicopters and planes, and more. The museum is open from 10 a.m. to 4:30 p.m. every day of the week, and while the base adult ticket is $23, they offer a variety of discounts for students, military personnel, seniors, and children. 
Find the Air & Space Museum in Balboa Park, a beautiful area with impressive architecture, a Japanese Friendship Garden, a children's park, and more. Be sure to take a look around before or after the museum!
Find Fun for Everyone in San Diego
San Diego has tons of fun, exciting, educational, and delicious pit stops—too many for a single blog post! While this list hits the highlights, you'll have no trouble finding even more activities, with plenty left over for your next visit. 
Not ready to end your SoCal vacation? Hop on a train from San Diego to Los Angeles, where your next adventure is waiting.