Some of the links in this post are affiliate links. This means if you click on the link and purchase the item, I will receive an affiliate commission at no extra cost to you. All opinions remain my own.
When traveling by air, it's important to pay close attention to what goes into your luggage. You'll want to pack everything you need for the trip but also save some room for souvenirs.
Additionally, air travel means you have to ensure that the weight of your luggage doesn't go over the allowable limit if you don't want to pay costly excess baggage fees. Knowing this limitation can make packing more challenging than usual, but there are ways to lighten your baggage without missing out on your essentials.
Airlines normally allot about 20 to 23 kg of checked-in luggage per passenger, so you'll need to stay within these limits if you want to avoid paying additional fees. Thus, packing light for your trip is both a figurative and literal task you have to accomplish as part of your trip preparations.
If you need ideas on how to do this and still be able to bring everything you need, consider these six tips to cut your travel luggage weight in half.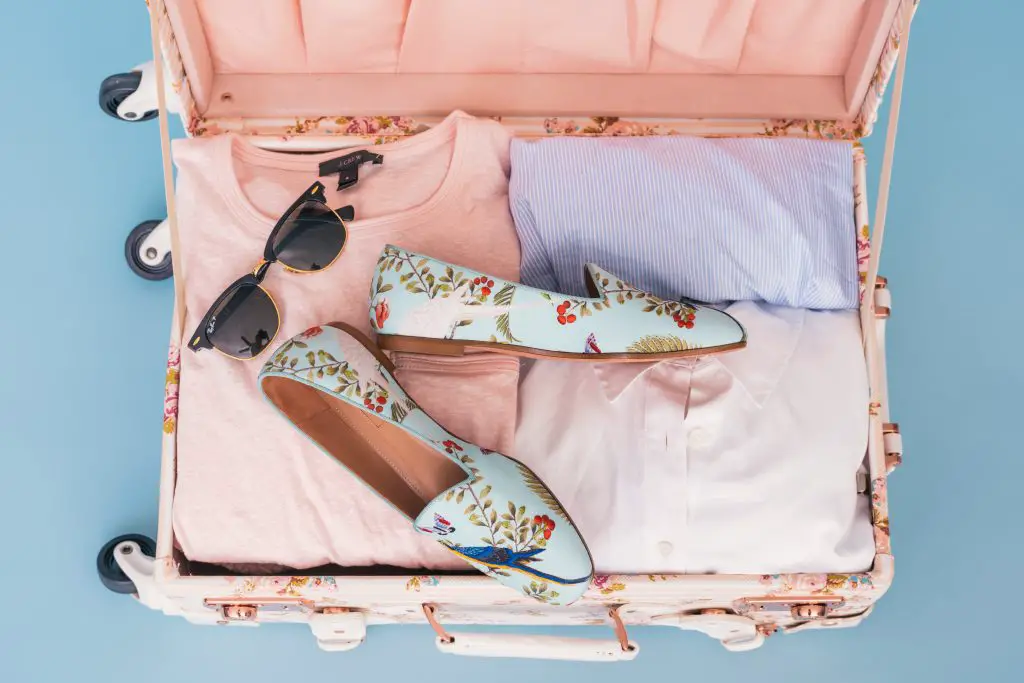 Avoid Packing Heavy Garments
Packing clothes is non-negotiable, but being smart about your choices can make a lot of difference. Thick and heavy fabrics like denim, corduroy, and suede may be great for keeping you warm and comfortable, but they can weigh a lot. So unless you're traveling somewhere very cold, it's better not to include garments made of heavy materials in your luggage.
If you do need to pack something for a cold climate, consider layering with lightweight fabrics. For example, you can swap your denim pants for sturdy jean leggings. They still have the denim look and can completely cover your legs without weighing you down. They're also more comfortable to wear due to the stretchy material. Some leggings also have thermal properties, so you stay nice and toasty throughout your trip without needing to wear thermal pants underneath.
Wear or Carry the Heaviest Pieces 
Typically, airline carriers don't place a weight limit on carry-on bags as long as they fit in the overhead storage compartments. If you can't avoid bringing some heavy pieces of clothing or shoes, it's best to pack them as carry-on or wear them on the flight. This way, you can still bring them on your trip without adding to the weight of your check-in luggage.
It can get cold in the aircraft cabin, so you'll likely remain comfortable even while wearing heavy garments. They might even help you stay warm in case the cabin temperature gets too low. And if you start to feel hot, you can always take off any bulky outerwear and stow it in the overhead compartments.
Start with a Light Suitcase
The weight of your luggage can also use up your weight allowance. So be sure to use a light and good-quality suitcase from the get-go. Fortunately, you have plenty of suitcase options to choose from. Many luggage brands use lightweight hard shell plastics and tough but lightweight fabrics that won't break easily, even if they get tossed around and hit other suitcases while in transit.
When buying a new suitcase, make sure to check the weight of the empty bag. You may want to choose a suitcase that weighs less than 8 pounds so it doesn't contribute too much weight to your baggage allowance.
Choose Multi-Use Clothes
Bring versatile and multi-use clothes. This can help reduce the items you need to pack, thereby halving your luggage weight. Apart from t-shirts, underwear, and socks, the other garments you pack should be functional and flexible enough so you can wear them more than once. This might mean packing a pair of pants or shorts you can use for multiple days and different occasions.
If you pack a button-down shirt, choose a design that you can wear as a regular top and as a light cover over a tank top. Similarly, this practice also applies to your shoes, as they can take up space and add weight to your luggage. Choose the footwear you can use in multiple situations. For example, a pair of strappy, comfy sandals is great to wear when sightseeing and is also stylish enough for a casual night out.
Buy Some Items When You Land
Another effective way to reduce your baggage weight is to purchase some essentials at your destination instead of packing them from home. For example, you can most likely find shampoos, conditioners, body washes, and lotions when you land. Simply visit a shop or convenience store to pick up your toiletries. This strategy also ensures you won't have to deal with liquids and creams that may spill into your suitcase and ruin your clothes.
If you really need to bring certain products that may be difficult to find at your destination, purchase travel-size versions before you leave and take those instead. You can also transfer the products into smaller containers to keep your luggage light.
Shop in Duty-Free Stores
Many airlines don't impose restrictions on the number of duty-free items you can bring on board. With this in mind, consider buying souvenir items and gifts at the airport's duty-free stores after you've checked in your luggage instead. You won't add any weight to your suitcase and can still take home different mementos to remember your trip with.
Through careful selection of what you pack and bring on your trip, you can cut your luggage weight in half and still have everything you need. Having said that, keep these tips in mind the next time you travel. They can save you from having to pay for expensive baggage fees and keep your flight a stress-free experience.