Some of the links in this post are affiliate links. This means if you click on the link and purchase the item, I will receive an affiliate commission at no extra cost to you. All opinions remain my own.
Do you know the T-Rex lookalike mountain with a sandy beach at the bottom surrounded by dazzlingly blue water that is featured in almost all posts about Bali? It's actually on another island nearby – Nusa Penida. On my recent trip to Bali, I went on a Nusa Penida tour and experienced this and several other stunning beaches in one day.
Check out here other things to know about Bali before traveling there!
What you can see on a full-day Nusa Penida tour
Nusa Penida is less developed than Bali, and people say that it brings back the memories of how Bali used to be before all of the tourist crowds. This island gives a wild vibe. Even if you go on an organized tour to the main attractions to take the iconic pictures for your Instagram, you will still get a glimpse of the rural villages, jungle, and many bumps in the road.
Kelingking Beach
Kelingking Beach view from the top is one of the most well-known pictures from Bali, and it is not even on the Bali island. Mountains surrounding the beach resemble the shape of a dinosaur head. Blue and clear water surrounds a white sand beach somewhere down below. Pictures cannot convey, how spectacular this looks in real life.
There is a steep path leading down to the beach itself. Majority of tourists stay at the top, queue to take their selfies, and go to the next item in their Nusa Penida itinerary.
My tip would be to agree with your guide that you will stay a bit longer so that you could climb a bit down.
When I visited the Kelingking Beach, I got probably halfway down to the beach, and now I regret not going all the way down. It is estimated to be a 45-minute climb one way, and it is steep and hard due to the hot weather and the poor condition of the path. However, this makes the beach all the more enticing, as not many people go there. I've seen some stunning pictures from the beach which have made me add it to my wish-list. To go once more to Nusa Penida and climb all the way down.
If you aren't up to the climb to the beach, I'd suggest to climb at least a little bit down. It is surprising that so many people are queuing at the top of the path to take a picture, but after a 5-minute climb down there are almost no people, but the view is almost the same.
Angel's Billabong
Angel's Billabong is a cliff that has naturally been shaped like an infinity pool. There are some incredible Instagram pictures portraying it in all of its beauty.
The view that you will see might be different because it is dependent on the tide. When our group visited this place, our guide tried to tell us that we need to take pictures. Now that I'm looking through my gallery I see that I took none because I didn't know what I'm looking at. As the tide was low, the Angel's Billabong didn't look impressive at all. Especially because the previous object was the jaw-dropping Kelingking beach.
What seemed impressive for our group was the waves against the cliffs, when we climbed a little bit up from the Angel's Billabong.
Luckily, the next viewpoint of Broken Beach is within a 5-minute walk from the Angel's Billabong.
Broken Beach
Broken Beach is another Instagram-famous spot on Nusa Penida. It forms a picturesque natural pool of clear water, as the ocean flows to the beach through a bridge-like formation of rock.
It is not possible to go down to the beach, but I highly recommend going around it. You can actually cross the tunnel which lets the ocean flow to the beach.
And it also leads to the next viewing point.
Manta Ray Viewpoint
If you head uphill from the archway of the Broken Beach tunnel, you'll coon reach the coast. When you look down, you'll notice Manta Rays swimming there. They are giant!
Crystal Bay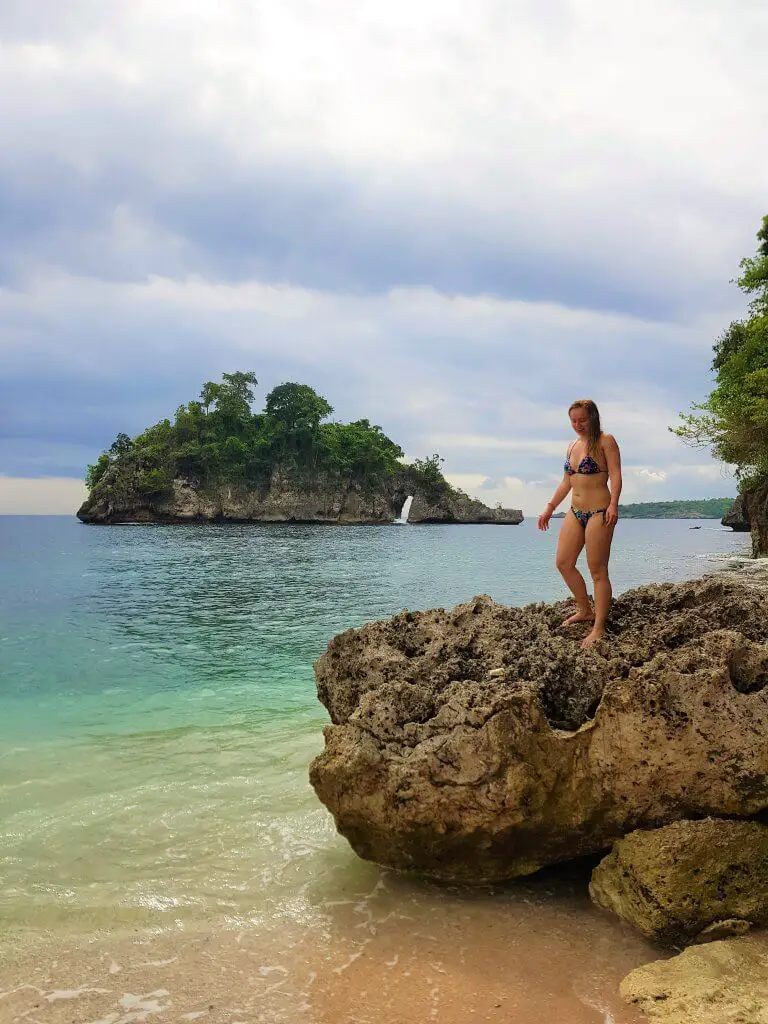 Crystal Bay is the best sunset beach on Nusa Penida because it is facing the west direction. It is possible to go for a swim here or try out snorkeling. For a small fee, you can rent a lounge chair, and there are several places where you can order some food or drink.
What you should take with you on a Nusa Penida tour
To get the most out of the Nusa Penida tour be sure to take these things with you:
Sunscreen, hat, and sunglasses to combat the strong sun
Swimsuit as it will get hot and there will be options for a quick swim
Suitable shoes – you will have to do a little climbing to get to some of the places listed above
Photography equipment for all of those instagrammable viewpoints
A bit of cash
How to find Nusa Penida island private driver tour
One option is to ask in a hotel or on a street in places that are offering tours. Those would usually include everything – pick-up from the hotel, speedboat to Nusa Penida, a car with a guide driving through the itinerary points, and a lunch.
Another option is to check in the port. Speedboats to Nusa Penida leave from Sanur Beach. There you will find several booths offering tours. I was on a tour provided by Mola-mola express.
And for those who like to book in advance, it is also possible to do it online:
I wouldn't suggest going on your own unless you are adventurous. It is certainly possible to save a bit of money by getting a separate speedboat ticket and then renting a car or a motorbike on Nusa Penida. However, the roads on the island are quite bumpy and would require skills and patience to go through on your own. And after all, this is a vacation and not a place to worry about getting through the viewpoints in time to get back to the speedboat.
Where to stay on Nusa Penida
Full Moon Bungalows – a 5-minute walk from the beach and a temple, a budget stay in clean and comfortable rooms.
Daphila Cottage – mountain and ocean views, infinity pool, and a strategic location near the harbor.