Some of the links in this post are affiliate links. This means if you click on the link and purchase the item, I will receive an affiliate commission at no extra cost to you. All opinions remain my own.
The Sin City, the City of Neon Lights, and the Gambling Capital of the World are the top three most popular nicknames Vegas acquired.
Yes, this destination has a special charm, and although its list of attractions is shorter than that of New York City or Miami, this makes it no less popular from a tourist point of view. 
Want to feel mind-blowing emotions in the heart of Nevada? Then rent a car in Las Vegas and get ready for an exciting road adventure! From sparkling themed hotels to dramatic desert landscapes, your weekend in Vegas promises to be truly action-packed.
To start with, reserve a set of wheels first. Fox car rental at Las Vegas Airport offers a wide range of deals to suit every taste. And once you get behind the wheel, hundreds of attractions open up to you. We have selected the most worthwhile ones to add to your Las Vegas itinerary and are happy to share them with you. Enjoy!
The Strip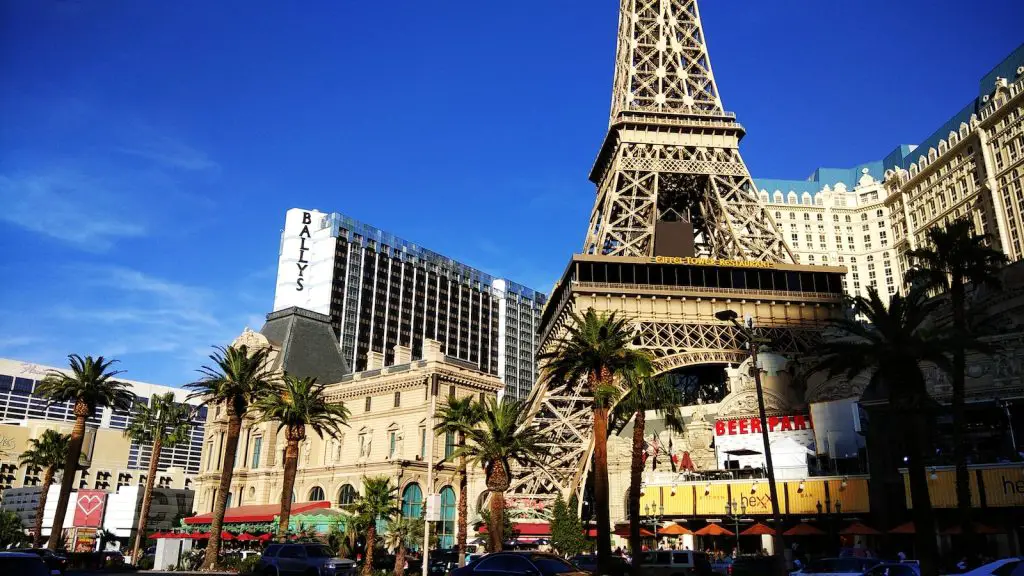 Strip is the biggest sin in the legendary Sin City. Therefore, walking along the Strip – the main city artery – will be an excellent activity for the evening and night. 
The street is lined with the most luxurious and largest hotels representing a real architectural kaleidoscope. Here you can see the New York skyscrapers (New York-New York Hotel), the Cheops Pyramid (Luxor Hotel), the Eiffel Tower (Paris Hotel), King Arthur's Castle (Excalibur Hotel), and also walk along the Rialto Bridge (Venetian Hotel). 
Fans of gambling and nightlife will be pleased with the abundance of casinos and slot machines filling hotels, strip bars, and nightclubs.
Also, don't forget to admire the dancing fountains at the Bellagio Hotel, watch musicals, and visit colorful shows, museums, and exhibitions.
In addition, the Strip offers a large collection of various shops, boutiques and shopping centers, restaurants and cafes, as well as wedding chapels where you can register a marriage if you wish.
Shark Reef Aquarium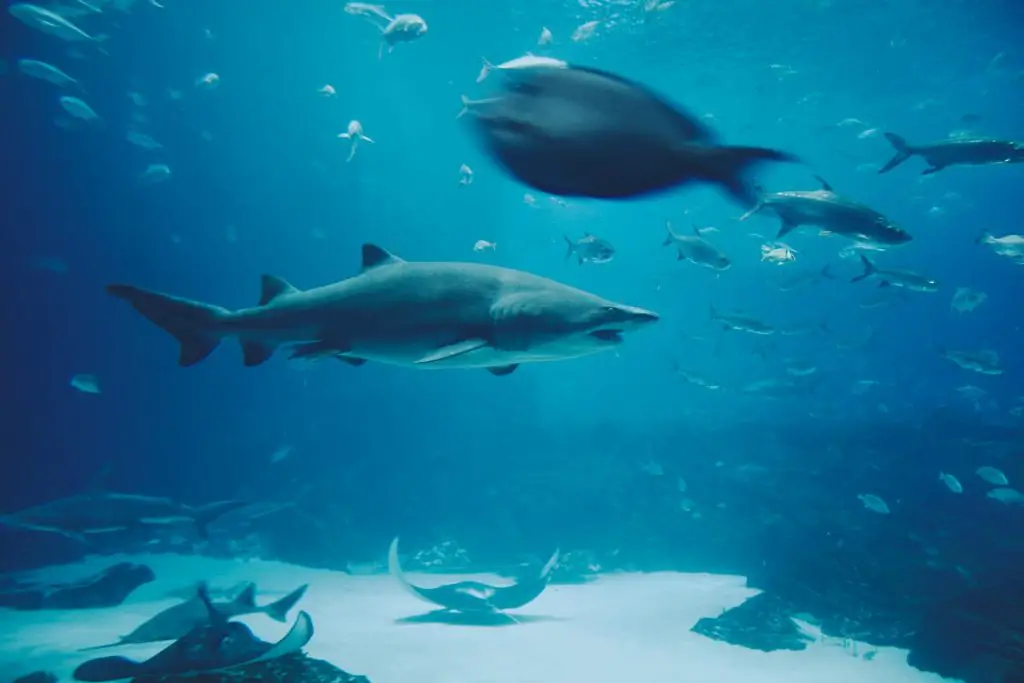 It's actually very easy to get tired of the "one-armed bandits", elegantly dressed croupier divas, and green cloth on the gambling table, even if you come to Sin City for just a couple of days. But don't despair as you won't get bored with our multiple-day activities in Las Vegas. For a change of scenery, you should visit an aquarium.
The huge Shark Reef Aquarium, which houses two thousand different representatives of the marine world, sits at the Mandalay Bay Hotel. There's a lot here for lovers of underwater landscapes, but the main feature is the glass corridor, surrounded on almost all sides by water. And if you are not an amphibian who can calmly walk among 15 species of sharks and 260 tons of water, then you will undoubtedly like this action. 
Piranhas, sharks, turtles, jellyfish, ascidians, mollusks, snails, and the rarest golden crocodiles are just the tip of the oceanarium's iceberg. What's more, those who boast a diving certificate can establish closer underwater contact with fish and other sea creatures.
Spring Preserve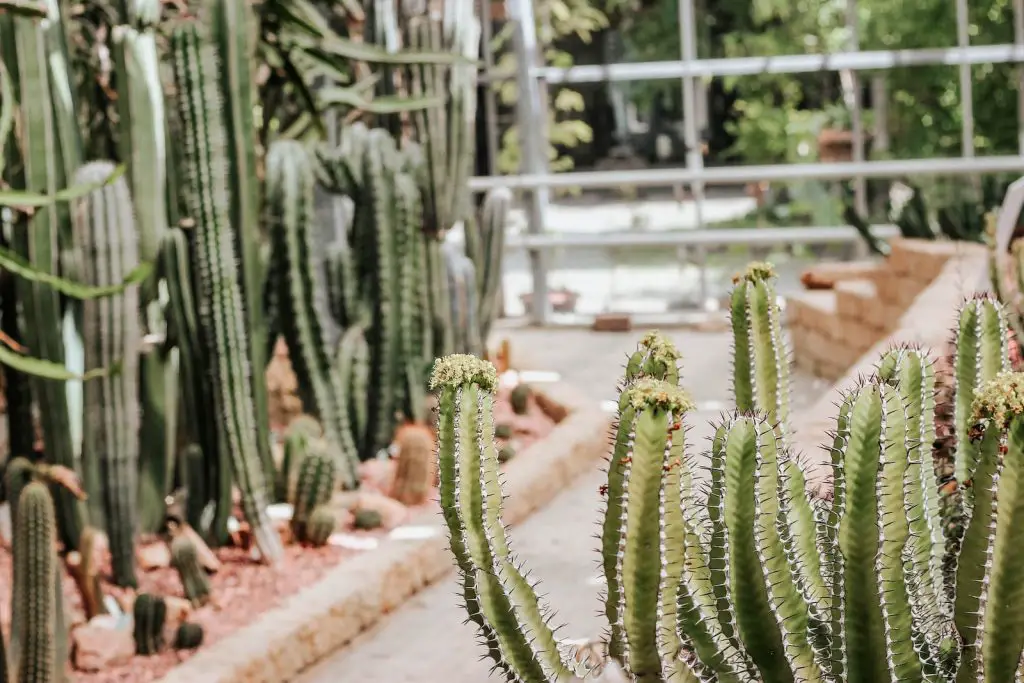 It's great luck if you pick up a car in Las Vegas. In this case, your travel experience can extend far beyond the Strip. One worthwhile destination in the area is Spring Preserve, a green oasis located west of the city, in the middle of the hot desert. 
You can spend the whole day here, forgetting about the noisy metropolis and enjoying the silence. The 70-hectare area hosts gardens, museums, exhibition spaces, and a photo gallery. Plus, a high soundproof wall separates the reserve from a major highway, so not a single extra sound will disturb you from enjoying the silence. 
Three interactive stands located at the entrance to the Springs Preserve introduce you to the history of the Las Vegas Valley, not only the history of the founding and development of the city but also the formation of the desert over the past several million years. The stand will tell you how the local landscape changed and was formed, who lived in these places before the arrival of European colonists, from ancient times to the present day. 
Be sure to visit the lush botanical gardens to view a variety of cacti, desert shrubs, and plants from other climates. Also, head to a separate pavilion full of colorful butterflies fluttering here and there. Deserts and wetlands offer 4 themed trails totaling approximately 3 miles so you can complement your hiking experience there.
Adventuredome 
It would be a mistake not to include visiting an amusement park in your Las Vegas 3-day trip. At the Adventuredome, you get a whole world of adventure sparkling under a fantastic pink glass dome. 
Located on the grounds of the Circus Circus Hotel, it has become an ideal place for a family holiday. The establishment began its journey as a dinosaur theme park, with moving exhibits emitting a characteristic roar. 20 years later, they have given way to modern extreme entertainment, and now, you can enjoy over 25 children's and adult rides and fun-filled adventures in over 20,000 square meters. 
A steep double-loop roller coaster will be a good workout for thrill-seekers. And if you want to really shake things up, go to Chaos and Inverter Rides. The first rotates in three planes at high speed, and the cabins of the second rush along an unpredictable trajectory, making sudden turns. A popular water attraction is the Rim Runner, which allows you to jump into an 18-meter waterfall. Other activities include a shooting range, climbing wall, roller skating rink, and even bungee jumping.
Grand Canyon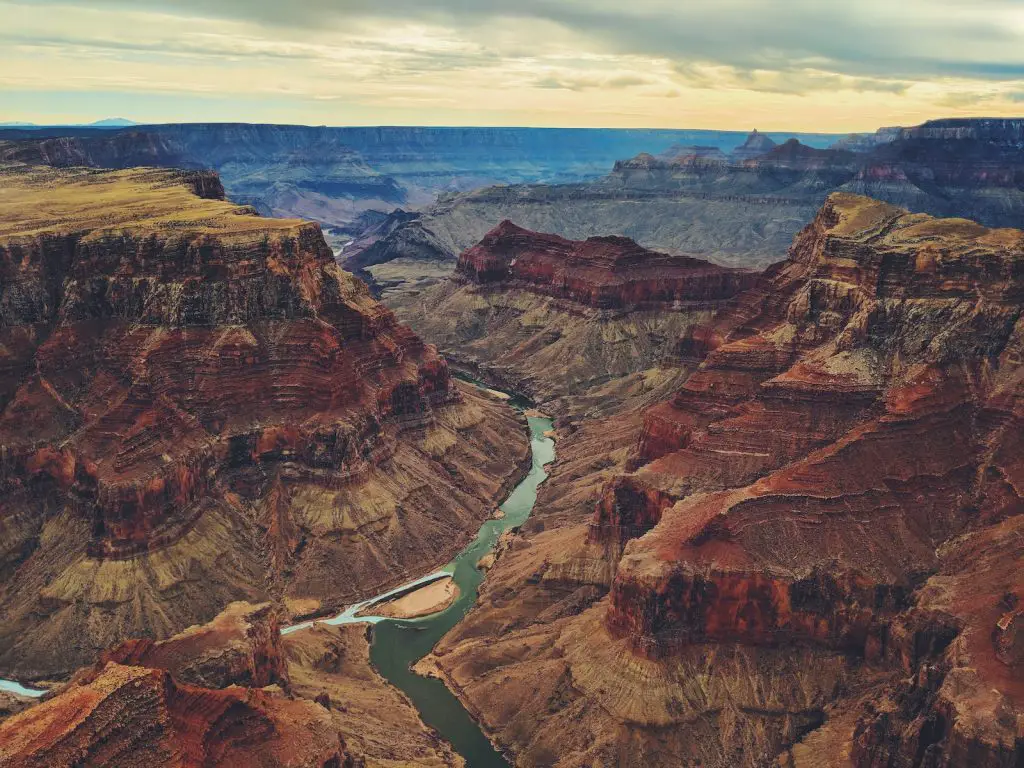 Experience the majestic Grand Canyon in a single day! This iconic natural wonder, sculpted by the Colorado River over millions of years, boasts breathtaking vistas, dramatic rock formations, and a rich tapestry of American history.
Begin your day with a drive through scenic landscapes, gradually revealing the vastness of the Canyon. As you arrive, you'll be greeted by panoramic views that seem to stretch infinitely, each viewpoint offering its own unique perspective. From the historic El Tovar Hotel to the mesmerizing depth of the Abyss, every corner beckons with a photo opportunity.
Take a leisurely walk along the South Rim, or for the more adventurous, explore the trails that descend into the heart of the Canyon. As you traverse its paths, you'll encounter an array of wildlife and plant species that call this place home.
Conclude your day by watching a mesmerizing sunset, as the Canyon walls are painted in hues of oranges, reds, and purples. A day trip to the Grand Canyon promises an adventure that is both serene and exhilarating, a must-do when visiting the American Southwest.
On the whole, Sin City and its surroundings are waiting to give you real travel inspiration! Use our informative guide so you don't miss the most iconic places in the area!