Some of the links in this post are affiliate links. This means if you click on the link and purchase the item, I will receive an affiliate commission at no extra cost to you. All opinions remain my own.
Turning 25 is more than just a milestone; it's a rite of passage into a new chapter of adventures, experiences, and memories.
Whether you're an adrenaline junkie, a beachcomber, or a cultural aficionado, there's a corner of the world waiting to make your quarter-century mark unforgettable.
International destinations offer a smorgasbord of experiences that go beyond the usual birthday cake and candles.
From dancing under the stars in the Mediterranean to exploring ancient temples in Asia, the world is brimming with destinations worthy of this significant celebration.
Dive in as we journey through the Top 13 Exciting International Destinations tailored to make your 25th birthday the trip of a lifetime!
25th birthday destinations:
Havana, Cuba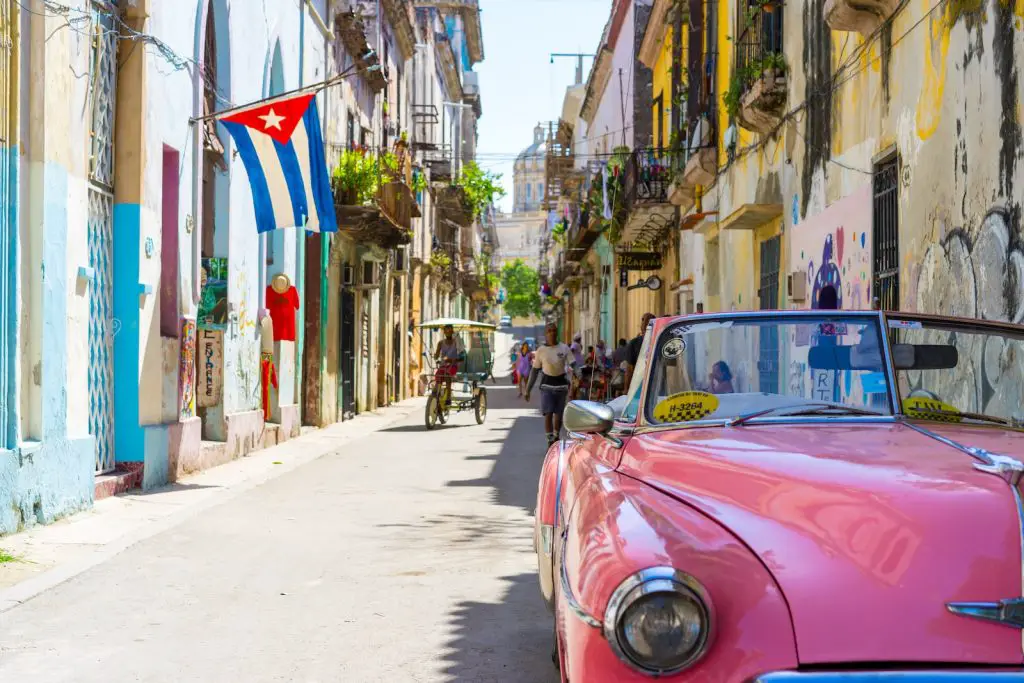 A city where time seems to stand still, Havana boasts a rich tapestry of colonial architecture, vintage cars, and soulful rhythms. A 25th birthday trip to Havana promises a dive into the cultural heartbeat of the Caribbean.
Best Time to Visit: November to March offers the most pleasant climate. It's the dry season, ensuring clear skies and balmy temperatures, ideal for exploring the streets and coastline.
How to Celebrate?
1. Vintage Car Tour: Drive around in a classic 1950s convertible. It's a quintessential Havana experience, taking you through iconic spots like the Malecón and the Plaza de la Revolución.
2. Salsa Dancing: Embrace the vibrant nightlife by learning to dance at Casa del Son or any local salsa club. The rhythm of the city is infectious, and dancing is the best way to immerse yourself in it.
3. Visit El Morro Castle: Delve into the city's history with a visit to this majestic fort. The sunset views of Havana from El Morro are unparalleled, making it a picture-perfect birthday memory.
In Havana, every corner, cobblestone street, and lively tune captures the essence of a bygone era, creating an unforgettable backdrop for milestone celebrations.
Bangkok, Thailand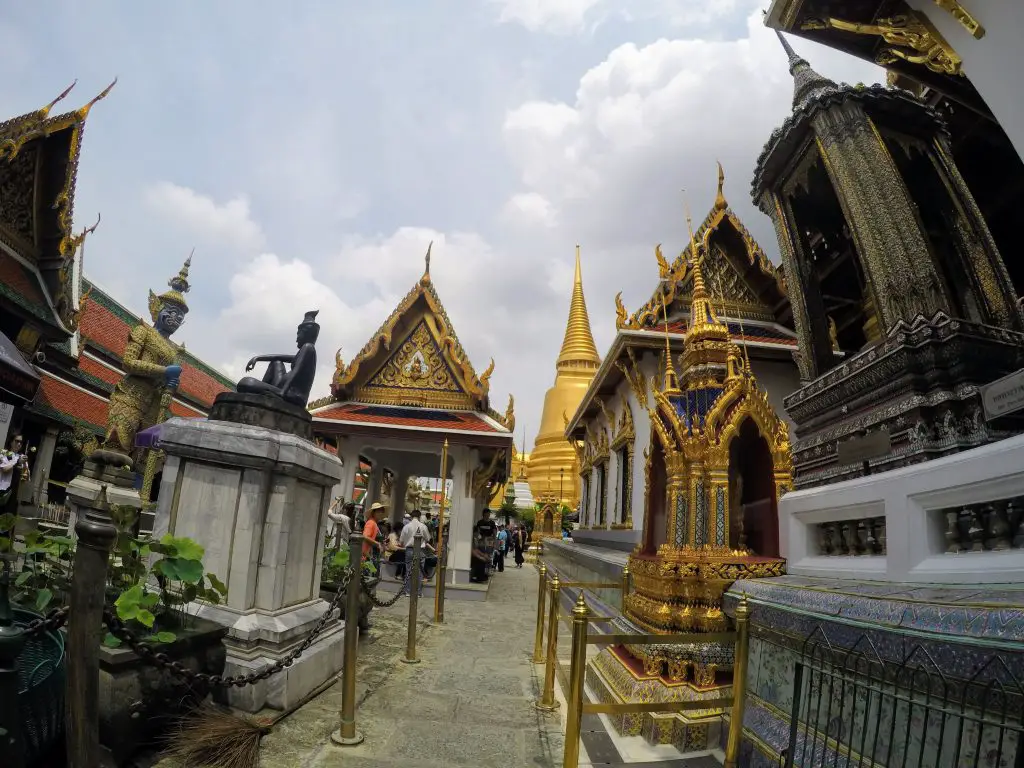 A dynamic metropolis where ancient temples coexist with modern skyscrapers, Bangkok is an electrifying blend of tradition and innovation. Celebrating your 25th birthday here guarantees a sensory overload of flavors, sights, and experiences.
Best Time to Visit: Between November and February, during the cool season, you'll experience pleasant temperatures and lower humidity, making urban exploration more enjoyable.
How to Celebrate?
1. Explore Wat Pho: Home to the Reclining Buddha, this temple complex is a spiritual epicenter of Bangkok. Besides its grandeur, it's also recognized as the birthplace of traditional Thai massage.
2. Cruise the Chao Phraya River: Experience Bangkok from its lifeline waterway. An evening river cruise offers scenic views of the city's landmarks, often accompanied by a sumptuous Thai dinner.
3. Dive into Street Food at Khao San Road: The city's renowned backpacker hub, Khao San Road, is a gastronomic paradise. From Pad Thai to Mango Sticky Rice, savor iconic Thai dishes amidst the buzzing nightlife.
In Bangkok, every bustling market, intricate temple, and aromatic street food stall promises a unique encounter, ensuring your 25th birthday is celebrated with a blend of reverence and revelry.
Ibiza, Spain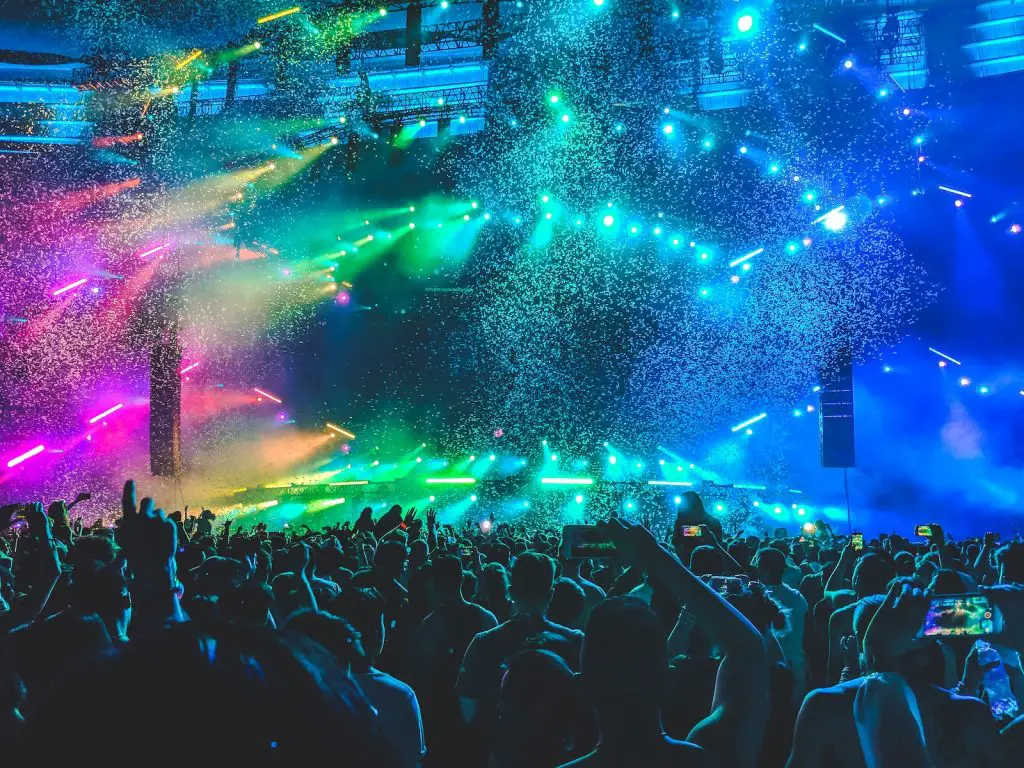 Famed as the world's party capital, Ibiza is more than just its pulsating beats. This Balearic island seamlessly fuses its legendary nightlife with pristine beaches and a UNESCO-listed old town. For a 25th birthday, it promises both exhilaration and tranquility.
Best Time to Visit: June to September encompasses Ibiza's peak season. The island is vibrant, and the clubbing scene is at its zenith, with renowned DJs gracing the decks.
How to Celebrate?
1. Dance at Iconic Clubs: A night at clubs like Pacha, Ushuaïa, or Amnesia is non-negotiable. These venues have hosted some of the world's most iconic parties and are a testament to Ibiza's reputation as a dance music mecca.
2. Relax at Cala Comte Beach: Beyond the parties, Ibiza offers breathtaking natural beauty. Cala Comte boasts turquoise waters and panoramic sunset views, perfect for a daytime respite.
3. Wander in Dalt Vila: The historic Old Town of Ibiza, Dalt Vila, is a maze of cobbled streets, charming shops, and spectacular views from the cathedral at the top.
In Ibiza, every sunset, rhythm, and historic alleyway adds to a mosaic of memories, ensuring your 25th birthday is both vivacious and picturesque.
Hvar, Croatia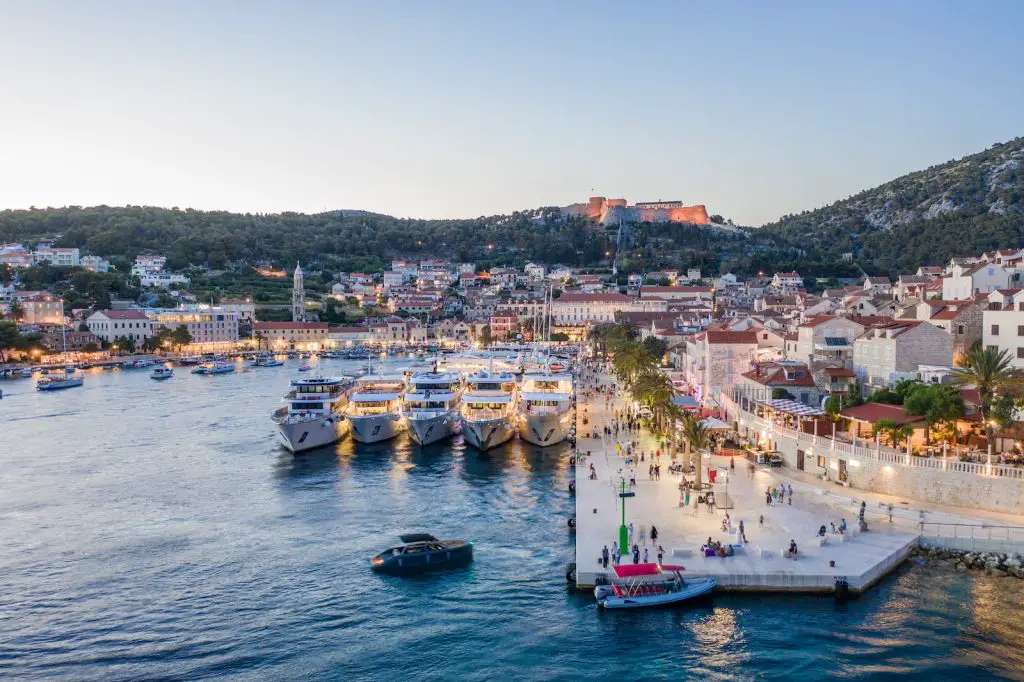 Nestled in the Adriatic Sea, Hvar is a jewel of the Dalmatian islands, seamlessly blending historic charm with a lively, modern vibe. A 25th birthday in Hvar promises an enticing mix of coastal serenity and festive celebration.
Best Time to Visit: May to September offers warm, sun-drenched days, with July and August being the pinnacle of the summer season and Hvar's nightlife.
How to Celebrate?
1. Sail the Pakleni Islands: Just off Hvar's coast, the Pakleni Islands provide a serene escape. Rent a boat or join a tour to explore secluded bays, crystal-clear waters, and quaint eateries.
2. Party at Carpe Diem Beach Club: Known for its beachside revelry, Carpe Diem is Hvar's most iconic nightlife spot. Dance under the stars and toast to your milestone with panoramic sea views.
3. Roam Hvar Town's Pjaca: The largest square in Dalmatia, Pjaca is surrounded by historical structures and vibrant cafes. The nearby Hvar Fortress also offers panoramic vistas of the azure waters and red-tiled roofs.
In Hvar, the blend of history, natural beauty, and spirited nightlife creates a celebratory tapestry, making your 25th birthday an unforgettable Adriatic affair.
Mykonos, Greece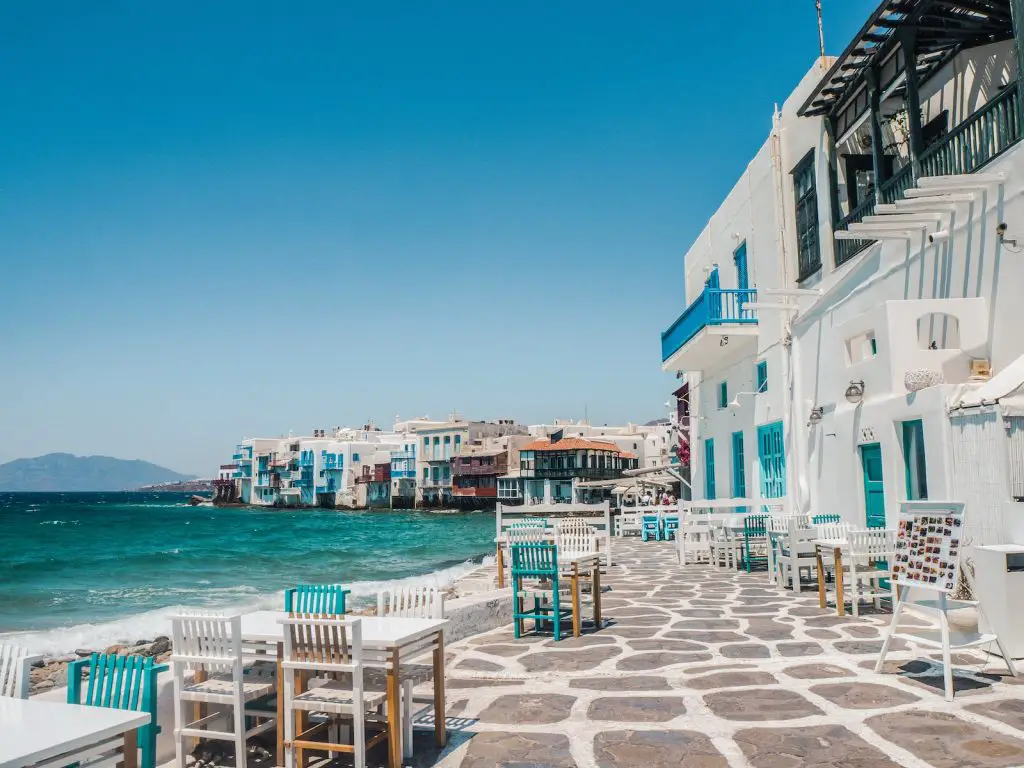 A gem of the Cyclades, Mykonos is renowned for its maze-like streets, iconic windmills, and electrifying nightlife. For a 25th birthday, this island delivers an exceptional blend of Grecian charm and contemporary festivity.
Best Time to Visit: The months of June to September encapsulate the height of the island's vibrancy. The summer season sees the beaches, bars, and streets come alive with energy.
How to Celebrate?
1. Dance at Super Paradise Beach: More than just a stunning coast, Super Paradise Beach is synonymous with beach parties. With renowned DJs and a dynamic crowd, it's a must-visit spot for celebratory vibes.
2. Stroll in Mykonos Town: Also known as Chora, this town is a labyrinth of white-washed houses, blue doors, and bougainvillea-clad walls. Explore boutique shops, picturesque alleys, and the famed Windmills.
3. Sunset at Little Venice: This seafront neighborhood, with its colorful buildings edging the water, offers the island's best sunset views. Little Venice is ideal for a serene evening with cocktails, gazing over the Aegean horizon.
In Mykonos, every wave, cobblestone, and melody captures the spirit of the Mediterranean, ensuring your 25th birthday remains etched in memory as a luminous Grecian dream.
Tulum, Mexico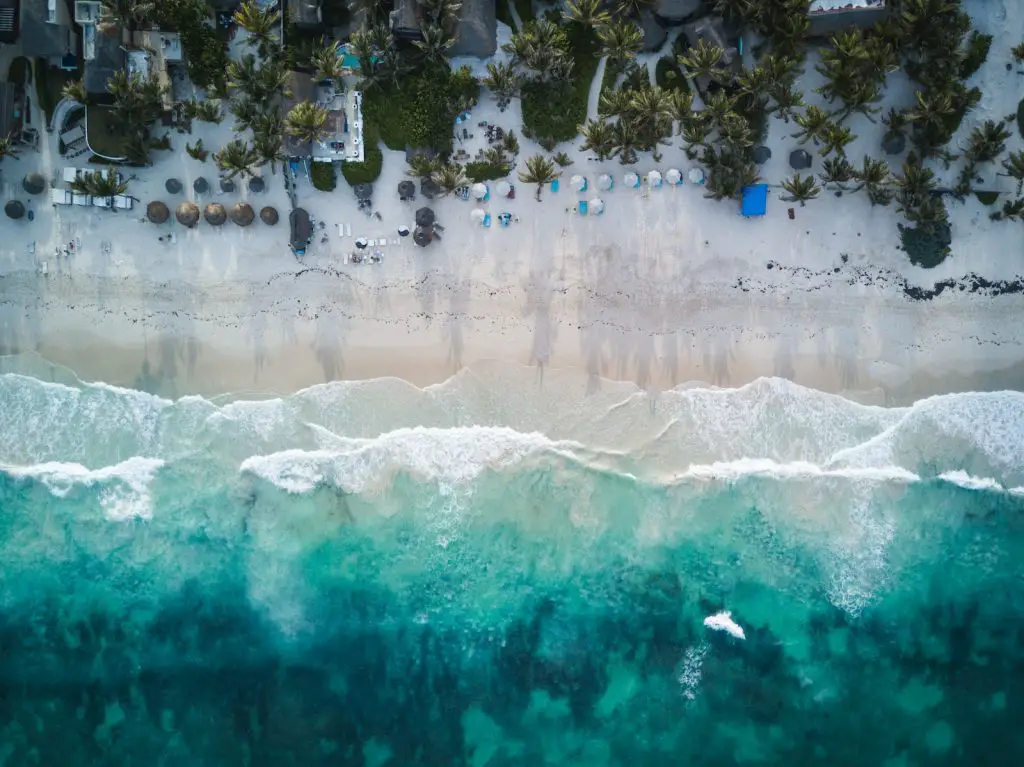 An epitome of bohemian luxury, Tulum seamlessly merges its Mayan history with chic beachfront eco-resorts. Ideal for a 25th birthday, it's a haven where nature, culture, and modern indulgence coalesce.
Best Time to Visit: October to December provides a beautiful balance, escaping peak tourist season while enjoying pleasant weather before the busiest months.
How to Celebrate?
1. Dive into Cenotes: These natural freshwater sinkholes, like Cenote Dos Ojos, offer a unique swimming and snorkeling experience amidst otherworldly stalactite formations.
2. Explore Tulum Ruins: Perched on a cliff overlooking the azure Caribbean, the Tulum archaeological site is a testament to the Mayan civilization. The El Castillo temple, with the sea as its backdrop, is picture-perfect.
3. Savor Beachfront Dining: Restaurants like Nomade and Gitano exemplify Tulum's culinary scene, offering gourmet dishes with toes-in-the-sand ambiance. An evening here is punctuated with delectable flavors and oceanic serenades.
In Tulum, the whispers of ancient civilizations, the rhythm of the waves, and the allure of modern luxuries combine to create an unforgettable 25th birthday, set against a backdrop of tropical enchantment.
Gili Trawangan, Indonesia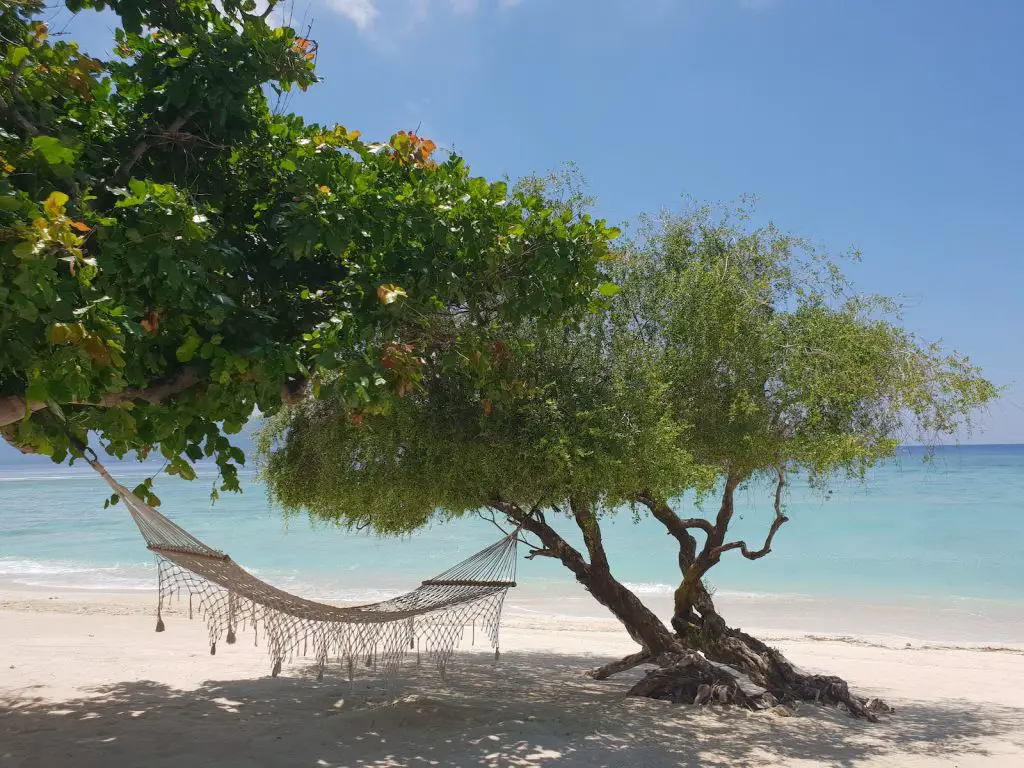 The largest of the Gili Islands, Gili Trawangan, often dubbed "Gili T," is a blend of laid-back island charm and spirited nightlife. For a 25th birthday, it presents an idyllic setting replete with sun, sea, and celebrations.
Best Time to Visit: From May to September, the dry season prevails, offering crystal clear waters and radiant sunny days ideal for beachside fun.
How to Celebrate?
1. Snorkel with Sea Turtles: Gili T's waters are teeming with marine life. Turtle Point is a popular spot where you can snorkel alongside majestic sea turtles in their natural habitat.
2. Sunset Swings at Exile Bar: An iconic image of the island, the ocean swings offer a unique vantage point to watch the sunset. Exile Bar hosts one such swing, where you can relish the twilight hues with a cocktail in hand.
3. Dance under the Stars: As night falls, the island's party pulse quickens. Beachfront venues like Jiggy's and Irish Bar come alive with music, fire dances, and a lively crowd.
On Gili Trawangan, every sunrise, coral reef, and nocturnal beat crafts a vibrant tapestry, ensuring your 25th birthday is etched in memory as an island escapade of pure delight.
Riga, Latvia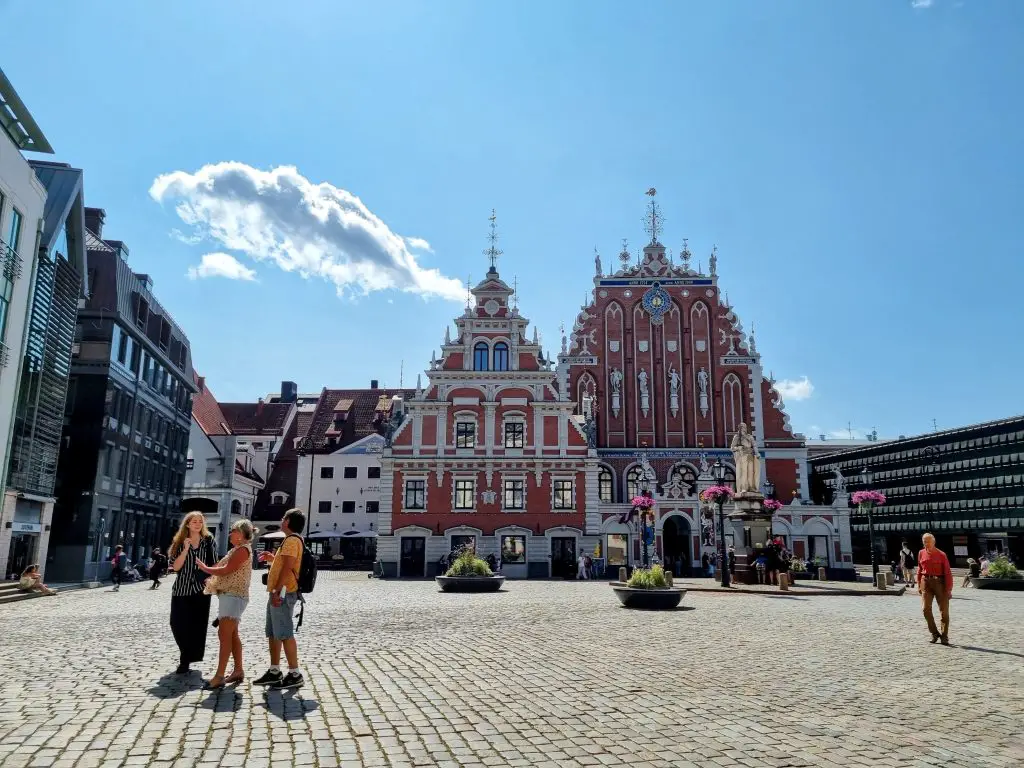 As the heart of the Baltic region, Riga exudes an old-world charm juxtaposed with contemporary vibrancy. Celebrating a 25th birthday here means diving into a rich tapestry of history, architecture, and modern European flair.
Best Time to Visit: The months between May and September encapsulate Riga in its full glory. The summer season graces the city with warmth, extended daylight, and numerous festivals.
How to Celebrate?
1. Explore the Art Nouveau District: Riga boasts one of the world's largest concentrations of Art Nouveau architecture. A stroll here is akin to stepping into an open-air museum, with ornate facades capturing the imagination.
2. Visit Riga Central Market: Housed in former Zeppelin hangars, this UNESCO-listed market is Latvia's largest. Dive into a sensory experience with local produce, meats, and Baltic specialties.
3. Bask in Livu Square Nightlife: As dusk settles, Livu Square in the Old Town transforms into a hub of lively bars, restaurants, and entertainment. A taste of Riga's nightlife here is essential for any celebratory occasion.
In Riga, the blend of cobblestone streets, Gothic spires, and the city's lively spirit promises a 25th birthday celebration both culturally enriching and exuberantly festive.
Playa del Carmen, Mexico
Once a quiet fishing village, Playa del Carmen has transformed into a cosmopolitan beach destination. Its fusion of azure waters, Mayan history, and pulsating nightlife makes it an enticing choice for a 25th birthday celebration.
Best Time to Visit: The sweet spot between November and April sees pleasant temperatures and avoids the peak of the hurricane season, ensuring optimal beach days.
How to Celebrate?
1. Frolic at Mamitas Beach Club: A hotspot in Playa, Mamitas Beach Club offers the perfect blend of sun-soaked relaxation and vibrant beach parties, complete with live DJs and cocktails.
2. Dive in Cenote Chaak Tun: Just a short drive from the main town, this cenote is an underground wonder. Swim in its crystal-clear waters amidst stunning stalactite formations, experiencing the magic of Chaak Tun firsthand.
3. Stroll the Quinta Avenida: The beating heart of Playa, Quinta Avenida is a pedestrian-only street lined with boutiques, eateries, and bars. A leisurely walk here encapsulates the city's eclectic spirit.
In Playa del Carmen, every wave, underground river, and vibrant street corner crafts a unique chapter, ensuring your 25th birthday is celebrated amidst a palette of Mexican wonders.
Medellín, Colombia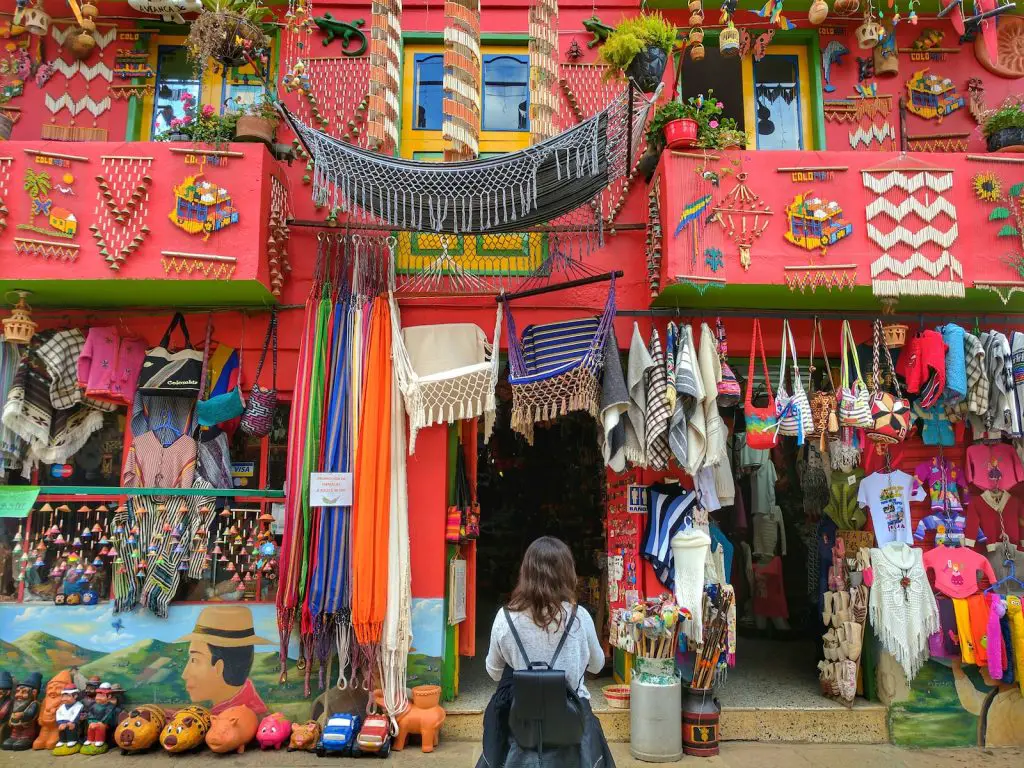 Dubbed the "City of Eternal Spring", Medellín is a testament to urban transformation and innovation. Nestled within the Andes, this vibrant city blends its tumultuous history with an emerging cosmopolitan flair, making it a captivating choice for a 25th birthday.
Best Time to Visit: From December to March and June to August, Medellín enjoys its driest periods, perfect for exploring the city's offerings without an umbrella in hand.
How to Celebrate?
1. Glide Over the City in Metrocable: This unique cable car system isn't just for transportation; it provides breathtaking views of the city's sprawl. The Metrocable ride to Parque Arví is particularly scenic, showcasing both urban and natural landscapes.
2. Revel in Comuna 13: Once notorious for its crime, Comuna 13 has transformed into a colorful canvas of street art. Guided tours unravel stories of resilience, community, and the power of art as a tool for change.
3. Experience Medellín Nightlife: Areas like El Poblado are brimming with bars, salsa clubs, and vibrant eateries, reflecting Medellín's lively nocturnal spirit. A night here is a sensory celebration.
In Medellín, the fusion of verdant mountains, rich culture, and the city's zest for life promises a 25th birthday imbued with Colombian charm and unforgettable moments.
Zanzibar, Tanzania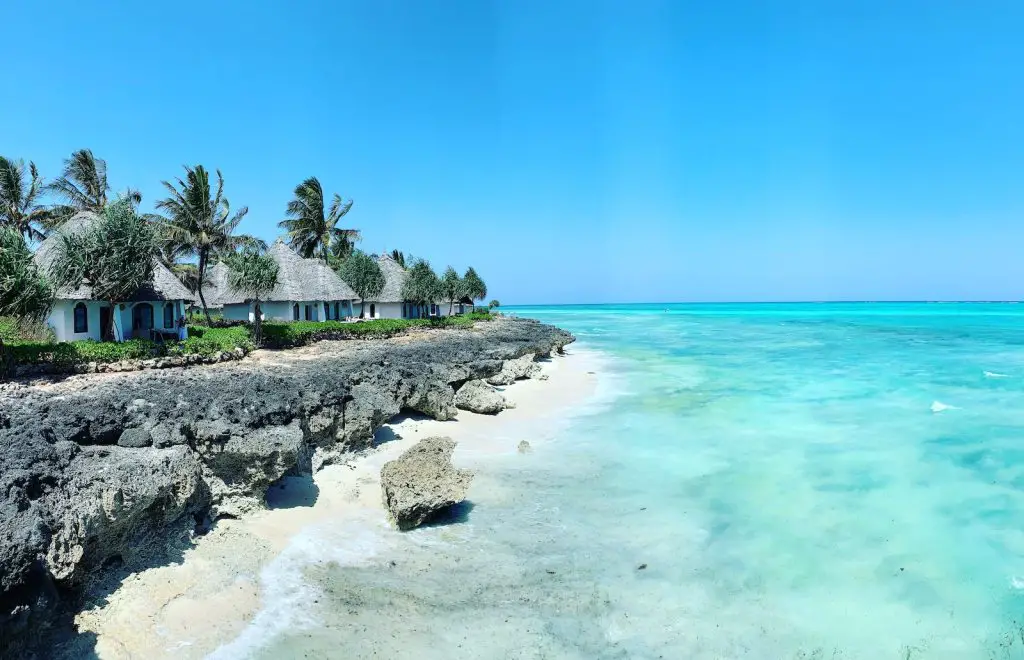 An archipelago off the Tanzanian coast, Zanzibar is a mesmerizing blend of turquoise waters, ancient architecture, and Swahili culture. For a 25th birthday, this island paradise offers an exotic escapade into Africa's coastal wonders.
Best Time to Visit: June to October provides dry, sunny days, making it the ideal time to immerse oneself in Zanzibar's beach bliss.
How to Celebrate?
1. Wander Through Stone Town: A UNESCO World Heritage site, Stone Town is the historic heart of Zanzibar. With its labyrinthine alleys, ornate wooden doors, and bustling bazaars, it's a time capsule of Swahili coastal culture.
2. Dive in Mnemba Atoll: Known for its vibrant coral reefs and diverse marine life, Mnemba Atoll is a diver's dream. Encounter dolphins, turtles, and an array of tropical fish in these azure waters.
3. Delight in a Spice Tour: Given Zanzibar's moniker as the "Spice Island", a guided tour of its spice farms is a must. Discover the origins of cloves, vanilla, and nutmeg, and savor the rich aromas.
In Zanzibar, the whispers of ancient trade winds, the rhythm of Swahili drums, and the allure of the Indian Ocean combine to craft an enchanting 25th birthday, steeped in history and natural splendor.
Siargao, Philippines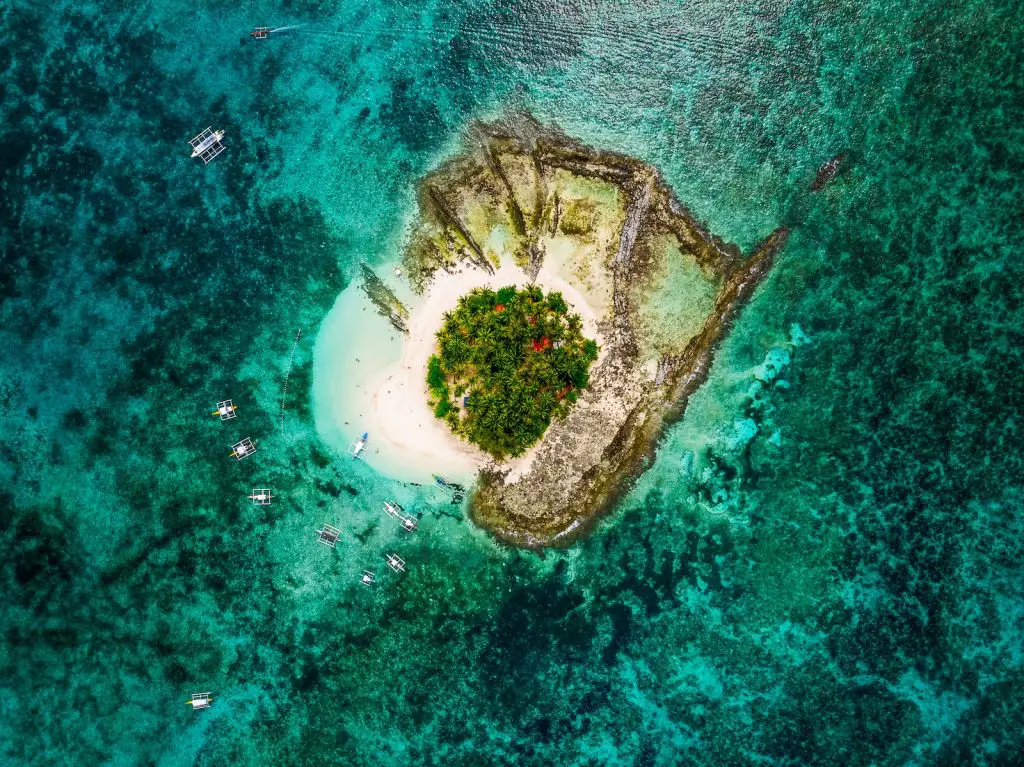 Renowned as the surfing capital of the Philippines, Siargao is an emerald gem where crystalline waters meet lush coconut groves. This island haven is perfect for a 25th birthday, offering both thrilling adventures and tranquil retreats.
Best Time to Visit: March to October provides prime surfing conditions, with September's Siargao Surfing Cup being a particular highlight. For calmer waters and island-hopping, December to February is ideal.
How to Celebrate?
1. Catch Waves at Cloud 9: Siargao's most iconic surf spot, Cloud 9, caters to both pros and beginners. With its wooden boardwalk and epic waves, it's a surfer's paradise.
2. Island-Hop the Lagoons: Discover nearby islets and lagoons, including the mesmerizing Sugba Lagoon and the trio of Daku, Guyam, and Naked Islands. Each offers pristine beaches and azure waters for snorkeling.
3. Explore the Coconut Palm Forest: Traverse roads flanked by vast expanses of towering coconut palms. The viewpoint at the Coconut Tree Mountain Resort offers a panoramic glimpse of this verdant spectacle.
In Siargao, every swell, sunlit beach, and whispering palm paints the canvas for a 25th birthday that's a harmonious blend of exhilaration and island serenity.
Busan, South Korea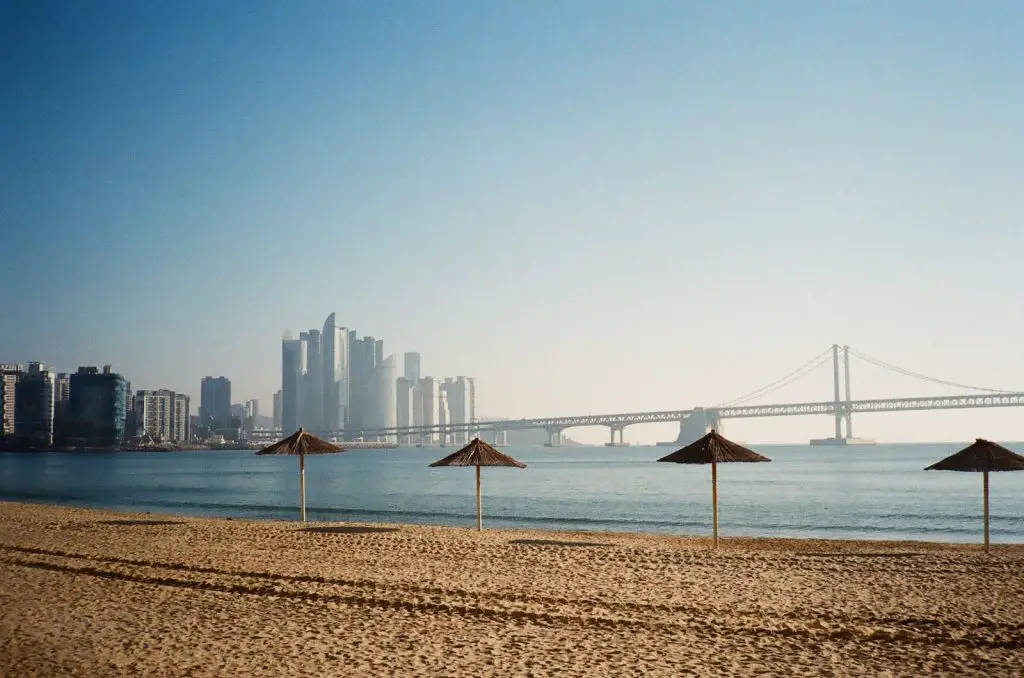 South Korea's coastal metropolis, Busan is where modern skyscrapers stand in harmony with sandy beaches and historic temples. For a 25th birthday, this vibrant city offers a dynamic blend of culture, nature, and urban energy.
Best Time to Visit: October brings the renowned Busan International Film Festival, while spring (April to June) sees cherry blossoms in full bloom, creating picturesque cityscapes.
How to Celebrate?
1. Relax at Haeundae Beach: This iconic stretch of sand is a must-visit. Haeundae Beach is not just for sunbathers; the nearby streets buzz with eateries, bars, and vibrant night markets.
2. Visit Gamcheon Culture Village: Dubbed the "Santorini of the East", this hillside area is a colorful mosaic of houses, art installations, and quaint alleys. Gamcheon tells a tale of history and creativity through its murals and panoramas.
3. Explore Jagalchi Fish Market: Dive deep into Busan's marine heritage at Korea's largest seafood market. At Jagalchi, you can select fresh catches of the day and have them prepared on the spot at adjacent restaurants.
In Busan, the hum of city life, the allure of the sea, and the whispers of centuries-old traditions come together to script an unforgettable 25th birthday set against a backdrop of South Korean splendor.
---
---