Some of the links in this post are affiliate links. This means if you click on the link and purchase the item, I will receive an affiliate commission at no extra cost to you. All opinions remain my own.
If you're looking for a breathtaking beach to relax on during your vacation in Gran Canaria, look no further than Amadores Beach. It's one of the best reasons to visit Gran Canaria.
This stunning stretch of sand is located in the municipality of Mogan and is known for its crystal-clear waters and lovely views. In this guide, we'll tell you everything you need to know about Amadores Beach, including how to get there, what to do when you're there, and where to stay.
Spending some time on Amadores Beach is one of the best things you can do in Gran Canaria. If you are staying on some other part of the island, consider adding Amadores Beach to your road trip itinerary.
So read on to find out why Amadores should be at the top of your list of priorities when planning a trip to Gran Canaria!
Amadores Beach – Playa de Amadores: Gran Canaria's Most Breathtaking Beach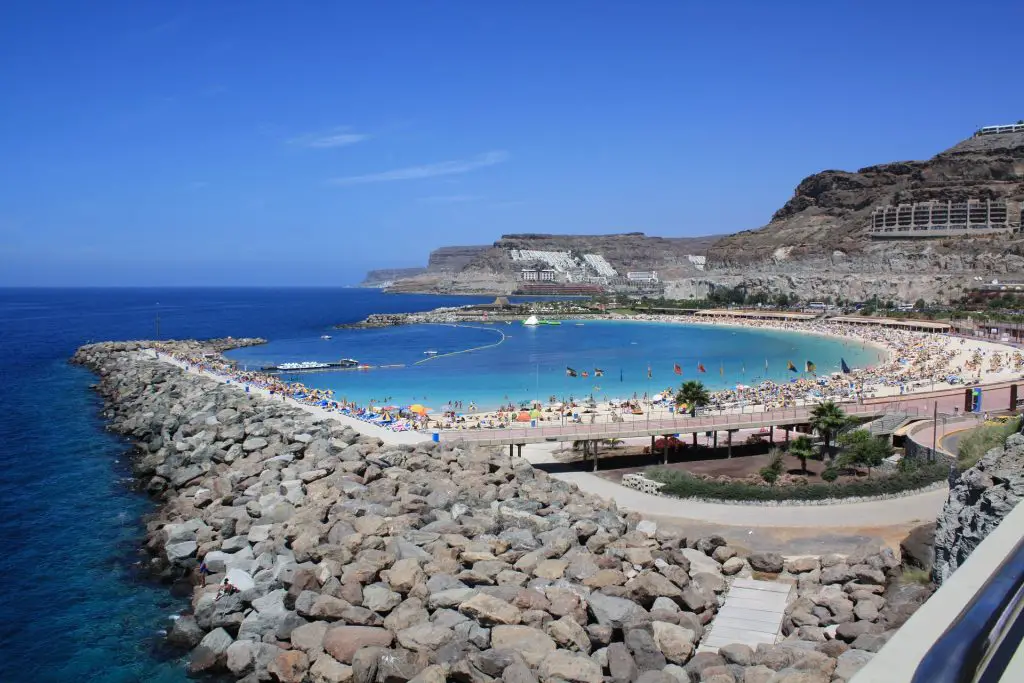 Amadores Beach is a man-made beach that has white sand, calm and clear water, and everything that you might need for a relaxing sunbathing day. You can go swimming and enjoy the peaceful waters as no watersports or ball games in the water are allowed on the beach. Also listening to loud music is banned. After the swim, you might find it convenient to use the showers right on the beach.
One of the best attractions is a walk on the beautiful promenade connecting Amadores Beach and the nearby Puerto Rico resort. It's just a kilometer long but offers a great panoramic view of Amadores beach and the surrounding hotels in the mountains.
The artificial beach has had Blue Flag status since 2004. This means good water quality and high standards for other beach services.
There are several nearby restaurants where to enjoy lunch or buy refreshments. For the convenience of visitors, you'll find paid parking nearby.
If you wish to rent a sunbed, be sure to arrive early in the morning. During the high season in Gran Canaria, Amadores beach is quite popular and can get crowded during the day.
If you plan to spend the whole day at the beach make sure to stay to watch the sunset. Sun disappearing behind Mount Teide on the neighboring island Tenerife is a magnificent sight to see.
How to get to Amadores Beach?
Amadores Beach is located in the municipality of Mogan, which is on the south coast of Gran Canaria. To get there, you can take a bus from Las Palmas or from any other town on the south coast. The trip will take about an hour, depending on where you're coming from. Amadores is also accessible by car, and there is plenty of parking available near the beach.
There is a bus stop nearby the beach. Here are some buses going to Amadores Beach:
Bus No.39 Playa del Ingles – Playa del Cura
Bus No.91 Las Palmas – Playa del Cura
Bus No.01 Las Palmas – Puerto de Mogan
Bus No.33 Playa del Inglés – Puerto Rico – Puerto Mogan
What to do in Amadores Beach?
Amadores Beach is the perfect place to relax and soak up the sun. The water is crystal clear and there are plenty of sun loungers and parasols available for rent. There are also several restaurants and bars located near the beach, so you can enjoy a refreshing drink or bite to eat while taking in the stunning views.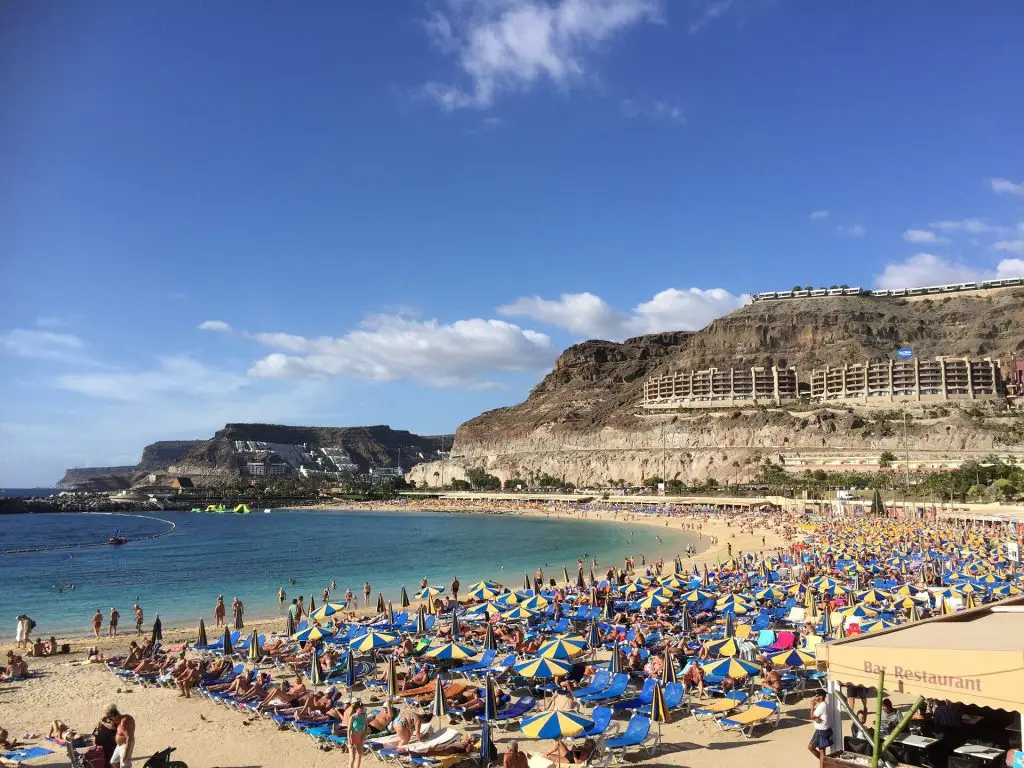 Where to stay in Playa de Amadores?
It has several good hotels near the Playa Amadore. Many stand near the rock and offer a complete view of the beautiful coves and stunning scenery while others are less distant and closer to the beaches. The other choice is apartments. There are certainly infinite possibilities.
A 5-minute walk from The Playa d'Amados, Gloria Palace Royal Hotel & Spa is an important choice for travelers seeking luxury and a fantastic view of the bay and surrounding mountains. This beautiful hotel offers the Infinity Swimming Pool with Sea View as well as a large indoor pool, hot tubs, gym & spa facilities.
Serenity Amadores is a luxury apartment complex situated only a five-minute walk from Playa de Amadoras. Almost every house is en-suite and the bedrooms have an enclosed balcony with a private terrace and an outdoor dining table. The complex has a minimarket and also offers massages.
Holiday Club Sol Amadores offers panoramic views over Playa de Amadore. There is an outdoor pool open year-round. Units may include a kitchen, hot tub, and ocean views.
The Holiday Club Vista Amadores is just a short distance from Playa Amadores. It's the closest to the list, but it offers a free shuttle service and the spectacular views are definitely worth the distance. A large pool, outdoor pool, and gym are also included.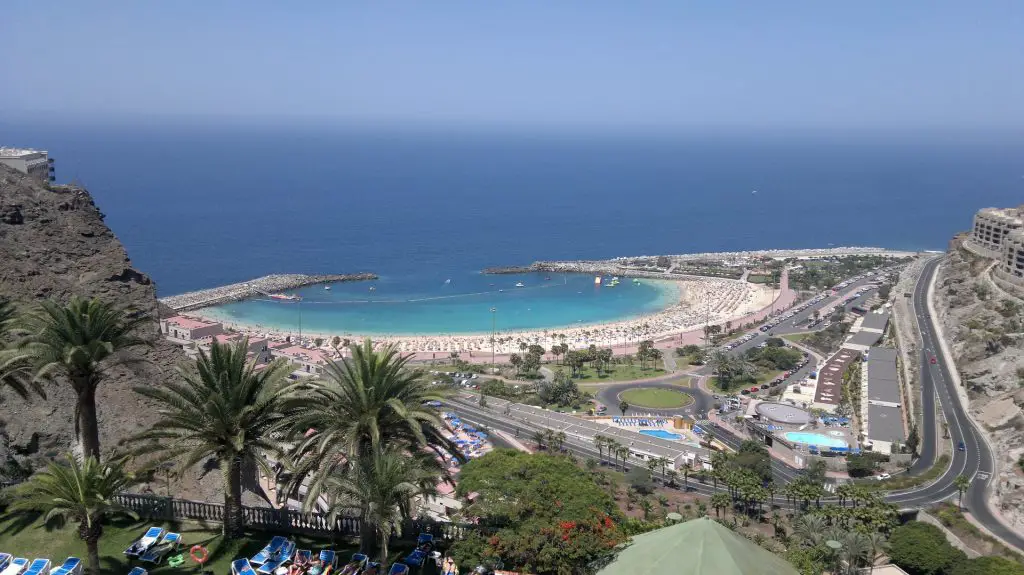 Frequently asked questions
Can you walk from amadores to Puerto Rico?
Yes, the promenade is only a kilometer long.
Is Amadores beach good for swimming?
The water quality at Amadores Beach has been given a Blue Flag status, meaning that it meets high standards for cleanliness and safety. This makes Amadores an excellent choice for swimming.
How long is Amadores Beach?
Amadores Beach is approximately 800 meters long.
Is Amadores Beach crowded?
During the high season in Gran Canaria, Amadores beach can get quite crowded during the day. However, the crowds tend to thin out in the evening, so if you're looking for a more relaxed experience, consider visiting then.
Amadores Beach is a stunning stop on your tour of Gran Canaria. With crystal-clear water, plenty of sun loungers and parasols, and an array of restaurants and bars close by, Amadores is the perfect place to relax and take in the beauty of this Spanish island.