Some of the links in this post are affiliate links. This means if you click on the link and purchase the item, I will receive an affiliate commission at no extra cost to you. All opinions remain my own.
Roque Nublo is one of the most impressive landscapes that you can find on Gran Canaria island. It's about 80 meters tall volcanic rock and its top is 1,813 m above sea level. This makes Roque Nublo the third highest point on Gran Canaria and ensures breathtaking panoramic views from it to the surrounding island and even to the neighboring Tenerife island's highest peak – Mount Teide.
Roque Nublo natural monument is located in the municipality of Tejeda and was declared a Natural Space in 1987 and a Parque Rural or Rural Park in 1994. Nublo rural park contains the Roque Nublo and its surroundings that seem to be like another planet. It's no wonder that this has been a place of worship for the native people of the island. The landscape contains mountains, ancient lava flows, and some other unique lava formations that are smaller than the impressive Roque Nublo.
How to get to Roque Nublo
Hiking to Roque Nublo should be on your list of must-do things in Gran Canaria. It's one of the most iconic points, and the hike is not challenging at all, so it's simply a thing that you should do.
There are multiple ways how to get to the starting point of the Roque Nublo hike.
Roque Nublo by car
One of the easiest ways how to visit Roque Nublo is to include it into a day trip across Gran Canaria if you plan to rent a car.
Roque Nublo parking can be easily found – it's just on the side of a major road. Follow the link or type it in the navigation in your car or on your phone, and you are good to go. You'll be able to park quite close to the starting point of the hike. Keep in mind that the last 1,5 km to the Roque Nublo can be done only on foot.
One thing to keep in mind is that you should arrive before 11 am or then later in the afternoon to be sure that there are free parking spaces. On more popular days like Saturday, Sunday, or generally in the high season the parking lot can get quite full and there can be many people on the trails.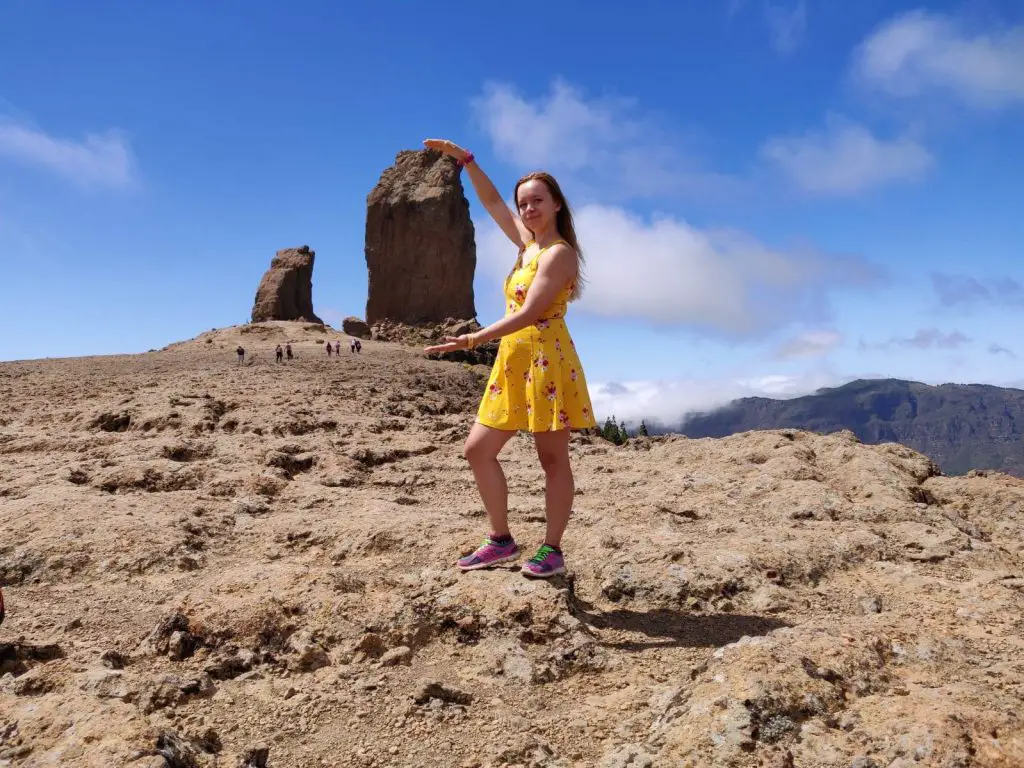 Roque Nublo by bus
If you don't rent a car in Gran Canaria, it's quite possible to get to Roque Nublo by bus.
If you are in Maspalomas, take the Line 18 bus. It takes an hour and a half to get to the starting point of the hike. Pay attention that this bus line is limited on Saturdays, Sundays, and fiesta days.
A bus trip from Las Palmas is a bit more complex. Take Line 303 from the San Telmo to San Mateo and then Line 305 bus from San Mateo to Tejeda, and then Line 18 bus from Tejeda to Ayacata (but get off at La Goleta stop).
Roque Nublo tour
Many hotels offer tours to see Roque Nublo and the surrounding points of interest on a day trip. If you don't rent a car or don't feel confident to navigate the local public transportation, then an organized tour will be perfect for you.
Roque Nublo hike route
It takes around 30 minutes to go the 1,5 km long trail from the parking lot to Roque Nublo. The Roque Nublo hiking route is 3,1 km long forth and back. The path is well marked so you won't have any problems with following the directions. It has elevation, but is not very steep, and should be accessible to children and elderly people as well.
The path starts in a pine forest but eventually leads quite high up where the rocky landscape uncovers the amazing views around. It's quite a sight, what a volcanic eruption had created so many years ago. Roque Nublo is not the only rock formation of the volcanic origin on the way up, but it dominates the landscape creating a particularly stunning view.
During the hike, you'll be able to see spectacular views of the surrounding mountains and even Pico De Las Nieves, the highest point of Gran Canaria. You can easily include it in the same day trip as the Roque Nublo hike.
When going on a hike, wear warmer clothing. As the hiking route leads to some of the highest mountains in Gran Canaria, the temperatures are lower than in the resort towns. Take a hiking jacket with you, especially if you are going in the winter months.
As the path may get rocky at some points, wear non-slippery and closed footwear. Hiking boots or just sneakers will be fine, just don't attempt to go in your Birkenstocks.
Take some water with you. Even though the hike is not long, it's important to keep hydrated. And water will help if you get too much sun, as the landscape near the Roque Nublo is quite empty of any pine trees that give some shade at the beginning of the hike.
As this is a natural reserve, remember not to get off the trail. Don't take anything with you, no plants or rocks, just pictures. And don't leave anything after you. Let's preserve nature and just enjoy it.
In the parking lot, there are some stands with food and local souvenirs, so you don't have to prepare food for the hike. Just try some of the local goods after the hike is over.
Other great things to do in Gran Canaria
Roque Nublo is just one of many great things that you can do in Gran Canaria. You can add the hike to Roque Nublo to a day trip across the island, or spend a whole day on it and explore the other parts of the island on different days. There is so much to see – cute villages, exhilarating attraction parks, beautiful beaches, and, of course, other mountains and hikes to conquer.