Some of the links in this post are affiliate links. This means if you click on the link and purchase the item, I will receive an affiliate commission at no extra cost to you. All opinions remain my own.
Gran Canaria is one of the Canary Islands, located near the coast of Africa and known for its warm climate all year round. It's a popular destination for people looking to relax on a beach, go on a hike, or just explore small towns and villages and find nice places to eat seafood and taste the local wine.
Here you can read about the best things to do in Gran Canaria if you are willing to check out the magnificent places this island has to offer.
Go on a hike to Roque Nublo
Roque Nublo is a 67 m high volcanic rock on the Gran Canaria. What makes it special is its location – the surrounding ground has only one other big rock that even comes close in size to the enormous Roque Nublo.
The hike to Roque Nublo is quite easy – it's 1,5 km one way and the complete forth and back will take you a bit more than an hour, depending on the length of the photo breaks that you'll take.
The hike starts in pine forests, but quickly ascends and provides stunning views of the surrounding volcanos, and even the neighboring Tenerife island and its Teide Volcano.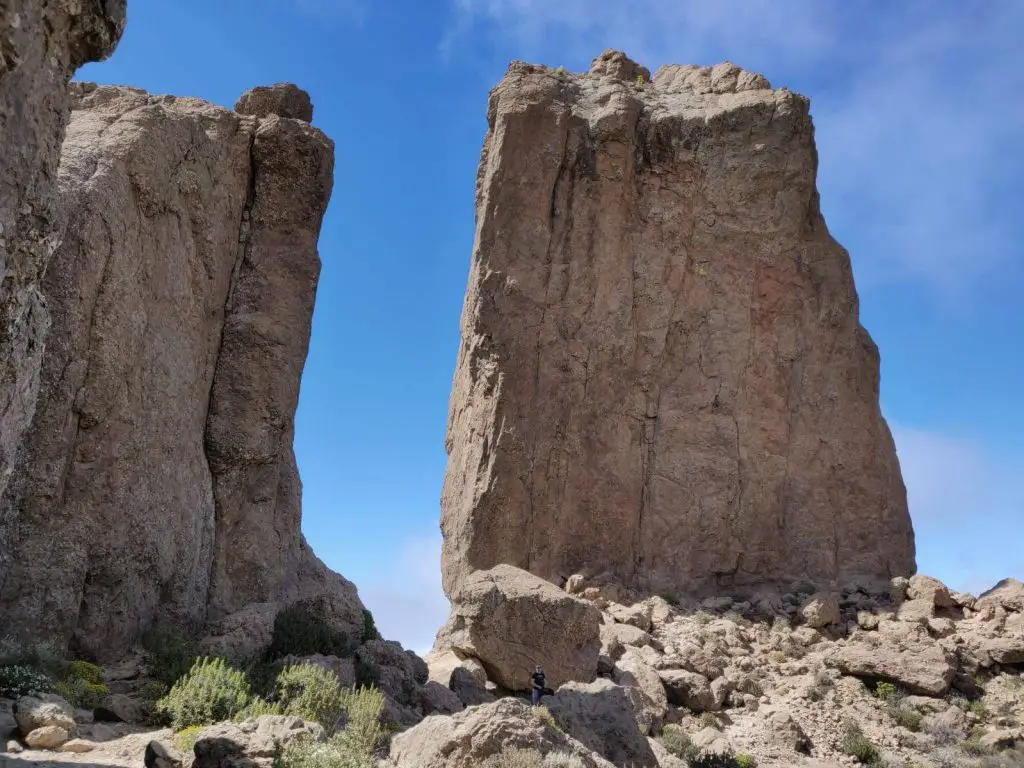 Check out the highest point in Gran Canaria – Pico de las Nieves
1,949 meters above sea level, Pico de las Nieves is considered the highest peak on Gran Canaria. Or it could be Morro de la Agujereada that stands next to Pico de las Nieves and is 1,956 metres high. But the first one is better known because of the highest lookout point on Gran Canaria island.
Las Nieves Peak is easily accessible by car, as there is a military base and a road to it. Just below the base is a platform that is available to the public. From this lookout point, you can see amazing views of other mountains on Gran Canaria including the famous Roque Nublo. In good weather, it's also possible to see the neighboring Tenerife island and Teide volcano – its highest peak.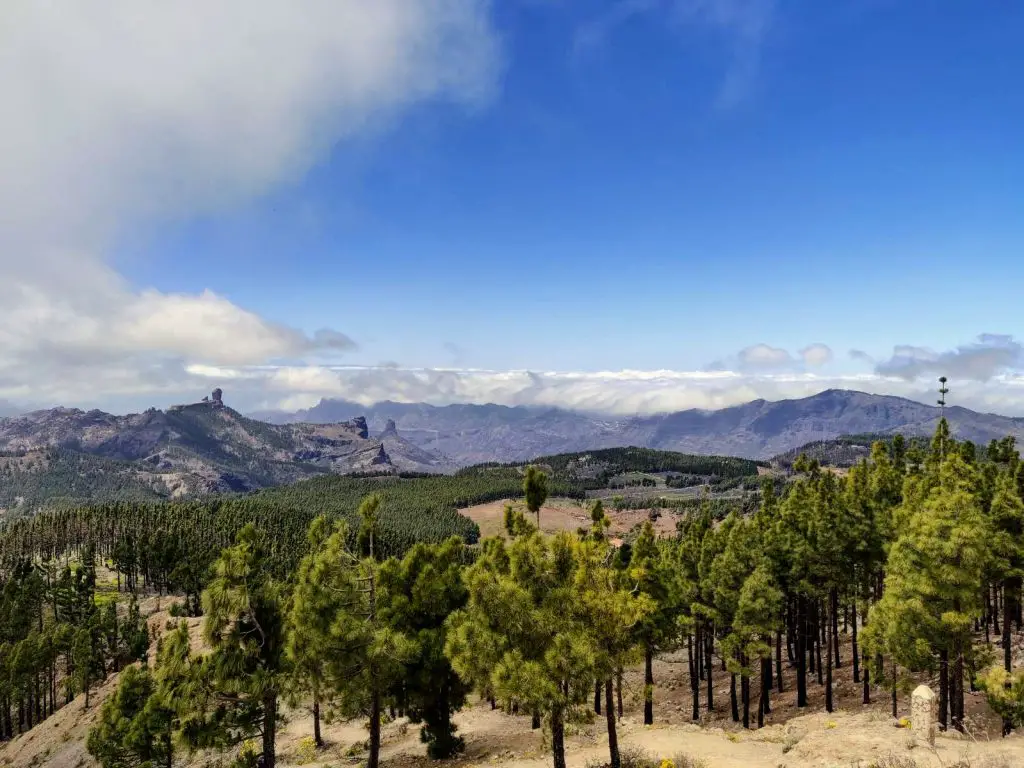 Take instagrammable pictures on Maspalomas beach
Maspalomas dunes are one of the most famous landscapes on the island. Even though Gran Canaria is of volcanic origin and the majority of its beaches are rocky or have black sand, Maspalomas is a stark contrast with its golden sand desert-like beach. The dunes cover around 400 ha and were naturally formed in the ocean and washed up during the last ice age.
The best time to visit the sand dunes is around the sunset as the views are amazing and the sand is not so burning hot as during the day.
There are many resorts built nearby so during the high season the Maspalomas Dunes may get quite crowded. So if you go there in the popular hours you might have to walk a little bit deeper in the dunes to find a little bit of privacy or a photo background without a lot of people. Just remember that walking is allowed only on the 8 km of the marked trails in order to preserve the dunes.
Maspalomas Lighthouse is 56 m tall and still operating. It's really close to the dunes, so you might include it in your itinerary when visiting the Maspalomas Dunes. There are shops and restaurants in the surrounding area, so this is a nice place to explore.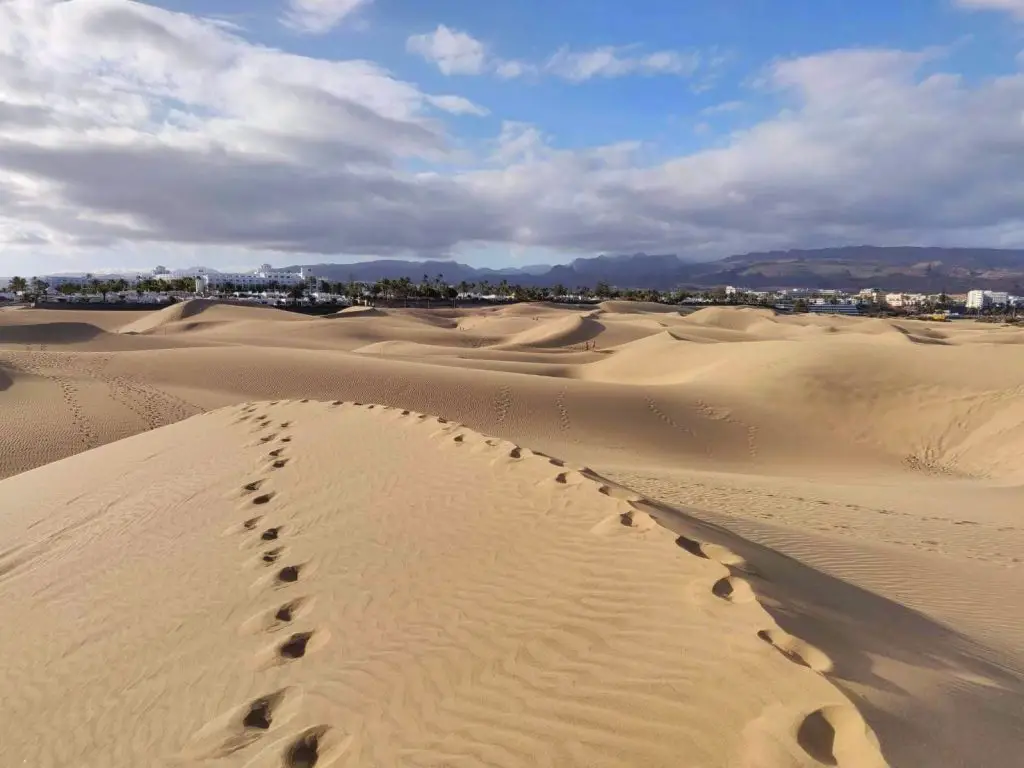 Explore Las Palmas de Gran Canaria
Las Palmas de Gran Canaria is the largest city on the island and has a number of world-class attractions.
Playa de las Canteras
Playa de las Canteras is a beautiful beach on the shores of the Atlantic Ocean. There is a promenade with shops and restaurants that stretches along this beach. It's 3 km long, has white sand, and offers all the attractions that you can usually find on a beach. Las Canteras beach is one of the best Gran Canaria beaches so be sure not to miss it.
Vegueta
The colonial quarter (Vegueta) has the oldest houses in the city, including the cathedral of Santa Ana. It's worth spending a few hours exploring the architecture of this part of the city. Stroll along streets like Los Balcones or Espíritu Santo to see the picturesque architectural style of the Canary Islands.
Poema del Mar
Poema del Mar is an enormous and really beautiful aquarium. It takes around 2-3 hours to see the whole place. There is a large central aquarium with a huge viewing wall that has impressed a lot of visitors.There are separate zones to demonstrate different ecosystems, and the information is available in English so that visitors could learn about sea life.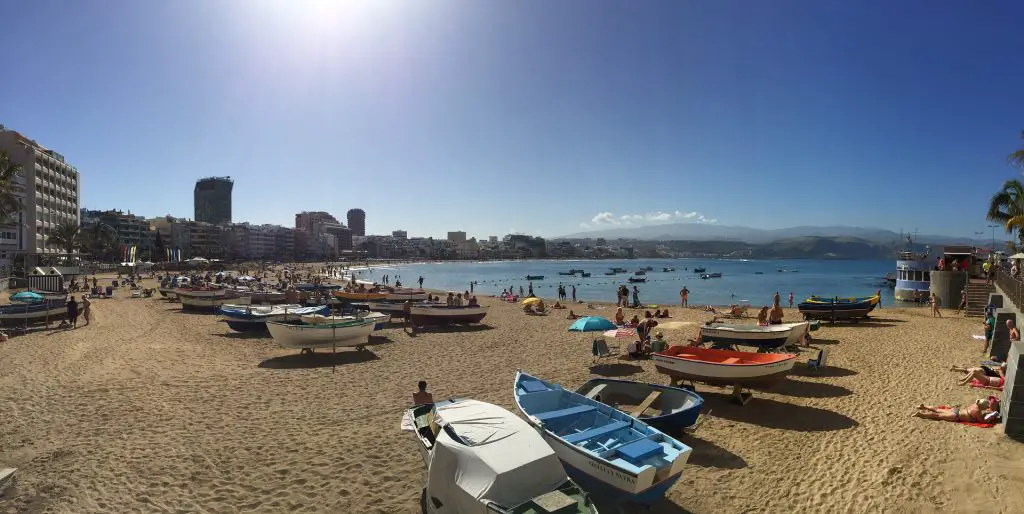 Have family fun in Palmitos Park and Aqualand
Both Palmitos Park and Aqualand are located near Maspalomas and are great for family visits. The parks have a ticket combo where if you buy tickets to both you get a discount. As these are the biggest attractions of their king on the island, it's worth taking the ticket combo and dedicating some time for a visit. Both attractions require half a day of time, and you should be visiting them on the first half of the day, so it's not really possible to fit them in one day. Take it into account when planning your itinerary.
Palmitos Park is a huge botanical garden and a zoo. You can find different kinds of birds in the park: Flamingoes, Toucans, Emus, Hornbills or Pelicans, and many more. In the botanical garden, you'll see the biggest collection of orchids in Gran Canaria. There are also hundreds of different species of cactus, some even 4 meters high. The house of butterflies in Palmitos Park has the biggest collection in Europe, and you can also see reptiles, mammals, and all kinds of fish in the aquarium.
Aqualand Maspalomas is a huge water park with many adrenaline-filled slides, a sea lion pool, a beach, a pirate's river, a children's paradise, and a few places to get food and drinks. It's a good value for a whole day out. Aqualand Maspalomas is open whole year-round.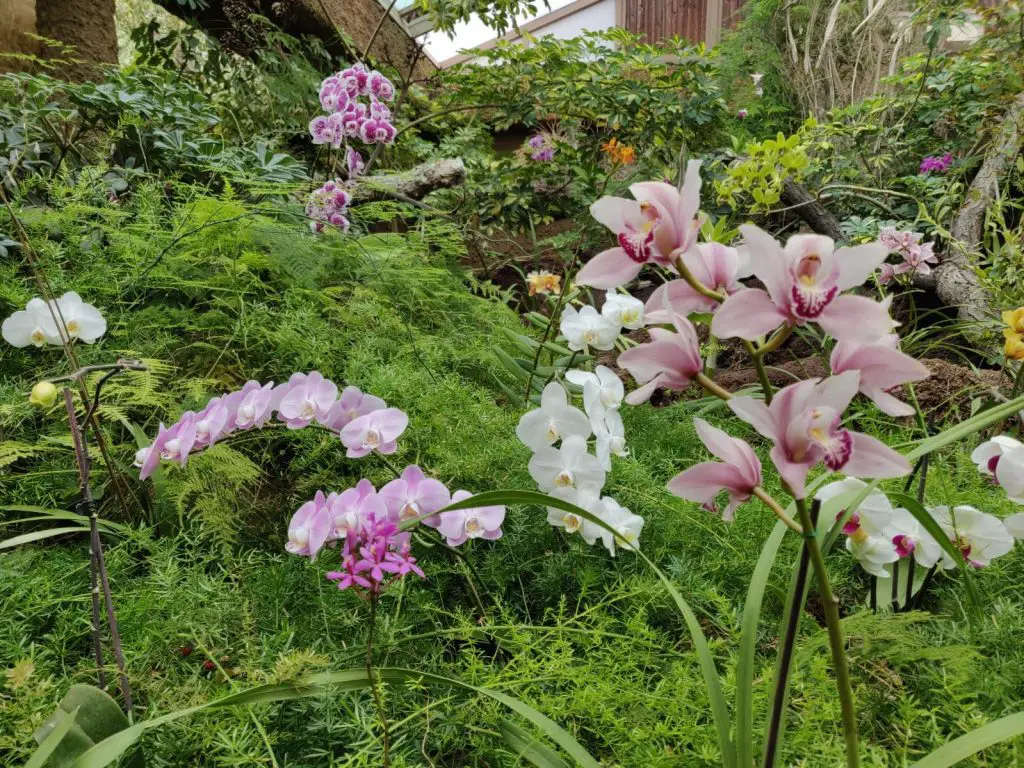 Check out the beaches of Puerto Rico
Puerto Riso is a resort town located on the southwest coast of Gran Canaria. It is quite warm all year round, and the majority of hotels are built in such a way on the sides of cliffs that each room has an ocean view. This is considered a family-friendly resort town and has some attractions like mini-golf and Angry Birds Activity Park that would be fun for children to visit.
There are a few natural sandy beaches in Puerto Rico that are worth visiting.
Playa de Puerto Rico
This is a popular sandy beach with restaurants, cocktail bars, and the usual beach activities. There's also a boat dock. You can take a nice walk almost all around Playa de Puerto Rico if you aren't the type to just sunbathe and do nothing at the beach.
Amadores beach
Amadores beach is considered to be one of the nicest and safest beaches in Gran Canaria. The beach is 800 meters long and has been artificially built, so it's possible to go very far in the water. Its location protects Amadores beach from the wind and bigger waves, and the water there has a unique blue color. There is also a waterpark built on the beach, so all of the family can have fun.
You can easily walk from Puerto Rico to the beautiful Playa de Amadores, just keep in mind that the clifftop path is ascending, which might be a bit more difficult to walk in the summer heat.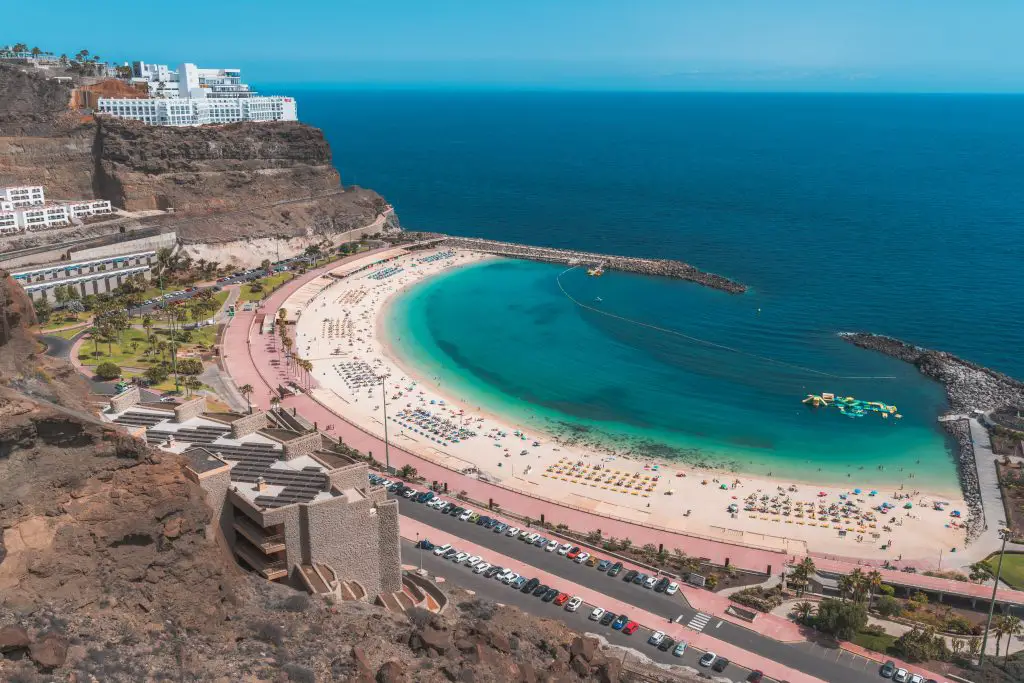 Puerto Mogan
Puerto de Mogan is a picturesque village where you can get those beautiful pictures of perfect white houses, flowers, and colorful details like doors and windows that you see on Instagram on Pinterest. The resort village is not that big, but there is a beach and a port worth seeing. Puerto Mogan has a few canals and bridges that have earned its nickname "Little Venice".
When visiting Puerto Mogan, be sure to stroll around the marina with the docked yachts, and through the narrow streets of the old town. There are many restaurants serving seafood and drinks right on the waterfront, so if you are there around lunch or dinnertime, Puerto de Mogan is the perfect place for that.