Some of the links in this post are affiliate links. This means if you click on the link and purchase the item, I will receive an affiliate commission at no extra cost to you. All opinions remain my own.
Crete is the place to visit if you enjoy unbelievably beautiful beaches and really blue water. This year I visited Crete with a couple of friends, and we went on a beach-roadtrip from Chania. This was possible because we rented a car, but the Elafonassi and Balos beaches are popular destinations for organized one-day tours as well, so you don't necessarily need a car to get there.

Elafonissi beach in Crete
Elafonissi is one of the 10 best beaches in the world. It takes a bit more than an hour to get to the beach from Chania by car, and the road is absolutely gorgeous. It goes up and down the mountains, there are a lot of hairpin turns and an amazing view of the valleys. 
Elafonisi is a Natura 2000 protected area, so don't take any plants, animals, shells, and sand from the area.
The beach is famous for its pink-colored sand. It is a result of millions of crushed shells. Beware not to take any samples with you, as the sand isn't unlimited. If all of the visiting tourists took a handful with them, there would be no more pink parts left.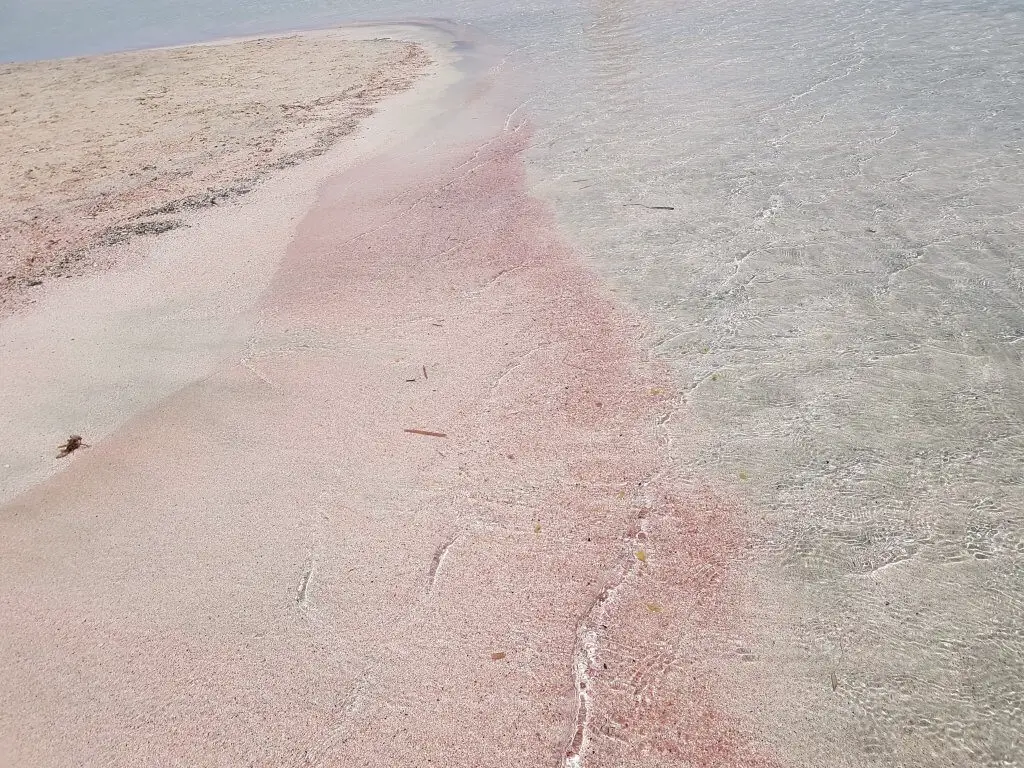 The water here is in turquoise color, and it looks great in the pictures as well. You may notice many people spending time here just to get the perfect Instagram photo on the beach. 
Elafonissi beach is connected to a tiny island that can be reached on foot. The lagoon between the mainland and the island is knee-deep, so it is nice to just walk around and enjoy the beautiful surroundings.
Just be sure to put on a lot of sunscreen. I burned myself both times when I visited this beach because the sun gets reflected from the water, and this multiplies its effect. And if you are walking around and exploring, there won't be much shade available.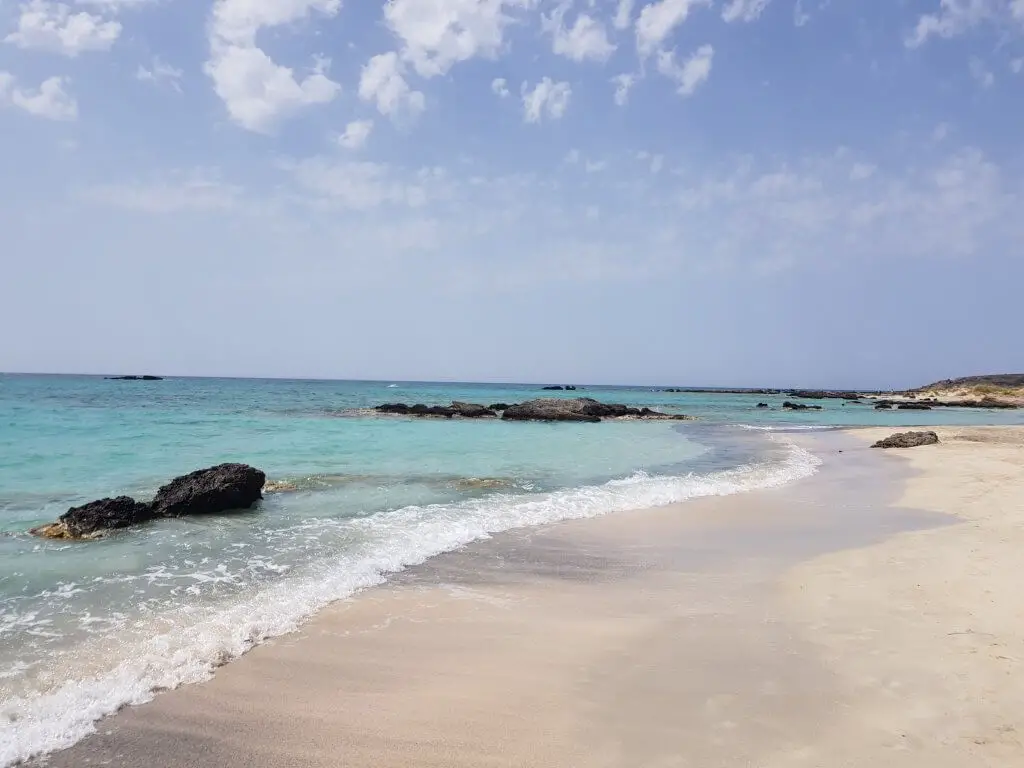 Balos beach in Crete
We reached Balos beach by car, but it is also possible to take a tour from Chania and go to Balos by boat. 
Driving to the Balos was quite an adventure. Navigation told us that there are still a few kilometers of the road ahead of us when the asphalted road ended. We had to continue driving on a rugged mountain road – surrounded by goats from one side and by a cliff bordering the sea from the other side. In addition, rental cars are small and not made for such roads at all.
Finally, we arrived at the parking, and it turned out that to get to the beach we still need to walk for 2 kilometers. In the hot sun. Wearing flip-flops. The good thing was that the path led us downwards.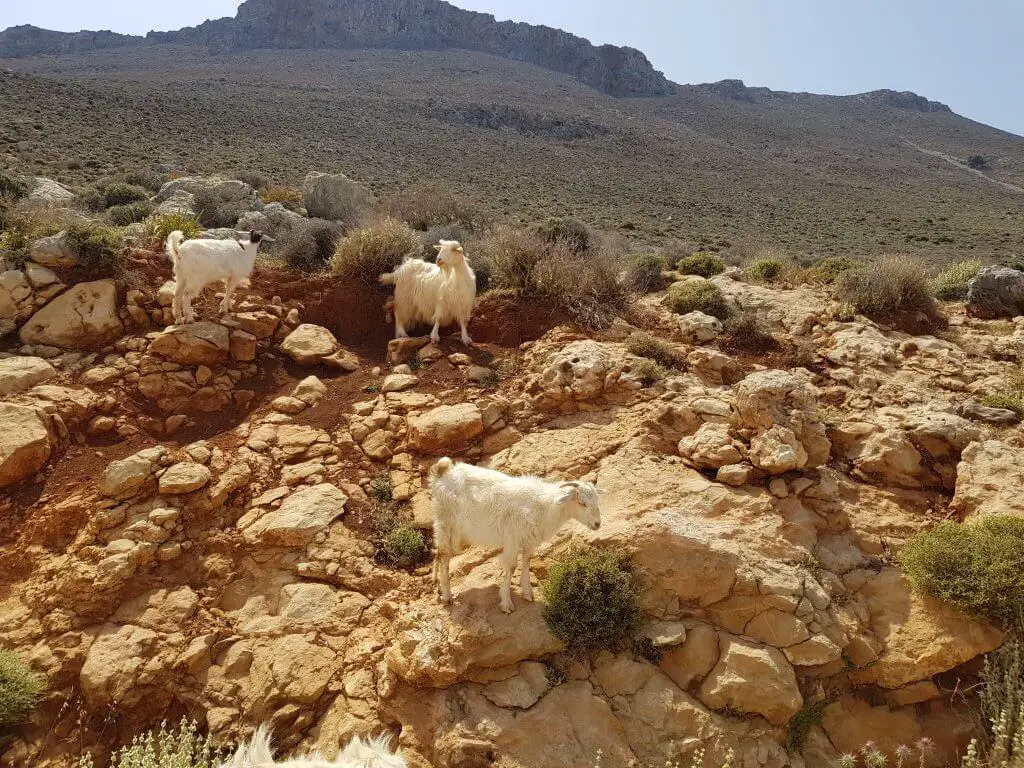 Balos beach has a long, shallow, and sandy lagoon leading to the connected island. If you inspect the sand closely, you might notice traces of the same pink shade as in Elafonissi, but in smaller amounts. The surrounding water is all shades of blue, and some boats are coming and going. 
When comparing Elafonissi and Balos, I can see a lot of similarities. For me, it seemed that the Balos beach is more rugged and wild, as it is hard to access by tourist buses. I visited it in May, maybe the boat tours during the summer compensate for the lack of tourist buses.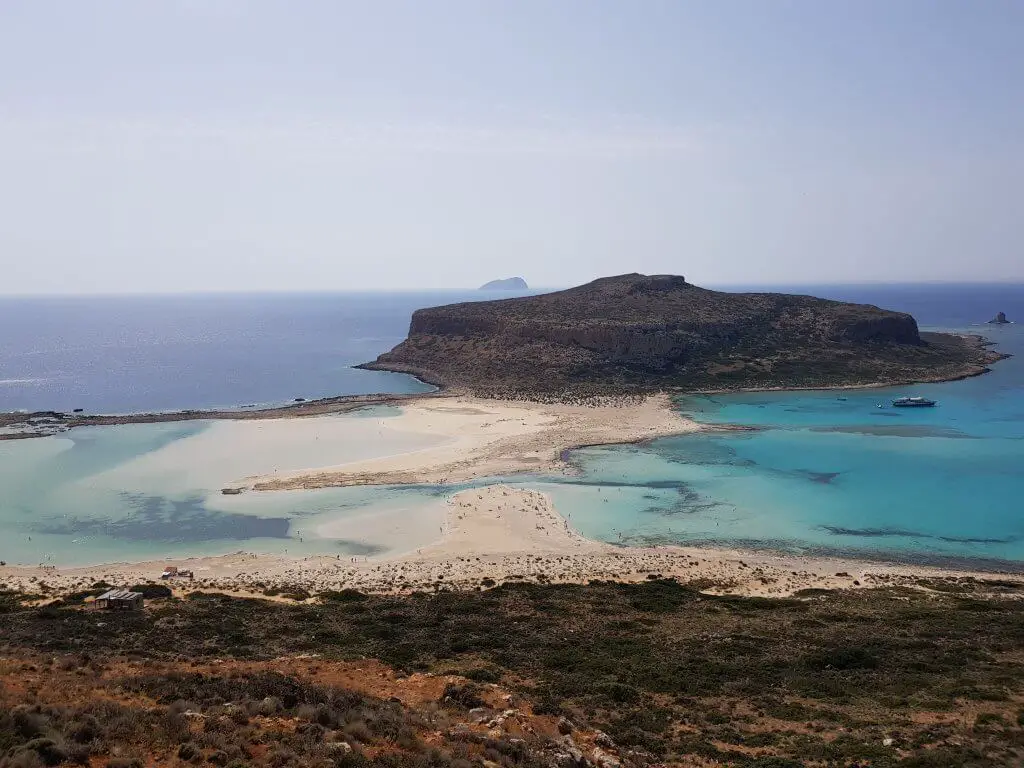 After having a relaxing swim in the blue waters, we climbed up the coast to the car parking place. In the shades of the cars, many goats were chilling, so we got to take a few selfies with them.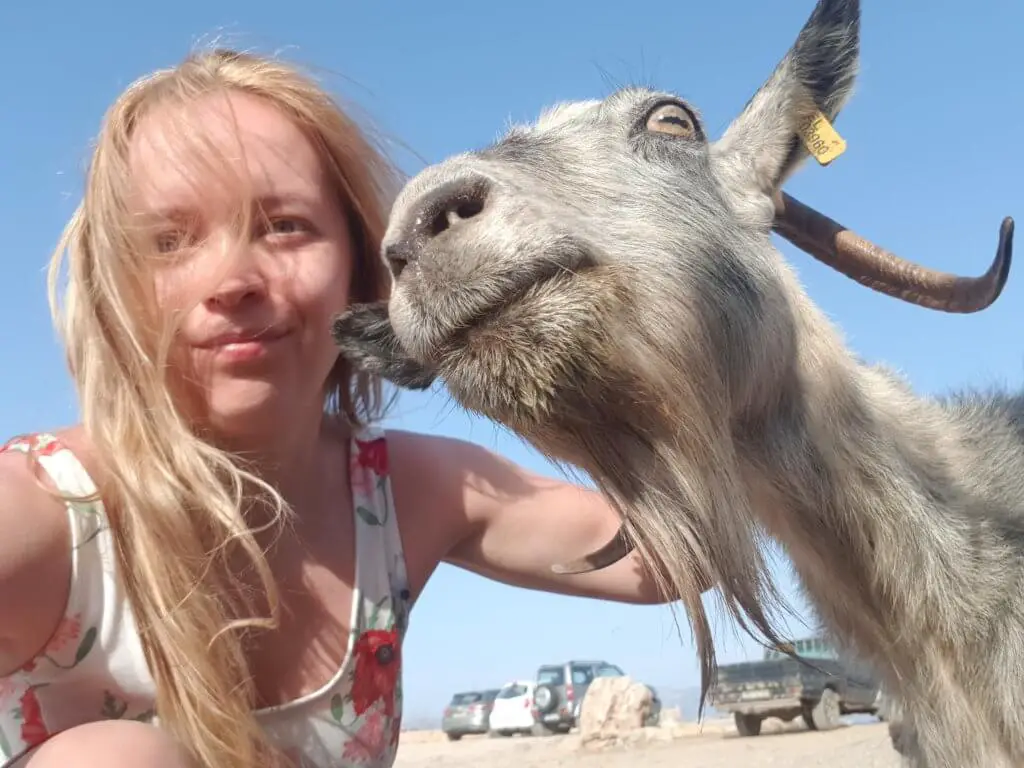 Guided tours
Balos can be reached from the sea as well. Check out these guided tours for more options:
Chania, Crete
Chania is the second-largest city in Crete, and it looks magical in the evenings. The old harbor lights up, full of boats and surrounded by charming restaurants.
After a day at the beach, it is nice to enjoy the local wine and fish. You can easily find restaurants with reasonable prices offering fish and other creatures of the sea caught just a few hours ago.
Our methodology for determining the best restaurant consisted of two observations:
Are there a lot of people that have already chosen this restaurant (and there is still a free table under the sky)?
Are there any cats nearby interested in what the restaurant is offering?
Usually, in addition to what you have ordered you'll receive a complimentary drink of Rakia (a strong distilled alcoholic beverage made from various fruits) and some sweets or fruit, so save some space for that when ordering.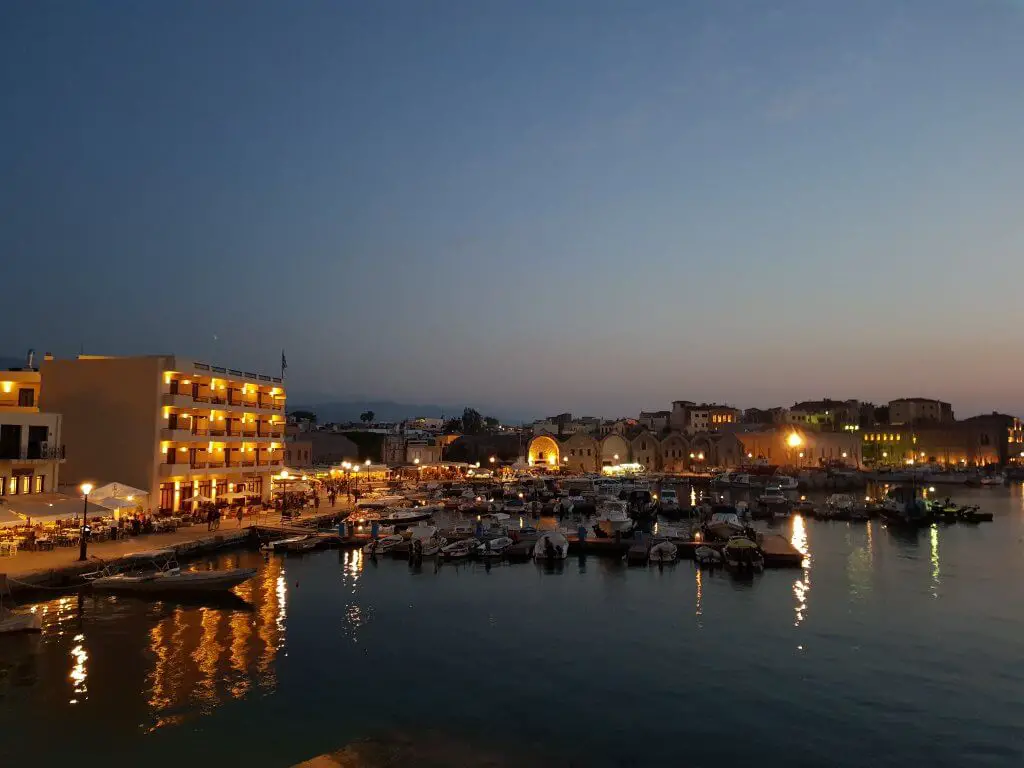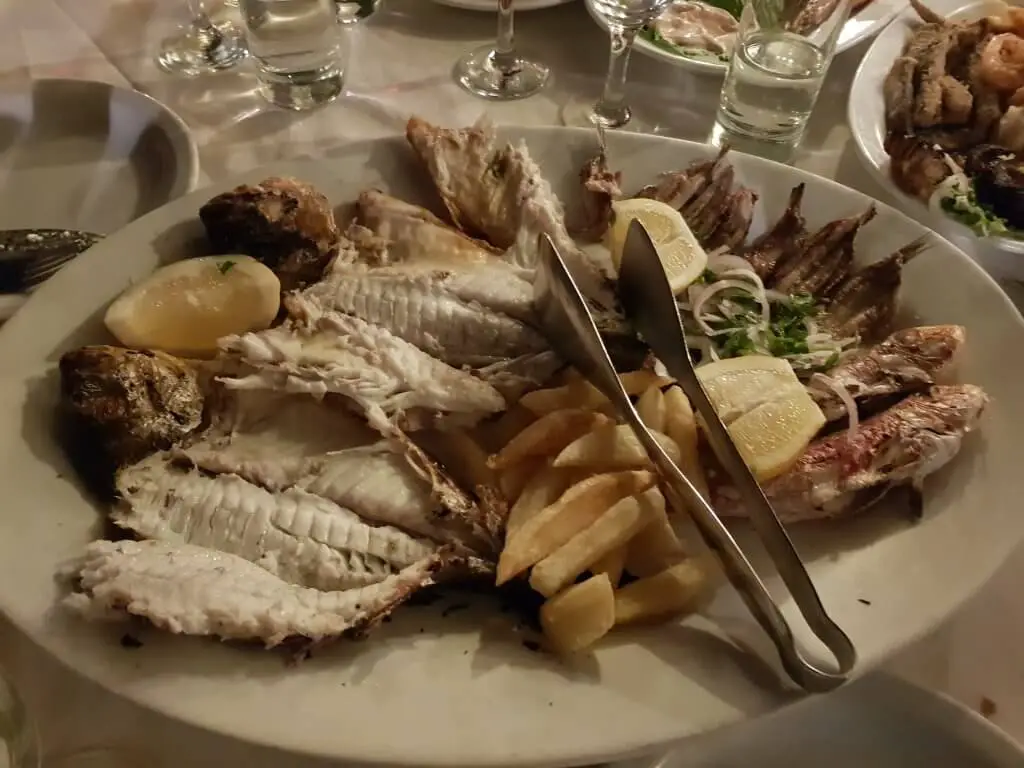 Your turn
Have you been to Crete, Greece? What would you suggest for others to see there?
What to read next?
The Best Things To Do In Crete