Some of the links in this post are affiliate links. This means if you click on the link and purchase the item, I will receive an affiliate commission at no extra cost to you. All opinions remain my own.
The name "Palm Springs" brings thoughts of leisure, elegance, and natural beauty. Many people travel to the picturesque town of Palm Springs on weekends because of its sunny facades, palm trees, and high-end hotels. It is a fun destination because of its Hollywood-inspired glitz, making it perfect for viewing fans, boutique shopping, and posh happy hours. Two hours or less will get you to the parks, desert, mountains, or beaches if you're itching to see something different and exciting.
So, If you're planning on visiting Palm Springs any time soon, then these 6 must-do day trips from palm springs are a great place to start: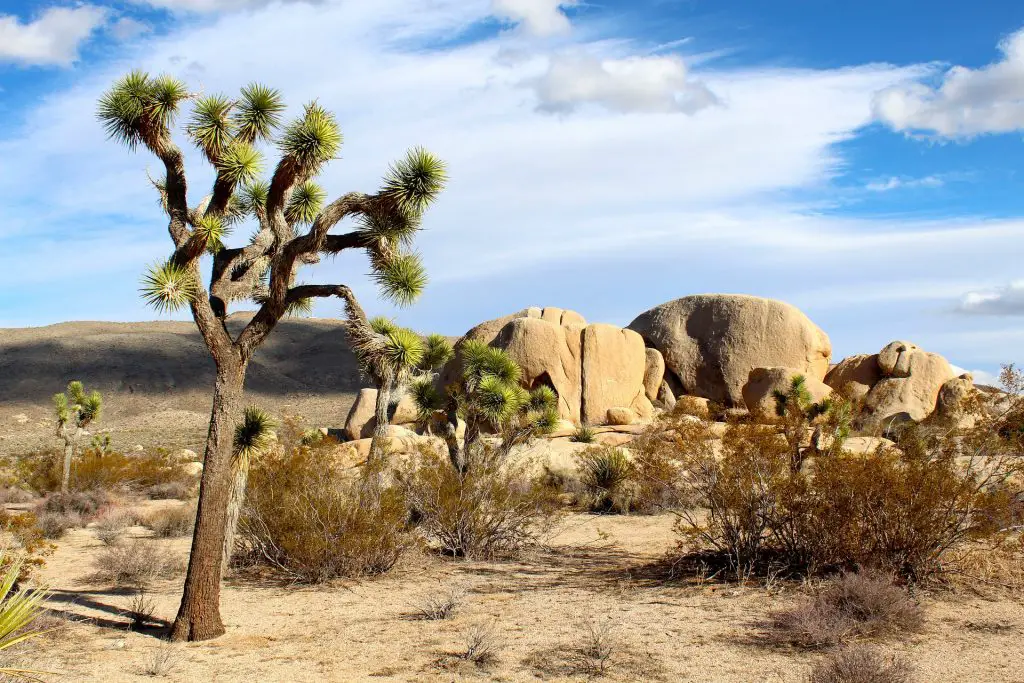 Joshua Tree National Park is a desert landscape only an hour and a half drive from Palm Springs. The park has over 800,000 acres of land to explore, with plenty of Joshua trees, wildlife, hiking trails, and campsites. Joshua Tree National Park was named after the large, spiny Joshua Tree plant. These trees can grow up to 15 feet tall, but their branches stretch out in all different directions like fingers on a hand. They look like they're reaching for something above them.
You can drive up to the Arch Rock Trail or the Skull Rock Trail and see more of the park. Key Views is the perfect place to watch the sun go down at the end of a day in Joshua Tree National Park. The Cottonwood Spring Oasis and Black Rock Canyon are two of the park's must-see attractions. The Cottonwood Spring Oasis has been a watering hole for the Cahuilla Indians for centuries.
You can either head back to Palm Springs in the evening or try stargazing in Joshua Tree National Park.
Pro Tip: Never enter the park from the main entrance on busy weekends. You'll find long waiting lines there. Either try the northern (Hwy 62, in 29 Palms) or western (Hwy 62, in Joshua Tree) entrance.
Palm Springs to Joshua Tree National Park car ride time: 50 min.
San Diego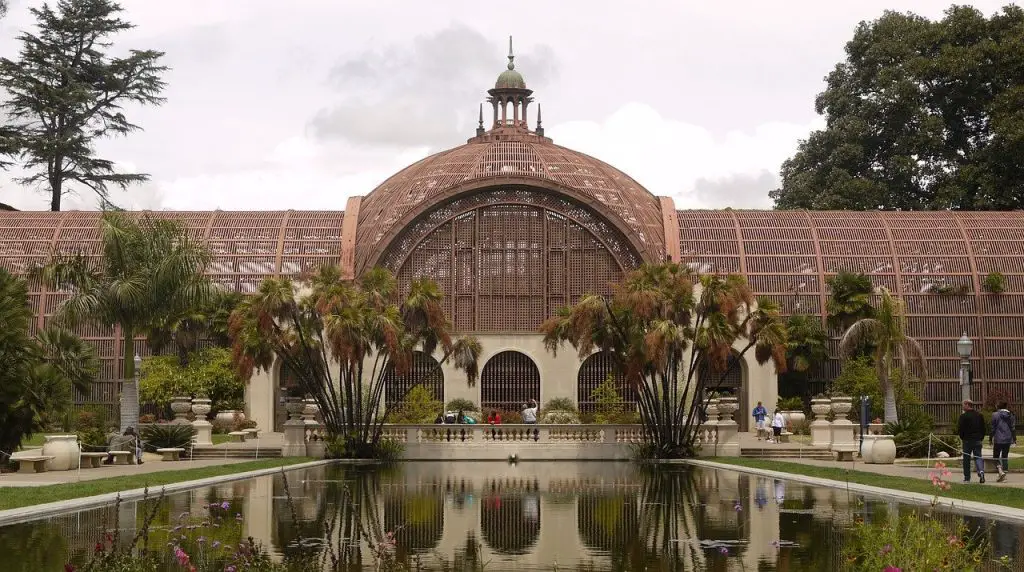 If you're looking for things to do in San Diego, you're in luck! This sunny city has no shortage of activities to keep you busy. Here are three of the most famous things to do in San Diego in one day:
Visit the San Diego Zoo. With more than 4,000 animals, this is one of the largest zoos in the world! You can spend hours walking around and seeing all the different animals.
Visit Balboa Park. This 1,200-acre park is home to museums, gardens, and more. You could easily spend an entire day here exploring everything it has to offer.
Explore USS Midway Museum. It is a museum on aircraft carrier Midway where you can see an aircraft collection, many of which are made in California. The museum is conveniently located in Navy Pier in downtown San Diego.
So there you have it! Three of the most famous things to do in San Diego in one day. Of course, there's much more to see and do in this beautiful city, but this should give you a good start.
Palm Springs to San Diego car ride time: 2 hr 20 min.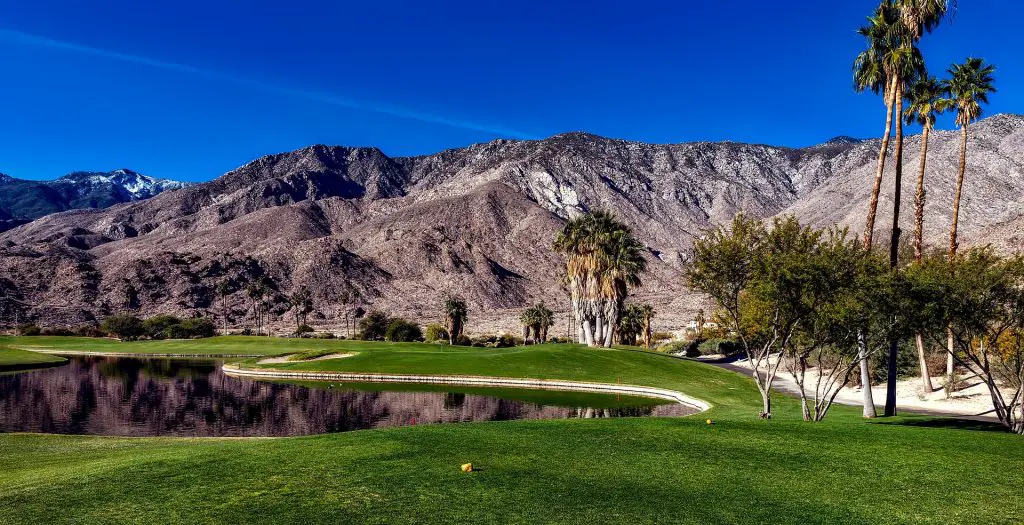 The Indian Canyons area is the traditional territory of the Agua Caliente Cahuilla. Several films were shot in the Cahuilla Tribal Lands in Palm Springs.
Visitors looking to work up a sweat can take the Palm Canyon route, which offers a glimpse of the canyon's diverse flora and wildlife, or the waterfall trail, which leads to a spectacular cascade dropping 60 feet. The park is home to several short, easy treks that wind their way through its four canyons and attractions like a 60-foot waterfall.
There's a fascinating tribal museum at the main point. Still, if you're looking for excitement, you can also ride horseback through Murray Canyon.
You can be lucky if you manage to spot an endangered specie, bighorn sheep, there.
Palm Springs to the Indian Canyons car ride time: 15 min.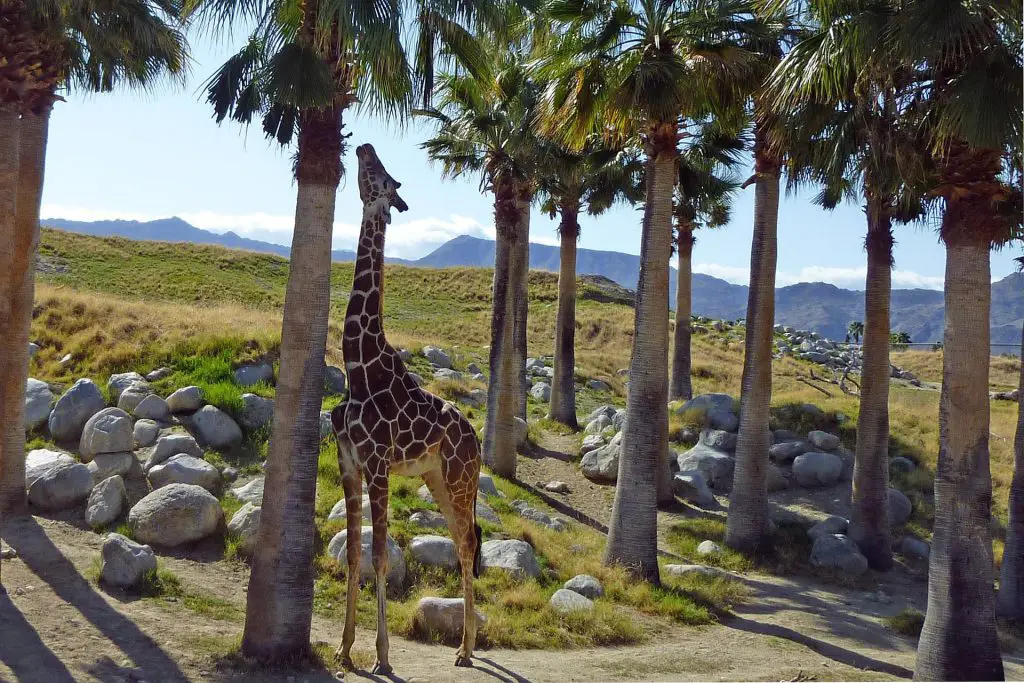 The Living Desert Zoo and Botanical Gardens is a great destination for families with young children because it's interactive and educational. It only contains desert animals, especially those not in normal city zoos. There are also plenty of opportunities to see animals and plants up close, which can be especially exciting for children.
The 4-acre habitat will soon be home to two African black rhinos, antelope species including klipspringer and waterbuck, birds, and a naked mole rat. You'll feel like you're on an authentic African safari.
The Botanical Gardens look incredible even if you don't go on a guided tour or take pictures of everything. They have an expansive collection of cacti planted by volunteers over many years and are still adding more. The grounds are extremely well maintained, making it easy to get lost in this oasis among palm trees and cacti.
The nature preserve of the Living Desert is home to hiking trails that lead into the natural Colorado desert, making this zoo one-of-a-kind. The Adventure Loop is an excellent choice; it's a mile long and winds its way through a desert riparian woodland before emerging onto a rocky desert mountain slope. The Wilderness Loop is a 3.5-mile hike with a 1000-foot elevation, best suited for physically fit hikers.
A must-know: The living desert zoo and gardens remain open daily from 8 am to 5 pm.
Palm Springs to the Living Desert Zoo and Botanical Gardens car ride time: 25 min.
Los Angeles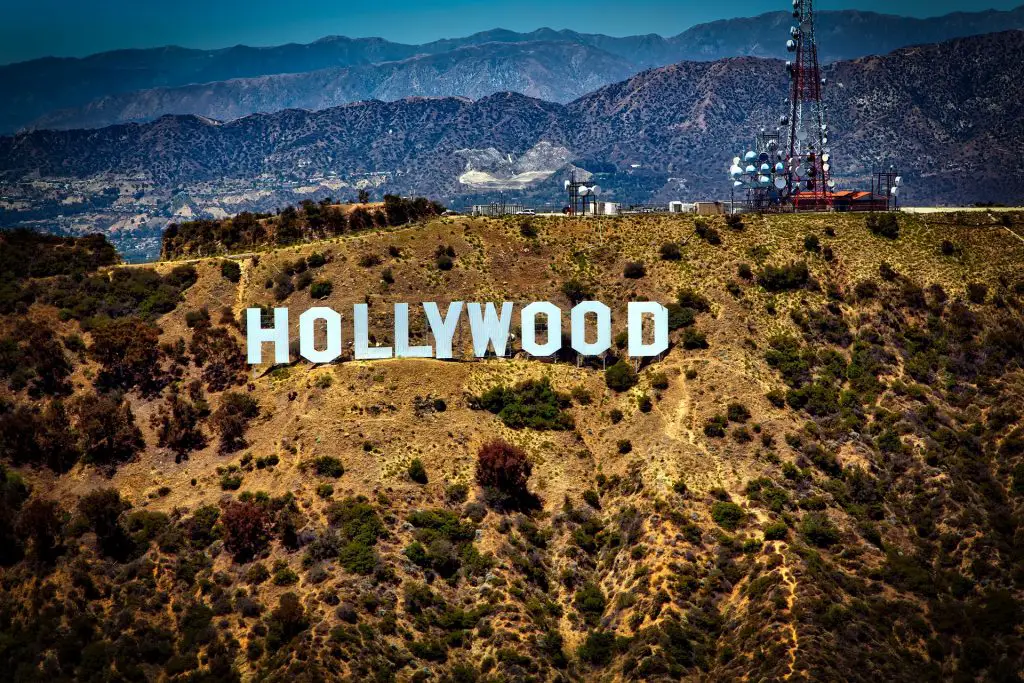 A trip to Los Angeles is not complete without taking in some of the city's most iconic sights. And while it's impossible to see everything that LA has to offer in just one day, there are a few must-see attractions that should be on every visitor's list.
Top of the list is a visit to the Hollywood Sign. Whether you're snap-happy and want to get a selfie in front of the world-famous landmark, or you just want to soak up the view, a stop at the Hollywood Sign is a must.
Next on the agenda should be a tour of one of LA's many movie studios. A behind-the-scenes look at how your favorite films and TV shows are made is sure to be a highlight of your trip. Be sure to book your tour in advance, as they often sell out quickly.
Last but not least, no trip to LA is complete without hitting the beach. Whether you're catching some waves or just soaking up the sun, a few hours at the beach is the perfect way to relax and recharge after all that sightseeing.
Palm Springs to Los Angeles car ride time: 1 hr 55 min.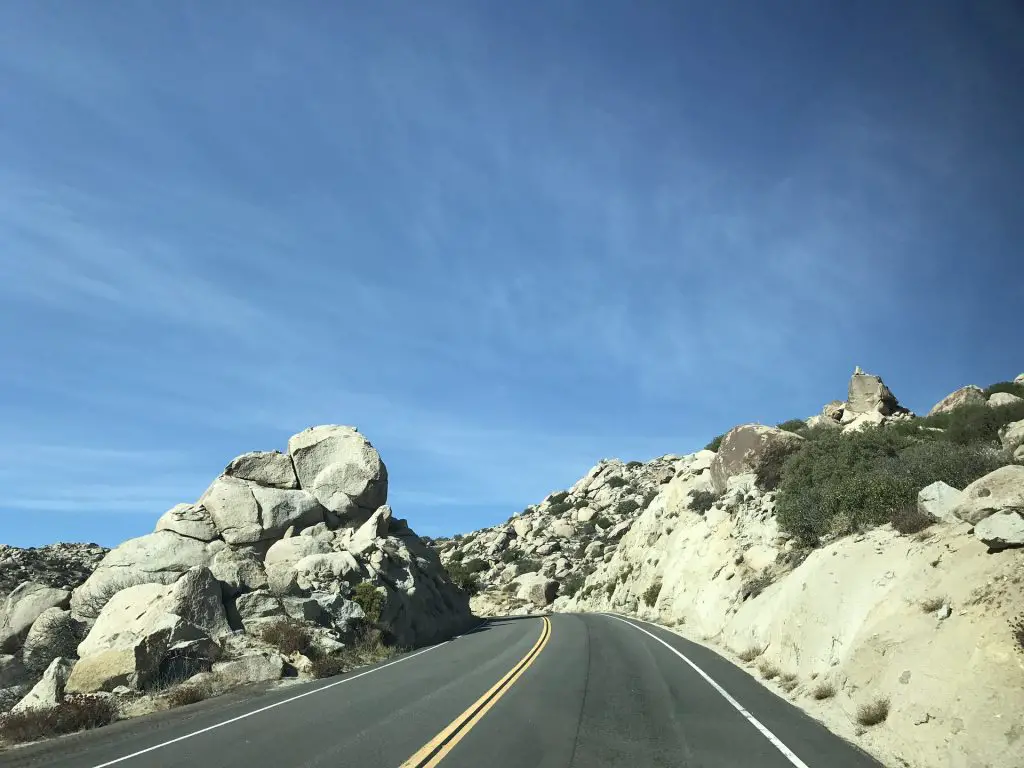 Borrego Springs is a great day trip from the Coachella Valley. It's about a two-hour drive from Palm Springs via the quickest route and well worth it for anyone who wants to see the desert, wildlife, or stars.
If you're looking for an opportunity to get away from the heat of summer — or just want to experience some spectacular natural beauty in your backyard — then consider taking a trip up to Borrego Springs at this time of year.
The town has plenty of things going on throughout winter that might pique your interest: You can go hiking and see local wildlife, visit one of many art galleries in town or make sure you stop by one of the local museums; some might even be open late. Afterward, grab dinner at one of several restaurants that serve up tasty fare with views!
The Main Attraction; At the Galleta Meadows Estate, you'll find over a dozen enormous, free-standing metal sculptures of prehistoric animals like mammoths, gigantic birds, and saber-toothed cats.
Palm Springs to the Borrego Springs car ride time: 1 hr 30 min.
Santa Monica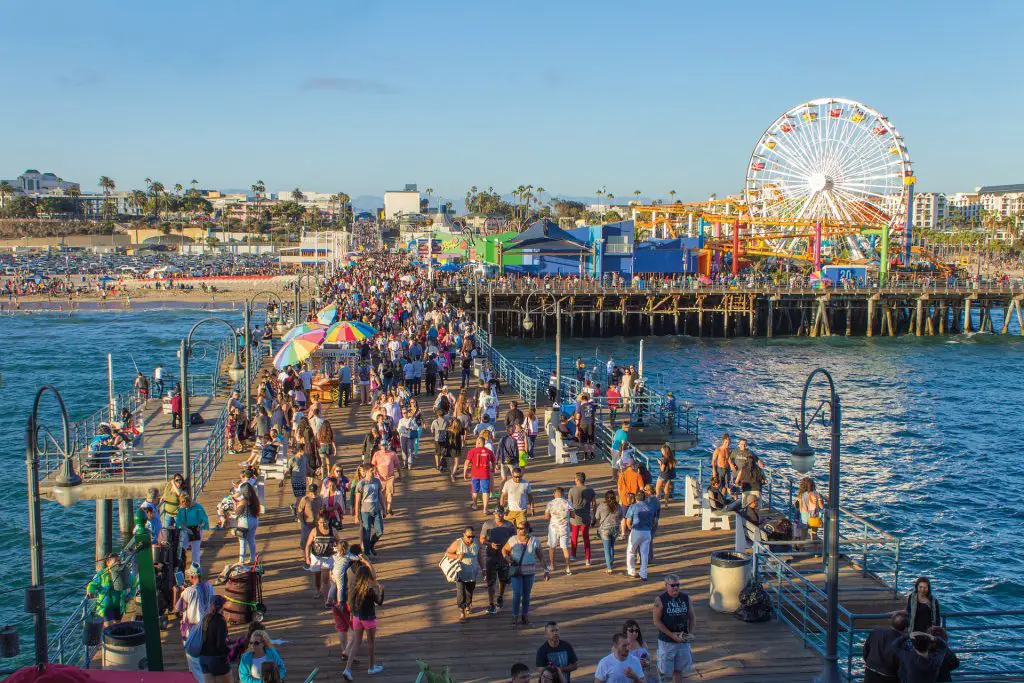 If you're looking for a fun-filled day in Santa Monica, look no further! Here are three of the most popular attractions that are sure to keep you entertained:
Take a stroll down the world-famous Santa Monica Pier. With its Ocean Front Walk, amusement park rides, and historic carousel, there's something for everyone at this popular spot.
Shop till you drop on Third Street Promenade. This pedestrian-friendly shopping district is home to an array of stores, restaurants, and entertainment options. Whether you're looking for the perfect souvenir or just want to window-shop, you'll be sure to find what you're looking for on Third Street Promenade.
Swim, sunbathe and try out different watersports at Santa Monica State Beach. It's rumored to be one of the best places in California to watch the sunset.
Palm Springs to Santa Monica car ride time: 2 hr 5 min.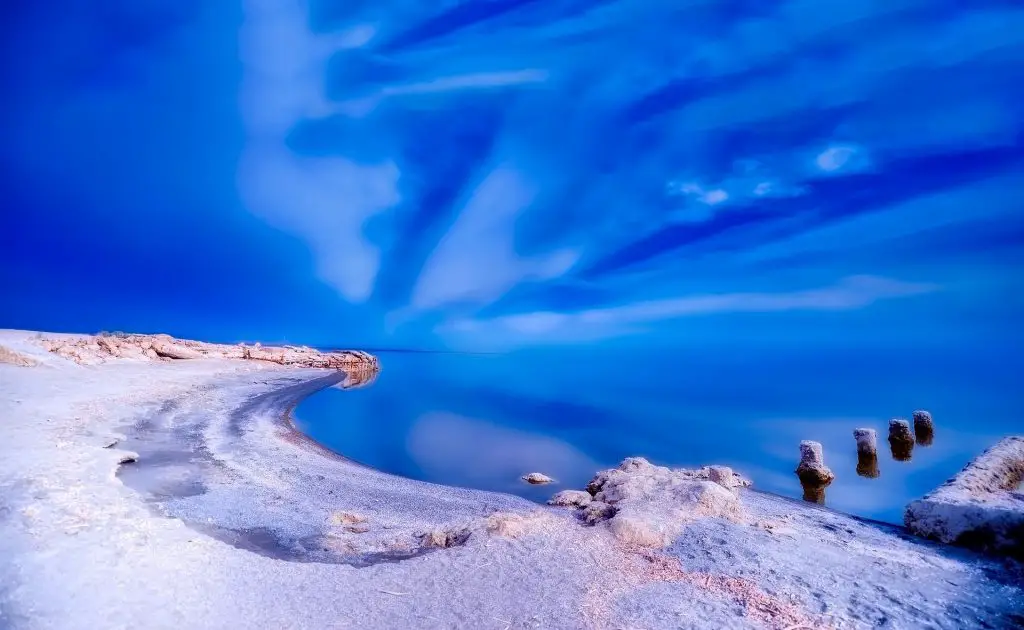 The Salton Sea
Despite its accidental origins, the Salton Sea is a fascinating destination with a rich history, which may be explored in the park's visitor center. A little over a century ago, a technical error caused the Colorado River to flood the area. If you're looking for peace, the Salton Sea is a great day excursion from Palm Springs.
Due to its Dead Sea-like salinity and sharp onshore and offshore rocks, swimming is not advised here. However, the area is excellent for boating, windsurfing, kayaking, fishing, and viewing seabirds against misty, glistening mountains. It is a state park in California and home to a modest ecological museum.
Remember: It only takes half a day to visit the Salton sea and experience fun activities there.
Palm Springs to the Salton Sea car ride time: 1 hr.
Salvation Mountain
Salvation Mountain is one of the most unique attractions in the California, and it's well worth a visit if you're ever in Southern California. The mountain is an man-made structure that is entirely covered in brightly-colored paint and religious slogans. It's a truly breathtaking sight, and it's definitely worth the drive out to see it.
However, there are a few things to keep in mind if you're planning on making a day trip to Salvation Mountain. First of all, the mountain is located in a very remote area, so be sure to fill up your gas tank before you head out. Secondly, the mountain can be quite hot during the day, so be sure to bring plenty of water and sunscreen.
If you keep these things in mind, you're sure to have a great time at Salvation Mountain.
The Salton Sea to Salvation Mountain car ride time: 1 hr.
Lake Arrowhead and Big Bear Lake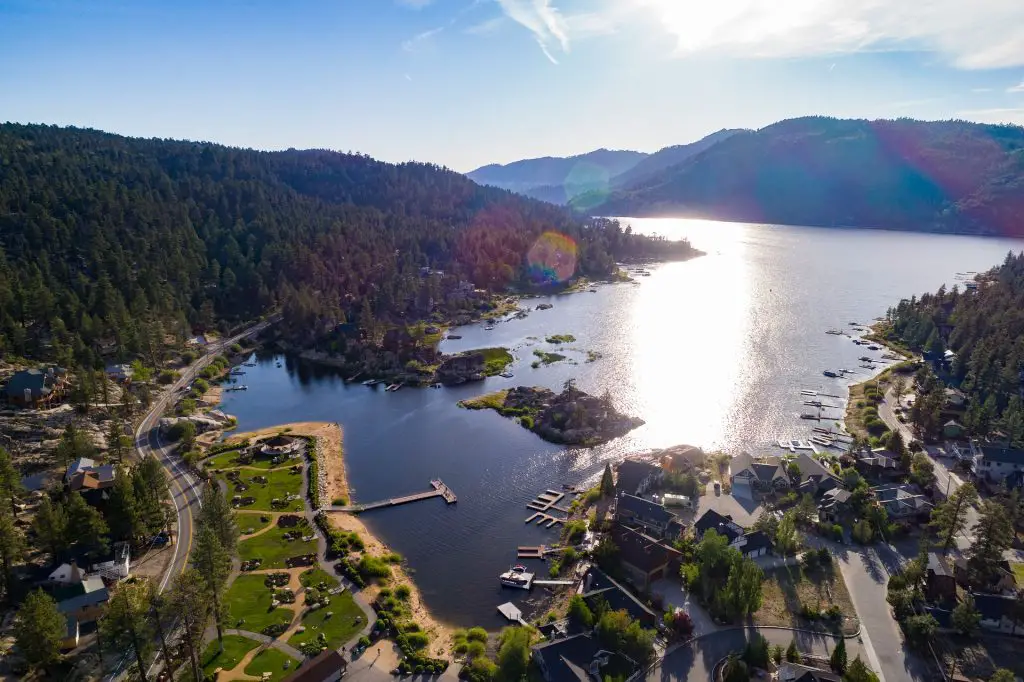 Lake Arrowhead
Lake Arrowhead is a beautiful spot for a day trip, and it's easy to get there! Just hop on the freeway and take the exit for Lake Arrowhead Village.
Once you're in the village, stroll around and do some window shopping. Make sure to stop by the fudge shop and pick up a few pieces of your favorite flavor. Then walk down to the lake and enjoy the view.
If you're feeling energetic, you can even rent a paddleboard or kayak and spend an hour or two on the water. Just be sure to bring your sunscreen!
Palm Springs to Lake Arrowhead car ride time: 1 hr 35 min.
Big Bear Lake
Located in the San Bernardino Mountains, Big Bear Lake is a beautiful spot for hiking, fishing, and picnicking.
Once you arrive at Big Bear Lake, there are plenty of activities to keep you busy. If you're feeling energetic, take a hike along one of the many trails that wind through the area. Or if you'd prefer to relax, cast a line into the lake and see what bites. And be sure to bring along a picnic lunch to enjoy while taking in the stunning mountain views.
Lake Arrowhead to Big Bear Lake car ride time: 45 min.
Whitewater Canyon is a great place to start if you want to get out of Palm Springs and explore some of California's natural wonders. This scenic canyon is located within San Jacinto State Park and offers hiking trails along the Whitewater River and backcountry camping sites. The park is open year-round, and there are plenty of things to do here throughout the summer months biking, swimming in the river pools, or just lounging around with friends.
If you want to make a weekend out of your trip, stay at one of their campsites near the canyon. Campfires are allowed here, so bring some s'mores supplies for an evening under starlight!
You must know that dogs and cameras for pictures are allowed in the park.
Palm Springs to the Whitewater Canyon car ride time: 2 hr 15 min.
Key Takeaways
With so many incredible destinations in the area, you'll never run out of exciting places to visit on your day trips from palm springs. Besides the destinations mentioned above, many local museums, art galleries, and events, such as the Palm Springs International Film Festival, can bring culture and entertainment into your backyard.
The best part is that they all have something unique to offer. So plan your trip today and never miss being on every trip's fun and entertainment-packed side.
---
Travel tips and tricks:
I highly recommend trying these tools for yourself – not only will you save money, but you'll also create memories that last a lifetime. Happy travels!
---