Some of the links in this post are affiliate links. This means if you click on the link and purchase the item, I will receive an affiliate commission at no extra cost to you. All opinions remain my own.
Sure, Berlin is a cool city with plenty to do, but sometimes you need to get out of the city and experience some fresh air. These day trips from Berlin will let you explore scenic villages, magnificent castles, and more. So grab your camera and hiking boots and get ready for an adventure!
Bastei Bridge
Recommended by Soujanya from The Spicy Journey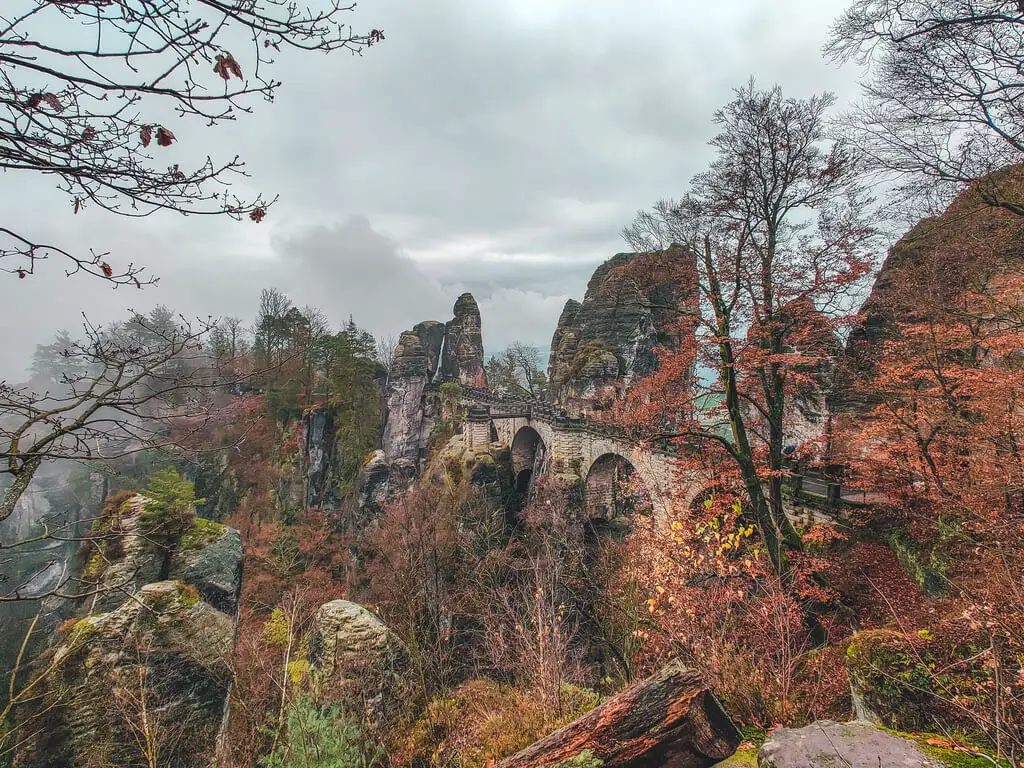 The Bastei Bridge in Saxon Switzerland, South-east Germany is a stunning stone bridge connecting incredible rock formations that is less than a 3-hour drive from Berlin and only 30 minutes from Dresden. You can reach the bridge using public transportation by taking a train from Berlin to Dresden and then the S-Bahn from Dresden to Rathen. From Rathen, take the ferry across the Elbe river and then hike up to the Bastei bridge. The best way to get there though is to drive since the driving views are nothing short of remarkable.
At Bastei bridge, you will find a hotel, a panoramic-view restaurant, food stalls, and public restrooms. There is no entry fee to visit the bridge and there are walkways set up between the rock formations to get a better view of the bridge. That being said, there are steps to access both the bridge and the viewpoints. Thus, this area is not wheelchair friendly and one must be careful while visiting with kids.
Walking along the marked trails to see the bridge and the rock formations at different angles is the highlight here. Hiking down to the river is also a popular activity but you will be doing that anyways if you arrive using public transportation.
The best time to visit the bridge is summer but it can get crowded during this time. Thus, it is recommended to visit in the fall when the leaves in the national park turn golden and there are far fewer people here.
Berlin to Bastei Bridge car ride time: 3hr.
Spreewald
Recommended by Ali from Berlin Travel Tips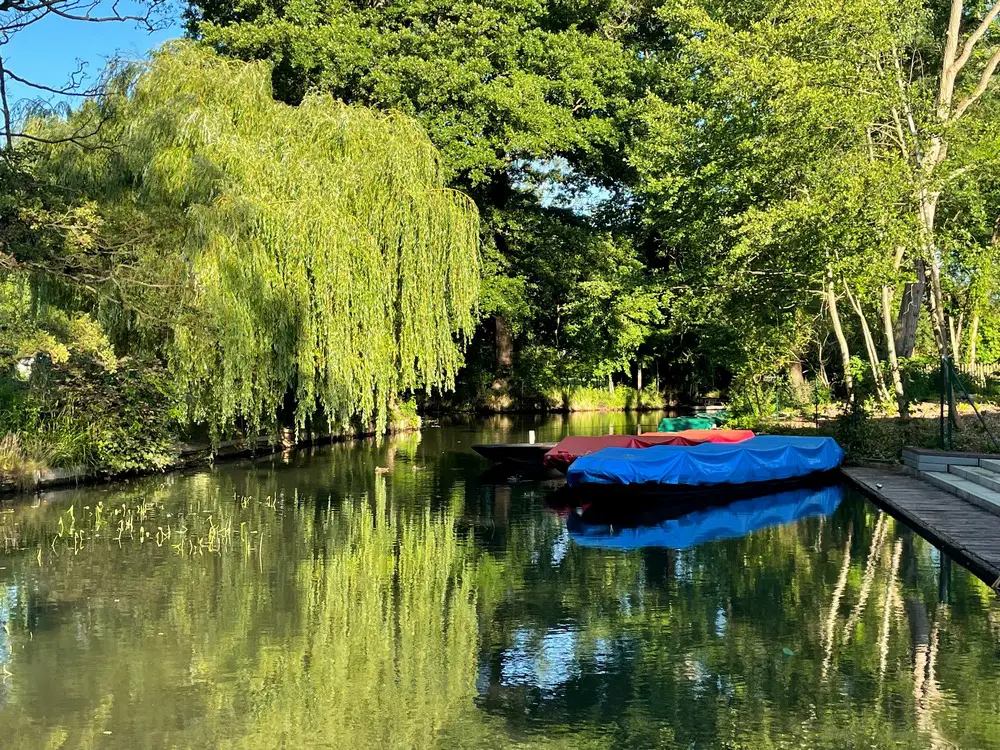 Spreewald is a pretty forest and biosphere nature reserve located about an hour south of Berlin, so it makes for a great day trip. It's an especially wonderful choice if you're looking for a break from the gritty city and want to get out into nature.
You can easily get from Berlin to the Spreewald by taking the RE2 train, and there are several towns to choose from in the forest. One of the most popular is Lübbenau where you can explore the charming town and the forest itself. Note: there is another town that comes first called Lübben, which is also charming, but make sure you don't get off the train at the wrong station.
Hiking is a popular way to enjoy the Spreewald, and since it's a fairly flat area, most hikes aren't too difficult. Another wonderful way to explore this area is by boat since the Spree River shapes the region. Take a tour on a punt boat (a flat-bottomed boat) or rent a kayak or canoe to explore on your own. Or if you prefer, you can also rent a bike and go cycling in the Spreewald. There's a bike rental shop right at the train station in Lübbenau.
This region of Germany is well known for its pickles, so be sure to try some while you're here. A market called Gherkin Mile sets up most mornings in Lübbenau, and you can try a bunch of different types before buying some to take home with you. Don't worry, it's not actually a mile long, but 4 to 8 stalls.
Aside from the forest itself, Lübbenau has a few museums where you can learn about the history of the town and the region. There are also a few quirky sculptures in the center, and you'll even find a castle here that now serves as a hotel.
Berlin to Spreewald car ride time: 1 hr 25 min.
Potsdam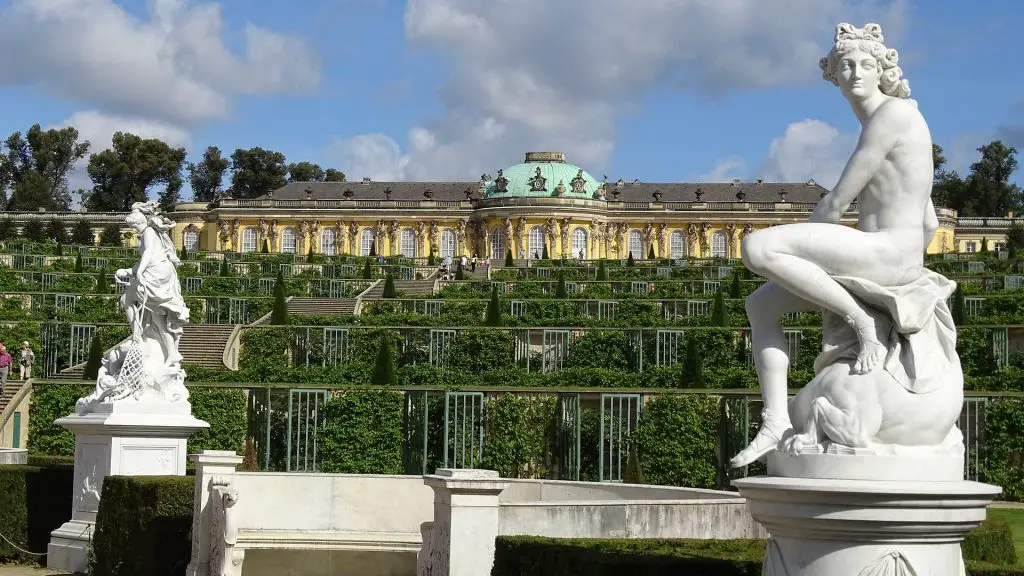 Potsdam is a beautiful city located just outside of Berlin, and it makes for the perfect day trip. There are many things to see and do in Potsdam, but here are three of the best:
Sanssouci Palace: This stunning palace was the summer home of Frederick the Great, and it is set in gorgeous gardens. Visitors can tour the palace itself, as well as the gardens and grounds.
Glienicke Bridge: This bridge was once the site of spy swaps between the East and West during the Cold War. Today, it is a popular spot for walking and photography.
Potsdam Museum: This museum is located in a historical building, and it houses an impressive collection of art and cultural exhibits.
Potsdam is a wonderful city with plenty to see and do. These are just three of the many highlights that visitors can enjoy on a day trip.
Berlin to Potsdam car ride time: 55 min.
If you prefer going on a guided tour instead of going on your own, check out this day tour to Potsdam!
Sachsenhausen concentration camp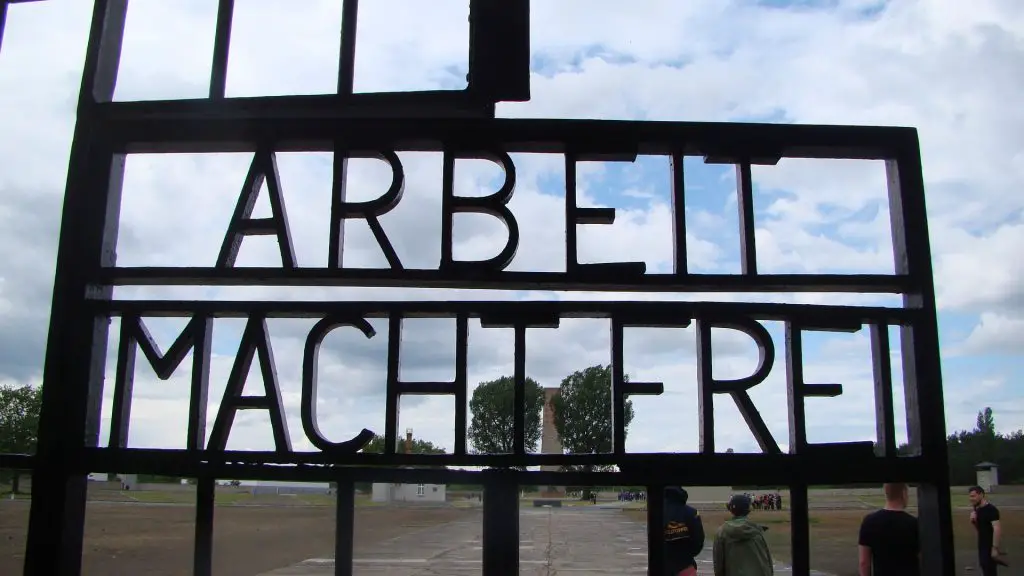 The Sachsenhausen concentration camp is one of the most important historical sites in Germany. Located just outside Berlin, the camp was used by the Nazis to imprison and kill thousands of people during World War II.
Today, Sachsenhausen is a memorial and museum, and a visit there is a powerful way to learn about the horrors of the Holocaust and German concentration camps.
Visitors can also take part in guided tours of the camp, which offer an intimate look at the conditions that prisoners faced. For those interested in learning more about this dark chapter in history, Sachsenhausen is an essential stop.
Berlin to Sachsenhausen car ride time: 50 min.
If you prefer going on a guided tour instead of going on your own, check out this half-day tour to Sachsenhausen concentration camp.
Dresden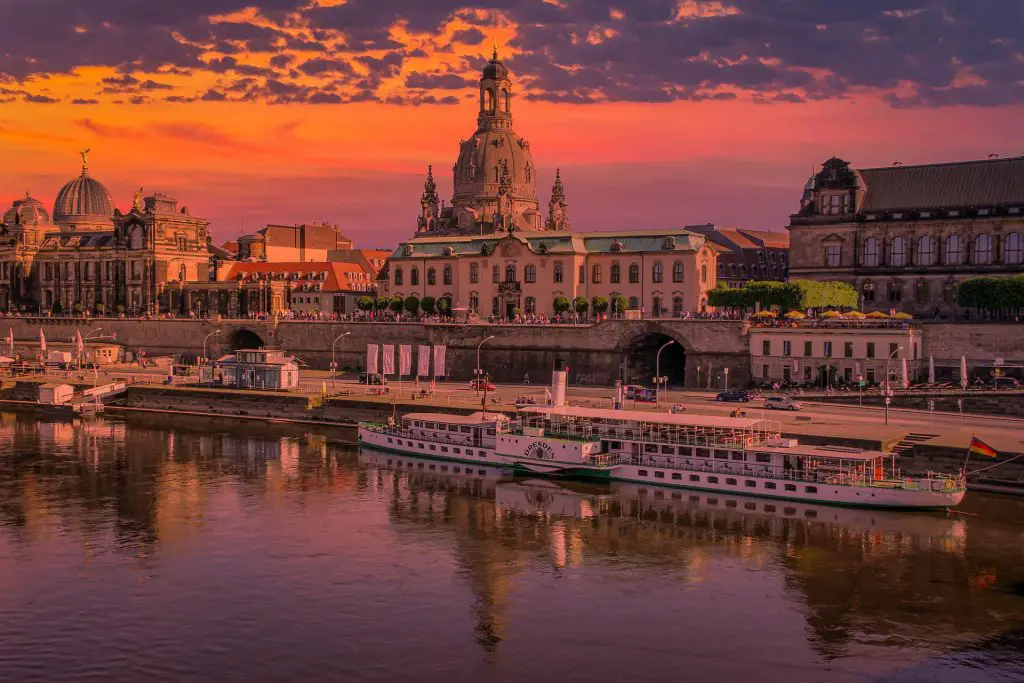 Dresden is a beautiful city with a lot to offer visitors. If you're only there for a day, here are three things you definitely don't want to miss.
First, Zwinger palace is a must-see. This Baroque masterpiece is one of the most impressive buildings in the city, and its gardens are simply stunning. You could easily spend hours wandering around the palace and its grounds.
Second, Dresden's Old Town is well worth exploring. There are plenty of shops and restaurants to keep you busy, and the architecture is simply gorgeous. Be sure to visit the Frauenkirche, one of the most iconic churches in Germany.
Finally, no trip to Dresden would be complete without a stroll at the Brühl's Terrace. It's a historic architectural ensemble above the river Elbe and here you can see amazing panorama views of the city. The terrace is the perfect place where to sit at a cafe, people-watch and enjoy the beautiful views of Dresden.
Berlin to Dresden car ride time: 2 hr 30 min
Bad Saarow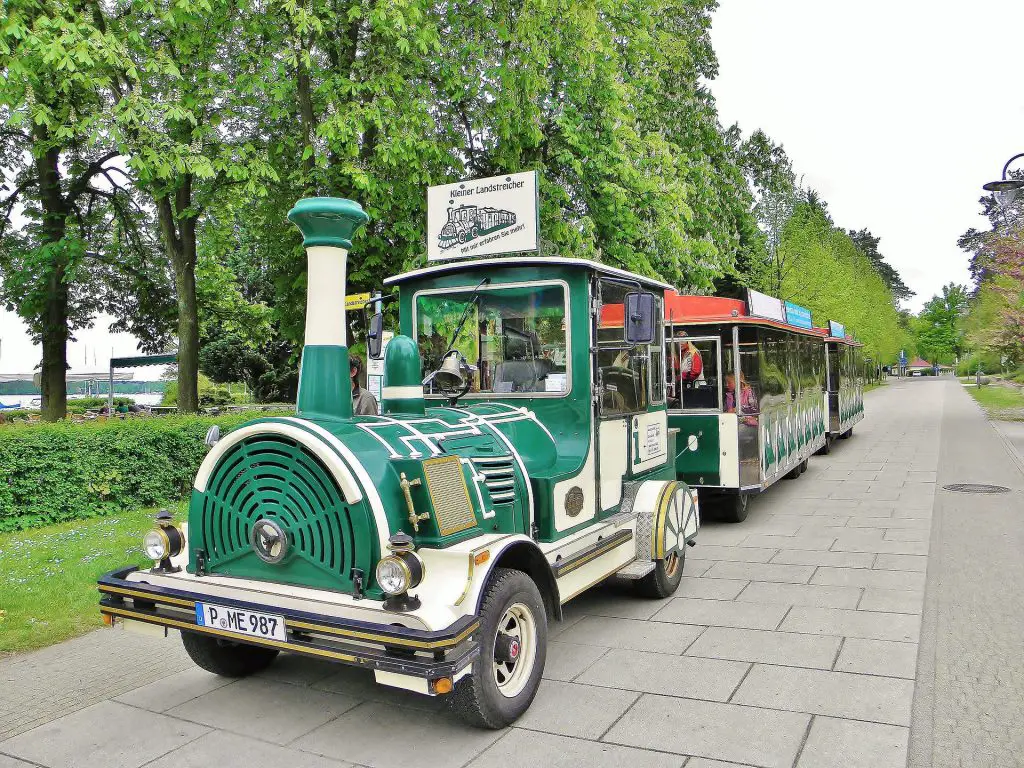 If you find yourself in the charming town of Bad Saarow, be sure to add these three stops to your itinerary.
First, head to the Kletterpark Bad Saarow for an adventurous climb through an obstacle course in the trees. Next, swing by SaarowTherme, a beautiful health center with thermal pools, steam baths, and even a salt room. And finally, cap off your day with a delicious meal at one of Bad Saarow's many excellent restaurants.
With its mix of adventure, relaxation, and cuisine, Bad Saarow has something for everyone – so make sure to add it to your list of must-see places!
Berlin to Bad Saarow car ride time: 1 hr 20 min
Rostock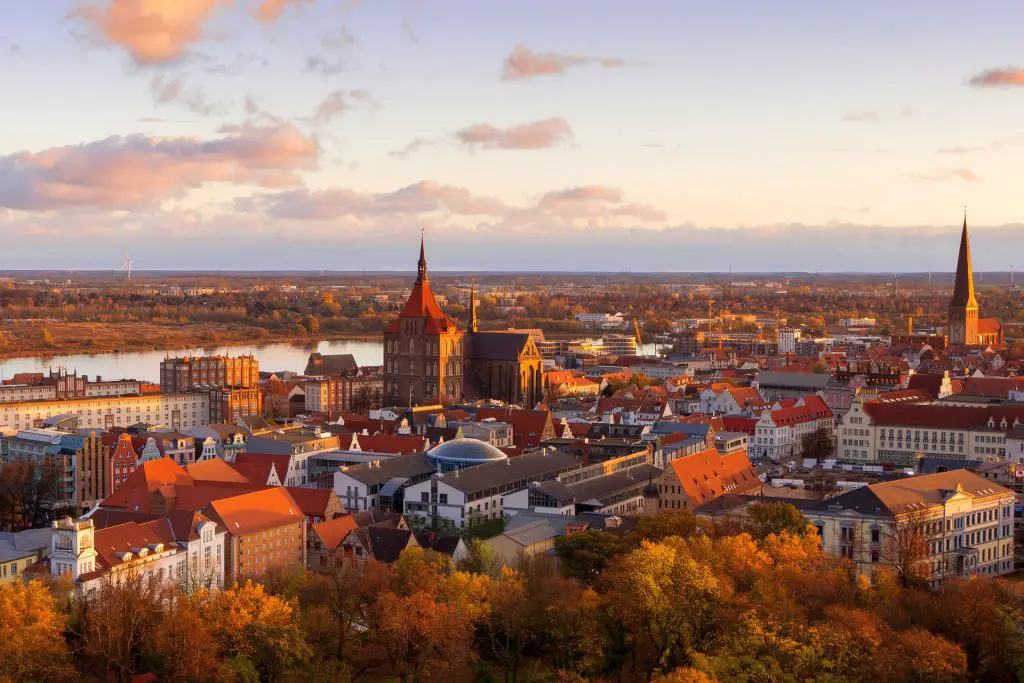 Rostock is a charming seaside town in Germany that makes for a perfect day trip. Here are a few ideas of what to see in Rostock to get you started:
Take a stroll through the historic Old Town and check out landmarks like the 12th-century Marienkirche and the Gothic Town Hall.
Rostock Zoo is worth a visit for animal lovers of all ages, with over 4,500 animals from all over the world.
For those looking to relax, Warnemünde Beach is a beautiful spot to soak up the sun.
Alter Strom canal has the atmosphere characteristic of the sea towns. You'll see old captain's houses, restaurants, and pubs, sailing ships in the canal, and traditional fishing boats.
Berlin to Rostock car ride time: 2 hr 30 min
Bad Muskau and Devil's Bridge in Kromlau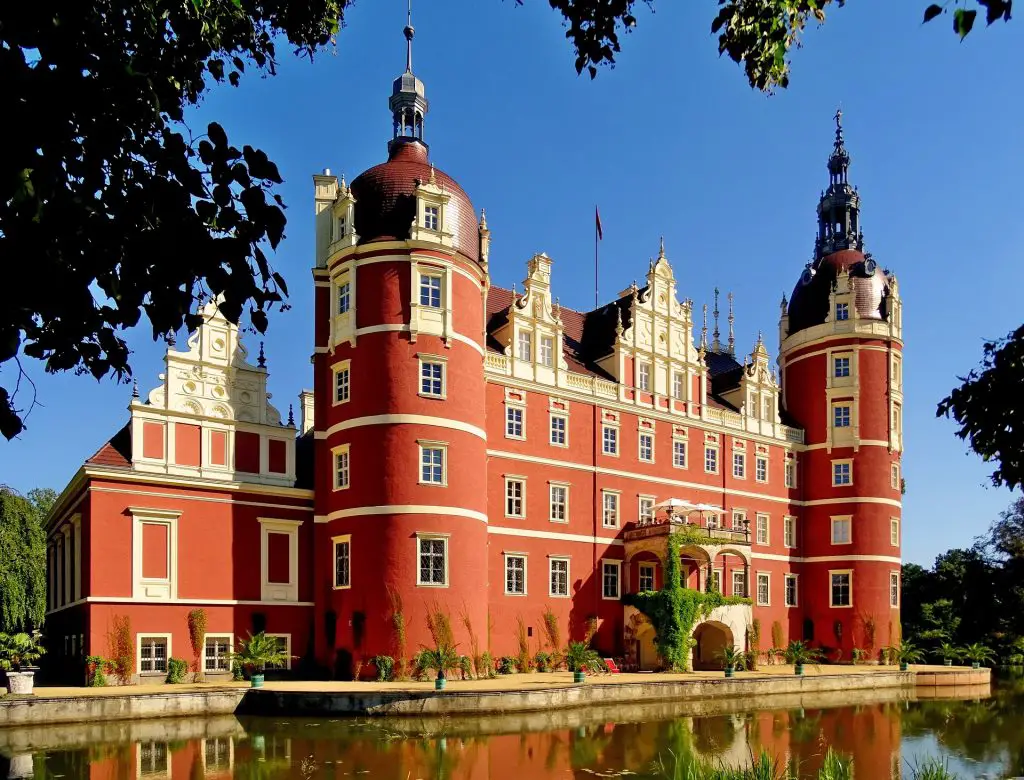 Bad Muskau is a spa town in Saxony, Germany, renowned for its beautiful landscape. The town is situated on the River Neisse, and it is surrounded by forests and meadows. The Muskau palace is simply gorgeous and you can spend a few hours only exploring the amazing park surrounding it.
Visitors to Bad Muskau can explore the scenic surroundings on foot or by bicycle. If you are looking for something more active, you can go canoeing or kayaking on the river.
Berlin to Bad Muskau car ride time: 2 hr 10 min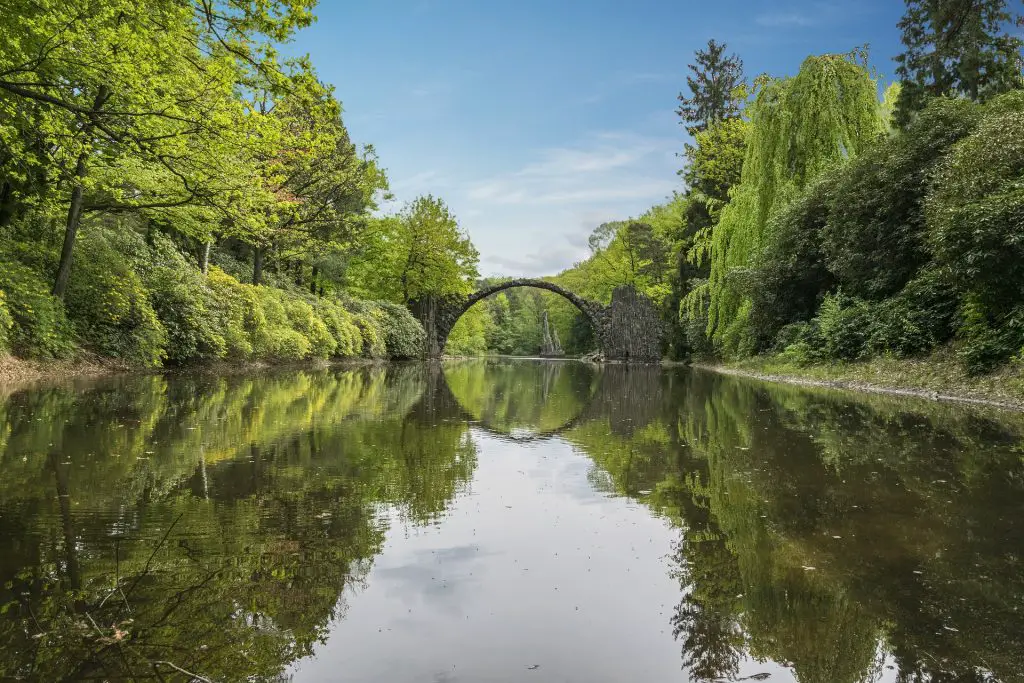 Devil's Bridge in Kromlau is a must-see. It's the perfect way to get out of the hustle and bustle and explore some of Germany's beautiful countryside. The Bridge in Kromlau forms a circle when it's reflected by the still water of the lake.
The bridge itself is an impressive feat of engineering, and the surrounding park is full of photo-worthy trees and flowers. It's recommended to visit the park during the bloom of the springtime or in the fall when the colors surrounding the bridge are just magnificent.
Be sure to bring your camera, as you'll want to capture plenty of memories from your visit to Devil's Bridge.
Bad Muskau to Kromlau car ride time: 10 min
Leipzig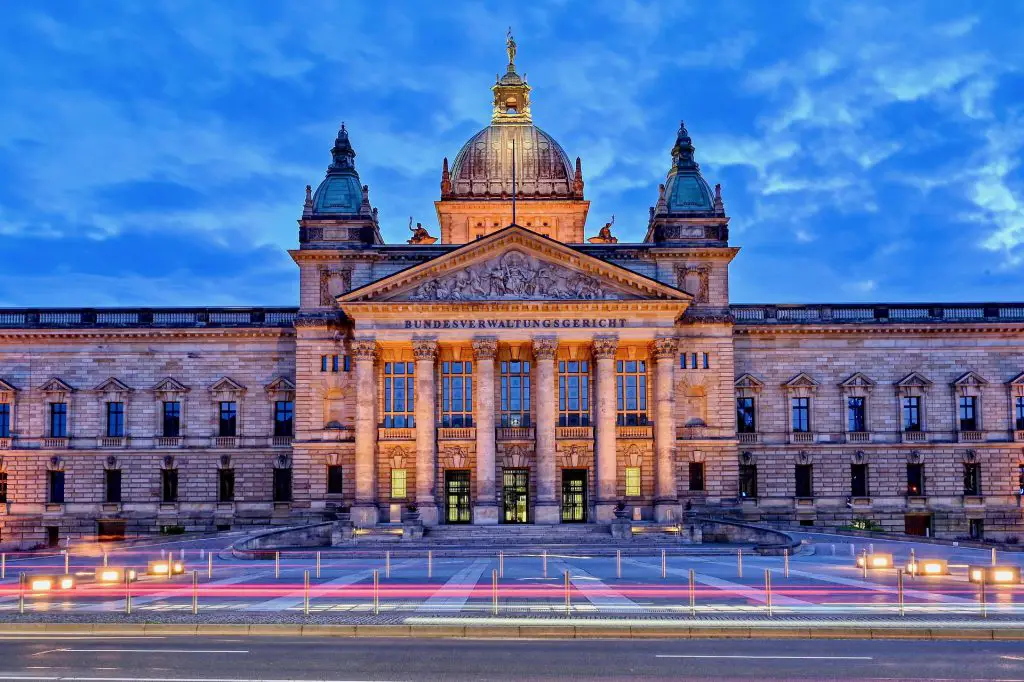 Leipzig is a city with a lot to offer, and there's plenty to see and do even if you only have a day to spare.
If you're looking for something historical, make sure to check out the Monument to the Battle of the Nations. This tribute to the 1813 battle that saw Napoleon's defeat is one of the tallest monuments in all of Europe, and it's definitely worth a visit.
Or, if you're interested in animals, you can't miss the Leipzig Zoo, which is home to over 850 species of animals.
And, of course, no trip to Leipzig would be complete without a stop at Auerbach's Cellar, which was famously featured in Goethe's Faust. Here, you can enjoy some traditional German fare while soaking up the atmosphere of this historic city. This is the second oldest restaurant in Leipzig.
Berlin to Leipzig car ride time: 2 hr 30 min
Wittenberg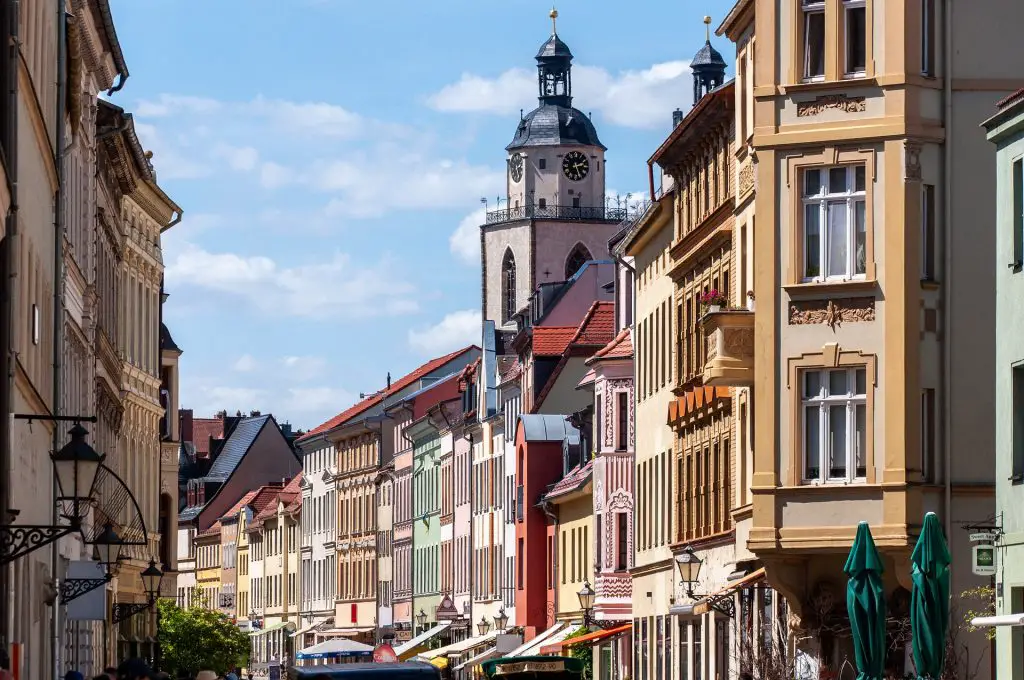 When most people think of Wittenberg, they think of Martin Luther and the Protestant Reformation. However, there is much more to this historic city than meets the eye. Here are three things to see or do on a day trip to Wittenberg.
First, be sure to visit the Wittenberg Cathedral, where Luther nailed his famous 95 Theses to the door. Second, take a walk through the picturesque Lutherhaus, Luther's former home and now a museum dedicated to his life and work. And finally, make a stop at Market Square which is the city's main plaza. It's a great place to find a cozy cafe and do some people-watching.
Whether you're interested in history or just looking for a beautiful place to spend a day, Wittenberg is definitely worth a visit!
Berlin to Wittenberg car ride time: 1 hr 35 min
Magdeburg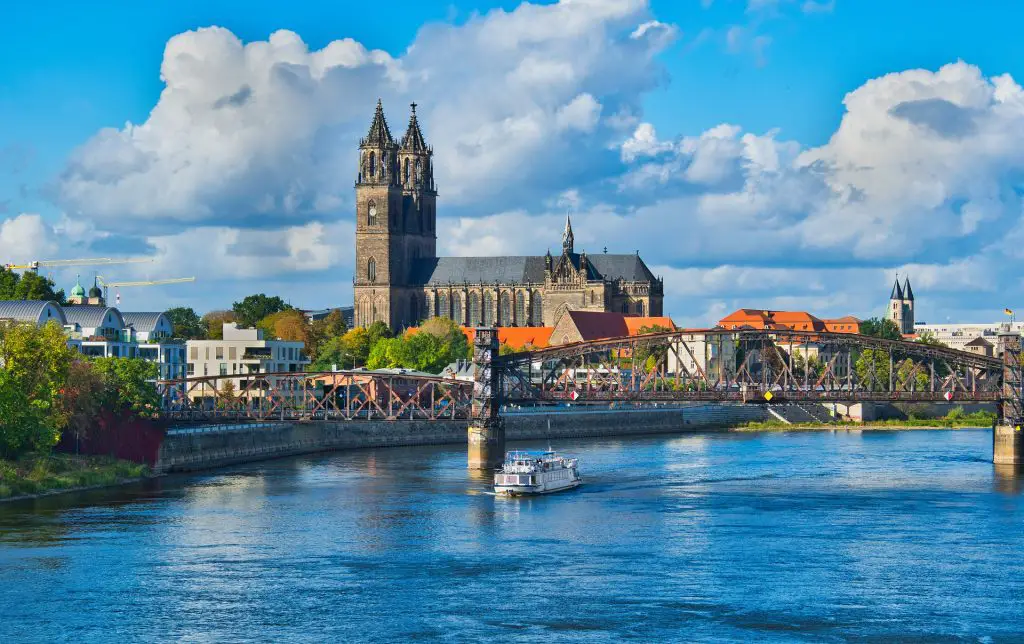 Any visit to Magdeburg should begin with a stop at the Cathedral of Magdeburg, one of the city's most iconic landmarks. Built in the early 13th century, the cathedral is a fine example of Gothic architecture, and its towering spires provide stunning views of the city below.
For a whimsical side of Magdeburg, be sure to pay a visit to the Green Citadel, a unique building constructed from prefabricated slab. It's pink, irregularly shaped, and houses apartments, cafes, a hotel, and even a kindergarten.
And no trip to Magdeburg would be complete without sampling some of the local cuisine. Head to Flair for a traditional dish of schweinefilet with potatoes and mushrooms. The restaurant is conveniently located near the Alter Markt.
Berlin to Magdeburg car ride time: 2 hr
Hamburg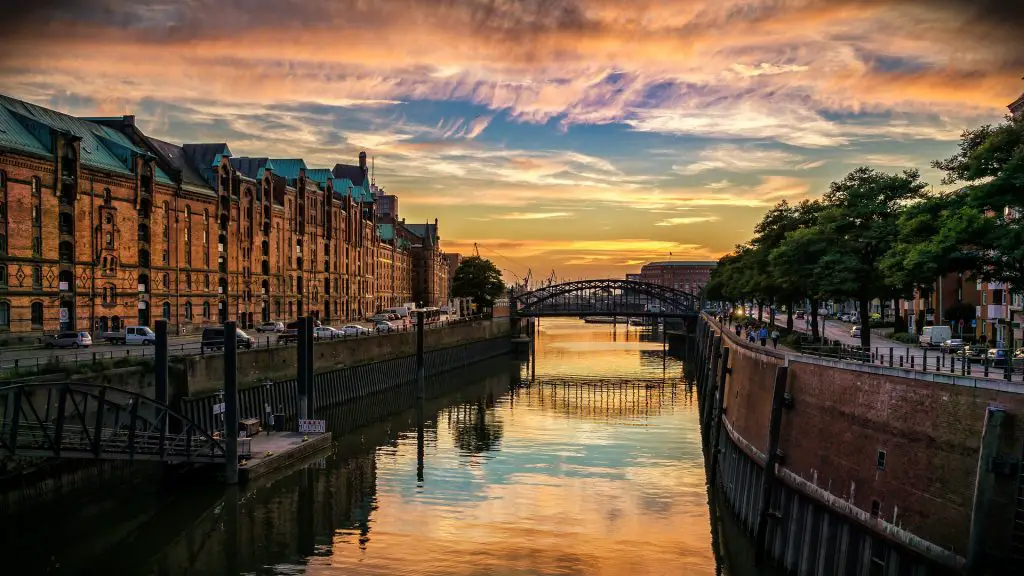 If you're looking for a little bit different city than Berlin, Hamburg is the perfect place to go. Hamburg offers a variety of activities and sights that are perfect for a day trip. Here are three things to see or do in Hamburg:
Take a stroll through the historic Speicherstadt district. This area is full of old warehouses that have been converted into shops, restaurants, and cafes. You can also take a boat ride through the canals for a unique perspective on the city.
Visit the Hamburger Dom, a large fair that takes place three times a year. The Dom is one of the biggest and most popular carnivals in Germany, and it's definitely worth checking out if you're in town during that time.
Head to the top of St. Pauli Landungsbrücken to get a panoramic view of Hamburg's harbor. This is a great spot to snap some photos of the cityscape, and it's also a nice place to just relax and enjoy the views. Don't miss the fish Brötchen, they are delicious!
Berlin to Hamburg car ride time: 3 hr 10 min
Hanover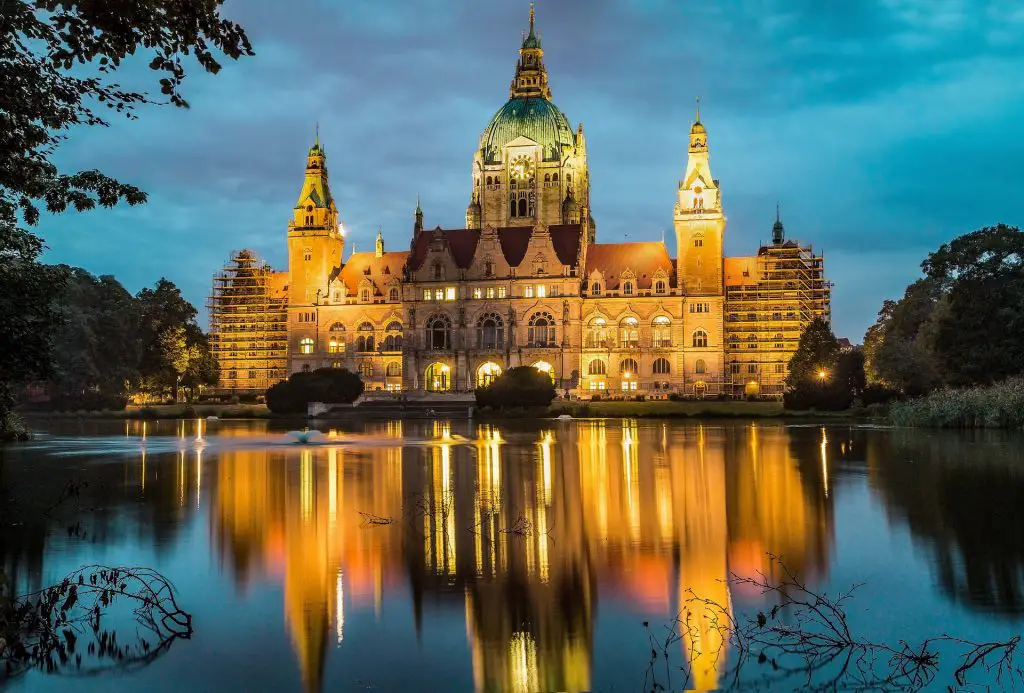 If you're looking for things to do on a day trip to Hanover, here are three suggestions.
First, take a walk through Herrenhäuser Gardens. This beautiful spot is perfect for a peaceful stroll.
Secondly, explore the town's historic downtown. Stroll down Main Street and pop into shops and restaurants. Check out the Marktplatz and see the Marktkirche.
Lastly, don't miss Hanover's top attraction – the New Town Hall. It's largely open for public tours. You can even take an elevator to an observation platform around 100 meters high above the street level for beautiful panoramic views of the city.
Berlin to Hanover car ride time: 3 hr 10 min
What to read next?