Some of the links in this post are affiliate links. This means if you click on the link and purchase the item, I will receive an affiliate commission at no extra cost to you. All opinions remain my own.
It's a sunny day. Beautiful mountains colored by green and grey are all around you. There is a hiking trail leading forward, and you can hear a spring nearby. You touch small, violet flowers growing next to the trail. Then sit on a big stone covered by moss and just breathe in the fresh air and feeling of freedom. You have come to this place all by yourself, and you feel proud of the 5 kilometers that now separate you from the busy streets and concrete walls of a town.
This kind of feeling is what I try to find and enjoy while traveling. I like to touch things, experience things slowly, take in my surroundings and store them in my memory for the days of work ahead of me, and I have found that hiking is the perfect combination of going to some remote places and experiencing them physically for me.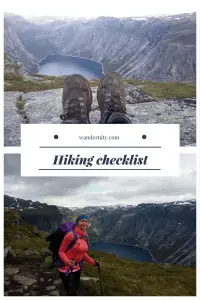 What I define as hiking
Hiking for me is something similar to how Wikipedia defines it: a long walk that requires exercise and preferably happens in mountains or other wilderness. The length of the walk can be varied. In the same hours in mountains people normally can walk a lot less than on a flat ground.
I have hiked around three hours through meadows and bushes in Latvia on a straight line from one town to another. I have hiked for two continuous days in Norway to see Trolltunga when the crowd has left it. Both of these activities I'd define as hikes, despite them being quite different.
Why you should try hiking
If after a trip you ever get that surreal feeling that it was not really you who was there, you probably should slow down and try to experience trips differently. When you just go in a bus or a car from one beautiful place to another, quickly check them out through the window, spend an hour in a ticket queue to be in the object itself for a short while, it is almost the same as viewing these foreign things on TV. So why bother and spend money to do this in an expensive way, if you will not remember them afterward?
However, if you go a few kilometers by yourself, it will be hard to miss the surroundings. Some foreign plants or smells, weird stones, and views from different angles. It might take more time and some effort to get to the destination, but you will definitely remember it more vividly later because it will be a reward for your efforts.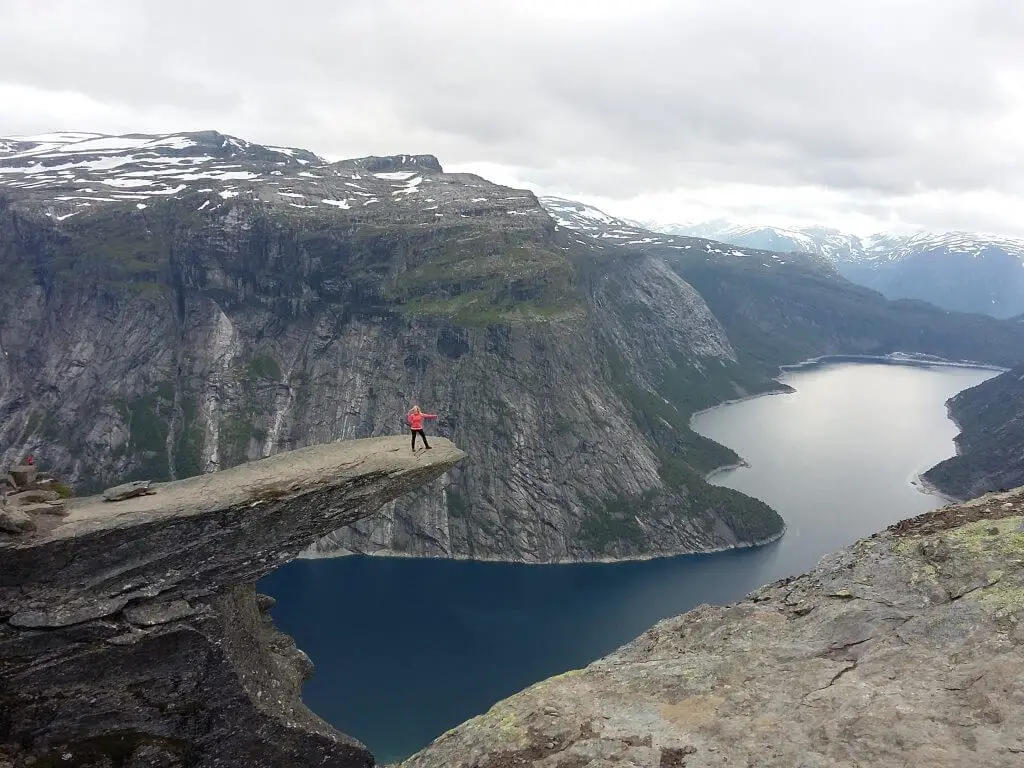 Checklist for a hike in mountains
Personally, I can't get enough of hikes in mountains. The views always are stunning, and mountain terrain sometimes gives a good challenge to overcome. But hiking in mountains can get tricky, as there is less of civilization, and while packing your bag you have to think of different things you may need on your hike.
Boots
The most important thing in order to enjoy your hike is to have comfortable hiking boots. There are quite a lot of options available now, but here are the things I'd recommend to look for in a boot:
It should be mid-cut so that the small mountain stones would not fall in, and water from springs would not wet the boot from the top;
It should have water-proof and breathable membranes (such as Gore-Tex® or eVent®).
Backpack
You will carry most of your stuff with you for several hours, so you should be careful to choose the correct backpack (and the correct amount of stuff). My backpack is Osprey Sirrus 36 liters Women, and I'm quite happy with it. The main features that I enjoy:
It is the right size for my needs. A two-day hike is the longest that I have had, and I probably wouldn't be able to carry anything bigger;
It has different straps for better fit, and the hip belt is the best. I can carry most of the bag's weight on my hips and not feel it on my shoulders;
The bag is water resistant and has a waterproof cover, so my things in the bag have never been damaged by water;
It has two ways of accessing the main compartment, so the stuff in it is easily accessible during regular trips – it opens similarly as a suitcase;
It is the size of a carry-on luggage in planes, so no additional baggage fees.
Water and food
When you are hiking, it usually is a rigorous exercise, which means more water consumption. When I bought my bag, I received a hydration system as well. It is easy to fill in and really easy to use. I prefer it more than the usual water bottles because it is so easy to sip from the straw when you need it, instead of removing the backpack each time, when you want to drink. This is a great way to stay hydrated.
As for food – this heavily depends on how long you are planning to hike. If it is just for a few hours in one day, take some chocolate, nuts, dried fruit or biscuits and you should be good to go. If you are planning to stay on the road for a longer period of time, a portable stove will be needed. For meals, you should choose something lightweight, and fast to prepare, like instant noodles or porridge.
Clothes for different weather
Weather changes quickly in mountains and you should be prepared. It is recommended to dress in layers:
dry-fit shirt and shorts;
long sleeve shirt;
waterproof trousers and jacket (preferably a lightweight rain jacket like these ones).
Don't forget to take sunscreen and sunglasses with you. And a hat, scarf, and gloves for when you get to the top.
Sleeping
It is a great adventure to sleep on a mountain and to wake up with the best view of the world surrounding you. But it can also be damp, cold, and a bit terrifying. These things should help you to prepare for a wild sleeping night:
tent – waterproof and able to be built on a rocky surface;
sleeping mat – so that the cold ground would be separated from the sleeping bag and the warmth would stay with you;
sleeping bag with comfort temperature of your destination;
dry-bag with thermal shirt and leggings, so that you would go to sleep dry and comfy;
and this all should be as light as you can get because you will give to carry it on your back.
Commonly forgotten hiking items
If you are going on a one-day hike, there doesn't need to be a lot of items in your bag. But check out this list first to see if there is something that might be really useful that you have forgotten to pack.