Some of the links in this post are affiliate links. This means if you click on the link and purchase the item, I will receive an affiliate commission at no extra cost to you. All opinions remain my own.
Los Angeles, the city of stars, is known for its extravagant attractions and high-priced entertainment. However, not everyone wants to break the bank while on vacation with their family.
Fortunately, Los Angeles has plenty of free and affordable activities that will keep your family entertained and engaged. From scenic parks to cultural landmarks, there's no shortage of fun things to do in the city.
In this blog post, we'll be showcasing some of the best free activities to enjoy with your family in Los Angeles. Whether you're a local or a tourist, this guide will help you discover the hidden gems and popular hotspots of the city without breaking the bank.
So, grab your sunscreen and get ready to explore the many free offerings that Los Angeles has to offer.
Table of contents:
Discover the universe at the Griffith Observatory
Recommended by Hannah of Get Lost Travel Blog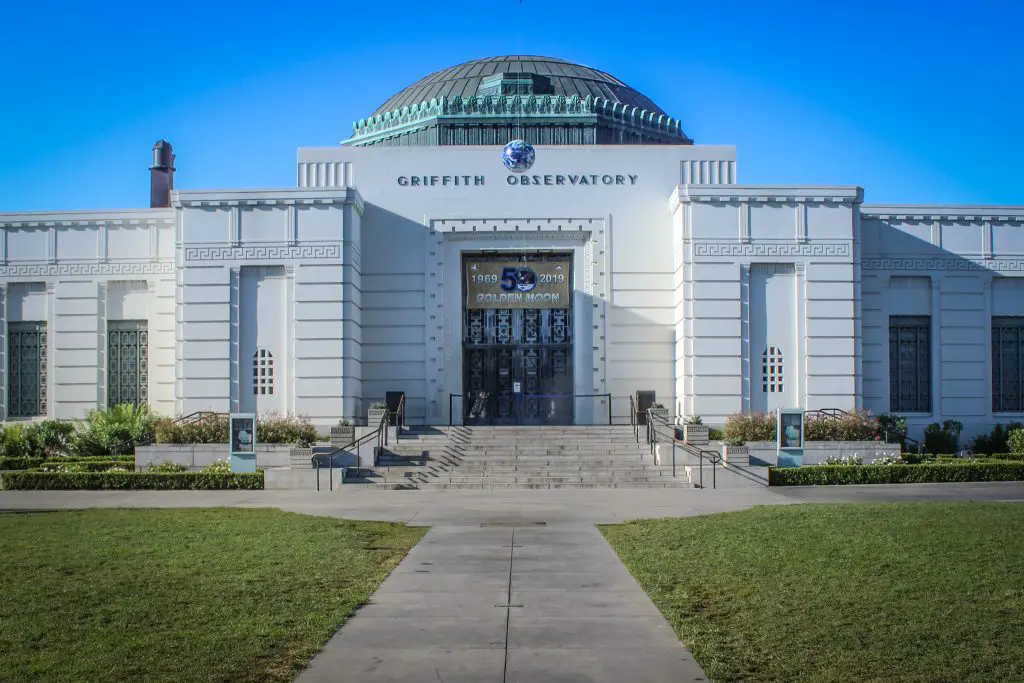 Griffith Observatory is one of the best free things to do in Los Angeles with family.
Situated on the southern slope of Mount Hollywood in Griffith Park, the Observatory offers a stunning vantage point to admire the L.A. skyline and the world-famous Hollywood sign.
Every visitor must take a stroll around the rooftop terrace to see the incredible views. There are also free telescopes for visitors to use for a different perspective.
As well as soaking up the views from the terrace, Griffith Observatory is home to a great selection of permanent and temporary exhibitions.
Inside the building, there are many free displays about space, science mythology, and more.
The fascinating exhibitions offer lots of insightful information suitable for visitors of all ages. Whether you want to discover how the solar system was created or learn about space in popular culture, Griffiths Observatory offers fun and educational displays.
The observatory is open year-round and is a great place to visit no matter the time of year. However, if you're looking to beat the crowds, it is worth arriving early in the morning before the Observatory building opens.
You can admire the views without the tourists before the exhibits open, grab the first spot in the queue and secure a parking spot!
For families who are up for a hike, you can turn your visit into a whole day's adventure. There are many hiking trails in Griffith Park that you can enjoy while soaking up the views. 
Snap a memorable photo with the iconic Hollywood Sign
Recommended by Debbie Fettback of WorldAdventurists.com.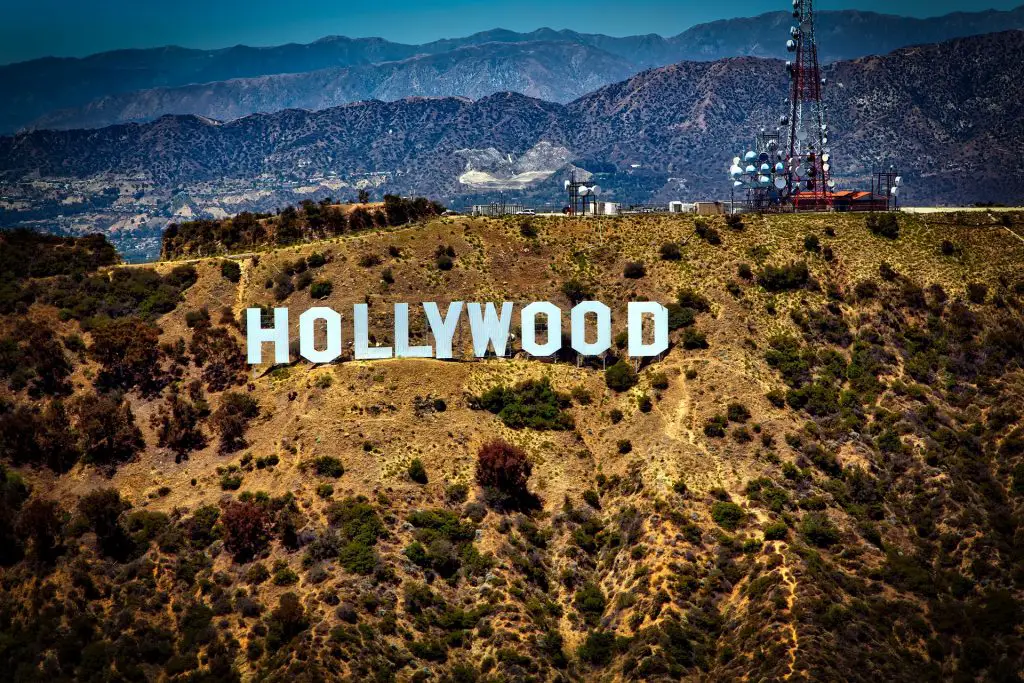 One of the iconic sights that you must see when exploring Los Angeles is the Hollywood sign. Located on the south-facing slope of Mount Lee in the Hollywood Hills, this sign is a landmark symbolizing the glamour and culture of Los Angeles. While the original wood and sheet metal construction was erected in 1923, it has since been renovated multiple times with new materials designed to withstand weathering and vandalism. You can view this iconic sign from various spots around the city. It is a perfect activity to do all year round.
The best places to view the Hollywood sign are:
1. Griffith Observatory: The observatory offers a spectacular view of the Hollywood sign. This viewpoint is particularly popular around sunset with the sun setting behind the sign.
2. Lake Hollywood Park: This park offers a stunning view of the Hollywood sign. The park also features walking paths, picnic areas, a playground, and plenty of parking.
3. Mulholland Drive: This winding road provides some of the most picturesque views of the Hollywood sign. If you're looking for a more low-key experience, then take a drive on Mulholland Drive and enjoy the beauty of the sign.
4. Ovation Hollywood: This bustling shopping center, located in the heart of Hollywood, offers a wide variety of restaurants, shops, and entertainment options along with incredible views of the Hollywood sign.
5. Hollyridge Trail: This is the undisputed winner for the best Hollywood Sign hike, and it's easy to see why. Apart from its spectacular nature trails, you will also get a mid-hike photo of the iconic sign.
Explore the labyrinth of books at The Last Bookstore
Recommended by Catrina of 24 Hours Layover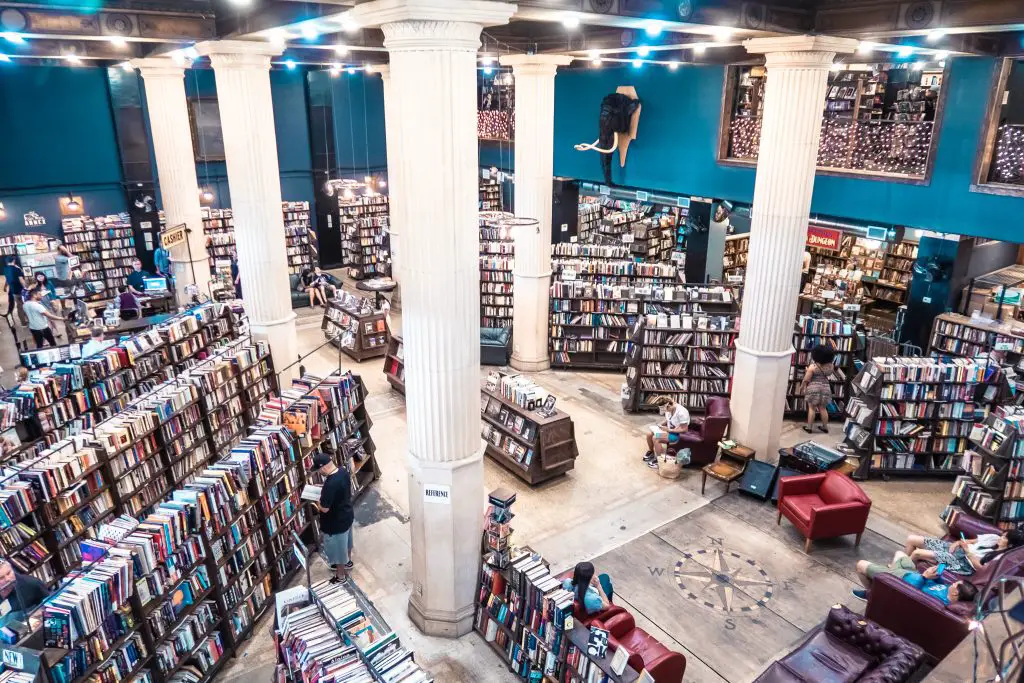 One of the best things to do for free with the whole family in Los Angeles is to visit The Last Bookstore! Located on S Spring Street in Downtown LA, this independent bookstore is an impressive place to visit whether you're a bookworm or not – it's one of the most iconic bookstores in the world!

Situated inside an old abandoned bank, The Last Bookstore looks very grand, with elegant marble pillars and high ceilings. There are lots of unique vintage and pre-loved books and records downstairs, but head upstairs for the fun! Check out the interesting creative displays and unique gift shops, look down from the balcony, and admire the cut-out circular area of books that you can look through. Children and adults will particularly love walking underneath the archway of books and getting photos – it's one of the most Instagrammable spots in Los Angeles!
The Last Bookstore is a great place to bring the family at any time of the year and make them fall in love with books again. There are books of every genre to browse and open from 11 am until 8 pm seven days a week The Last Bookstore is never too crowded.
If you're visiting on a Sunday, the Historic Downtown Farmers Market takes place just outside the bookstore. There is a great atmosphere at the Farmers Market where you can browse all the delicious artisan food products, delicacies, and fresh flowers.
Witness the grace of wild dolphins in the Pacific Ocean
Recommended by Megan of Traveller's Elixir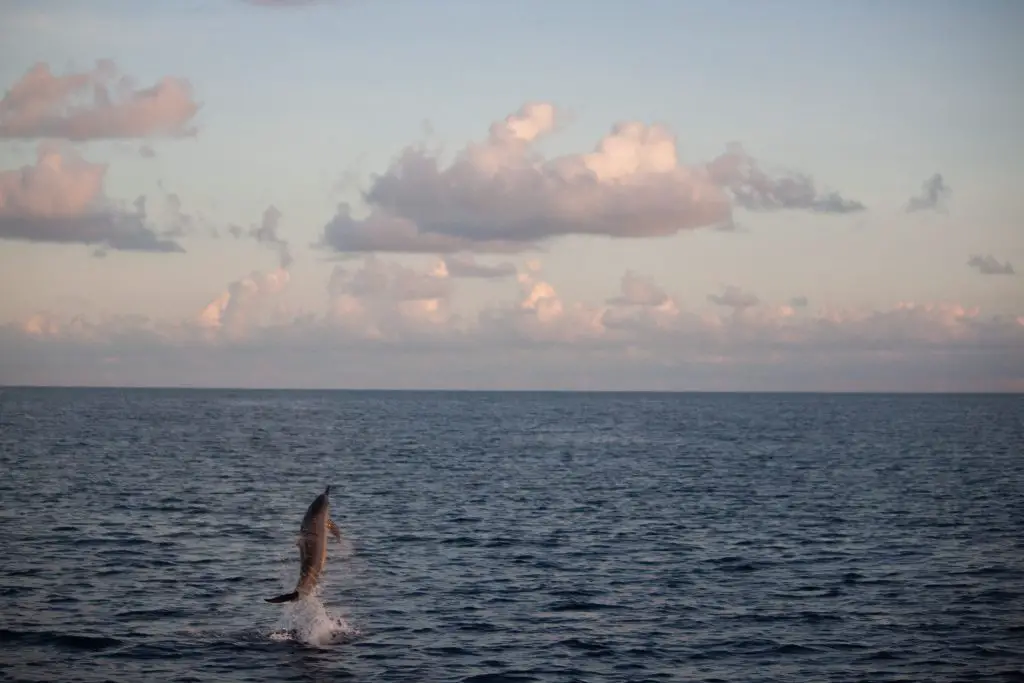 One of the absolute best free things to do in Los Angeles with family is to go and see wild dolphins in the ocean.
Several different dolphin species have actually made a home for themselves in the coastal waters that surround Los Angeles and it's actually pretty easy to see them from the shore if you know where to go.
One of the best places to see dolphins in Los Angeles is in Malibu. In particular, you should head over to Zuma Beach where it's common to see large pods of dolphins out in the ocean.
It's a pretty special feeling seeing dolphins out in their natural habitat and watching them jump in and out of the water, playing together or looking for food. Kids in particular absolutely love seeing the dolphins as it's not something you see every day.
For the best view, you can hike up Point Dume which sits right next to Zuma Beach. From up here, you'll get a panoramic view of the ocean meaning it's really easy to spot the dolphins in the water.
Malibu isn't the only spot in Los Angeles where you can see these magical creatures though. You can also spot dolphins at Marina del Rey, South Bay, and Santa Monica too.
The best time of year to see dolphins in Los Angeles is during the winter when their numbers are higher but it is possible to see them at any time of year.
Immerse yourself in art at the Getty Museum
Recommended by Victoria of Guide Your Travel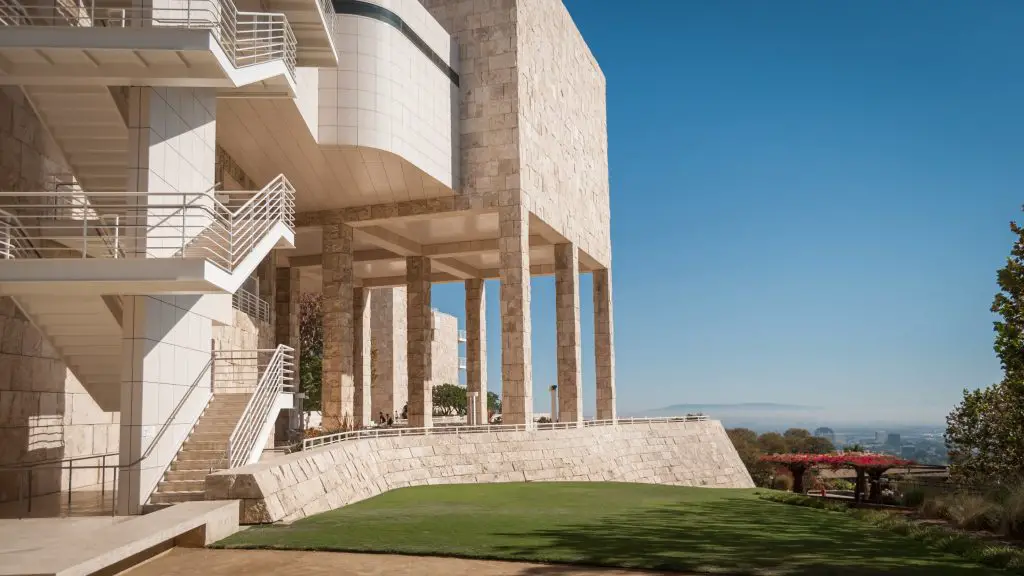 The Getty Center in Los Angeles is a world-renowned museum that offers a fun and educational experience for families with kids. The museum is known for its collection of art, architecture, and gardens that span from the Middle Ages to the present day. With over 130,000 objects on display, including paintings, sculptures, drawings, and photographs, there is something for everyone to enjoy. The museum's architecture and gardens are also noteworthy, featuring stunning views of Los Angeles and providing a peaceful and tranquil environment for visitors to relax in.
Visiting the Getty Center with kids can be a unique and enjoyable experience. The museum offers interactive and engaging programs for children, including guided tours, art-making workshops, and family festivals. These programs make learning about art and culture an enjoyable and memorable experience for kids. Keep in mind that this is best for older children.
The best time to visit the Getty Center with kids is during the spring and summer months when the weather is mild and the museum offers a variety of outdoor activities. During this time, families can take advantage of the museum's beautiful gardens and outdoor spaces, including picnic areas and the Central Garden, which features a stream, waterfalls, and lush vegetation.
Walk down the star-studded Hollywood Walk of Fame
Recommend by Milijana of World Travel Connector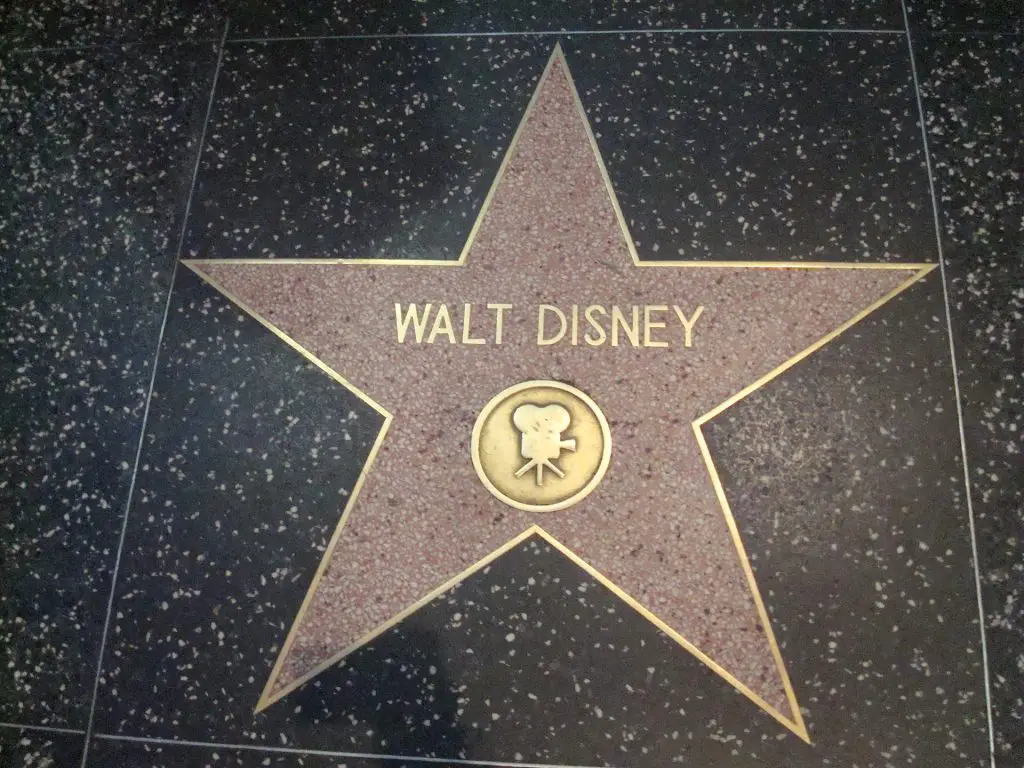 There is no first-time visit to Los Angels without visiting the Hollywood Walk of Fame. 
The Hollywood Walk of Fame is the most famous sidewalk pavement in the world. Visiting the famous Hollywood Walk of Fame is among the top free things to do in Los Angeles.
This infamous sidewalk holds about 2,700 coral-pink stars and hundreds of handprints and footprints of people who made significant achievements in the entertainment industry (like actors, musicians, directors, and producers) but also fictional characters (like the Muppets and Kermit the Frog, the Simpsons, Mickey Mouse, and Donald Duck).
The five-pointed coral-pink terrazzo stars with brass edges on the Walk of Fame keep their names as the everlasting public acknowledgment of their significance in the entertainment industry. Searching for the stars of favorite celebrities is among the most fun and free things to do in LA.
The Hollywood Walk of Fame covers about 1.3 miles on both sides of Hollywood Boulevard and Vine Street. 
LA is a year-round destination for its fabulous climate. Still, May, June, and October are the best months for visiting LA for the ideal temperatures for sightseeing. The best time to visit the Walk of Fame is in the morning before the sun gets high in the sky. Strolling the Holywood Walk of Fame is free (there is no entrance fee), and the Walk is open 24 hours a day, seven days a week.
If you're making a family trip to LA, put the Hollywood Walk of Fame on your itinerary. 
Let your kids snap photos of themselves with the stars of their favorite fictional character! 
Hollywood is one of the best areas to stay in Los Angeles for tourists. Book a place in Holywood and visit the Walk of Fame, TCL Chinese Theatre, El Capitan Theatre, and the Hollywood Wax Museum!
Tackle a scenic hike in Runyon Canyon
Recommended by Sam Opp of Find Love and Travel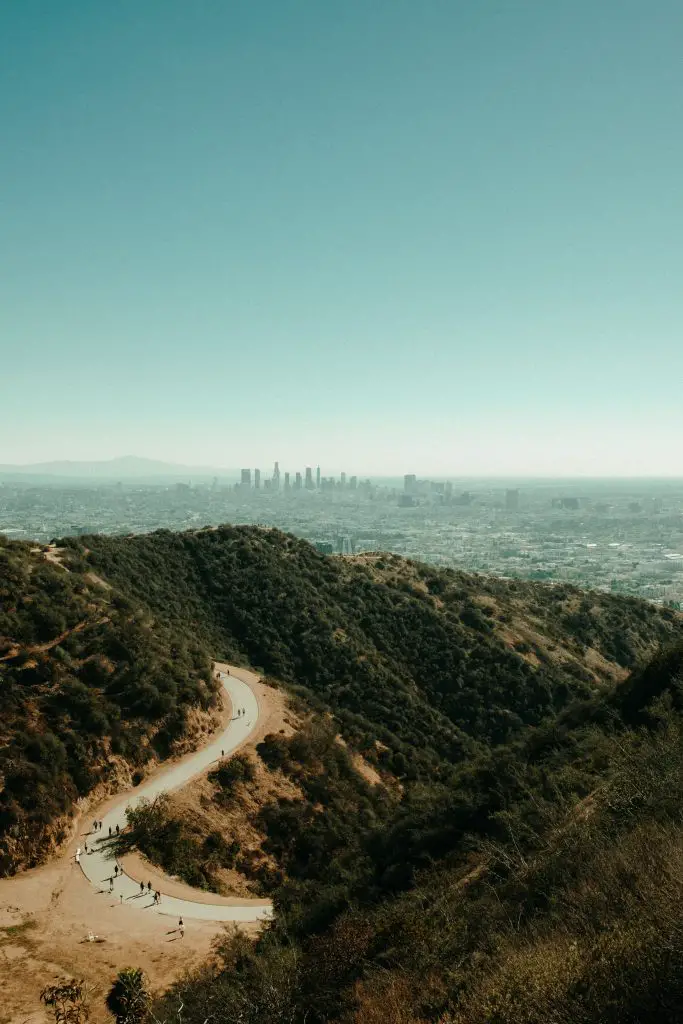 A must on any Los Angeles itinerary is to take a walk or hike through Runyon Canyon Park. With many wide paths and even some paved paths, it makes exploring Runyon Canyon something easy to do for families with young children. Runyon Canyon Park is a huge 160 acres and is located in the Hollywood hills. 
The hiking trails at Runyon Canyon bring together the ever-present LA lifestyle of health and wellness – that you might just be hoping for, and it's free to do. Famously known for being approved as the perfect place to work out if you're a LA local and a stunning location to view the Hollywood Hills and of course, see the Hollywood sign for tourists. 
With 3 different hiking trails that vary in difficulty, you can get your boost of endorphins while basking in the Californian sun. Depending on the hike you take, you will find picnic areas to stop at and take a break. There are also endless opportunities for taking photos as the lighting and scenery here are truly amazing. 
The weather in LA is mostly warm all year round, making the climate perfect for outside activities. That being said, if you are visiting in the peak of Summer (July and August) the weather may be too extreme for you to enjoy the hike. So, it is best if you visit outside of these months, either in the Spring or Fall. 
Take in the stunning views on a hiking trail in Malibu
Recommended by Jenifer of The Evolista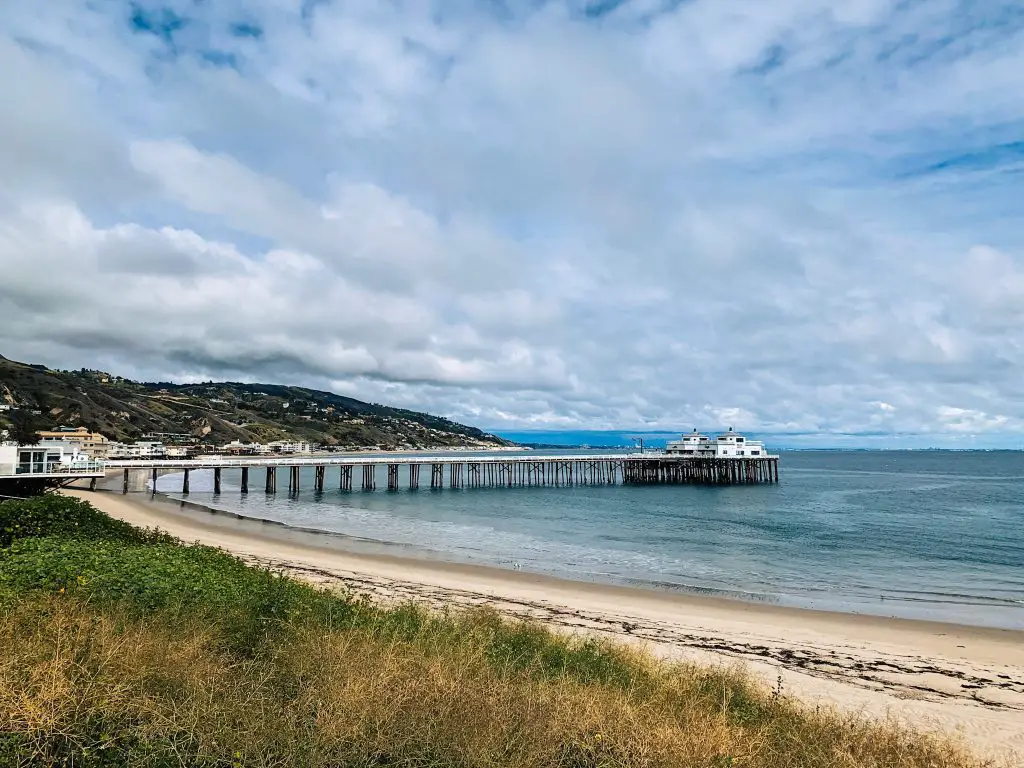 Hiking in Malibu is a great free activity for families of all ages to enjoy, no matter what time of year! In addition to being a fun way to stretch your legs, you'll also be getting a truly local experience. Angelenos love to hike.
Malibu is sandwiched between the Santa Monica Mountains and the Pacific Ocean. You'll find beautiful beaches, stunning beach homes, and picturesque hills. During the winter, expect a lot of greenery, while summer has drier conditions with more brush.
One favorite hike for those with kids or pets is the Solstice Canyon trail, an easy trek to a beautiful waterfall. The waterfall is most active in Spring when you will also see plenty of wildflowers.
For truly spectacular ocean views, don't miss the Point Dume Beach Trail to Paradise Cove. You can combine it with a beach day and it's a great way for families to spend time together being active! 
Finally, hikers looking for a longer challenge should go for the Malibu Lake Trail Hike in Malibu Canyon. While this one can get warm in the summer, you can go early in the day and reward yourself with a refreshing dip in the lake at the end and maybe even spot the filming location of M.A.S.H! Free things to do in Los Angeles don't get much better than this!
Soak up the sun on the shores of Manhattan Beach
Recommended by Emilie of Love Life Abroad
If you're looking for a fun and free day near Los Angeles with your kids, head to Manhattan Beach. It's also the perfect stop on a California Pacific Highway road trip.
The city of Manhattan Beach is located a short 45 minutes drive from downtown Los Angeles, directly on the Pacific Ocean.
There is a nice little downtown where you can walk around, do some shopping and stop for ice cream, but the highlight of Manhattan Beach is its beach, pier, and free aquarium.
The beachside sidewalk (also called The Strand) is a nice place to walk along the ocean. You can walk for miles (and the kids can bike along). Then, you'll want to walk on the 900-foot-long pier. The pie is located at the end of Manhattan Beach Boulevard, and can't be missed.
If your children enjoy fishing, they'll love to watch the fishermen on the pier. You can even bring a few lines and try. Fishing is permitted all year round on the Pier.
At the end of the pier is the Roundhouse Aquarium. It's a small aquarium, but it's free and most kids will enjoy the tour. There are more than 100 marine animals in Southern California's waters, including jellies, sharks, octopuses, lobsters, sea urchins, and more.
The area is really busy in the summertime and parking may be hard to find. Also, most parking spaces are paid, but otherwise, you can enjoy the beach and aquarium for free.
Step back in time on Olvera Street
Recommended by Alanna from Periodic Adventures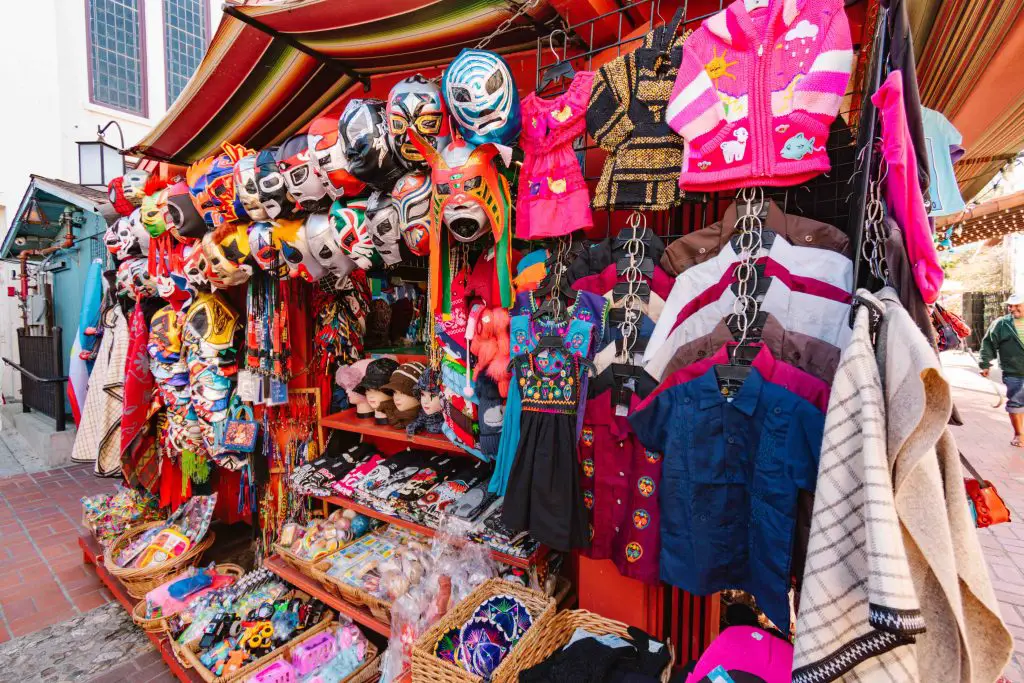 In the heart of the city, you can visit the "birthplace of Los Angeles" aka Olvera Street. This historic Mexican marketplace was once home to the original Mexican settlers in 1781. Now, families will love visiting to take a step back into history.
There are a few free things to do here that will keep everyone in the family entertained. First, visit the Avila Adobe, the oldest standing home in Los Angeles. You'll learn about what life was like back then and how the construction of the home was preserved throughout time. Explore the courtyard and inside the home to see furniture and other artifacts.
There are also several free museums surrounding Olvera Street that are all free including the Italian American Museum of Los Angeles, the Chinese American Museum, and the Museum of Social Justice.
Kids will love simply walking the marketplace. Many of the vendors are descended from the original settlers. They carry many colorful, handmade products like lucha libre masks, ponchos, and instruments.
Finally, Olvera Street often has free live performances including musicians and dancers performing traditional Mexican and Adobe music and dance.
Olvera Street is great to visit any time whether you only have one day in LA or are a full-time resident! On the weekends you're more likely to catch a performance, but on weekdays you'll have the place to yourself. If you happen to be visiting Los Angeles during a Mexican holiday, Olvera Street is a fun place to be!
Get hands-on with science at the California Science Center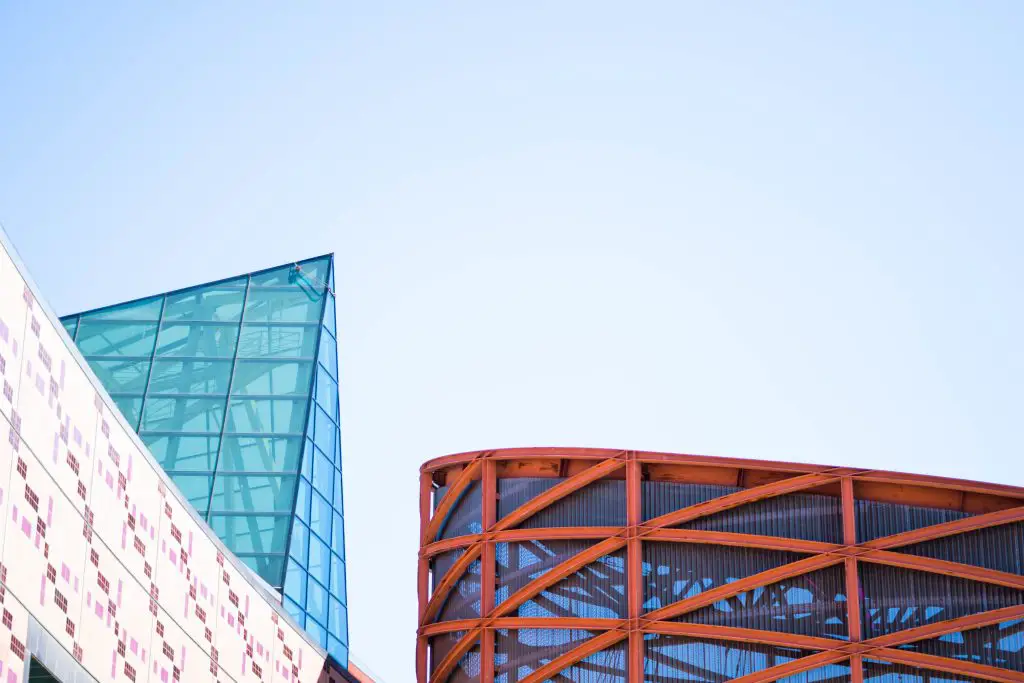 The California Science Center is a must-visit destination for families who are looking for an educational and interactive experience.
Located in the heart of Los Angeles, this museum offers a variety of hands-on exhibits and displays showcasing the wonders of science and technology. From the Space Shuttle Endeavour to the Ecosystems exhibit, there is something for everyone at the California Science Center.
The museum is free to the public, although there may be a charge for special exhibits.
Arrive early to beat the crowds and be sure to bring comfortable shoes for exploring the center's many interactive displays.
With its engaging and informative exhibits, the California Science Center is the perfect destination for families looking to learn and have fun.
Admire classical art and antiquities at the Getty Villa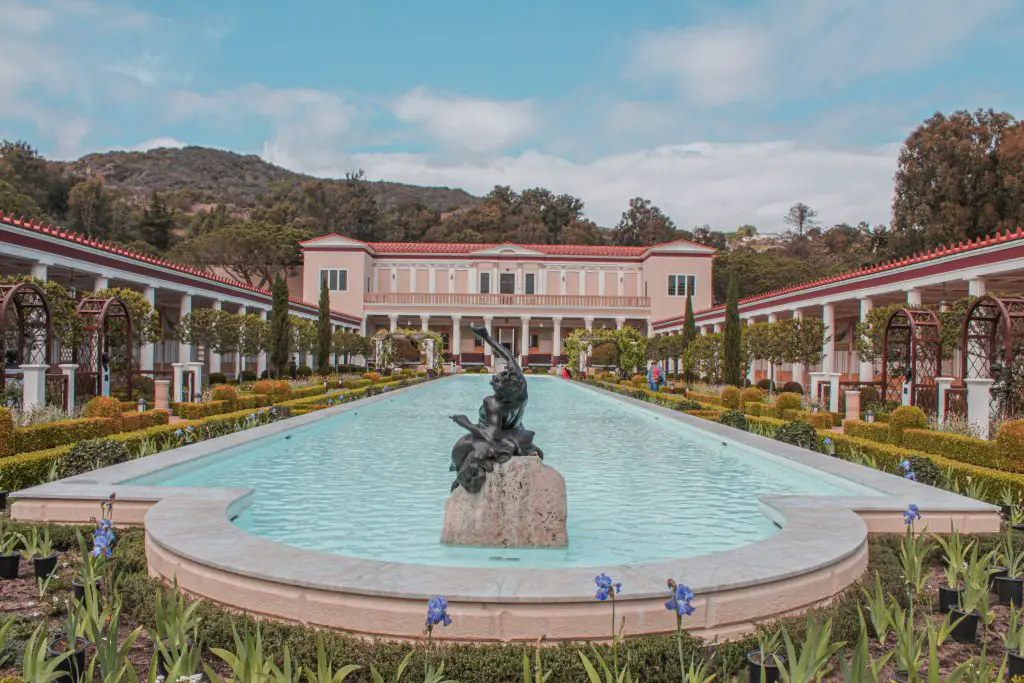 The Getty Villa is a stunning museum and cultural center located in Pacific Palisades, Los Angeles.
This beautiful facility is dedicated to showcasing the arts and cultures of ancient Greece, Rome, and Etruria, and offers a fascinating glimpse into the past. Visitors can expect to see an extensive collection of classical antiquities, including sculptures, pottery, and paintings, as well as a beautiful outdoor garden filled with greenery and fountains.
Admission to the Getty Villa is free, but tickets are required and can be obtained in advance. There is a fee for parking.
The museum is also surrounded by stunning views of the Pacific Ocean, making it the perfect location for a peaceful and educational afternoon.
Whether you're a history buff or simply looking for a unique experience, the Getty Villa is a must-visit destination for families visiting Los Angeles.
Climb aboard historic trains at Travel Town Museum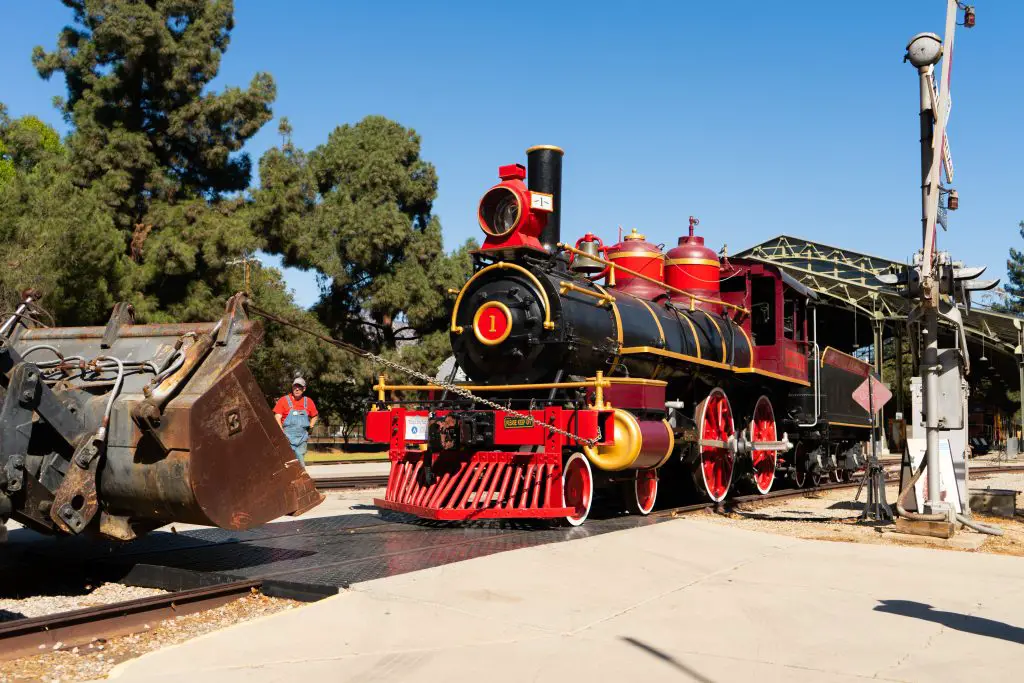 Travel Town Museum, located in Griffith Park, is a unique and fascinating destination for families interested in transportation history.
This outdoor museum features a collection of historic trains, as well as a working model railroad that kids of all ages will love. Visitors can take a step back in time and explore the many vintage trains and vehicles on display, including steam locomotives, Pullman cars, and more.
The museum is free to the public and is the perfect destination for families who love trains and history.
Be sure to bring comfortable walking shoes and a camera to capture the memories, and take advantage of the park's beautiful surroundings for a picnic or a leisurely walk.
Travel Town Museum is a must-visit destination for families looking for an educational and entertaining experience in Los Angeles.
Enjoy contemporary art at The Broad museum
Recommended by Vidyut of Nomading Solo
Located in Downtown, The Broad is a contemporary art museum perfect for family as well as solo travelers to Los Angeles. The museum is named after Eli and Edythe Broad, who helped establish it. Now, it's the Broad Art Foundation that operates it.
From paintings to installations, there are more than 2000 contemporary artworks spread over two floors for you to browse through.
For many, Yayoi Kusama's "Infinity Mirrored Room is the highlight of the visit. Be ready to be mesmerized by a seemingly endless array of colorful lights as you enter a room enclosed with highly reflective mirrors. You can only stay for a minute, so keep your phones in your pocket and savor the moment.
Jeff Koons has got quite a few photo-op-worthy installations here, with the most striking being the  "Balloon Dog" a 10 feet stainless steel sculpture. The gold sculpture of Michael Jackson and Bubbles also deserves a mention.
For pop art fans there is Roy Lichtenstein's famous 'I…I'm sorry!' and Andy Warhol's Two Marilyns (1962).
Robert Therrien's 'Under the Table' is another one that will grab your attention, thanks to its sheer size.
The Broad also hosts temporary exhibits from time to time which visitors can learn about online.
Admission is free but be prepared to queue up, especially on the weekends when the wait time can be as high as 2 hours; better if you book in advance online.
---
---