Some of the links in this post are affiliate links. This means if you click on the link and purchase the item, I will receive an affiliate commission at no extra cost to you. All opinions remain my own.
New York City is a fantastic destination for families. You can spend a weekend or a whole week here without running out of exciting things to do and see.
And the best part?
Some of the most iconic things that you can do in New York are actually free!
In this post, you'll find a lot of free and family-friendly things to do in New York City that will inspire you on your next visit to the Big Apple.
Table of contents:
Enjoy the views of the Statue of Liberty on the Staten Island Ferry
Recommended by Kelly of Travel New York Now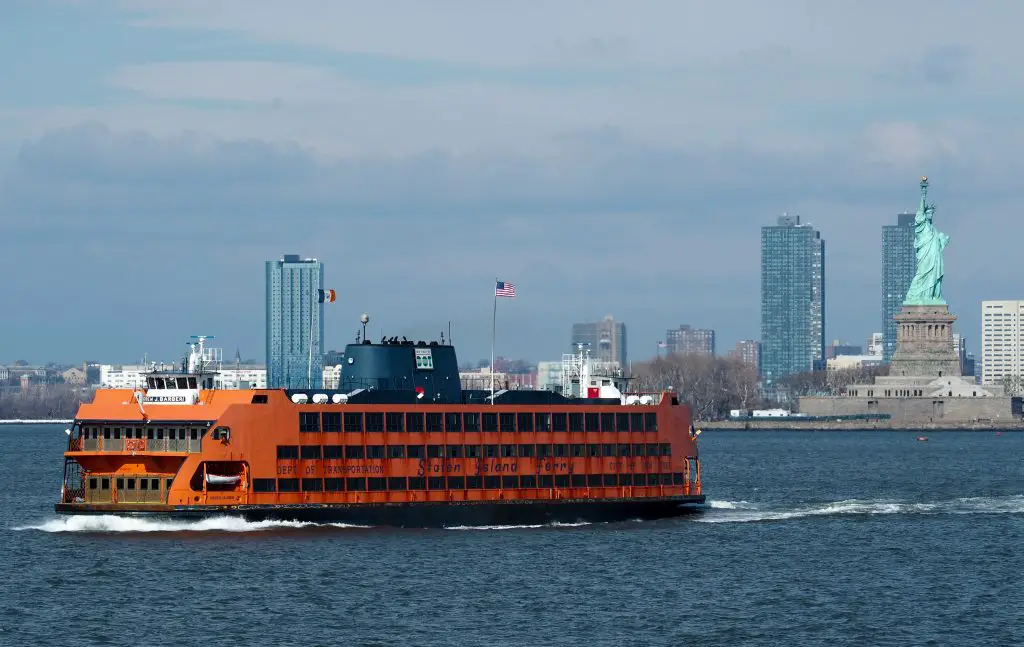 One of the best free things to do in New York City with the family is the Staten Island Ferry. After all, it's a great way for everyone to enjoy free views of the Statue of Liberty as the ferry glides through New York Harbor. 
So, after exploring the Battery and Castle Clinton, walk over to the Whitehall Ferry Terminal (4 Whitehall St, New York, NY 10004) in lower Manhattan. You'll love that the ferry operates 24 hours a day, 7 days a week, with the ride lasting around 25 minutes each way. 
It's also worth noting that you will need to disembark and then reboard the vessel once in Staten Island. Additionally, avoid the ferry during the weekday rush hour since it becomes packed with locals commuting from Staten Island to Manhattan. 
In terms of when to visit, spring and summer are probably the best times to use the ferry since the weather is warm and you won't have to worry about the cold while enjoying one of the best viewpoints in NYC.
Plus, the other great thing about the ferry is that adults and children of all ages can enjoy it. 
And if you have time afterward, be sure to stop by the sea glass carousel in the Battery. It's a truly fantastic ride and only costs around $5.00 per person.
Location: 4 Whitehall St, New York, NY 10004
Check out the Brooklyn Bridge
Recommended by Catrina of 24 Hours Layover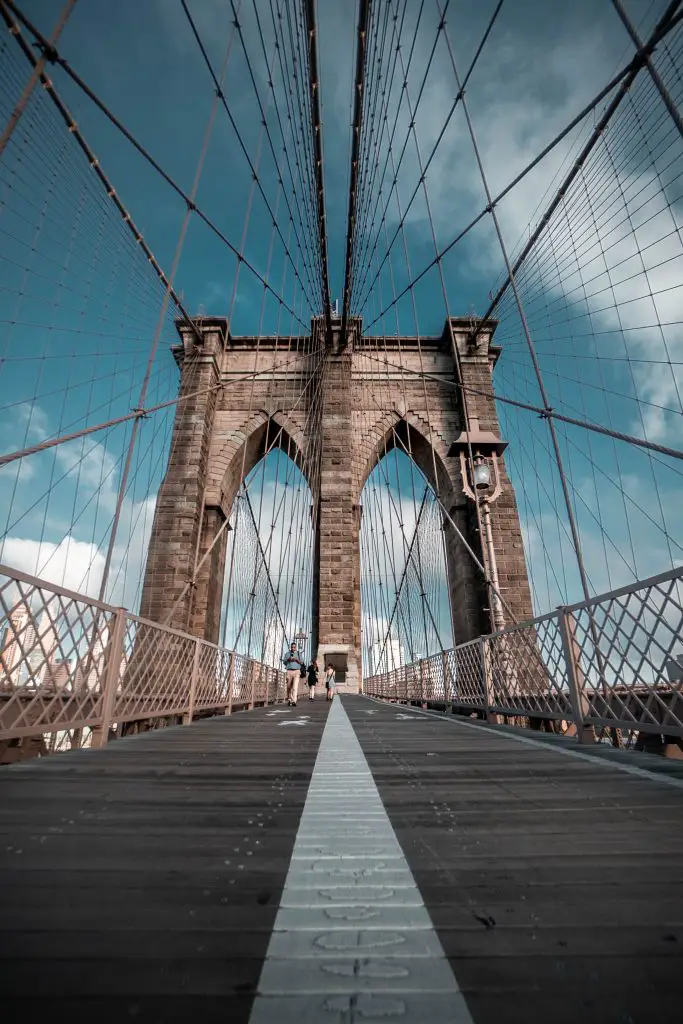 Walking across the iconic 19th Century Brooklyn Bridge is one of the best experiences you can have in New York! It's free and fun – plus the views are absolutely amazing! The Brooklyn Bridge connects Manhattan with Brooklyn borough, and at 1.3 miles long it takes about 40 minutes to walk across (longer if you've got small children!). Children of all ages can enjoy the walk, although you might want to consider bringing strollers or bikes for smaller children to make it easier for them as it is a long walk! There are a couple of benches along the bridge so you can break up the walk.
Every day thousands of people travel from one side of the bay to the other on Brooklyn Bridge, so you'll definitely want to walk across the bridge early morning or early evening if you want to avoid crowds and to be able to admire the fantastic views from the bridge across to the New York skyline.
Children will love the walk across Brooklyn Bridge as they will be able to spot all the famous sites, including the Chrysler Building, The Empire State Building, The Statue of Liberty across the water, and One World Trade. They'll also love seeing all the cars underneath, plus a mention of an ice cream shop at the end of the bridge is sure to encourage them to continue walking!
Any time of year is a good time to walk across the Brooklyn Bridge – just dress appropriately for the weather! There is little shade on the bridge, so if it's a hot day you should time your trip to escape the midday sun and make sure you're protected from the sun. In the winter months make sure to wrap up warm!
Location address: Brooklyn Bridge Boulevard, New York NY
Find unique playgrounds in the Central Park
Recommended by Tamar of World by Weekend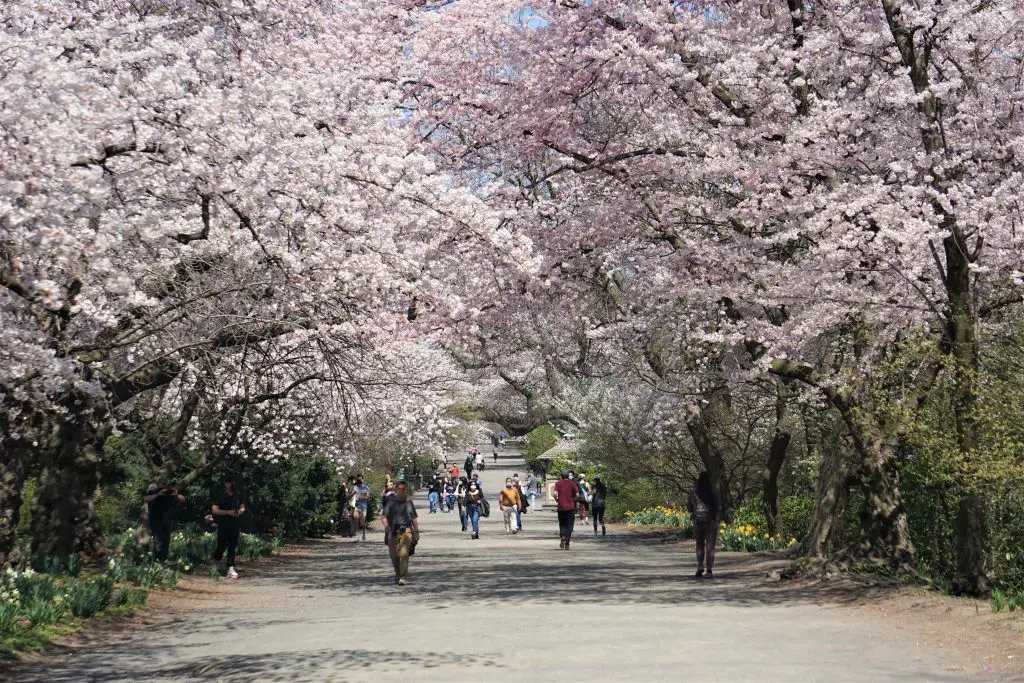 Families looking for a stellar free activity in New York City should not miss out on visiting Central Park. It is a family favorite for locals and tourists alike. With 843 acres full of grassy lawns, woodlands, ponds, and playgrounds, your family will love exploring the nooks and crannies of New York City's most popular park. 
One reason that Central Park makes such an amazing family-friendly free activity in NYC is that it can be enjoyed by children of all ages, from babies through teens. Families with younger children can take advantage of the many playgrounds the park has to offer. For a unique playground experience, head to the Ancient Playground just north of the Metropolitan Museum of Art. This ancient-Egypt-inspired playground has play structures modeled after pyramids and ancient Egyptian tombs.
Another great free activity to do in Central Park is to see the model sailboats at the Conservatory Waters (East 74th and 5th). Watch as adults and children steer model sailboats across the pond, racing from end to end.
While Central Park is a year-round destination, the best time to visit is in spring when the cherry blossoms in Central Park are in full bloom. Families can enjoy the vibrant pink cloud-like blooms while strolling around the Jacqueline Kennedy Onassis Reservoir or picnicking on Cherry Hill. Viewing the cherry blossoms is the perfect excuse to slow down and appreciate nature – even though you're in the middle of a bustling city!
Location: from 59th Street to 110th Street, between Fifth Avenue and Central Park West
Enjoy the Rockaway Beach boardwalk
Recommended by Trijit Mallick of Dog Travel Buff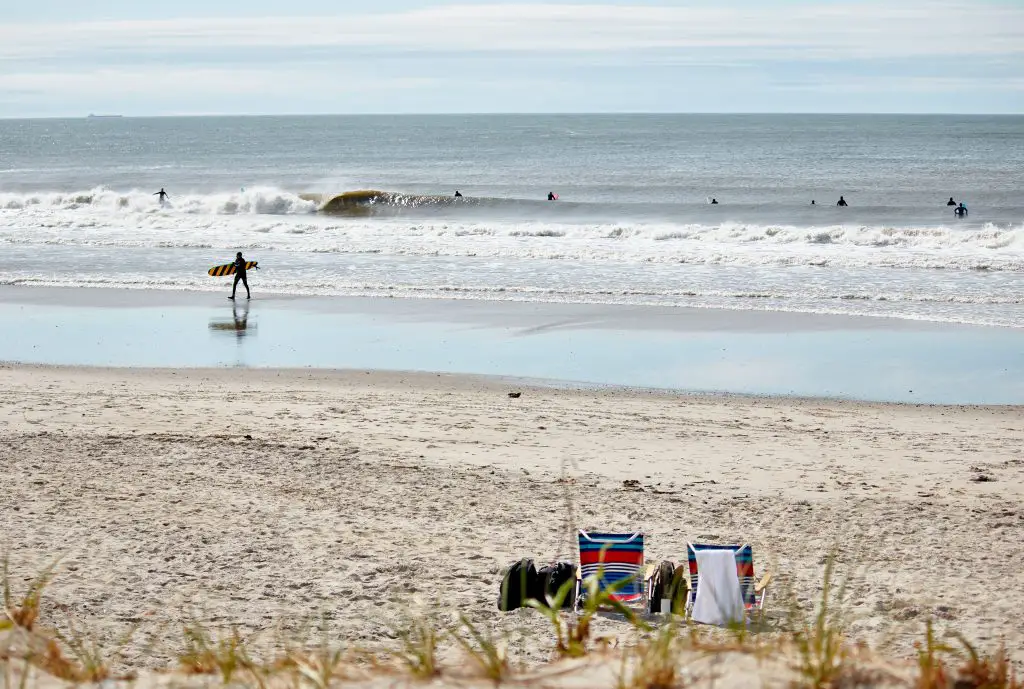 Located in Queens, New York City, Rockaway Beach is a popular destination for New York City residents and visitors for its weather and bountiful children's activity.
It is one of the best dog-friendly beaches in New York. The beach stretches over 7 miles along the Atlantic coast and features a boardwalk, concession stands, and restrooms. If you are a pet owner, you can bring your pet too and enjoy your vacation together. It is also home to several lifeguard stations, making it a safe place for swimming. This beach is widely known for its wide expanse of sand and beautiful ocean views.
The Rockaway Peninsula offers great outdoor activities for children and pets. People who want to visit Rockway Beach with family would love activities like hiking, fishing, and bird-watching. Most travelers love to be in this beach area because of its boardwalk, playgrounds for children, and local parks where you can picnic.
Another thing to keep in mind is the temperature, so if you go to Rockaway Beach, try to go in late May or at the beginning of September. The crowd remains less compared to other times. Dogs can overheat quickly in June and July, so choosing the right time can make your journey fun and joyful.
Rockaway Beach is accessible by subway or by car. The train subway line stops directly at the beach, and several parking lots and metered parking spots are also available. But as you already know, in peak time you might find a lot of people in this area so you might face problems with parking; so try to reach as early as possible.
If you want to spend some days and know the locals and their culture, then you can stay in one of the best hotels in Rockway Beach, The Rockaway Hotel. This hotel is located right on the beach and offers oceanfront rooms with private balconies. Amenities include a rooftop bar and lounge, a fitness center, and a seasonal outdoor pool.
Location: 8601 Shore Front Pkwy Rockaway Park, NY 11694 
Visit Bryant Park
Recommended by James of Travel Collecting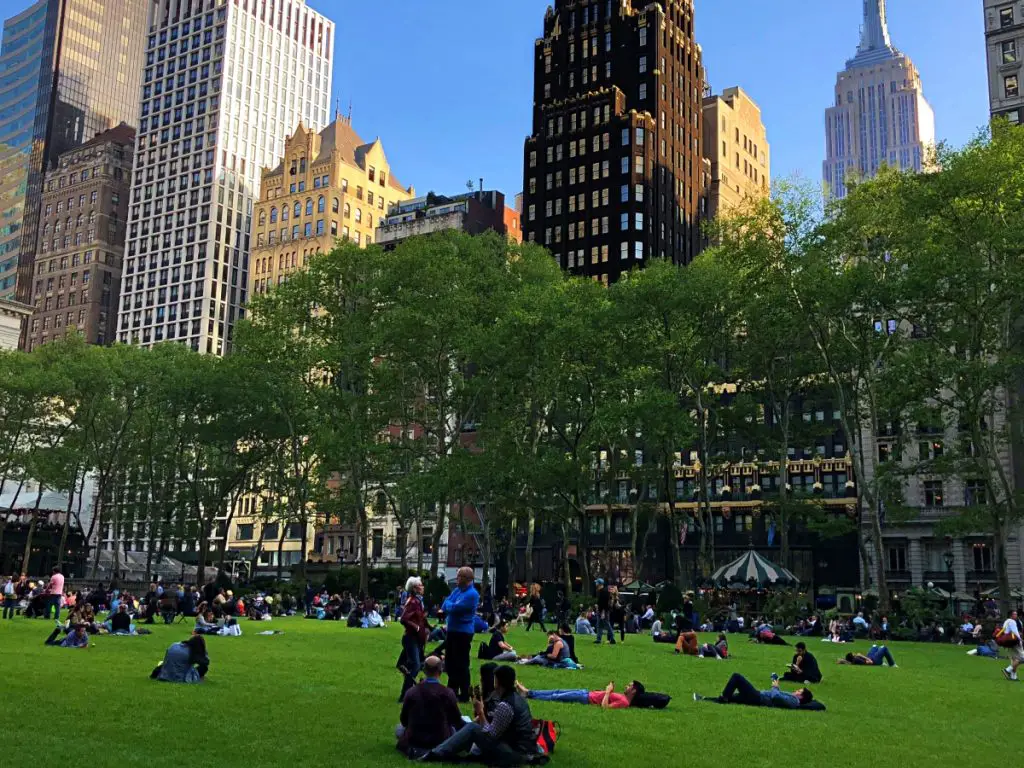 Bryant Park is a highlight of any visit to New York City. Whether you go there in winter or stop in in summer, there are plenty of fun, free activities for the whole family to enjoy. 
In winter, the park is converted into a Winter Village. There are holiday shops and an indoor area where you can get wonderful hot chocolate. The highlight, however, is the ice-skating rink. It is surrounded by towering Midtown skyscrapers and the beautiful New York Public Library. Best of all, though, it is free if you bring your own skates. You can also rent skates if you don't have your own. 
In the warmer months, there is also plenty to do. Most of the park is a large lawn where there are free classic movies every Monday evening in summer. Get there early and have a picnic blanket handy so you can save your spot at 5:00 pm on the dot. Take a picnic then join in the 'Bryant Park Movie Dance' as the show begins.
There are also other free programs including frequent lunchtime performances by stars of current Broadway shows and free yoga classes.  
Around the lawn, you can sit and have lunch at one of the tables there (free if you bring your own lunch). There is also an outdoor Reading Room where you can sit and read the books or magazines in their collection for free. There are also storytelling sessions for kids there. 
If you're looking for something more active, the kids (or adults!) can play table tennis at one of the free ping-pong tables in the park.  
A visit to Bryant Park is both an escape from the usual tourist activities in NYC and at the same time, a quintessentially New York experience. And, best of all, almost everything there is totally free! 
Location: on Sixth Avenue between 40th and 42nd Streets in Midtown Manhattan.
See the High Line Park
Recommended by Victoria of My Australia Trip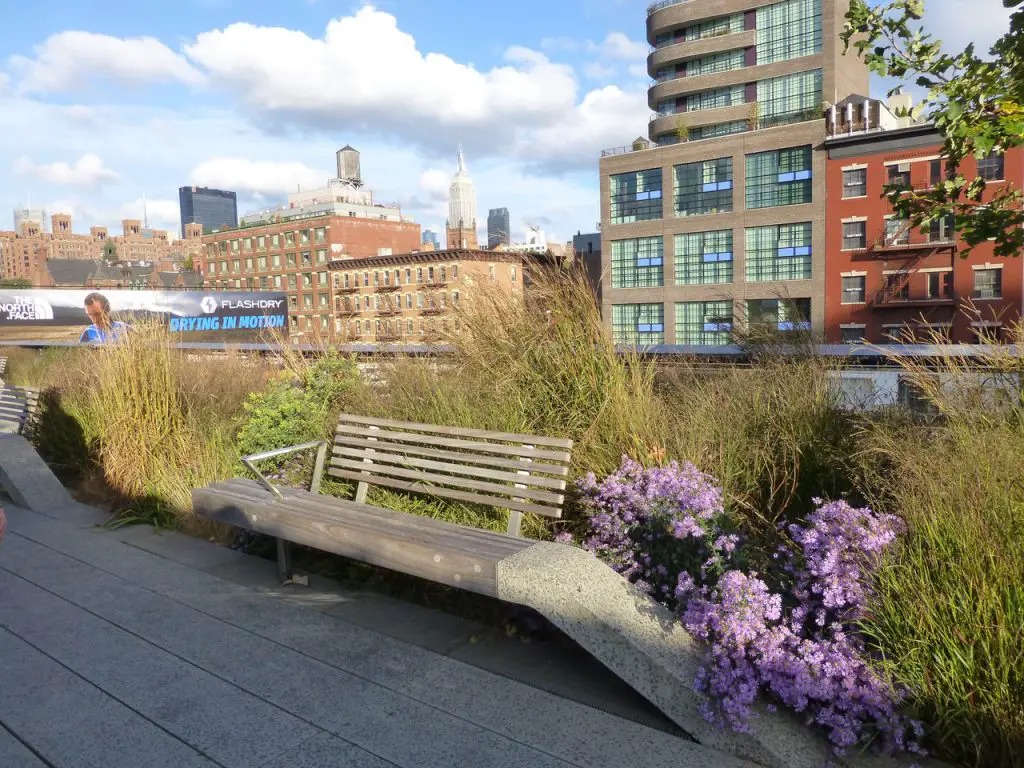 Highline Park in New York City is a fantastic place to visit if you're in New York City with kids. The park is built on an elevated railway track that runs through the heart of Manhattan, with fantastic views of the city. The park has a lot of different flowers and even art installations.
You can sit down at one of the many benches or the main viewing platform and have a picnic. Definitely get some traditional New York City hotdogs for the kids.
Highline Park is also a great place for kids to burn off some energy and run around. At a total length of 1.5 miles, there is plenty of space to be active without having to leave the city behind.
Of course, public transport is right there at your fingertips so you can easily get to the Highline and back home again.
The Pershing Square Beams are one of the best spots on the Highline for families, especially with slightly older and more independent kids. They can play on the steel beams and the surface below is soft so that any falls aren't a big deal.
Location: from Gansevoort St. to 34th St. on Manhattan's West Side
Explore the Grand Central Terminal
Recommended by Sam Opp of Find Love and Travel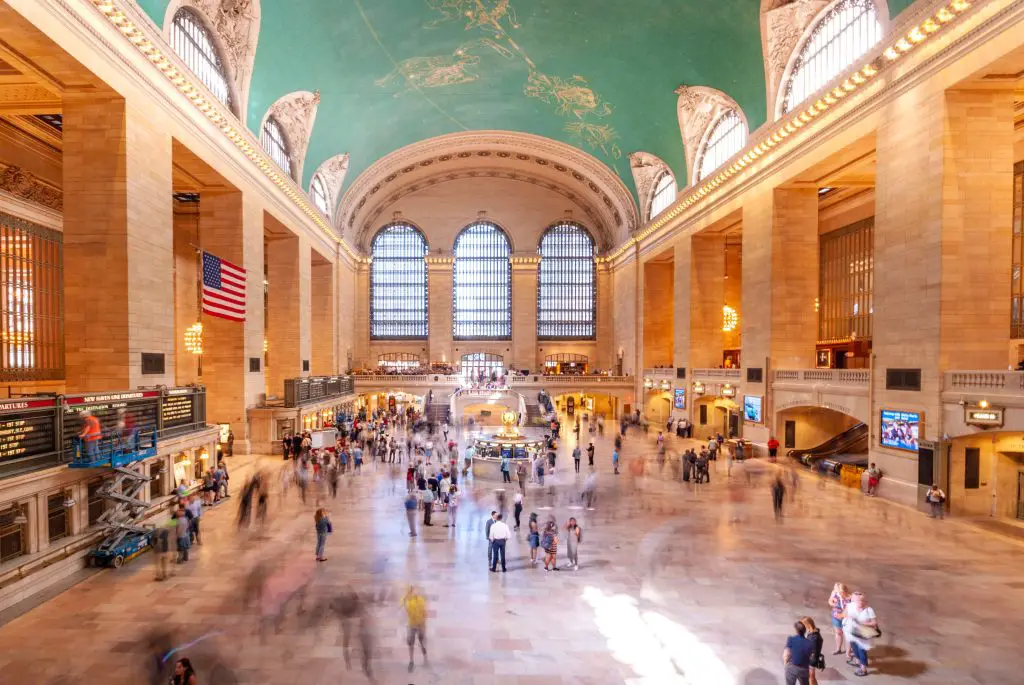 When visiting New York, you must stop by the famous Grand Central. This historic landmark in Manhattan was first opened in 1913 and is not only used for transport but has a variety of shopping and dining venues to stop by too. You could even just go window shopping and enjoy the magnificent building!
Considered to be one of the country's greatest architectural achievements, this New York attraction really captures the hustle and bustle vibe that has been ever present in New York. This is a must-visit attraction, even with just one day in NYC!
The building itself is really fun to explore, the whispering gallery is great for young children, the four-faced opal clock is perfect for your iconic New York photos, and even just taking in the breathtaking ceiling can be fun for adults. 
Grand Central Terminal can be visited at any time of the year as this is an indoor location and New York itself has seasonal things to do all year round!
Grand Central can get extremely busy during rush hour and in the evenings, so if you would prefer to visit when it is quieter, then it would be best to visit during the day – but keep in mind the various opening times for the restaurants and shops. 
Location: 89 E 42nd St, New York, NY 10017
Find attractions for children on the Little Island
Recommended by Michele of From Inwood Out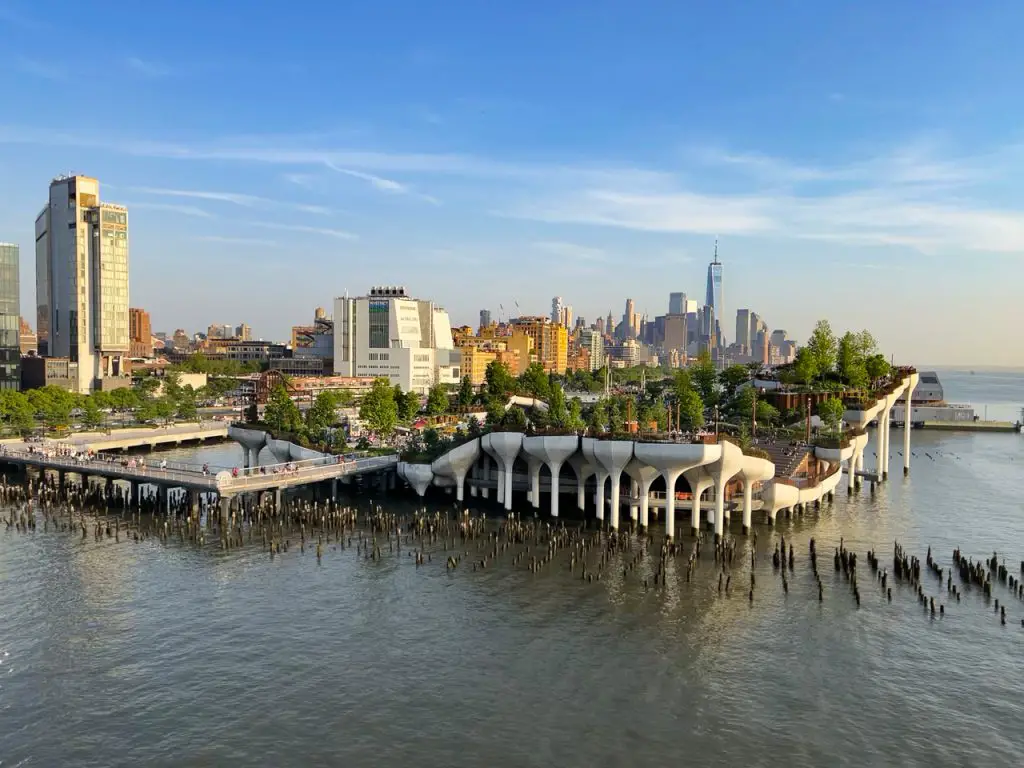 In many ways, Little Island was made for families. The city park sits upon tulip-shaped pods that rise out of the Hudson River. The result is a striking visual effect that makes the perfect background for family photos.
Inside the park, visitors walking along the hilly paths will encounter play items meant to delight kids of all ages. Children as young as toddlers will be captivated by the giant spinning discs, while ages 4-5 and up can make some noise by stomping on dance chimes that are embedded into the ground. Kids of all ages can ignite their creativity with DIY projects from Little Island's Art Cart.
Several conveniences make Little Island a family-friendly destination. Outside food is welcome and food and drinks are available for purchase (from May to September only). Families can stake out a picnic spot on the sloping lawn. Tables and chairs are also available in designated areas. Strollers are allowed, though scooters, bikes, and skateboards are not. There are public restrooms in the park.
Each season at Little Island offers a different experience but keep in mind that some activities are seasonal. Little Island's Art Cart offers DIY projects for kids during the spring and summer, and while the park is open year-round, the lawns are only open during the summer. Dance chimes and other interactive displays are available year-round. 
Entrance to Little Island is free, as are all activities except for events in The Amph, the park's waterfront performance space.
Location: Pier 55, Hudson River Park at 13th Street, New York, NY
Take a walk in the DUMBO neighborhood
Recommended by Chelsea of Adventures of Chels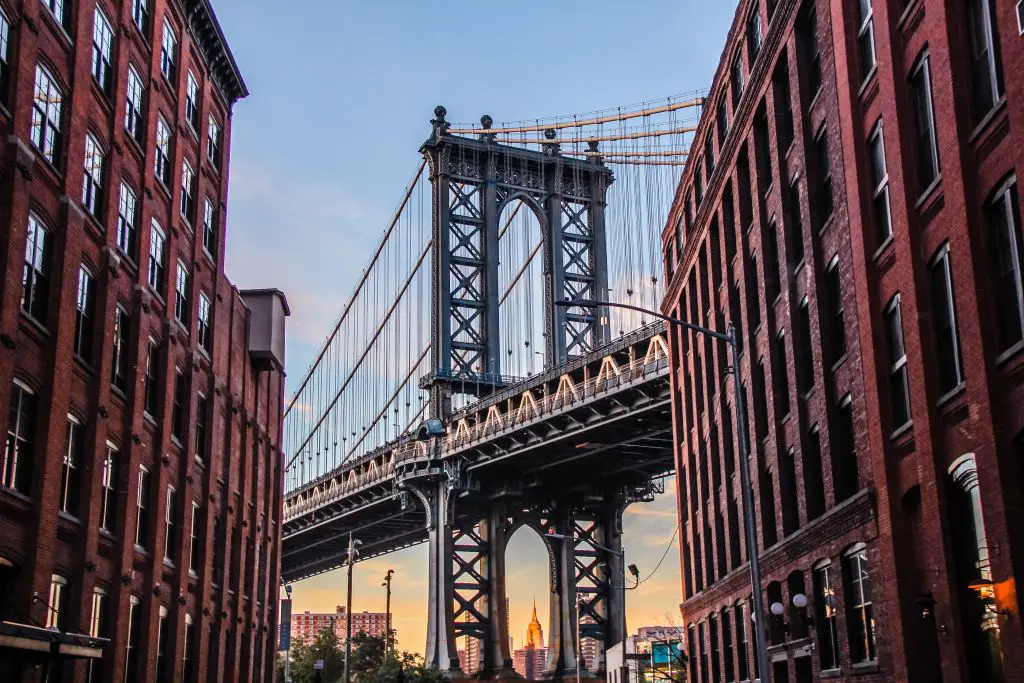 For a fun and free activity to do in New York City with family members of all ages, head over to the DUMBO neighborhood in Brooklyn.
DUMBO is short for "down under the Manhattan Bridge Overpass" as that's where this neighborhood is located. DUMBO has great outdoor areas, iconic NYC views, numerous restaurants, and that quintessential bustling New York City energy.
While you're there, check out the most Instagrammable view the neighborhood has to offer: The Manhattan Bridge between two buildings. (Find this at 40-58 Washington St, Brooklyn, NY 11201)
Swing by the DUMBO Walls which consist of impressive murals which began in 2012. These can be found on York St. between Washington and Pearl streets.
If you're visiting on a Sunday between roughly April to November go for a stroll through the neighborhood flea market and admire vintage clothing, jewelry, and other goods.
Be sure to walk from the Manhattan Bridge to the Brooklyn Bridge while stopping to admire the historic Jane's Carousel and stunning views of the Manhattan skyline along the way. Consider bringing a picnic to enjoy with your family on the grounds near Jane's Carousel. Don't forget to dip your toes in the Hudson River to cool off on a hot day.
Location: between the Manhattan and Brooklyn Bridges
Check out the Harry Potter Store
Recommended by Diana of Travels in Poland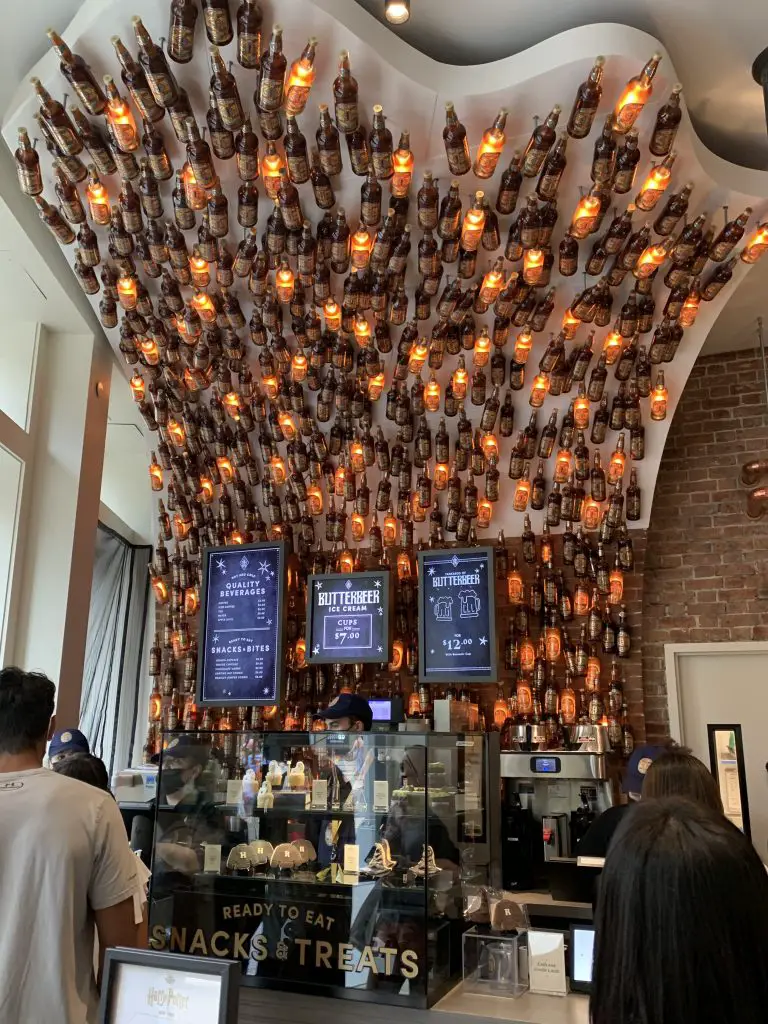 The Harry Potter Store in NYC opened in the summer of 2021. A fully immersive experience, the store has been popular ever since and has attracted thousands of people to its flagship location. To experience the store, individuals must arrive early in the morning and join a queue in order to scan their phone and pull another virtual queue ticket providing them with a return window to the store.  While the store recommends a minimum of one hour to explore, it truly takes several hours to fully see the store and engage in the available experiences.
An app, called the Harry Potter Fan Club is available to download for free and provides visitors with experiences within the store. A scavenger hunt of sorts engages visitors in puzzles and questions in order to solve the ultimate puzzle. After solving the puzzle, visitors are provided with a small gift.
The store has many areas to explore and shop. There are sections dedicated to each school and patrons can browse robes, cloaks, and many other items including the infamous Marauder's Map. A sorting ceremony and a wand shop are among the experiences that make this store unique.  Further, a butterbeer bar at the store's exit, allows visitors to try the famous drink in a commemorative cup that can be kept as a souvenir. A trip to the store is a worthwhile visit when visiting New York City.
Location: 935 Broadway, New York, NY 10010
Go on a walking tour of the New York Public Library
Recommended by Kenny of Knycx Journeying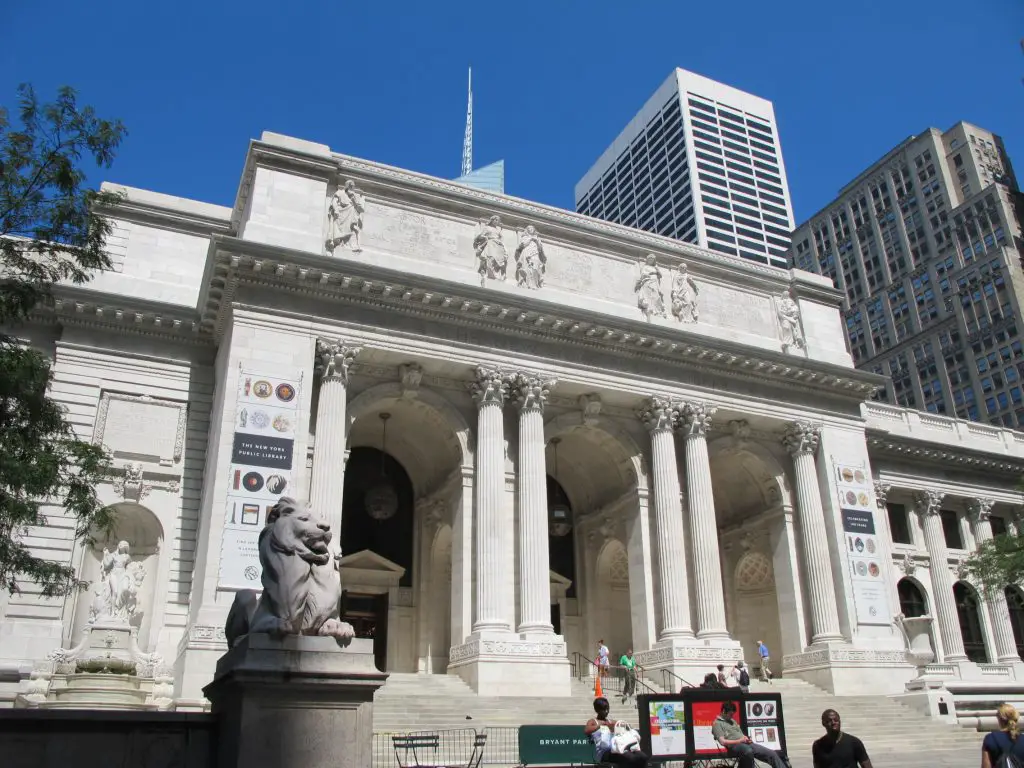 The striking skyline of Manhattan is a signature that keeps visitors in awe. While the skyscrapers keep getting taller, some of the most popular and valuable sites in New York are well-preserved and nestled among high rises, including the Grand Central Station, Federal Hall, and Trinity Church. Another building that is one of the most beautiful architectures that you should visit in New York, is the New York Public Library. 
With over 120 years of history, New York's public library system was established in 1895 in over 90 locations. Its main branch, Stephen A. Schwarzman Building, was built in 1911 and houses a collection of over 2.5 million items. The building is located between 40th and 42nd Streets along 5th Avenue, directly across Bryant Park.  
For families, it is a wonderful educational experience to visit the library as there are sections of books that suit readers of different ages and preferences; the library also opens all year round, making it a great place to keep warm or cool during winter or summer. Entrance to the library is free for all, however, out-of-state visitors need to apply for a temporary card online. 
Apart from the numerous items in the library, the building is a piece of art itself. The exterior of the main building is made of white Vermont Marble, surrounded by sculptures, monuments, and artworks. The rooms of the library are also filled with beautiful paintings. The McGraw Rotunda, for example, features paintings and murals created by Edward Laning. 
To learn more about the history and special spots in the library, sign up for a free, one-hour guided tour of the Schwartzman Building, hosted by volunteers. 
Location: between 40th and 42nd Streets along 5th Avenue
Experience the bright lights of Times Square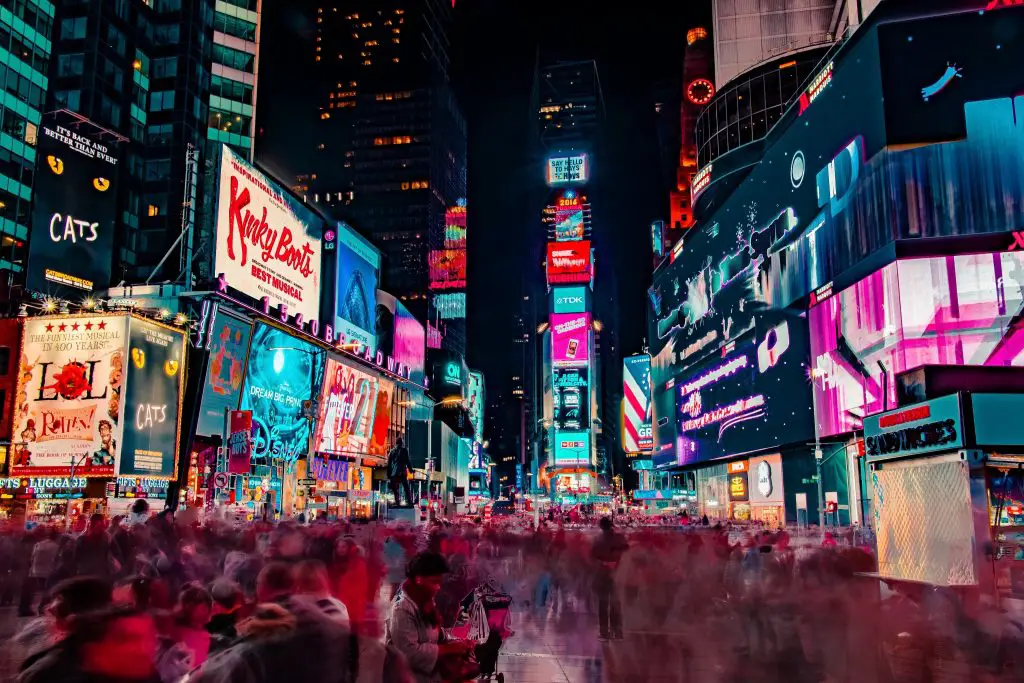 Times Square is one of the most famous and iconic areas of New York City. Known for its bright lights, billboards, and bustling crowds, Times Square is a must-see destination for any visitor to the city.
One of the most striking things about Times Square is the sheer scale of the billboards and advertisements that line the streets. Visitors can't help but feel awestruck by the dazzling lights and the size of the advertisements, which can be several stories tall. In addition to the billboards, Times Square is also home to a number of theaters and performance venues, making it a popular spot for tourists looking to catch a Broadway show.
Another popular activity in Times Square is simply people-watching. The square is always crowded with tourists, locals, and street performers, making it a great spot to sit and take in the energy of the city. Visitors can also find a wide variety of restaurants, cafes, and shops in the area, offering something for everyone.
While Times Square can be overwhelming due to the crowds and the bright lights, it's definitely worth a visit to experience the energy and excitement of the city. It's not quite suitable for small children, but older kids will enjoy this iconic landmark.
Location: Broadway, 7th Avenue, 42nd and 47th Streets
Go window shopping on the 5th Avenue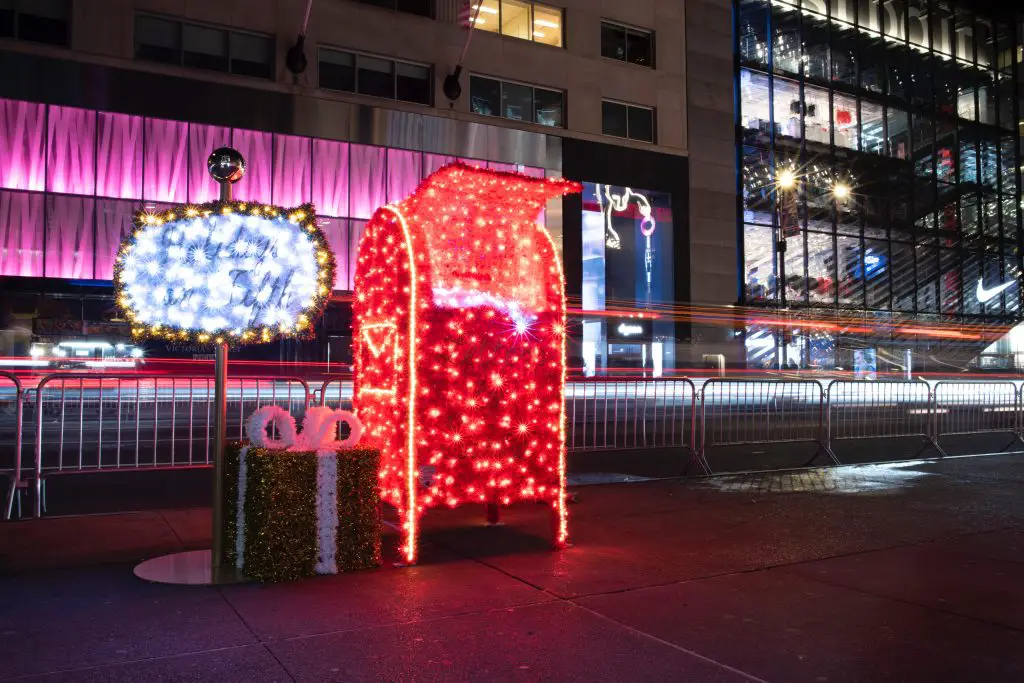 Fifth Avenue is one of the most famous streets in the world, and for good reason. It's a shopper's paradise, home to some of the most iconic department stores and luxury boutiques in the world. Along this famous street, visitors will find a wide variety of shops, restaurants, and other attractions, making it a must-see destination for any traveler to New York City.
One of the most iconic places to visit on 5th Avenue is the flagship store of Macy's. The store is one of the largest department stores in the world, offering a wide variety of clothing, accessories, and home goods. Visitors can also take a tour of the store's famous holiday windows, which are unveiled during the holiday season.
Another must-see destination on 5th Avenue is the flagship store of Saks Fifth Avenue. Known for its luxury fashion and designer labels, the store offers a wide variety of clothing and accessories for men, women, and children. Visitors can also take a stroll through the store's famous shoe department, which is said to be one of the largest in the world.
This attraction probably would be more suitable for older children who are interested in fashion. Younger kids will be happier exploring the Central Park playgrounds just across from Fifth Avenue. The best time to go for a stroll here is the Christmas holiday season when the shops have amazing decorations.
Location: 5th Avenue stretches north from Washington Square Park in Greenwich Village to West 143rd Street in Harlem
Have a fun and educational outing at Socrates Sculpture Park 
Socrates Sculpture Park is a hidden gem located in Queens, New York, offering a unique and fun-filled experience for families with kids. The park is a wonderful place to explore and enjoy the outdoors, with beautiful views of the East River and the Manhattan skyline.
The park is a 4.5-acre waterfront park that provides a haven for contemporary sculpture and a lively program of exhibitions, artist residencies, and educational and cultural events. The park is free and open to the public year-round, making it a perfect destination for a family outing.
One of the highlights of the park is the array of sculptures on display. The park features works by both established and emerging artists, providing a great opportunity for families to learn more about contemporary art and sculpture. There are also interactive sculptures that children can enjoy, like playground-like structures that they can climb on and explore.
In addition to the sculptures, the park also offers a variety of educational programs and workshops for families. These programs are designed to inspire children's creativity and help them learn more about art and the natural world. Families can participate in hands-on activities such as sculpture-making classes, Halloween workshops, and more.
Location: 32-01 Vernon Blvd, Queens, NY 11106
Check out the iconic Washington Square Park 
Washington Square Park is a historic and beloved park located in the heart of Greenwich Village in New York City. The park offers a wide variety of activities and attractions for visitors of all ages, making it a must-see destination for anyone visiting the city.
One of the most iconic features of the park is the Washington Square Arch, which was built in 1892 to commemorate the centennial of George Washington's inauguration as president. The arch serves as a symbol of the neighborhood and the city and serves as a great backdrop for photos.
The park offers a wide variety of recreational activities for visitors, including a playground for children, a dog run for pet owners, and several chess tables. Visitors can also take a stroll through the park's beautiful gardens, which feature a variety of flowers and plants.
Washington Square Park is also a popular spot for musicians and street performers, who entertain visitors with a wide variety of music, dance, and other performances. Visitors can also find a wide variety of food vendors and carts in the park, offering something for every taste and budget.
Washington Square Park is a true New York City icon and an absolute must-see destination for anyone visiting the city.
Location: Washington Square, New York, NY 10012
Marvel at the architecture of Federal Hall
Recommended by Lyndsay of The Purposely Lost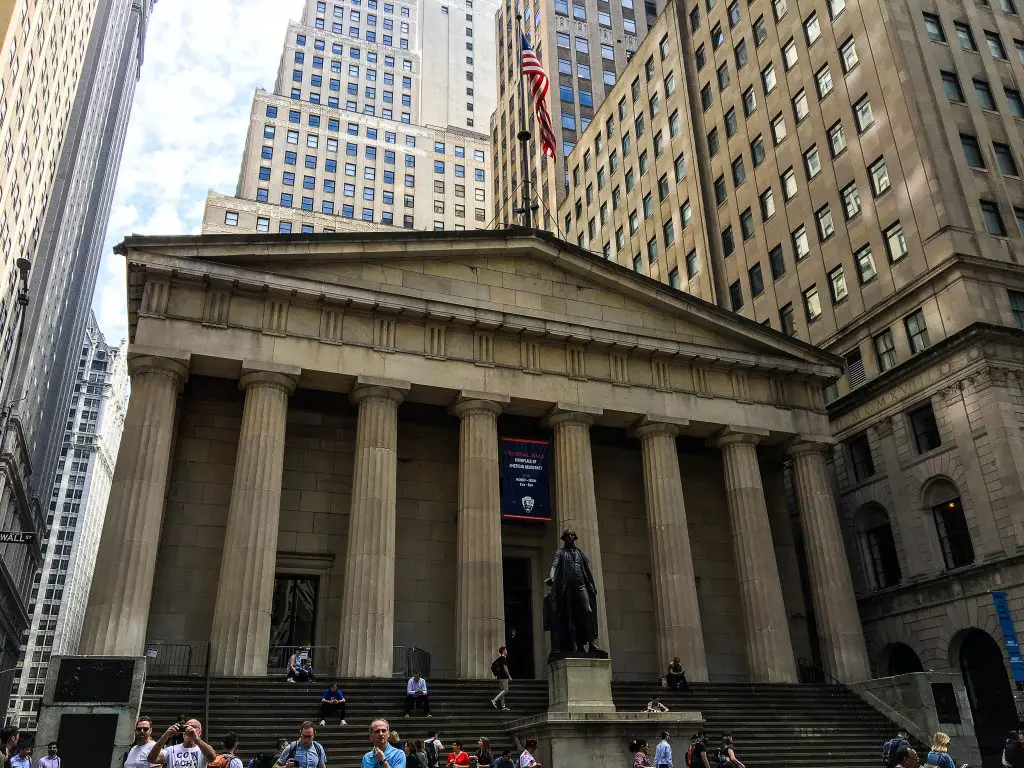 Did you know the site of the first United States capitol building is right here in New York City? 
Visiting Federal Hall is one of the best free things to do in NYC with the family. Located on Wall Street, the site of this historic building has a rich history that dates back to when the Dutch first settled the city.
Although the original building that stood here was torn down, the building that stands here today is an architectural marvel worth exploring for its own sake. It is designed in the Greek Revival style and features a grand portico with eight Doric columns.
The building is now on the U.S. National Register of Historic Places and is free to visit.
When exploring Federal Hall, you can enjoy the exhibits and displays inside that tell the story of the nation's first capitol. George Washington, the first president of the United States, was inaugurated here in 1789, and his statue was erected in 1883 to commemorate the historic event.
This location was also used as the United States Customs House and once held millions of dollars worth of gold and coins daily.
Visiting Federal Hall is a great way to learn about American history and spend time with family in New York City. It's a unique NYC experience for all ages and an excellent way to get an up-close look at one of the most important sites in the nation's history.
Location: 26 Wall St, New York, NY 10005
Visit Dyker Heights to watch Christmas lights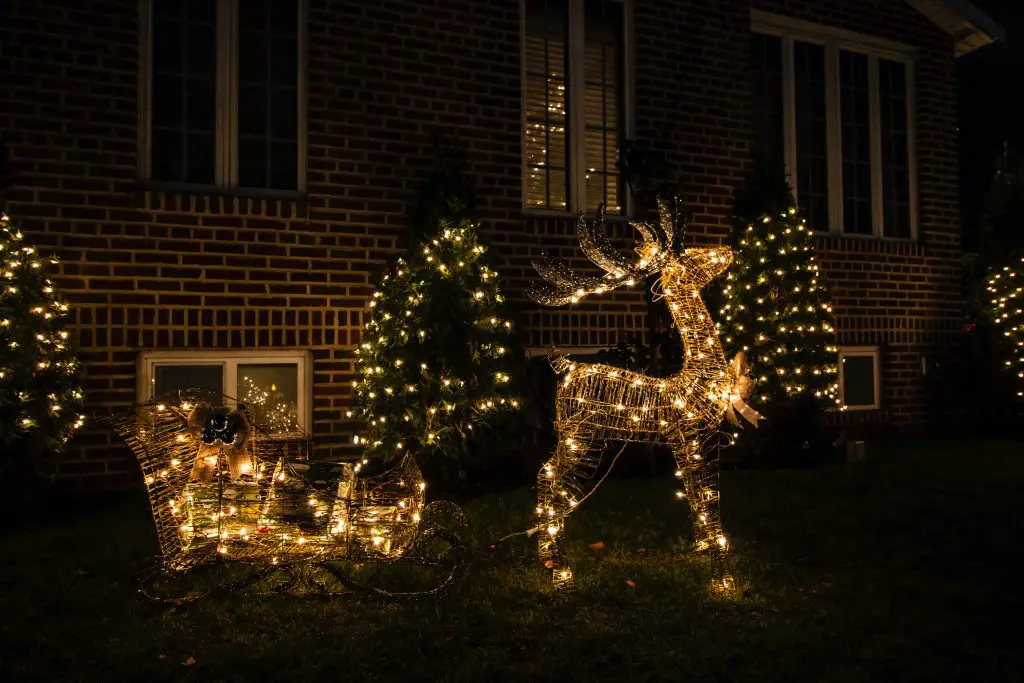 Dyker Heights is a neighborhood located in the southern part of Brooklyn, New York. The neighborhood is known for its elaborate holiday light displays, which draw visitors from all over the city during the Christmas season.
The tradition of holiday lights in Dyker Heights began in the 1980s when a few residents began decorating their homes with festive lights and decorations. Over the years, the displays have grown more and more elaborate, with some houses now featuring thousands of lights, animated figures, and other decorations.
During the holiday season, many visitors take walking tours of the neighborhood to see the lights and decorations. Visitors can also take bus tours of the neighborhood, which provide a more comfortable way to see the lights and learn more about the history and tradition of the displays.
Dyker Heights is a must-see destination during the holiday season for anyone visiting New York City. The neighborhood's festive lights and decorations provide a magical and unforgettable experience, while the charming and historic streets offer a glimpse into the city's past.
Location: southwest corner of the borough of Brooklyn
What to read next?
---
Travel tips and tricks:
I highly recommend trying these tools for yourself – not only will you save money, but you'll also create memories that last a lifetime. Happy travels!
---