Some of the links in this post are affiliate links. This means if you click on the link and purchase the item, I will receive an affiliate commission at no extra cost to you. All opinions remain my own.
Nestled in the Tatra Mountains, just a few miles from the Slovak border, Zakopane is a charming resort town known as the capital of the Polish mountains. Its picturesque landscapes, rich culture, and extensive hiking trails make it a popular destination for both local and international visitors.
When considering whether this beautiful mountain town is worth visiting, the unique blend of outdoor adventure, picturesque scenery, and rich cultural heritage makes it a clear choice for a memorable destination.
Boasting magnificent natural beauty, Zakopane offers an abundance of outdoor activities, ranging from skiing in the winter months to hiking and climbing in the warmer seasons.
With the Tatra Mountains as a backdrop, visitors can enjoy breathtaking views and explore the surrounding nature on numerous well-developed trails.
Its location also provides the opportunity for cultural insights, as Zakopane has a rich history that encompasses art, folklore, and traditional cuisine.
Key Takeaways
Zakopane's breathtaking landscapes and outdoor activities make it an attractive destination
Visitors can immerse themselves in the rich cultural heritage and traditions of the region
The combination of natural beauty and cultural experiences makes Zakopane a memorable place to visit
Why Zakopane is Worth Visiting
Zakopane, often referred to as the "capital of the Polish mountains," is a popular tourist destination in Poland. Its charm lies in its scenic landscapes, extensive hiking trails, and the region's rich culture, attracting numerous visitors each year.
Tatra Mountains
One of the main reasons to visit Zakopane is the opportunity to explore the Tatra mountains. These picturesque mountains offer a variety of trails suitable for different skill levels, ranging from gentle walks to challenging hikes. Iconic peaks such as Giewont and Rysy, along with the stunning Morskie Oko Lake, provide breathtaking views and memorable outdoor experiences.
Cultural Experiences
More than just a destination for nature lovers, Zakopane is also known for its lively atmosphere and unique cultural experiences. The bustling Krupówki Street, which is at the heart of the town, is filled with shops, restaurants, and bars, allowing visitors to indulge in local cuisine and shop for traditional handicrafts. Furthermore, the local people of Zakopane have a rich folklore, providing a fascinating insight into the region's history and customs.
Polish Cuisine
The food in Zakopane also adds to the overall experience, offering visitors the chance to taste delicious regional dishes, such as smoked cheese (oscypek) and hearty soups. The combination of local flavors and exquisite views from many of the town's restaurants creates an unforgettable dining experience.
Winter Sports
If you're a winter sports enthusiast, Zakopane is the place to be. Known as the "winter capital" of Poland, the town offers a range of activities from skiing and snowboarding to ice skating and snowshoeing. With multiple ski resorts and slopes catering to both beginners and professionals, it's a winter wonderland waiting to be explored.
Thermal Baths
After a long day of hiking or skiing, what better way to relax than by soaking in one of Zakopane's thermal baths? Rich in minerals, these natural hot springs are believed to have therapeutic properties. Whether you choose an outdoor pool with mountain views or an indoor spa with modern amenities, it's the perfect way to unwind and rejuvenate.
Affordable Accommodation
When it comes to accommodation, Zakopane has many options for different budgets and preferences. From cozy guesthouses to luxurious hotels, visitors can find a comfortable place to stay during their trip. Additionally, Zakopane is easily accessible from Krakow, making it a perfect day trip for those looking to explore the picturesque Polish countryside.
Reasons Not to Visit Zakopane
While Zakopane has its charm and allure, like any other tourist destination, it comes with its set of challenges. It's always a good idea to weigh the pros and cons and determine what kind of experience you're looking for before planning your trip.
Overcrowding During Peak Seasons
Zakopane is a popular destination, especially during the winter months and summer holidays. This means that the town can get quite crowded, leading to long queues at tourist attractions, packed restaurants, and congested roads.
If you're someone who prefers a quiet and serene vacation, visiting during these peak times might not be ideal.
Tourist Traps and Commercialization
With its rise in popularity, certain parts of Zakopane have become heavily commercialized. Some areas are filled with souvenir shops selling generic items, and there are establishments that might overcharge unsuspecting tourists.
It's essential to be cautious and do some research to avoid these tourist traps.
Traffic and Parking Issues
The narrow streets of Zakopane weren't designed to handle the volume of traffic they receive today, especially during peak seasons.
Finding parking can be a challenge, and traffic jams are not uncommon, which can be frustrating for visitors.
There is only one main road connecting Zakopane to Krakow and other bigger Polish cities. If you are traveling during the peak season, try to arrive and get out of the city at an uncommon time, or be prepared for traffic jams.
Environmental Concerns
The influx of tourists has put a strain on the local environment. There are concerns about littering, especially in the Tatra National Park, and the increased footfall is causing wear and tear on some of the natural trails. If you're an eco-conscious traveler, this might be a point of contention.
Language Barrier
While many people in Zakopane speak English, especially in the hospitality industry, you might encounter some locals who only speak Polish. This can lead to communication challenges, especially in more remote areas or smaller establishments.
Also, Poland uses Polish Zloty as its currency, and that might make currency conversion a bit complicated.
Natural Beauty of Zakopane
The Tatras and Hiking Trails
Zakopane, often referred to as the capital of the Polish mountains, is surrounded by the magnificent Tatra mountains, offering breathtaking landscapes and numerous hiking opportunities for nature lovers. The extensive trails in the area attract seasoned hikers and first-time adventurers alike, with a wide variety of routes tailored to different skill levels.
Gubalowka and Kasprowy Wierch
The two most famous peaks near Zakopane that visitors can explore are Gubalowka and Kasprowy Wierch.
Gubalowka is a smaller mountain that provides panoramic views of the Tatra range and the town of Zakopane below. The peak can be easily accessed by a funicular, making it ideal for families or those who prefer not to hike.
Kasprowy Wierch, on the other hand, is a higher summit with challenging hiking routes and a cable car that takes visitors to the top. From Kasprowy Wierch, adventurers can enjoy a more expansive view of the Tatras, as well as access to various ski slopes in the winter.
Morskie Oko
Another must-visit natural attraction is Morskie Oko, a stunning glacial lake situated within the Tatra National Park. This crystal-clear lake offers picturesque views of the surrounding mountains and is often seen as a crown jewel among Zakopane landmarks.
Accessible by a well-maintained trail, Morskie Oko attracts thousands of hikers and nature enthusiasts who wish to witness the unspoiled beauty of the Polish mountains.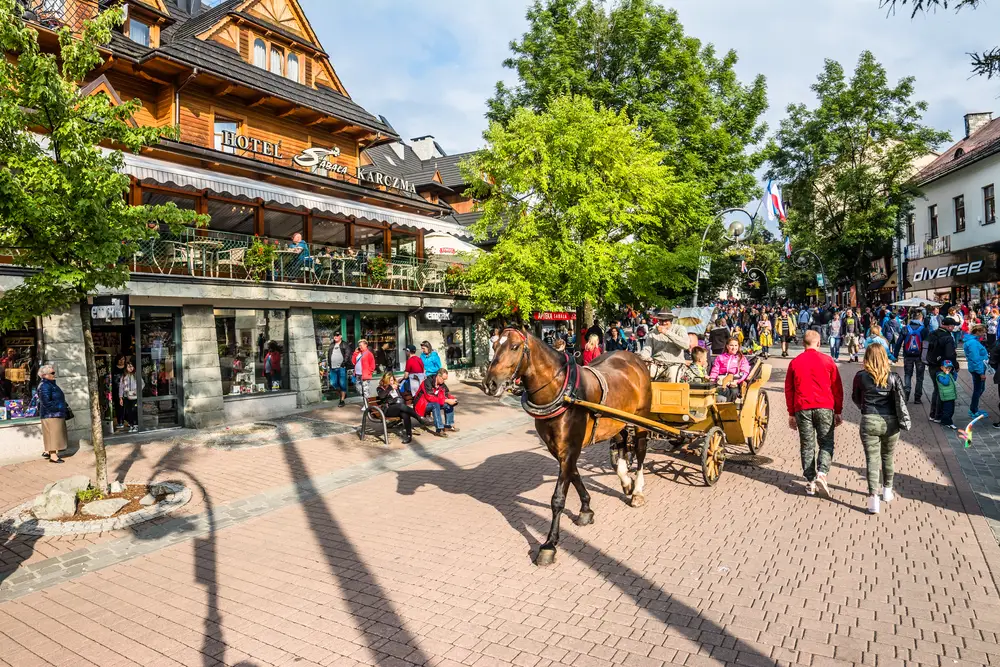 Cultural Insights of Zakopane
Zakopane Style and Architecture
Zakopane is well-known for its unique architectural style, aptly named the Zakopane Style. This style blends traditional wooden architecture with more modern designs, resulting in distinctively crafted buildings. T
Throughout the town, visitors can admire the ornate wooden houses, which showcase the skill and craftsmanship of the local builders.
The Górale People and Podhale
Zakopane is situated in the Podhale region and is home to the Górale, a group of indigenous highlanders. These people are renowned for their rich cultural heritage and strong ties to the land. Their folklore is expressed through vibrant music, colorful costumes, and traditional dances.
The Górale have preserved their customs and traditions for generations, making a visit to Zakopane an opportunity to immerse oneself in a truly unique culture.
Oscypek and Mulled Wine
Part of the local culture includes the culinary delights of the region.
Oscypek, a traditional smoked sheep's milk cheese, is a must-try for food enthusiasts. This cheese is produced exclusively in the Podhale region and is often enjoyed alongside another local specialty, mulled wine.
The combination of oscypek and mulled wine creates a delightful gastronomic experience that is difficult to replicate elsewhere.
Wooden Churches and Museums
The region's unique wooden architecture can also be seen in its historic churches and museums. These structures showcase intricate woodcarvings and beautiful stained glass windows, reflecting the skill and artistry of the local craftsmen.
A visit to Zakopane's wooden churches and museums not only provides insight into the town's religious history but also further emphasizes the region's cultural treasures.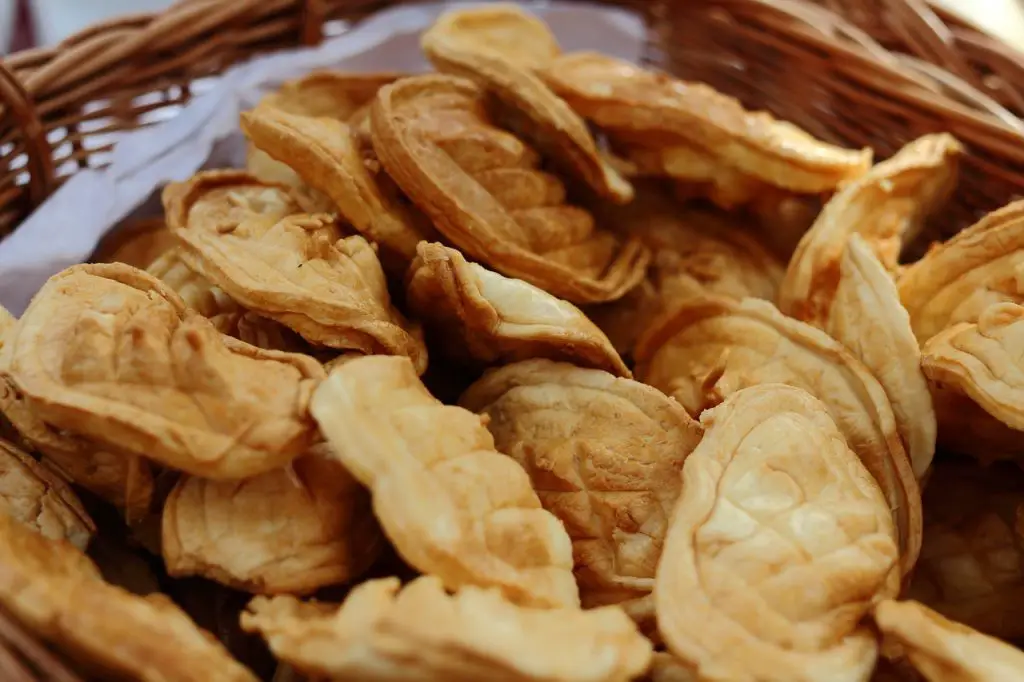 Exploring Zakopane
Top-Rated Restaurants and Shops
Zakopane offers a variety of restaurants for visitors to enjoy authentic Polish cuisine.
Some of the well-known local dishes include highlander cheese, smoked meats, and traditional dumplings.
When it comes to shopping, Krupówki Street is the perfect place to find unique souvenirs, local handicrafts, and regional products.
Exciting Tours
Visitors to Zakopane can experience the beautiful natural surroundings through a variety of exciting tours. From private sightseeing tours to hiking tours in the Tatra Mountains, there are plenty of options to explore this picturesque region.
In addition, there are 4WD tours and nature and wildlife tours which provide unique and immersive experiences, showcasing the beauty of Zakopane and its surroundings.
Markets
Zakopane also offers various markets for visitors to explore, where they can discover local produce, traditional Polish food, and handcrafted souvenirs.
These markets help visitors experience the lively atmosphere and vibrant culture of Zakopane.
Frequently Asked Questions
What are the main attractions in Zakopane?
Some of the main attractions include Gubałówka Mountain, which offers panoramic views of the Tatra Mountains, and the lively Krupówki Street, filled with shops, restaurants, and bars.
The Tatra Museum is a must-visit for those interested in the region's history, while Wielka Krokiew ski jump offers thrilling winter sports activities.
How is the nightlife in Zakopane?
The nightlife in Zakopane is vibrant, with its lively hub of restaurants, bars, and pubs offering a range of entertainment options for visitors.
Popular hangouts can be found along Krupówki Street, catering to a variety of tastes and interests. Visitors can enjoy traditional Polish cuisine, live music, and local Highlander performances, ensuring an unforgettable night out in this mountain town.
How long should I stay in Zakopane?
The length of stay in Zakopane largely depends on the visitors' interests and the activities they wish to experience. Generally, a 2-3 day trip is ideal for exploring the main attractions, enjoying the local cuisine, and engaging in outdoor activities such as hiking or skiing.
For those looking to immerse themselves in the natural beauty of the Tatra Mountains and venture on more extensive treks, a longer stay of up to a week may be preferable.
When is the best time to visit Zakopane?
Zakopane is a year-round destination, with each season offering unique experiences and activities.
Winter (December to February) is ideal for skiing and snowboarding enthusiasts, as the town transforms into a winter wonderland with snow-capped peaks and ski resorts.
Summer (June to August) sees the town come alive with numerous events and festivals, making it a great time to experience the local culture and enjoy outdoor activities, although visitors should be prepared for more crowds during these months.
---
---