Some of the links in this post are affiliate links. This means if you click on the link and purchase the item, I will receive an affiliate commission at no extra cost to you. All opinions remain my own.
Are you looking for the perfect destination to celebrate Valentine's Day with your significant other? Look no further!
In this blog post, we will explore some of the most romantic and breathtaking international destinations to visit on Valentine's Day. From the stunning beaches of Bali to the charming streets of Paris, these locations are sure to set the mood for a truly memorable holiday.
Whether you are looking for a relaxing getaway or an adventure-filled trip, there is something for every couple on this list. So pack your bags and get ready to plan the ultimate Valentine's Day vacation!
Related posts:
Map of places to go for Valentine's Day around the world:
Best places to go for Valentine's Day:
Paris, France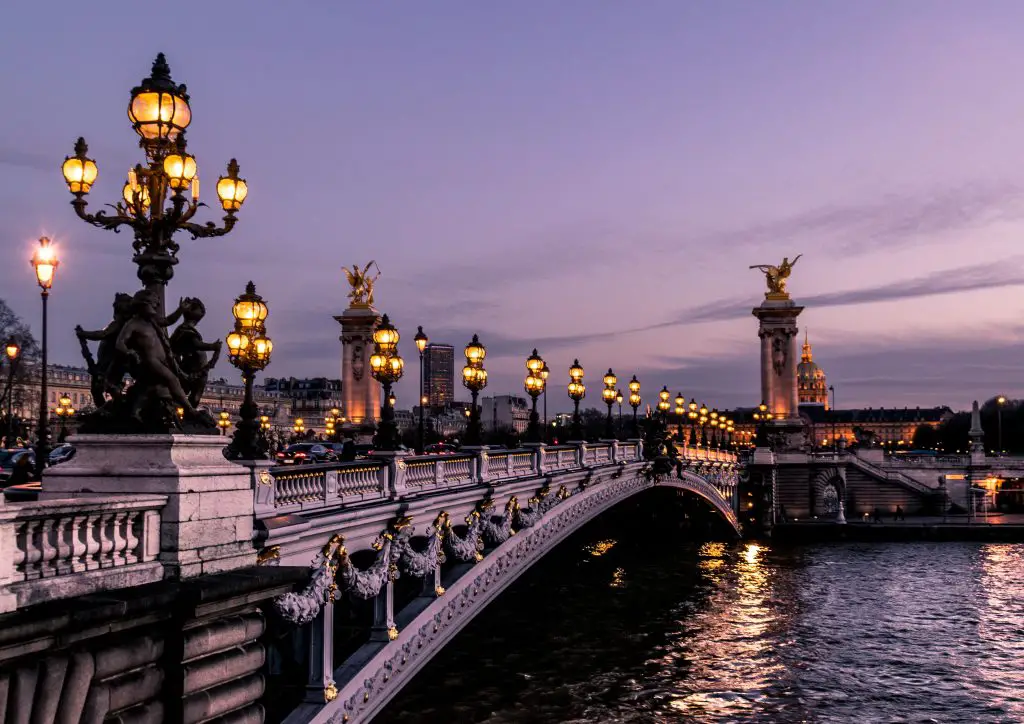 Paris, the City of Lights, is well-known for its striking monuments, delicious pastries, and romantic ambiance. This Valentine's Day, why not take the spirit of Paris one step further?
Plan a romantic dinner at a cozy restaurant with a view of the city. Some popular options for a special occasion like this might include Le Jules Verne, which is located on the second floor of the Eiffel Tower and offers breathtaking views of Paris, or Tour d'Argent (reopens in 2023 after renovation), which is a Michelin-starred restaurant with an impressive wine list and a stunning view of Notre Dame Cathedral.
After dinner, you could take a stroll through the city and enjoy the beautiful lights and ambiance of Paris at night. You could also consider visiting the Love Lock Bridge, where couples traditionally write their names on a lock, attach it to the bridge, and throw the key into the river as a symbol of their love.
If you're looking for something a bit more active, you could take a dance lesson together or go ice skating at one of the outdoor rinks that pop up around the city during the winter months. Whatever you decide to do, the key is to plan something that is meaningful and special for both you and your partner.
Venice, Italy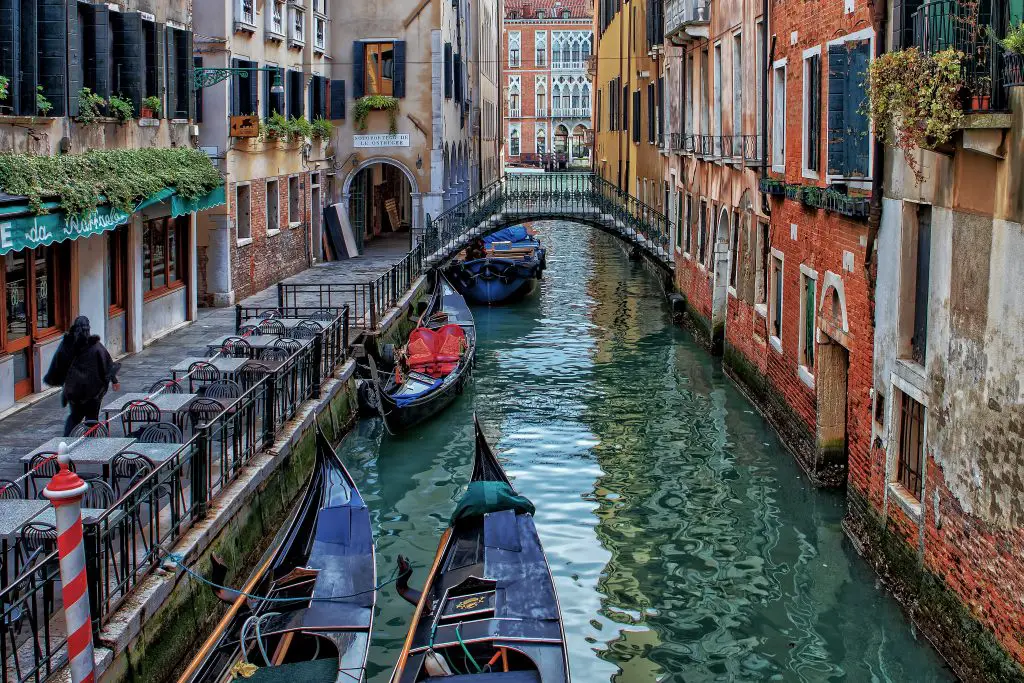 Have you ever wanted to give your sweetheart an experience they'll never forget? There's no better place than Venice to celebrate Valentine's Day! With iconic gondolas and timeless canals, stunning architecture, and delicious Italian cuisine, 'The City of Water' has plenty of unique treats for couples in love.
You and your sweetheart could take a leisurely romantic ride in an authentic Venetian Gondola through Venice's stunning natural waterways or enjoy a special candlelit dinner at one of the city's historic eateries.
No matter how you decide to spend your time celebrating this special occasion, Venice is sure to be the perfect setting!
Bali, Indonesia
Bali is a beautiful Indonesian island whose rice paddies, lush jungles, and pristine beaches act as the perfect backdrop for magical experiences. Whether you're after something awe-inspiring or searching for spiritual enlightenment, you need not look further than this romantic paradise. Bali is one of the best places to celebrate Valentine's Day if you are looking for a longer vacation.
To celebrate Valentine's Day in Bali, spend the day at a luxury resort or hotel. You could start the day with a gourmet breakfast in bed, followed by enjoying a couples massage at the resort's spa.
Afterward, you could spend the day lounging on the beach or by the resort's pool or go for a hike through the lush jungle landscape.
In the evening, you could have a candlelit dinner at a beautiful restaurant serving local and Asian dishes, with a view of the ocean. Alternatively, you could attend a traditional Balinese dance performance. As the night goes on, you could finish off the day with a cocktail at a trendy oceanfront terrace bar.
Santorini, Greece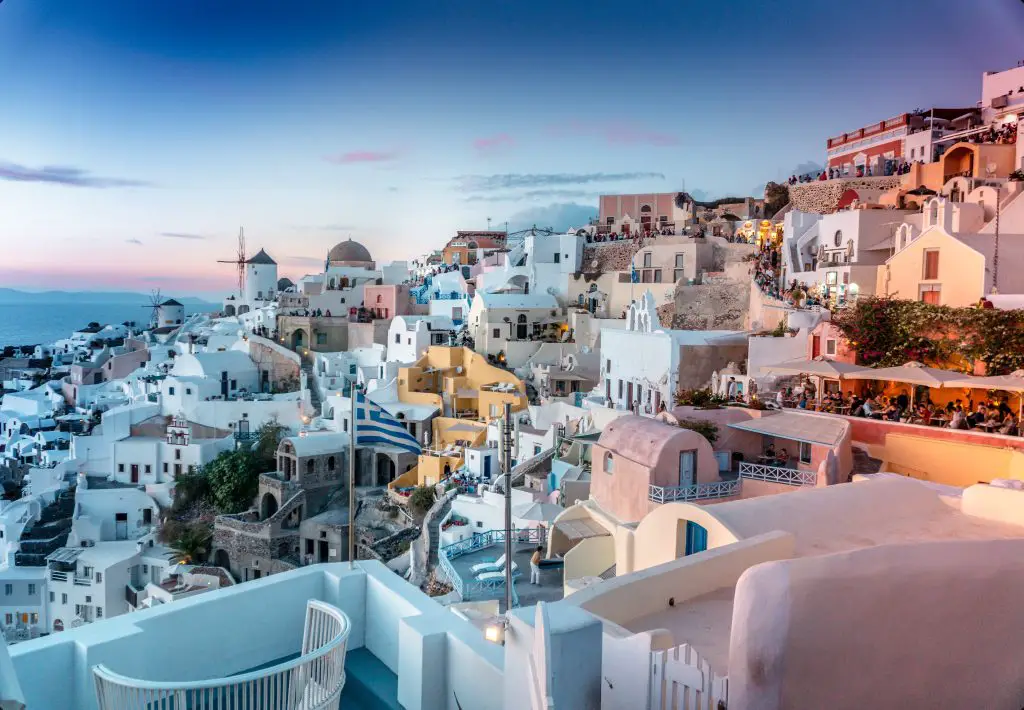 Santorini in winter is a breathtakingly beautiful location, which makes it perfect for a romantic getaway with your special Valentine. Known for its stunning views of the bright blue Aegean Sea and its white-washed buildings set against the backdrop of a dramatic caldera, Santorini is the ideal spot to celebrate one of romance's biggest nights — Valentine's Day.
If you are looking for something unique, you could arrange a private sunset sailing tour around Santorini followed by an intimate candlelit dinner on board! It will bring out the best that this romantic place has to offer.
The majestic beauty of the island coupled with an awe-inspiring glimpse of the Mediterranean horizon would make your special someone feel like they are in love without question.
The Maldives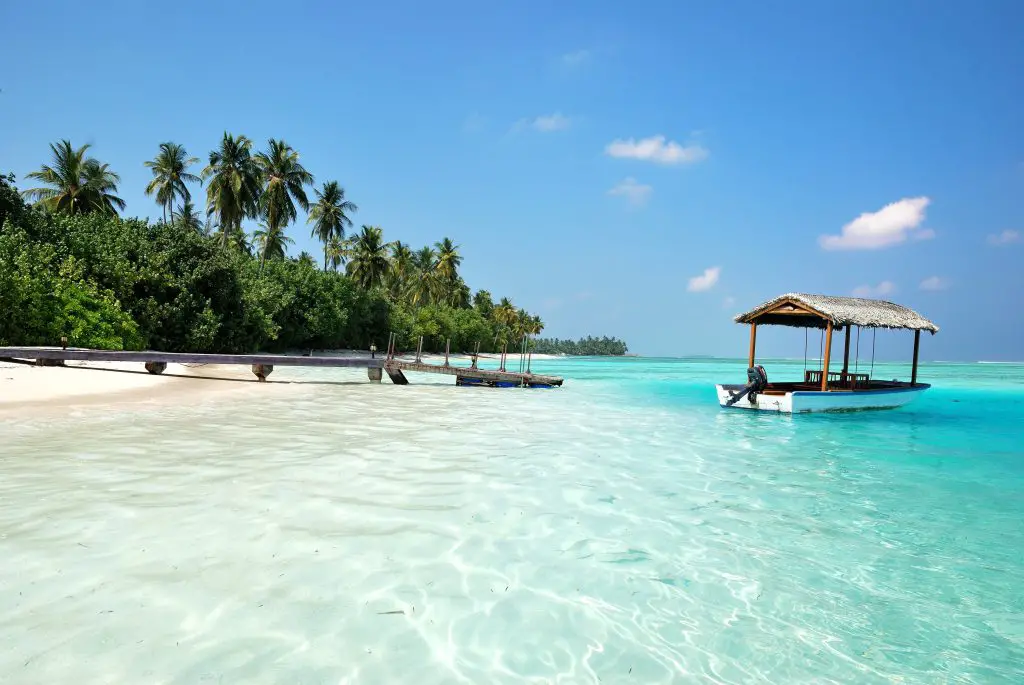 These tropical islands are known for their beautiful beaches, clear waters, and luxurious overwater bungalows.
Hop aboard a luxurious boat and cruise around to discover your own little paradise. Whether you want to go snorkeling to explore the vibrant kaleidoscope of fish or jump off your own private diving board, it's sure to be a one-of-a-kind way to celebrate love!
Share swoon-worthy sunset cocktails on the deck as you watch the world slip away.
Just imagine cuddling up together afterward under soft throws, stars twinkling above – the perfect antidote for a busy day exploring!
Cape Town, South Africa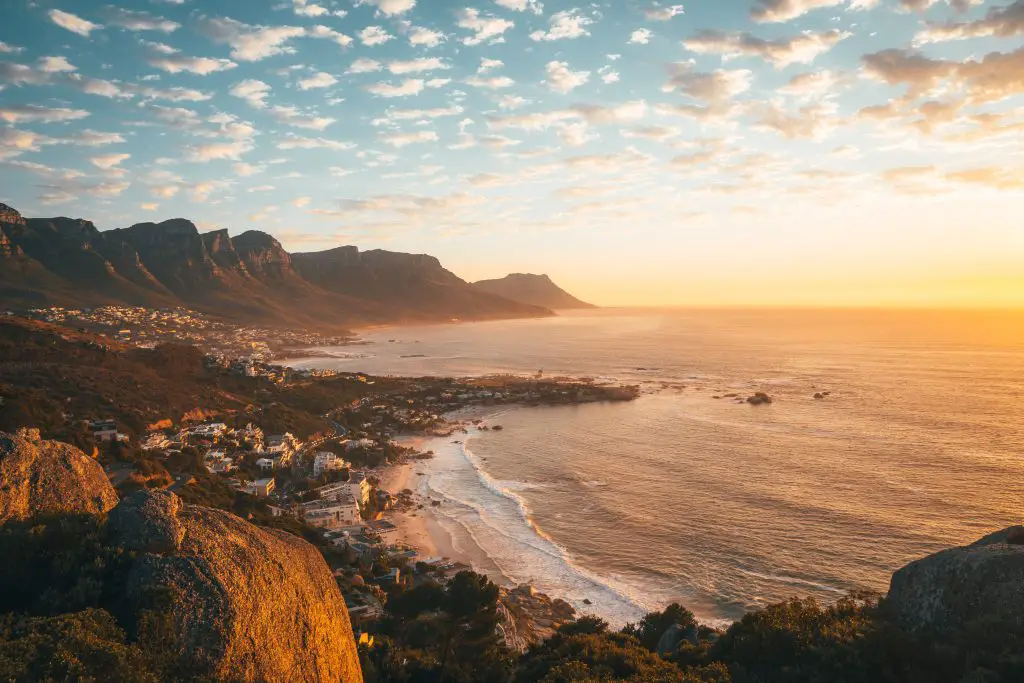 This beautiful South African city is known for its stunning coastline, beautiful beaches, and delicious cuisine.
On Valentine's Day, you can do something a little bit out of the ordinary, such as take a trip up Table Mountain! Bring along some snacks, your partner, and a blanket to cozy up on – and what could be better than watching the sun setting over one of the most iconic landscapes in South Africa while declaring your love? It's an unforgettable way to celebrate Valentine's Day that you won't find anywhere else.
The Amalfi Coast, Italy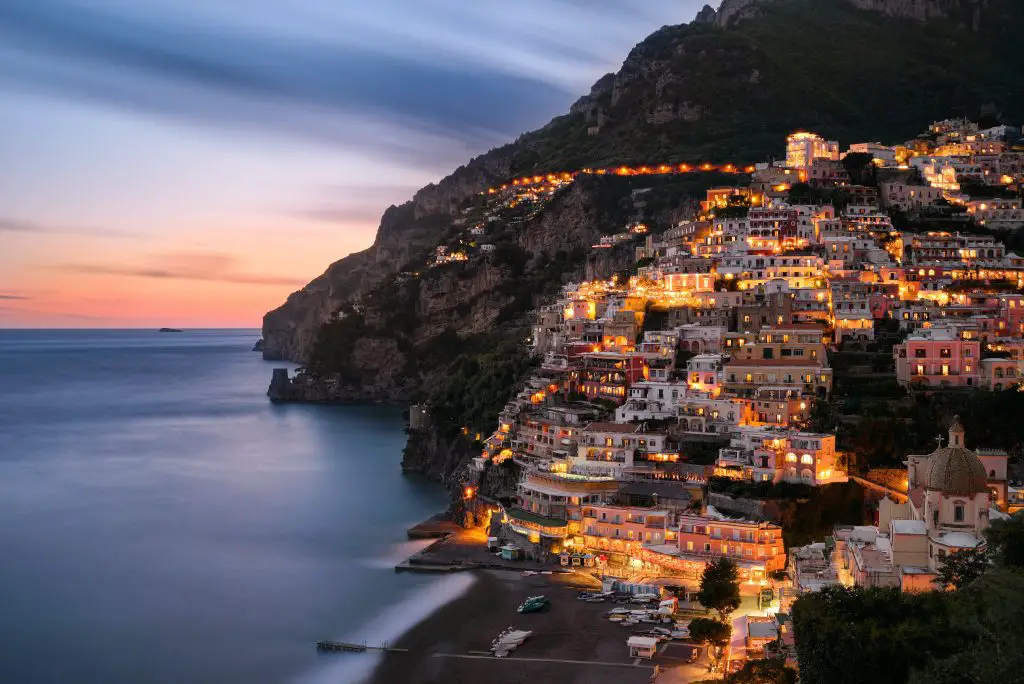 Known for its stunning coastlines, abundant citrus groves, delicious Italian cuisine, and charming coastal villages, the Amalfi Coast is one of Italy's most romantic destinations.
One way to celebrate Valentine's Day on the Amalfi Coast is to take a romantic hike along the coastline, followed by a candlelit dinner at a local restaurant. Some recommendations for restaurants in the area include La Locanda Del Gusto, which has a great selection of local specialties, including fresh pasta.
Alternatively, you could plan a sunset boat tour and enjoy a champagne toast to the sunset, or visit one of the area's many spas and treat yourself to a couples massage.
Whatever you decide to do, the Amalfi Coast is a beautiful and romantic destination, making it the perfect place to celebrate Valentine's Day with your loved one.
Tokyo, Japan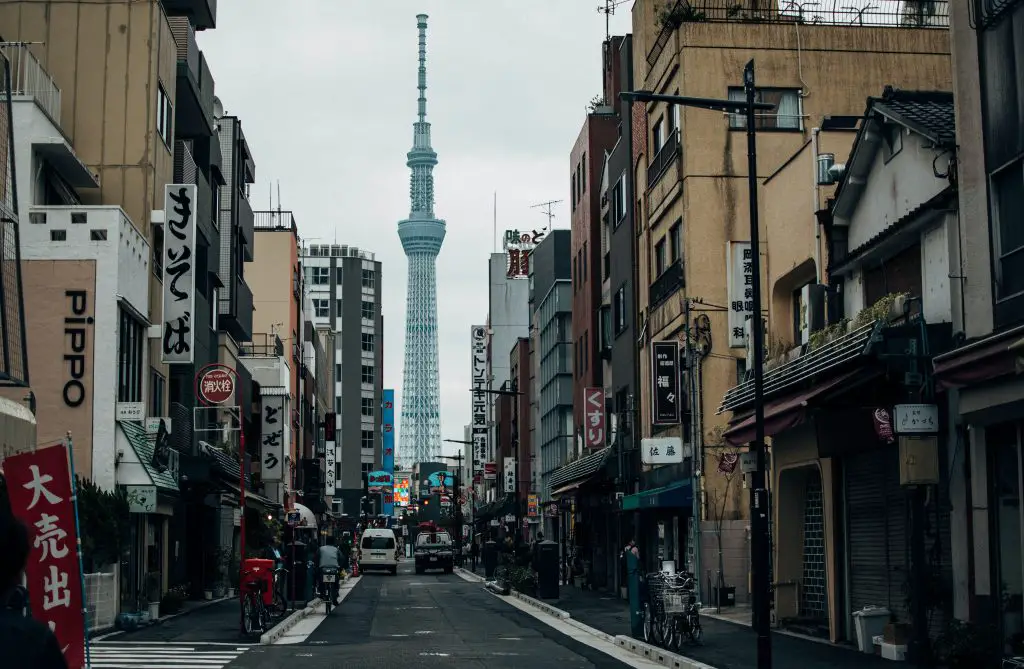 Tokyo is a vibrant destination, known for its delicious cuisine, futuristic skyline, and towering shopping malls that are jam-packed with people day and night. But besides its trend-setting culture of fashion and food, Tokyo also happens to be a great place to spend Valentine's Day if you are looking for a city break.
To make it extra special, why not visit the observation deck of the tallest building in Tokyo — take the lift up to the Skytree – for 360˚ beautiful views of the city, complete with tea and cake!
With all that buzz beneath you, it'll feel like being on top of the world with your loved one – a romantic way to watch Tokyo do what it does best and shine as brightly as possible.
Planning a longer weekend trip to Tokyo? Here's a 3-day Tokyo itinerary to see most of the city.
Sydney, Australia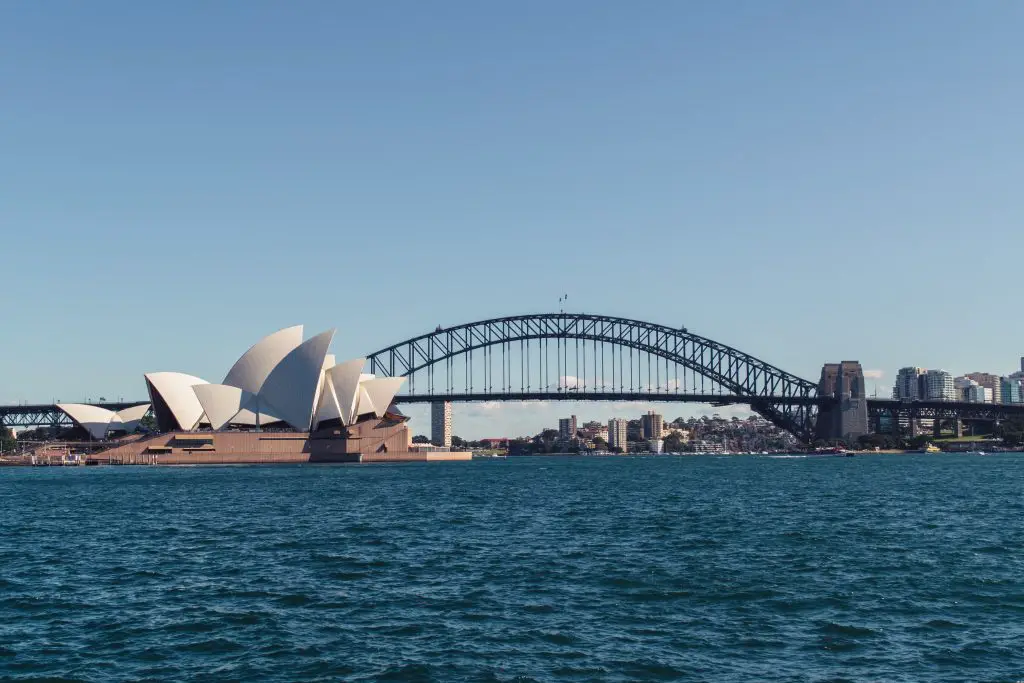 This beautiful Australian city is known for its iconic Opera House, breathtaking harbor views, beautiful beaches, and delicious cuisine. It's also known for its unique experiences and culture, making it the perfect place to celebrate Valentine's Day!
Instead of going out to the same old restaurant, why not hit the high seas with a harbor cruise with a buffet lunch? You'll get to see the Harbour Bridge and the Opera House from the water and enjoy some delicious food while doing the sightseeing.
Rio de Janeiro, Brazil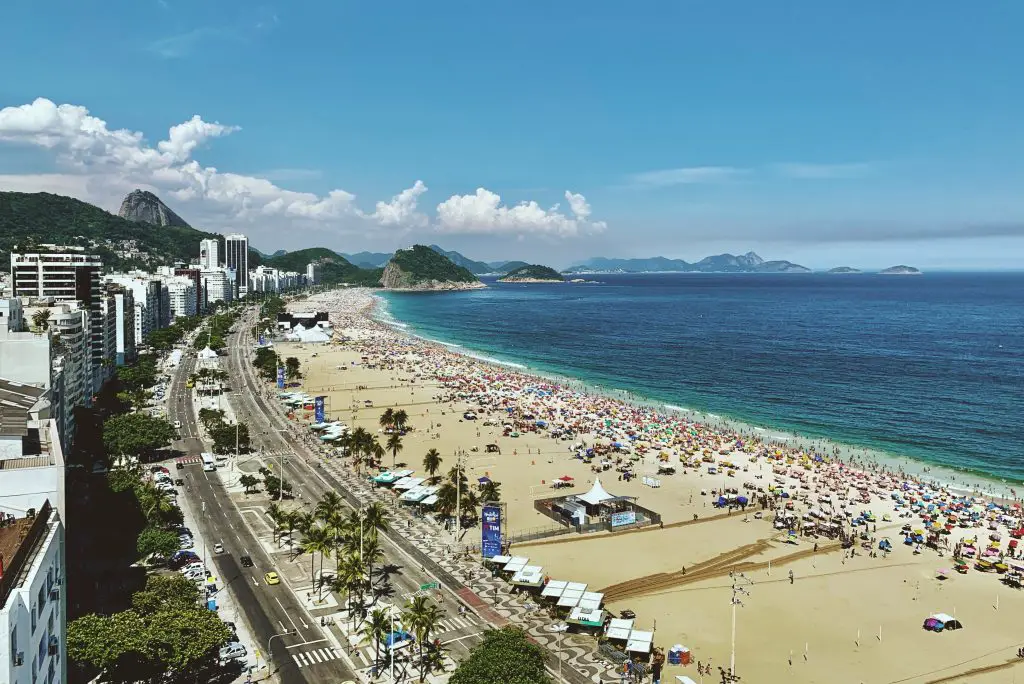 This vibrant Brazilian city is known for its beautiful beaches, stunning natural setting, and lively nightlife.
Celebrating Valentine's Day in Rio would be a romantic adventure like no other. Imagine dining on a romantic beach in South America surrounded by exotic palms, golden sands, and some of the clearest blue waters you've ever seen. After dinner, take a stroll down Copacabana and then dance the night away at one of the city's hotspots. There will be no shortage of ways to make your Valentine's Day unforgettable while visiting the romantic city of Rio de Janeiro.
Quebec City, Canada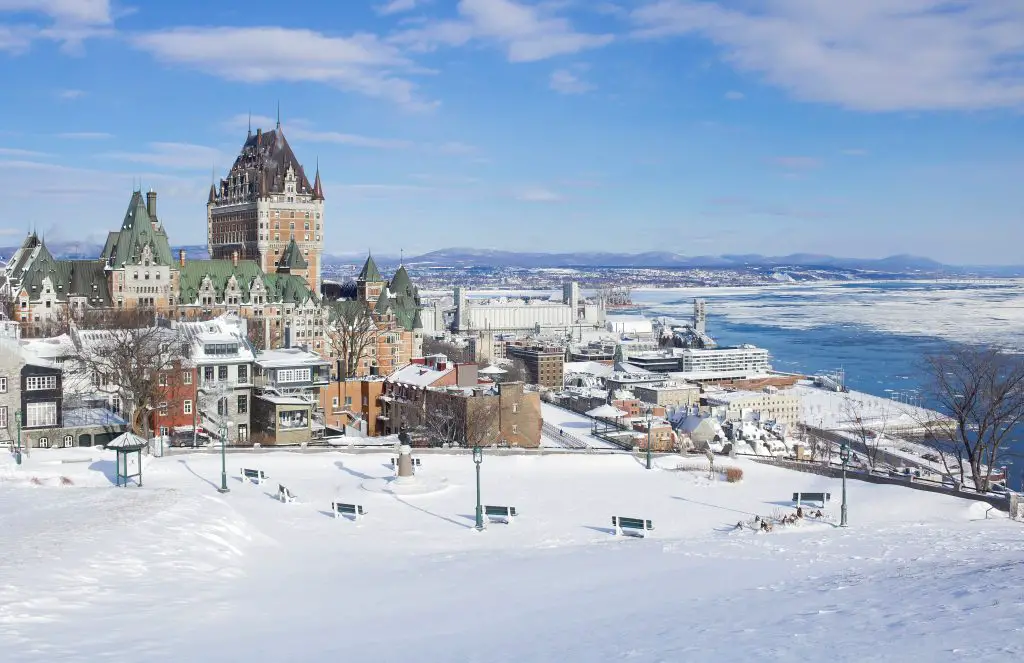 This charming Canadian city is known for its beautiful Old Town, delicious French cuisine, scenic views of the St. Lawrence River, and cozy bed and breakfasts.
For a special Valentine's Day surprise, why not plan to stay in the iconic Château Frontenac and go for a romantic stroll along the cobblestone streets of Old Quebec? Or if you want to see more landmarks, you can join a guided walking tour in Quebec City.
Alternatively, if you are looking for something more unique, try out the Old Quebec Toboggan ride with hot chocolate. You can reach speeds of up to 70 km/hour and admire the views of the St. Lawrence River from above.
Buenos Aires, Argentina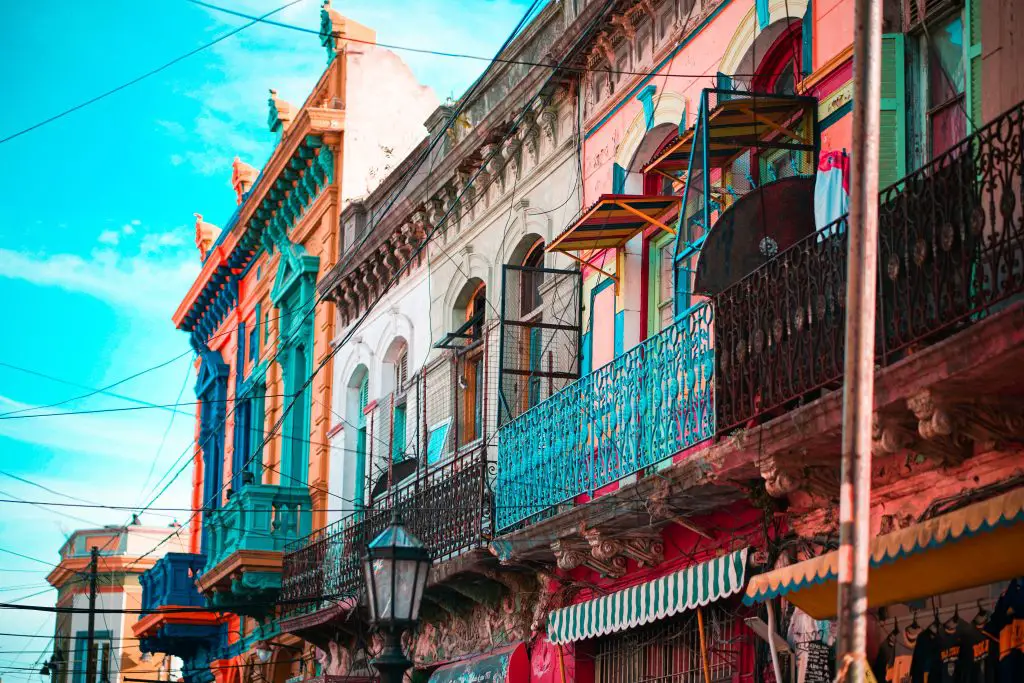 Buenos Aires is a destination that has something for everyone. From romantic tango dinners to breathtaking sculptures in its array of parks, the city known as "the Paris of South America" promises no shortage of surprises.
Start the day by taking a stroll through the charming neighborhoods of San Telmo or Palermo. These areas are known for their picturesque colonial-style buildings and colorful street art.
Next, head to the historic Cafe Tortoni, which is one of the oldest cafes in Buenos Aires. The café has a vintage decor, with marble tables and plush velvet seats. It's the perfect place to enjoy a coffee or tea while people-watching.
In the evening, take a tango lesson together. Tango is one of the most iconic symbols of Buenos Aires, and taking a class together is a great way to get in the romantic spirit.
After the class, head to a traditional parrilla, or grill restaurant, for dinner. Enjoy a delicious meal of steak and other grilled meats, along with a glass of Argentine Malbec wine.
Vienna, Austria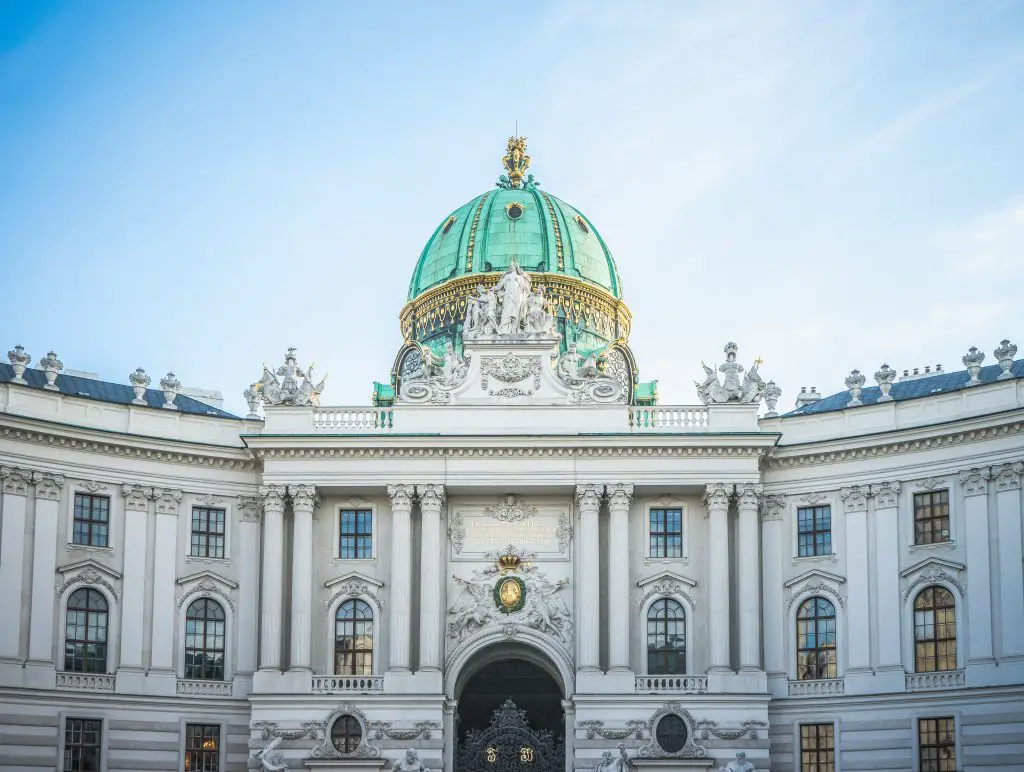 Vienna, the magnificent city steeped in history and culture, is known for its palaces, art museums, sidewalk cafes, and abundance of pastries. It is also a romantic destination in Europe.
Celebrating Valentine's Day in Vienna offers the perfect opportunity to make special memories with your significant other.
Start the day by taking a stroll through the historic center of Vienna, where you can admire the city's beautiful baroque palaces and gardens. A nice walk would be along the famous Ringstrasse, where you can see some of Vienna's most iconic buildings, such as the State Opera House and the Hofburg Palace.
In the afternoon, head to a traditional Viennese coffee house for a cup of coffee and a piece of cake. Viennese coffee houses are famous for their luxurious decor and relaxed atmosphere.
In the evening, attend a performance at the State Opera House. Vienna is famous for its rich classical music tradition, and the State Opera House is one of the world's most famous opera houses. Or, for a more intimate experience, attend one of the famous Vienna concert halls such as the Musikverein, where you can listen to a performance of Mozart, Strauss, or other famous composers.
After the performance, have a romantic candlelit dinner at a traditional Viennese restaurant, where you can try some of the city's famous dishes such as Wiener Schnitzel, Tafelspitz, or Apfelstrudel.
Finish the night by taking a walk along the banks of the Danube Canal, where you can admire the beautiful nighttime view of the city.
Prague, The Czech Republic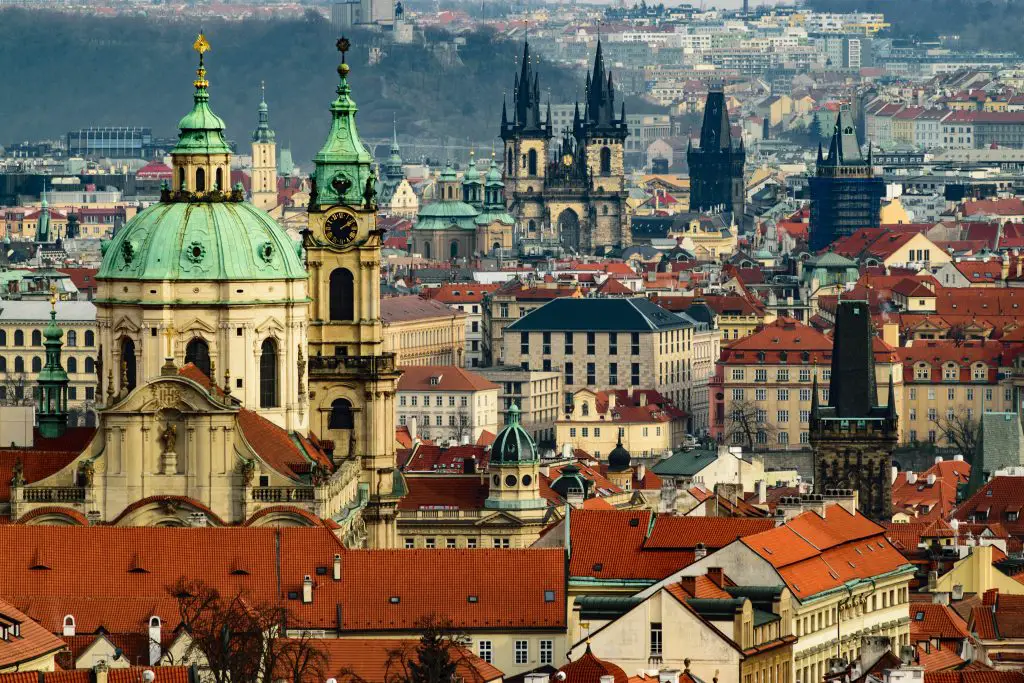 This beautiful Czech city is known for its stunning architecture, delicious Czech cuisine, and beautiful gardens. There are expansive parks, towering cathedrals, and cobblestone streets that make visiting Prague a magical experience.
One way to celebrate Valentine's Day in Prague would be to take a romantic stroll through the historic streets of the city. Start by taking in the stunning views of the city from the Charles Bridge, which spans the Vltava River. As you walk across the bridge, you'll see many of Prague's most famous landmarks, including the Gothic spires of St. Vitus Cathedral and the Baroque beauty of the Church of St. Nicholas.
Next, head to Old Town Square, where you can take in the sights and sounds of the city while enjoying a hot beverage from one of the many outdoor cafes. This is one of the best things to do in Prague. Here you can also see the famous Astronomical Clock, which is a must-see for any visitors to Prague.
Afterward, take a leisurely walk through the charming streets of Malá Strana, or Lesser Town, which is located just across the river from Old Town. This neighborhood is filled with quaint shops, cozy cafes, and beautiful gardens, making it the perfect place for a romantic stroll.
To finish off the evening, you can make a reservation at a romantic restaurant in Prague. There are plenty of great options to choose from, whether you're looking for traditional Czech cuisine or something a little more international. Some popular choices include La Degustation, Mlýnec, or Eska.
Barcelona, Spain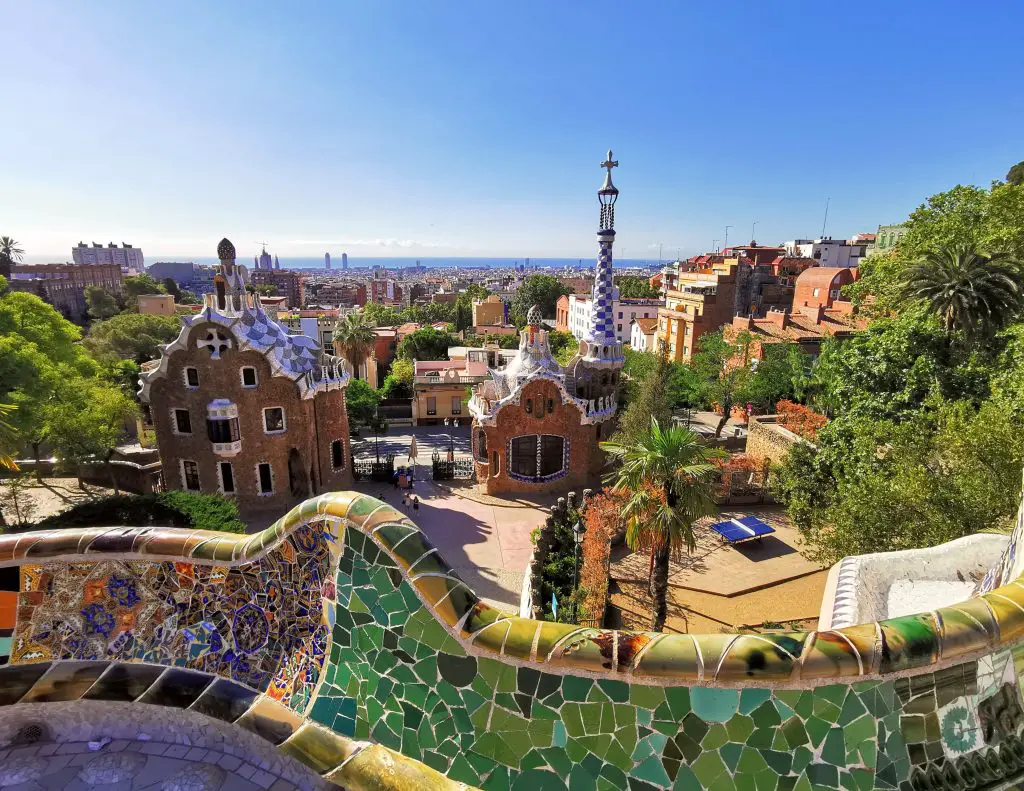 Barcelona is known as a bustling cosmopolitan city famed for its passionate locals, iconic architecture, and delicious food. It's the perfect place to celebrate Valentine's Day!
Spend the Valentine's Day exploring the city's romantic landmarks and sights. Start the day by taking a leisurely stroll through the winding streets of the Gothic Quarter, which is known for its charming medieval architecture and hidden courtyards. Along the way, you can stop for a coffee or a light breakfast at one of the many charming cafes in the area.
Next, you can take a romantic walk to La Rambla, one of the most famous streets in Barcelona. Take in the street performers and vendors, stop by La Boqueria, one of the oldest and most famous food markets in Europe, and enjoy some fresh fruits, chocolates, or flowers.
Afterward, head to Parc Guell, where you can take in the panoramic views of the city while walking through the park's famous mosaic-covered structures designed by the famous architect Antoni Gaudi. This Park is one of the most iconic landmarks of the city and a perfect spot to take some romantic pictures together.
For lunch or dinner, there are plenty of romantic restaurants to choose from, offering a wide range of cuisines and dining experiences. Some popular choices include Disfrutar, and Caelis.
After dinner, you can head to Montjuic Castle for a romantic evening stroll and take in the stunning views of the city.
---
---